Last updated on August 16th, 2023 at 07:23 pm
As someone who has suffered from nightmares all of my life, I was not surprised when my children started waking up in the middle of the night with vivid, terrifying dreams. Sometimes when I tell people my children have nightmares they laugh, what can a three year old possibly have a nightmare about? Crusts still on the peanut butter sandwich? No. Their nightmares are legitimately terrifying!
I wanted to give the kids some ways of managing their fear and changing their dreams. For kids this young, the line between reality and fantasy is very thin. A dream can seem very, very real. As a child, I learned how to recognize when I am having a nightmare. What is a dream catcher? Sometimes, having recognized a nightmare, I can change the end of the dream. Sometimes just waking up and having a drink of water can solve it. But my children are too young for this; I needed another solution.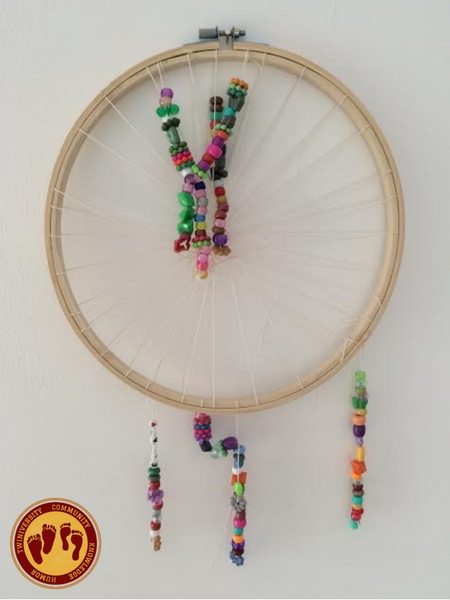 I decided we would make dream catchers. Of course I didn't invent this, it isn't even from my culture. But it was useful for me as a kid when we made them in school, and I thought it might be useful for my own kids. Not only would the dream catchers hang over the bed, but the kids and I would decorate them together as a fun project. And, if they still do have a bad dream and the dream catchers need a little "tune-up," we can add to them. This way, the kids have power over their own dreams, and doing the project together gives me a chance to talk about them.
Dream catchers have been used to help children with sleep for hundreds of years. They originated with the Ojibwe nation in North America and spread across the continent. Overnight, the dream catchers filter out the bad dreams, only letting good thoughts through, and when the sun rises all the bad dreams disappear. For the full story behind dream catchers, search for "Ojibwe Dream Catchers."
This is a relatively easy project that requires a few minutes of set-up. You will need to make the base of the dream catcher yourself in advance, and then decorate them with the kids together. My kids did not want to paint them, but you can if you think that is something you can manage (it is messy)! We have added a few strings of beads over the past year. When they wake up with a particularly bad nightmare I can assure them we will add some beads the following day to make the dream catcher "stronger."
There is a lot of power in making something like this together with your children. It shows them that you care about them, legitimizes their concerns, and gives them confidence that they can learn how to manage their own night time stress.
If this exact project is too challenging, try making a painting together, or find a special rock that can be "magically" imbued with the same dream-filtering quality. There are no limits!
Good luck and good night!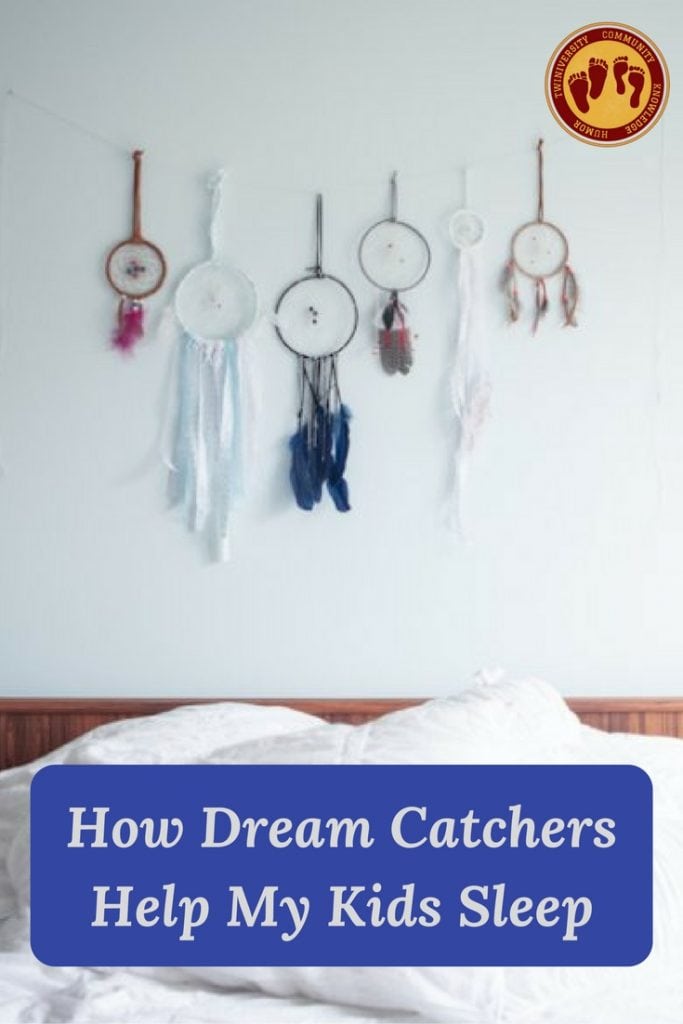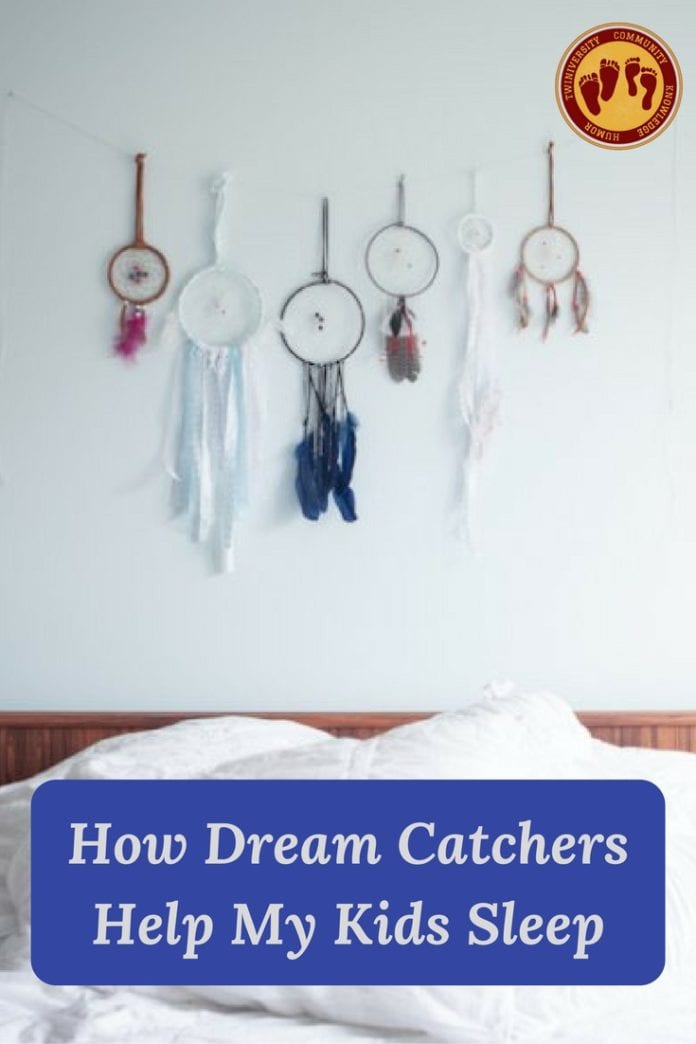 How to Make Dream Catchers
Materials
embroidery hoop
yarn or thick string
beads
any other things you want to tie onto it (bells, feathers, buttons, charms)
paint or markers (optional)
Directions
In advance:
Take the outside of the embroidery hoop off. Using the inner hoop, wrap the string across the middle of the circle, working your way around. It doesn't have to be perfect, you want it to look like a spider web. Just make sure the string is wrapped tight so it doesn't move.
Once you've made a web, tie off the string. Put the outer hoop back on and tighten the clasp. This will keep the string from sliding around while you decorate it.
With the kids:
Make strings of beads and tie them onto the web. Paint the strings and/or hoops. Hang up over their beds!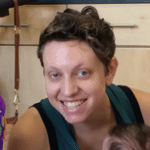 Robin Sheldon is an artist and therapist, currently staying at home full time with her big kid twins, new baby, and two cats while her husband hunts and gathers. According to her children, her job is making breakfast and packing lunches, what makes her happy is hugs, and her favorite food is cookies. Pretty accurate! Read more articles by Robin on Twiniversity.
---
Related Articles
---
Are You a New Twin Parent?
Check out Natalie Diaz's book:
"What To Do When You're Having Two
The Twin Survival Guide From Pregnancy Through the First Year"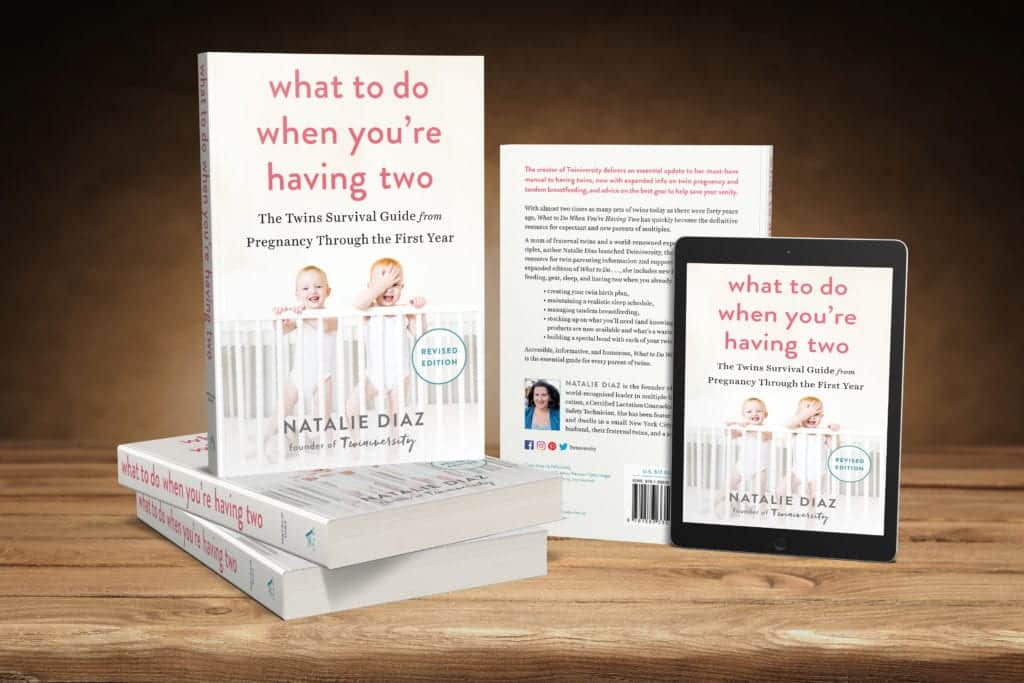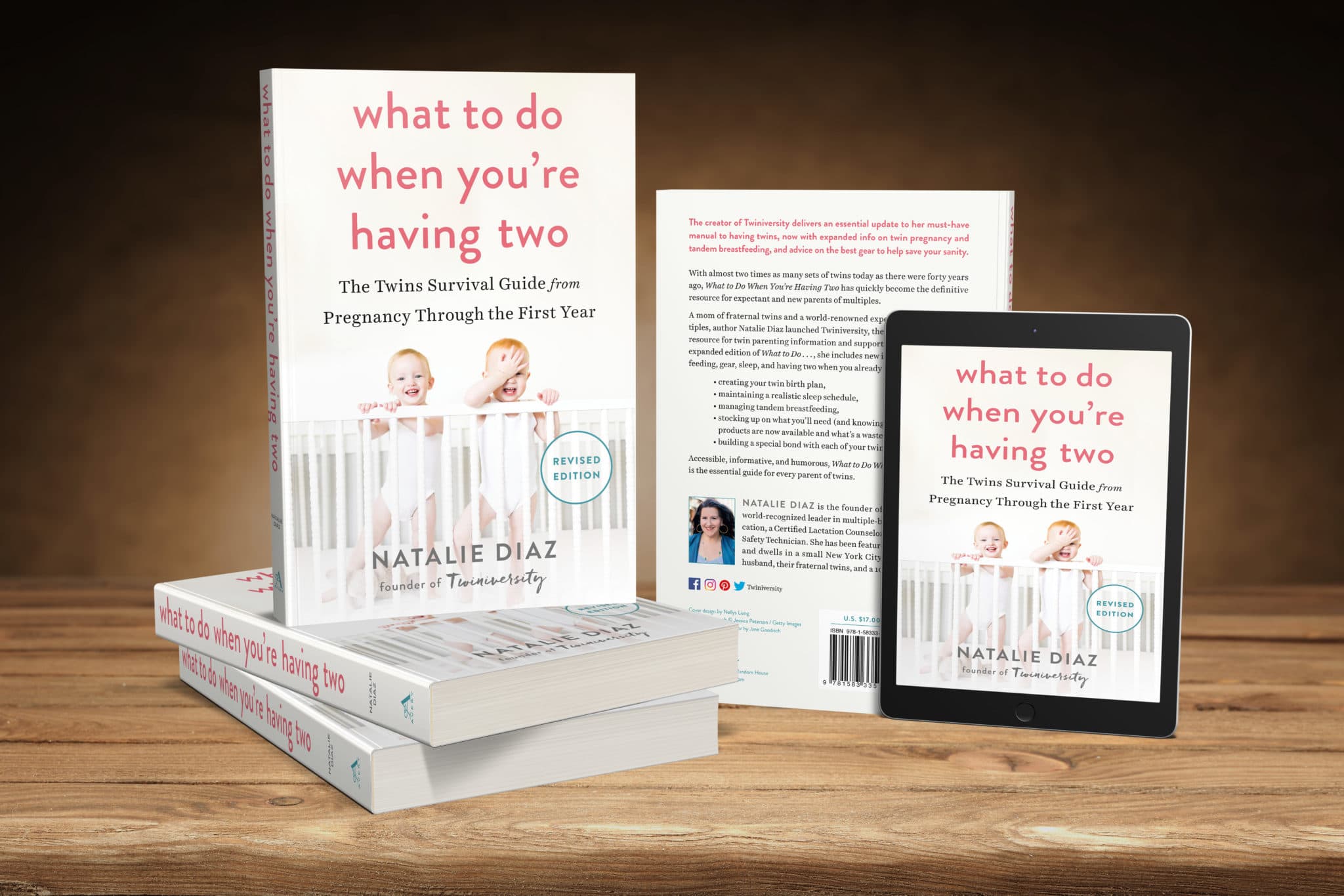 In What to Do When You're Having Two: The Twins Survival Guide from Pregnancy Through the First Year, national twins guru and founder of Twiniversity (and twin mom herself!) Natalie Diaz provides a no-holds-barred resource about life with twins, from pregnancy and birth all the way through your duo's first year of life.
Accessible and informative, What to Do When You're Having Two
is the must-have manual for all parents of twins.
---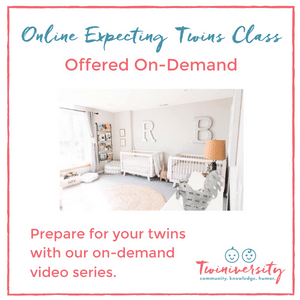 Have you taken your expecting twins class yet? We offer a great class on demand so you can take it on your own schedule! There are so many video modules covering everything from your twins' baby registry to your first week at home with twins! Sign up today to get started before your twins arrive.
---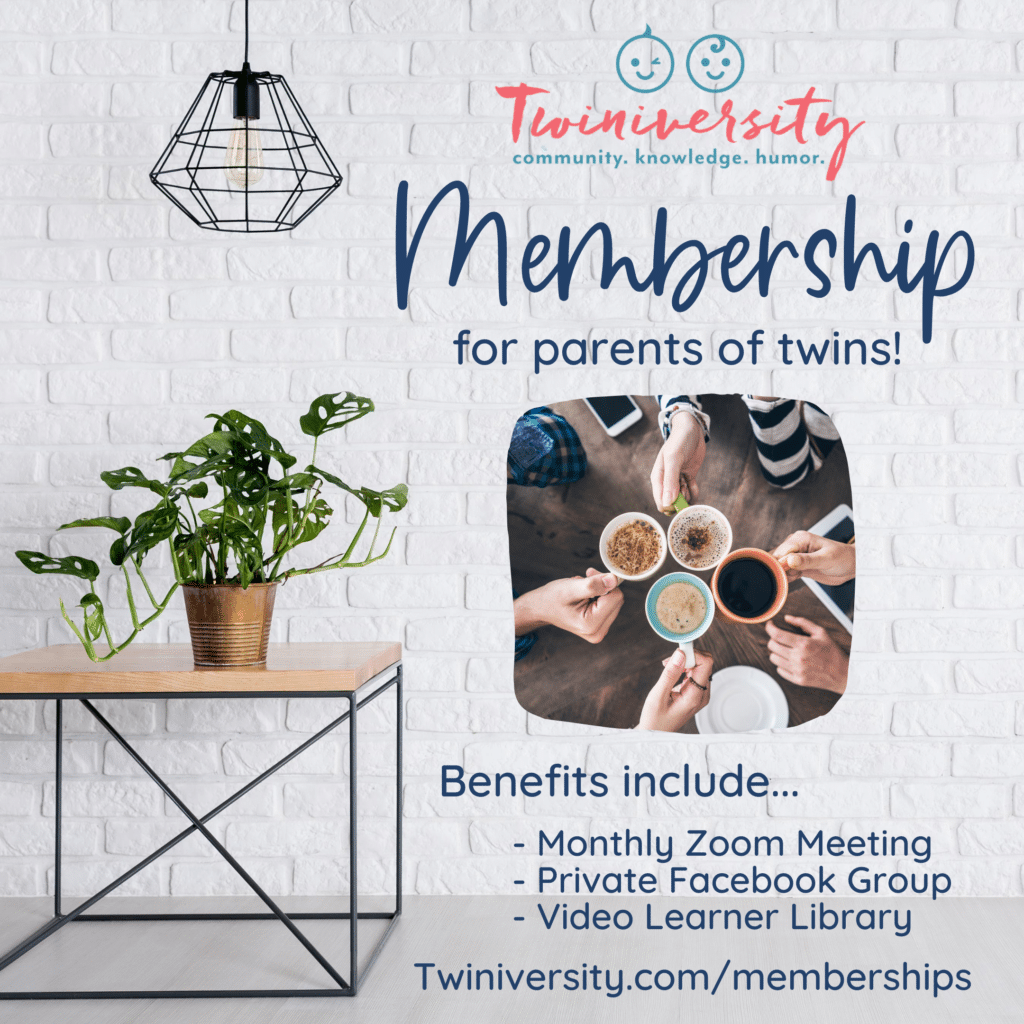 Need some twin parent friends? Get the support you need with a Twiniversity Membership. Benefits include a monthly twin parent club meeting on Zoom, access to a private Facebook group just for twin parents, and a video library of twin parenting lessons. Visit Twiniversity.com/membership to join today!
---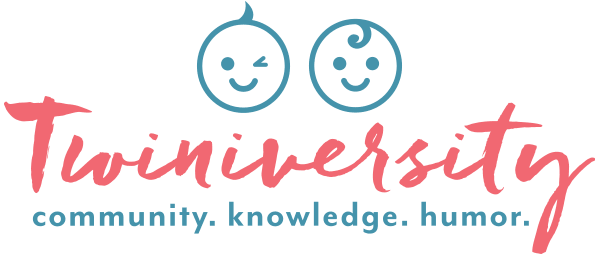 Twiniversity is the #1 source for parents of
multiples, and we are growing faster every day!
Find us all over the web:
Or contact us by email at community@twiniversity.com