Last updated on July 20th, 2023 at 03:31 pm
Mom friends. Where do you get some of those?
When I moved back to my hometown, after living across the country for twenty years, I was six-months pregnant with twins. I was also single, over forty, worked remotely from my home, and, as it turned out, sick with preeclampsia. So I landed in my new/old town and was promptly put into the hospital for five weeks. My twins were born at 32 weeks, so I spent the next month recovering, pumping, visiting the NICU and trying to unpack my life in our new house. Then the boys came home and preemie-newborn-twin-single-working-mom-life happened.
As difficult as it was, I was fortunate. I had my mom and several amazing relatives and childhood friends who helped me get through those first several months of sheer exhaustion and survival.
What I did not have, however, were any friends with newborns. Or any friends with babies. Or any friends with twins. Or any single friends with small children. I reconnected with some of my childhood friends, but most of their children were in high school and college (some even with children of their own.) As great as my current people were, I needed to add some new people with additional experience in my world: The multiple-babies-of-the-same-age-at-the-same-time experience.
As the early months blurred by I found myself overwhelmed by the vast and varied answers from Google about bottles for reflux, this rash or that, and how to attain the ever-elusive sleep that none of us were getting. I couldn't get what I needed from Google. I needed real live twin-mama people to talk to and ask questions; people with the same current or very recent experience that I was having.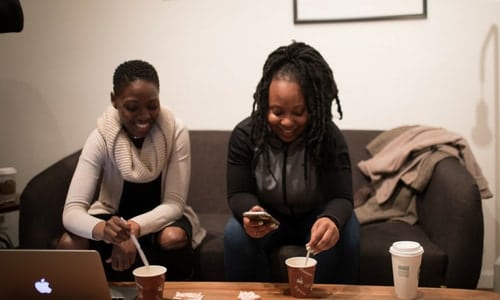 I had heard about a "twin parent" club in town and found the website to see what it was about. The group met in person every other month, had some mom's nights out, and occasionally met for family social events. I couldn't envision how I would have the time, much less energy, for such events. But around eight-months into my twin-mom experience, I had to go find some people that "got me". So, I dragged myself to a meeting.
And THERE. THERE were my new people.
The following month there was a Mom's Night Out dinner, so I went. That night two significant things happened. 1) I got the tips and a book recommendation I desperately needed to FINALLY get my twins to sleep through the night (sadly, at 10 months), and 2) I met several women who are still some of my favorites five years later.
Some of the obvious suggestions to find mom friends are work, church, neighbors, and the playground or indoor play spaces. Great suggestions, but I needed some other ideas. The following are some of the ways I have found mom friends, some ideas I solicited from friends, and some newer ways that moms have started trying to connect.
1. Twin Mom Clubs.
Find an actual club of people with a similar situation as you, such as a moms of multiples club. This group of incredible moms has given me some of the best advice, best tips and tricks, best laughs, best cries, best times, and are the best women. Ever. I love my multiples club so much that I am now President of the club. To find a multiples club in your area, search the Multiples of America website.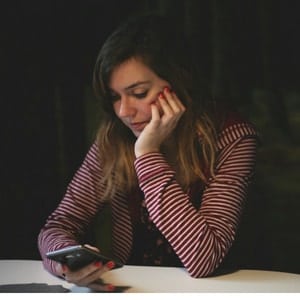 Another option is to research other mom groups in your area and join their Facebook Group and Mailing Lists. These groups often provide calendars of kid events, group playdates, and other family-friendly events. You are bound to run into other moms with kids in the same age range by participating. If you engage on the Facebook pages of mom groups, you may find yourself interacting with the same moms repeatedly, and making playdates to meet up.
2. Matchmaking kids.
I thought when my boys started daycare I would meet other moms from there, but that wasn't as easy as I imagined it would be. Mostly we just rushed past each other as we dropped or scooped up kids. However, once my boys were in Pre-K and made friends themselves, I met the moms of their friends at birthday parties and other school events and did become friends with a couple of moms that way.
3. Hobbies.
If you have any hobbies or interests that tend to have people congregate periodically, it is a great opportunity to meet people.
The gym or exercise classes, especially with childcare, where you run into the same mamas dropping off and picking up may indicate you have the same-ish schedule as that mom.

Sports clubs like running, walking, tennis, or a Stroller Strength group, may indicate similar goals of getting outside and staying in shape.
If you like to create things, local workshops like "paint your own" places, cooking classes, or soap, candle, or jewelry making classes are a great way to find like-minded people.
If you're a music lover, join a community choir or band. This is a great way to make friends with many people at once and practice your creative side.
Join a church or synagogue and enroll your kids in Sunday school classes and attend their family events. This is a great way to get involved with the young parents at your place of worship.
Check out the Meetup website. There are book clubs, kayakers, sports team followers, bird watchers – whatever you like, you can find a group here.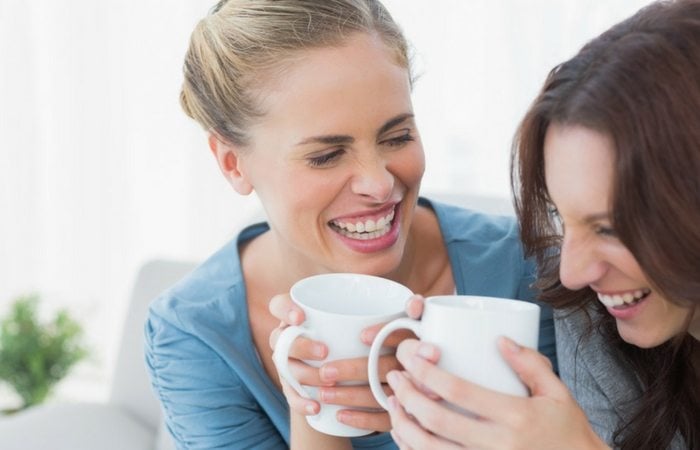 4. Friends of friends.
I have met some incredible mom friends through other friends. Your current friends may not be in the same life-stage as you, but sometimes they have people in other parts of their lives who are. Ask them. I had a childhood friend contact me after learning I had my boys on my own via donor and offer to introduce me to someone she knew in California who also had twin boys by donor, just three months older than mine. We haven't met in person, but I cherish knowing her and am so glad that our mutual friend connected us. One of my boy's speech therapists introduced me to another local mom who had her kids by donor, and she has already built a network of other women here in that same boat, so now I can meet them as well.
5. There's an app for that!
Similar to dating apps, there are now apps for moms to connect! The two I've heard most about are Peanut and Bumble BFF. I downloaded them to check them out and it is intriguing. You add a picture, short description, ages of kids, and a distance to search, and start swiping. If you both swipe to connect, you will be connected. It's Tinder for moms. Um, brilliant!
My boys are now in elementary school. Between drop-off in car line and pick-up from the extended day program, I don't see other parents there either. I volunteer, chaperone field trips if I can, and go to in-school parties and events that parents attend. But I run back and forth between the boys' classrooms, and nobody can really socialize over snacks and crafts anyway.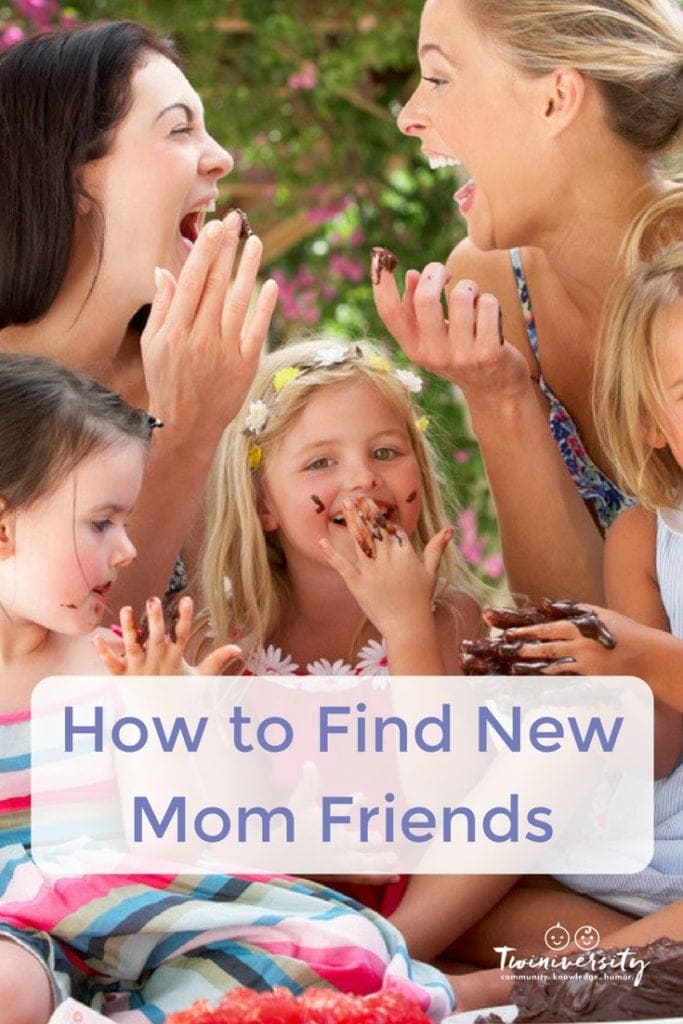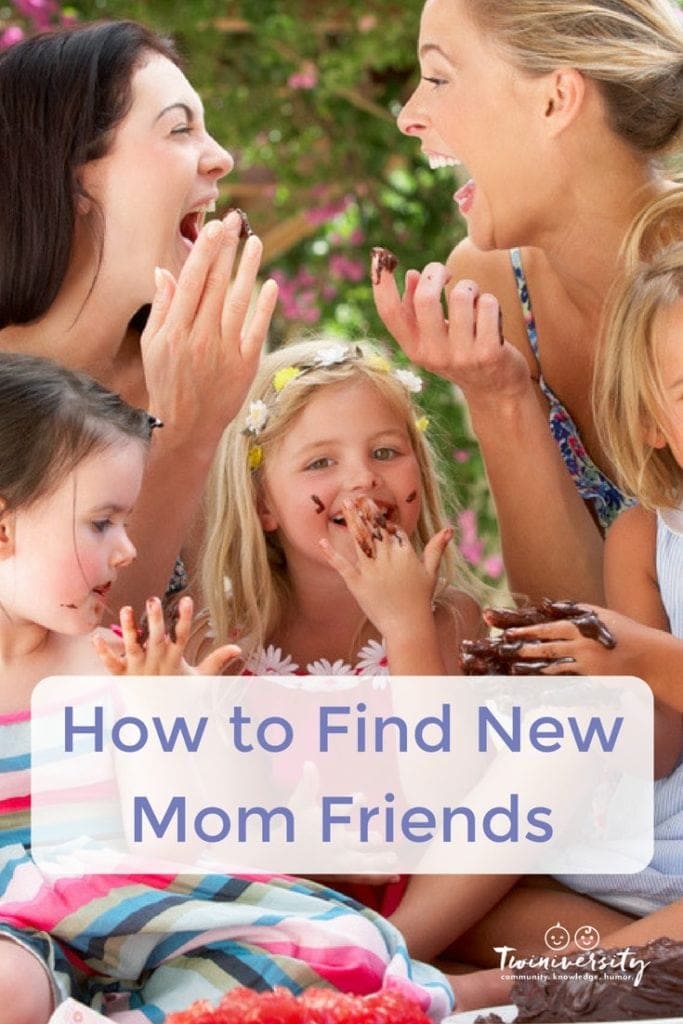 As the boys get older and join teams, cub scouts, and other activities, I know I'll meet more moms. But when they are young, it is really tough.
So, until your kids are playing mom-matchmaker for you, if you connect with a mom while browsing the diaper aisle at Target, go ahead and make the first move. Ask how old her baby is. She might be your next best mom friend!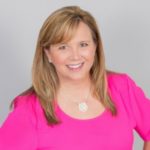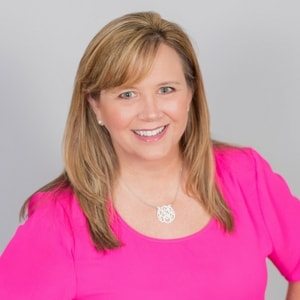 Brooke Stearns is a single, working mom of twin boys, who, although she grew them in her belly, are not genetically related to her. Besides her boys, she loves white sand and blue water, new passport stamps, the color pink, and FSU Seminole football. Brooke has a new blog in progress at brookeandtheboys.com, with a corresponding Facebook page here.
---
Related Articles
Why Mom Needs to Make Time for Herself
Down and Dirty: Friendships After Twins