Learn how to make your home safer for children by baby proofing your home. We provide room by room tips to get you all set for safety.
In this Facebook Live video, Natalie Diaz invited the Twiniversity Community into her New York City home to discuss how to make your home safer with baby proofing tips. This session will discuss safe sleep, some measures you may have missed when baby proofing your home, and to show that it is not as expensive as you may think when baby proofing.
Love to Dream has given Natalie swaddles to be given out and provided the opportunity for this Facebook Live to happen. The Love to Dream Swaddle UP comes in many patterns and sizes start at 5-8.5 pounds. This is not your typical baby product. Their innovative design provides more movement for your baby. When you put your baby in the crib on their back, the flexibility of the swaddle allows the baby to chew on their hands or when your baby rolls over the fabric stretches to allow the baby to push themselves up. This is not possible in traditional swaddles because of how tight the baby is wrapped with their arms held down.
In the Swaddle UP 50/50 Transition Bag the sleeves can be unzipped and removed to become a sleep sack. Or only one arm can be unzipped, depending on what works for your baby. Additionally, the design of the sleep sack will prevent your children from being able to crawl out of the crib. Love to Dream has a range of sizes for your baby regardless of age. Starting with the swaddle up, then the next bigger size is the 50/50, followed by a sleep bag and then finally a sleep suit. Natalie recommends having 3 for each baby: one in use, one in backup, and one in the wash. If three is too expensive then definitely 2 per baby, or 5 for twins.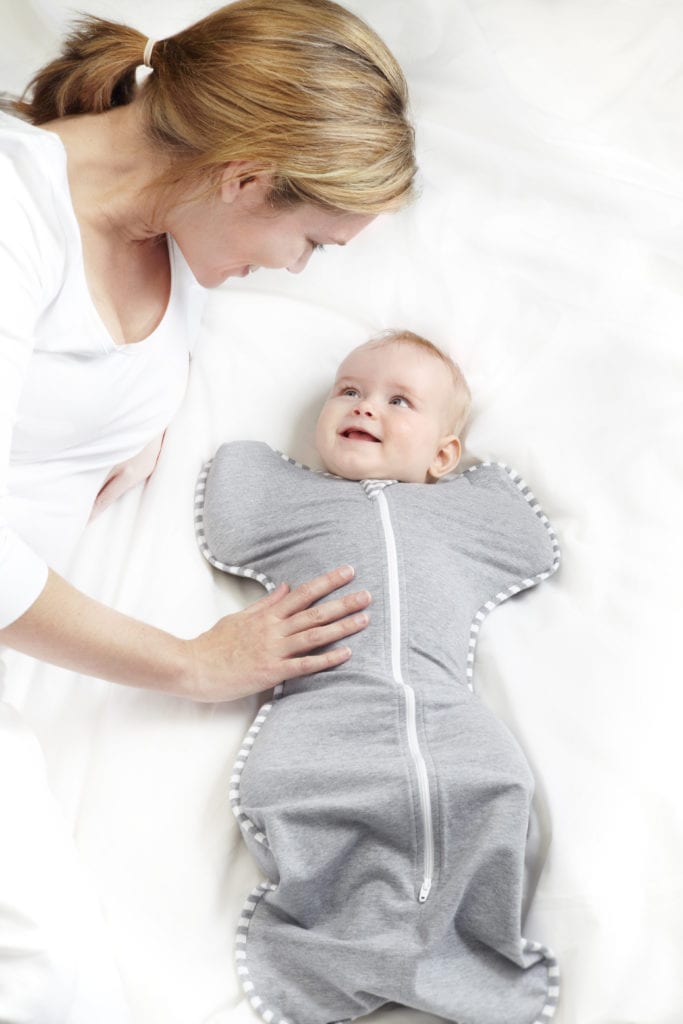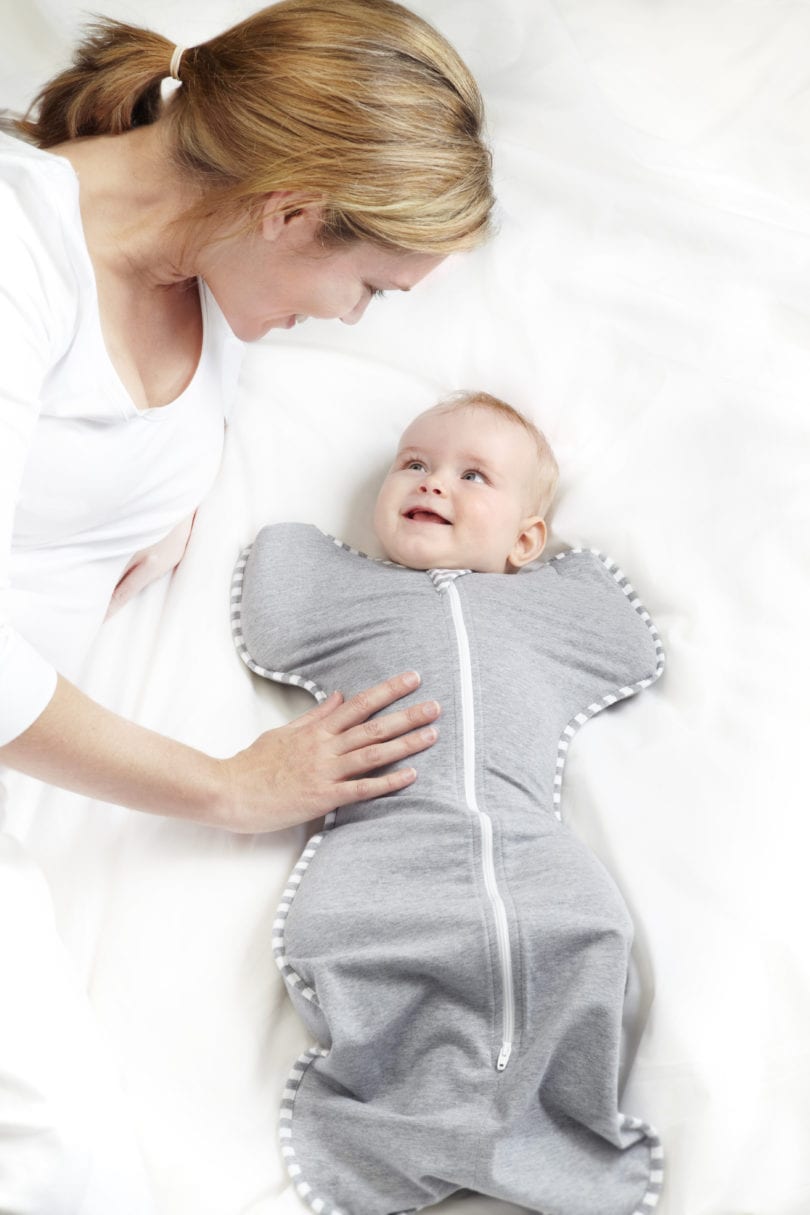 Register all the products you buy.
Whether they are store bought or second hand. Items may come with a registration card to fill out and send in. If not go to the website and sign up for company alerts. It is your responsibility to know the safety regulations and recalls.
The reason for registering and/ or signing up for company emails is to ensure that you will always know of any alerts. For instance, if the government has another shutdown, the division that alerts the public is also shut down. You should try to stay on top of recall notices; Twiniversity tries to share all the notices as well. Registering products does not end when your children are out of the baby stage.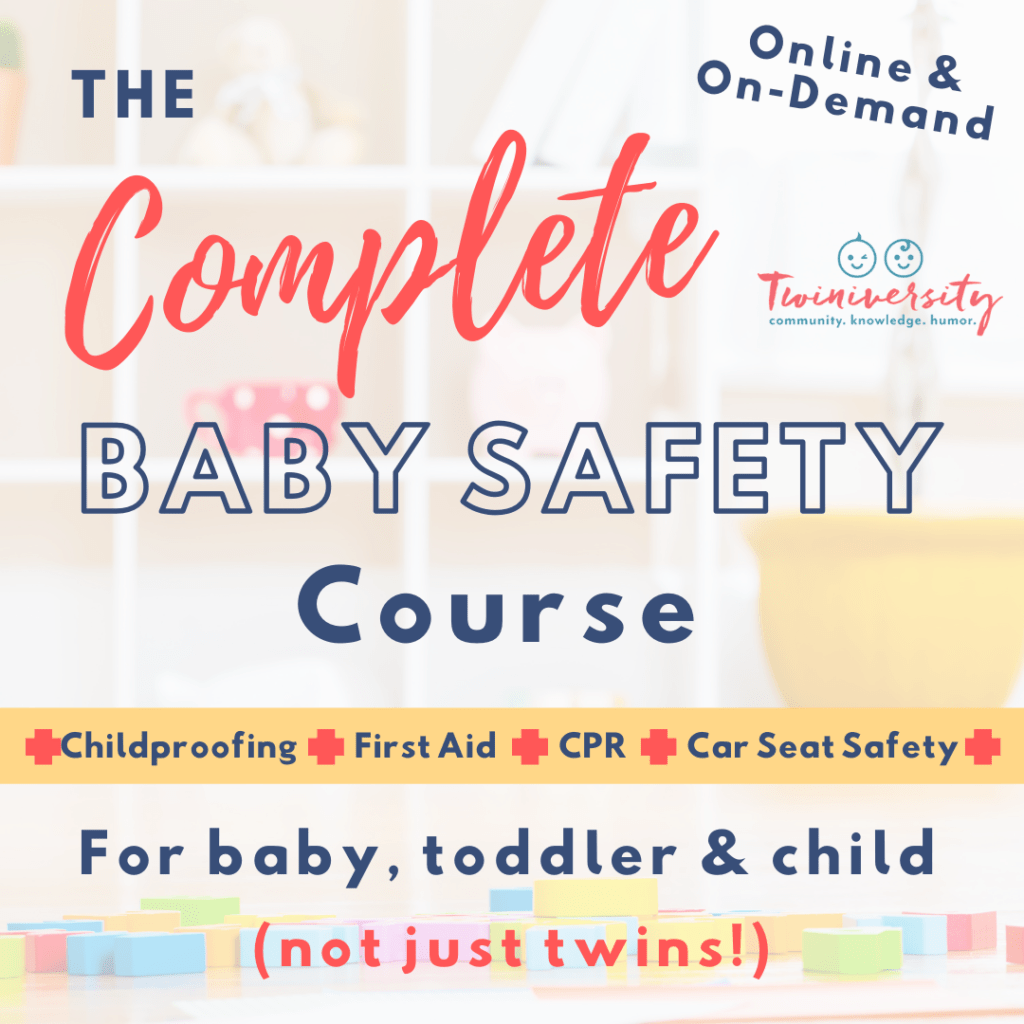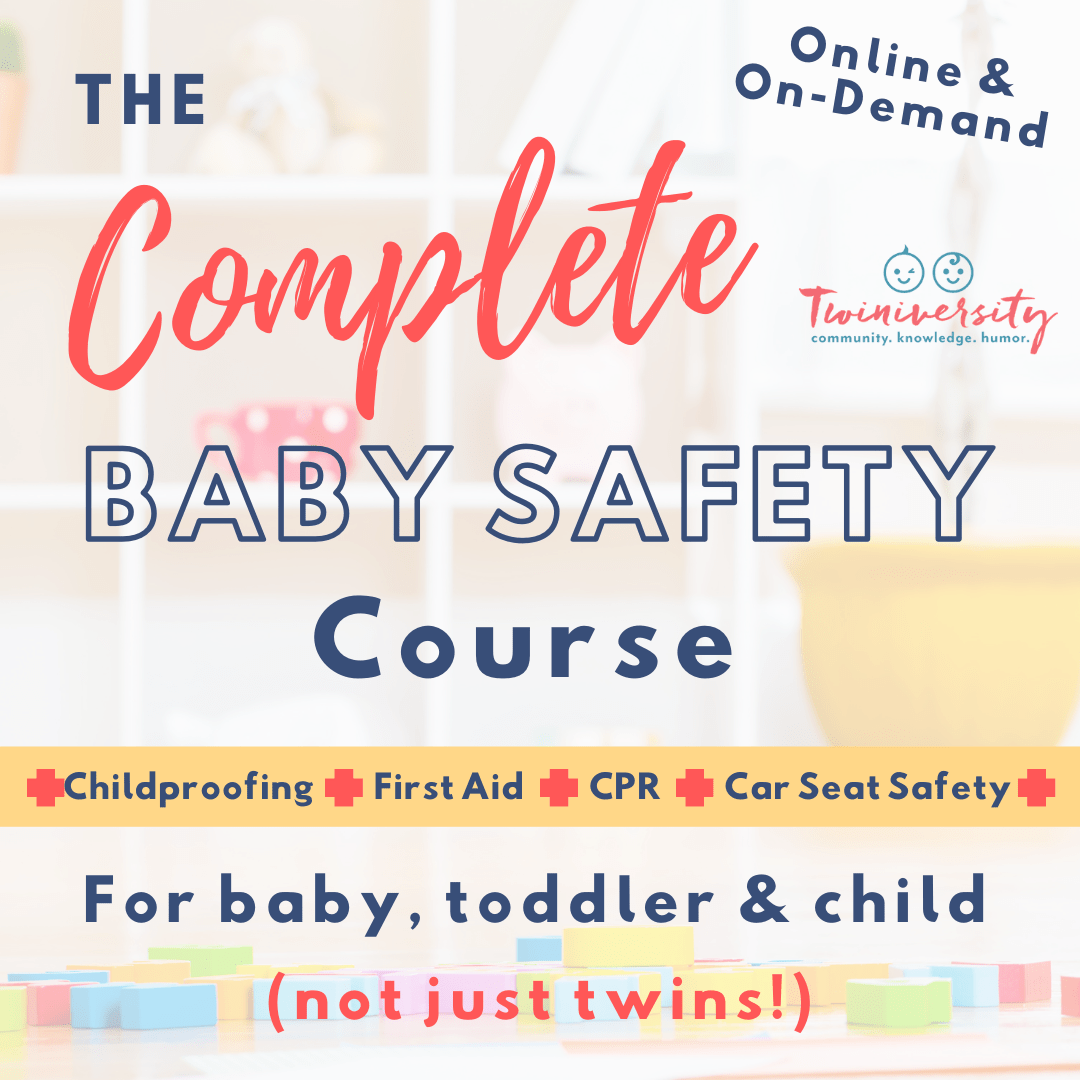 Need some baby safety training? Take the Twiniversity Complete Baby Safety course, offered on-demand. Includes video modules on infant, toddler, and child CPR, first aid, and common medical ailments, plus car seat installation and safety and childproofing your home. Click here to learn more!
Do not put off baby proofing until it's too late.
When you are pregnant, and assembling the nursery furniture, organizing the nursery and putting together baby gear, that is the time to baby proof. It's very easy these days; the company Qdos Safety has multiple options to baby proof.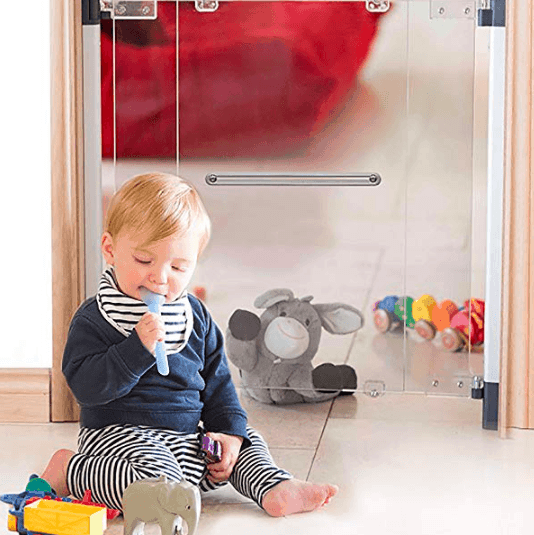 Any items 1 inch or less in diameter are a choking hazard for your babies.
For families with older kids look at the tiny toys that could be a hazard (Shopkins, Legos), and for everybody look at each item's size. Coins are a choking hazard. If it fits through a toilet paper roll you need to either throw those items out or relegate them to a room where the babies will not go in.
You can get your older children involved by having them test the size of their toys and decide if they should be put in a safe spot or removed from the house. These are rules that should be shared with visitors to the house as well; nieces, nephews and friend's children.
Smoke Detectors and Carbon Monoxide Detectors should be installed.
These should be placed all over your home. You might want to buy a combined smoke detector/carbon monoxide detector. You should especially have this combination item if you live in an apartment building or a home that uses gas.
Sleep safety: when discussing the crib, the words are Flat and Firm. In the crib, there should be a flat surface and a firm mattress with only a fitted sheet. If you have purchased a dual-sided crib mattress, make sure that you have it on the correct side for the baby's age.
Nothing in the crib but the baby
The baby should be the only thing in the crib; no toys, pillows, blankets, nothing. Just the mattress with a fitted sheet and your baby should be wearing a swaddle or wearable blanket (pacifiers are OK too.) Swaddles like the ones made by Love to Dream are your baby's warmth and their comfort, it's all they need.
Swaddling is done to repress the baby's reflexes that can keep your baby awake, and it provides all the comfort they need. Your baby should be dressed in 1 layer and then the swaddle over them. The room temperature should be set to 68-70 degrees.
Where are the cords?
Second, pay attention to where cords are located in relation to the crib. When the baby is laying in the crib, you don't want them to be able to reach any cords from window shades, monitors, etc as it could become a strangulation hazard. Make sure that monitor cords are tightly attached to the wall to ensure that the baby does not grab the cord and pull it or tangle themselves.
Anchor all furniture
Third, anchor the furniture to the wall. Qdos Safety makes many options of anchoring tools that are now easy to use and aesthetically pleasing. The furniture pieces that need to be anchored are dressers (low and high), bookcases, changing tables, anything that can fall on the baby.
As your child grows, they might start asserting their independence by wanting to get things they want that are on high shelves, or on top of the dresser. Items that may entice your child to climb should be moved to a reachable location, a secure room, in a closet or just get rid of it. Furniture should remain anchored for as long as possible, and updated if the room is rearranged or when the kids get older.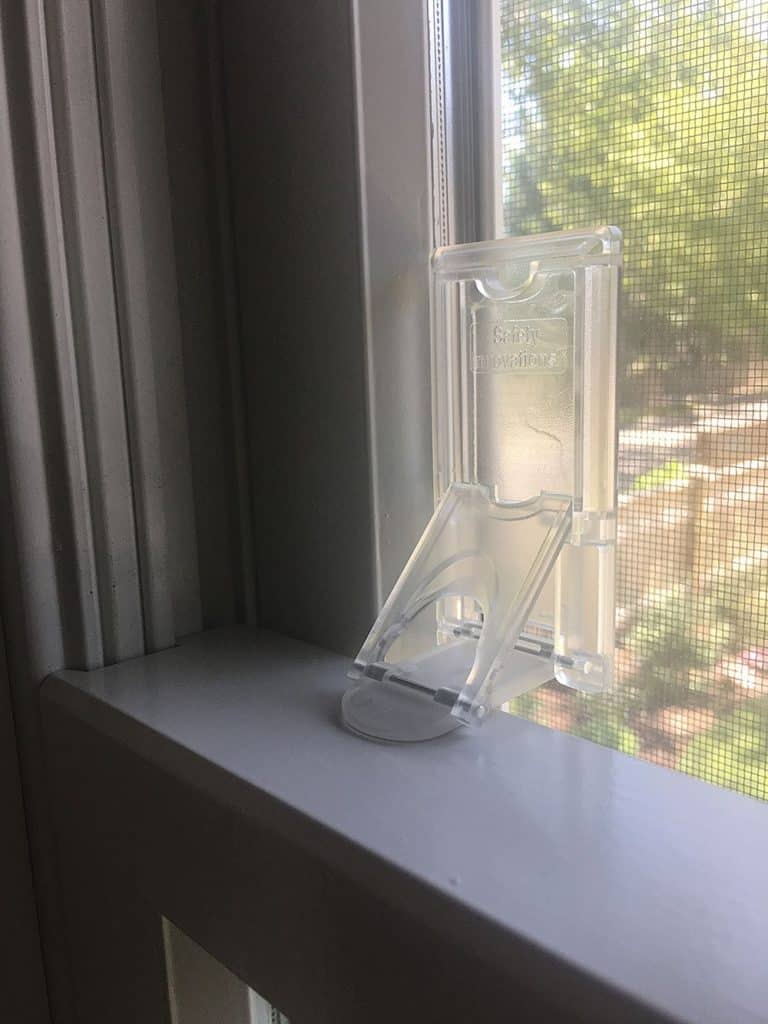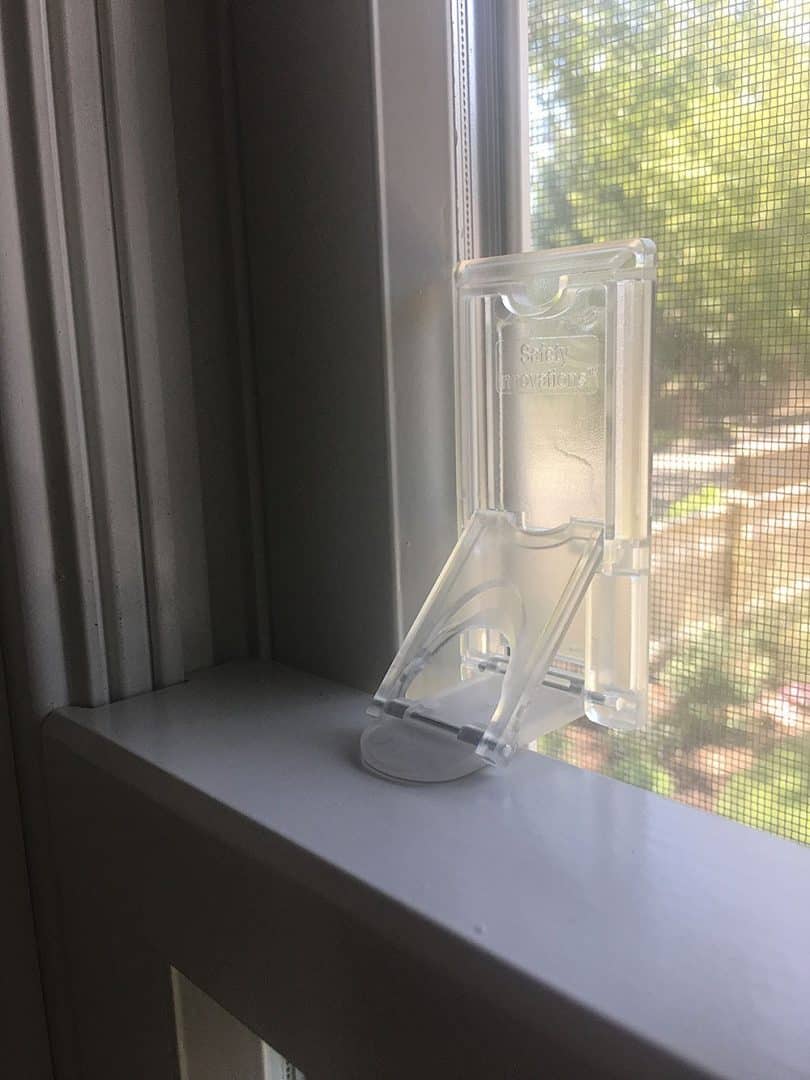 Install window guards
Finally, regardless of what floor you live on in an apartment you want your windows to have guards on them. If you rent your home your landlord can provide them (if they don't you can call your municipality and see if it's illegal for them not to give you guards), and if you own, you can purchase and install your own window guards. There are also guards for your sliding glass door. These should be placed on all windows and doors, even in rooms the babies don't go in because you don't know where your kids will go.
Kitchen safety
A lot of these should be obvious, starting with stove guards and knob covers. You can purchase knob covers but Natalie recommends removing the knob covers on the stove. Qdos Safety also makes a stove guard for electric ranges. Another Natalie recommendation is to use the back burners first.
Cabinet locks should definitely be used, regardless of what type of cabinets you have, they make a lock. Natalie recommends putting locks for the oven, dishwasher, drawer freezers and refrigerator. The refrigerator might not have been on your radar, but if your children open the door, crawl in and then the door closes- they are stuck in the fridge.
Keep knives out of reach of children if they are on the counter. If you have a knife block, consider moving it into a high cabinet.
Another idea is to turn down the temperature of the water in your home. This can be turned down on a household level, and this would be helpful in the kitchen and the bathroom. This is to make sure that your children are not scalded by hot water.
Living Room baby proofing tips
First, make sure the edges of a coffee table are covered. The entire coffee table, you can buy a wrap around pad, or if it's too expensive Natalie knows people who cut a pool noodle and put it around their glass coffee table. Next, the fireplace should have a screen and lock on it to protect your babies from getting in there.
Around the holidays the Christmas tree can be put inside a play yard gate. Additionally, there is now a smoke alarm that is a Christmas tree ornament. This can be a temperature gauge for people who use real trees and it will tell you if there is a fire.
Similar to the bedroom, all furniture should be anchored to the wall: bookshelves, television, etc. Baby gates and play yards can keep things contained.
Bathroom baby proofing tips
Kids should not be able to go into the bathroom whenever they want, it should be kept secure. The tub faucet should have a cover because your child can hit it and crack their head. If you have other handles you may want to put covers on them too. Put a lock on the shower handles to prevent the kids from accidentally turning on the hot water.
Toilet locks should be considered to keep your children from playing in the toilet. There's also a drowning risk involved with that, so it's really worth the investment on a toilet lock.
Be mindful of shampoo, face soaps, razors, and anything you don't want the kids to touch. These items should be removed from the bathroom or made inaccessible. And nothing plugged in should be kept near the tub to prevent it from being pulled into the tub.
Make sure that your bathroom outlets (and kitchen outlets) are GHI outlets. This is an outlet that if water goes in it will trip the fuse.
Any medications in the bathroom should be kept under lock and key. Do not leave your kids alone in the bath until the age of six. Natalie says that 6 might be a little old, but it's your judgment. There has been an increase by 70% in bathtub drownings in the last decade, so toddlers and babies should not be left alone.
Home safety is a necessity but safety doesn't have to be expensive! You can look for a Mother of Twins club in your city and purchase hand me down safety supplies. When you buy a hand me down, remember to register it with the manufacturer or sign up for the company emails so that you are aware of any recalls or problems.
Baby Proofing Your House with Twins