Last updated on September 7th, 2023 at 11:29 pm
Twins are, how do we say it nicely, well, let's just say, twins are a handful. Born as a team, your duo can get themselves into quite a bit of trouble. Your first line of defense? Insurance (hopefully a small co-pay). The second line of defense? Baby proofing! Let's get ahead of any accidents with some of our top baby safety tips for twins:
Register
Whether your baby items are store-bought or second-hand you need to register them. Most items come with a registration card to fill out and send in. You should think of these cards as non-negotiable. If an item comes with a registration card, the card needs to be filled out and sent. If there is no registration card, you should go to the manufacturer's website and sign up for company alerts. It is your responsibility to know the safety regulations and recalls. This will help ensure that you always know if an item you own has a recall or safety warning.
You need to try to stay on top of recall notices; Twiniversity tries to share all the notices as well. Registering products does not end when your children are out of the baby stage.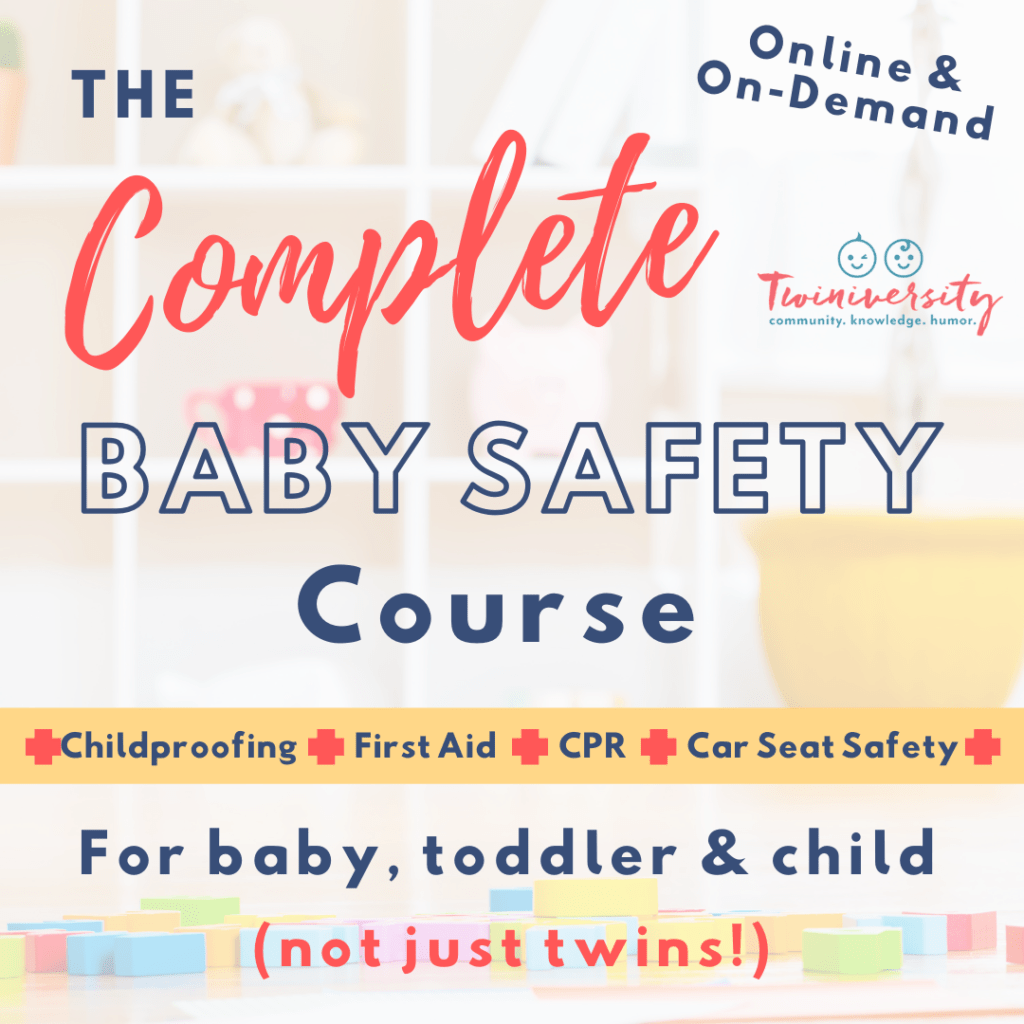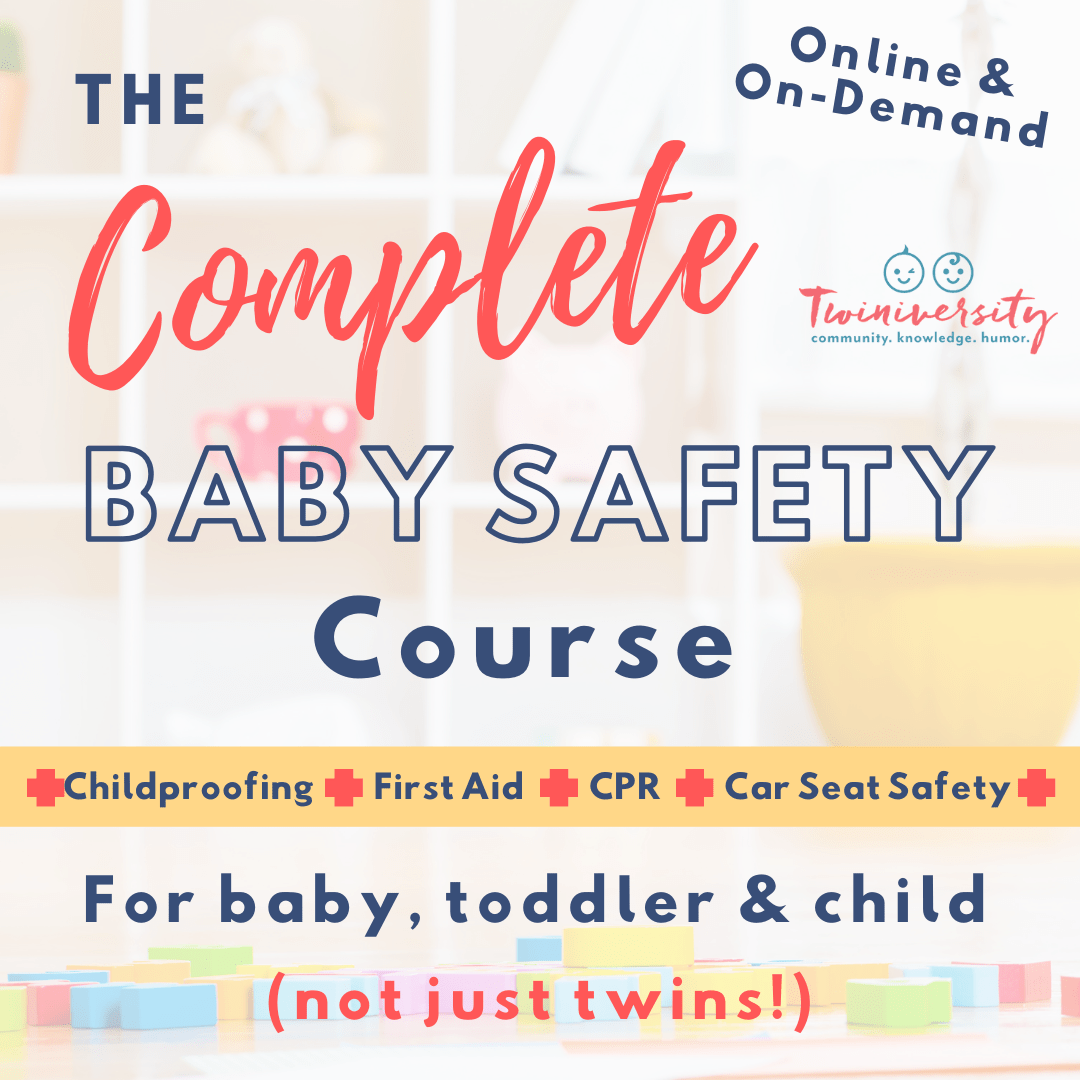 Need some baby safety training? Take the Twiniversity Complete Baby Safety course, offered on-demand. Includes video modules on infant, toddler, and child CPR, first aid, and common medical ailments, plus car seat installation and safety and childproofing your home. Click here to learn more!
Do not put off baby-proofing until it's too late.
When you are pregnant, and assembling the nursery furniture, organizing the nursery, and putting together baby gear, that is also a great time to baby-proof. Check out www.qdossafety.com for a one-stop shop for baby-proofing.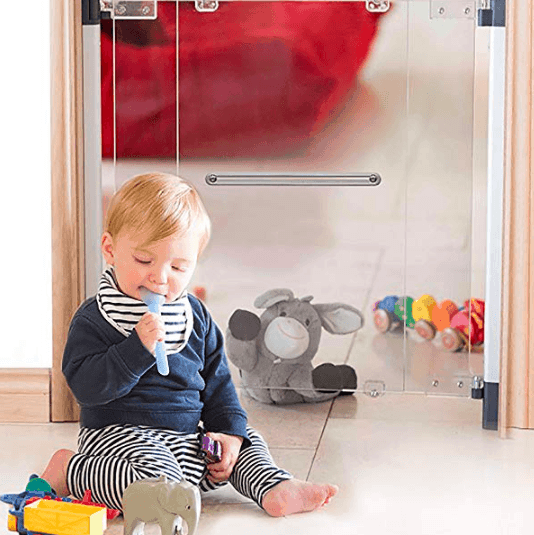 Choking hazards = items 1 inch or less in diameter
For families with older kids, it is important to keep tiny toys (I'm looking at you Legos..) out of the reach of your littles. Coins are also a choking hazard. A good rule of thumb is, that if it can fit through a toilet paper roll, then it needs to be kept out of the reach of small children.
Get your older children involved by reminding them to pick up their small toys or play with them in spaces your twins will not frequent. Share these rules with friends, family, babysitters, and visitors, and remember to check areas you may visit as well.
Smoke Detectors and Carbon Monoxide Detectors should be installed.
It is important to have enough smoke alarms in your home. According to the NFPA, smoke alarms should be placed in every bedroom, outside each sleeping area, and on every level of your home. A smoke alarm or carbon monoxide detector will do you no good if it is not working properly. So, you should test each alarm at least once a month, and change the batteries according to the manufacturer's recommendations.
Nothing in the crib but the baby
The baby should be the only thing in the crib; no toys, pillows, blankets, nothing. Remember the words are Flat and Firm when thinking of sleep safety. In the crib, there should be a flat surface and a firm mattress with only a fitted sheet. If you have purchased a dual-sided crib mattress, make sure that you have it on the correct side for your baby's age.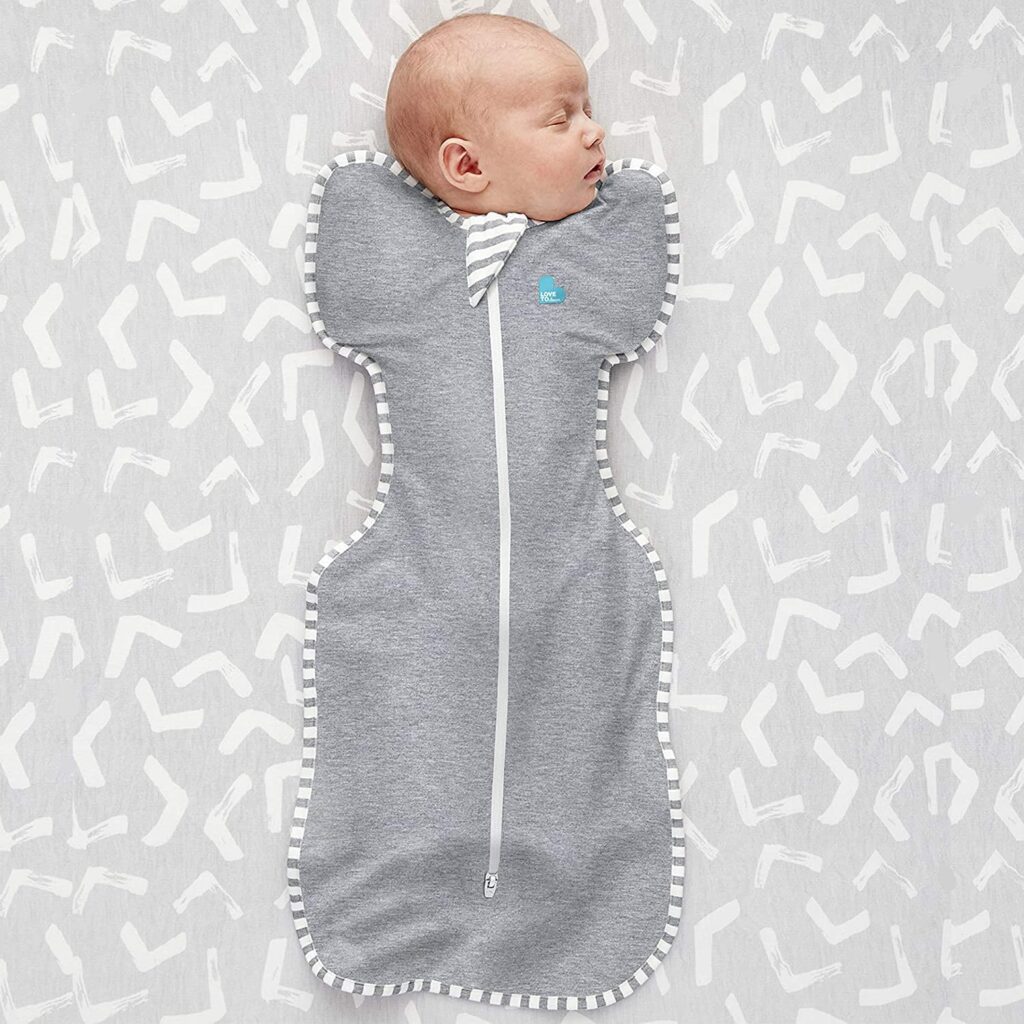 Swaddles and sleep sacks like the Swaddle Up by our friends at Love to Dream are completely acceptable and may actually benefit your baby's sleep. If swaddling or using a sleep sack, you should dress your baby in a onesie or one-piece cotton jammies. Too many layers can cause your baby to overheat.
Where are the cords?
Pay attention to where cords are located in relation to your baby's crib. When they are lying in their crib, you don't want them to be able to reach any cords from window shades, monitors, sound machines, etc. These are strangulation hazards.
Anchor all furniture
As your child grows, they might start asserting their independence by climbing and assembling homemade stairs from random items and toys. Make sure you have anchored your furniture so you are ready for the crazy toddler years!
Qdos Safety has lots of different options for anchoring furniture and electronics to walls and consoles, plus they are easy to use and aesthetically pleasing. Focus on the furniture pieces that are more likely to tip over: dressers (low and high), bookcases, and flat-screen TVs. Not sure if your furniture is a tip-over risk? Just anchor them all for peace of mind and added safety.
Furniture should remain anchored for as long as possible and updated if the room is rearranged or when the kids get older.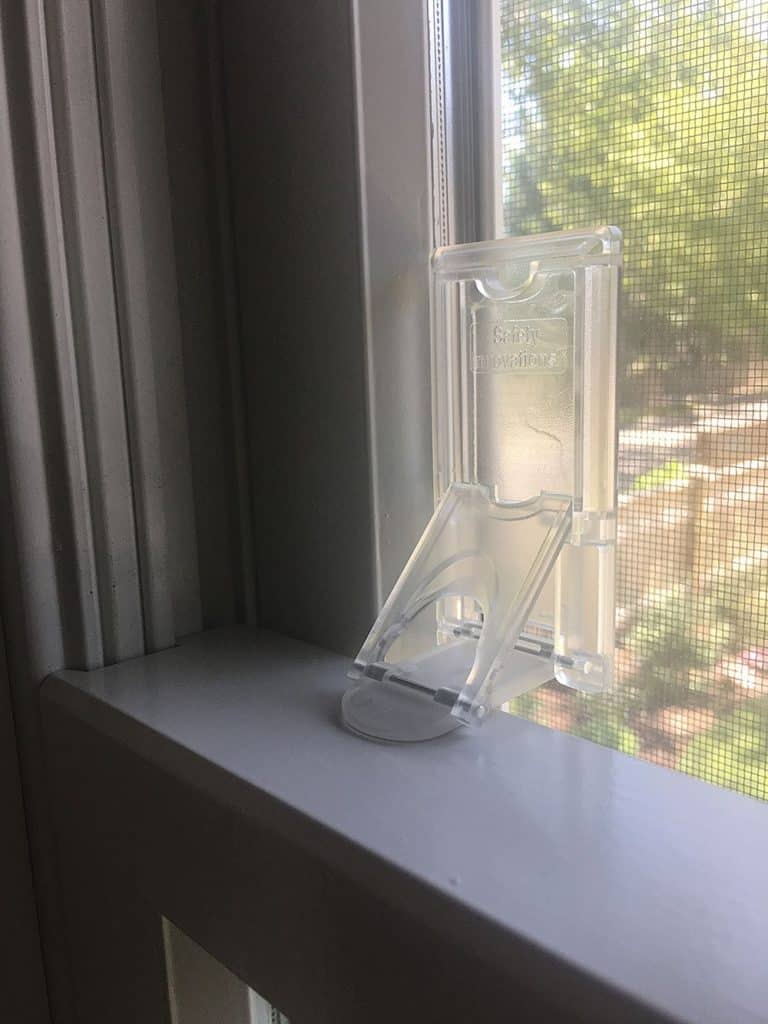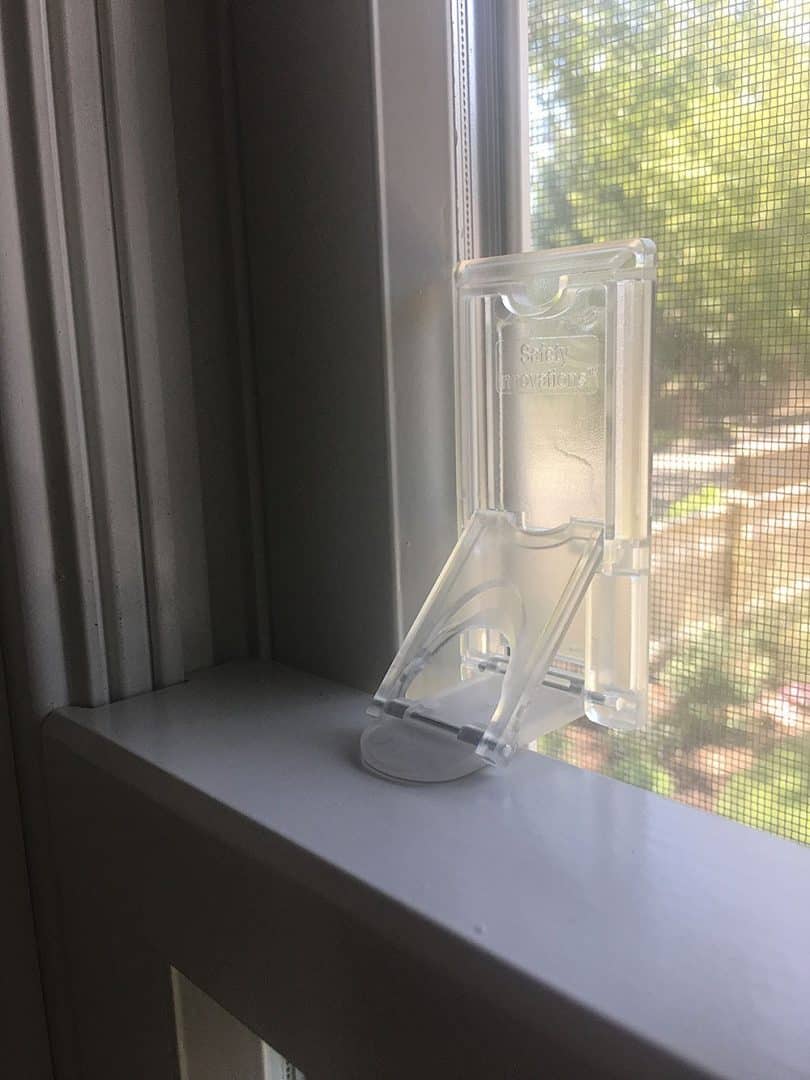 Install window guards
Regardless of how many floors up you live or how many stories your house is, you want your windows to have guards on them. If you rent your home your landlord can provide them (if they don't you can call your municipality and see if it's illegal for them not to give you guards), and if you own, you can purchase and install window guards. Window guards are designed to prevent children from opening windows, which become a falling hazard. There are also guards for your sliding glass door. These should be placed on all windows and doors, even in rooms the babies won't frequent, because you don't know where your kids will go given the chance.
Kitchen safety
A lot of these should be obvious, starting with stove guards and knob covers. You can purchase knob covers, or you can just remove the knobs from the stove. Qdos Safety also makes a stove guard for electric ranges.
Twiniversity tip: When cooking, if you do not need to use the front burners (you know the ones that little hands can reach), don't. Cook on the back burners instead.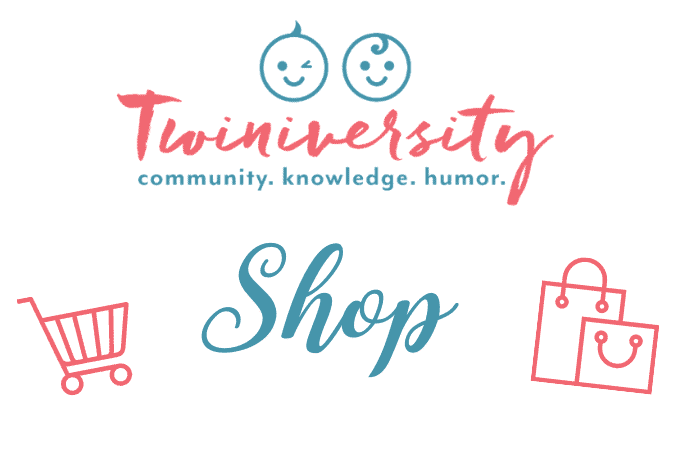 Check out all our Twiniversity merch in our SHOP! We've got twin mom and dad t-shirts, twin planning printables, lactation support, twin baby shower planners & games, a digital twin pregnancy journal, and so much more! Start shopping now
Cabinet locks should be used for all cabinets containing any kind of chemical or cleaning product. Regardless of what type of cabinets you have, I promise you will be able to find a lock that fits! Don't forget the locks for the oven, dishwasher, freezer, and refrigerator doors. The refrigerator might not have been on your radar, but if your children open the door, crawl in, and then the door closes- they are stuck in the fridge.
Keep knives out of reach of children if they are on the counter. If you have a knife block, consider moving it into a high cabinet.
Living Room baby proofing tips
First, make sure the corners of your coffee table are covered. If you are worried about all the edges of your coffee table as a safety hazard, you can buy a wrap-around pad for your entire table.
Twiniversity tip: You can actually use pool noodles to do the same thing. Just cut the noodles in half and attach them to the edges of your coffee table.
Do you have a fireplace? Your fireplace should have a screen and lock on it to protect your babies from getting in there. And don't forget to keep the fire poker out of reach as well!
Bathroom baby proofing tips
Kids should not be able to go into the bathroom whenever they want. The tub spout should have a cover to protect your child from a head injury.
Toilet locks are great for keeping your twins from playing in the toilet. Plus once they get to their climbing stage, they won't be able to fall into it. This poses a drowning risk and potential injury. So, a toilet lock is worth investing in.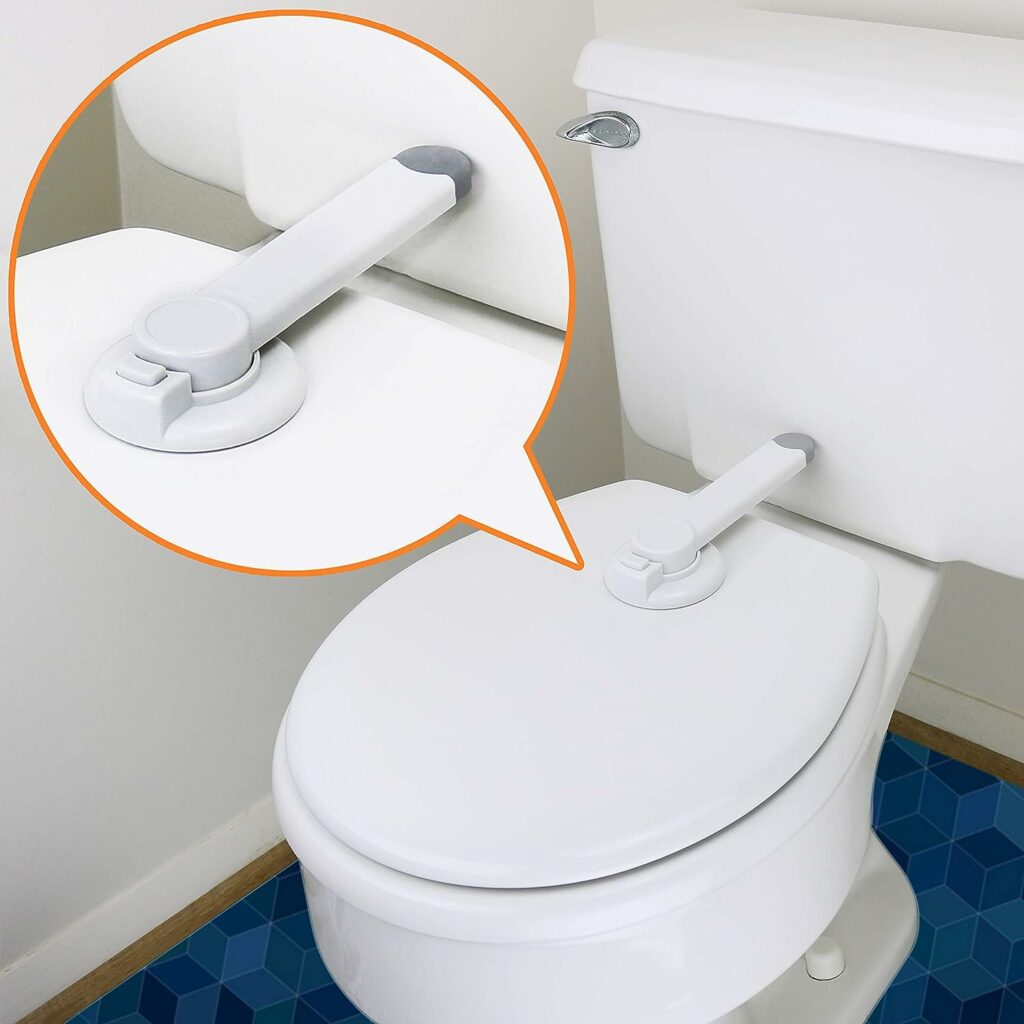 Be mindful of shampoo, face soaps, razors, and anything you don't want the kids to touch. These items should be removed from the bathroom or made inaccessible. To prevent being electrocuted, nothing plugged in should be kept near the tub.
Make sure that your bathroom outlets (and kitchen outlets) are GHI outlets. This is an outlet that if water gets in it will trip the fuse and make it temporarily inoperable.
Any medications in the bathroom should be kept under lock and key.
Do not leave your kids alone in the bath until the age of six. There has been an in the last decade, bathtub drownings have increased by 70%, so toddlers and babies should not be left alone.
Home safety is a necessity but it doesn't have to be expensive to make your home safe! You can look for a Mother of Twins club in your city and purchase hand-me-down safety supplies. But remember, when you buy a second-hand, you still need to register it with the manufacturer or sign up for the company emails so that you are aware of any recalls or problems that may arise.
Baby Proofing Your House with Twins
Latest Twiniversity Articles