Last updated on July 19th, 2022 at 02:03 pm
Water safety is no joke, regardless of a child's age. So it's crucial that you're prepared at any given moment. Which leads to the most important question: Do you know what kind of life jacket you need to keep your infant safe when near water?
According to the American Academy of Pediatrics (AAP), fatal drowning is the leading cause of injury death in children ages 1 through 4. That's why water safety is paramount, even in the bathtub. Additionally, the American Academy of Pediatrics (AAP) recommends that all infants should wear a life jacket whenever they are near a natural body of water (lake, ocean, or river), even if you don't actually plan on putting them in the water.
Now that we've established that our children MUST have a life jacket, what's the right life jacket?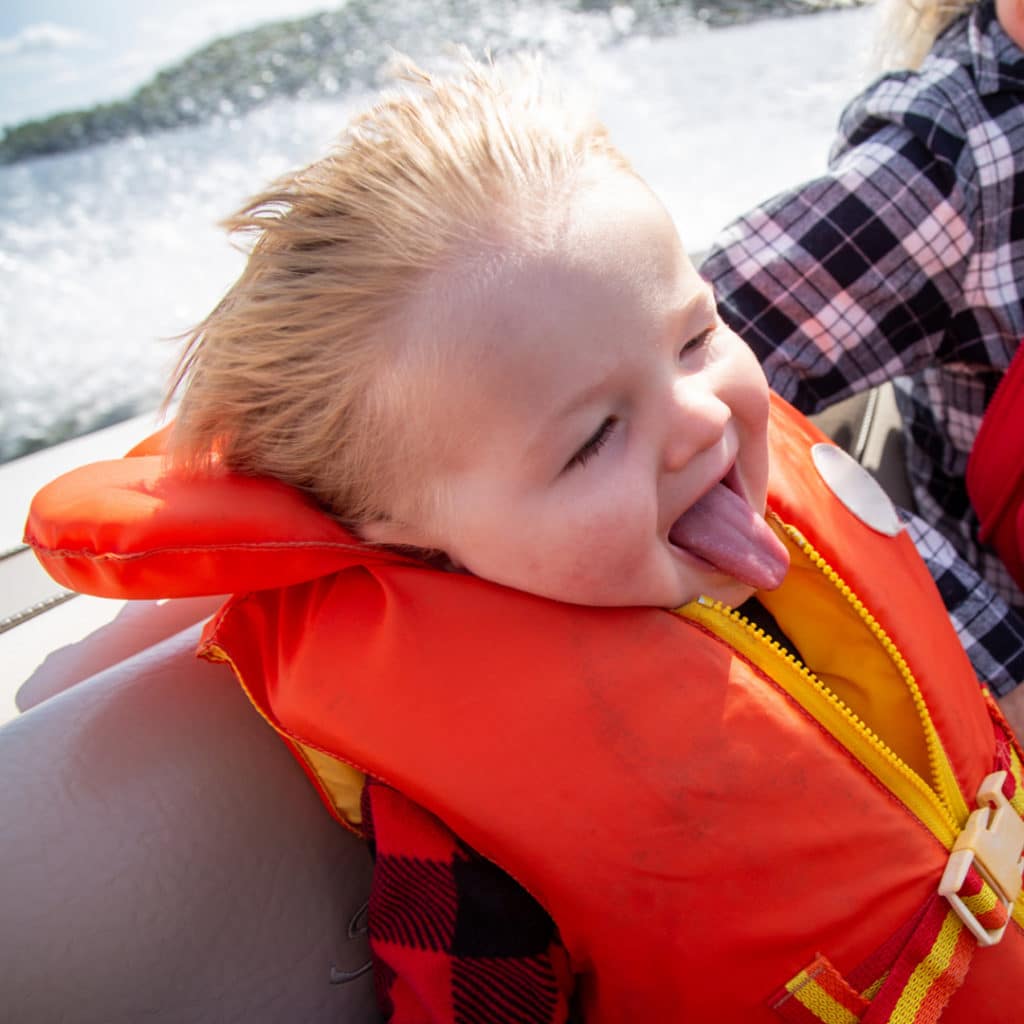 How to choose the right infant life jacket
Only purchase life jackets that the United States Coast Guard approves. How will you know if your one-year-old's life jacket is U.S. Coast Guard-approved? Printed on the life jacket will be the Coast Guard's seal of approval. In addition, The U.S. Coast Guard includes an instructional pamphlet with each approved life jacket that details exactly how it should be worn and also gives information on other water safety concerns.
When shopping for a life jacket for your infant or 1-year-old, the two most important factors to consider are the type and how it fits.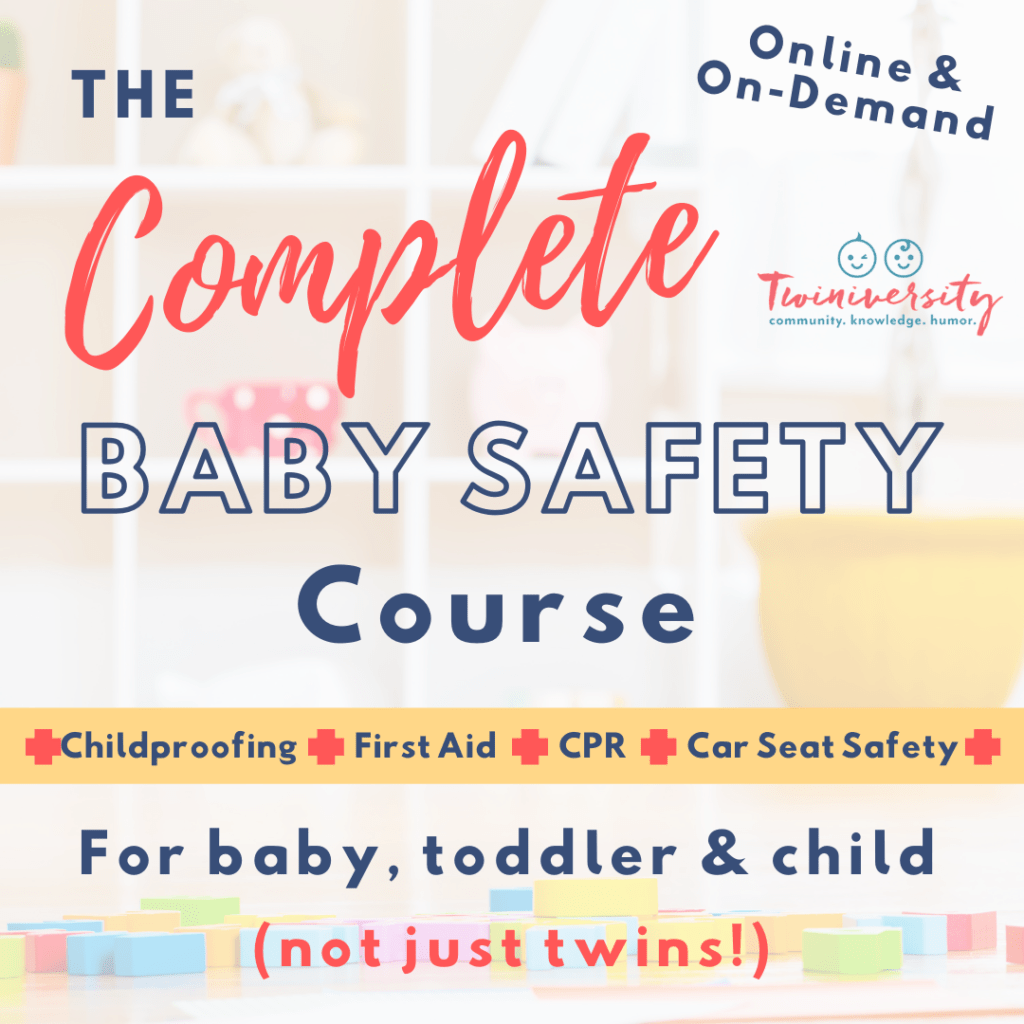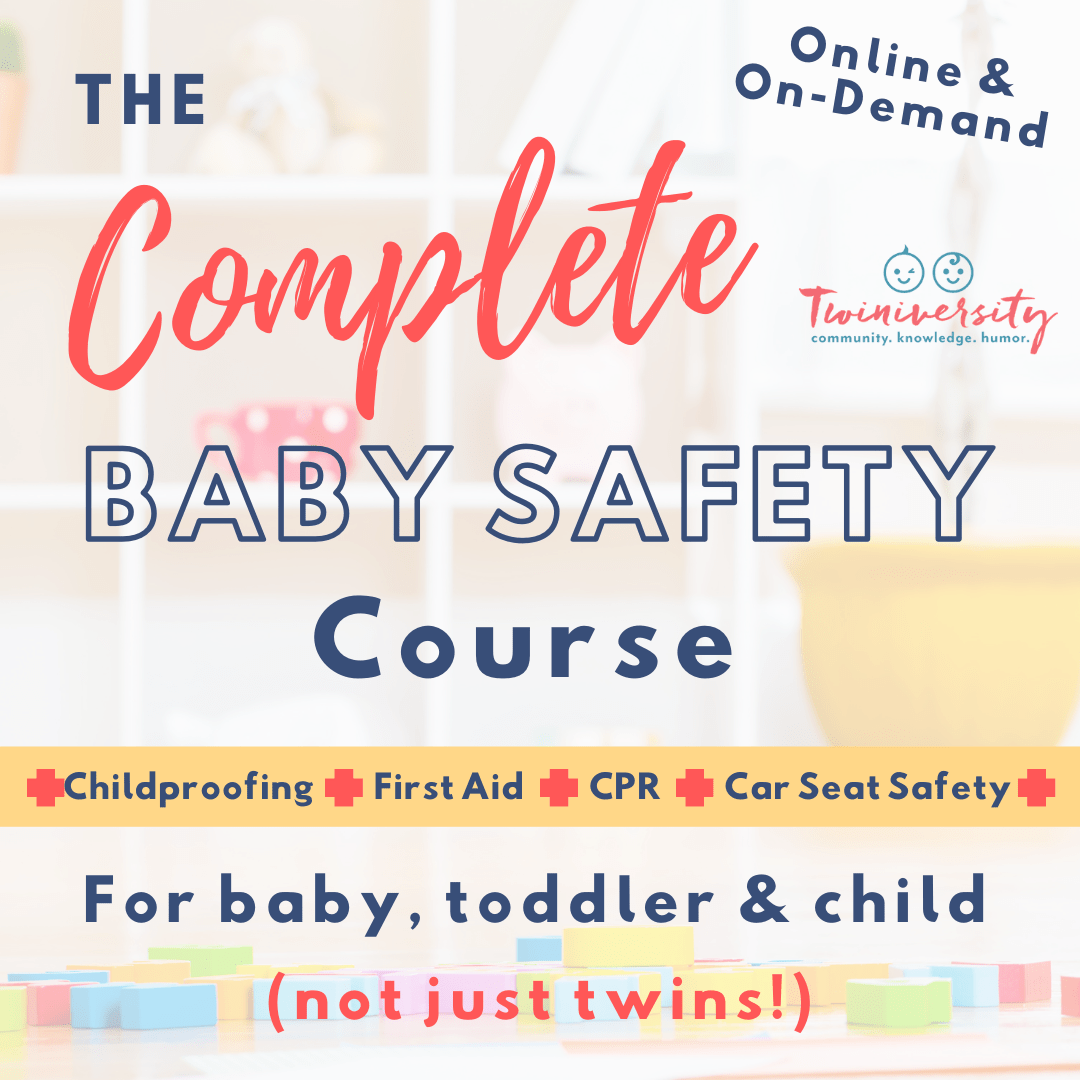 Need some baby safety training? Take the Twiniversity Complete Baby Safety course, offered on-demand. Includes video modules on infant, toddler, and child CPR, first aid, and common medical ailments, plus car seat installation and safety and childproofing your home. Click here to learn more!
Type II and Type III life jackets
There are different types of life jackets: Type I, Type II, Type III, Type IV, and Type V.
Each type designates their intended use and the buoyancy they provide. For use by small children, we're going to focus on Type II and Type III. Types I, IV & V are more specialized and specific to designated activities.
Type II: Type II life jackets are for use in calmer water and while boating or fishing. Notably, they are less buoyant and less bulky making them more comfortable, especially for young children. Type II jackets are not suitable for rough waters. The US Coast Guard recommends all infants and 1-year-old children wear Type II life jackets. These life jackets can turn some unconscious wearers face-up in water with extra head and float support.
Type III: Best for well-supervised water activities where a rescue would be immediate. These are widely available in all children's sizes. Type III life jackets will not turn an unconscious person from face-down to face-up.
Fit
If the life jacket is too large or small, it will not keep your infant safe or afloat. The only real way to know if an infant life jacket will fit is to try it on. To check for a good fit, pick the child up by the shoulders of the life jacket. If it fits correctly, the child's chin and ears will not slip through. If you cannot buckle, zip, or tie the life jacket straps, it may be too small.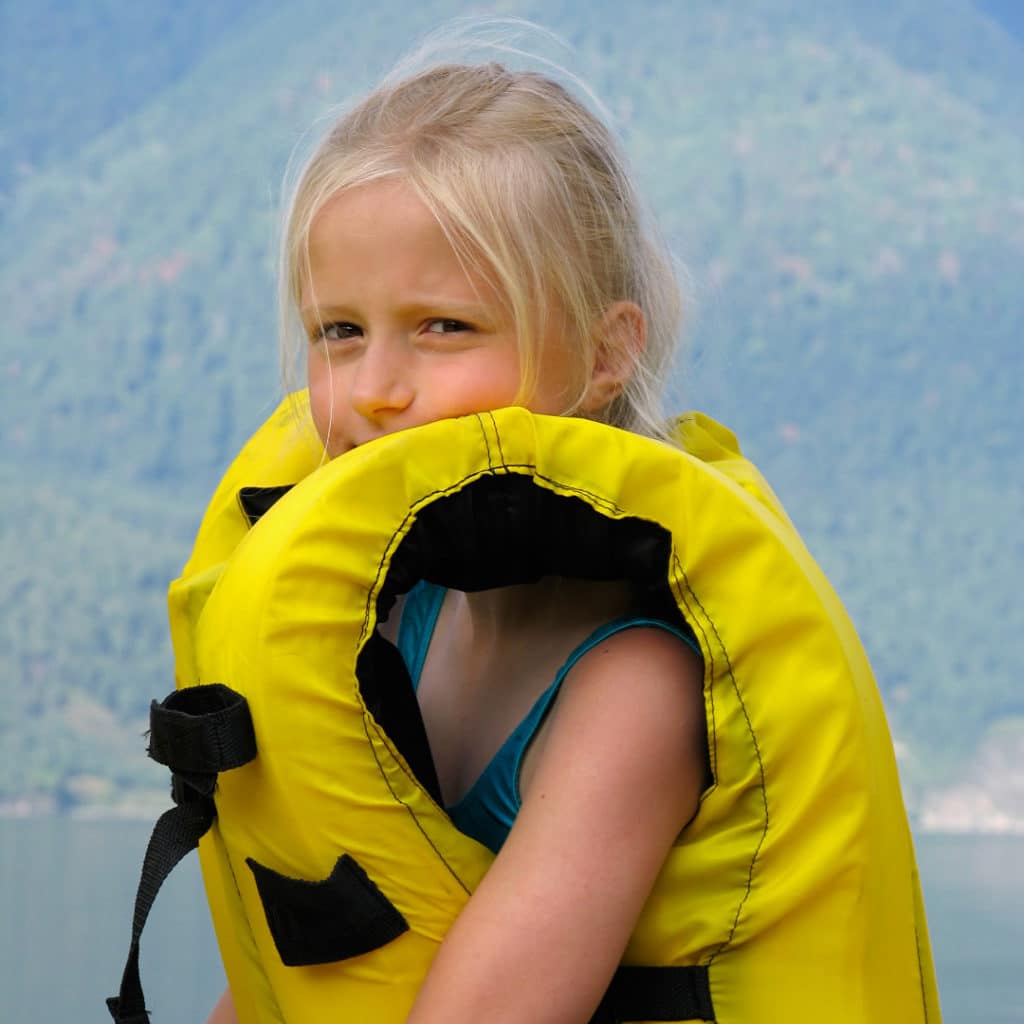 Weight
Select a life jacket design based on your child's weight. As a general rule, infant life jackets tend to be for babies that weigh 30 pounds or less. Choose a life jacket for the current weight of your child. Don't be tempted to buy one that's larger than your child with the expectation that you can use it for longer.
Additional safety measures to look for:
Neck collar, for extra head support.
Life jacket with a strap between the legs, to keep the vest from riding up.
A grab strap (handle) that you can use to pull your child out of the water quickly.
A brightly colored infant life jacket that is easy to spot in water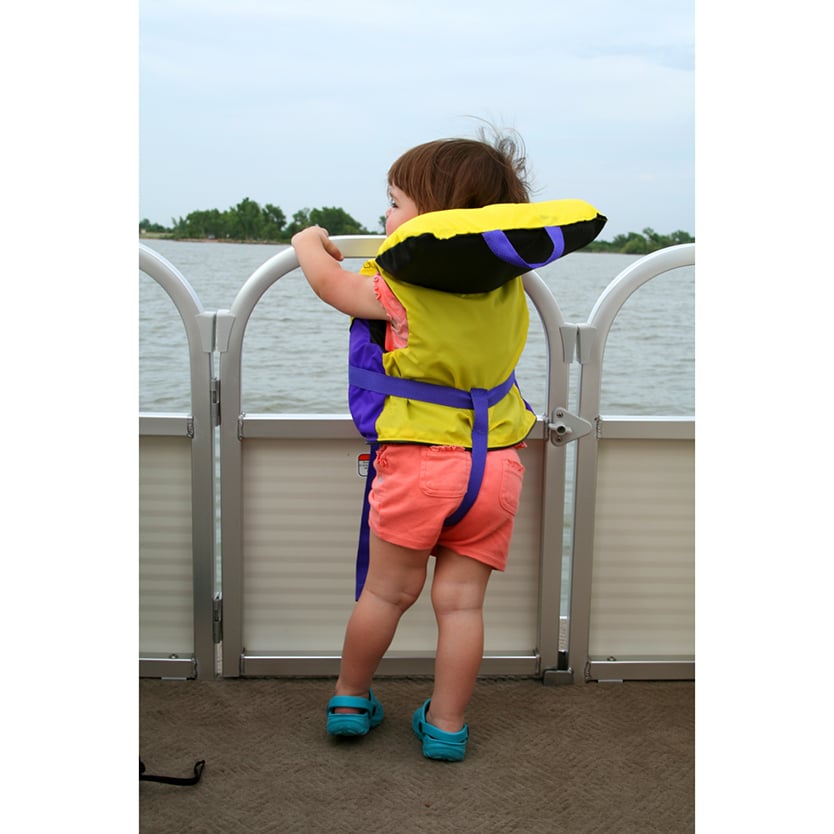 Keep in mind that life jackets are meant to be used while on watercraft when unexpected water conditions and currents exist. They are not meant to be used as an aid in learning to swim, nor in the backyard pool. Life jackets are designed to keep you afloat should you unexpectedly end up in the water.
The US Coast Guard does not recommend any one type or brand of life jacket. According to them, the best life jacket is the one you are wearing at the time you need it!
Best infant and 1-year-old life jackets: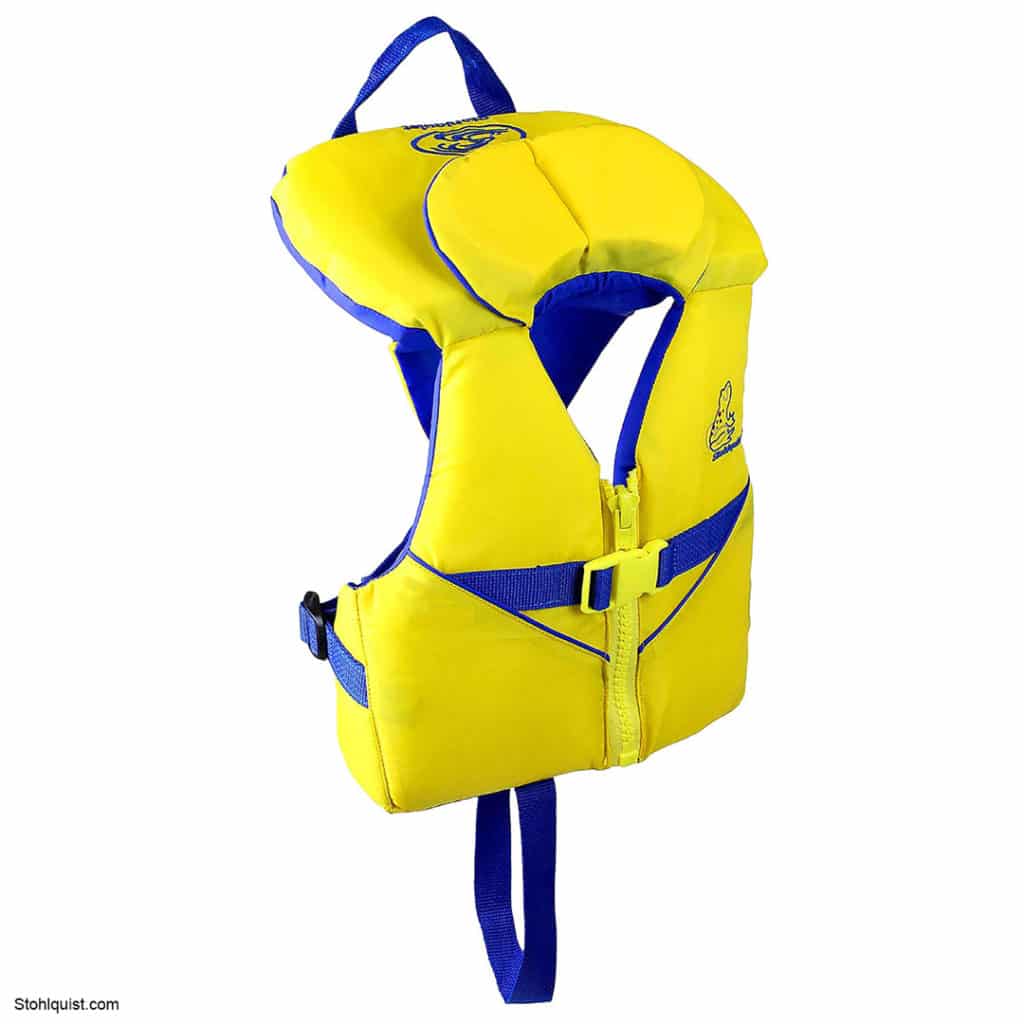 Stohlquist Infant Life Jacket
For maximum comfort, Stohlquist life jackets are made with soft foam. The head support collar offers security, and the open back ensures your baby won't feel constricted in or out of the water. Water retrieval is fast and easy with the convenient collar grab handle. The single quick-release front buckle provides added security and has an adjustable crotch strap to fit any size.
O'Neill Wake Waterski Infant USCG Life Jacket
Thanks to lightweight foam and a nylon-coated shell the O'Neill life jacket is less bulky than other infant to 1-year-old life jackets. The headrest sits a bit farther back keeping it out of the way and more comfortable while still helping kids float face-up. To add to the convenience factor, the vest has quick-release buckles that open and close in a flash and it offers protection against harsh ultraviolet rays.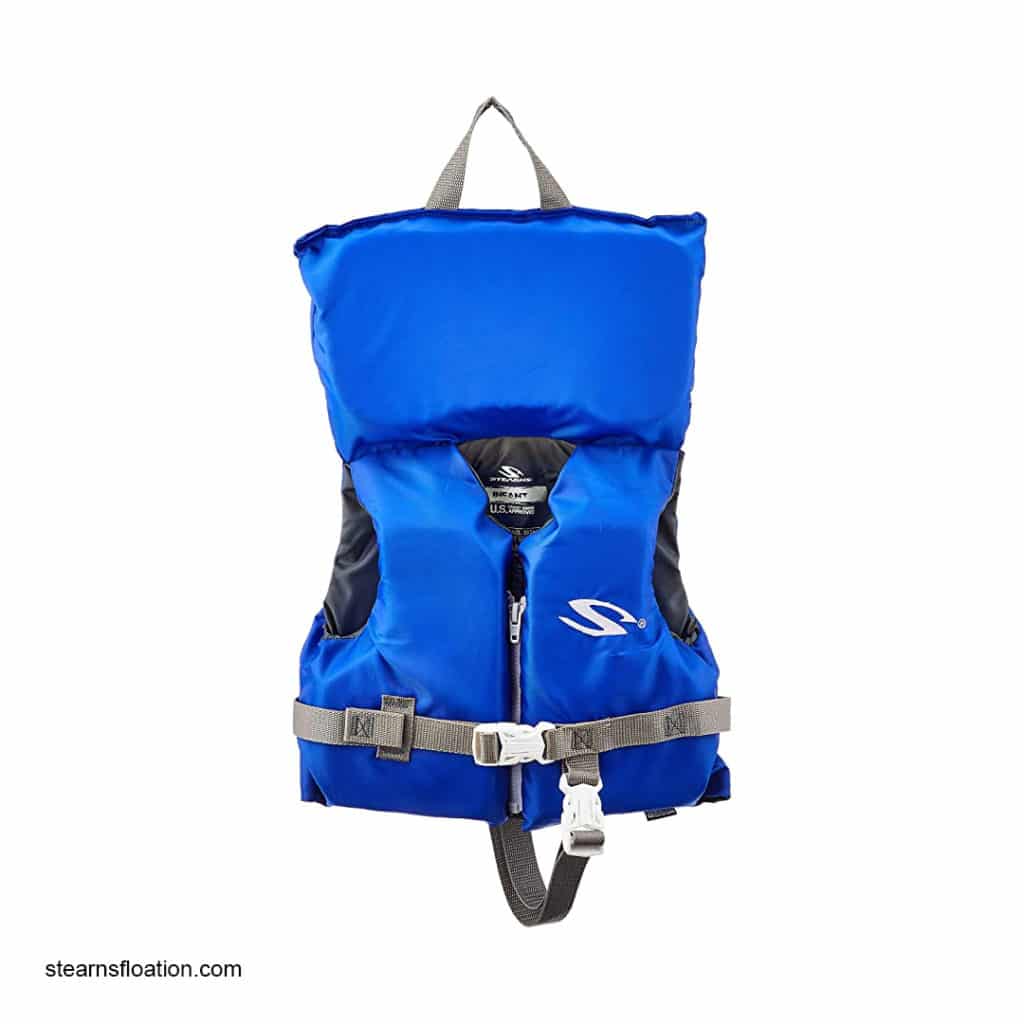 Stearns Toddler Life Jacket
This basic Type II vest has all the necessary safety features. This open-sided life jacket features a durable nylon shell, a leg strap, and a grab handle that make it easier to pull your child out of the water.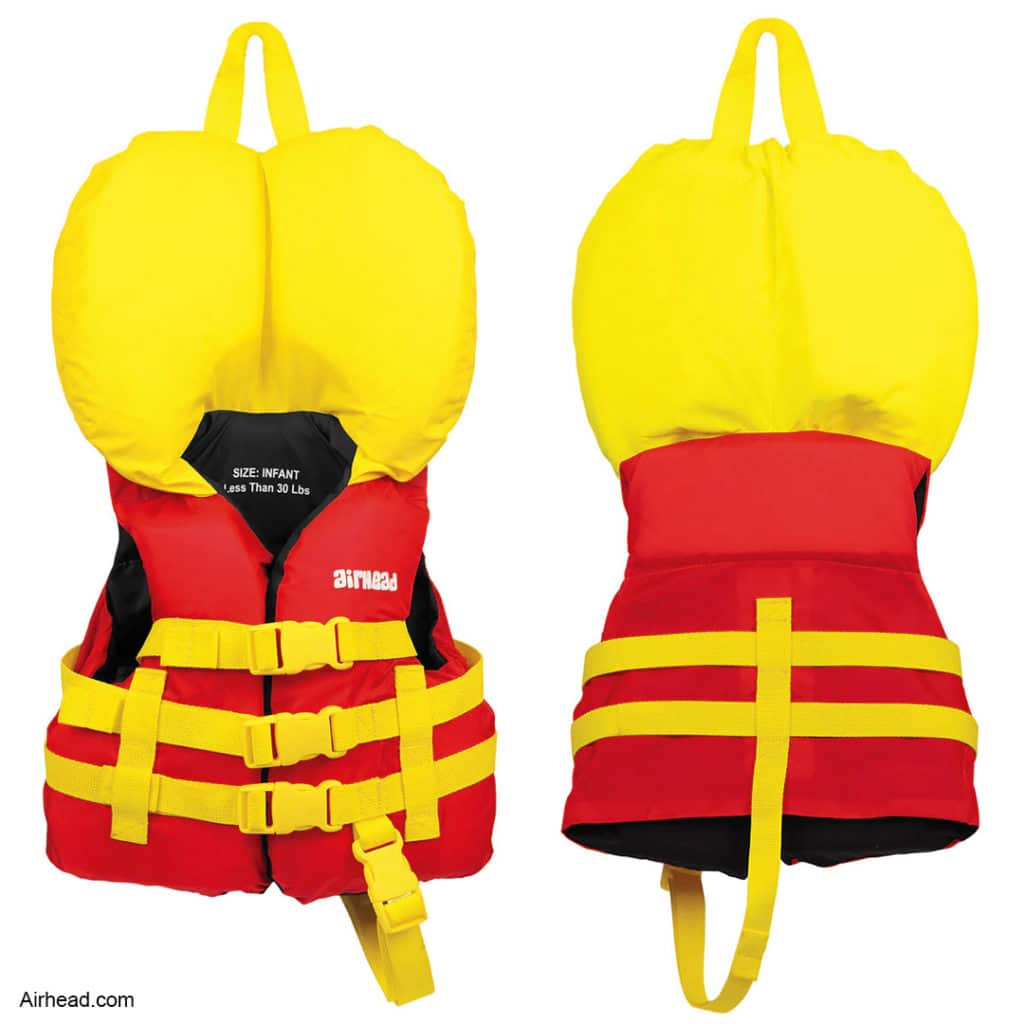 Airhead Classic Infant Life Jacket
The Airhead classic life jacket has three sturdy belts with side-release buckles for a fine-tuned fit. The foam collar offers additional head and neck support for your infant or toddler not only in water but also on dry land. Complete with a built-in crotch strap and head pillow for added safety.
Last minute tips for choosing a child or infant life jacket
Federal law requires all children under the age of 13 to wear a life jacket if they're on a moving boat, and that you have a U.S. Coast Guard-approved life jacket available for every passenger on board, including infants. Individual state requirements may be more stringent, so check the regulations for your area before going boating with a child on board.
When choosing a life jacket for your infant, base your decision on how comfortable and well-fitting the life jacket is rather than on cost. Infant life jackets currently range in price from about $20 to $60, with most costing between $20 and $25. Most life jackets are made from the same materials so a more expensive life jacket isn't necessarily better.
Regardless of which life jacket you decide to buy, remember that a life jacket isn't a substitute for adult supervision. Young children can drown in as little as an inch or two of water, and it can happen quickly and silently. Your little one should always be under close supervision, even with a life jacket. Floatation devices are not foolproof safety measures. Even the best infant life jackets are only one layer of protection.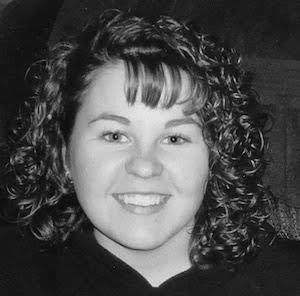 Latest Posts