It's Halloween eve night, and your kid has just informed you that they need a last minute Halloween costume for a Halloween party TOMORROW…What do you do? Jump in the car and drive to the nearest all-night drug store and hope they still have your kids' size in any costume? Do you pull a Charlie Brown, cut a couple of holes in a white sheet, and send them as a ghost?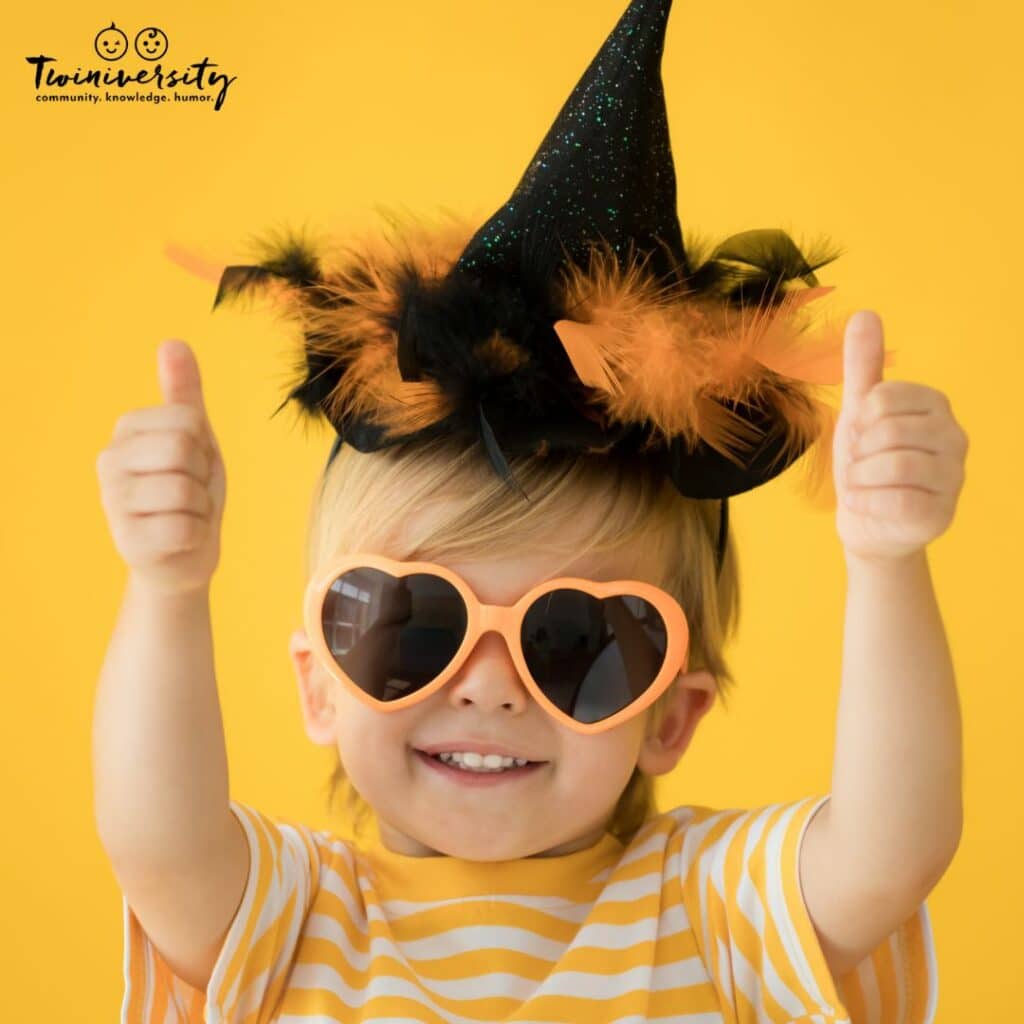 Put the scissors down…listen, we can help you get a perfectly good last minute Halloween costume just by using some everyday items you probably already have in your house! And, honestly, the ghost idea is not on this list, but keep it as a backup, just in case.
Last minute Halloween costumes from Storybooks
While plenty of characters have lavish looks, there are also plenty with simple and easily replicated looks. The best part, these costumes are easily recognized, so your kids won't spend the day answering the questions "Who are you supposed to be?"
Clifford the Big Red Dog
Put your child in a red shirt and red pants. Put a little black makeup on their nose. Then, use some red felt or old red fabric you don't mind cutting up, make a pair of floppy ears, and clip to their hair.
Daniel Tiger
All you'll need for this one is a red hoodie. Draw some stripes on your child's face with some brown makeup, and draw an upside-down triangle on the tip of their nose with some pink makeup. If you have multiple kids, you can make multiple characters from Daniel's neighborhood. Prince Wednesday, Miss Elaina, Katerina Kittycat, and Dad Tiger all wear pretty regular clothes.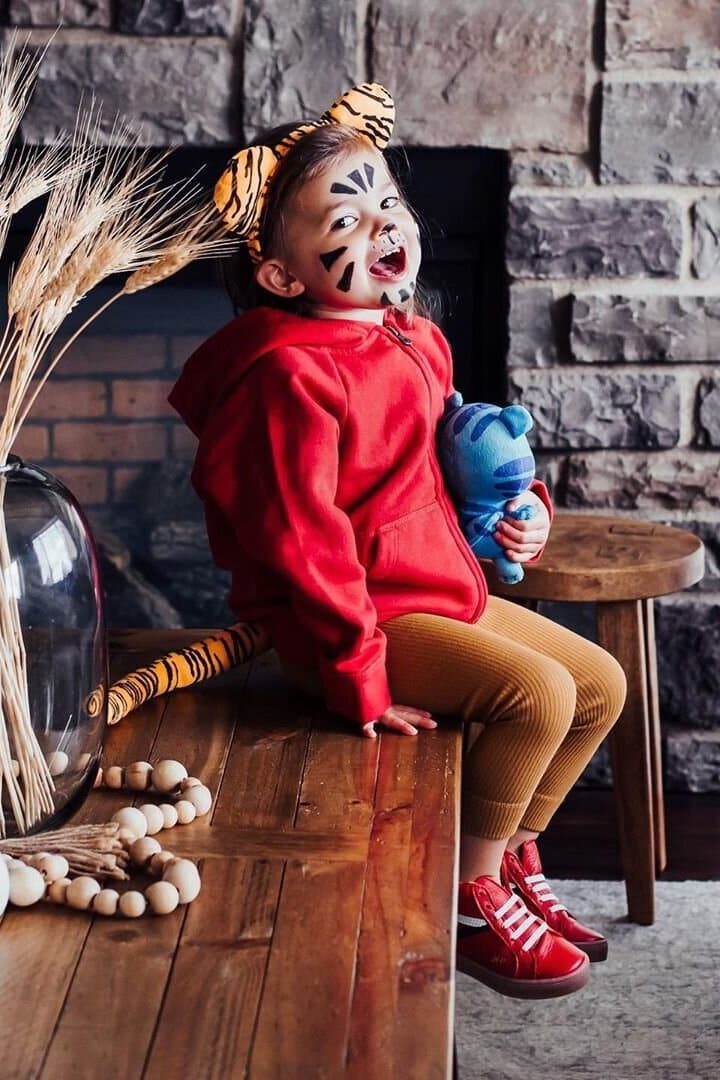 Where's Waldo
Grab a red and white striped shirt, jeans, a beanie with a red pom-pom, and some dark-frame glasses. All of these items are easy to create even if you don't have them already (except maybe the jeans, but any light blue pants will do). Make a red and white striped shirt with red marker and white T-shirt. A beanie can easily be made from an old sweater. For the glasses, grab some of those old glasses and just remove the lens! Remember, when dressed as Waldo, you really need to try to blend in.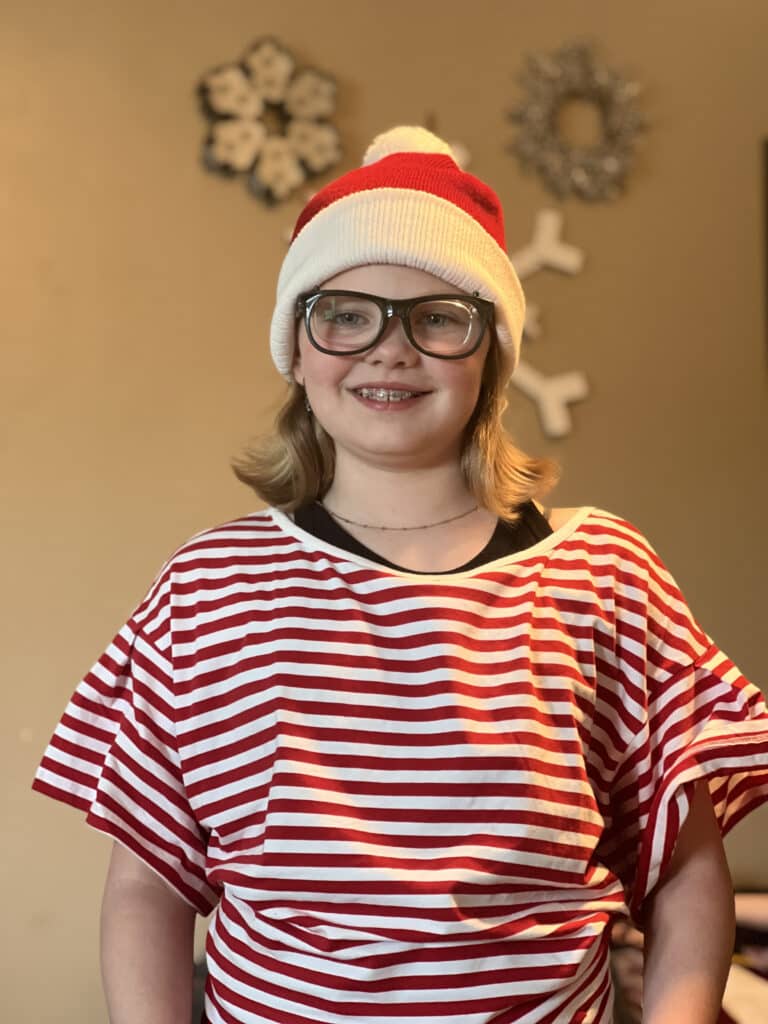 If you give a Mouse a Cookie
All you need for this costume is a pair of blue overalls and a large cookie. Carrying a cookie around all day might be a challenge, so better to make the cookie out of a piece of brown construction paper.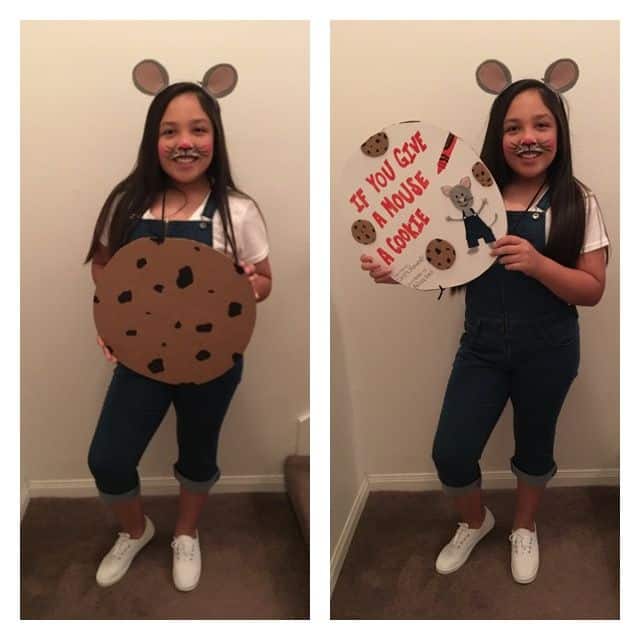 Don't Let the Pigeon
This will take a little crafting, but nothing that requires talent! First, you will need a blue shirt (light blue is best, but really any blue will work). Once you have your blue shirt, you will want to make blue paint to match. Paint the backside of a paper plate. Once dry, add a large white oval (paint or paper will work just fine) and a black circle in the middle to make the pigeon's eye. Next, you need a yellow beak. Hot glue the eye and beak to the painted paper plate. Then hot glue a skewer to the back of the paper plate to make it a mask. Add some black pants for the pigeon's legs, and you have yourself a pigeon costume. Just don't let the pigeon stay up late.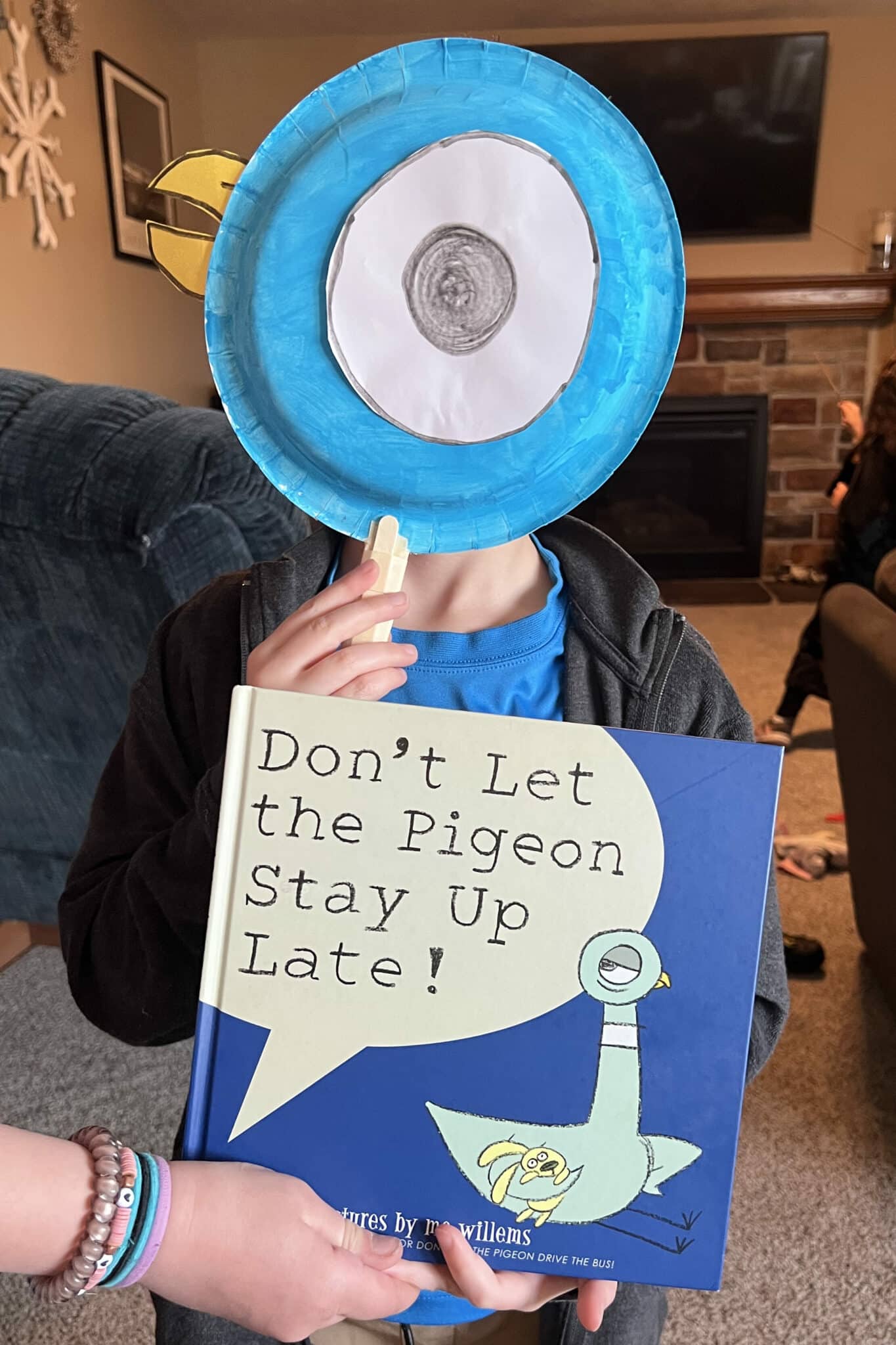 Last Minute Game Costume
Classic game costumes can be created easily and quickly with some neutral clothes and some paper or cardboard. Here are our favorites: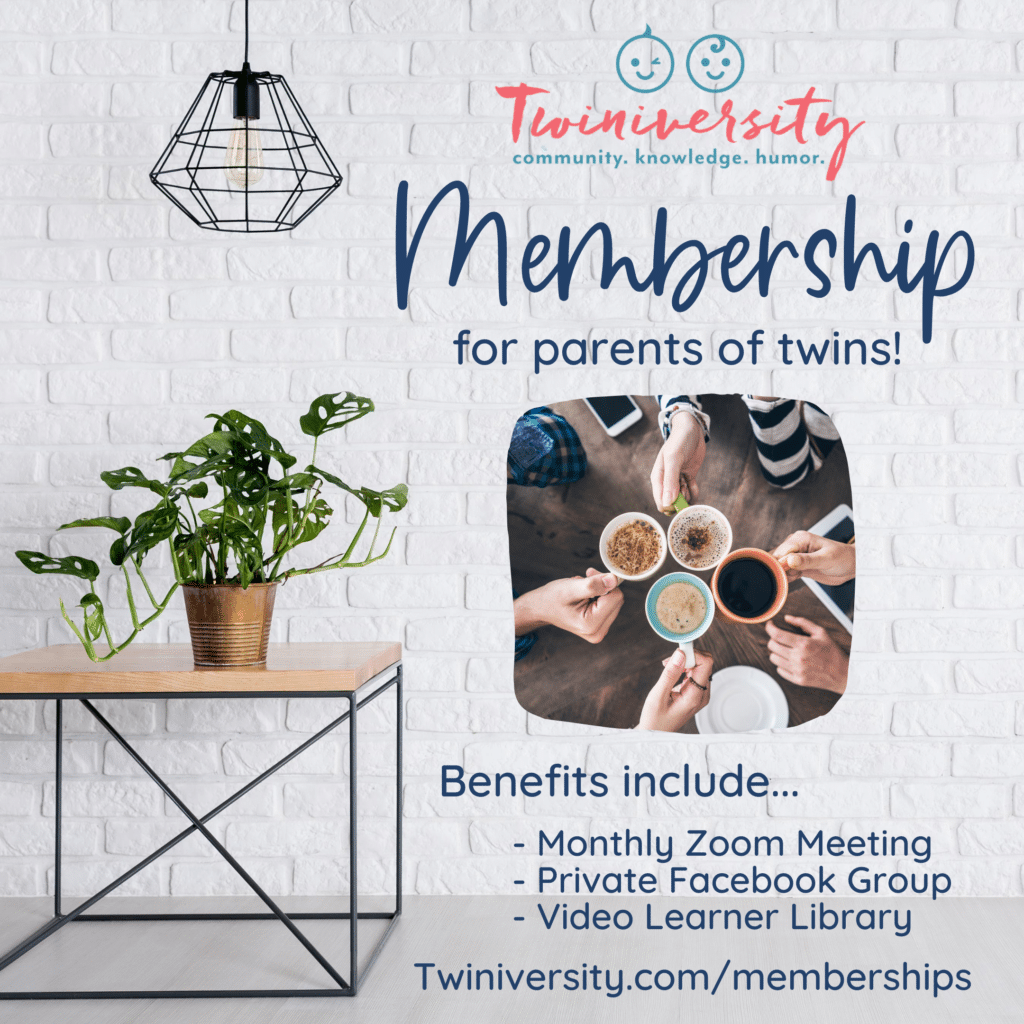 Need some twin parent friends? Get the support you need with a Twiniversity Membership. Benefits include a monthly twin parent club meeting on Zoom, access to a private Facebook group just for twin parents, and a video library of twin parenting lessons. Visit Twiniversity.com/membership to join today!
Operation
Do not overthink this one…you need a tan shirt and pants, and then make a paper "Funny Bone" and attach it to your arm. Feel free to go rogue and create your own Operation parts, like a broken heart (a heart with a crack down the middle) or a charlie horse (a horse shape named Charlie). Feel free to make a beeping noise if someone bumps into you!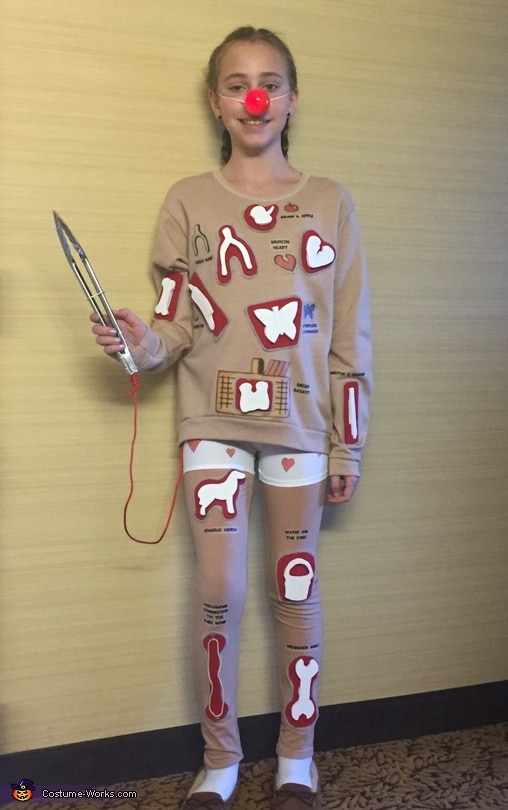 Tic-Tac-Toe
Take a neutral-colored shirt and paint a tic-tac-toe board on it. Cut Xs and Os out of cardboard and paint each a different color. Hot glue to the shirt, and you have yourself a last minute tic-tac-toe costume!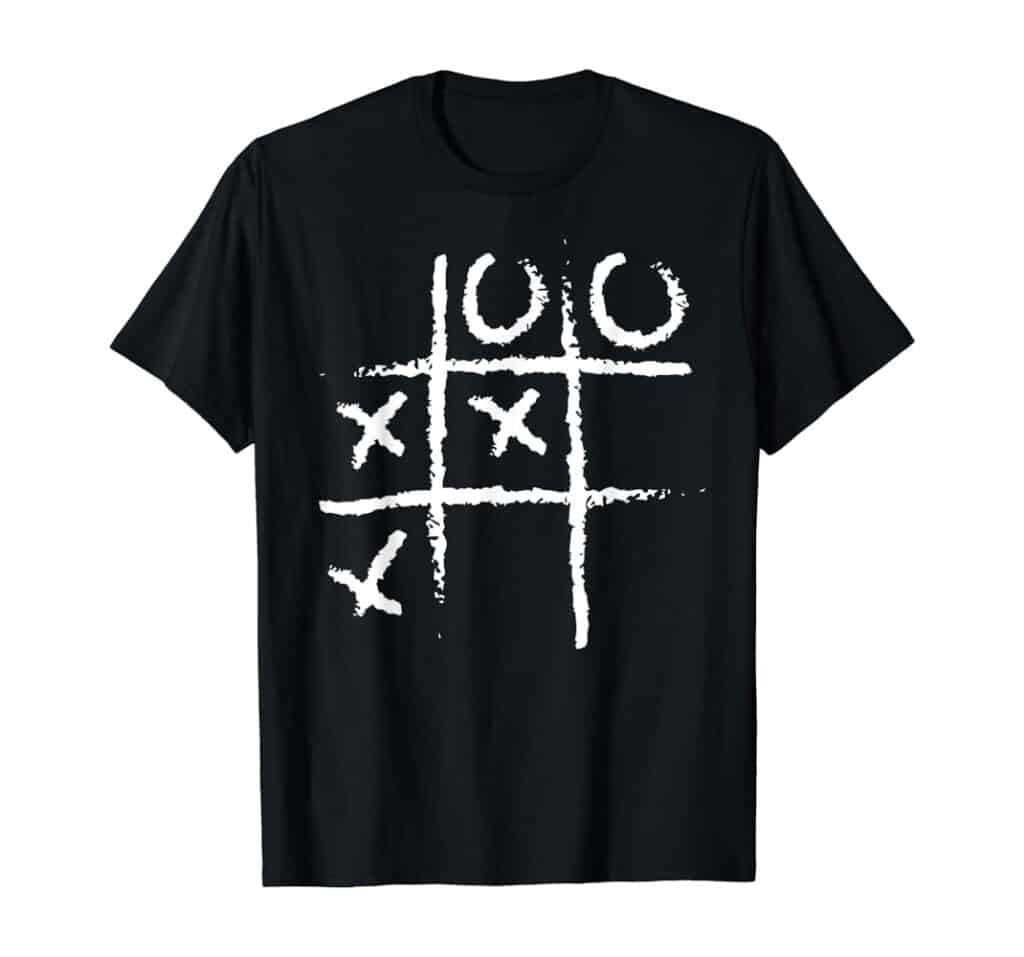 Dice
Grab a square cardboard box, cut out arm and leg holes, paint it white, and add black dots to each side! Since dice means more than one, this is a perfect last minute Halloween costume for twins!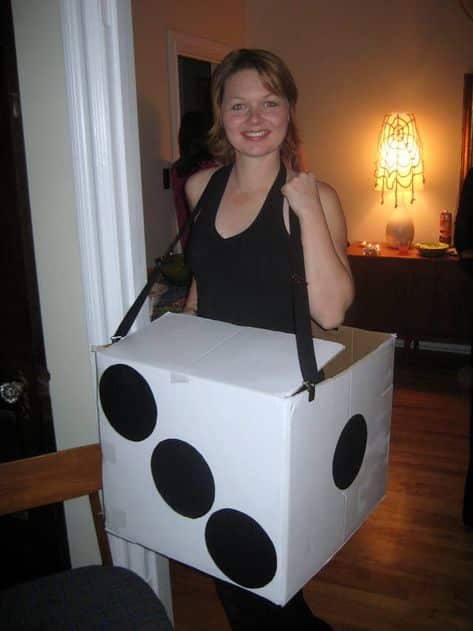 Scrabble Tiles
Get a square-shaped box and take off the top and bottom. Choose a letter and draw it on one side. Don't forget to write the point amount in the bottom right corner. Attach some strings so the costume can be held up by your shoulders. This is a great last minute Halloween costume for a group or family!
Legos
A rectangular or square red box can quickly be turned into a Lego costume. Cut red Solo cups (4 cups for a square, 6 cups for a rectangle) to be half as tall and glue to your box. Cut a hole in the top of your box big enough for your child's head to fit through, and voila! Lego!
If DIY sounds a little too much work, check out some of our favorite twin costumes here!
Last Minute Food Costumes
Food costumes are a great option when in a pinch.
Ketchup and Mustard
This is a great costume for your twins. Red shirt and pants on one twin and yellow shirt and pants on the other. Make a cone-shaped hat out of construction paper, and you have a condiment bottle. This costume can also be used as the base for a crayon costume.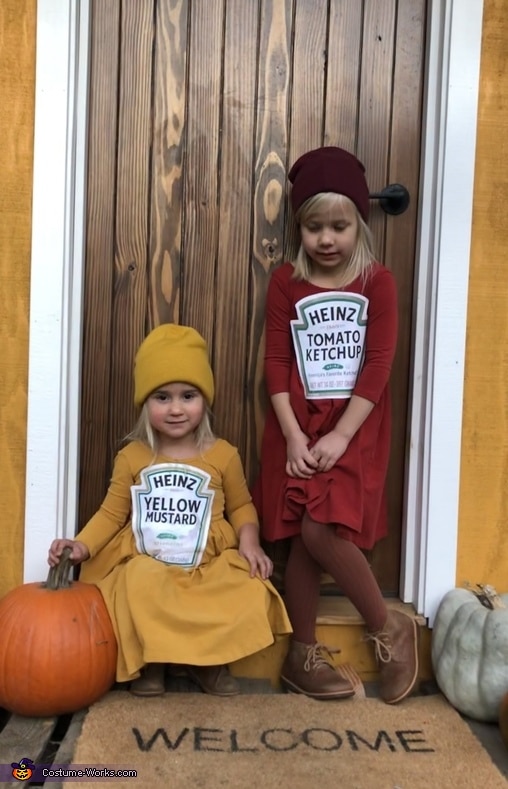 Jelly Beans
Fill a clear plastic bag with small multi-colored balloons. Print a Jelly Belly logo and tape it to the front of the bag. Affix the bag to the front of a shirt, and your child will be dressed as this sweet treat!
Popcorn Box Costume
What kid doesn't love popcorn? This is an easy last minute Halloween costume idea! You will need a box, some red and white paint (or fabric), and some yellow tissue paper. Cut a head hole and arm holes in the box, and red and white stripes (vertical) and then glue on crumbled up ballons of yellow tissue paper to the top of the box. If you want more realistic popcorn, feel free to glue real popcorn to the top of your box. Just remind your littles not to eat the popcorn!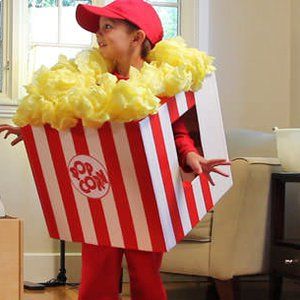 Silly Last Minute Halloween Costumes
Funky Robot using Tin Foil
Wrap yourself in aluminum foil to create a futuristic robot costume. Add some cardboard and paint for buttons and details. This low-cost, high-impact costume will have everyone admiring your creativity.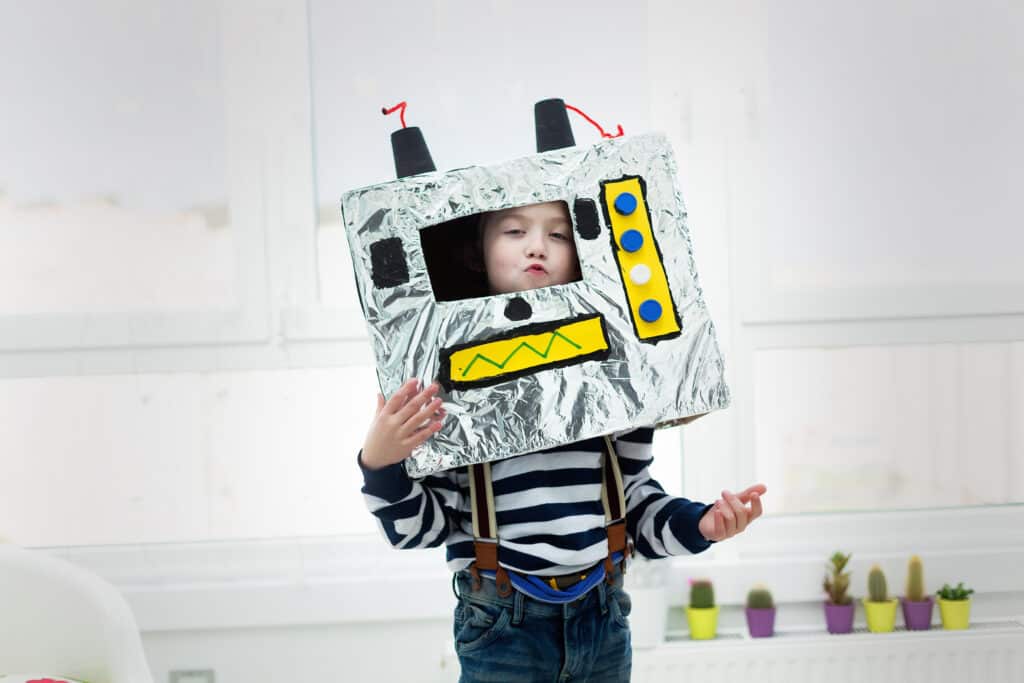 Mummy with Toilet Paper
Unravel some toilet paper and wrap it strategically around your clothing for an instant mummy makeover. Add a touch of face paint to complete the eerie look.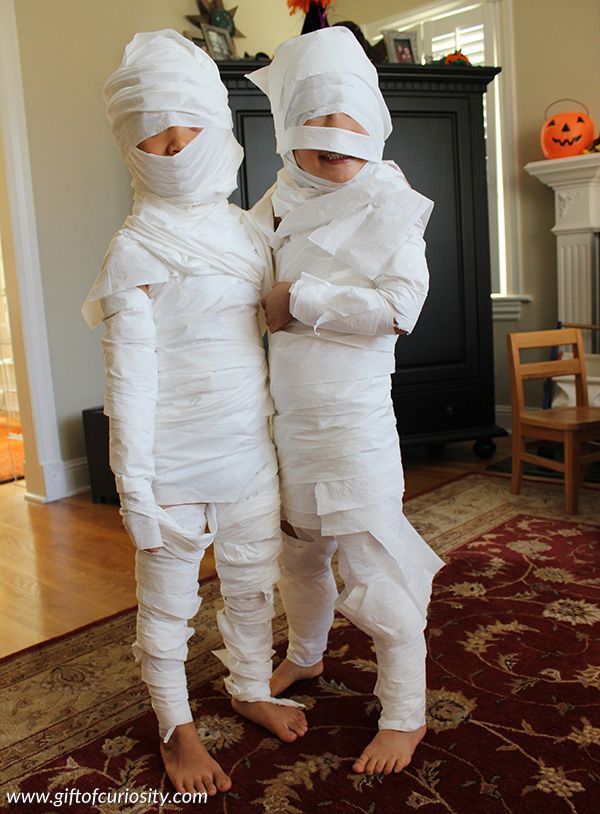 DIY Tornado
Create a whirlwind of fun by dressing as a tornado. Attach small toys or objects to a tulle skirt to represent debris caught in the storm. Top it off with windblown hair and a weather-beaten expression.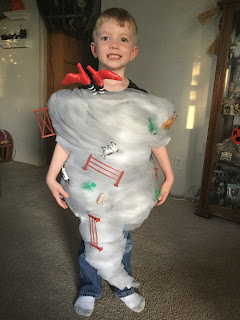 Crazy Cat Lady
Creating a Crazy Cat Lady costume is not only amusing but also a great last minute Halloween costume! Dress your kid in a bathrobe or jogging suit and attach stuffed kitties EVERYWHERE. Add some personality with some hair curlers and some glasses. But do not skimp on the cats!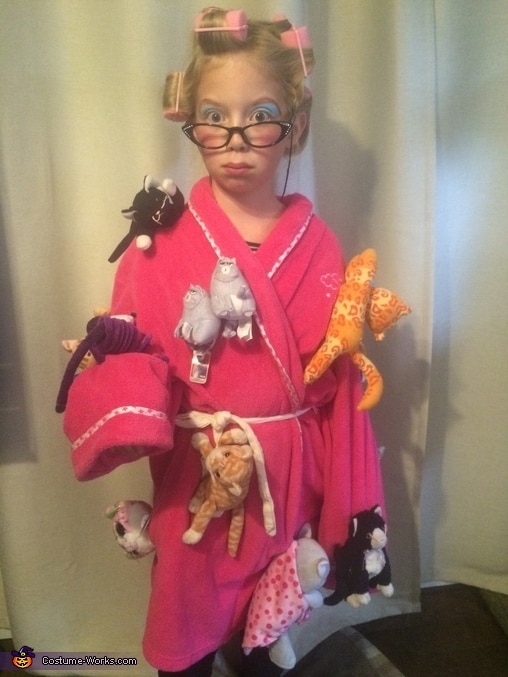 At the end of October, if you find yourself without costumes, don't worry! There are lots of great options that you can create at the last minute. Embrace the DIY spirit (and the random crap you have around your house). Regardless of what you choose, the most important thing is that your kids have fun! Happy haunting!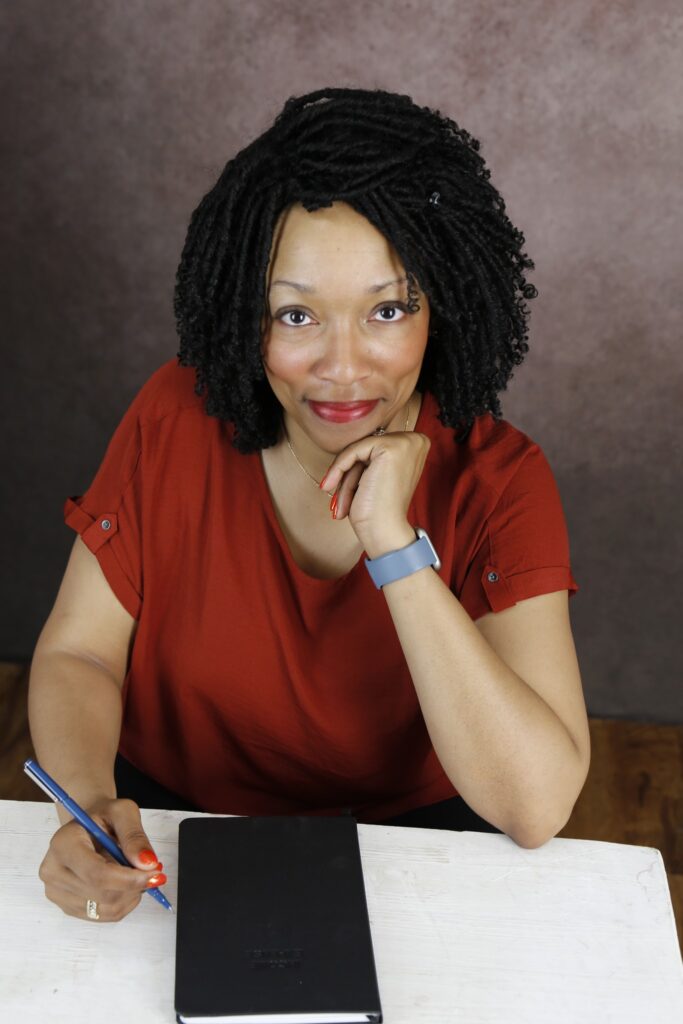 Maya Mason lives in the Twin Cities, MN and works in juvenile corrections. Maya is the mom of boy/girl twins named Theo and Teia who were born at 24 weeks. For personal and professional reasons, Maya is very passionate about dimensional wellness. She trains and writes on several topics related to wellness and also trains on topics around body image, diversity and connecting with youth. Maya loves to spend time with her family, play volleyball and travel. She also is an avid writer, writes for several organizations and is in the process of writing a teen fiction series. You can follow Maya as an author at https://fb.me/MayaJMason
Latest Twiniversity Articles