Potty training can be a daunting task. One that many of us avoid for as long as we can and some of us cannot wait to do. I have friends that have trained their 18-month-olds and friends that are still struggling with their 5-year-olds. It is hard. I teach driving for my "real" job and people think that is just a skill that people know how to do. I imagine many of us think that going to the potty on the potty is the same way, something they should be able to know. The problem is, we are not born to go on the potty. Obviously, we have twins so we know all too well that bodies have more substances come out of them that we could have EVER imagined, but to get it in the right place is a whole other task. Since my twinnies are a bit young I have polled the MoM Squad, my friends, and family and here the must-have list of potty training gear to assist you with potty training! Look out for our list of books about potty training, coming soon. Yup, there are that many books!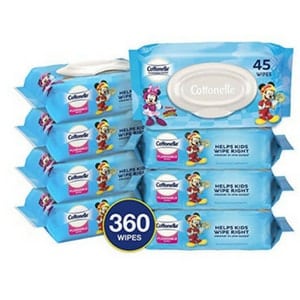 1. Cottonelle Flushable Toddler Wipes for Kids – We all know this can become a messy situation. Make sure you stock up on some of these amazing flushable wipes for those not so fresh moments.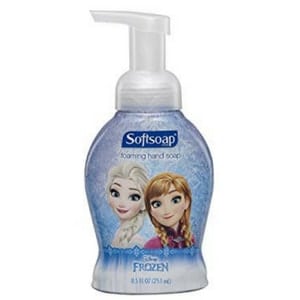 2. Softsoap Foaming Kids Hand Soap – Making sure your twinnies wash their hands after using the bathroom and creating a healthy bathroom routine can be made easier with this fun foaming hand soap.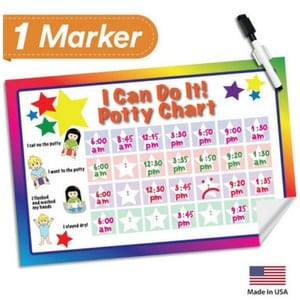 3. Potty Training Chart – Kids love rewards. Using a chart to show them how much they have done may help to motivate them to keep up the good work. You'll definitely want to get 2 separate charts! Each comes with a dry erase marker so you can use it over and over again every day.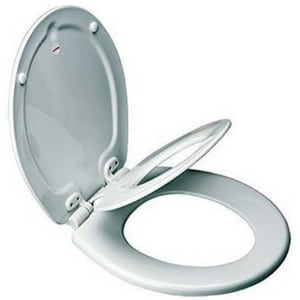 4. Mayfair Nextstep Slow Close Toilet Seat with Built-In Removable Potty Training Insert – Recently we found ourselves in need of a new toilet seat. Maybe we had a twinnie who tore off the seat, maybe we just needed a new seat, I don't know. Though we are at least a year away from training the boys we bought this seat with a built-in potty training seat. It is great, the little potty seat is magnetized into the big seat and the seat has a soft close in case your twinnies like mine like to open and close the toilet seat. There are 2 brands (Mayfair and Bemis) that make it, they are the same seat.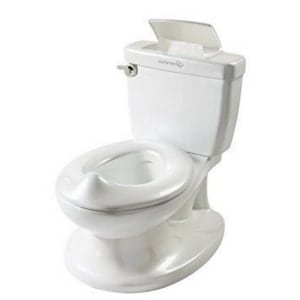 5. Summer Infant My Size Potty – I already have this one ready to go. It looks like a real potty and flushes too so your toddler can feel like a big kid! It has a place for wipes to go in the "tank", as well, so its an all in one personal potty!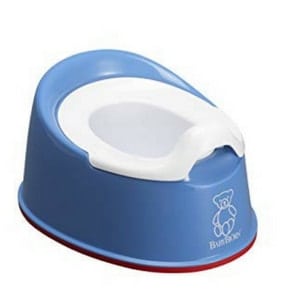 6. Baby Björn Smart Potty – Some of our favorite Swedes have potty training accessories, who knew? I love the Baby Björn Smart Potty because it is meant for small spaces. It is easy to clean with a pull-out bowl and a splash guard, which is a must for this task. Take it along with you or keep it in the bathroom. If you have more room definitely check out the full sized Baby Björn Potty Chair.

7. Contours Bravo 3-in-1 Potty – Contours and its innovative multi-functional products! This is a potty seat, then a step stool and toilet trainer. Featuring a removable waste cup and an adjustable seat to fit most round or elongated toilets. This potty comes in a few great colors for both of your twinnies to know which is theirs!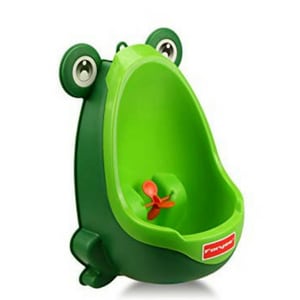 8. Foryee Cute Frog Potty Training Urinal for Boys with Funny Aiming Target – People swear by this urinal for tots! If you have ever been to a young boys house you know that aim can be a bit of an issue. You can mount this cute frog on the wall with super strong suction cups or even portable hook hardware for a more sturdy hold. I fear the day that my twinnies are learning to pee standing up so I am pretty excited to use this to help them not make me have to clean the bathroom as much as I have cleaned their diapers!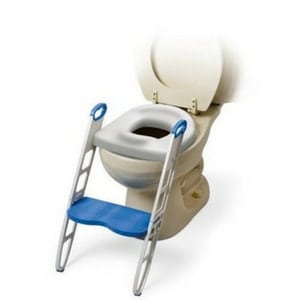 9. Mommy's Helper Contoured Cushie Step Up – Give your child the comfort and confidence they need to start their potty training experience on the big kid toilet with Cushie Step Up toilet trainer! Your kiddos can step up on the ribbed steps and gripper handles to the soft toilet seat that fits most types of toilet bowls. There is also a built-in deflector for those out of control potty moments.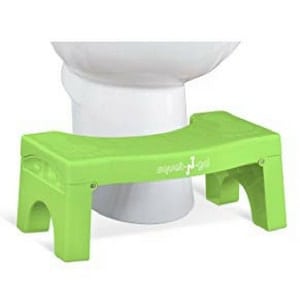 10. Squat N Go 7″ Folding Squatting Stool – Our twinnies are going to need something to help them get to the big kid toilet. Many of us do not have a lot of extra room to spare, so this folding stool fits around the toilet and easily folds to either move it or you can keep it there with its small footprint.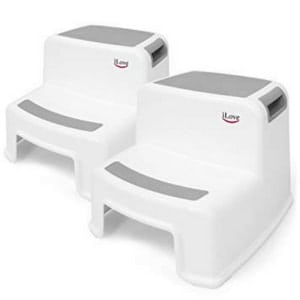 11. Ilove Step Stool for Kids (2 Pack) – Another stool option this has 2 steps if your twinnies need a little extra help getting to the big seat. And it comes in a 2 pack which is perfect for a 2 bathroom home! No need to limit the kiddos to one space.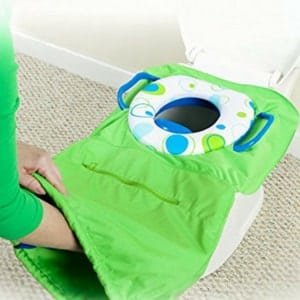 12. Pack 'n Potty Travel Potty Seat – So in all of my research, they say to have options while traveling. This is an all in one seat that folds up nicely, has wet bag pockets for wipes or even a book. The seat is sturdy and you will feel good about letting your littles go in the public restroom. It's like a diaper changing station but for potty training tykes.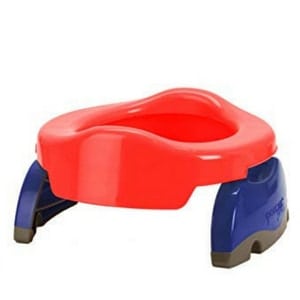 13. Kalencom Potette Plus 2-in-1 Travel Potty Trainer Seat – This potty seat can fit nicely on your toilet at home or has disposable liners that act like diapers soaking up the mess when on the go. You can even purchase a reusable liner for home use. With lockable legs and a fold-flat feature, this will be one of your go-to car potties.

14. Jessa Leona Potty Training Seat – For at home or portable use this is your seat. It has a simple yet secure design with an anti slip ring to keep it stable and it will make your littles "want" to go on the potty. Easy to clean and has a hook to store it next to the toilet.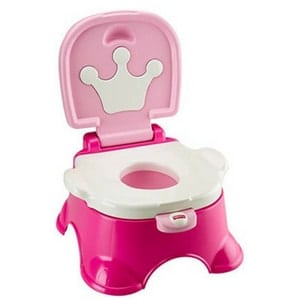 15. Fisher-Price Stepstool Potty – When you are learning to sit on the throne your twinnies may feel best having their own throne to use! Admittedly I have a friend who literally sat her kid on his throne without pants in front of the TV (no judgement please) and that's how he learned. This is a seat for the Kings and Queens that run our world!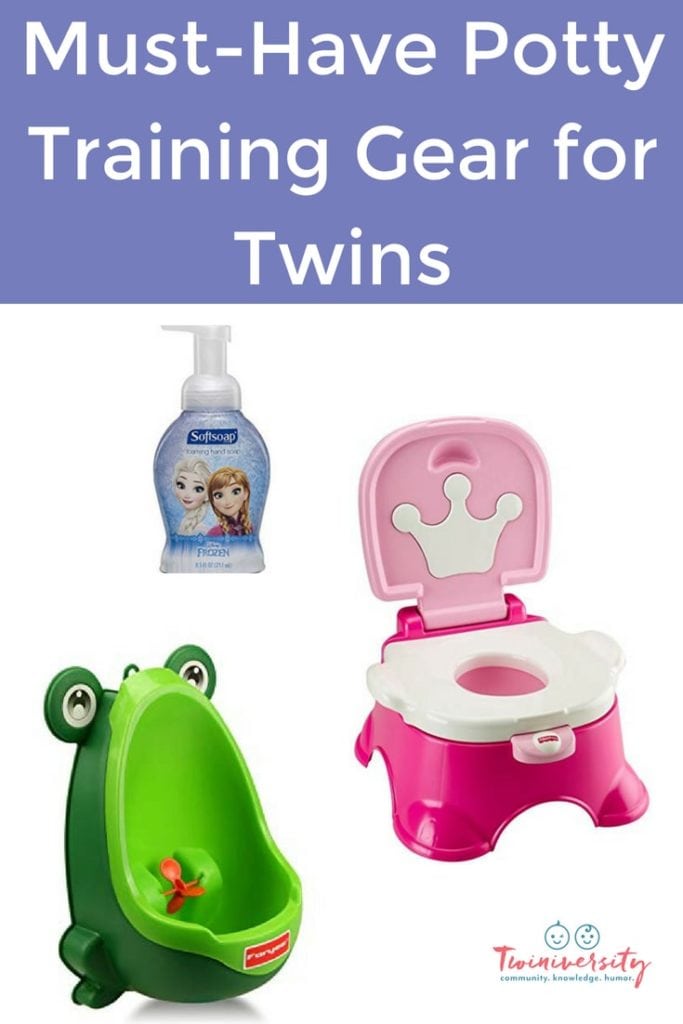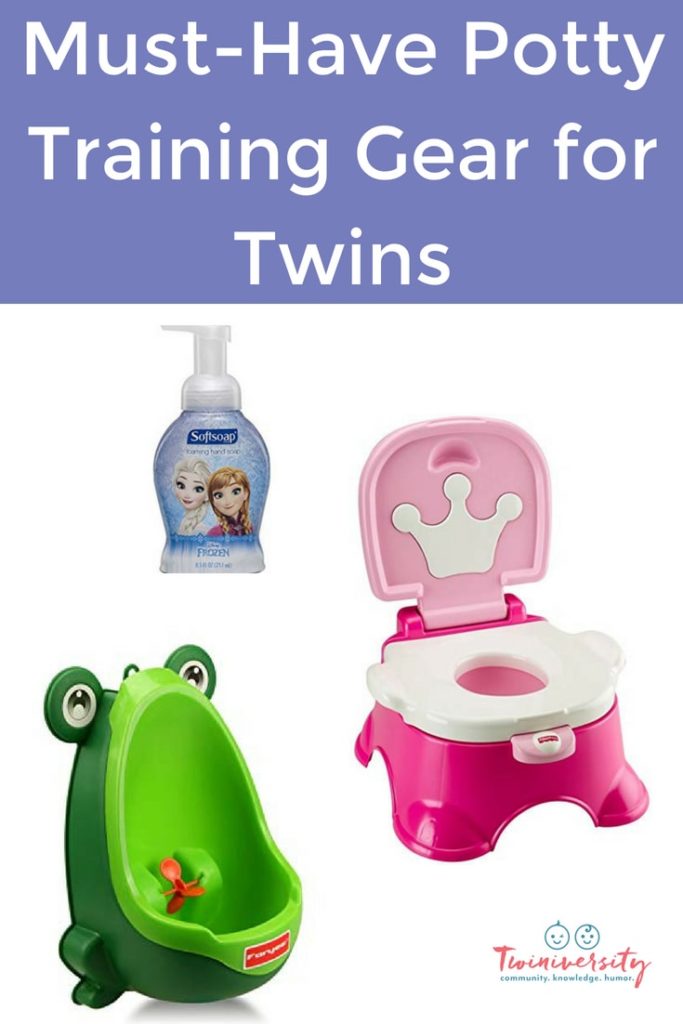 There you have it, 15 must-have items to make your potty training experience a little cleaner, smoother, and stress-free. Okay, it is going to be stressful but now you have an arsenal of potty training gear to help you through! Good Luck!
Jenifer Roth is a busy, busy mom to 1-year-old identical twin boys Jase and Evan, a full-time High School driver ed teacher, and full-time finder of random information to help others! When not running around from work to home to errands she enjoys working on her blog, making piles of stuff and just hanging with her family! Trying to find the work-life balance has been a journey of its own but push on she must! You can read her blog here.
---
Related Articles
Potty Training Twins Boot Camp: Part 1, Preparation
Potty Training Twins Boot Camp: Part 2, Diving In
20 Down and Dirty Realities of Potty Training Multiples