As I waddled down the hallway a co-worker holding her baby waved excitedly. "Come on Mama!" I was finally part of the elite Mom Club, yet I felt awkward in this new role. It was difficult to shake the years of dreading baby showers and watching everyone else get their bumps while I got bad news. I devoured my slice of cake and clumsily opened gifts. It was all so surreal. Two little ones would soon call me that three letter word I longed to hear, but the pain from my struggle with infertility didn't go away after that second pink line appeared. I've slowly learned to make the most of this amazing experience while coping with the unique emotions of pregnancy after infertility.
I've learned to leave guilt behind. My bump arrived in the middle of my second trimester. I tried to hide it. It's not like I could tattoo our story on my forehead detailing each IVF cycle. I hid my growing miracles under leggings and baggy tunics. Then a friend gently reminded me of everything I went through to earn this bump. I could spend nine months trying to hide or I could find a way to celebrate my own victory while supporting those still fighting. My bump has become a symbol of hope instead of a painful reminder.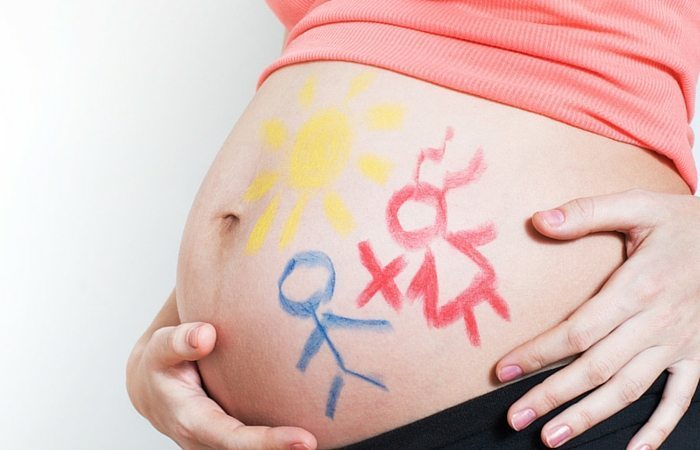 I've found support from those who get it. I'm not ready for a Moms group. Just eight months ago or so I was coming to terms with the possibility of never having biological children. I'm stuck in the "Wait a minute, I'm pregnant…with twins? When did that happen? " phase. Thankfully, I've been part of an online support group from the beginning of my journey. Everyone in the group has experienced pregnancy after infertility. They get why surprise pregnancy announcements still sting and why there are times I continue to struggle to attend baby showers.
I've learned to take my pregnancy one day, one appointment at a time. Part of me loves the extra ultrasounds. It looks like my boy and girl are practicing to qualify for Olympic gymnastics. Part of me dreads each visit. I got used to constant disappointment after so many failed rounds of IVF. I've consulted Dr. Google more than I would like to admit. I've read all the horror stories. Bad idea. Now I say a quick prayer before each visit and do my best to leave the anxious thoughts behind. I'm thankful for each day I get to feel my little acrobats bouncing around. I've stopped consulting Dr. Google (as much).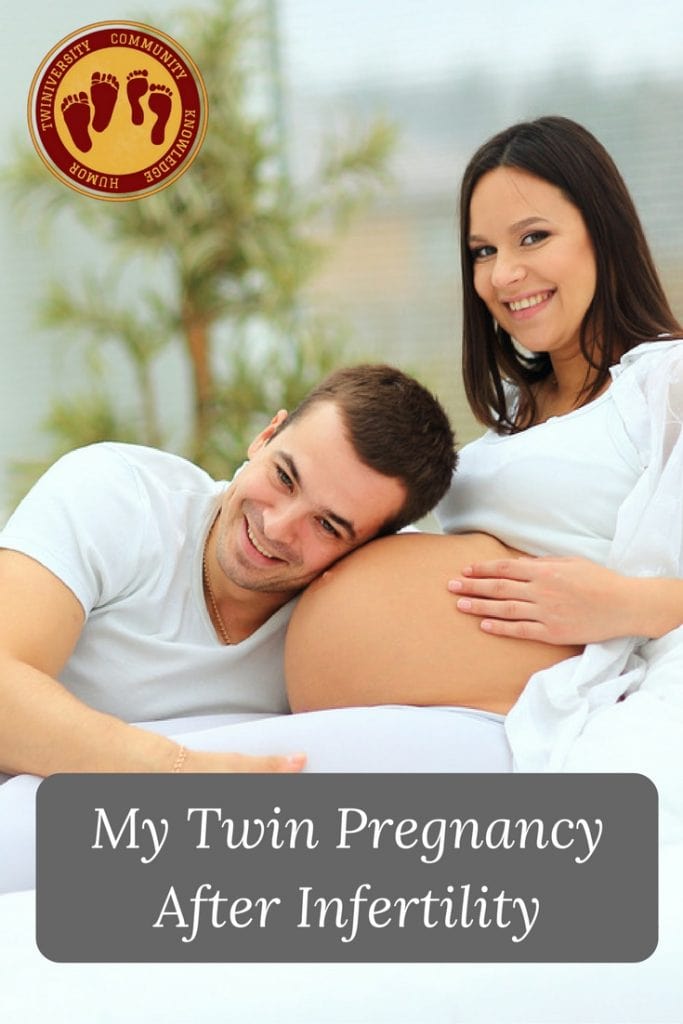 I'm learning not to get (as) offended when people ask dumb questions. I thought the invasive questions would stop after infertility, but a belly large enough to carry a baby elephant is hard to ignore. Most interactions begin as I'm enjoying my latest craving. The waitress asks "Twins, right?" I nod yes and tell her they are boy/girl. Then comes the cringe worthy question, "Are they natural?" I look confused and ask "What else would they be?" Sometimes they even ask how they can get twins. I'm tempted to recommend Amazon Prime. Instead of getting offended, I'm trying to see stranger's questions as an opportunity to give others hope. Maybe their questions are really a plea to find someone who can relate.
I'm learning to manage my expectations. We were given a minimal chance of success at transfer. One of our embryos was a day behind in growth. A month later we heard two strong and steady heartbeats at our first ultrasound. I'm in awe of the miracle of our twins. This often leads me to believe every single moment must be Instagram worthy. Everyone else must feel the same way, right? They don't. Of course they are excited, but these are not their babies. They did not endure years of heartache and treatments to meet them. I'm learning to let the ideal in my head go. This is my first and last pregnancy and I'm savoring each (imperfect) moment before it's gone.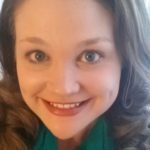 Melissa Titus taught Kindergarten and 2nd grade in the public school system for ten years. She is taking a break from the education field to begin her new adventure as a SAHM to her boy/girl twins due any time now. When she's not spending time with her husband or preparing for the twin's arrival, she loves to write, bake using her great grandmother's recipes, support others still in the midst of infertility, and explore the great outdoors while attempting to photograph it. You can follow her on Instagram, Twitter,
and Pinterest.
---
Related Articles
---
The rate of twin births has risen 79 percent over the last three decades, and continues to increase. A mom of fraternal twins and a national guru on having two, Natalie Diaz launched Twiniversity, a supportive website with advice from the twin-trenches.
What to Do When You're Having Two is the definitive how-to guide to parenting twins, covering how to make a Birth Plan checklist, sticking to one sleep schedule, managing double-duty breastfeeding, stocking up on all the necessary gear, building one-on-one relationships with each child, and more.
Accessible and informative, What to Do When You're Having Two is the must-have manual for all parents of twins.
---
---
Whether you're a twin parent in the big city surrounded by scores of resources, or a triplet parent out in the country with no one around for miles — our multiples parenting forums are for YOU! Sign up for FREE and connect with people who are just like you — parents of multiples looking for advice, parenting tips, or even just people to chat with who will understand what you're going through. Our forums are open to people all over the world and we offer scads of specialty rooms to find others who are going through the exact same thing as you. Check it out today!
---
Twiniversity is the #1 source for parents of multiples and we are growing faster every day!
Find us all over the web:
Or contact us by email at community@twiniversity.com