Last updated on September 26th, 2023 at 01:53 pm
Check out this twin mama's breastfeeding journey and how she went from a NICU pumper to an exclusive breastfeeder of her twins.
I am most definitely not an expert, nor do I care to be. But I have experience. I had the experience that people want, and want to know more about. I successfully breastfed twins.
And not just that, but I took my NICU preemies and transitioned from exclusively pumping to exclusively breastfeeding, with pumping to keep up and maintain supply. I woke up for 370 nights in a row and strapped a pump on while my babies blissfully slept. Why did I do this to myself? Control. It was cheap. And I could.
My babies arrived after a doctors appointment at 32 weeks and 3 days. Healthy little fellas weighing in at 3 lbs 6 oz and 3 lbs 9 oz. This was the day that I handed in my birth plan that told everyone my wishes, in a loose manner of course. I wanted to try to breastfeed. I wanted to see my babies. I wanted the hospital and the doctors to acknowledge my partner. And I wanted the babies to be put in the nursery so I could get some sleep, so sure give them formula.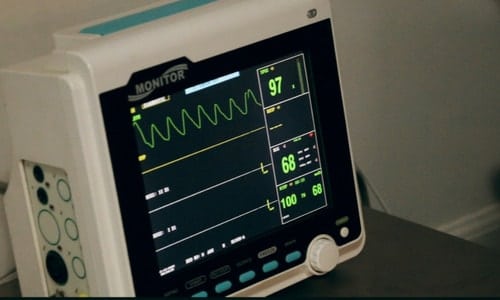 As plans go, mine was not going my way. My blood pressure was a staggering 187/120. I thought I was having a heart attack. My doctors were shocked that I had not had a stroke or a seizure. Blood pressure meds were being given and a magnesium drip was in. I was sick.
I did not have a choice — these guys were coming or my body was going to start shutting down. But I had some amazing labor and delivery nurses who actually took the time to read my plan and try their best to accommodate what they could.
I do not remember much after the C-section. I remember being packed with heated blankets and the nurses scrambling because my temperature was dangerously low. The nurses agreed with my wishes to pump. How was I going to do that? Months later, I asked my friend if she pumped me in the hospital, which she replied, "Yes." So there I am, my first time strapped to a pump, and my friend is holding cups to my new mom boobs.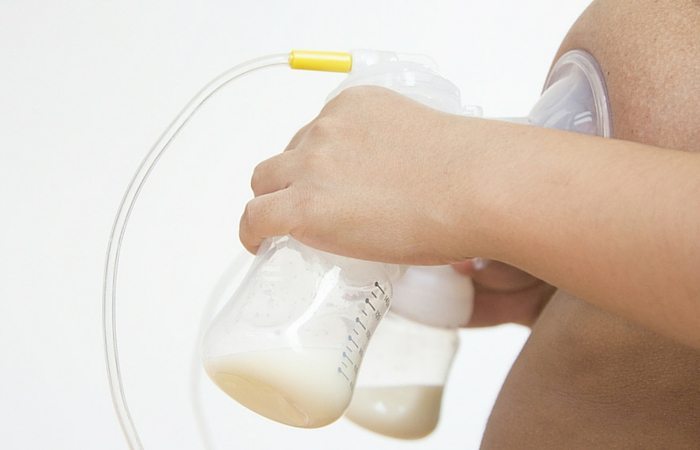 Anyway, the next day I met with a slew of doctors, nurses, and lactation consultants specifically for NICU moms. I couldn't meet my babies until I had the magnesium drip out but I could still pump. I was offered a role in a study for NICU moms who are separated from their babies. As sad as that sounds they found the right person; the teacher in me said, "Of course," when they handed me a hospital grade pump to take home until my twins could transfer to milk.
I agreed to pump 8 – 10 times a day and record the amount that I produced. In my mind, this study is what not only got my milk supply up, but put me in control of an out of control situation. I was trying to make life normal out of what is so not normal.
Fast forward to 38 and 40 days of being an inpatient NICU mom, to taking my twins, Jase and Evan, home. I was still pumping, still on a mission, no longer for a study but for myself. I felt like it was what I had. I still feel that way. I may have been a hot mess in my head but I was holding it together for my children and I was continuing to nourish them outside of my womb. I was doing that. Me alone. I had control.
I continued to pump 8 times a day, bottle feeding the fellas, and falling apart at the same time. I would give them a "snack boob" if they were hungry in between our set 3-hour schedule that we took home from the NICU, or if they were inconsolable and crying. I kept trying to use these darn nipple shields the lactation consultants had given me and all the fancy pillows to get them to tandem feed.
I was a HOT MESS! We were 3 months in and my psychiatrist told me all of the reasons I should stop breastfeeding. That this needed to stop so I could heal mentally. With my therapist, we devised a plan to keep on trying but going from 8 to 6 pumps or feeds a day. The boys were big enough now weight-wise and they were the size of a 1-month-old so we became more actively trying to latch them. And then one day it worked.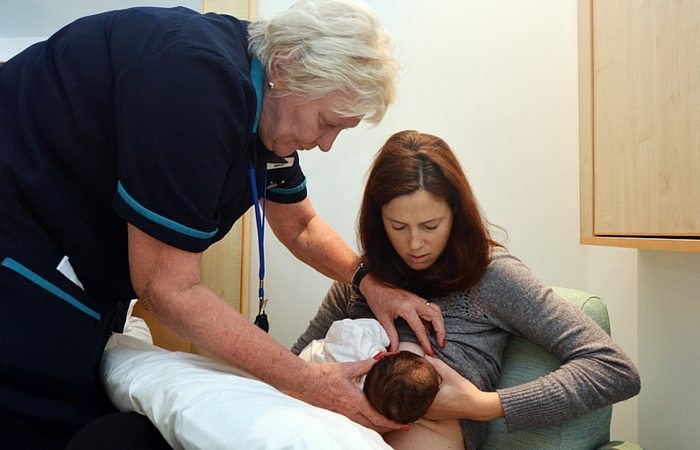 At first, I would feed them in tandem while alone. But if my partner was there he would help me get them both on. And if not I would pump and bottle feed.
As I gained confidence in my abilities to feed them the proper amounts and what I pumped was not necessarily a measure of what they could get when attached me, I started feeding alone. And then 6 times a day turned to 5 with one pumping session overnight.
It got way easier. They became more efficient. Sessions were not 45 minutes long anymore. We limited them to 30 and as they got stronger it was only 10 – 15 minutes for a feeding.
I thought there was no way I could keep up with the needs of twins and we would be done at 6 months. I said I would NOT be pumping at work. I bought the formula maker, stockpiled formula, and once summer came (I am a teacher and was lucky to take off the spring semester and summer, about 8 months) I was agreed we should be done. But I didn't feel done.
What we were doing was working. I have some amazing friends who successfully breastfed their singletons who convinced me that pumping at work was not that bad. That I would only have to do that for a little while. So I kept breastfeeding. Pumping happened at work 2 times a day for most of the semester, and then I moved to once a day at lunch.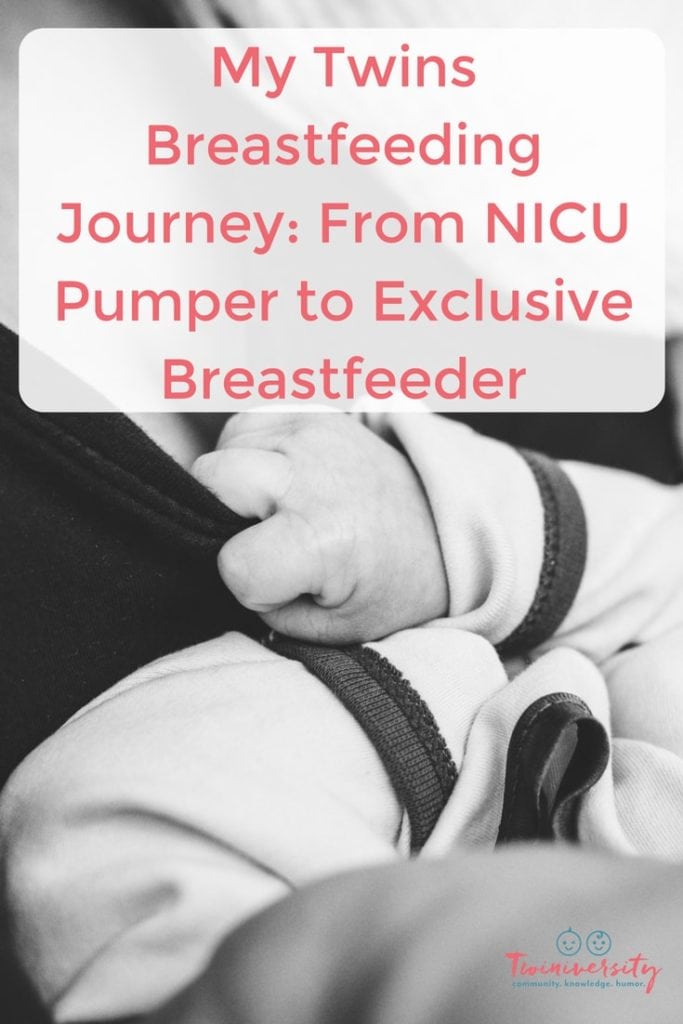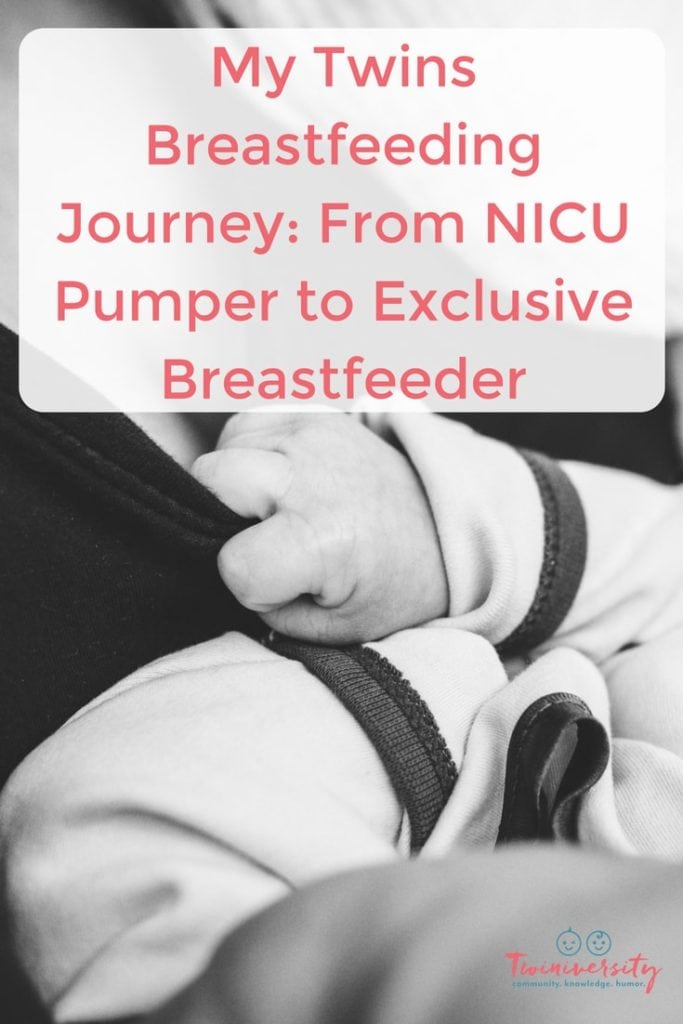 At just over 19 months old, I have been slowly weaning them. We only nurse 1 – 2 times a day, in the morning and at night. I still have issues letting go (that I work through in therapy), but I know its OK to let go. Jase and Evan are very happy and very healthy little men, as we call them.
People ask if they are a year and a half and we smile with glee that they could guess their age correctly. I am amazed by my body and how it literally nourished these guys exclusively for almost 2 full years from pregnancy through just after their first birthday when they started eating more real meals. I love our time together and letting go is hard.
Change is hard. But they are growing and still need their mama, but in another way. I am so proud to answer questions and be looked at as someone who made this transition. Again, I am no expert or a martyr. I am just a woman who does not like to be told what I can't do.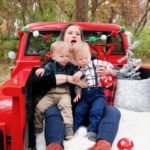 Jenifer Roth is a busy, busy mom to 1-year-old identical twin boys Jase and Evan, full-time High School driver ed teacher, and full-time finder of random information to help others! When not running around from work to home to errands she enjoys working on her blog, making piles of stuff and just hanging with her family! Trying to find the work-life balance has been a journey of its own but push on she must!
---
Related Articles
---

Got twins? Us too! The Twiniversity Podcast with Natalie Diaz is created by parents of twins FOR parents of twins, from expecting times through the teenage years and everything in between. This podcast is all about parenting twins, offering plenty of tips, parenting hacks, and of course, humor. Just know that we are laughing WITH you every step of the way.
---
Latest Twiniversity Articles