This article is sponsored by Colgate Mattress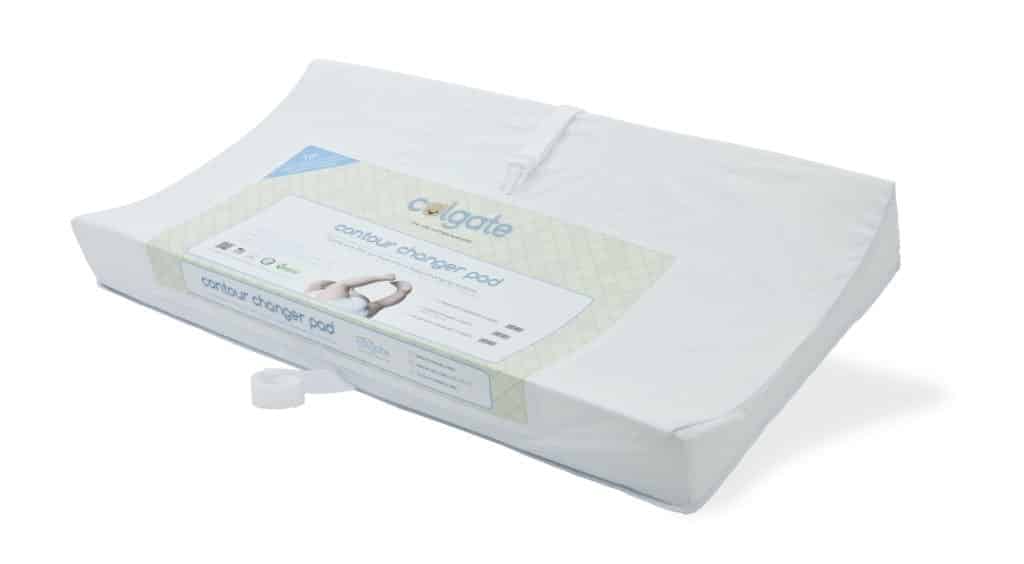 Colgate's contour changing pad turns any flat surface into a baby changing station. Firm foam ridges on all three sides provide a secure cocoon for baby while being changed. The changing pad's white, quilted cover cleans easily with a damp cloth and mild soap. Extra safety features include a rigid fiber support board, a safety strap, and screws to attach the changing pad.
This product uses high-quality CertiPUR-US® certified foam and is GREENGUARD® Gold certified. All Colgate crib mattresses, pads, and accessories are non-toxic and pass all government safety standards and manufactured right here in the USA.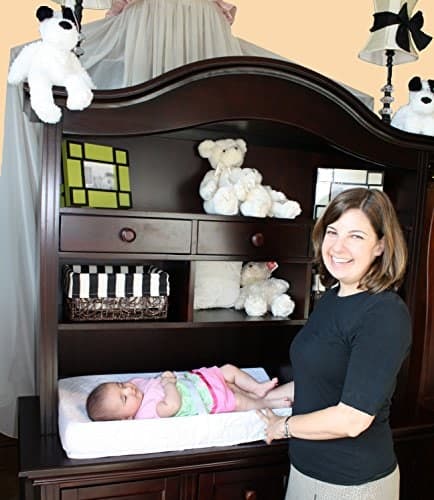 ---
5 Tips to Survive the Newborn Stage with Twins
Congratulations, parents! You made it through the pregnancy, the delivery, and now you have officially welcomed twins into your family. The next few months will be a blur. They will be filled with exhaustion, excitement, and a happiness you didn't know was possible.
While it may not seem there's a 'light at the end of the tunnel' for quite a while, certain things get easier as you enter into each new developmental stage. Now that my twins are 7 months and we are getting into a pretty good rhythm, I have some great tips on how to survive the newborn stage with twins.
1. Organization is your BEST friend
Bringing two new munchkins home for the first time can be just *slightly* overwhelming. Okay, who am I kidding? It can be downright terrifying. Between the napping, the nursing, the pumping, and the pooping it can be nearly impossible to keep everything straight. Taking a few minutes throughout the day to keep things organized will greatly save your sanity.
First, it is essential to track certain parts of your day, especially feedings. Decide whether you want to use an app or good old fashioned paper and pen. I know this seems silly, but in order for you to be committed to this process, you must pick what works best with your lifestyle.
Once you figure out how you're going to stay organized, figure out what parts of your day should be part of this process. For me, I had to keep track of pumping time, pumping amount, feeding times, occasional nursing times, and potty times. Using a variety of lists, I was able to easily do this up until month 3, when the tracking wasn't as necessary.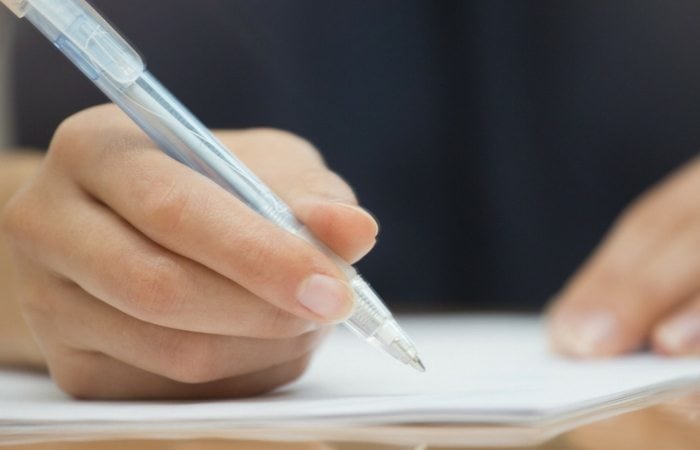 Tracking these items helped greatly reduce the, "Um, when's the last time Baby A pooped?" or the, "Did Baby B take a nap this morning?!" questions between my husband and me. It's amazing how much the exhaustion (and new mommyhood) can mess with your brain's ability to function.
Sidenote for exclusive bottle feeders: I made all of my bottles first thing in the morning and stored them in the fridge for easy feedings throughout the rest of the day. This helped do away with the stress of the instant baby screams the moment hunger pangs hit. (This may not work for you and that's ok! See Point 4!)
2. Use your Village
I was very fortunate to have a number of family and friends surrounding us when we brought the boys home from the hospital. My parents (who live out of town) were able to stay with us for a few weeks, and my in-laws live about 10 minutes away. We also had grandparents, aunts, uncles, cousins, and siblings who wanted to be part of our homecoming.
As a new mom, you want to 'do it all!' However, with sleep deprivation, hormone changes, and new routines, that is simply impossible. Instead of trying to be 'SuperMom' realize that you already are a 'SuperMom' by utilizing the help you have.
I realize that many of us don't have family nearby who we can lean on for support. In these cases, try to find those who surround you that want to participate. Friends, neighbors, and co-workers can all be a source of support while you enter this crazy world of parenthood.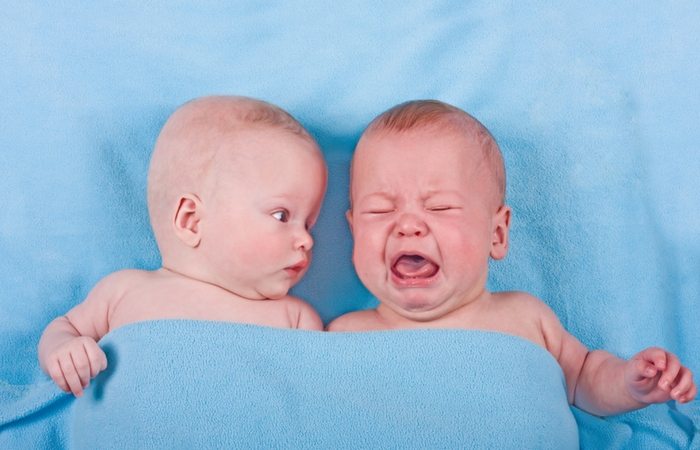 3. Do what's best for your babies
Day in and day out I received advice, friendly suggestions, and mentoring from many helpful sources during the newborn stage with twins. While everyone is simply trying to help, it's important to take each of these pieces of advice with a grain of salt.
Before implementing any change to your routine ask yourself this question: "Does this change work for MY babies?" Something may work for your best friends' 2-month-old, but it is out of the question for your twins. Something may have even worked really well for the woman at Target who insisted on stopping you because she had twins 12 years ago, but you would never consider it now. Yes, I would know from experience!
As hard as it is in the moment, simply smile, nod, and then decide if this is something you should try. As a parent, you have an intuition about your children that compares to no one else. When you do decide to try something new, give it some adjustment time and if it still doesn't seem to work for your kids, try something else! (P.S. Bonus points if you see a twin mom and instead of offering advice, you just try to give her a sense of comradery)
4. Do what's best for you
While you will continuously make your newborn infants a priority during the newborn stage with twins, it's essential to remember that the schedule/routine/etc. must work for you too!
For instance, some parents like to put together all the bottles for the day first thing in the morning. Others prefer to make them as they are needed. The goal of each is to feed your kiddos, but choose what works best for you and your mental state. There is NO reason to make things overly complicated for yourself.
Now that my boys are a little bit older, I find myself creating a to-do list every night before hopping in bed. This helps me go to sleep without the constant, "I can't forget to ____ tomorrow!" thoughts as I fall asleep. This helps keep me on track with the little downtime I have while my boys are napping and I'm trying to work from home.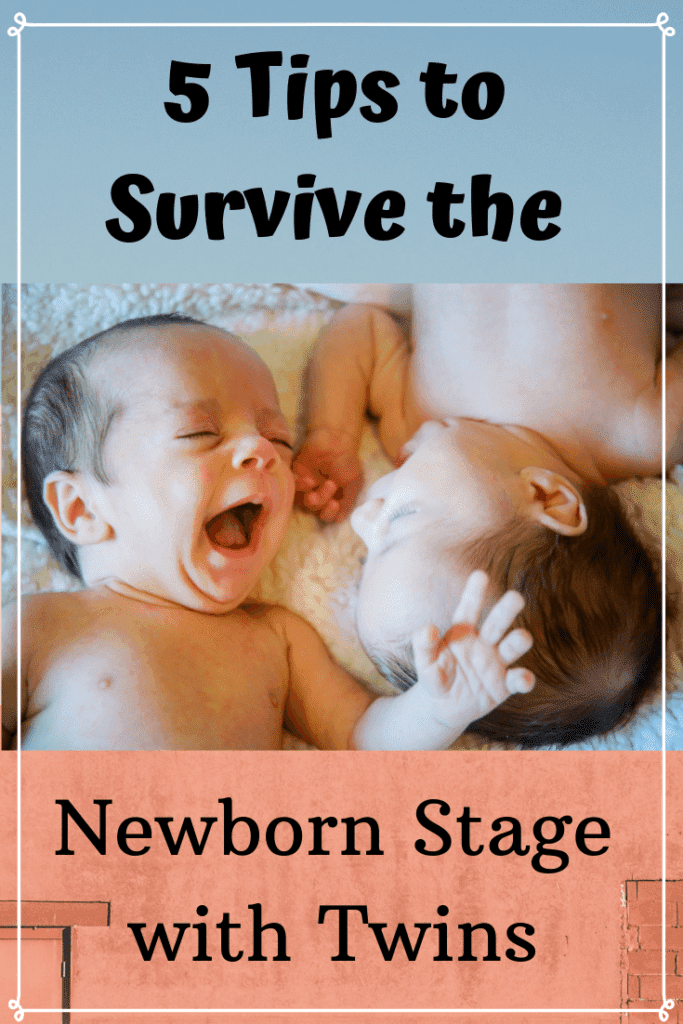 5. Tomorrow is a new day
Some days will feel nearly impossible to get through during the newborn stage with twins. There will be times of colic, diaper rash, eczema, and deep exhaustion. Remember that every day is new and you can always move on from the difficulties of yesterday. Some days you will accomplish everything on that ongoing to-do list and some days it will feel like your only accomplishments are naps, feedings, and diaper changes.
Eventually, you will wake up and forget all about the challenges of the first 3 months with twins. You will eventually be able to enjoy those first intentional smiles. Congrats, you've made it!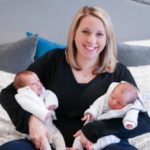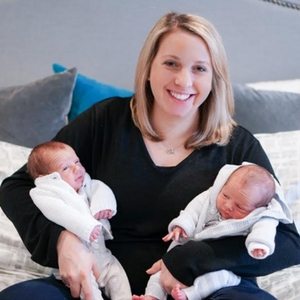 Abby Ludwig is a mom to twin boys and lives in the Chicagoland area with her husband. She has quickly mastered running every appliance in the house to try and make sure everyone is fed, clothed, and clean. As a former Kindergarten teacher, she loves to keep things organized and has recently found how cathartic it can be to fold teeny tiny laundry into nice neat piles. While everything may look nice on the outside, Abby promises she's really a 'fake it til you make it' kind of mom who loves her little men something fierce!
Related Articles
10 Tips From Our First Year With Twins
How to Survive Newborn Twins When You're Not Beyonce
Dear Dad, Your Life Will Be Different After Twins Arrive