A MoM-to-be recently asked:
Before my husband and I knew we were having twins, we weren't going to find out the gender. Now that there are twins on the way I feel like we should, but we are having such a tough time deciding. Does anyone have any insight into this?
Here's what our Twiniversity fans had to say:
– I was toying with the idea of being surprised. Then we found out we were having twins and I decided I was good on surprises for life. Shopping after they were here? If I managed to brush my teeth before noon it was a good day! ∼ TL
– My husband was very adamant about finding out. I had reservations because I didn't want a ton of gender-specific things. Well, when we got to a point where they could tell me the genders, I went from not wanting to know to feeling like I NEEDED to know. It wasn't just about getting ready with all the stuff you needed but it was about having to decide on their names. My husband and I had such a tough time agreeing on names! I was so stressed because I was thinking about things like when they apply for jobs one day and their names are listed at the top of their resumes and how mean kids can be on playgrounds. I needed their names to flow but not rhyme and I was adamant on their initials not spelling anything. Call me crazy but this was my experience and coming up with those 2 names was tough enough. I didn't want to stress on figuring 4-6 names and combinations! ∼ LR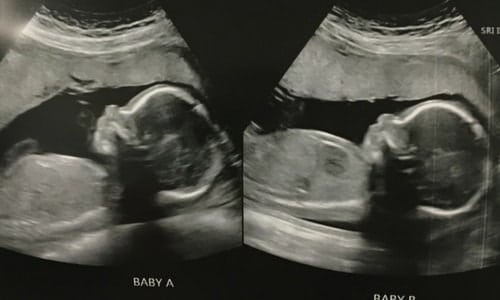 – We did not find out the gender of our twins. It drove everyone else crazy but I loved that we were going to be surprised! We had three sets of names picked – one for two girls, one for two boys, and then one set for one of each. We also didn't care too much about having pink or blue, especially when they were little. It was a lot of fun to have more neutral stuff instead of an abundance of one color. ∼ JJ
– For us, yes I absolutely had to know the gender. If having things prepared is important to you then I would. You won't have time for several years to do anything, and I mean ANYTHING. You won't have time to shop and decorate. I wanted to be able to have the nursery completely set up and done. To be able to have some clothes tucked away. Yes, It's possible to do gender neutral but then everything is just yellow and beige. I would say yes, find out. ∼ CAM
– We didn't find out the gender with our singleton or twins and I loved having the surprise in the delivery room. As my husband put it, you need the same gear/equipment so just get yellow or green. We had our singleton first and figured it's better to have neutral for future children in case they were opposite genders. We ended up with all boys! ∼ RS
– We didn't find out, and it really wasn't a big deal. People will definitely bring clothes after they are born. But I had no problem putting them in some more gender neutral and gifted clothes until I could get out and felt like shopping with them. And I took them out by myself started after I was cleared at 2 weeks, so it can be done! Waiting to find out the gender was so exciting! ∼ KCS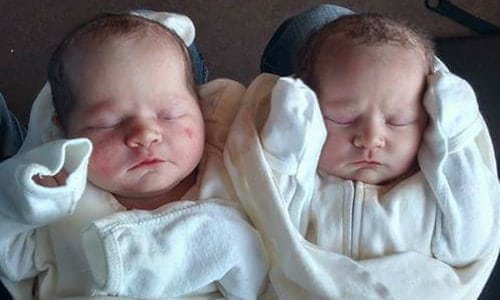 – We found out after finding out it was twins. You are better prepared. You won't have any time to go out a buy things once they are here. ∼ RE
– Not finding out the genders was the best decision, for us! It drove the majority of the people around us crazy. But there really is no greater surprise in life (other than initially finding out you are expecting twins). The most important things for babies you can find in gender-neutral colors, which was perfect. Once they were born, people gifted us gender-specific clothing so we never really felt like we had to rush out and buy stuff. People worry about being "prepared" but the biggest preparations aren't the material things. ∼ JS
– We found out. Similar thinking as you! Had it been one we were in for a surprise! But twins was a sweet surprise enough! We simply couldn't wait to find out what they were. I feel I connected with the fetuses more after I knew what they were and had a clearer idea of what their relationship with each other would be like. Boy/girl. It was one of my sweetest experiences to share with my husband at our ultrasound. ∼ OP
– Don't! The surprise was amazing! We didn't find out with our first child (singleton) and it was the best experience! When we found out we were having twins with our second pregnancy we planned to find out because it was the "only logical thing to do"! Then as things became more and more out of our control we decided to keep the gender within our control! And I'm so happy we did! ∼ ES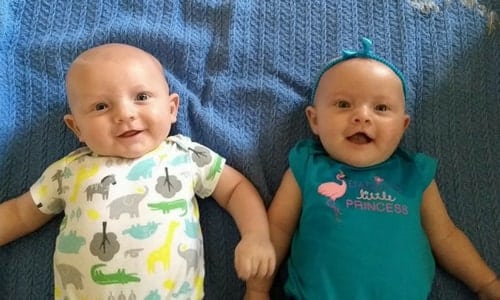 – We found out ahead of time. We had a little boy already and the twins were our last. I had my heart set on one being a girl. I knew no matter the gender I would love them but if they were both boys I wanted to prepare myself. I'm also a planner by nature so I wanted to have gender-specific clothing, burp cloths, etc. Lastly, we were moving and I had a ton of totes filled with baby boy stuff. I didn't want to move it if they were girls and we didn't need it. If you're torn weigh the pros and cons. No way is the wrong way. ∼ KE
– We didn't find out with our Singleton and decided not to with our twins either. It wasn't hard to do neutral everything and they live in onesies for a while so clothes weren't a big deal either. It was SO much fun being surprised. Adds so much to the excitement of the day! And people were so excited afterward that we got enough pink clothes to last us months! All we stocked up on prior were diapers and wipes! ∼ KGA
– We always said we would never find out gender…. then it was twins and I was freaking out/nervous about everything. I was sure I needed to know. But my hubby reminded me it really didn't matter. So we decided not to find out and we were so happy we made that decision. It was so amazing finding out when they were born. ∼ KM
– We didn't find out with our twins and we were so happy it was a surprise! Literally, the only thing gender specific that you might want is clothing. I had some gender-neutral clothing options at home and my mother-in-law came in with gender-specific outfits for going home. Otherwise, I found bedding and pretty much everything else including how we did the nursery to be neutral. And anything else I needed, luckily with support from other people were able to pick up stuff while I was at home. ∼ AM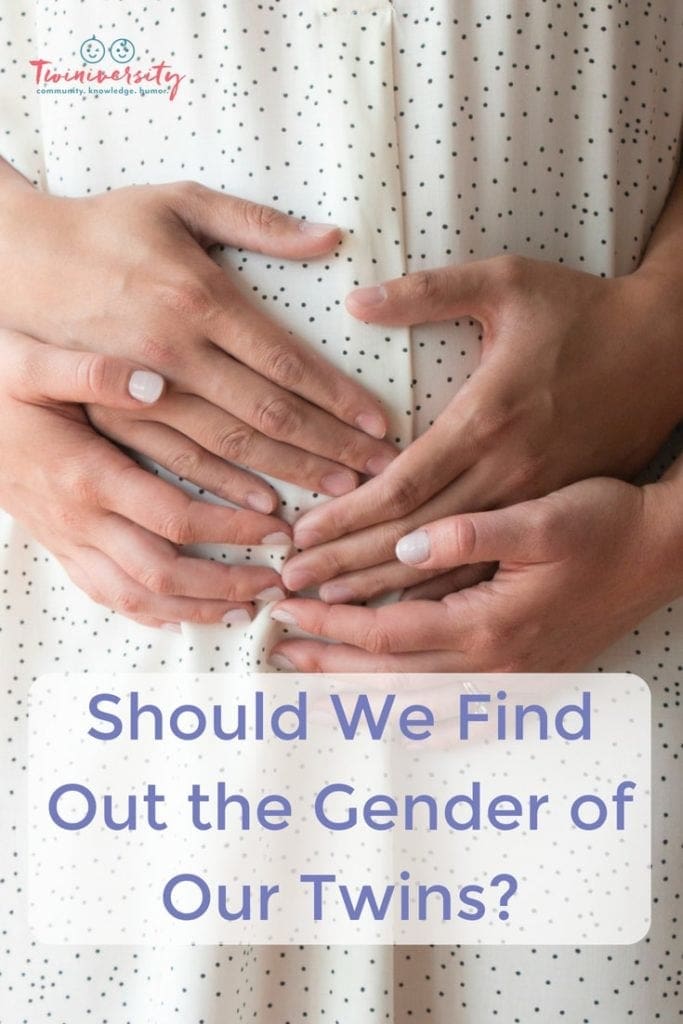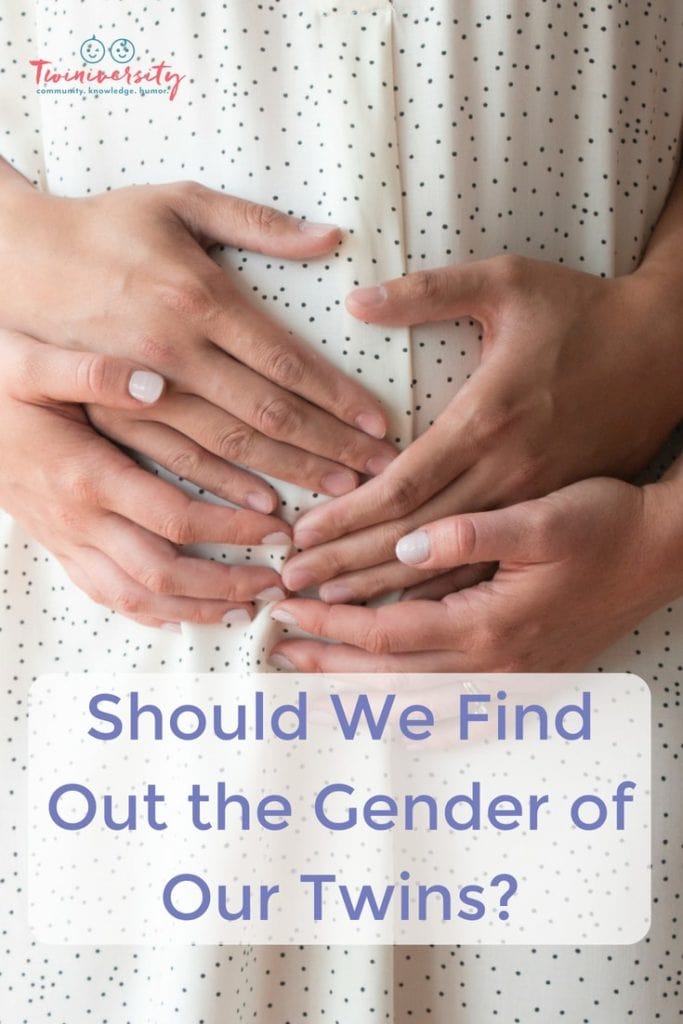 – We wanted to know mostly because it helped us think of names. Our twins were early and the hospital was super pushy about getting their official names for the legal paperwork. So I'm glad we knew and had at least narrowed our name list to about a dozen that we liked by then. ∼ GZ
– Twins are hard work. It's not impossible to shop afterward but it will be harder because you are so tired. In my opinion have a surprise gender reveal at around 6 months. This way it's still a surprise and you have time to shop for things or plan for themes accordingly. ∼ SA
– Do what you want! We didn't find out their genders. I always said there are very few good surprises in life and I wanted to be surprised! Also- for our parents and everyone else who wanted to know desperately so they could buy the "right" clothes and decor, I told them I was perfectly fine if we had girls wearing blues and boys wearing pink and purple. We ended up with 2 boys and some of their crib sheets and such were pink and I honestly did not care and I know they didn't. ∼ CJK
---
Related Articles
Things to Consider When Making A Twin Pregnancy Announcement
Twins Gender Reveal Surprises Everyone
Raising Boy/Girl Twins: An Experiment in Gender Stereotypes
---

Got twins? Us too! The Twiniversity Podcast with Natalie Diaz is created by parents of twins FOR parents of twins, from expecting times through the teenage years and everything in between. This podcast is all about parenting twins, offering plenty of tips, parenting hacks, and of course, humor. Just know that we are laughing WITH you every step of the way.
---

Are you looking to connect with an experienced parent of multiples who has been in your shoes? Do you want to feel supported, guided, and heard as a new parent of multiples*?
Or, do you love offering advice and tips to new parents of multiples*? Would you love to support, guide and listen to a soon-to-be or new parent the way you wish someone was there for you?
If you said, "YES!" to any of those questions, then the Twiniversity Parent-to-Parent Mentorship Program is perfect for YOU!
We are looking for parents of multiples from around the globe who want to be matched up with a parent mentor, or who want to BE a parent mentor. We'll be matching up moms with moms and dads with dads from all over the world to get personal support in this crazy life of multiples parenting!! All you have to do is complete a simple application form and we'll do the matchmaking! And the best part? The program is totally FREE! There are no fees to take part in this program.
---

The rate of twin births has risen 79 percent over the last three decades, and continues to increase. A mom of fraternal twins and a national guru on having two, Natalie Diaz launched Twiniversity, a supportive website with advice from the twin-trenches.
What to Do When You're Having Two is the definitive how-to guide to parenting twins, covering how to make a Birth Plan checklist, sticking to one sleep schedule, managing double-duty breastfeeding, stocking up on all the necessary gear, building one-on-one relationships with each child, and more.
Accessible and informative, What to Do When You're Having Two is the must-have manual for all parents of twins.