Last updated on September 28th, 2021 at 01:56 pm
Planning a twin pregnancy announcement can be double trouble for expecting twin parents. There are so many different ways to plan an announcement, and if you're not careful you might end up feeling like you're at a loss for ideas. Let's explore some creative ideas and tips for planning the perfect twin pregnancy announcement! For starters, try picking two unique outfits for yourself and your partner. If you want to do something more elaborate than just wearing matching clothes, consider coming up with a clever rhyme or poem. You could also include props in your photos such as stethoscopes, teddy bears, or onesies. You could also include family members' photo shoots in your twin pregnancy announcement ideas.
There is a lot to think about when considering how to make a twin pregnancy announcement. The approaching arrival of your twins is exciting and you'll want an announcement that reflects your excitement. When deciding how to make your twins' pregnancy announcement, you'll want to consider several things. Let's dive into some of those factors now so you can jot down your favorite twins' pregnancy ideas.
Who is your audience?
Is your official twin pregnancy announcement just for close family and everyone else will find out through the grapevine? Is your twin pregnancy announcement for all friends and family? Will your twin pregnancy announcement be going on social media?
If you're doing a smaller twin pregnancy announcement, there are lots of fun things you can do with gifts to ensure a memorable pregnancy announcement. You can get custom fortune cookies made to hand out to family and close friends. Better yet, hand out two fortune cookies to each person to announce each baby individually. There are also lots of cute announcement gifts on websites like Etsy such as custom drinking glasses or Christmas tree ornaments to give out to a small group.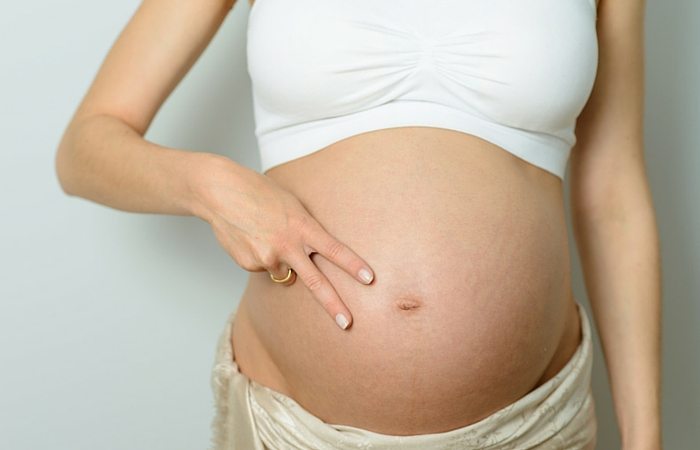 However, if you're going to be doing a large/mass announcement, you'll most likely want to do a picture or card of some sort to mail out, or maybe even a video to email your friends and family. Sending out a card with an image of you and your partner holding double baby gear, such as 2 bottles or 2 sets of baby booties, or enclosing a little poem about twins are all great ideas for cards. The great thing about creating a card is you can easily post it on social media if you want to make your twin pregnancy announcement that way.
Video announcements are becoming more popular. Record a heartfelt greeting with your message and email to friends and family. You could also record yourself telling your family and post that on social media. This might be a great idea for those who want to make a big to-do with a smaller group and then share the news with the rest of their FB or IG list.
You may also want to consider making different twin pregnancy announcements for different audiences. For example, giving future grandparents a gift is a nice personal way to make the announcement. You can then share the special moment on social media as your way to announce your upcoming bundles of joy to the rest of your friends and family.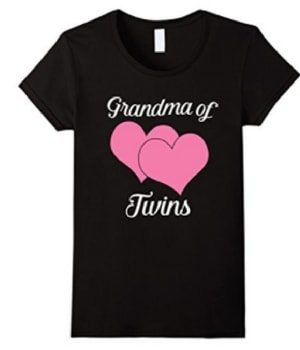 Some gifts to give to grandparents for the twin pregnancy announcements might be a picture frame that says "Grandkids" on it. You can put either an ultra-sound picture in it or a written message saying something like "Yes…that's plural." (with an arrow pointing to the word "Grandchildren". Another gift option for grandparents is t-shirts that say "Grandpa of Twins" or "Grandma of Twins". Watch as they open these gifts and enjoy the happiness and excitement you will see in their eyes when they realize the surprise!
Where are you in your pregnancy?
Are you only a couple of months along? Are you sporting quite the baby bump? Do you know both of your twins' genders yet? These things are details that might steer your announcement.
If you are already showing, having your belly be the star of your twin pregnancy announcement is never a bad decision. If it's pretty early, or you are carrying small, you can still try to emphasize your belly in your twin pregnancy announcement, or you don't need to be in it at all. Using an ultrasound photo is always fitting. If you are waiting to know the genders, you can do a dual twin pregnancy announcement/gender reveal. Gender reveals are also fun to do with gifts, cards, props, or video.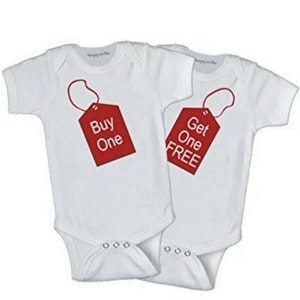 Let your style guide your twin pregnancy announcement
Are you more classic or are you more comical? There are lots of beautiful announcements out there that depict couples making two heart shapes with their hands or featuring mom and dad holding two onesies. These are the kind of classic announcements that will never go out of style. And while classic, they are easy to customize to fit your family. There are also announcements with amusing rhymes or use a twin pregnancy announcement shirt. We love this Dad shirt that says "Real Men Make Twins". You can also get the onesie set with the first onesie stating "buy one" and the second saying "get one free." Do you prefer a classic look or a funny one? Either way, you can come up with something very cute that represents your family.
Consider the time of year
What holidays are coming up? What season is it? Which family events are approaching?
If you celebrate Christmas or if it is near your birthday, you could make your protruding belly look like a gift. Likewise, you can do the gift idea if you or your partner have a birthday coming up. If it's fall, saying something about pumpkins with a picture of you holding two pumpkins would be adorable.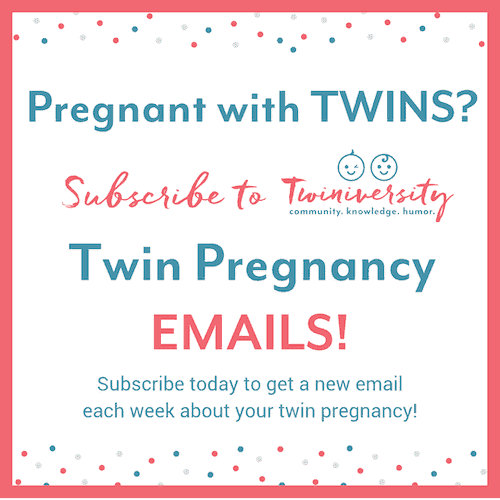 Want to get weekly emails about your twin pregnancy? Sign up for the Twiniversity email list! Subscribe today to get emails about giveaways, events, weekly article roundups, and more! We'll be sending you a weekly twin pregnancy email to keep you on track with your pregnancy to-do list! Click here to learn more… and while you're at it, check out our expecting twins classes and personal twin parent coaching services.
Personality counts!
What kind of things are you as a couple or your family passionate about? Do you have other children already?
If you both LOVE football, consider using infant-sized jerseys in your announcement. Or if you're board game fanatics, consider using a picture of the "twins" space from the Game of Life. If you have a child already, you absolutely want to include them in the announcement. Consider a picture of your child holding up a number 1 and Mom holds up numbers 2 and 3 in front of her tummy. Or maybe have your older child looking dumbstruck at the ultrasound.
All of these ideas are adaptable to pregnancies of more than 2 babies as well. Change a number 2 to a number 3 or pick up four onesies instead of two. Or consider coming up with a completely original poem or song about multiples. Maybe create a twin pregnancy announcement riddle to make your twin announcement extra fun.
Once you've decided what kind of twin pregnancy announcement you want, pick up your gifts or pick out your props and pick a day to make the announcement. Don't forget to put your due date or month of your twins expected arrival so that people know when to welcome your little ones into the world! The most important thing to remember is to have fun creating your twin pregnancy announcement and spreading the good news. Good luck!
Recent Posts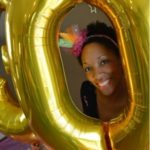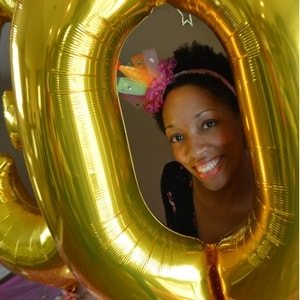 Maya Mason lives in the Twin Cities, MN, and works as a Juvenile Probation Officer. She is the mom of 6-month-old boy/girl twins named Theo and Teia who were born at 24 weeks. Maya has Lupus and this diagnosis has led her to become passionate about natural health and wellness. Maya loves to spend time with her family, play volleyball and travel. She also is an avid writer and is in the process of writing a teen fiction series.
---
Related Articles
Twin Pregnancy Stories to Get You Ready for Delivery
I'm pregnant with Twins and Feeling Miserable