Are you looking for some great baby shower gifts for twins? Look no further! Here's a list of our favorite twins must-haves which are guaranteed to make you the hit of the twins baby shower and are sure to make your expecting twins parents beam with excitement!
Shower Gifts for Twins
Diapers! And wipes! Newborn twins will go through 150 diapers a week in the early days. Help them stock up. Make sure to include a gift receipt just in case they need to swap out for different sizes or brands.
Batteries – they will always need AA, AAA, C and D batteries, pretty much until the kids go to college
A copy of "What to Do When You're Having Two", the #1 Amazon Bestseller in Twins & Multiples Parenting — written by Twiniversity founder Natalie Diaz!
An expecting twins class! Twiniversity offers these year-round in New York City, Chicago, and ONLINE! These classes ("Twins Prep" & "Newborns") will give the twin parents-to-be peace of mind that they are doing all they can to get ready for their dynamic duo.
Swing – make sure it can be plugged in and has options to swing side to side and front to back. Vibration in the seat is a plus! We recommend each family to start out with 1 swing.
Bouncy chairs – get two! Brands we love: BabyBjörn & Fisher-Price
Travel cribs – We love the BabyBjörn Travel Crib Light for it's breathability, and it's so lightweight! Also check out the Summer Infant Pop N' Play portable play yard, which is fantastic for the living room, backyard, beach, just about everywhere.
Double stroller! Every family has their own needs, but here are our top picks: Contours Options Elite (tandem), Bumbleride Indie Twin (side-by-side jogger-style), Britax B-Ready (inline – add 2nd seat for twins), and the Britax B-Agile double (standard side-by-side), Uppababy G-Link (double umbrella), Baby Trend Snap N' Go Double (stroller frame to hold 2 infant car seats)
Infant car seats or convertible car seats. You can't go wrong with these brands: Britax, Cybex, Uppababy, Maxi Cosi, and Chicco.
Gift certificates to restaurants, movie theaters, etc. so the parents can have date night
Donate cash towards babysitters or a night nanny
Donate your time! Make up a certificate worth 1 or 2 nights of babysitting — just make sure you bring a friend to help you out…
Rock N' Play – one of the top items that our parents just LOVE for their twins!
Table for Two – this makes bottle feeding two babies at once a lot easier
Sound machine with projector – this will help the twins to sleep!
Baby carriers! We love the BabyBjörn Baby Carrier One for awesome back support and it comes with a newborn insert so you can use it from birth.
The Buggy Bench – once the babies can sit up on their own, this is a must have for parents who take their babies grocery shopping alone
Two single umbrella strollers – for when you just need to take one baby somewhere, such as a doctors appointment, or when you do 1-on-1 dates with your kids
Love to Dream Swaddle UP swaddles – Swaddle your babies with their arms up! This is great because the babies can soothe themselves by sucking and with arms up they can push themselves up if they roll over. You'll want to get 3 for each baby (1 in use, 1 in the wash, 1 in backup). Bonus: Add on the 50/50 Swaddle UP, a transitional swaddle that allows you to remove one swaddle "arm" at a time to ease in transition.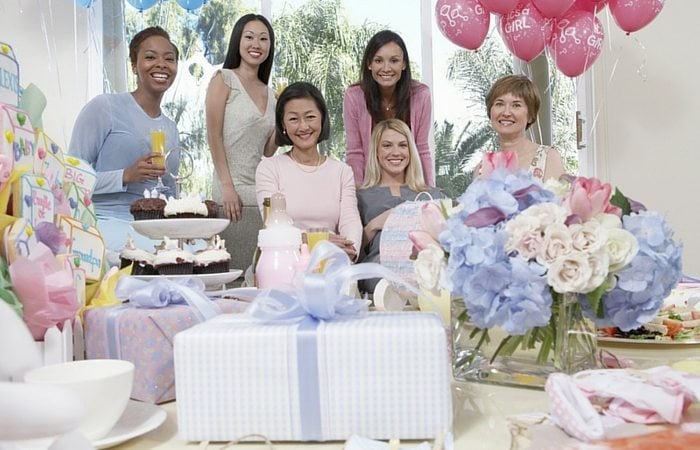 There are so many more items that parents of twins need. Check out these other great articles for MORE IDEAS!
---
The rate of twin births has risen 79 percent over the last three decades, and continues to increase. A mom of fraternal twins and a national guru on having two, Natalie Diaz launched Twiniversity, a supportive website with advice from the twin-trenches.
What to Do When You're Having Two is the definitive how-to guide to parenting twins, covering how to make a Birth Plan checklist, sticking to one sleep schedule, managing double-duty breastfeeding, stocking up on all the necessary gear, building one-on-one relationships with each child, and more.
Accessible and informative, What to Do When You're Having Two is the must-have manual for all parents of twins.
---
Whether you're a twin parent in the big city surrounded by scores of resources, or a triplet parent out in the country with no one around for miles — our multiples parenting forums are for YOU! Sign up for FREE and connect with people who are just like you — parents of multiples looking for advice, parenting tips, or even just people to chat with who will understand what you're going through. Our forums are open to people all over the world and we offer scads of specialty rooms to find others who are going through the exact same thing as you. Check it out today!
---
Twiniversity is the #1 source for parents of multiples and we are growing faster every day!
Find us all over the web: