If you're looking for ideas for baby shower gifts for twins, you've come to the right place! Twiniversity is the #1 resource for families expecting twins and we know a thing or two about baby shower gifts for twins. The main question most people seem to have about baby shower gifts for twins: "Do I need to buy double the gifts for a twins baby shower?"
The answer? No. You don't need to buy double the gifts. But when you're picking out your baby shower gifts for twins you need to consider that the happy mom and dad-to-be are in need of a LOT of stuff. So you might want to consider putting a little extra money towards the gift that you ultimately choose, or perhaps going in on a group gift to help the parents get some of the bigger ticket items they will need. With twins comes the need for double the cribs, double the stroller, double the diapers, and double the cost… of everything.
You may be wondering what are the best baby shower gifts for twins? You might immediately assume that diapers are the answer (and you'd probably be right!) However if you decide to gift diapers, be mindful that they may need to be returned if the brand or type of diaper you choose doesn't work for the babies' needs. Some babies are allergic to certain types of diaper, or their body type causes more leaks with certain brands of diaper. If you gift diapers, always include a gift receipt taped to the box so the family can return it if it doesn't work out. Also keep in mind that a lot of families of twins choose to cloth diaper in order to save money. Keep a lookout on their twins baby registry and if you see cloth diapers on there, you can assume they won't be going the disposable route.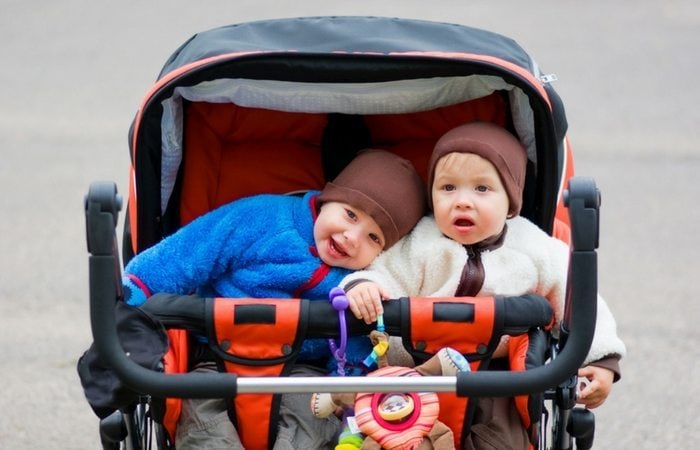 At Twiniversity we always encourage our families of twins to invest their money in 3 specific items: car seats, mattresses, and strollers. These are all typically big ticket items but they are also the items that are the most important for the safety of their babies. We always encourage new families to buy their car seats new — straight out of the box. You never want to run the risk that a car seat may have been in an accident, which will compromise the integrity of the seat. ALWAYS buy car seats new! Mattresses are another item you need to buy new. Dust mites and bodily fluids always make their way into a used mattress one way or another, and over time the firmness of the mattress support deteriorates. Buying your mattresses new (even less expensive ones) is critical to healthy sleep and development. Double strollers can be bought second hand and you can often find great deals on garage sale sites online. But don't compromise too much on your stroller. This will be used for at least 4 years so you want to make sure whatever you end up with will make you happy. If you can find a great deal on a gently used stroller that will save you a few hundred dollars, go for it!
Here are some great articles on Twiniversity about finding the best baby shower gifts for twins. We hope you find what you're looking for and you enjoy throwing the best twins baby shower EVER!
Baby Shower Gifts for Twins Articles
---
The rate of twin births has risen 79 percent over the last three decades, and continues to increase. A mom of fraternal twins and a national guru on having two, Natalie Diaz launched Twiniversity, a supportive website with advice from the twin-trenches.
What to Do When You're Having Two is the definitive how-to guide to parenting twins, covering how to make a Birth Plan checklist, sticking to one sleep schedule, managing double-duty breastfeeding, stocking up on all the necessary gear, building one-on-one relationships with each child, and more.
Accessible and informative, What to Do When You're Having Two is the must-have manual for all parents of twins.
---
Whether you're a twin parent in the big city surrounded by scores of resources, or a triplet parent out in the country with no one around for miles — our multiples parenting forums are for YOU! Sign up for FREE and connect with people who are just like you — parents of multiples looking for advice, parenting tips, or even just people to chat with who will understand what you're going through. Our forums are open to people all over the world and we offer scads of specialty rooms to find others who are going through the exact same thing as you. Check it out today!
---
Twiniversity is the #1 source for parents of multiples and we are growing faster every day!
Find us all over the web: