It's the most wonderful time of year: Halloween is just around the corner! What better way to celebrate than with a party full of ghoulish goodies and frightening fun for your twins and all their BFFs? Or, if your kids are like mine, maybe they're just in the mood for a Halloween-themed birthday party – in July! No matter what, here's what you need to throw a budget-friendly and spooktacular bash with your duo.
Set the Scene
A truly magical Halloween party starts with the decor. While it's easy to go overboard when you're in the Halloween "spirit", remember this party is for kids so make it spooky, but not scary. Yes, you could go Pinterest crazy and transform your regular old house into a haunted one, but it's not necessary! First, start with what you have. For some, this will be easy; just decorate your house for Halloween and up the party factor with some banners, cutouts, and activities. Check out Amazon, Spirit Halloween Store, Hobby Lobby, and Party City for those special touches to create just the right mix of spooky but cute. Don't have a ton of Halloween decor? Go ahead and buy some and don't feel bad – you'll use it again every year!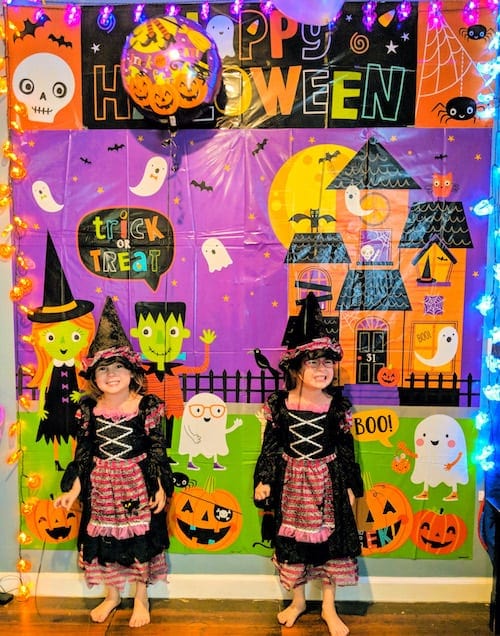 There are a number of themes you could choose from including witches, vampires, zombies, and pirates. We added some witchy banners and set out cauldrons full of snacks as our girls were dressing as witches. With some streamers and twinkly Halloween lights, you can create a fun party vibe or add hanging ghosts, skeletons, and spiders for more creep factor. Be sure to add a spooky and silly backdrop tailored to whatever theme your kiddos prefer to complete the look.
Speaking of your duo's preferences, check out our list of awesome twin Halloween costume ideas to give them some suggestions or follow their lead and let them be whatever they want!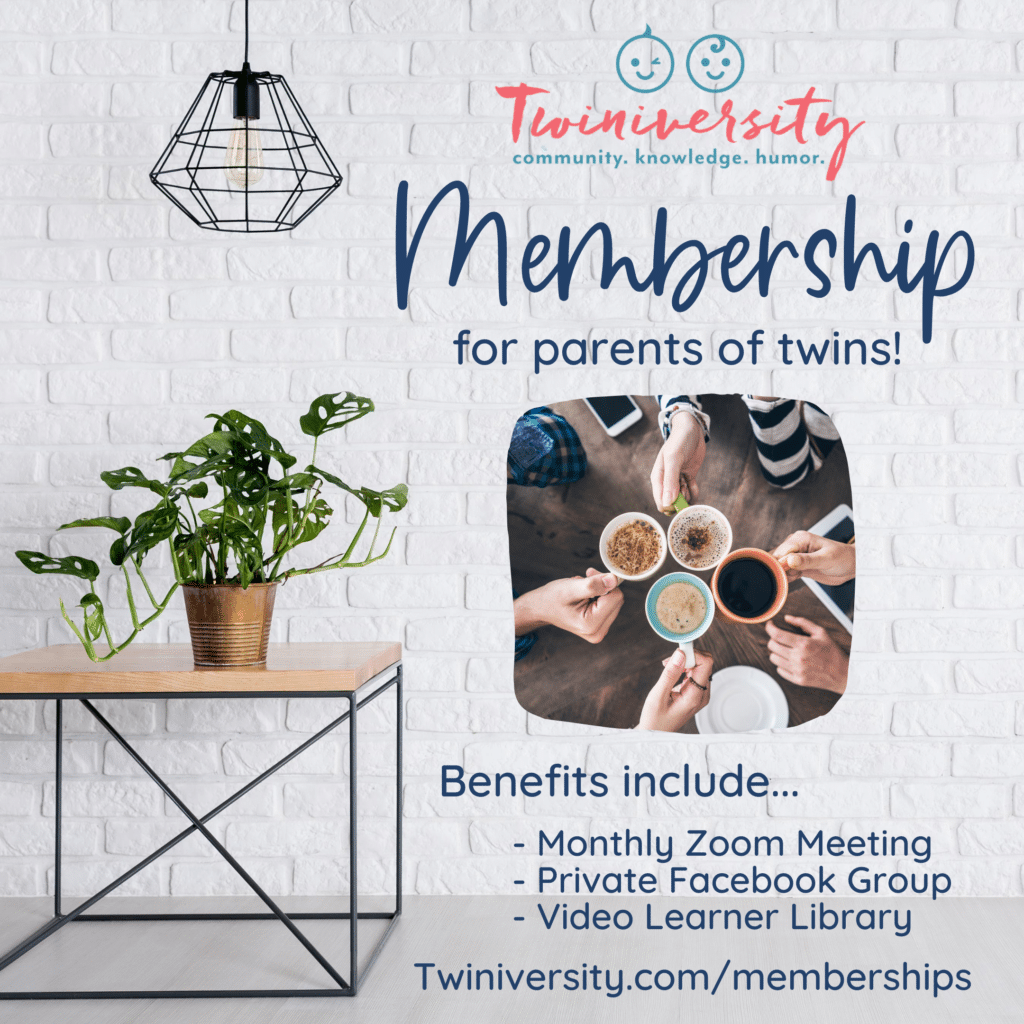 Need some twin parent friends? Get the support you need with a Twiniversity Membership. Benefits include a monthly twin parent club meeting on Zoom, access to a private Facebook group just for twin parents, and a video library of twin parenting lessons. Visit Twiniversity.com/membership to join today!
Monstrous Music
No Halloween party is complete without rockin' tunes to keep those kids moving. Gotta burn off all that sugar somehow! Be sure to create a petrifying playlist on your favorite music platform. A good idea is to include some modern ones as well as the classics (of which there are many versions to choose from) for everyone's enjoyment. Here are my top ten favorites:
The Monster Mash

The Addams Family Theme

The Purple People Eater

The Time Warp

Love Potion #9

I Put a Spell on You (Freak On a Leash does a fabulous cover of Bette Midler's iconic Hocus Pocus scene)

Grim Grinning Ghosts – Mickey's Monster Bash

Spooky Scary Skeletons – Andrew Gold

Monster Boogie – The Laurie Berkner Band

This Is Halloween – The Nightmare Before Christmas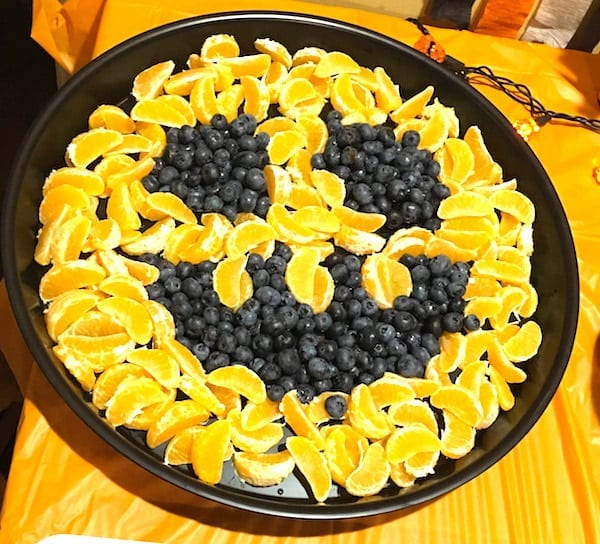 Frightful Finger Foods
There's no reason to break the bank and have your bash catered to the 9s. Sure all those Pinterest treats look amazing but you can keep it simple and fun with a few Halloween-themed finger foods.
For snacks and appetizers, create a cute Jack O'Lantern veggie tray with some baby carrots with yellow peppers or cherry tomatoes for the cutouts. For a fruit tray, peel some clementines and add blueberry eyes and a mouth. Stay festive and serve everyone's favorite orange Cheese Balls with some Annie's White Cheddar Cheese Puffs in clear, round bowls. Use a sharpie to add some jack o'lantern or ghost eyes. Pick up a set of Halloween cookie cutters and create your own creepy cheese plate with cut-outs, deli meat, and crackers. Put together a scrumptious layer dip with the scary touch of a black olive spider on top.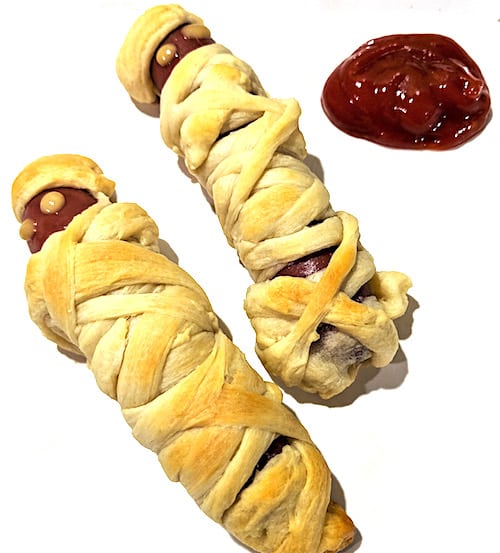 A budget-friendly tip is to throw your party midday so there's no need to provide a full meal. If you need some more options you can take the crowd-pleasing crescent dogs to a spooky level with mummy dogs; cut the dough into strips and wrap them before baking. You can also put together Jack o'Lantern mini pizzas with black olives or pepperoni Jack o'lantern or spider toppings. Prep them beforehand and throw them in the oven while your guests are rocking to your tunes.
For dessert, keep things spooky but sweet with banana ghost pops (chocolate chips poked into halved bananas) and ghostly white chocolate-dipped strawberries with milk chocolate eyes and mouth. Don't forget to serve up some devilish drinks too! Green Kool-Aid makes a mean Witch's Brew. Or, add some clever labels to your beverage bottles or dispensers.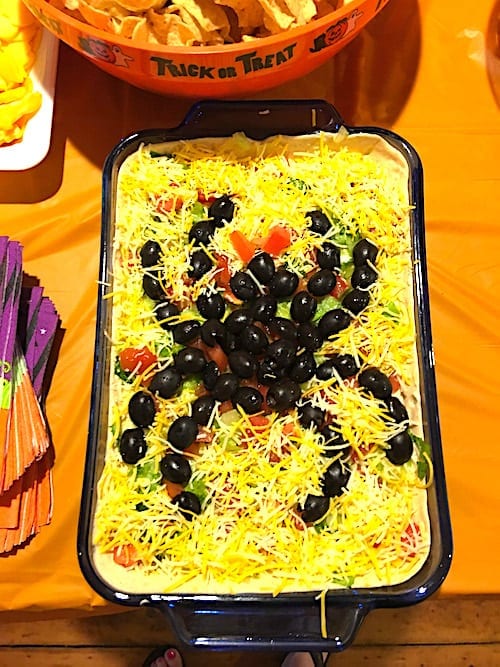 Ghoulish Games and Activities
Keep everyone busy burning that candy energy and having fun! Play a ghastly version of Pin the Tail on the Donkey such as Pin the Smile on the Skeleton, the Tail on the Black Cat, or the Spider on the Web. You could also try your hands at Witches Hat Ring Toss or DIY ghost bowling – glue some white paper and black eyes onto toilet paper tubes, rack em up, and roll pumpkins into them. Hang some ghost cutouts around the house and have the kids go on a ghost hunt. And there's always the classic, bobbing for apples or the newer twist of dangling donut-eating races.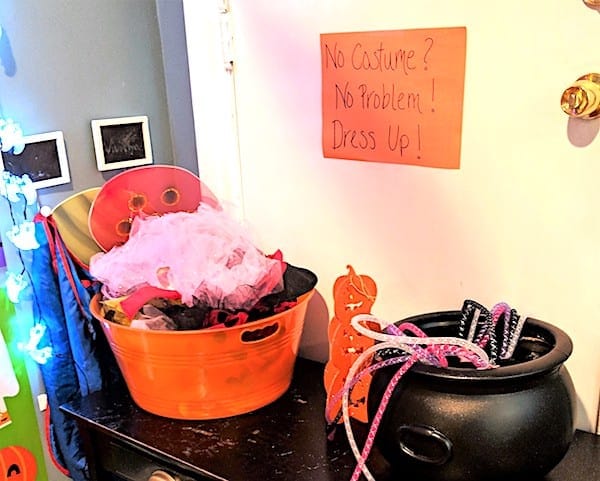 Set up a dress-up area using your kids' dress-up stuff or old costumes like masks, wings, capes, and headbands. Put a boxful out and invite guests to switch up their costumes. Decorate Your Own Jack o'lantern or Spooky Mask crafts are a big hit. Put out some invitations to create with mini pumpkins or blank masks, paints, markers, and stickers. You can modify this for the little ones with these jack o'lantern sticker sheets. Pick up some Halloween coloring books and crayons to double as entertainment and party favors. This 30 piece set from Amazon can pull triple duty as a coloring activity and container for crayons as well as party favors.
If your twins are in the mood for more frightening fun, set up a Haunted House in an office or bedroom using black sheets, black lights, spooky glow-in-the-dark decorations, and a fog machine. Have an adult hang out behind a curtain and jump out near the end for a real terrifying treat. Of course, there's always that kid party stand-by, a whole bunch of balloons. For an eerie twist, decorate them as white ghosts, orange jack o'lanterns, and green monsters, and let them run wild for a bit!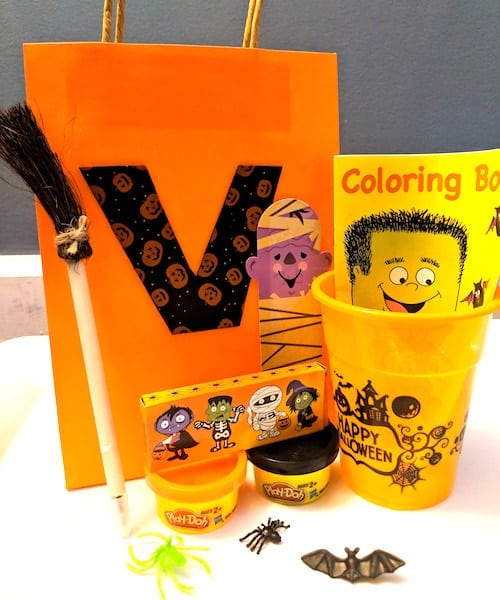 Petrifying Party Favors
When it's time for the party to end don't forget to send them off with some swag. Naturally, everyone gets some candy and chocolate – bonus points if the kids can "trick or treat" in some bowls set around the room or outside. Pass out personalized treat bags and let them have at it as they leave.
Inside your favor bags add anything Halloween-themed that is age-appropriate. We chose Halloween-colored play-dough and added witch's broom pens, Halloween pencils, bookmarks, and chocolate. You could also add masks, mini-jack o'lantern buckets, finger puppets, spider rings, silly glasses, stickers, and bracelets.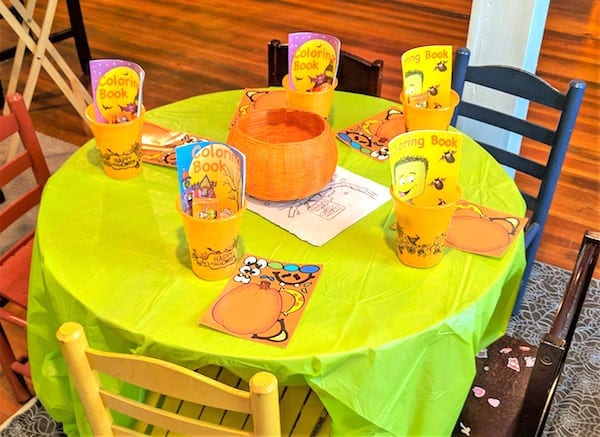 Whether you decide to go spooky or silly, there are many easy and budget-friendly ways to throw a frighteningly fun Halloween party for your twins of any age. Plan ahead, don't break the bank and get in the spirit with a fabulous get-together this season.
Top Five Ways to Host a Spooktacular and Budget Friendly Halloween Party:
Dress up your home by starting with what you already have and buy more if needed

Whether you choose a theme or go the traditional route, supplement with lights, spooky cutouts and wall hangings to complete the look

Go for simple snacks that you can prepare ahead of time by adding a spooky touch to typical party foods

Keep everyone busy and moving with a rockin' playlist of spooky songs, a few ghoulish games and activities

Send all the kiddos home with some chocolate and silly party favors
Keep everything age-appropriate to avoid melt-downs and frustration. If you have a wide range of ages coming, keep that in mind when planning games and fun activities. Get your own kids to help host the Halloween party by helping to run the games. And most importantly, have fun!
Latest Posts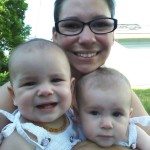 Maigen Beaulieu is a former child care provider turned Blog-At-Home Mom of 1-year-old identical twin girls, Juliette and Vivienne. She lives in upstate NY with her husband, the twinsters, and their two cats, Boots and WIllow. When she's not wrangling the twins or blogging she can be found drinking wine and researching her family history. She can be reached via her blog Life and Love. Multiplied, on Facebook, Twitter, and Instagram.
Related Articles
Halloween DIY Decorations To Make With Kids
4 Tips For A Successful Halloween With Toddlers
5 Scary-Good Halloween Dessert Recipes