YAY! You're having twins! Congratulations! While we may not know each-other personally, I'm sure when you found out you were pregnant with twins you had a mixture of emotions and tons of questions like I did. Personally, I was so busy focusing on the pregnancy and getting the house ready, that I forgot one very basic, important thing: What would I possibly wear? You see, I've always wanted twins and was so ecstatic when I found out the news, I wasn't thinking about anything else. Until that day came -and trust me, it will, when I couldn't zip up my pants. Thank goodness for leggings or I would have created my own version of the old saying, being "barefoot and pregnant."
So, how you can prepare and not end up in this predicament? I'm sure you don't want to sink your cash on an entire wardrobe whether you're working or not. Don't worry, I get it! And, like you, I'm very resourceful. Not only was I able to get by without resorting to wearing togas and mumu's, but I managed to stretch my maternity clothes budget while pregnant with twins without breaking the bank or busting my seams, and I'll show you how can do it too.
Expand, Extend, and Cover-Up
Even though every pregnancy is different and everyone carries in different ways, one fact remains -you will not gain that much weight in the first trimester. So, there's no need to panic and rush out to the stores. You have some time. Here's what I did during my first trimester and beyond.
While you may be feeling puffy and uncomfortable, you can still get away with wearing most of your regular clothes, whether it's office, gym, PJ's, casual-wear, or even your underwear. Speaking of which, hopefully not TMI, but I found that low-rise and bikini underwear worked for me during my entire pregnancy. If you need a larger size, go ahead and pick up a multi-pack. You can even score some freebies with some store memberships.
How did I get away with wearing my regular clothes and save a ton of money? Welcome to the world of spandex, extenders and belly bands. All blessings in disguise that will help you continue to wear your clothes comfortably during (until about the 6th or 7th month) and even after your pregnancy.
Spandex and cotton will be your new best friends. Leggings, Jeggings, yoga pants, sweats, jersey dresses, and maxi skirts . Keeping in mind, regular sizes may work up to about mid-2nd trimester. If the waist on the leggings and yoga pants start rolling down and become uncomfortable or flat-out annoying, try folding them under your belly to get more use out of them, if that doesn't work, there's good news! Some stores sell inexpensive maternity versions, which are a great investment. You may get them on sale or score a variety pack.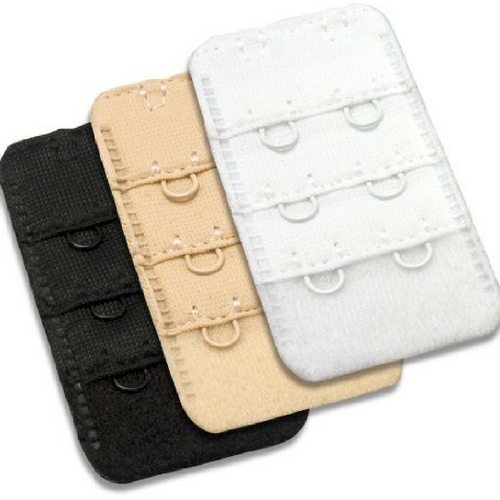 Use items that help extend your wardrobe – literally. Some examples of extenders are bra-bands and jeans/pants button and clasp extenders. You can find them sold individually or as sets with material panels which cover open areas.
Belly bands can be worn over the waistline of your pants/skirts, to cover open areas or hold up loose clothing, for a nicer look and feel. Look for multi-packs.
Prefer DIY? Try hair elastics and wide hair bands, just loop one end through the button hole of your jeans or pants and attach (works best on buttons). Use a head-band to cover the opening by looping through the belt loops. Check online for ideas.
Recycle
Sort through your older clothing to see if you have anything that might fit temporarily (i.e.: low-rise pants or clothing in larger sizes). Borrow items from your partner, family or friends, especially if you're working. Borrow shirts, blouses, sweaters and jackets in larger sizes if possible. If anyone has old maternity clothes, even better!
Check online, in newspapers and on social media for maternity clothes exchanges and for local Thrift and Consignment stores that sell maternity clothes.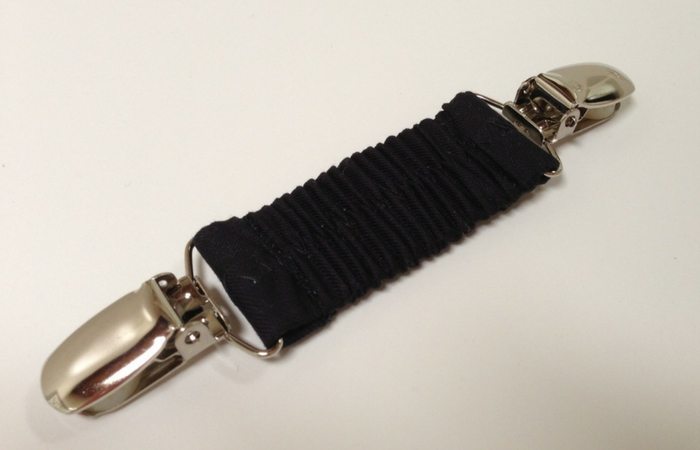 Tip: If the shirts, blouses or dresses fit too big, use belts (above the belly line), elastic bands or dress-clips and simply let out as needed. Wear a jacket or fasten from the underside to hide clip.
Buying Guide
Of course, if you're craving the full pregnancy maternity clothing experience or if you're at that point where you need maternity clothes, I still suggest skipping the first trimester and plan for your 2nd and 3rd instead. Just be mindful of what season it will be. Go to your favorite store with a maternity section (or one with larger sizes) such as Old Navy, Macy's, Target, Amazon, TJMaxx, etc. and go straight to the clearance/sales aisles. Bring your coupons (check eligibility).
If shopping online, look for specials or at least free shipping and returns. Some online stores offer discounts when you sign up, just make sure you can opt-out when you're no longer interested.
Many maternity clothes fit big. I'm sure you're thinking "of course, they're maternity clothes!" But even so, you should be able to fit the arms, legs, and hips according to your regular size. In my experience, the pants, especially jeans, slipped down (wearing a belly band may help), or try low-rise maternity waist as opposed to a full-band. Most important, keep those tags on items you haven't worn for returns. Warning: some online companies use overseas manufacturers where sizes run differently and returns may be difficult.
Must Haves
If you're going to spend on anything, I suggest to get one nice outfit, (for the baby shower, of course) and the following:
– Wireless nursing bras (the best for me were sports-bra styles and 2-per package at Old Navy and Amazon).
– Rounded toe shoes or boots. Your feet will swell at some point or even change sizes. Nix the heels above 1.5 inches (puts too much pressure on back and feet).
– Adjustable sandals or slippers –make sure they're secure so you won't trip. (Balance is another issue during pregnancy).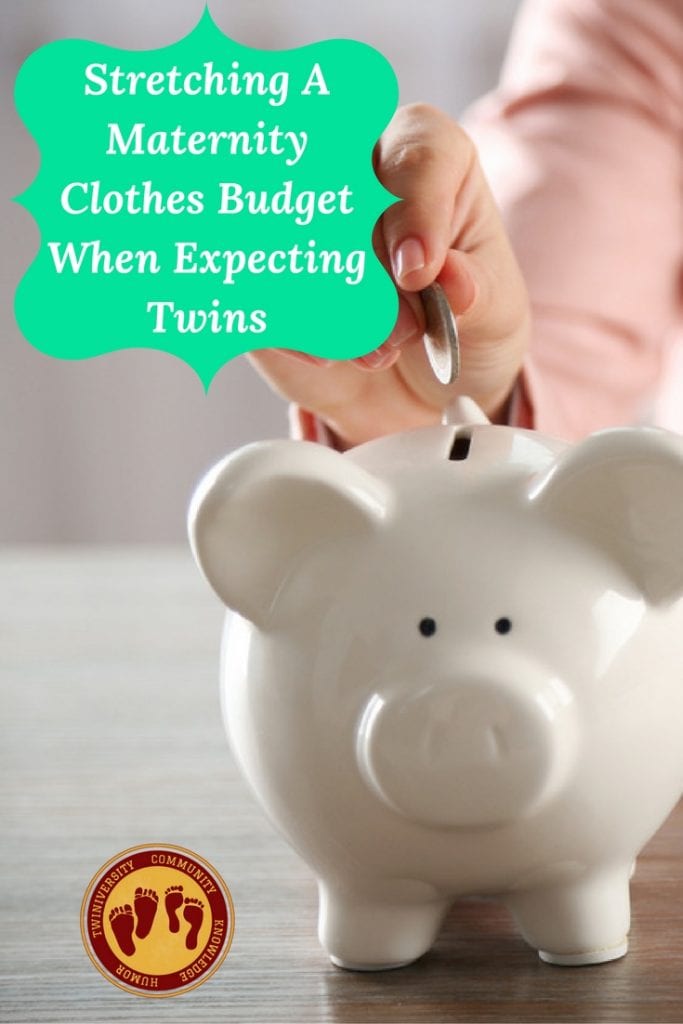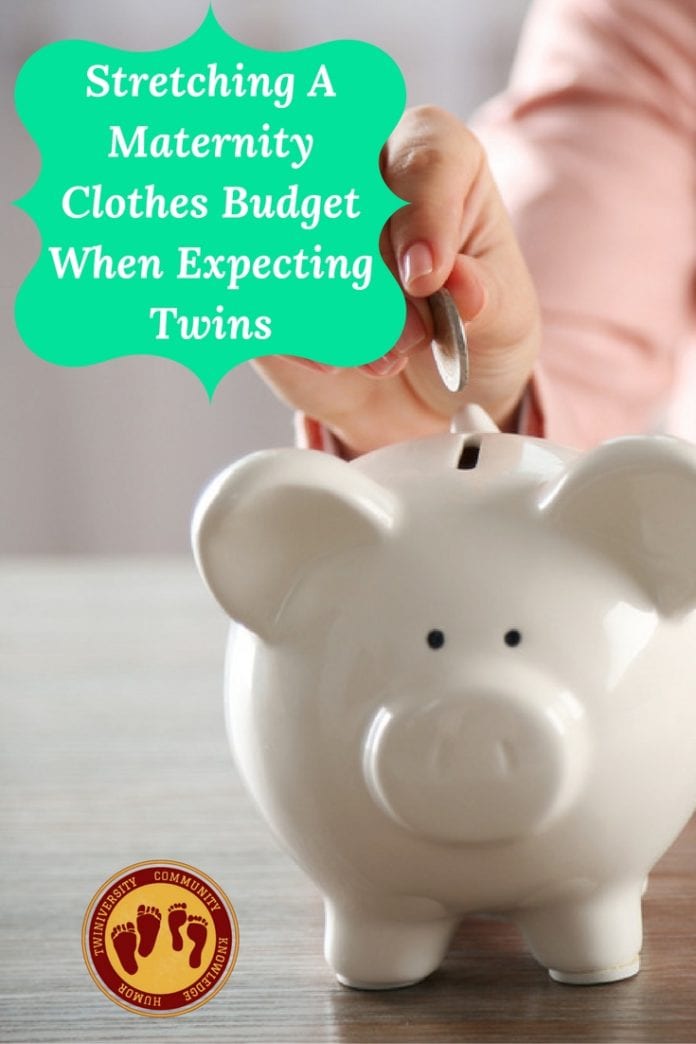 Layer
FYI, you're going to feel hot (literally) especially during the 3rd trimester, no matter which season, so use layers. Layering is on-trend, and you can mix and match. You'll extend your wardrobe and save $$$ as a result. Start with these key wardrobe staples in colors that complement each other, to be prepared for that inevitable moment when you can't zip those pants:
– One pair of jeans, dress pants (2 if working) & a skirt
– Leggings (2-pk)
– Short-sleeved T-shirts, blouses
– Camisoles (2-ea)
– Button-down jacket and/or cardigan/sweaters
– Cape or Poncho Coat (for colder climates)
So there you have it! Recycling, borrowing or reuniting with old friends (thank you spandex) can be a great way to stay on your budget and still look good. With a few key items, you will stretch your maternity budget literally and figuratively! Good luck & remember – pay it forward!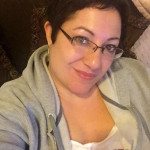 Lorraine Conforti is a proud new mom of twin boys and pet-parent of two cats and a dog. Being both conservative and artistic, she describes herself as "a little bit country and a little bit rock and roll." She enjoys the arts, music, writing, and had performed in a Blues/Rock band with her Husband for several years. She is also passionate about health and fitness and has held certifications for nutrition and Personal Training, and has earned a BS Degree in Healthcare Management. For articles by Lorraine on Twiniversity, click here.
---
Related Articles
---
The rate of twin births has risen 79 percent over the last three decades, and continues to increase. A mom of fraternal twins and a national guru on having two, Natalie Diaz launched Twiniversity, a supportive website with advice from the twin-trenches.
What to Do When You're Having Two is the definitive how-to guide to parenting twins, covering how to make a Birth Plan checklist, sticking to one sleep schedule, managing double-duty breastfeeding, stocking up on all the necessary gear, building one-on-one relationships with each child, and more.
Accessible and informative, What to Do When You're Having Two is the must-have manual for all parents of twins.
---
Whether you're a twin parent in the big city surrounded by scores of resources, or a triplet parent out in the country with no one around for miles — our multiples parenting forums are for YOU! Sign up for FREE and connect with people who are just like you — parents of multiples looking for advice, parenting tips, or even just people to chat with who will understand what you're going through. Our forums are open to people all over the world and we offer scads of specialty rooms to find others who are going through the exact same thing as you. Check it out today!
---
Twiniversity is the #1 source for parents of multiples and we are growing faster every day!
Find us all over the web:
Or contact us by email at community@twiniversity.com