The swaddle is an art form every parent should master (or attempt to). Swaddling a newborn is not as easy as it looks. Once you get the right supplies and the how-to on swaddles, holding your little burrito baby is so satisfying.
After having my first baby, I remember the nurses bringing her back to me after her first bath. She had the cutest little blue bow in her hair and smelled just like lavender. But the most impressive thing was the swaddle they had her in. She was swaddled in TWO hospital blankets (you know, the flannel type with little footprints all over it) and she looked and felt indestructible. She was swaddled so well, I don't think a government bomb specialist could dismantle this swaddle. The best part was how peaceful she looked in that secure swaddle like that is where she was meant to be; she was home!
The nurses attempted to show me how to get that sturdy swaddle, but I never could get it as tight (no babies were harmed) and neat as they could. Even without the iron-clad swaddle of a trained nurse, swaddle blankets became my most loved (and used) baby accessory!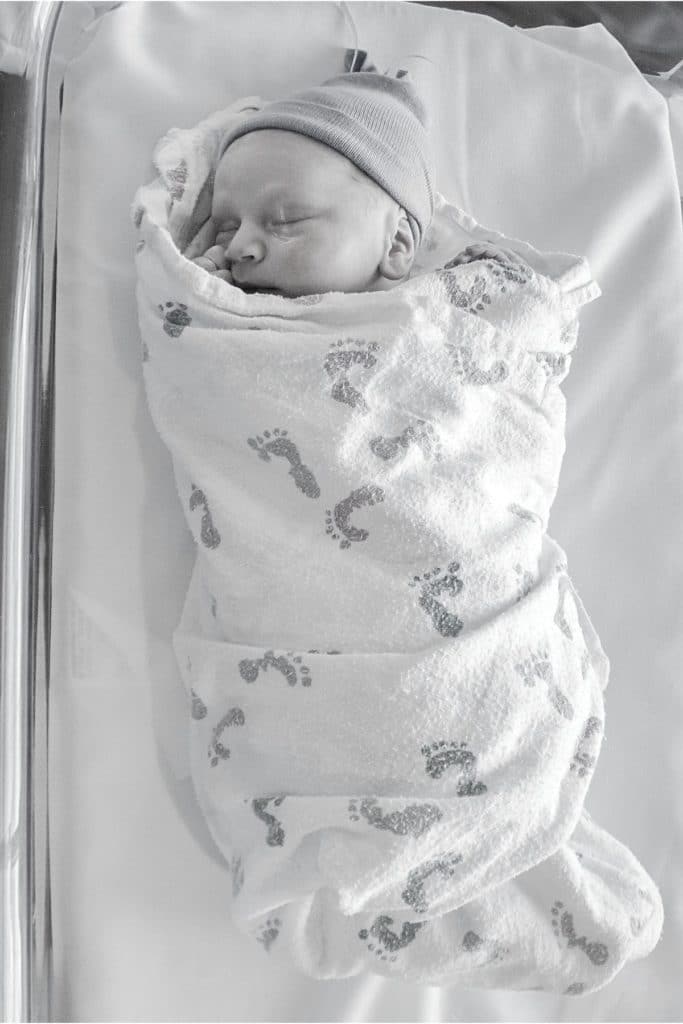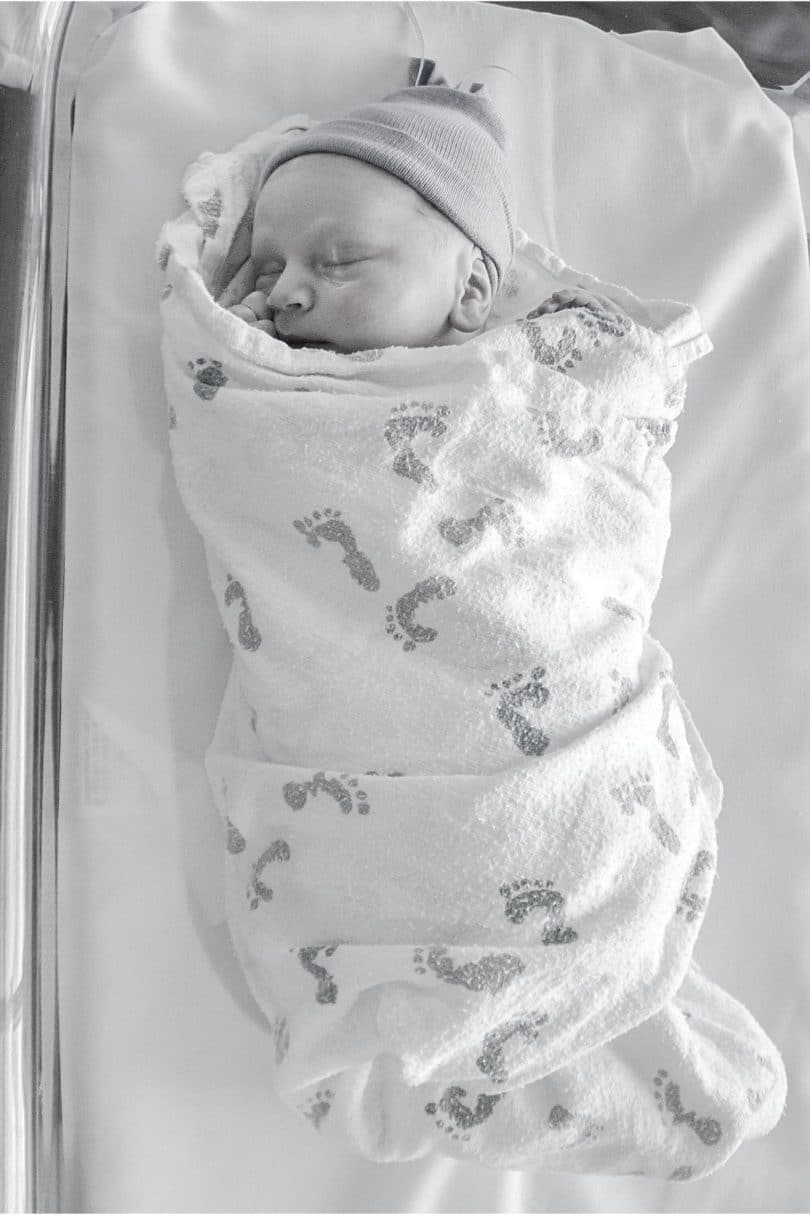 What Are Baby Swaddles?
Swaddles are pieces of fabric used to securely wrap your baby in. They come in a variety of shapes and materials. The 3 most common types of swaddles are muslin swaddle blankets, flannel receiving blankets, and Velcro swaddles.
Muslin swaddle blankets: made of a lightweight cotton (organic cotton) or cotton blend cloth. They are the largest in size and are my personal favorite type of swaddles.
Flannel receiving blankets: consist of a soft woven cotton or wool fabric. These are a thicker fabric and, in my experience, harder to use for a really good swaddle.
Velcro swaddles: easy-to-use wraps that are specifically made for swaddling babies. They look like a small sleeping bag with 2 wings on each side, making for an easy-to-use swaddle.
What is Swaddling?
Swaddling is the act of wrapping a baby securely in a blanket from their neck down, leaving only their head peeking out. A good swaddle is snug and will keep the baby from wriggling out. Swaddling recreates the comforting womb-like experience and restricts movement so babies don't set off their "startle" reflex.
How Many Swaddles Do I need?
The amount of swaddles needed is contingent on how often you want to do laundry. The more often you are willing to do laundry, the fewer swaddles you should buy. Technically, two swaddles to switch between washing should be fine.
Twins (or triplets) will definitely require more swaddles. Four swaddles per baby (8 total) is my minimum recommendation for twins. With all the spit-ups and diaper leaks, times two, you will want a clean blanket at your disposal all the time. By the time my twins had outgrown all the uses for swaddle blankets (swaddles, burp cloths, nursing covers, tummy time blankets, and stroller covers), we ended up having somewhere between 15 and 18 total blankets.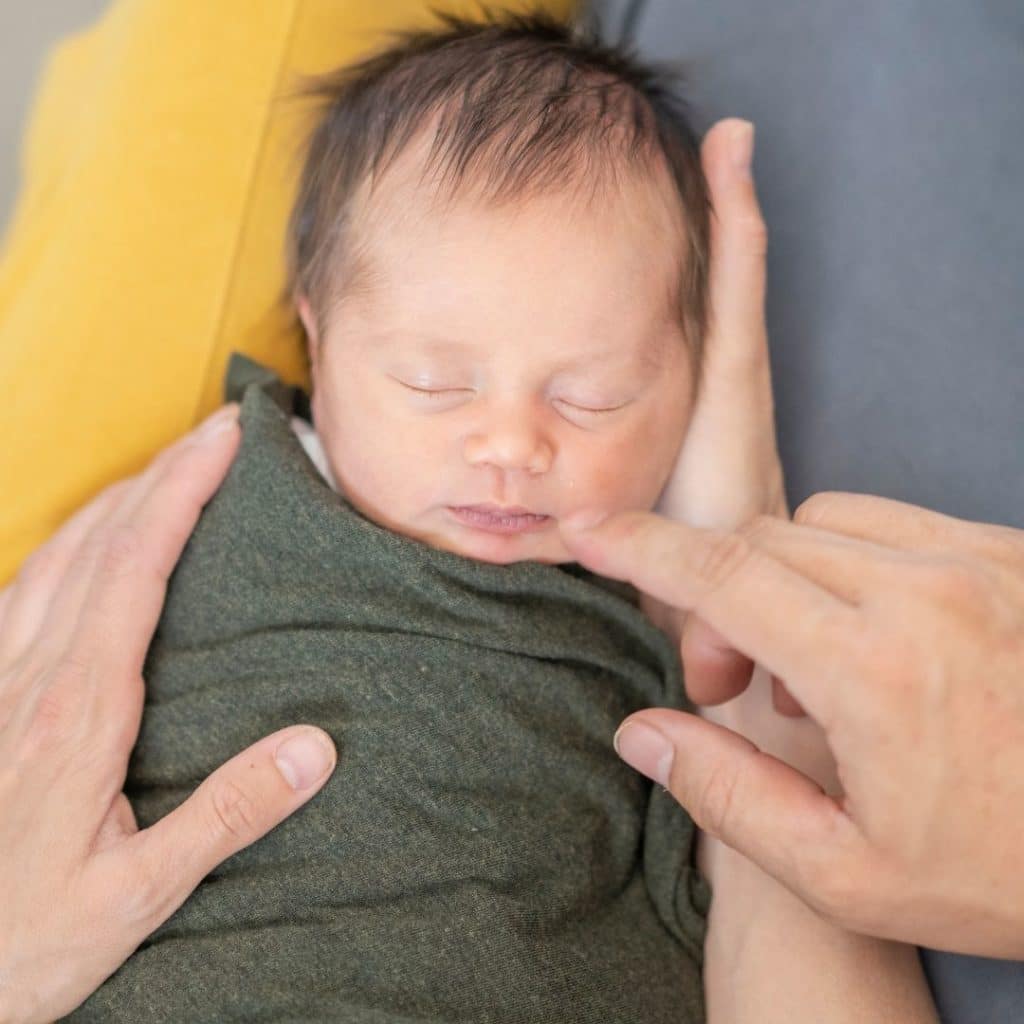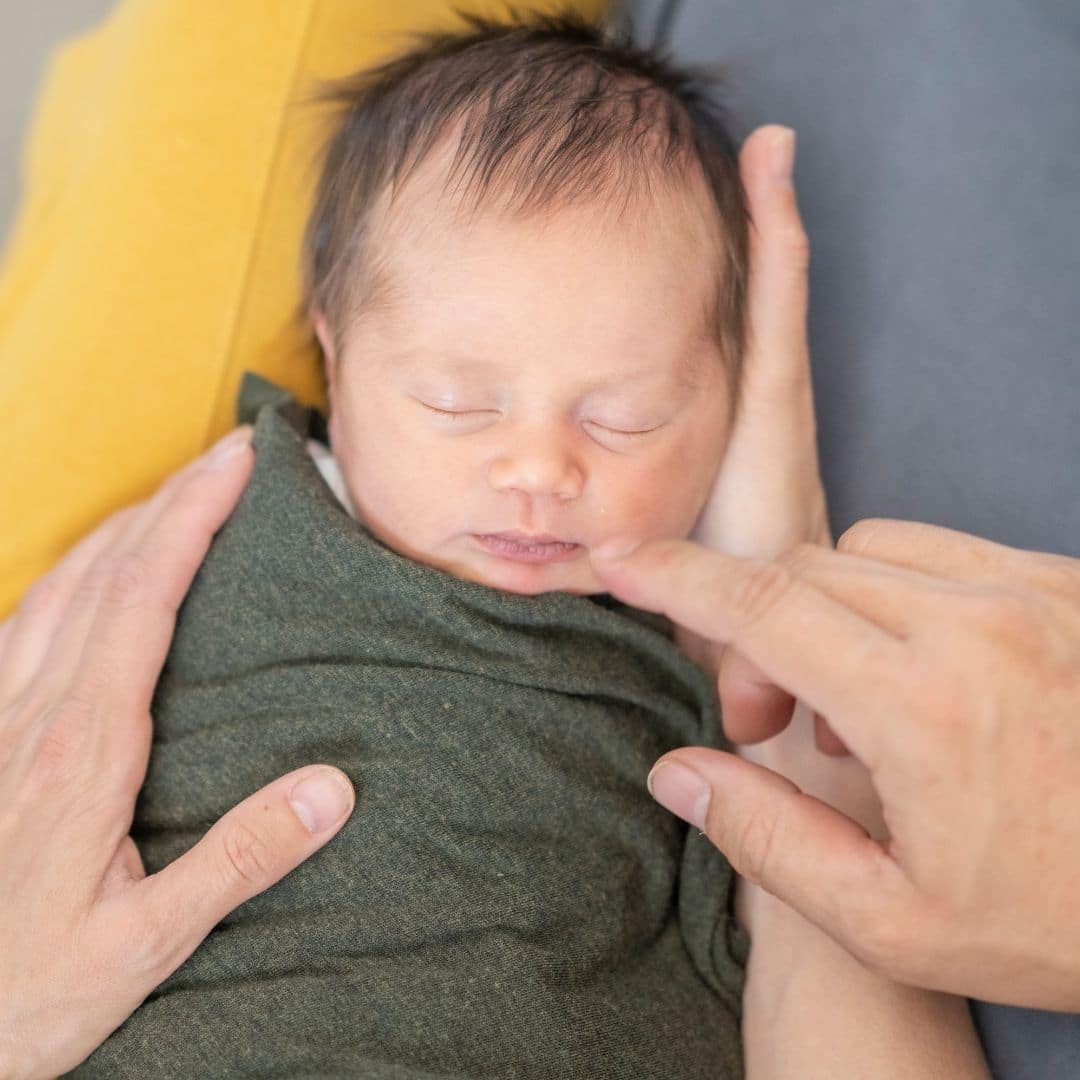 What is the best swaddle blanket?
My personal favorite is muslin swaddles. Specifically Aden & Anais Swaddle Blankets. These are made of the softest, most lightweight fabric, and come in the most adorable and stylish patterns. They are a simple design, small enough to fit in the diaper bag, but large enough to easily swaddle your littles. I used these and these alone to swaddle (among many other uses) all three of my kids.
Top-rated blankets include:
Is swaddling good for baby?
Wrapping a blanket snuggly around your baby's body resembles the womb and helps soothe your newborn baby. According to The American Academy of Pediatrics (AAP), swaddling can be an effective technique to help calm infants and promote sleep.
Can twins be swaddled together?
DO NOT WRAP TWINS UP TOGETHER. Swaddle your twins individually, in their own blankets.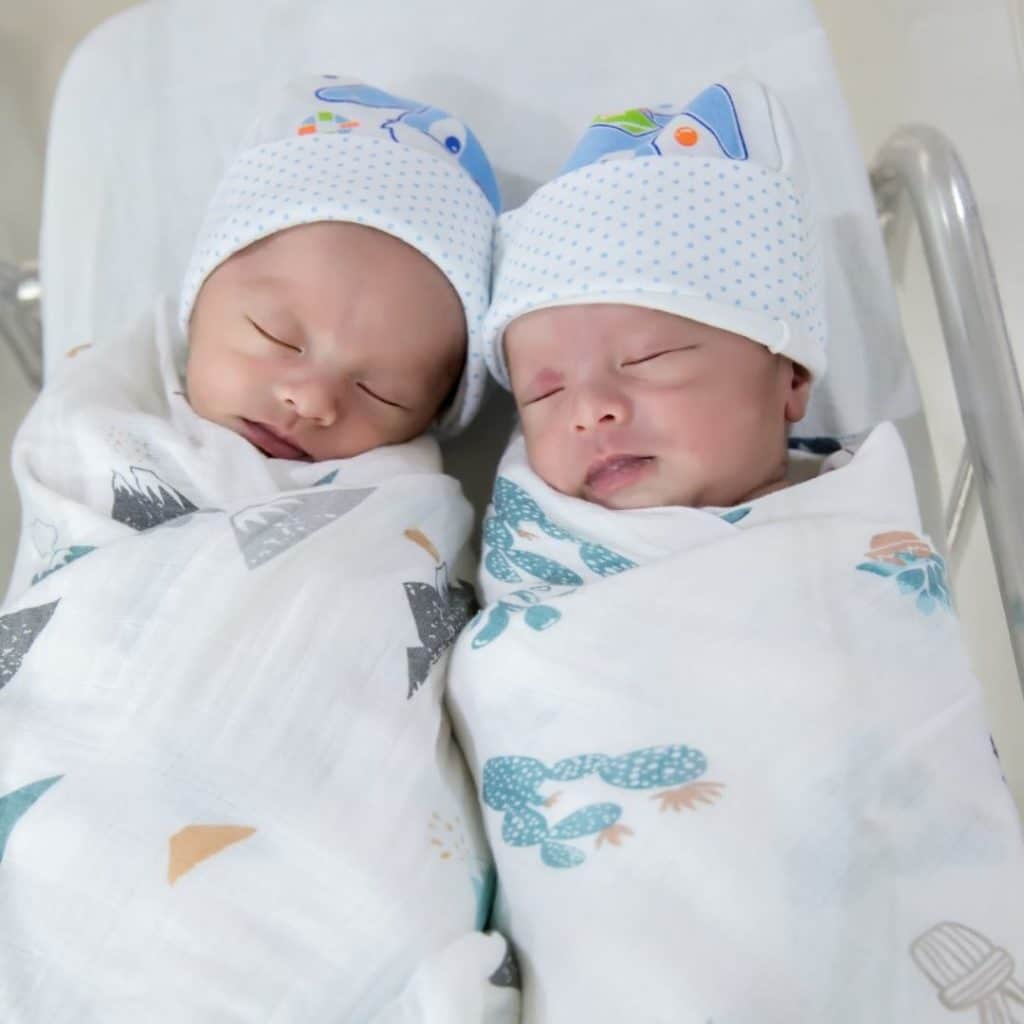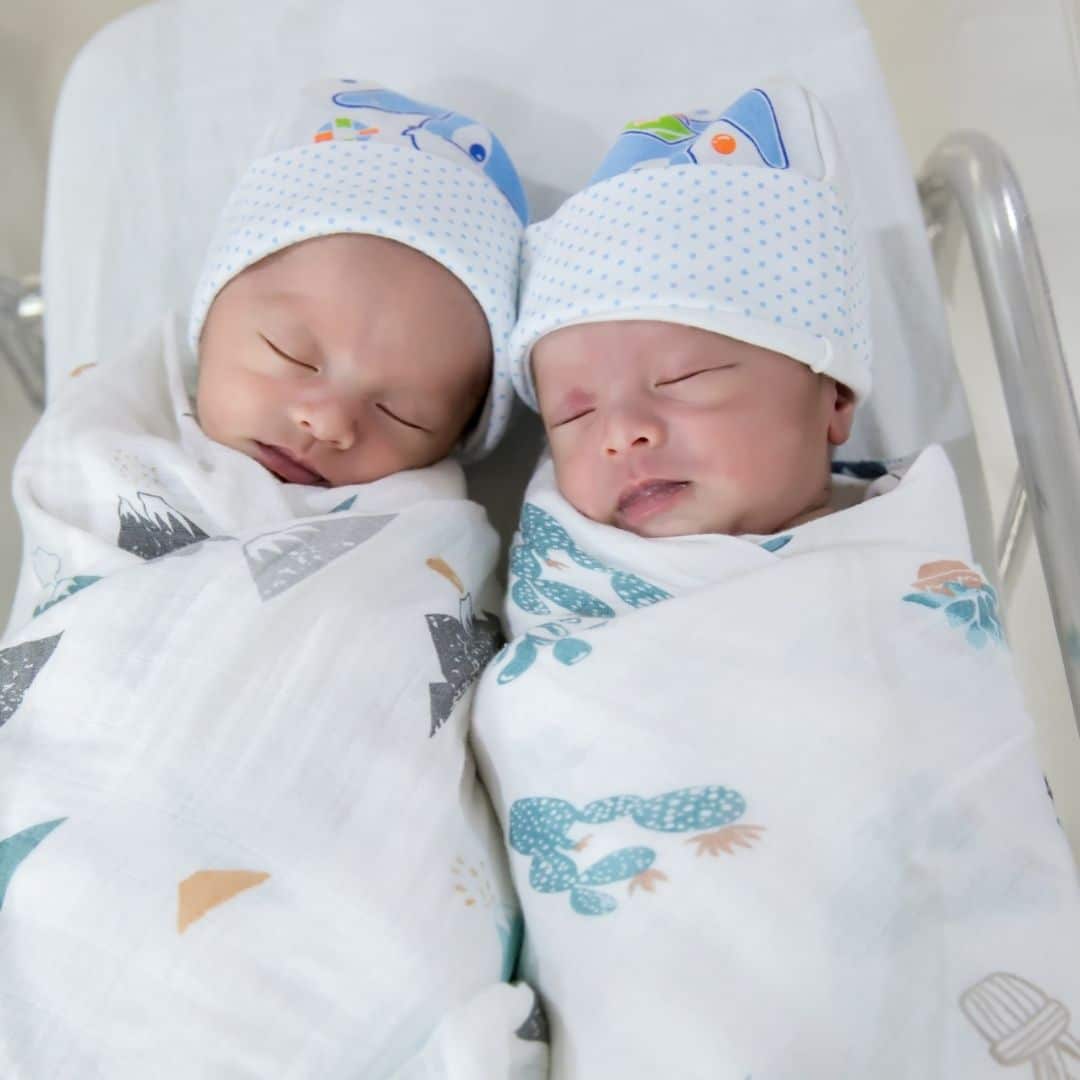 What's the difference between swaddle blankets and receiving blankets?
Receiving blankets are usually thicker, warmer fabrics like flannel or fleece. They are smaller in size, making them harder to swaddle with, but perfect for burp cloths.
Swaddle blankets are thinner and lighter materials like muslin, and bamboo cotton because they're meant to be more breathable to prevent overheating.
Is Swaddling Safe?
If done incorrectly, swaddling does have the potential to be unsafe. It is important to understand how to swaddle, what may make swaddling unsafe, and when to stop swaddling altogether.
Situations that make swaddling dangerous might include:
wrapping the blanket too tightly or too loosely
too many layers
continuing to swaddle when baby can roll onto their stomach
binding legs and hips too tightly, causing Hip Dysplasia.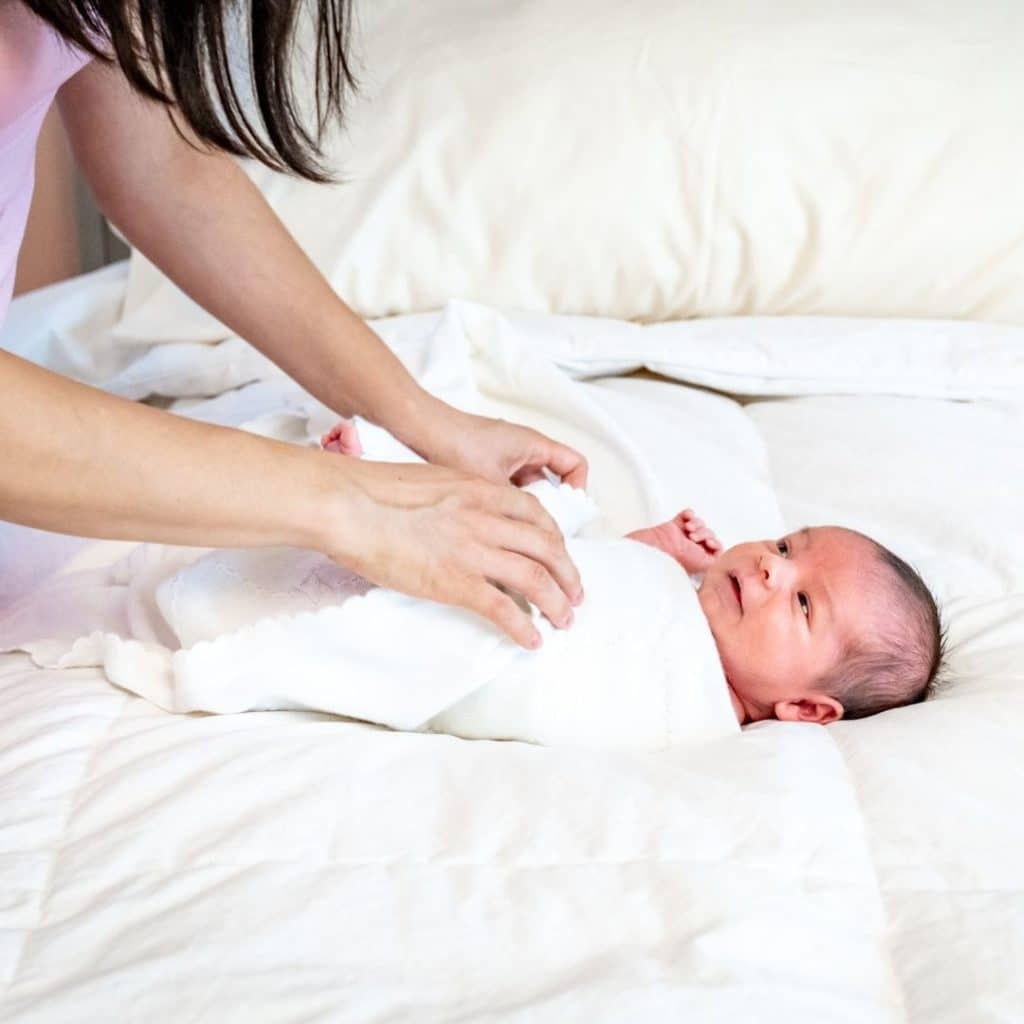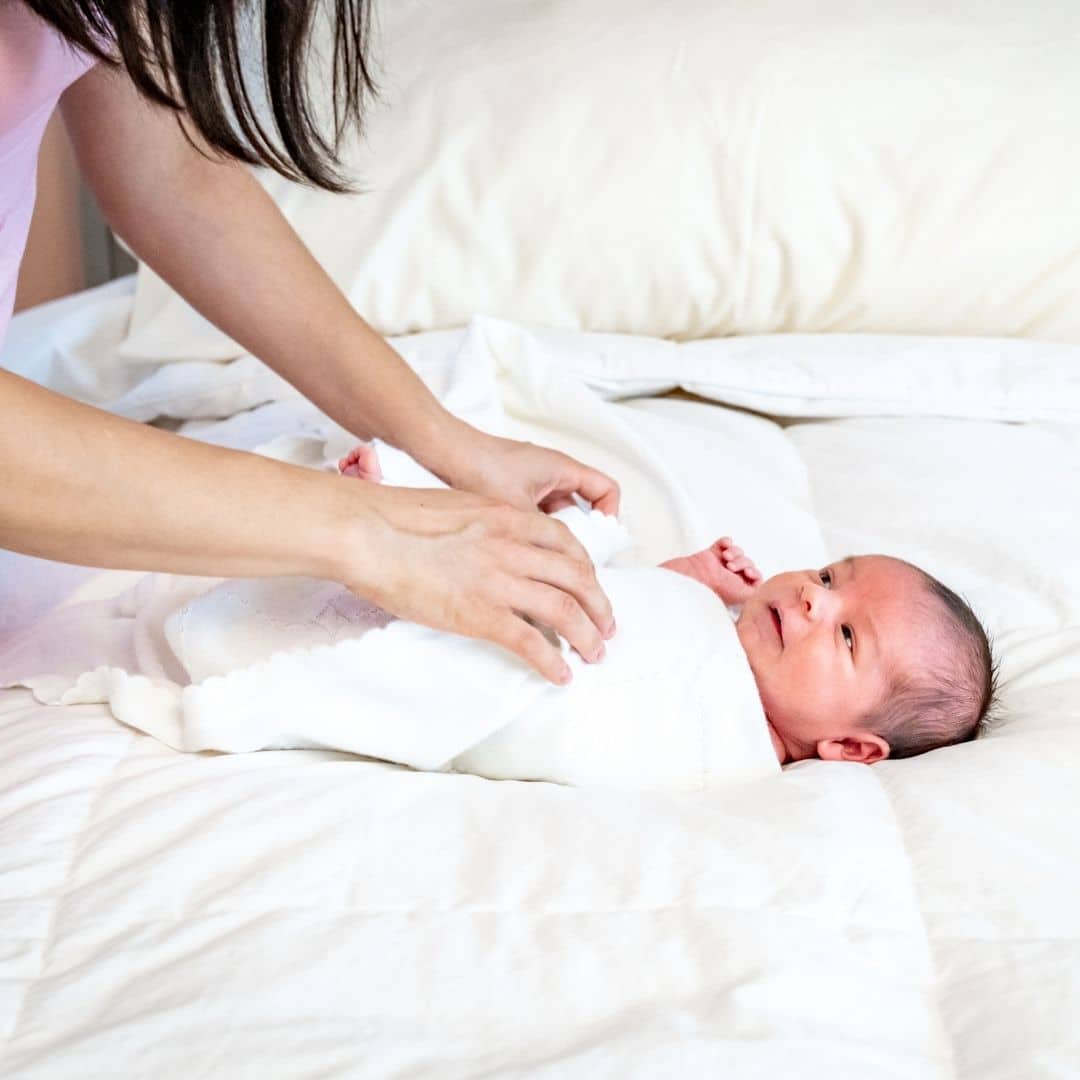 How To Swaddle Correctly
According to the American Academy of Pediatrics (AAP), the following is the correct procedure for a traditional swaddle:
Spread the blanket out flat, with one corner folded down.
Lay the baby face-up on the blanket, with their head above the folded corner.
Straighten the left arm, wrap the left corner of the blanket over their body and tuck it between the right arm and the right side of their body.
Then tuck the right arm down, and fold the right corner of the blanket over their body and under her left side.
Fold or twist the bottom of the blanket loosely and tuck it under one side of the baby.
The swaddle should be loose enough for the baby's hips to move, but snug enough that the baby feels the comforting sensation of the swaddle. Swaddles should stop at the shoulders allowing the baby's head to peek out, with the rest of their body comfortably snug inside the blanket.
How to dress a baby under a swaddle?
Your baby should wear one extra layer compared to you. If you are comfortable in a tee and sweats while at home, then your baby should wear a onesie underneath the swaddle. Keep in mind room temperature, type of fabric used for the swaddle, and the season. Placing a long-sleeve onesie or a sleeper underneath a swaddle during the winter is sufficient. Some babies only need to be swaddled in their diapers to avoid overheating in the summer.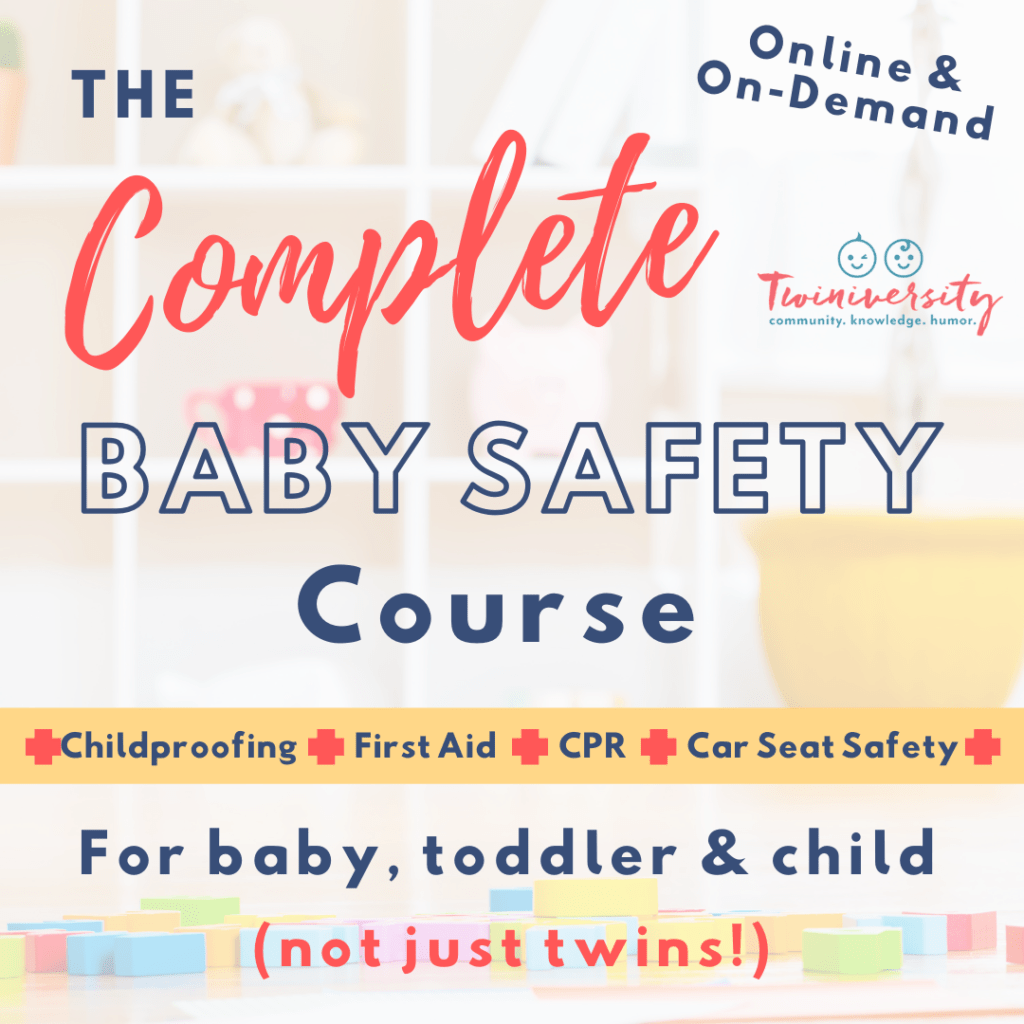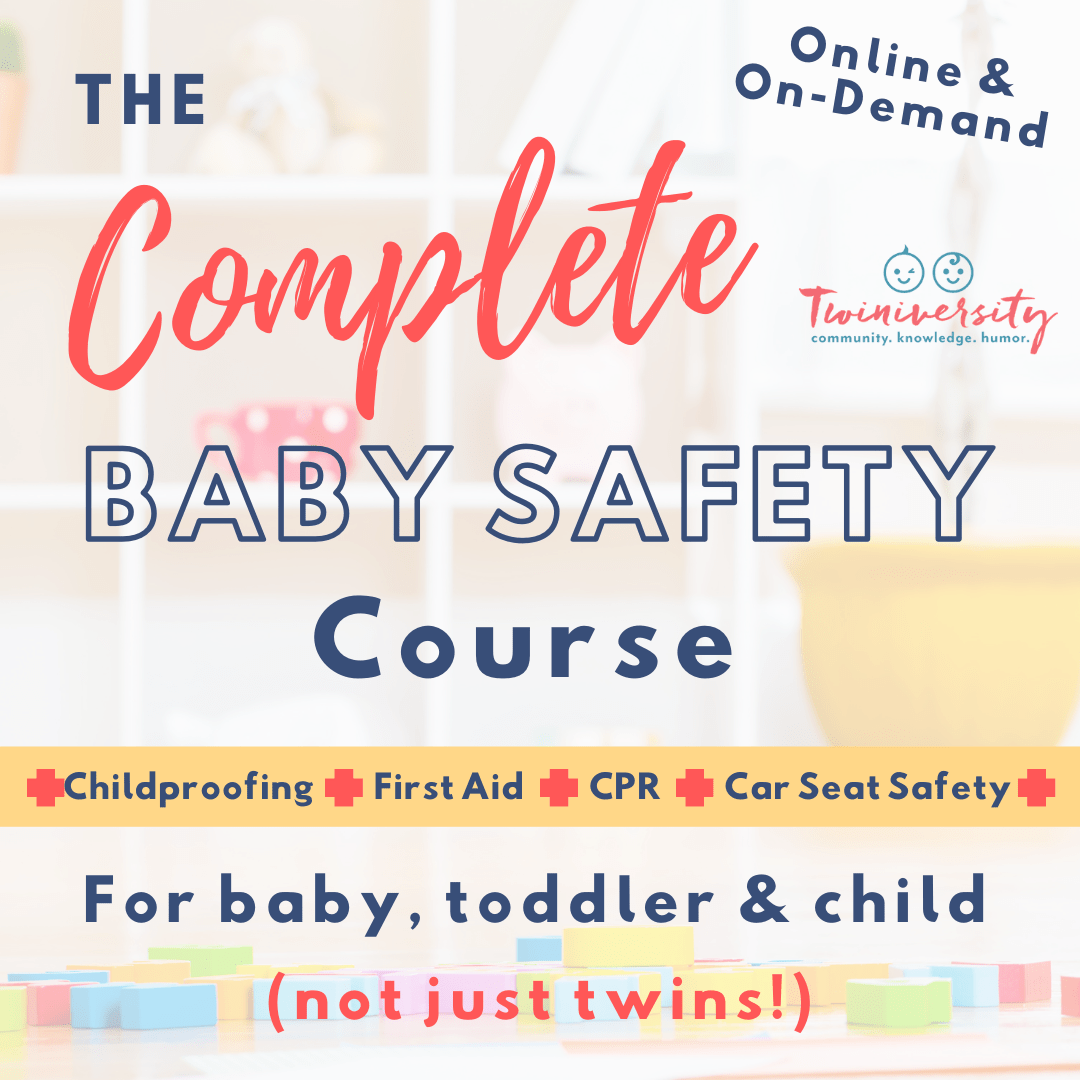 Need some baby safety training? Take the Twiniversity Complete Baby Safety course, offered on-demand. Includes video modules on infant, toddler, and child CPR, first aid, and common medical ailments, plus car seat installation and safety and childproofing your home. Click here to learn more!
Can you swaddle with arms out even when baby is showing signs of rolling over?
You may swaddle with arms out as step one of transitioning your baby out of sleeping in a swaddle. Around 2 months of age, your baby may start showing signs of outgrowing the swaddle: increased mobility, swaddle blanket coming undone, or rolling over. As soon as you see these cues, gradually change your swaddling technique by swaddling with only their dominant arm. Try this for 2-3 nights. If baby sleeps well, the next step is both arms out.
When do I stop swaddling?
The AAP recommends that parents stop swaddling their baby (arms in) after they turn two months old. This is when most babies start to show signs of rolling over. You do not want your baby to roll over in their crib with their arms bound to their sides. Also, once your baby is strong enough to break the swaddle, it is time to stop. A loose blanket, including a swaddling blanket that comes unwrapped, could cover your baby's face and increase the risk of suffocation.
It was a MUST for me when it came to swaddling my kids. I do truly believe that swaddling my kids helped them sleep better (which meant I slept a bit better). Plus, it really helped them to not scratch their faces! I don't think you can have too many swaddle blankets. They have many uses, are durable, and stay soft with every wash. All 18 of my swaddles were well used and loved by my babies and me. I actually kept one for each child and put it in their baby keepsake box. My girls have loved using them to swaddle their baby dolls. My advice, go crazy, buy all the patterns you can not have too many swaddles!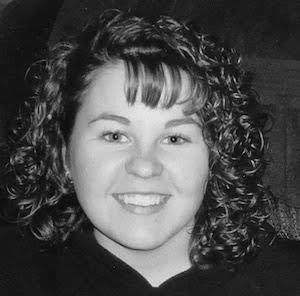 Latest Posts