Last updated on September 19th, 2023 at 01:53 am
If you're looking for ideas for baby shower gifts for twins, you've come to the right place! Twiniversity is the #1 resource for families expecting twins, and we know a thing or two about baby shower gifts for twins. The main question most people seem to have about baby shower gifts for twins: "Do I need to buy double the gifts for a twins baby shower?"
No. You don't need to buy double the gifts. Double the amount of gifts, plus double the amount of babies equals needing double the amount of houses!
Even though you have multiples, you don't necessarily need multiples of everything. This is one of the first rules we learn as parents of multiples. Some items you will need multiple sets. Multiple babies drooling and spitting up is a guarantee, so multiple sets of bibs is a good idea (plus, this means fewer loads of laundry). But you don't need multiple baby bathtubs since you won't (safely) give multiple babies a bath at the same time. So, what gift is the right gift?
Twin Baby Shower Gift Ideas
What to Consider When Purchasing Gifts for Twins
Price: Parents will be purchasing A LOT of almost everything for twins, which can get a bit pricey. Every gift helps, not just high-priced items.
Practicality: Is this something useful, or is it just cute? Parents will definitely appreciate cute outfits but also keep the practicality of must-have items in mind.
Hands-Free: Two babies and only two hands….you do the math! Any products that encourage or assist in keeping the parents hands-free is a win.
Functionality: Is it easy to set up and take down? Does it pack away and store nicely?
What do you buy for a baby shower for twins?
Let's talk about some items that most any twin family would love to receive as a gift for their twins' baby shower.
Diapers
If you immediately assume that diapers are the best gifts for twins, you'd be right! You can expect each baby to go through 8 to 12 diapers a day for at least the first two months. That is 960 to 1,440 diapers in your first 60 days alone. The thought of how many diapers I was going to need gave me anxiety. So when it was time for my twin baby shower, I required guests to bring diapers. However, before you buy a caseload of Pampers, confirm whether parents prefer disposable or cloth diapers and if they like a particular brand.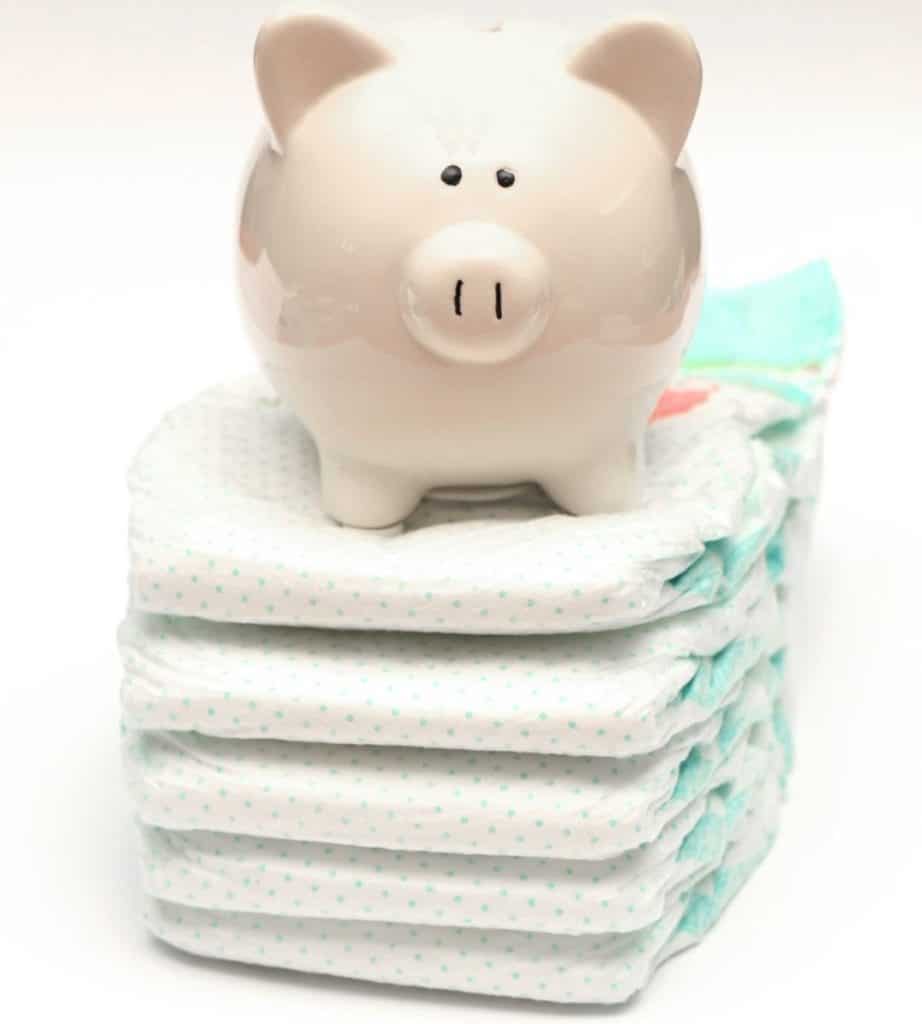 Baby Swing Bouncer Combo
Baby essentials take up a lot of space, but baby essentials for twins almost require two houses. If you can find a 2-in-1 gift, do it! Baby swing bouncer combos were a must for me! They are usually a compact design (meaning space-saving), the baby chair doubles as a swing when attached to the base and a bouncer when detached from the base. Swing bouncer combos are great baby holders while getting things done, preparing bottles, and feeding two babies at once. They are portable and lightweight making it easy to take babies with you around the house. While in bouncer mode the chair has a soothing vibration option and of course a swinging motion (side to side and back and forth) when being used as a swing. Most come with removable mobiles, different speeds, and soothing sounds and songs for the baby to enjoy.
Extra Car Seat Bases
When having twins, ease and convenience is a very big deal. Can you use an infant car seat without a base? Yes. Is it easy and convenient? NO! Four car seat bases were on my no-compromise list (two in my car and two in my husband's car). Due to work schedules, I usually drop the twins off, but my husband usually picks them up. I know it seems silly, but the time it saved and the safety piece of mind it gave me was more than worth the money spent on extra car seat bases.
Full-size Hooded Towels
Most hooded towels you get from major department stores are thin, scratchy, and do not grow with your child. My favorite hooded towel is made by Swankie Blankie. They are made from a 31″x54″ bath towel. The hood features a cute, simple design made of soft Minky fabric on the outside and is lined with the same cloth used for the body of the towel. They are machine washable and only get softer with use. These towels are also big enough for your child to use through their toddler and early elementary years. I love these hooded towels so much, that this is now the gift I give at baby showers!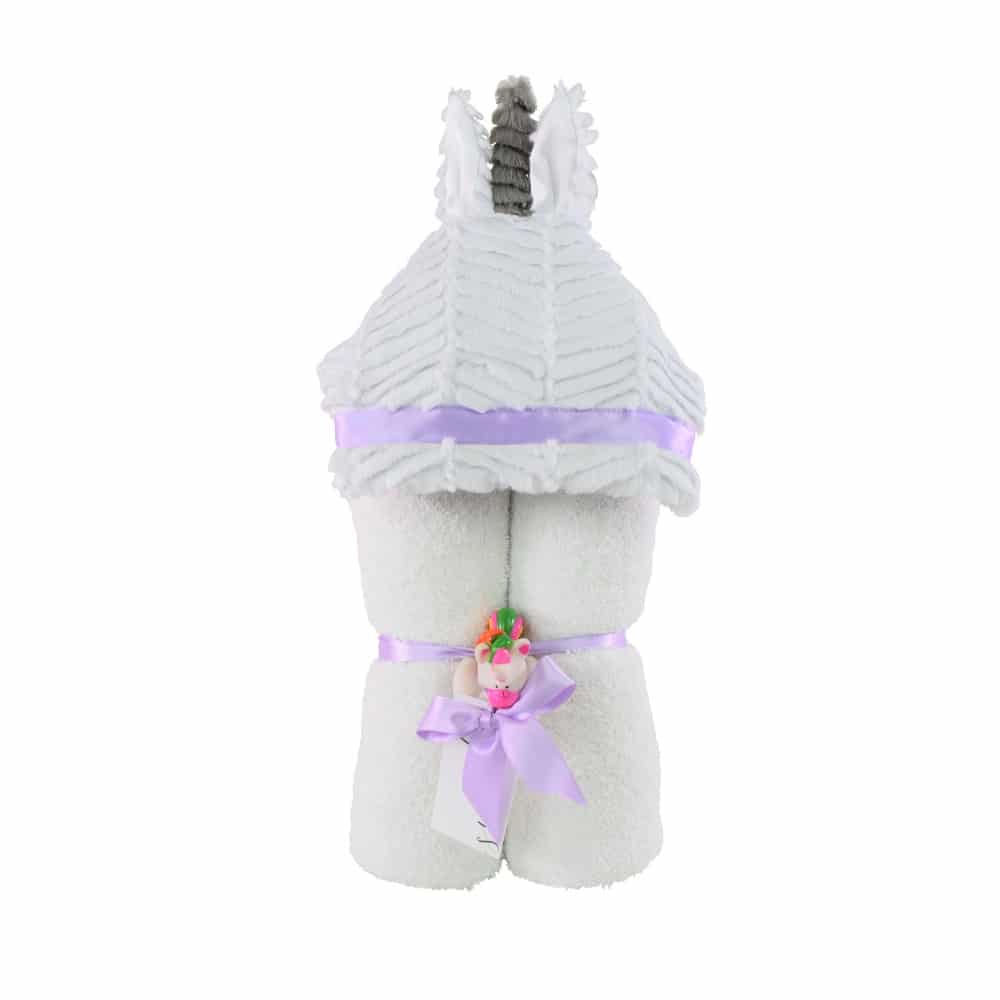 Amazon Prime Membership
There is nothing more convenient than having the necessities of life delivered to your doorstep. Doorstep delivery is even more helpful when dealing with two infants! Give the gift of Amazon Prime with free next-day delivery on 1000's of products. Plus, Amazon Prime members get 20% off a diaper subscription and can save on baby food and other necessities.
Twin Bassinet
The AAP recommends infants share a parent's room for at least six months to reduce the risk of sudden infant death syndrome (SIDS). However, most parents of multiples do not have room for two cribs in their bedrooms. This is where a twin bassinet can benefit a family with multiples. They are smaller and more compact, easily mobile and made for room sharing.
Are You a New Twin Parent?
Check out Natalie Diaz's book:
"What To Do When You're Having Two
The Twin Survival Guide From Pregnancy Through the First Year"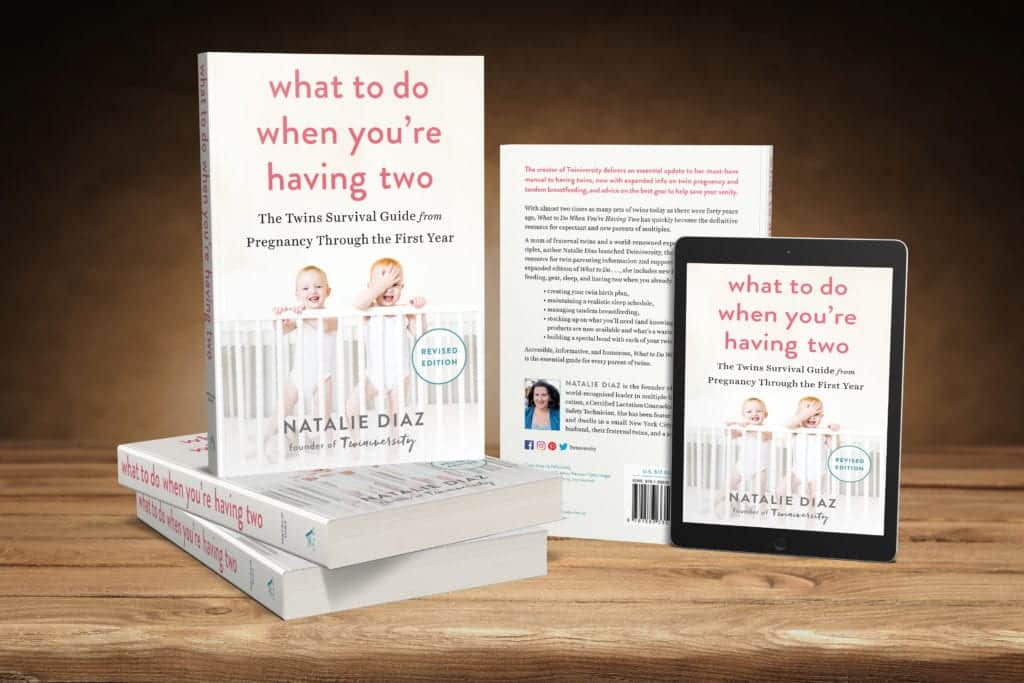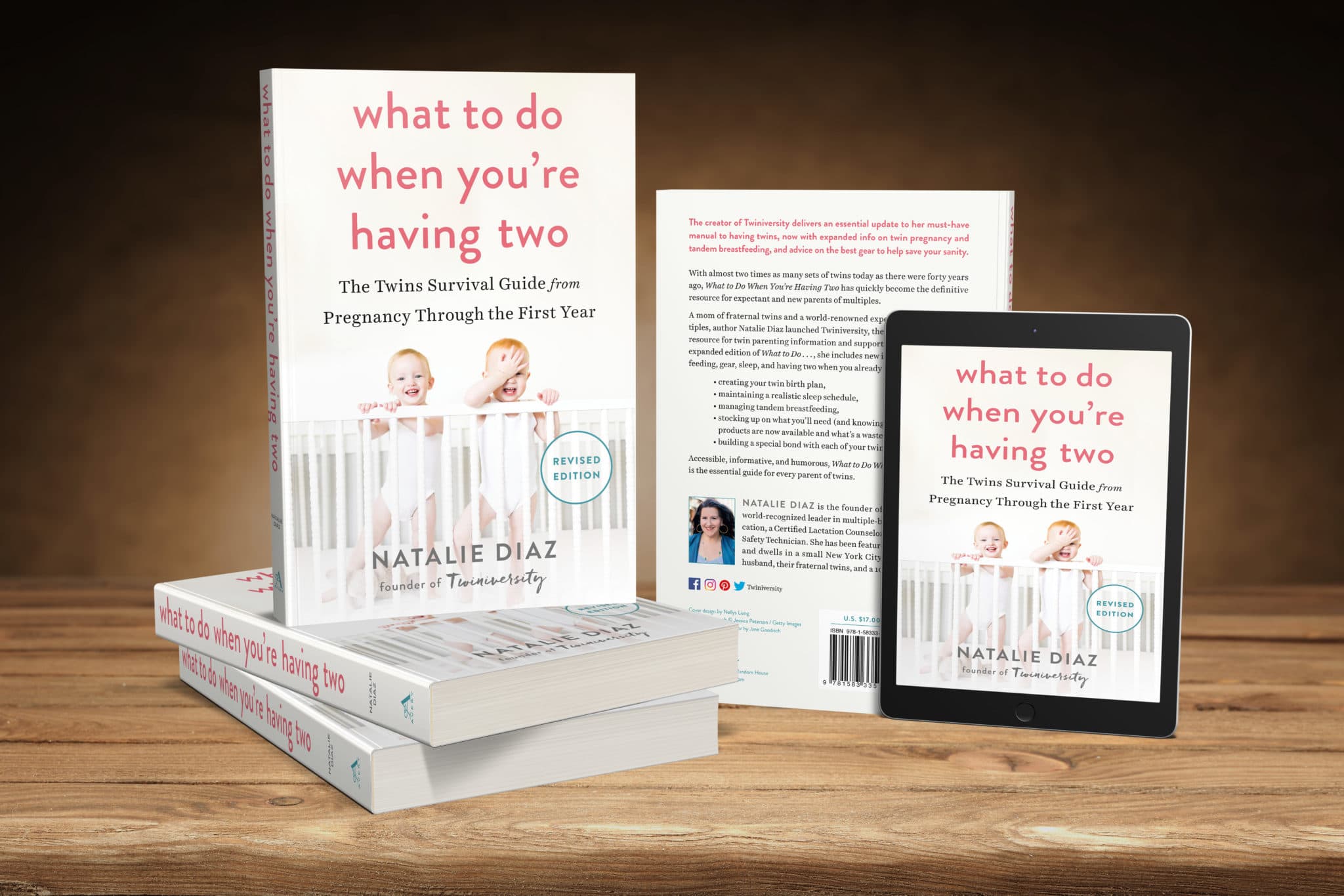 In What to Do When You're Having Two: The Twins Survival Guide from Pregnancy Through the First Year, national twins guru and founder of Twiniversity (and twin mom herself!) Natalie Diaz provides a no-holds-barred resource about life with twins, from pregnancy and birth all the way through your duo's first year of life.
What is a good gift for someone having twins?
When shopping for gifts for twins, try to find a gift that will help minimize stress for the parents-to-be (maybe skip the really annoying musical toy) and will be useful.
Swaddle Blankets
Babies love to be swaddled. It reminds them of being in the womb and provides comfort and security. My go-to swaddles are the aden + anais Swaddle Wraps. These swaddles are 100% cotton muslin and are generously sized for an easy swaddle. They are soft, lightweight yet durable. Once my twins were too old for a swaddle, these became our burp cloths (big enough to actually cover my shoulder and save me from three clothing changes a day), travel blankets, on-the-go diaper change mats, and stroller covers. They pack easily in a diaper bag or purse so you have them when you need them. In my personal experience, there was no such thing as too many swaddle blankets for my twins!
Sleep Sacks
Sleep sacks are wearable blankets that keep babies snug and warm without posing a safety hazard. The Love to Dream Swaddle UP is a great gift idea. This sleep sack allows your babies to sleep in a more natural position with their arms up. Unlike traditional swaddles that pin baby's arms to their side, the Love to Dream promotes self-soothing and more restful sleep. Love to Dream also makes other sleep sacks for transitioning your babies from the swaddle to arms-free sleeping. Anything that will allow for more sleep for mom and dad is always a great gift!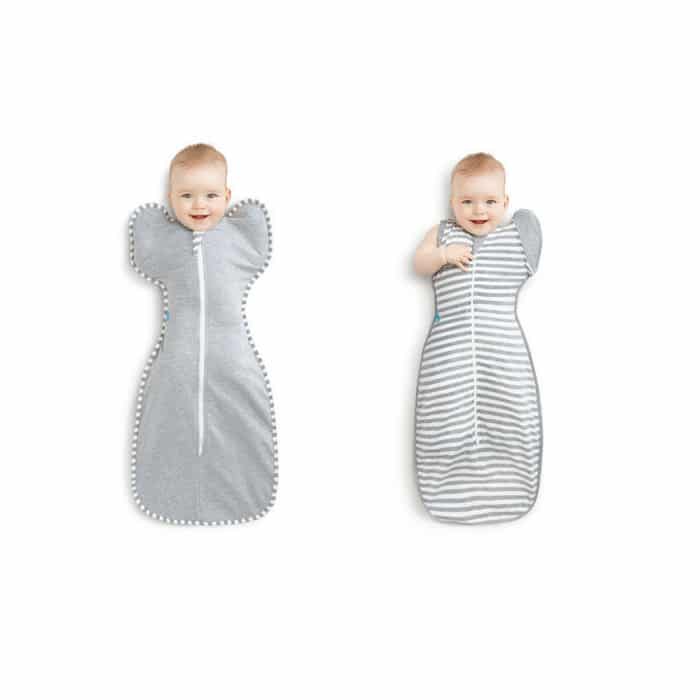 White Noise Machine
Sound machines can be true lifesavers. White-noise machines create a comfortable, womb-like environment that calms infants, and encourages them to stop crying. They can help your baby fall asleep fast and stay asleep longer. With consistent use, a sound machine will become a cue to your babies that it's time for sleep.
Hands-Free Diaper Bag
When it comes to diaper bags, consider buying either a crossbody or backpack style. Both of these will leave you hands-free for carrying 2 car seats and you won't need to worry about it falling off your shoulder every few feet!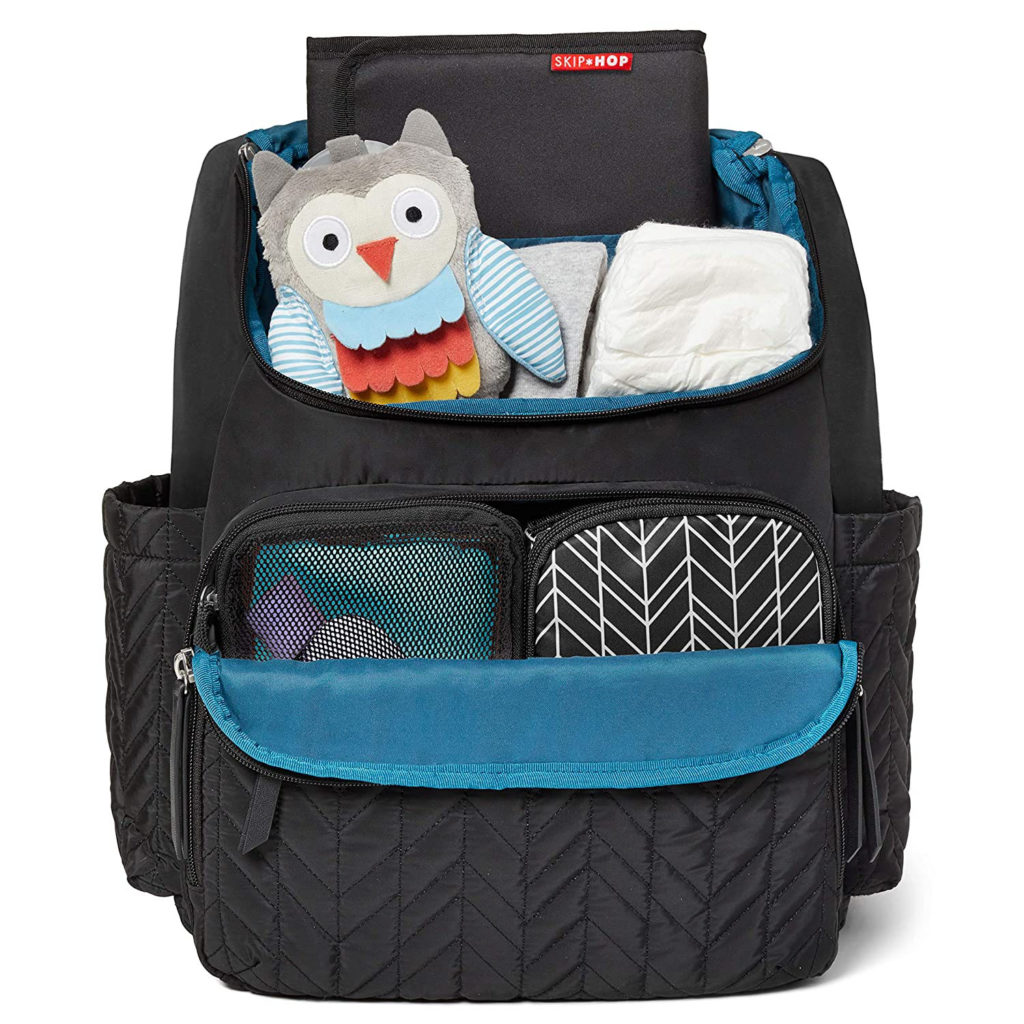 What do moms of twins need most?
Anything that will allow a mom of twins an extra minute to shower, sleep or consume a warm meal is always a great gift idea!
Nursing pillow
Whether bottle or breastfeeding, mothers will find many uses for these handy pillows. They're an invaluable aid to nursing mothers, supporting the weight of the babies and freeing up mom's hands to breastfeed them simultaneously. I used the Twin Z Pillow and honestly, this was the BEST gift I received! The Twin Z Pillow made breastfeeding two babies comfortable and easy. It has extra back support and so many more uses than just for breastfeeding. My husband loved this breastfeeding twins pillow for bottle feeding two babies at one time but we also used it for tummy time, infant support at playtime and I even slept with it a few times. I really feel like a nursing pillow is a MUST-have item!
Baby Brezza Formula Pro
This is the infant equivalent to a coffee machine. The Baby Brezza Formula Pro Advanced automatically mixes, heats, and dispenses formula or water to the perfect consistency and temperature. Works with almost all formula brands, even Similac Alimentum! Choose from 3 temperature settings (room temp., body temp., warmer than body temp) and dispenses from 2-10 oz formula or water only. Night feedings are hard, they are even harder when you need two bottles, The Baby Brezza takes the work out of it.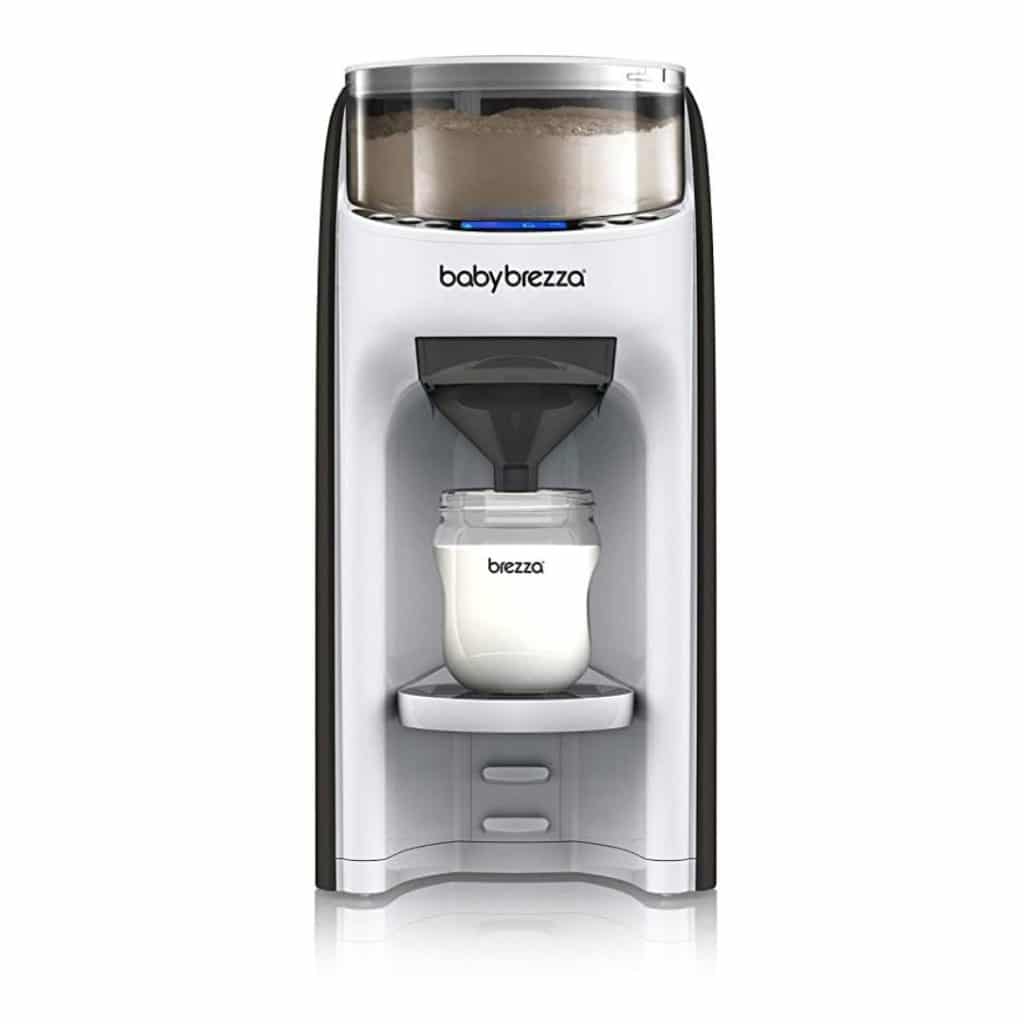 Twin Baby Carrier
Twin baby carriers are great for soothing two fussy babies or wearing while grocery shopping, cleaning, or just having a free hand for holding a drink! If mom wants to go anywhere or really do anything while still keeping the twins close, a baby carrier is the best option. From wraps to structured carriers, you are sure to find a carrier that mom-to-be will love and allow her two free hands!
Offer Help
The best gift you can give is your time and yourself. Offer to cook dinner or pay for take-out. Arrange to stop by and do the dishes, laundry, house cleaning, or yard work. Babysit for an hour or overnight. Once you make the offer, follow through. Don't wait for new parents to ask for help.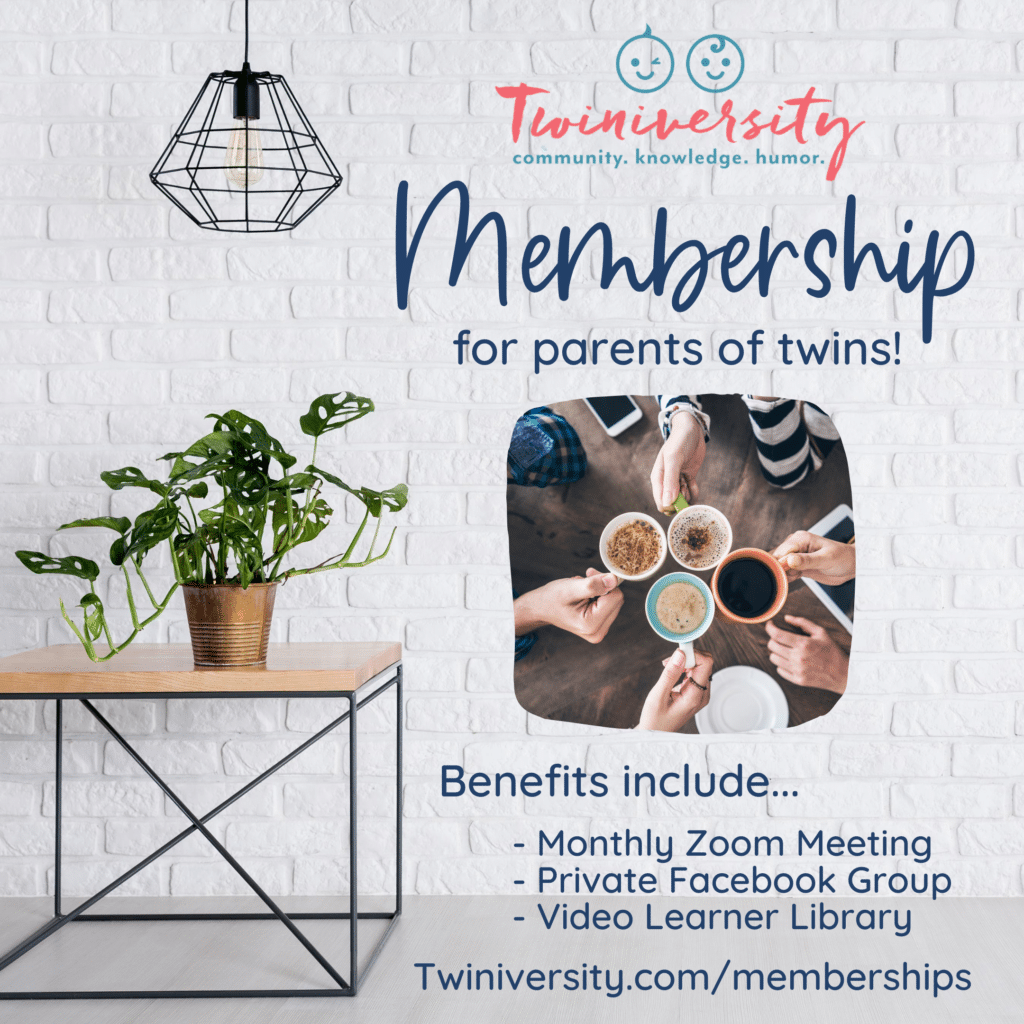 Need some twin parent friends? Get the support you need with a Twiniversity Membership. Benefits include a monthly twin parent club meeting on Zoom, access to a private Facebook group just for twin parents, and a video library of twin parenting lessons. Visit Twiniversity.com/membership to join today!
When should you have a baby shower for twins?
When you're planning a baby shower for a mom-to-be who is pregnant with twins, there is so much you have to take into account; early delivery (almost half of all twin pregnancies deliver before 38 weeks) and extra time for putting together 2 cribs, installing 2 car seats, washing 2 sets of clothes. Because twins usually arrive early, it is best to plan a twin baby shower a MINIMUM of two months before the due date; so around 26-28 weeks. The first trimester is a no-go, best not to entertain while dealing with morning sickness and excessive fatigue. Waiting until the third trimester could be mean mom-to-be is on bed rest until delivery or now there are two more guests coming to the shower.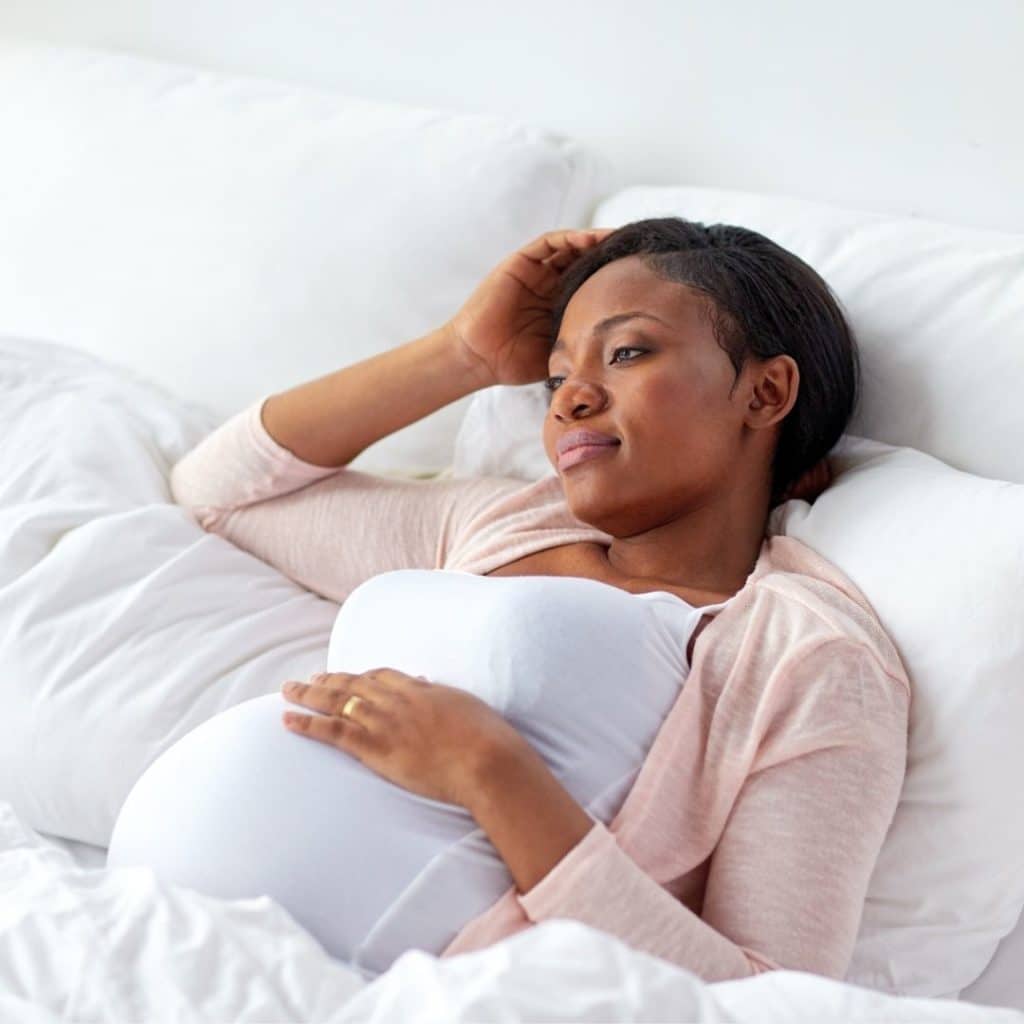 At Twiniversity we always encourage our families of twins to invest their money in 3 specific items: car seats, mattresses, and strollers. These are all typically big-ticket items but they are also the items that are the most important for the safety of their babies. ALWAYS buy car seats new! You never want to run the risk that a car seat may have been in an accident, which will compromise the integrity of the seat.
Mattresses are another item you need to buy new. Dust mites and bodily fluids always make their way into a used mattress one way or another, and over time the firmness of the mattress support deteriorates. Buying your mattresses new (even less expensive ones) is critical to healthy sleep and development.

Double strollers can be purchased second hand and you can often find great deals on garage sale sites online. But don't compromise too much on your stroller. This will be used for at least 4 years so you want to make sure whatever you end up with will make you happy. If you can find a great deal on a gently used stroller that will save you a few hundred dollars, go for it!
Whatever you decide is the right gift, be sure to leave the tags on, and provide a gift receipt so that your gift can be returned or exchanged. One thing I was never short of was gifts for my twins. So much so that we needed to exchange and return some items because they grew before we could use them all. Help a twin mom out and leave the tags on.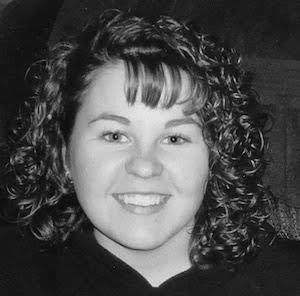 Latest Twiniversity Articles