Hey gang, listen up! We've got a great post about the top 10 twin feeding hacks that you don't want to miss sponsored by our friends at Baby Brezza.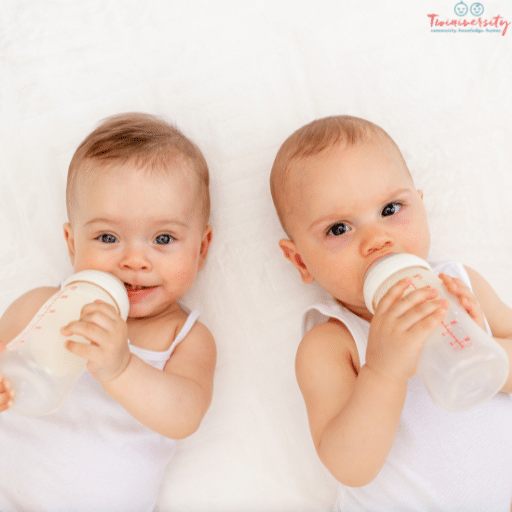 Our best twin feeding hacks
We have been there, done that. Take it from us and follow some of our best tips to make twin feeding a bit easier on your family.
Having enough bottles on hand
Do not, I repeat, do NOT run out of clean bottles. We recommend you have at least 8 bottles per baby in your home. 16 bottles might sound like a lot but how often do you really think a new twin mom really has the time and energy to wash bottles? Washing bottles either each morning or each night will ensure you always have clean bottles for feedings and you don't have to endure a screaming pair of newborns while you rush to wash and dry for the present feeding.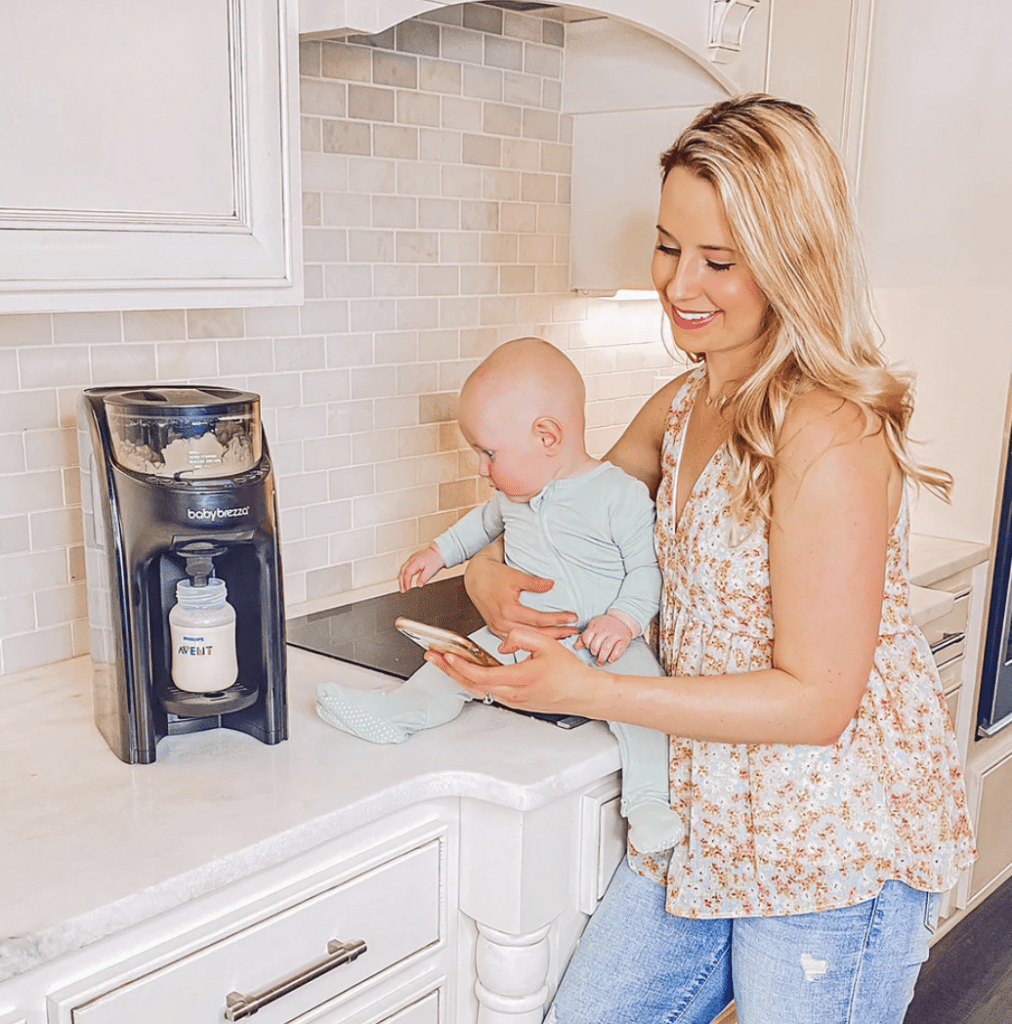 Formula Pro Advanced WiFi
If you've been around Twiniversity for any length of time, you know how much we love this twin feeding hack. The Formula Pro Advanced will save you so much time. In fact, you can make a bottle from the app on your phone! Isn't that incredible? The app also alerts you when the machine needs water, formula, or cleaning!
Change before feeds
This is a big one that first-time twin moms might not know and it is especially important for night feeds. Change baby, then feed baby. If you do it the other way, you run the risk of waking the baby up after you have burped them to sleep. No one wants to deal with that.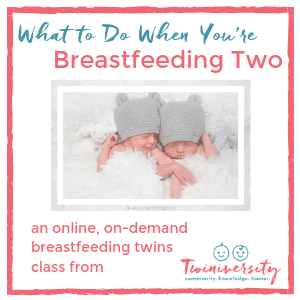 Worried about breastfeeding twins? What To Do When You're Breastfeeding Two is an on-demand online breastfeeding twins class made just for YOU! This course was created by Twiniversity in partnership with Judy Teibloom-Mishkin, IBCLC. Click here to learn more… and while you're at it, check out our virtual lactation consulting and virtual twin parent coaching services.
Tandem nurse
If you're breastfeeding, you probably want to try tandem nursing to save time. Nursing takes time and doing it twice back-to-back is a lot. Not everyone can tandem nurse and certainly not in the early days but keep trying if you can and see if you can save yourself some time. Isn't that all twin parents really want?
Room share early on
Room sharing will save you time and effort at night. Getting to your fussy baby before they are screaming will save you a ton of frustration at night. Twin parents know that keeping the crying twin symphony at bay is critical.
Feeding pillows are your friend now
Use a twin feeding pillow to feed both infants at once if you are bottle-feeding or even nursing. Remember folks, saving time is the name of the game when it comes to your twin feeding hacks, and what better way to save time than to feed both babies at once? A feeding pillow and sitting on the floor in front of them will help. The Twin Z is a fan favorite.
Twin mom tip: I actually put my twins in the corner of my sectional and dragged my ottoman over to sit in front of them without being on the floor.
Don't run out of supplies
Raise your hand if you have had to make a midnight run for formula because you swore you had another can in the cabinet and discovered at a night feed that you don't. (Me, me, me!) ALWAYS double-check. With two babies one of the very best twin feeding hacks I can give you is to make sure you have at least one extra can of formula per baby at all times. That is unopened and stored in a place you can get to in a hurry. This should really be a non-negotiable. The same goes for storage bags if you're pumping and any pumping supplies necessary for your setup. Planning ahead will save you a lot of effort in the middle of the night.
Consider a feeding station upstairs
If you are in a two-story house you may want to consider having a feeding station with all the essentials in your room or the nursery for easy access. If you are breastfeeding that may just mean having a burp cloth and your own water nearby and a snack. Remember that in order for your babies to get enough nutrients from your breastmilk it is absolutely imperative that you are properly nourished and hydrated! If you bottle-feed have a couple of bottles, nipples, water, and formula powder.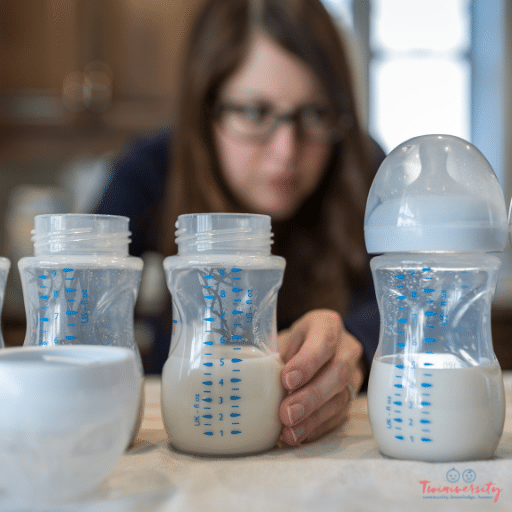 Prep for the day
A formula pitcher might be just what you need. You can set this up every evening before bed. Many new parents don't know that as long as your baby hasn't taken a swig off the bottle, you can use the mixed formula for up to 24 hours if stored in the refrigerator. Baby Brezza makes a formula pitcher we really like and there are plenty of others on the market, too.
Take the show on the road
Make sure you have your bag packed properly. Maybe, more importantly, you want to make sure that you have the right bag. The Baby Brezza Lucia Caddy Tray Diaper Bag is a great pick if you ask us. You know what, we should really dive a little deeper into this incredible diaper bag so you know what you're in for if you win!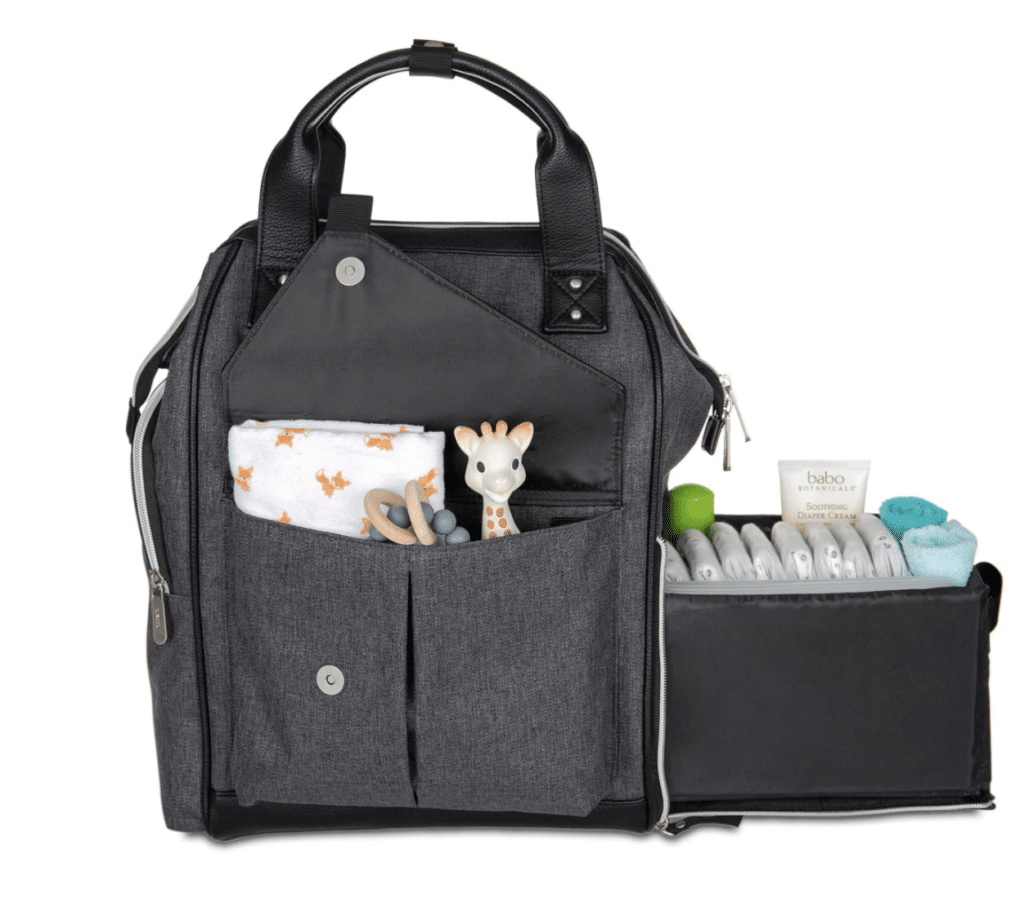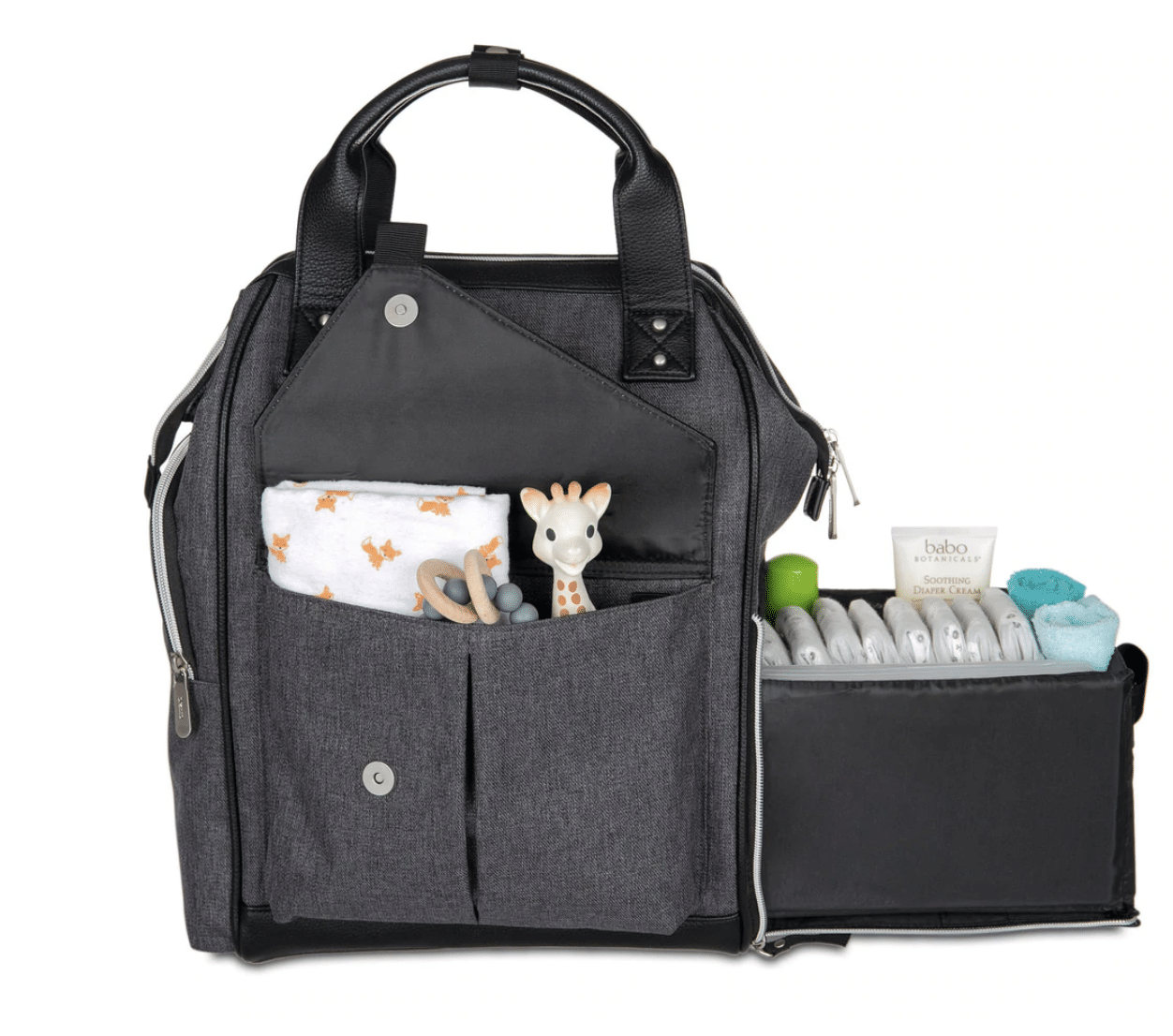 Lucia Caddy Tray Diaper Bag
This bag has everything you need to get out and about with your twins. Don't miss your chance to win this awesome bag below!
It has padded, adjustable straps for comfort, two stylish designs to choose from and comes with an 18-month warranty. As if that's not enough the slide-out caddy and included changing pad make changing diapers on the go a no-brainer.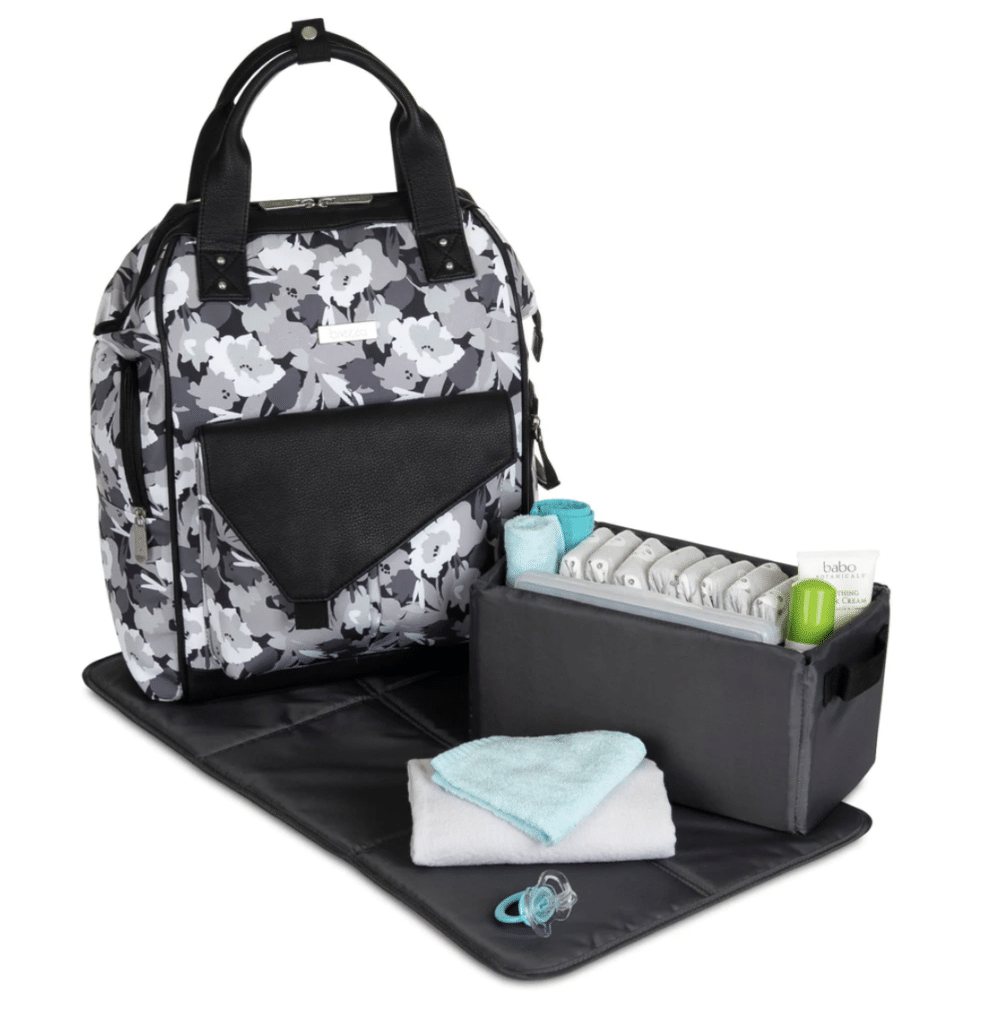 This diaper bag has an astonishing TWELVE (12) anti-microbial pockets to keep track of things. and keep things like pacifiers clean and safe for baby. Five of those pockets are interior to keep your items like credit cards and phones secure. There is even a hook for a car key. Let's face it, there is nothing more annoying than emptying a diaper bag onto the hood of your car trying to find keys that are nestled in the bottom of the bag.
This bag also has straps to connect to your stroller! That's a huge bonus since we all know twins require too much stuff that those storage baskets are often just a bit too small for their gear and your bag.
We really think you're going to love this diaper bag just as much as we do. Visit Baby Brezza here for more information about this diaper bag and enter to win below!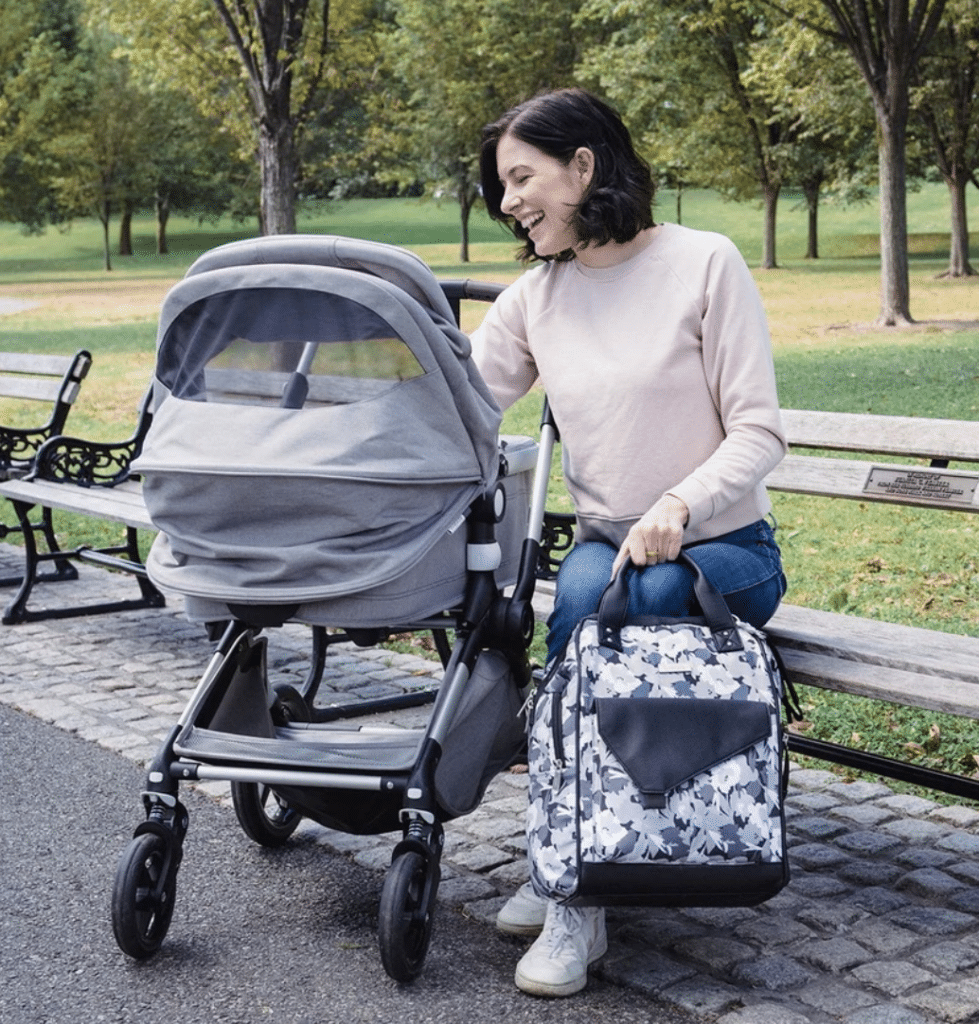 Sweepstakes Terms & Conditions