Do your twins love books? Mine sure do! But what about kids books that are ABOUT twins and about the special challenges that twins face? Check out all the best twin books for twins!
Best twin books
This is a fun story about a set of fraternal twins who do just about everything together. Learn about the ups and downs of their magical twin bond. Buy now.
"You once twinkled in the stars. Now you sparkle in our hearts.". This story will make your heart ache in a good way for all of us that waited a long time to have a family. Written by Twin Mom, Dorothia Rohner, A Wish For Twins is destined to be a treasured gift for twins and their loved ones, and a classic for years to come.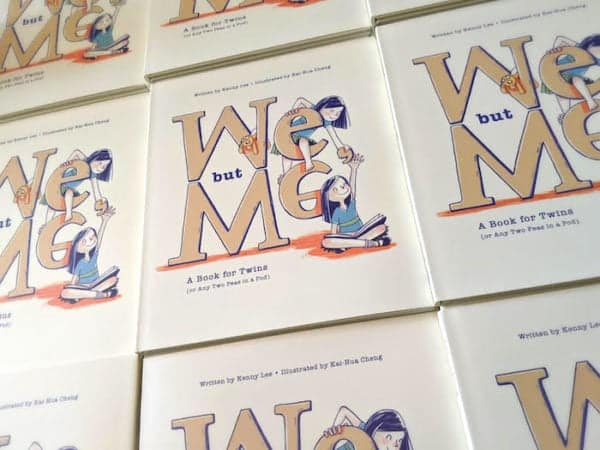 Whether fraternal, identical, or just two peas in a pod, twins share an unmistakable connection that lasts a lifetime. Inspire the twins in your community to celebrate their special bonds, while embracing all the things that make them unique. A debut author, Kenny Lee wrote We, but Me to honor his twin girls. His own passion for picture books was nurtured at the same library story times and bookstore visits that sparked his daughters' love of reading. Listen to our podcast interview with twin dad/author Kenny Lee here.
There are so many things twins can do together and so many things come in pairs. Here is a book that celebrates the joys of twindom. Perfect for twins and those that are not. Ages 2+. Get yours here.
A "delightfully funny, rhyming book" about a set of boy/girl twins will engage even your littlest ones for years to come. Starting out as wee infants, the siblings are soon on the move, learning to walk and talk and encountering a range of experiences. It's twice the fun, as they play with toys, enjoy time spent outdoors, eat a meal, and share a bath. Ages Birth-5 years. Buy this book here.
This is one of the great twin books for little ones! It's full of colorful illustrations that will draw your twins eye in right away. It is great for all types of twins, not just identical. Buy here.
How about a great pair of books that are the perfect reading companions for our twins? They play together, bathe together, and grow up together. These books show how fun being twins are and many of us can identify the things parents do to make our twinnies unique and special in so many ways. Ages 1 – 4 years. Get Bathtime here, and Playtime here.
From a former Twiniversity Expecting Twins Class student, this is the first of a series. In this book, we meet biracial siblings who look different but are actually twins! We highly recommend this sweet series of twin books. Get this book here.
From pat-a-cake to storytime, from bathtub splashes to bedtime lullabies, twins keep mommies and daddies very busy! Twins need double bottles and twice the swing pushes, have double the runny noses, and take twice the patience. But they also bring twice the smiles, give twice as many kisses, play twice the peek-a-boos, and make each day twice as fun! Perfect for toddlers, new parents, or twins of any age, Charlotte Doyle's cheerful rhymes and Julia Gorton's vivid illustrations show us a day in the life of two adorable twins. Ages Birth-3 years. Buy here.
"Old twins, new twins, famous twins, not-at-all-alike twins, side-by-side twins, let's play twins, not-yet twins, mirror twins — all kinds of twins! — come together in a collection of original poems." This is the perfect book to share with all the twins in your life and all the people that love them so. Ages 4 – 8 years. Buy now.
Not exactly a book specific to twins, this book dives into the world of sibling love and sibling rivalry as well as the bonds between parents and multiple children. It's a sweet read and a great sequel to God Gave Us You. Get your copy here.
The series of twin books follows adorable twins Topsy and Tim as they go on adventures such as "Topsy and Tim…Go on an Airplane… Go to the Dentist… Go Camping… (etc.)" A trusted and well-loved pair who can help guide parents and children through 'first experiences', Topsy and Tim books have been well known to parents and children around the UK for generations and the books have been beautifully updated with contemporary artwork. Ages 3-6 years. Buy now.
We all know that being twins does not mean we are all identical. The Fraturtles answers all of the questions about what makes a twin fraternal and how they may not look alike they still share their whole lives together. Celebrate those fraternal boys and girls in this whimsical book. Get this book here.
Although it may not technically qualify for our twin books category, the subject of two young sons arguing to be mommy's favorite is very familiar to most parents of twins. "Early in the evening two young brothers and their mama finish supper in the sturdy red cabin and set out to fish. While digging for worms, rowing the boat, and pulling in fish, each brother asks his mama which one is the best at each task and, as they are being tucked into bed, which one she loves the best." Ages 3-7 years. Buy it here.
Hot off the presses! This sweet, new read will be great for twins with individual tastes while still enjoying a lot of the same interests. Great for celebrating twins' differences and similarities. Buy this here.
Written by a mother of twins who also does her rounds in the Mothers of Multiples Circuit (my friend picked up this gem for me at a conference). A celebration of fraternal twins who are not just 2 peas in a pod or double trouble, but individuals who need to be loved for who they are as individuals as well as being twinnies. Ages 2 – 7 years. Buy it here.
If you're looking for a new series of twin books for your 9-12-year-olds, look no further. This book is the first in a coming series based on twins who develop superpowers. The books are filled with action, adventure, and humor to keep your kids engaged all the way to the very last word. Buy it here
A great book to teach multiples how each of them is so unique. "Follow a pair of birds on a snowflake-filled journey through a gorgeous winter landscape to explore how everything, everywhere is wonderfully unique–from branches and leaves to forests and trees to friends and loved ones." Ages 3-7 years. Buy it here.
Great among twin books for middle schoolers. See what happens when Francine starts to seek her own identity in middle school and how Maureen learns to cope with her twin wanting separate activities, friends, even classes in school. Buy it here.
A fun little read from the Mr. Men and Little Miss series. See how these Little Misses travel and have fun through Twoland! It's a Twiniversity favorite among twin books. Buy this here.
You know all the questions that you get any time you bring your twinnies out? Well, this book aims to answer them all from the difference between identical and fraternal twins, where twins come from, and what it means to be a twin. Go on a journey with Ronnie and Bonnie in learning about who they as twins and the specialness that comes with that identification. Buy it here.
This set of twin books including I'm Having Twins, My Twins are Coming Home, My Twins First Halloween, My Twins First Birthday and My Twins First Christmas, are written by an older sister of Twins when she found out she was expecting twin siblings. Fun reads from the perspective of an older sibling. Buy this here.
Whether they're locked in prank wars, scavenger hunts, a class election, or a contest to see who can get the most online followers, Claudia and Reese can't stop competing with one another! 4-Pack of twin books includes: Go to War – Go Viral – Tear up New York – Run For President Ages 9 – 12 years. Buy now.
The night before the Big Day—-first grade! Penny is excited to start the year with her best friend right beside her in the same classroom. But when she arrives at school, she learns that there are two sections of first grade and that her best friend will be in the other section. Bravely waving goodbye to her friend, she discovers new interests in her classroom. The author writes, "I wanted to capture the panic of being split up from your best friend when you're put into different classes, but then the joy of making new friends." Twins can certainly relate to that! Buy now.
A lot of these books on fraternal twins are 2 boys or 2 girls, but there are a whole lot of boy-girl twins who need to be celebrated too. This fun toddler book talking about what makes each twin an individual and duo at the same time. Buy now.
A series already familiar to those of us who grew up in the '80s, these are the "prequel" books to the classic Sweet Valley High series. They can be hard to find but a search on Amazon or eBay will turn up many of these in paperback for just pennies! There is also a "Sweet Valley Kids" series of the Sweet Valley twins for the elementary school level. Jessica and Elizabeth Wakefield feel special because they're identical twins. For twelve years they've dressed alike, shared a room, and do everything together. But when they start Sweet Valley Middle School, everything begins to change. Ages 9 and up. Buy now.
This is a great one for your helping to prepare your twins to start school. The heartwarming story follows inseparable twins as they begin school in different classrooms. It's a must-read for your twins as they navigate their own first day of school. Buy now.
Celebrate all the magic of being a twin. This book talks about both identical and fraternal twins. Buy it here.
Personalized books are wonderful and there are even ones made especially for twins. Go check out I See Me, LLC's line of twin books so both of your kiddos can feel extra special with their names in the titles and throughout the books.
Related Articles
6 Great Books for Your Kids Summer Reading List
7 Picture Books Sure to Make Your Twins Smile
8 Awesome Board Books for Your Little Ones
---
Need some twin parent friends? Get the support you need with a Twiniversity Membership. Benefits include a monthly twin parent club meeting on Zoom, access to a private Facebook group just for twin parents, and a video library of twin parenting lessons. Visit Twiniversity.com/membership to join today!