Last updated on March 30th, 2022 at 10:21 pm
The sun is shining and relaxing outside sounds like a dream but it can quickly turn into a nightmare with toddler twins running around. Get ready for fun in the sun with our list of the best outdoor toys for toddlers to make your life easier and keep your twins busy, laughing, and learning.
Why is outdoor play important for toddlers?
Experts recommend a minimum of 40 minutes of outdoor physical activity for toddlers. Aside from the benefits of fresh air and exercise, outdoor play is an important part of the physical, social, and emotional development of toddlers. Outdoor play not only burns energy and keeps them healthy but it also exercises their gross motor and spatial awareness skills.
Toddlers don't have to be constantly on the move though. Digging in the dirt, pouring water, and picking flowers build fine motor skills, dexterity, and hand-eye coordination. Encourage their social skills and cognitive development through simple backyard games and pretend play.
Worried that you don't have a safe outdoor playspace? Check out our tips for the best outdoor baby gate to keep everyone safe.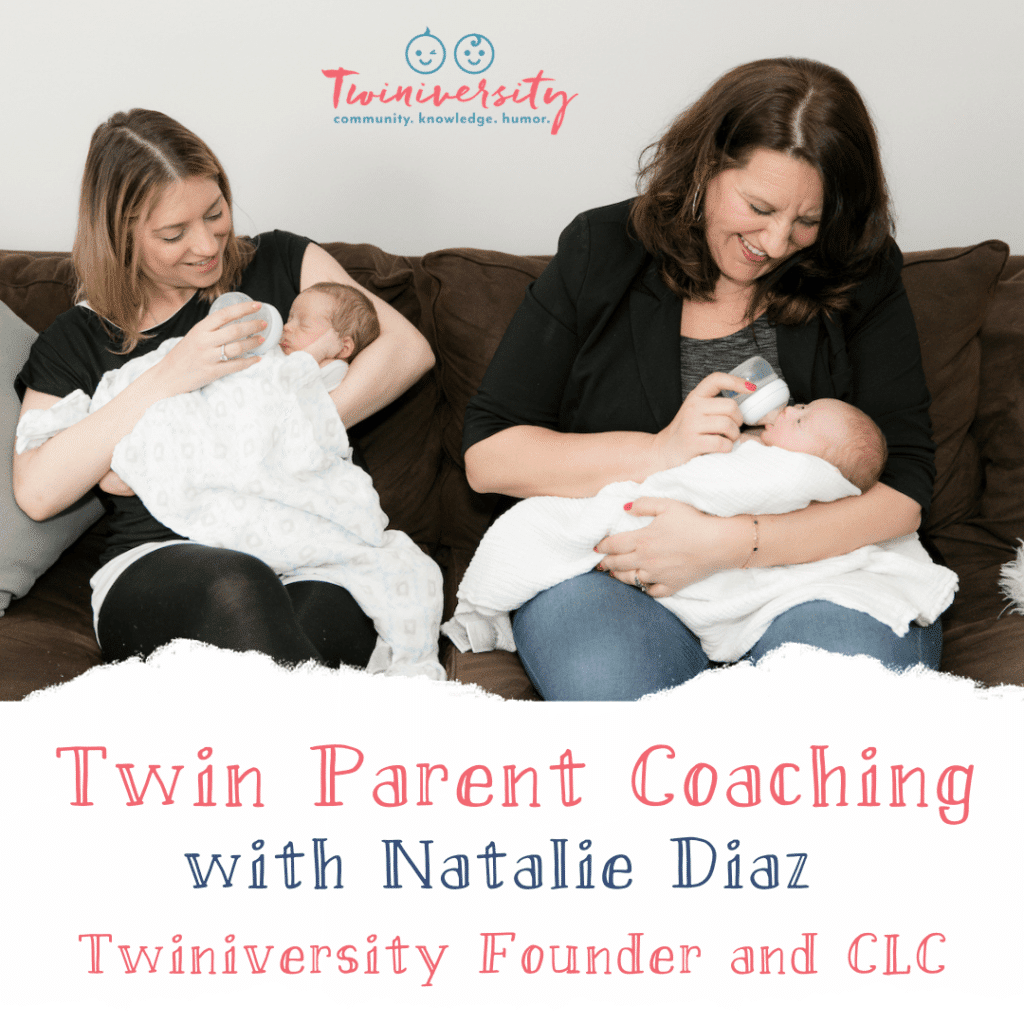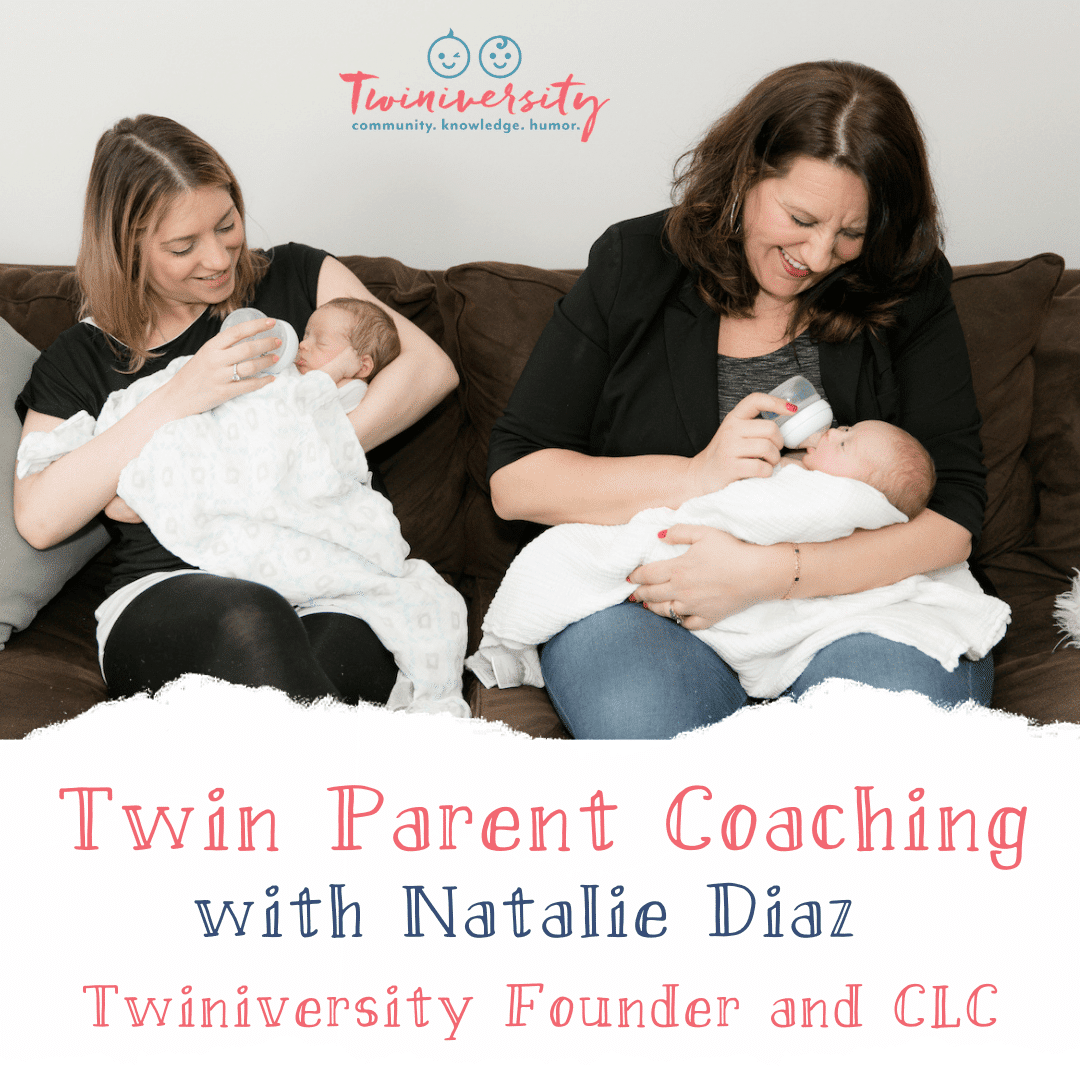 Have you taken your expecting twins class yet? We offer a great class on demand so you can take it on your own schedule! There are so many video modules covering everything from your twins' baby registry to your first week at home with twins!
Sign up today to get started before your twins arrive.
What are the best outdoor toys for toddlers?
There are some tried and true outdoor toys that are guaranteed to keep your little ones having fun in the sun while optimizing their physical and social development.
Balls
The quintessential outdoor toddler toy, balls encourage kicking, catching, and throwing skills and build both fine and gross motor skills. Check out these Foam Sports Balls that are soft, durable, and easy for little hands to grab. Keep an eye on your little teethers though as some reviewers state kids can take a bite out of these balls.
Gardening and Digging Outdoor Toys
Your twin toddlers will have a blast digging and discovering in the dirt with this adorable My First Garden Wagon and Tools Toy Set. Perfect for toddler twins with enough tools and pots to share and a handy pull cart to keep it all contained.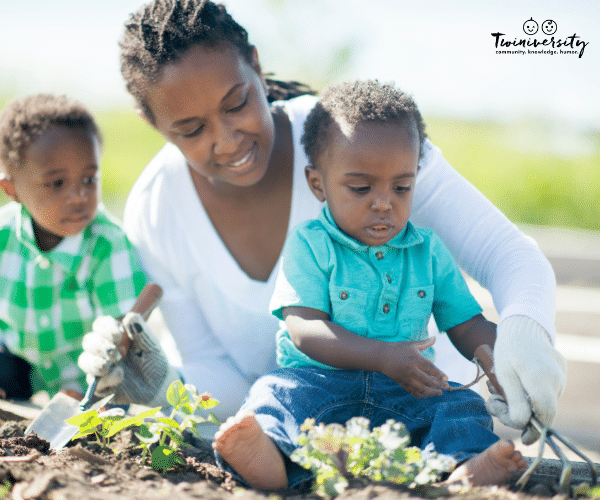 Bubble Machine
If you don't have one yet, go tomorrow and pick up a bubble machine. Even if you're in the best shape of your life, you're unlikely to last through a million requests for more bubbles. For endless bubble-blowing fun and laughter, set a bubble blower on your picnic table and watch the magic happen!
Toddler parents love the Gazillion Bubbles Hurricane Machine or Kidzlane Bubble Machine.
What are the best active outdoor toys for toddlers?
It might be an understatement to say that toddlers have A LOT of energy. Luckily there are plenty of outdoor toy choices to keep them busy while encouraging motor development. Look for items that exercise those gross motor muscles and challenge them to move their bodies for tons of fun.
Ride-On Toys
Just because they won't be driving for another 15 or so years doesn't mean they can't have their own set of wheels. Skip the power wheels and opt for a simple ride-on toy to keep them burning energy and exercising those muscles. Don't forget to get in on the fun and push them around as fast as you can to get the giggles going.
Go for the classic with a Little Tikes Cozy Coupe.
Strengthen balance and coordination with the Little Tikes Go and Grow Lil' Rollin' Giraffe.
Mom and Dad can get in on the fun with the Step2 Push Around Buggy GT.
Teach your tots the basics of biking with the Strider 12 Sport Balance Bike or start with the classic trike, such as the Radio Flyer tricycle.
Better yet, combine the two with the XJD 3 in 1 Kids Tricycle. With so many options your toddlers will be riding in style in no time.
TWINIVERSITY TIP: This is one of those twin items you will want two of as ride-on toys are a toddler favorite and having just one can lead to fights.
Toddler Tent and Tunnel
Not only is a Kids Play Tent a huge hit with toddlers indoors, but it's also fantastic outside. Play a game of hide and seek as they zoom through the tunnel and fill up the other side with Click N' Play Ball Pit Balls for even more fun. Afterwards, toss some toys or books in the tent for some quiet time together.
Playset
Though it might be a while before your twinnies are ready for a real swing set, in the meantime there are plenty of options for a safe toddler playset. Look for ones with a high weight limit and enough space for two such as the Simplay3 Young Explorers Adventure Climber which includes a sweet slide and tunnels for crawling through.
If you're ready for it, check out the Step2 Play Up Gym and Swing Set which includes two swings. Make sure the smallest tots stay safe with some toddler swings that easily attach to the swingset.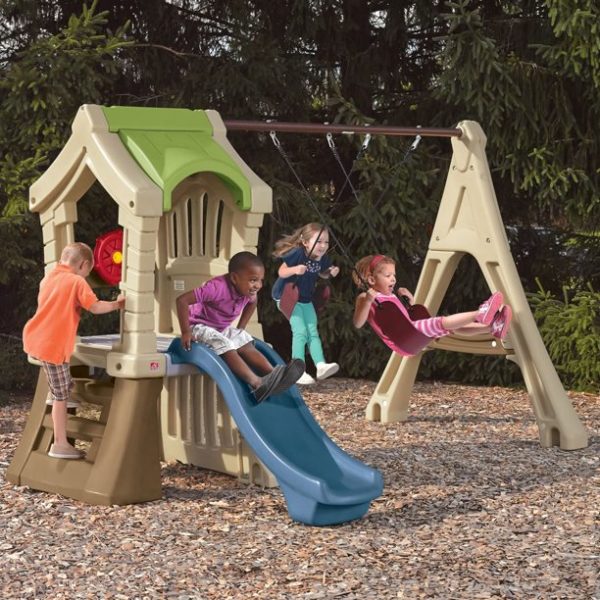 How can my toddler and I play outside together?
Toddlers may be always on the move but you don't have to run yourself ragged playing with them. Instead, introduce simple hands-on creative activities and imaginative play for outside together time.
Explore the Natural World
Once they're toddling around and able to stay close, a great outdoor toy for toddlers is a nature exploration kit. Use the binoculars to search for birds or watch a squirrel climb a tree. Get a closer look at the grass with the magnifying glass and catch some bugs. Since toddlers are infamous for putting everything in their mouths make sure you keep close.
Encourage language development and critical thinking skills with a simple outdoor scavenger hunt. Mollybee Kids Outdoor Toddler Scavenger Hunt Cards are packed with vibrant toddler-friendly pictures and endless opportunities for backyard fun.
Get Creative with Outdoor Toys
Simple sidewalk chalk boosts artistic expression while strengthening those pre-writing skills, especially this Non-Toxic Toddler Chunky Sidewalk Chalk from Urban Infant. This large chalk is perfect for those little hands to grasp and totally safe for the inevitable toddler taste test.
Have fun painting with little to no mess. Set out a bucket or bowl of water and a few toddler-friendly paintbrushes like the Dasing Early Learning Flower Sponge Painting Brushes or READY 2 LEARN Triangle Grip Paint Brushes. They can can safely paint the house, the patio, and the deck, or have them paint over their chalk marks to make a masterpiece.
Make a Mess
Throw on their best play clothes and make a mess with mud play. Keep the mess contained to one area with a super cute mud kitchen like the HearthSong Indoor/Outdoor Wooden Mud Station or the AOPARTS Kids Wooden Kitchen Play-Set. Just add water as each one comes with all the tools needed to make the best mudpies mom and dad will ever "eat."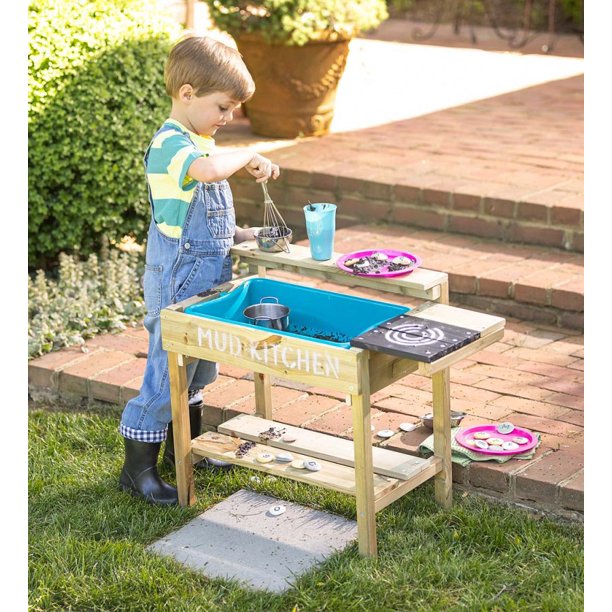 Playhouse
Encourage imaginative and cooperative play with your toddlers with a cute outdoor playhouse. Pretend play builds problem-solving, cognitive, and social-emotional skills. While the options are endless, be sure there's enough space for both kids in order to reduce arguments. Check out the Little Tikes Cape Cottage Playhouse and the Step2 Neat & Tidy Cottage.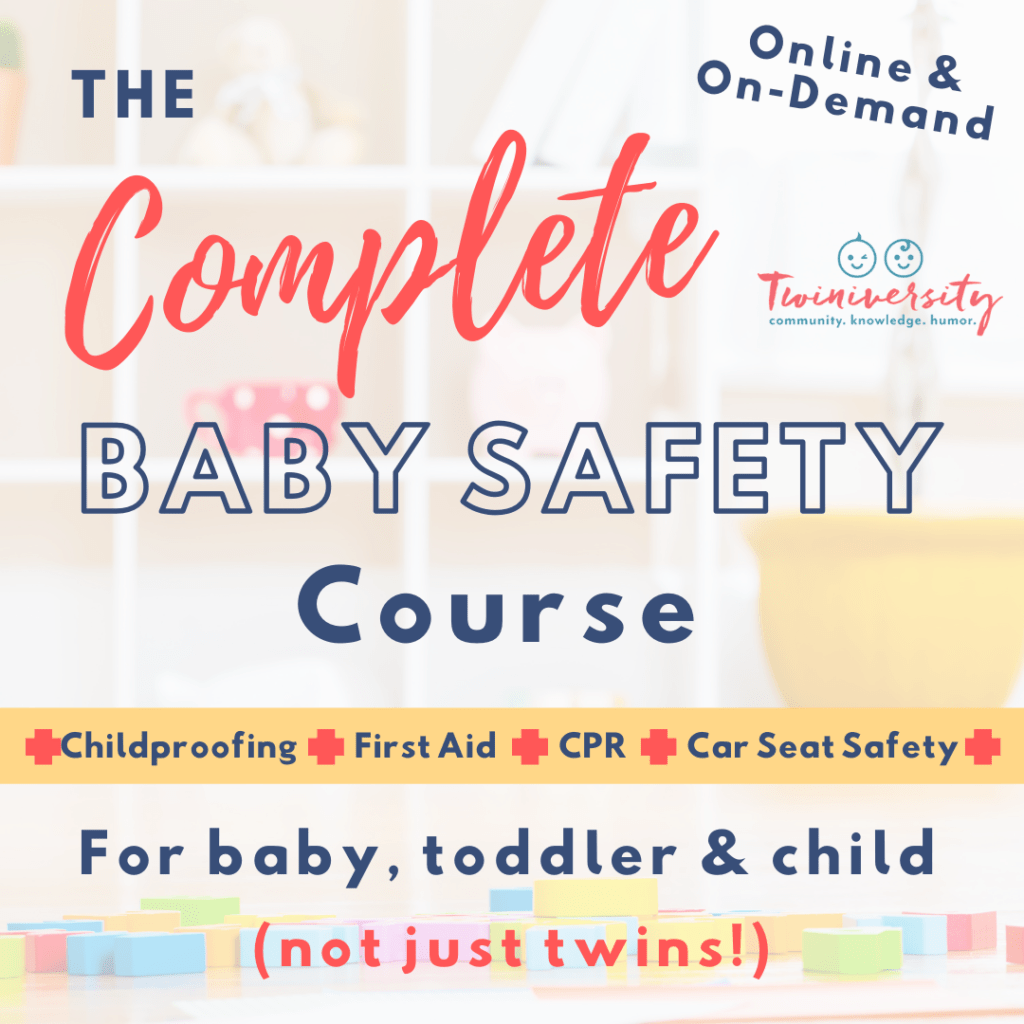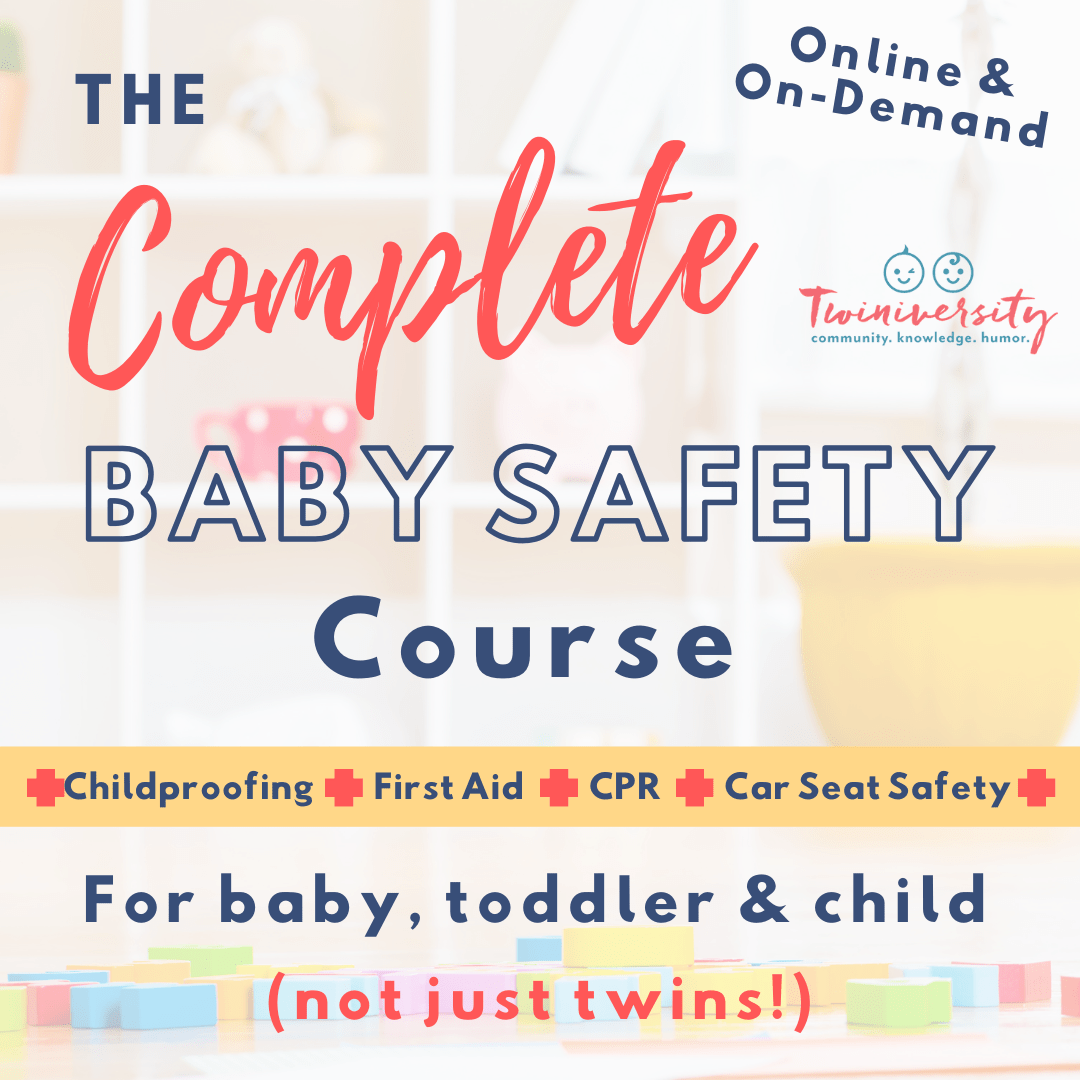 Need some baby safety training? Take the Twiniversity Complete Baby Safety course, offered on-demand. Includes video modules on infant, toddler, and child CPR, first aid, and common medical ailments, plus car seat installation and safety and childproofing your home. Click here to learn more!
What are the best outdoor toys for toddlers when it's hot?
Hot days can sometimes spell disaster, especially with bored twin toddlers. No worries though, with just a few outdoor water toys you'll be cooling off and having fun in no time.
Water Table
Water tables provide endless opportunities for summer fun. Make sure your table has enough space for both to play, like the Little Tikes Fish 'n Splash Water Table. Or check out the Step2 Spill & Splash Seaway Water Table which is large and also includes a convenient umbrella for sun protection. You don't even need special water or bath toys because your kitchen is full of them:
a milk jug cut in half can double as a boat or scoop
plastic cups
strainers
measuring cups
pie pans
A funnel
A steel teapot or plastic pitcher
turkey basters
spray bottles
Splash Pad
You might not be ready for a real pool just yet but that doesn't mean your toddlers can't splash and play. Slash pads are ideal for cooling off overheated toddlers as this sprinkler/wading pool combo has all the fun of a pool without the stress of keeping them both afloat. Don't take our word for it, the SplashEZ Splash Pad-Sprinkler for Kids has over 13,000 5-star reviews.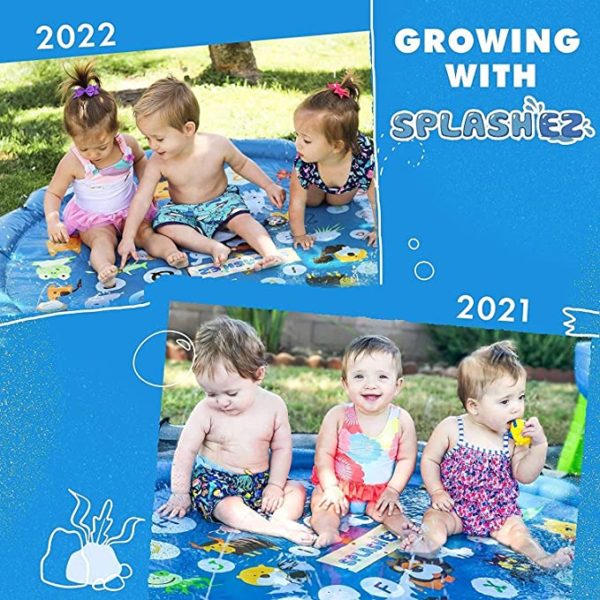 Kiddie Pool
When you're ready to cool off with a dip in the pool start with a toddler-safe kiddie pool. The small size will let you keep kids in arms reach at all times and it doesn't require a hundred gallons of water to fill. The Intex Sun Shade Inflatable Pool is perfect for toddlers with its removable sunshade that adds extra protection from the sun. Be sure to drain it after each use or use your outdoor baby gate to enclose it and prevent accidents.
Fun in the sun with outdoor toys for toddlers
Toddlers need to move without the limitations of indoor rules for the best growth and development. It takes planning but getting outside with a set of toddler twins doesn't need to be stressful. Arm yourself with endless opportunities for fun with the best outdoor toddler toys. Stock up on sunscreen, get creative, and make some memories with your twin toddlers!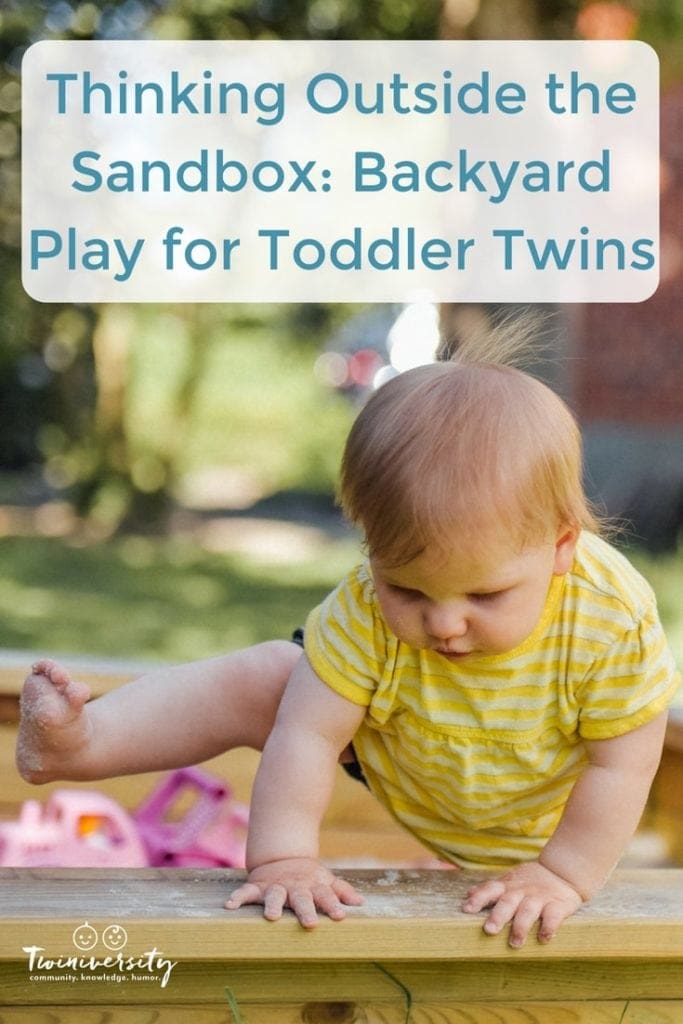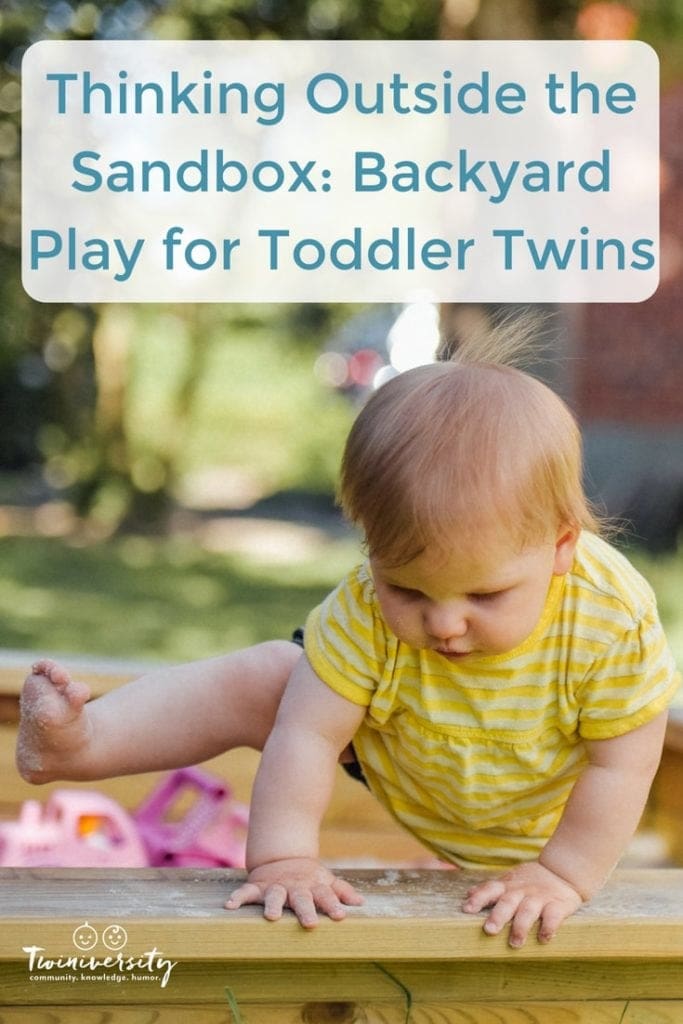 Latest Posts from Twiniversity