A Mom recently asked:
I need ideas on how to introduce cow milk to my twins now that they are 1 year old. I've tried a number of different things, but they are just not interested and throw their bottle! Help!
Here's what our Twiniversity fans had to say:
– We switched gradually. We added some cow milk to the formula. Pediatrician recommended this so it wouldn't be a hard transition to their digestive system as well.
– We made the switch at 12 months, when we switched from bottles to sippy cups. At first we had to warm the milk a little for one of our twins; the other willingly drank it cold. Within a week or two, the finicky twin was gradually weaned off warming up the milk. I think it helped that we switched from bottles to cups at the same time. That way they learned to expect that the cup would have milk (instead of formula).
– One week before they turned one, we switched "cold-turkey" to just cow milk following our pediatrician's advice. It worked great for us!!
– First, I got them to drink cold formula. Then I substituted a few ounces of milk in each bottle until it was 100% milk over the course of two weeks.
– I would give breast milk or formula at the normal times, then started taking away feedings. I would give them a cup of milk at their solid food meal. Then they slowly weaned from their bottle and just had cows milk during meals. This way they never noticed that I was replacing their formula or breast milk with cows milk. It just was part of their meal.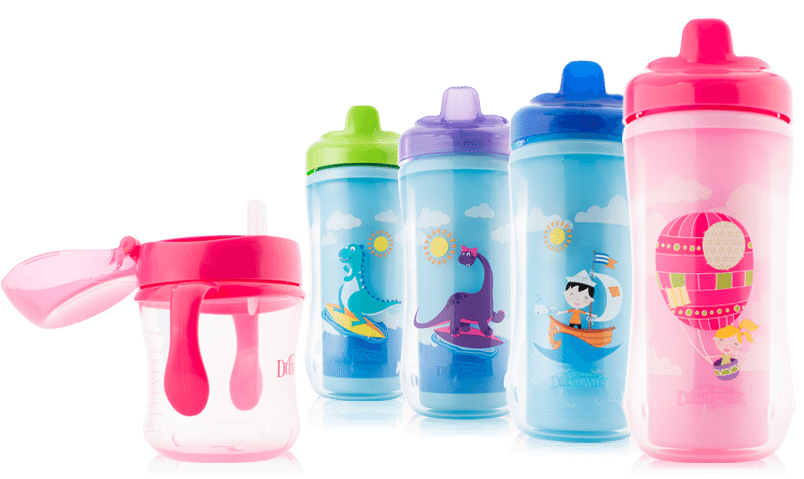 – We used a gradual method. At first 6ozs formula and 2 of milk for a few days to a week. Then 4 oz of milk, and so on.
– We made the switch at 12 months. One twin took it right away and the other threw the bottle. I then decided to mix formula in. Half formula and half cows milk. Everyday I gradually reduced formula. At end of the week it was all cows milk and she took it no prob.
– I started at 12 months, an ounce at a time for a week each. So, for an eight ounce bottle it would be seven ounces formula and one ounce milk for a week, then six/two, five/three until totally transitioned. We had no issues with them liking it. (They just throw their bottles for kicks!)
– We gradually added cows milk to formula and slowly started going from warm to cold. We would heat the bottles less over time.
– Maybe try sippy cups. Don't give up after one kids sometimes don't like the first one you try. Soft tops, hard tops, straws. My kids didn't like their milk in bottles, which made eliminating the bottle easy at 12 months!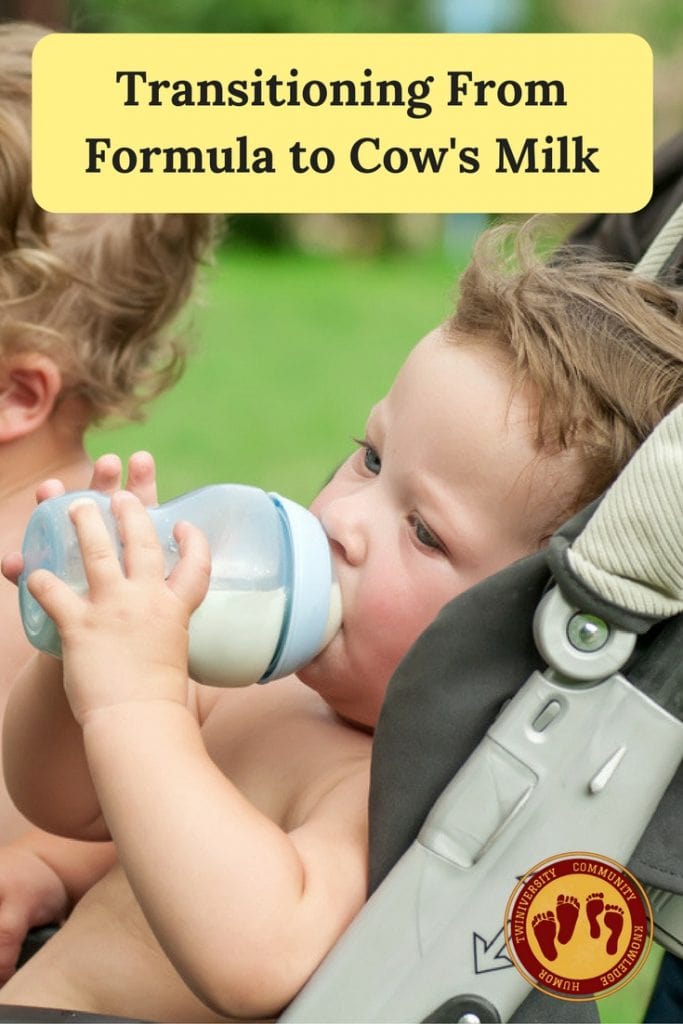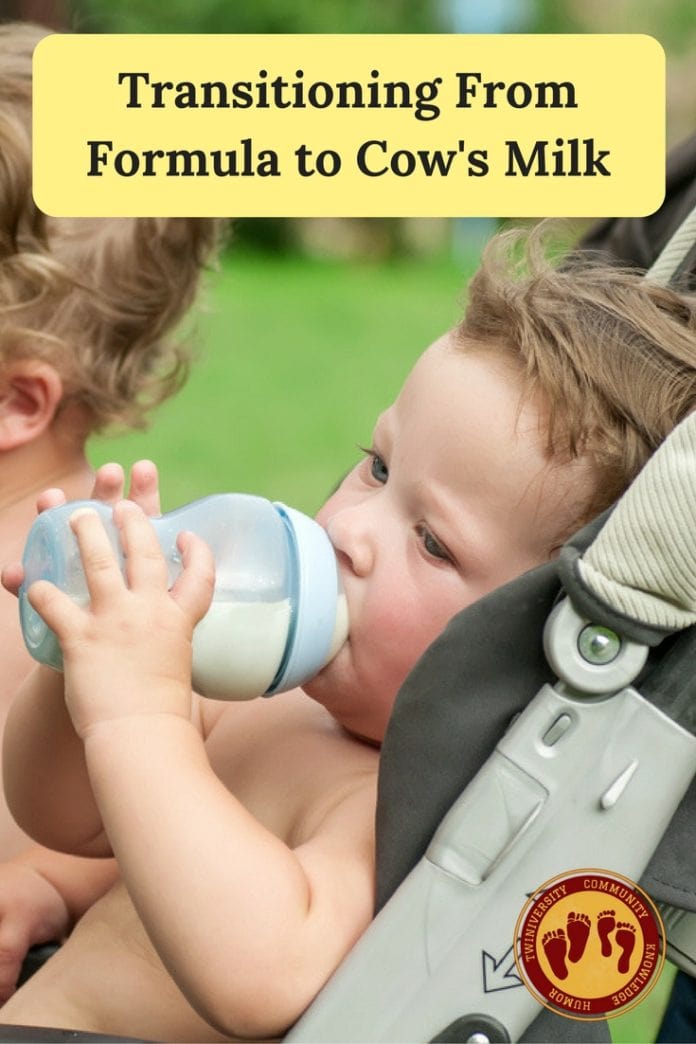 – I just slowly started adding milk to the formula and after several months they were completely switched.
– What I did with mine was start off with 1 oz of milk with 4 oz formula, after a few days go too 2oz milk, 4oz formula, keep increasing over a weeks time. Mine didn't even seem to notice the change.
– The first few days prepare the bottles 75% formula 25% milk. Then 50-50%, and last 25% formula 75% milk. I had to do this for my daughter & it worked for her. Good luck!
– Don't give it to them in a bottle. Move them on to a sippy cup.
---
Related Articles
---
The rate of twin births has risen 79 percent over the last three decades, and continues to increase. A mom of fraternal twins and a national guru on having two, Natalie Diaz launched Twiniversity, a supportive website with advice from the twin-trenches.
What to Do When You're Having Two is the definitive how-to guide to parenting twins, covering how to make a Birth Plan checklist, sticking to one sleep schedule, managing double-duty breastfeeding, stocking up on all the necessary gear, building one-on-one relationships with each child, and more.
Accessible and informative, What to Do When You're Having Two is the must-have manual for all parents of twins.
---
Whether you're a twin parent in the big city surrounded by scores of resources, or a triplet parent out in the country with no one around for miles — our multiples parenting forums are for YOU! Sign up for FREE and connect with people who are just like you — parents of multiples looking for advice, parenting tips, or even just people to chat with who will understand what you're going through. Our forums are open to people all over the world and we offer scads of specialty rooms to find others who are going through the exact same thing as you. Check it out today!
---
Twiniversity is the #1 source for parents of multiples and we are growing faster every day!
Find us all over the web:
Or contact us by email at community@twiniversity.com