Last updated on July 24th, 2023 at 07:09 pm
Looking for ideas twin baby shower decorations? We've got the scoop on all the best things to have to make your twin baby shower have the best vibe and aesthetic and make your day super special. Read more below to find out what twin baby shower decorations we're loving now.
Call me biased, but few people deserve pampering more than expectant mothers, especially expectant TWIN mothers! Soon, it will be all about the babies, so make sure mom-to-be gets her "day in the sun" too. The baby shower is the perfect place to make her feel special, loved, and the center of attention! How do you accomplish this? The best way to personalize a baby shower is through the decorations.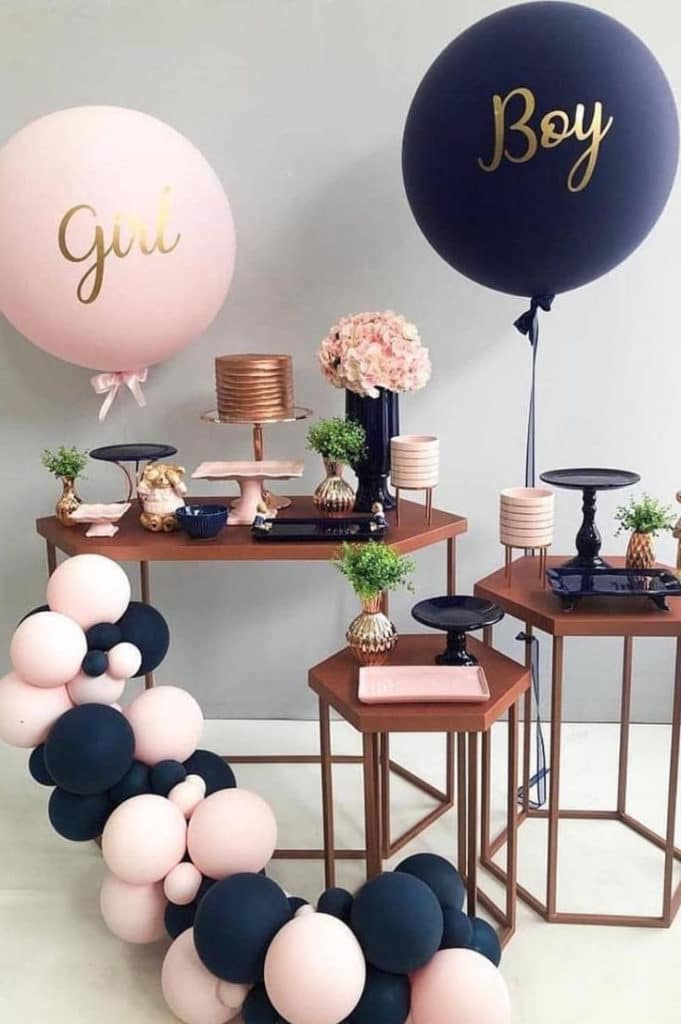 Baby shower decorations have become pretty lavish, and expensive but fabulous! Of course, not all of us can afford (or want) two life-size elephant topiaries as baby shower decor (we're looking at you, Khloé). Still, we want more than crate paper, plastic dinnerware, and knitted baby booties full of melt-away mints! So how do you get fabulous without going overboard (or underboard)?
Let's talk about the best twin baby shower decorations!
Trendy Decor for Twin Baby Shower
Balloons
If you don't have an arch made entirely out of balloons for guests to admire, is it even considered a celebration??? Balloons are a must for any party but seem even more so for a baby shower. They are loved by every child, whether they are filled with air, helium, water, or best of all, confetti and toys, and they just make sense as twin baby shower decorations.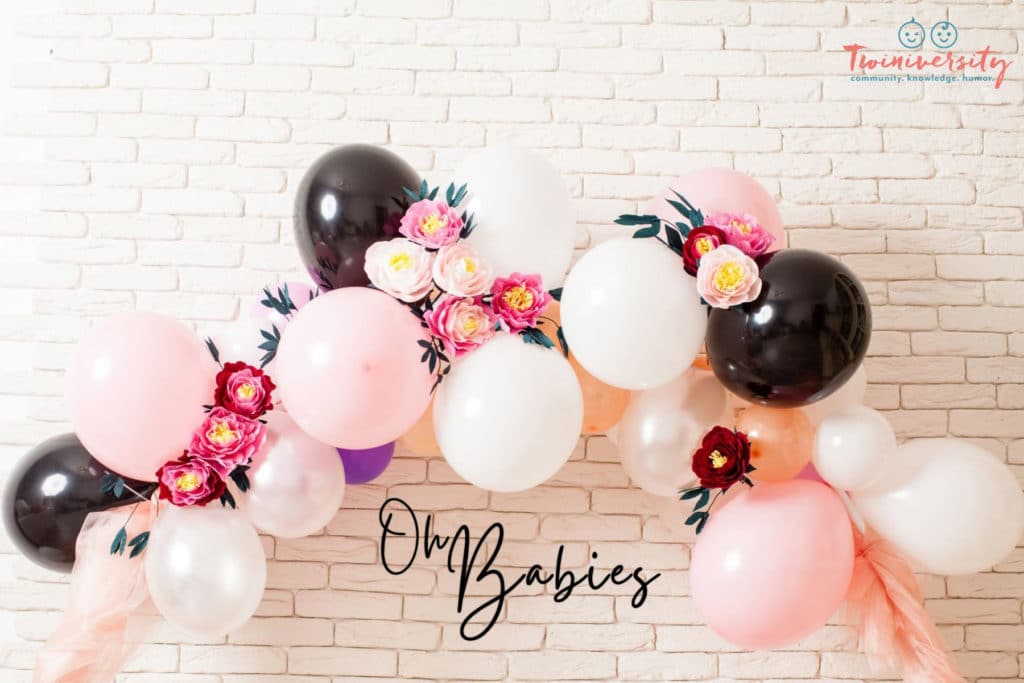 Balloons are perfect for indoor or outdoor celebrations; they're eye-catching, inexpensive, and you can get super creative with them:
Balloon Arches
Columns
Garlands
Walls/Backdrops
Sculptures
Table Centerpieces
Balloons with Tassels
Rainbows
Looking for a sophisticated look, try draping a balloon cluster off of a backdrop that says "Oh Babies". Or maybe you want playful decor, make balloon animals and display them on all the tables. If you want a classic look, use bouquets of balloons, but put a new spin on it by using a stuffed animal as the tether, allowing them to free float a few feet off the ground! The options are limitless with balloons!
Are You a New Twin Parent?
Check out Natalie Diaz's book:
"What To Do When You're Having Two
The Twin Survival Guide From Pregnancy Through the First Year"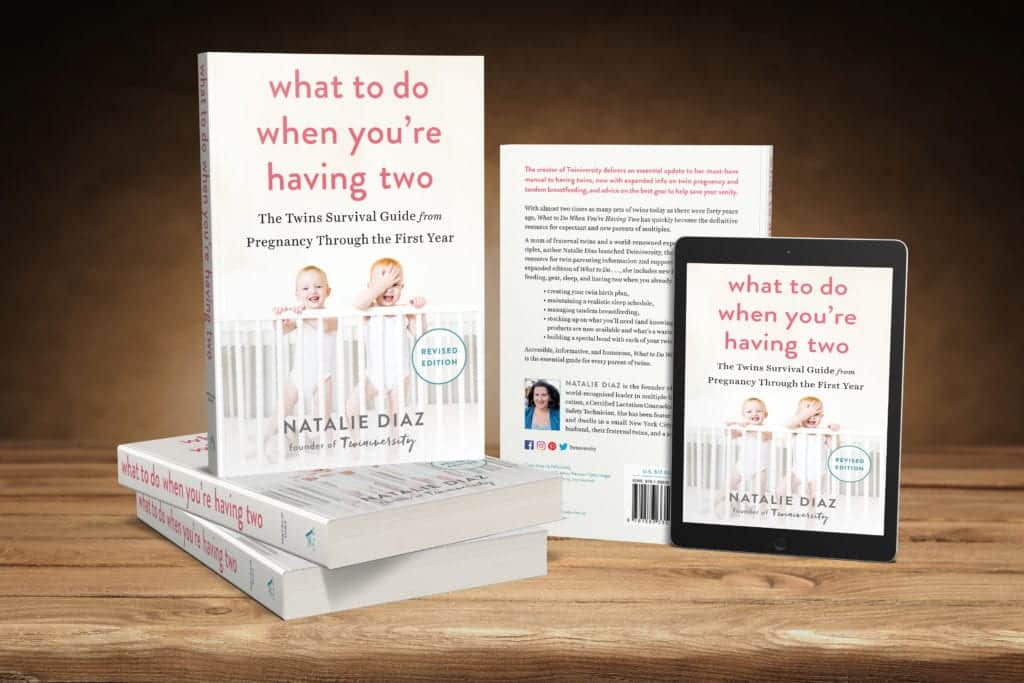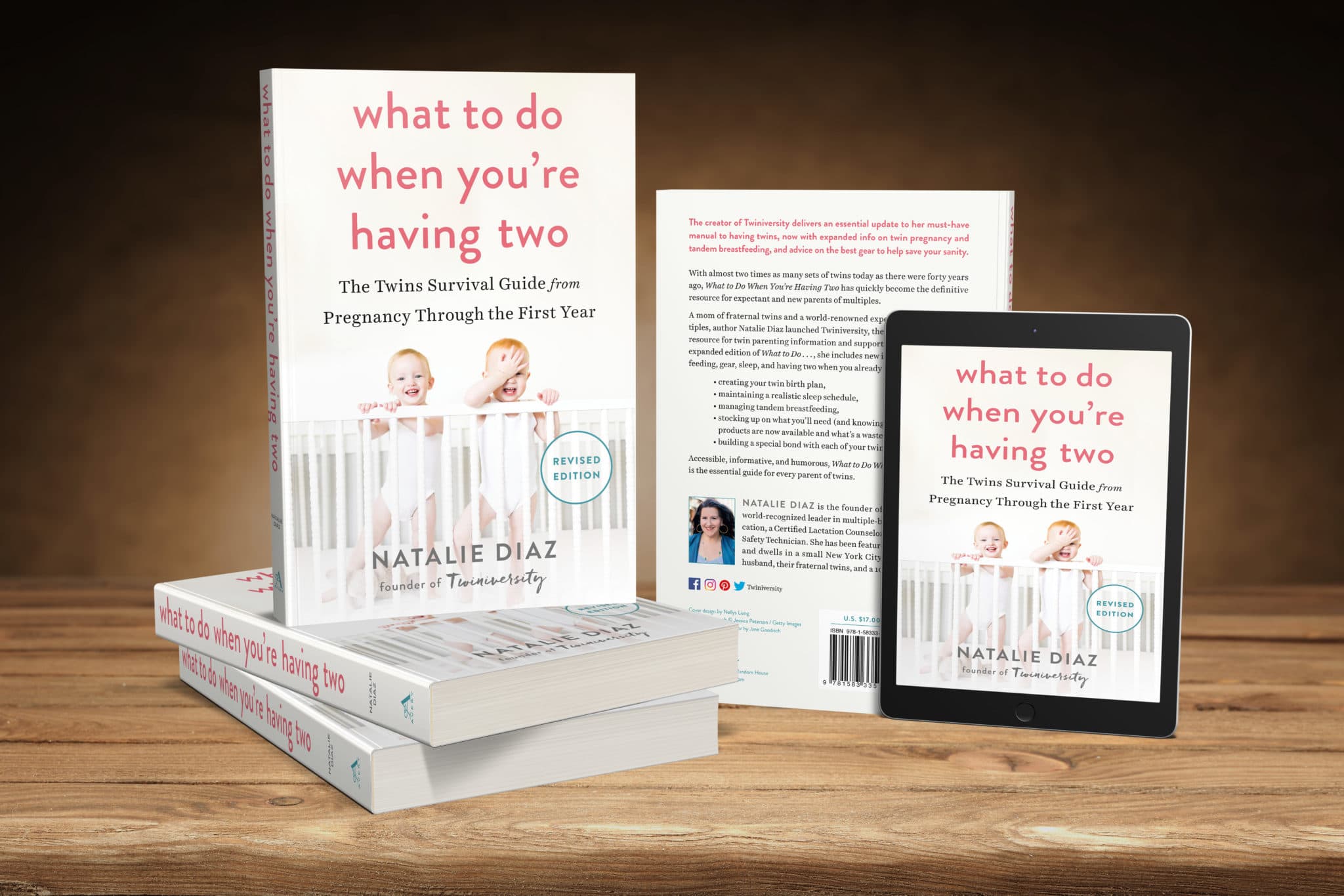 In What to Do When You're Having Two: The Twins Survival Guide from Pregnancy Through the First Year, national twins guru and founder of Twiniversity (and twin mom herself!) Natalie Diaz provides a no-holds-barred resource about life with twins, from pregnancy and birth all the way through your duo's first year of life.
Accessible and informative, What to Do When You're Having Two
is the must-have manual for all parents of twins.
Marquee Letters at twin baby shower
Illuminated marquee letters or neon signs make a simple baby shower look and feel fancier!
They are simple decorations, with many different size options, plus they are versatile and portable. Hang them on the wall under a balloon arch for a fantastic picture backdrop. Customize your letters to say "Twins" or "Babies". Opt for hollow letters that you can fill with balloons or flowers! So many options to choose from! Bonus: after the shower, give these to the mom-to-be to decorate the nursery with.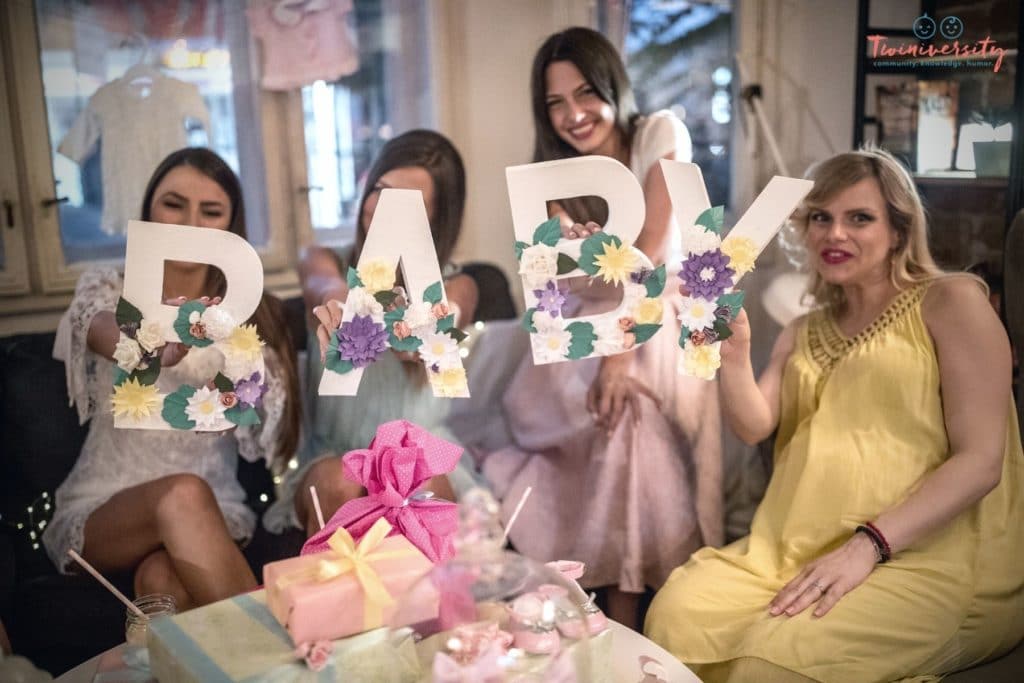 I love the look of oversized light-bulb letters and I hope this trend never goes out of style!
Flowers as twin baby shower decorations
Flowers add color and uniqueness as baby shower decorations. You can go big, with a custom flower wall with "Babies in Bloom" written in flowers, or you can simply make small centerpiece bouquets of baby's breath.
Flowers are also great for adding to other decor items. Add mom-to-be's favorite flower as the cake topper. Or use the babies' birth flower to add a little extra to the balloon bouquets. They are a timeless decoration, no matter the theme or color scheme of the shower. And you will always find a beautiful flower to use as decor!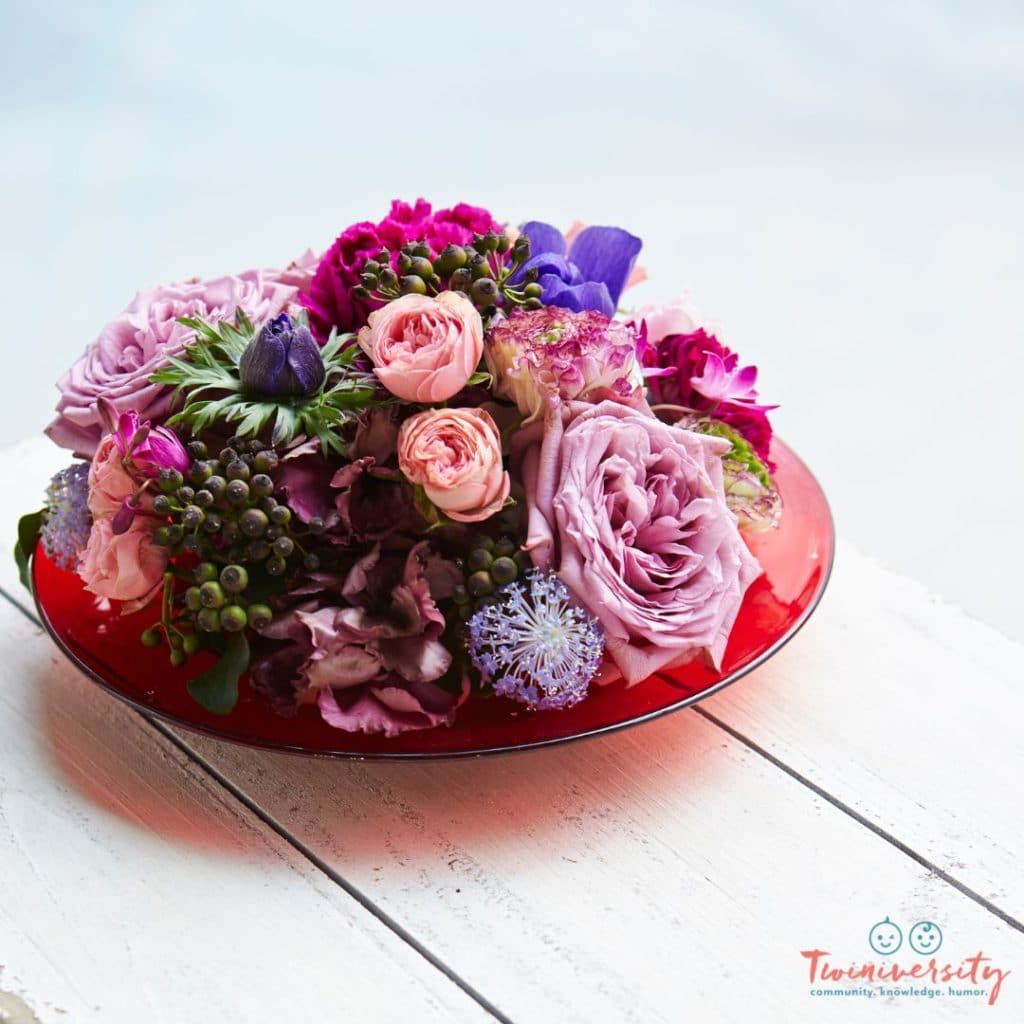 Reuse and Repurpose Decor for Your Twin Baby Shower Decorations
In a world of extras, why not use items for decorations that can later be reused or repurposed? Where there are twins, there is a need for lots of onesies and diapers! Here are some ideas for using both of these items as decorations and then reusing them when the babies come!
Baby Clothes Bunting
This is a decoration with a purpose, and I love that after the shower has ended the bunting can be used to dress the babies as they grow! And of course, this decoration is super easy!
All you need is some twine, (my favorite is a natural jute twine), wood clothes pins, and some baby onesies, pants, and/or booties. First, string your twine from one end of the wall to the other, and secure with a small nail or hook. Next, use the clothes pins to attach the baby clothes to the twine, (like you're hanging your laundry on the clothesline). Finally, alternate clothing items as you hang them up.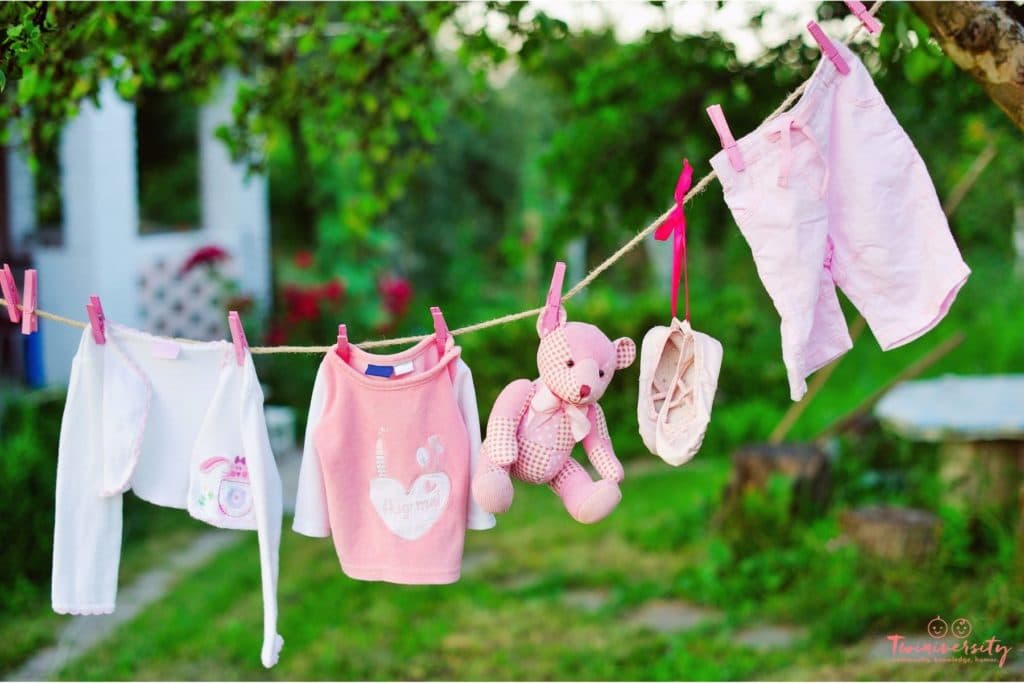 Think beyond the simple white onesie and look for some with fun designs, there are lots of unique onesies for twins and will make awesome twin baby shower decorations.
Rosebud "Flower" Bouquet
Use tiny baby washcloths or baby socks to make an adorable "flower" arrangement. Stick them in flower pots and use them as centerpieces or create a flower table spray using both faux wrapped flowers and real flowers. Either way, when the shower is done and over, the mom-to-be has plenty of washcloths and baby socks!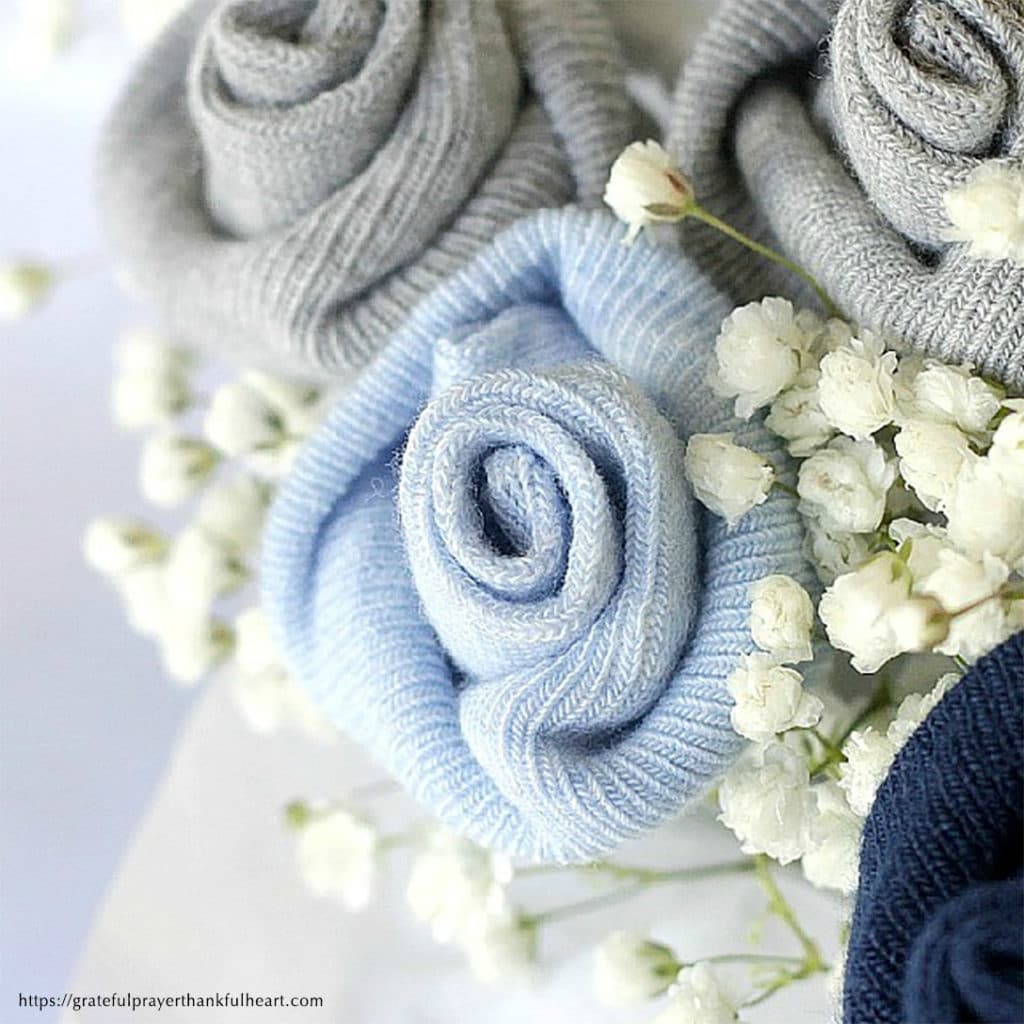 Diaper Decorations for Twins
When my doctor said "TWINS", I immediately thought about how many diapers I was going to need! No matter your method (disposable or cloth) a simple way to decorate and gift diapers, is to use diapers as the decor! I wouldn't make diapers the main event (a diaper wall just isn't as pretty as a balloon or flower wall), but incorporate them in the detail!
Of course, you are more than welcome to just pin diapers on some bunting and call it a day, but if you want something sweeter and maybe disguises the diapers a bit, try one of these:
Diaper Cake
A diaper "cake" usually has two or three tiers of rolled diapers that are wrapped in ribbon (to resemble icing) and covered in decorations like flowers or stuffed animals. Many diaper "cakes" will also include other useful baby items, such as bubble bath, lotion, diaper cream, and/or baby powder.
Diaper cakes are a common baby shower decoration, but like most other decorations, the sky's the limit! If a "cake" seems so yesterday, make a train out of diapers or a monkey or my personal favorite The Empire State building. One you've rolled those diapers, you can stack and wrap in any shape or size you want!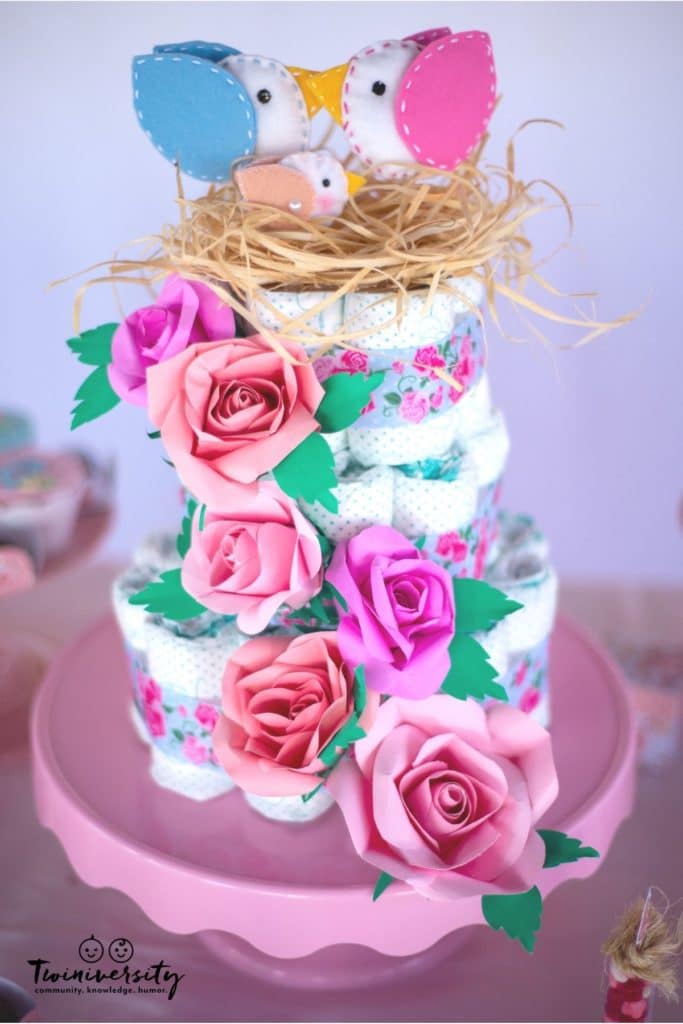 Diaper Wreath
Looking for a simple diy diaper decoration? Try a Diaper Wreath! Just like the diaper cake, you can not go wrong with these for a twin baby shower decoration! You can roll them and glue them to a cardboard circle and then decorate. Of course, for a more whimsical look, open the folded diaper and place a wire wreath inside and tie to secure. Top it off with a cute snuggly in the middle or a personalized name plate for each baby (that can then be hung in the nursery).
Ultrasound Pictures of Your Twins
Twin mamas have plenty of ultrasound pictures, so why not put them to use as decorations. String them from some fairy lights above the gift table, or make bunting and drape them across a large mirror or window. Family and friends love to see the ultrasound, especially one with two babies!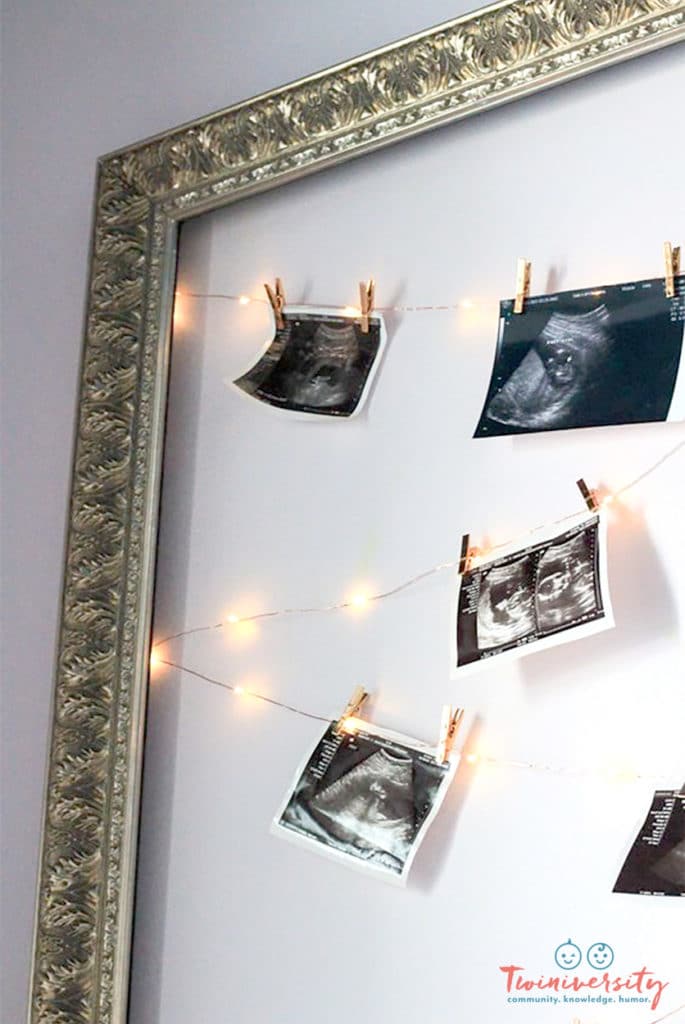 Photo Backdrop
In our Instagram-influenced world, why not give mom-to-be and other guests a perfect place to take that much-needed selfie? There is no better way to show off how fun and creative the baby shower was than with a photo backdrop! Maybe it is one of the elements we've already talked about or maybe it's a dress-up booth with props or a before and after photo cutout board of pregnancy! Maybe it's just a high-back chair and crown or maybe it's a tire swing painted as a donut. Anything goes with this one.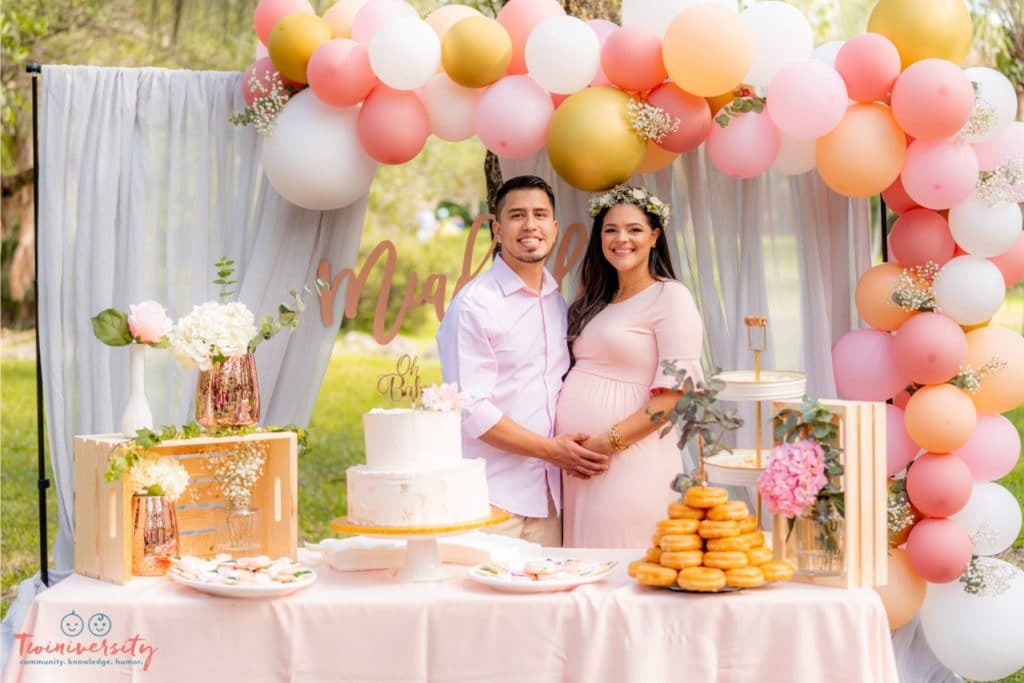 Just remember to model it after the mom-to-be, if she wants sophisticated, maybe skip the donut swing! Bonus: have an instant photo camera available for use. Even though EVERYONE has a camera on their phone, it is still fun and Instagram-worthy to have an instant photo taken!
When it comes to twin baby shower decorations, you can easily go overboard and feel overwhelmed! This is not an all-or-nothing list! Pick a few ideas and concentrate on making those fabulous. After all, the baby shower should be a time for the mom-to-be to slow down and savor this special time in her life!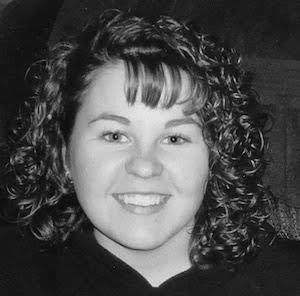 Latest Twiniversity Articles