Pregnant and wondering what you should expect in your hospital room after delivery? Whether you've just found out you're expecting twins or it's almost delivery day, your babies are undoubtedly on their way. Between doctor's appointments, buying ALL the baby gear, and stocking up on diapers, you've got a lot on your mind these days. So you certainly don't want to worry about what happens AFTER you deliver those babies. At Twiniversity, we want you to be as prepared as possible. And since most of us have been through this before, here's a list of what to expect in your hospital room after delivery.
Maximize Comfort in Your Hospital Room After Delivery
Once you leave the delivery room or post-op recovery room, you'll be moved to your hospital room. This space will be your home base for the next few days. When packing your hospital bag, be sure to bring along any comfort items you may need. Things to consider include sleeping aids like a sleep mask, a bathrobe, slippers, and socks. While the hospital will likely provide many amenities, like pads, undies, and socks, you may prefer to bring your own.
Depending on when you give birth, your hospital could end up keeping the temperature too cold or warm for your liking. Be sure to pack extra blankets and comfy clothes for any temp. Consider bringing along a portable fan, which can help with postpartum night sweats. Bring along any other items that will aid in your comfort, such as preferred toiletries and a towel. You can also bring things like an essential oil diffuser, a Bluetooth speaker, and extra pillows.
Freebies You Might Get Upon Discharge
Once it's time for discharge, they typically won't kick you out empty-handed either. So it's a good idea to have an extra bag with you to store your freebies. You may receive a few items upon discharge, including:
Peri bottles for cleaning the vaginal area after birth
Postpartum maxi pads and mesh underwear
A donut pillow for maximum comfort when sitting postpartum
Breastfeeding supplies such as nipple cream and a hospital-grade pump
Newborn necessities such as a hat, receiving blanket, diapers, bottles, pacifiers, and formula samples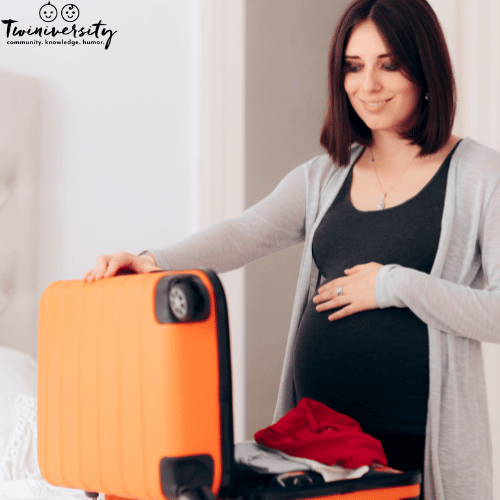 Length of Your Stay In the Hosptial Room After Delivery
An uncomplicated vaginal delivery will usually require a 1to 2 night hospital stay, averaging about 48 hours. If you experience any delivery complications or have a C-section, you can expect a longer stay of 2 to 4 days. Trust us when we say, take advantage of this time. Use it to learn as much as you can about newborn baby care from all your favorite experts. You can also expect to spend time filling out paperwork for birth certificates, social security, and insurance.
Visitors in Your Hospital Room After Delivery
Whether you have visitors will depend on your hospital's rules and regulations and how you feel during recovery. You might choose to hold off on visits until after you are home or you might wish to share the experience with a few close family members and friends. The choice is yours, but don't ever feel as though you must entertain well-meaning relatives. Be firm in your choice and be sure your partner supports you and communicates this desire with friends and family.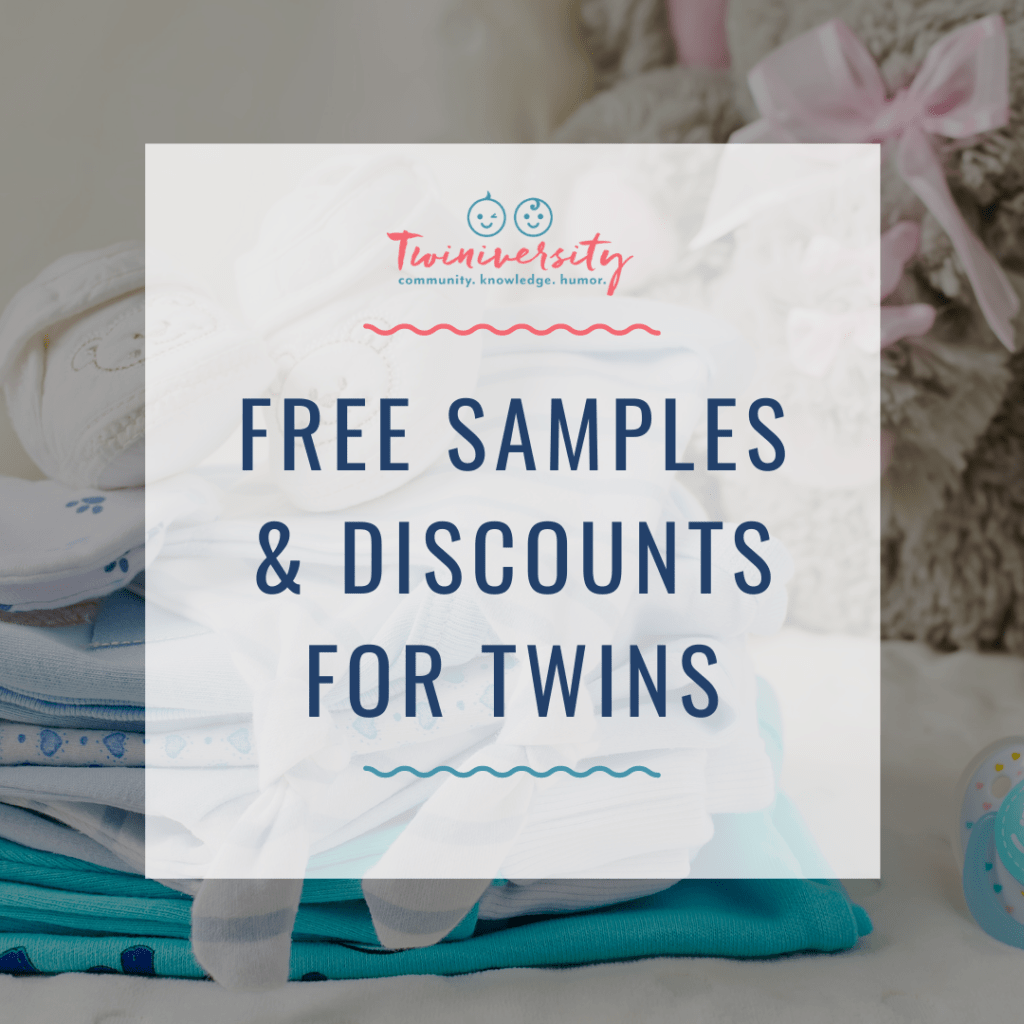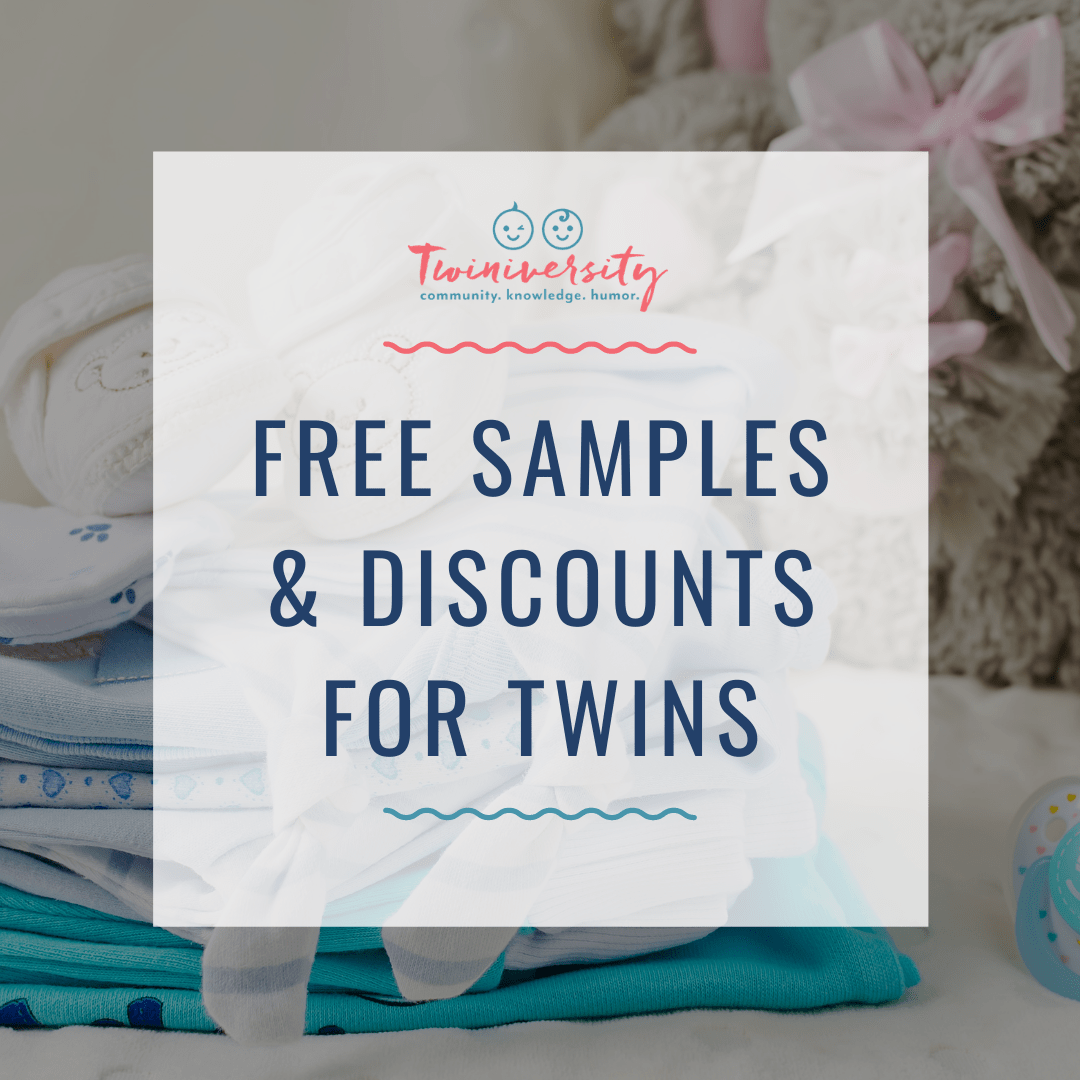 Check out our Multiple Birth Discounts! This is the most up-to-date list of discounts, freebies, and coupon codes for twins and multiples on the internet. Click here to start saving! While you're at it, make sure to check out our expecting twins classes and membership programs…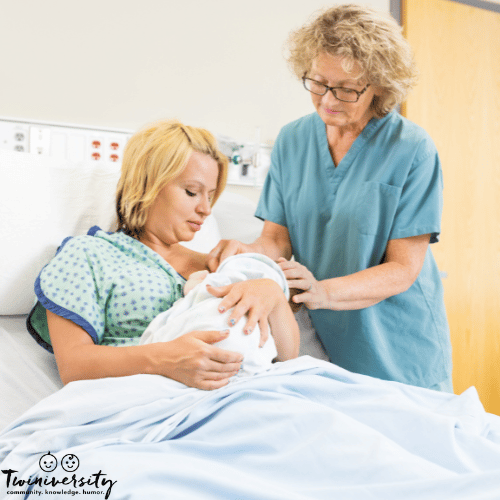 Decisions to Make After Delivery
Your body is in recovery and your world has turned upside down, yet you still need to make some decisions. Do your research and add your informed choices to your birth plan for your medical team. This will ensure everything goes smoothly on delivery day. Some things you may need to consider:
Circumcision
Be sure to research the risks and benefits of circumcision before delivery. If you choose to have your baby boy circumcised, when will you have it done and by whom? Find out if you will be able to attend the procedure and what to expect for post-operative care.
Newborn Screenings and Preventative Treatments
All babies born in the United States receive newborn screening tests. This involves a routine blood draw to check for health disorders and a hearing test for hearing loss. Newborns also receive routine preventive care including antibiotic eye ointment, a vitamin K injection, and the hepatitis vaccine. While these treatments are for the best, you do have the right to refuse or delay. Just be sure to inform the hospital of your choices before birth.
Breastfeeding and Formula Supplementing
If you choose to breastfeed, you may meet with a lactation consultant soon after delivery. Begin nursing or pumping in your hospital room as soon as possible. If you don't already have one, request a hospital-grade pump, which is more efficient for feeding two. While they can be expensive to rent, some insurance plans will cover the cost. If your twins are having feeding issues, you might need to supplement with formula. While most hospitals will provide formula, you may be able to bring your preferred choice. However, depending on your babies' health requirements, be prepared for the hospital or NICU to provide their own.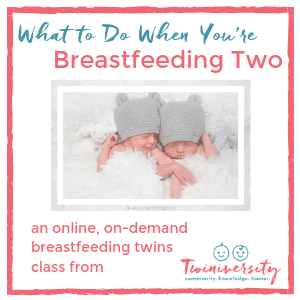 Worried about breastfeeding twins? What To Do When You're Breastfeeding Two is an on-demand online breastfeeding twins class made just for YOU! This course was created by Twiniversity in partnership with Judy Teibloom-Mishkin, IBCLC. Click here to learn more… and while you're at it, check out our virtual lactation consulting and virtual twin parent coaching services.
Postpartum Recovery in Your Hospital Room
Whether you had a successful vaginal delivery, a cesarean birth (C-section), or a double-whammy, your body just grew and birthed a whole human, so you are now in recovery mode. While every person's experience varies, the most common postpartum symptoms include, whether you delivered vaginally or via c-section include:
Vaginal bleeding
Abdominal cramps
Body aches and back pain
Sweating and hot flashes
Gas and constipation
Fatigue
"Lava pee" or a burning sensation while urinating
During your stay, you'll be visited frequently by nurses, techs, and your physician. These visits can seem like overkill, but they are super important. Nurses will monitor your symptoms and keep track of your vitals such as breathing, blood pressure, and heart rate. They will palpate your uterus to ensure it is becoming firmer and keep a close watch for signs of infection. If you had gestational diabetes, you'll have your blood sugar monitored to ensure it has resolved. Practice any post-delivery vaginal or incision care in your bathroom in case you have difficulty and need guidance from the pros.
C-Section Recovery
C-section recovery can be a bit more intense as you heal from major abdominal surgery. You may have a few additional symptoms such as grogginess and nausea from the surgical meds and pain or numbness at the incision site. You will continue to use a catheter for a few hours. You'll also need some assistance moving around, getting to the bathroom, and showering. Speaking of that, get your body moving asap. Research shows that walking around a few hours post-surgery can help with pain and constipation, prevent blood clots, and strengthen your abdominal muscles all while speeding your recovery.
You probably won't be able to eat until you pass gas, to ensure your digestive system is working properly. Once you can eat, be sure to fuel your recovery with plenty of water and fiber, and iron-rich foods.
Your partner will play a valuable role in supporting your recovery. Prepare them ahead of time for their role as your nurse. They can assist you with movement, provide nutritious snacks, and support you in feeding the babies. Whether you choose to breastfeed or bottle feed, you'll likely start by feeding one at a time. Encourage your partner to snuggle for skin-to-skin contact or feed the other twin during this time.
Pain Management
Once the epidural and surgical meds wear off, you will receive medication to manage postpartum pain. Current recommendations include alternating non-steroidal anti-inflammatory drugs (NSAIDs), such as Ibuprofen and Acetaminophen. If pain is persistent and untouched by the NSAIDs, your physician may add a mild opioid like hydrocodone. If pain is really intense, you might even be prescribed morphine or fentanyl. Keep in mind these can inhibit breastmilk production and impact the nervous systems of both your and your twins, so use them sparingly.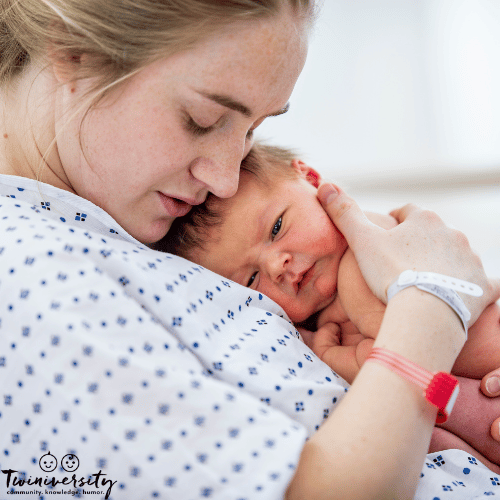 Keeping Your Twins in Your Hospital Room After Delivery
You may have the option to have your newborns stay in your hospital room with you. Known as "rooming-in," this practice allows you to provide all of their care. Alternatively, you can send them to the hospital nursery for postnatal care. Hospital policies on nursery use vary so be sure to clarify your options before delivery.
The choice is yours, but research does show that rooming-in helps build the bond between parents and newborns, can help increase milk production, and aid in postpartum recovery. Rooming-in also offers more opportunities to learn the baby's cues, the ability to feed on demand, and more time for skin-to-skin contact and snuggles.
On the flip side, if your hospital offers a nursery option, you may choose to have nurses do all the work for the first day or so as you catch up on rest. This can also be an option if you have older children and wish to spend some time with them without newborns interrupting, although as of 2022 this will depend highly on your hospital's visitation protocols. Keep in mind that if you're breastfeeding, you might need to follow the nursery schedule, which can inhibit on-demand feeding.
NICU Time
Sometimes twins require a stay in the Neonatal Intensive Care Unit (NICU), often due to premature birth or delivery complications. It can be hard to be separated from your twins, but trust that they are in the best place for their care. If you're breastfeeding, be sure to pump as soon as possible and at least every 3 hours. This mimics your newborns' feeding schedules and ensures you make enough milk for two. You can even pump during your visits to the NICU and give the milk directly to the babies in a bottle, syringe, or feeding tube.
If your babies require a longer NICU stay, prepare yourself for strong emotions when you are discharged from the hospital without them. Determine how and when you will visit and take advantage of the time to rest and recover. Find out ahead of time what to expect when visiting the NICU. Typically, parents are able to visit anytime, while guests will be expected to follow hospital visitation guidelines. Hospital staff will confirm your identity and guests will need to show an ID to get in. You will be expected to pass a health screening and sanitize your hands before entry to prevent infections.
Know What to Expect In Your Hospital Room After Delivery
Having twins is fun and exciting but also slightly scary. Ease yourself into twin parenting by preparing for those first few days, including what to expect your hospital room after delivery. Arm yourself with knowledge of postpartum care, your hospital's rules, and how to be most comfortable during your stay. This can help maximize your rest and recovery as you gear up for the challenging but fun first months with your newborn twinnies!