Whether it's ocean waves crashing on the shore, light rain hitting crisp green leaves, or even the continuous hum of a fan, white noise can stifle a yawn out of just about anyone. Thankfully, you don't have to be at the beach or in a secluded cabin to hear those soothing sounds. Chances are, if you're looking at a baby registry, you'll find a white noise machine somewhere on there. Many older kids and adults even use white noise machines, or perhaps mobile apps with white noise, to lull themselves to sleep these days.
It has become a priority for most new parents to create peaceful sleeping environments for their babies. Not only can white noise be relaxing, but it can also help block out disruptive sounds. White noise machines can help babies sleep through the ear-piercing shrieks of older toddler siblings, the garbage truck arriving at five in the morning, or even your midnight vacuum session (Hey, you're parents. You gotta fit those chores in when you can!).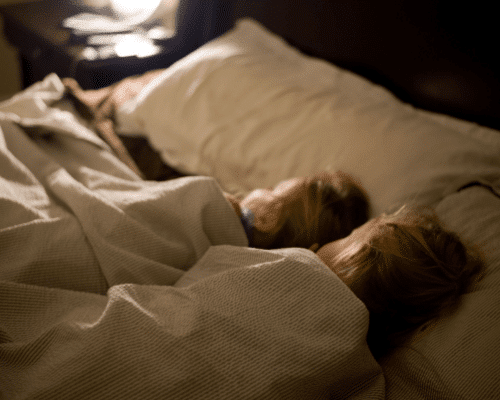 What Exactly is White Noise?
There's more to white noise than just, well, noise. The Sleep Foundation describes white noise as "every frequency the human ear can hear playing in a random order at the same amplitude." Also, white noise isn't the only "color" of noise. A noise's color depends on the frequency. For instance, pink noise consists of louder low-frequency tones and quieter high-frequency tones. Red noise has a similar pattern with a more profound, enhanced effect. Blue noise is the opposite – louder high-frequency tones and quieter low-frequency tones.
The cool thing about all these colors of noise is that they're just like visual colors – we all have our own inclinations. Just like some people prefer warm colors and others gravitate toward cool colors, some ears prefer higher frequencies, and some favor lower frequencies. It might take some trial and error with white noise machines to find that magical sound that settles your little ones off to Dreamland. With twins who share a room, that could be tricky – they might have different sound preferences!
How Can White Noise Benefit Children?
Many babies react positively to white noise because it's what they're used to hearing in the womb. Recreating those well-known sounds outside of the womb can help newborns better adjust to their new world. Some white noise machines even have heartbeat sounds, which might sound a bit frightening to an adult. To a brand new baby, however, that sound might remind him of his previous "home." That familiarity can play a big role in a baby's ability to fall (and stay) asleep.
Some experts suggest that babies might become dependent on white noise, and the older they get, the harder it could be to wean them. Either way, white noise is harmless for most people when used properly. Plus, sleep is so incredibly important for people of all ages and stages of life. If white noise is your solution for a good night's sleep, you can keep on keeping on!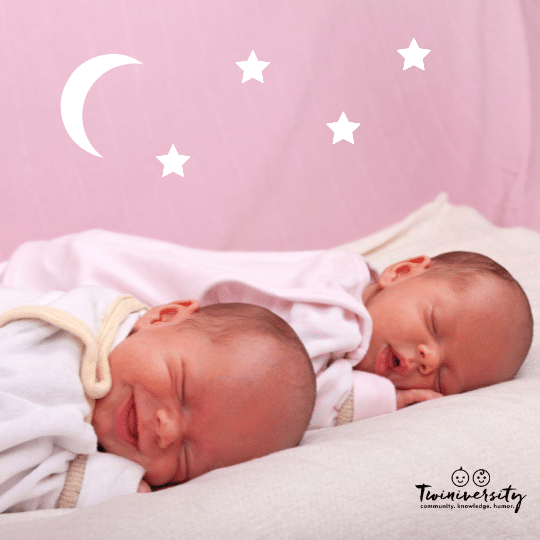 White Noise Machine Roundup: Which One Fits Your Needs?
White noise machines can be unsophisticated, or they can have lots of bells and whistles. They can take up quite a bit of space, or they can be compact and easy to take with you anywhere. The gadget can look like a simple monochromatic speaker, or it can light up in an array of colors. It might have a dozen different sound options, or they might just have a couple of choices. There are countless options to suit a wide variety of budgets, needs, and preferences. If you happen to be on the hunt for one of these calming contraptions, we've got you covered. From basic and budget-friendly to flashy and futuristic, here's a roundup of some of the very best white noise machines out there. You might even be tempted to grab one for yourself!
The Machine For Kids On-The-Go: VTech BC8211 Myla the Monkey Baby Sleep Soother
This might be the most adorable white noise machine we've ever seen! From VTech, Myla the Monkey's sweet little cheeks glow softly as she plays a variety of soothing sounds or calming lullabies. Her tail can be hooked onto just about anything, and at 3.53 ounces, she's as lightweight and portable as it gets. Myla's battery is rechargeable and she comes equipped with a timer option as well. She currently sells for $18.99, so this is a fantastic inexpensive choice.
The Machine With Tons of Choices: Serene Evolution White Noise Machine
Serene Evolution's white noise machine looks simple enough, but it's quite amazing how much it can do. This device has 60 (yes, 60!) sounds, from fans to frogs to a campfire and even a dryer. It weighs just one pound and it won't take up too much room on your nightstand. Another bonus – it comes with a wireless remote that works from up to 50 feet away. This machine currently sells for $49.99.
The Machine With the Coolest Technology: Hatch Baby Rest Sound Machine, Night Light, and Time-to-Rise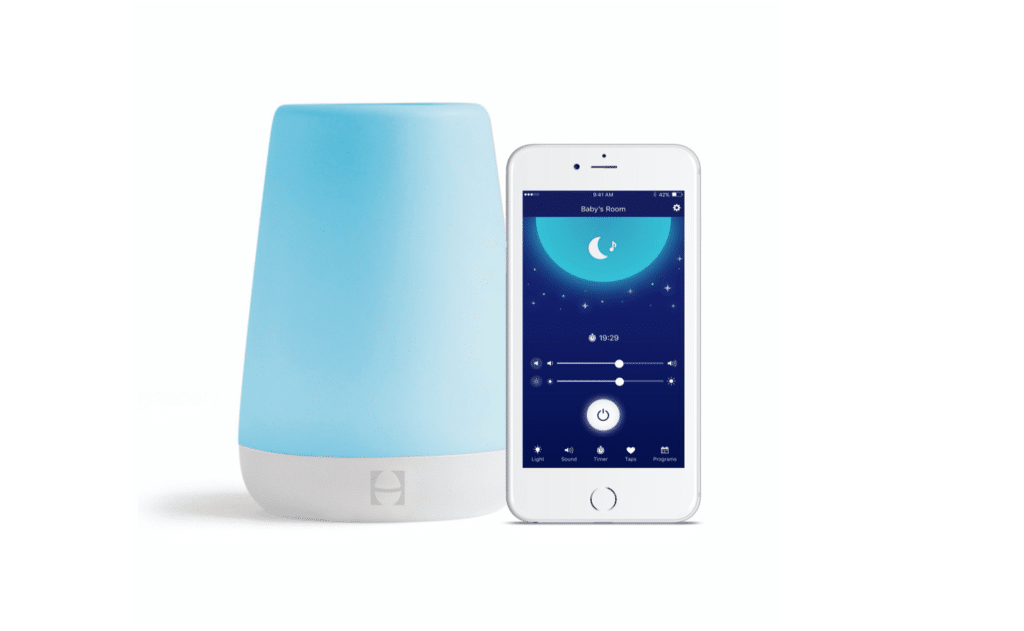 The Hatch Baby Rest Sound Machine is a tech-lover's dream. It connects to your smartphone for a perfectly customizable sleep experience, and it's suitable for kids (and adults) of just about any age. Its soft glowing light is programmable to one of a variety of colors, and the time-to-rise feature is perfect for kiddos who have to wake up early for school. The Hatch Baby Rest is currently on sale for $59.99. It has 88% five-star reviews on Amazon, so it's clear that lots of consumers feel it gives them a great bang for their buck!
The Machines for the Minimalist: SNOOZ White Noise Sound Machine and Yogasleep by Marpac Dohm Classic White Noise Machine
The SNOOZ White Noise Sound Machine is different from most of the other machines we're featuring, because it only makes one noise. It's also different because it actually creates the noise itself with a built-in fan. There are ten volume settings, and you can also adjust the tone to produce a lighter or deeper fan sound. If your little ones love falling asleep to the sound of a fan, but you don't want cold air blowing on them, the SNOOZ might be a good option. It's also tech-friendly, with a smartphone app that becomes a remote control of sorts. It is the priciest option of the white noise machines we are featuring, currently selling for $99.99.
The Yogasleep by Marpac Dohm Classic White Noise Machine is another fan-generated option. This one is a bit cheaper, currently selling for $46.49. Its younger cousin, the Uno, is even more simplistic, but even more cost effective, currently selling for $34.99. Marpac has been manufacturing white noise machines for over 50 years and offers a generous 101-night trial period.
The Machine that Won't Break the Bank: HoMedics White Noise Sound Machine
Sometimes, you don't need the fancy stuff. You just want something that's straightforward and gets the job done. The HoMedics White Noise Sound Machine is versatile and portable, and it's cheaper than a box of diapers. It comes equipped with five nature sounds and one "white noise" sound, and it can be battery-operated or used with an AC Adapter. It currently sells for $21.99.
The Machine That Stimulates Two Senses: MyBaby SoundSpa Lullaby
HoMedics created another sound machine that's geared more toward the little ones, with the MyBaby SoundSpa Lullaby. This white noise machine has six sounds (two nature, one heartbeat, and three lullabies) and an image projector that displays farm animals, night sky scenes, or ocean creatures on the ceiling or wall. It also has an auto-off timer, which comes in handy for naps. (By the way, all three of this author's children still use and love this sound machine!) It currently sells for $27.99.
Is There Any Reason to be Cautious About White Noise Machines?
Obviously, if white noise is too quiet, it won't be very effective at drowning out distracting sounds. On the other hand, it's important to avoid making the white noise too loud for babies. Their little ears simply can't handle big noises like ours can! Experts recommend keeping the white noise level around 65 dB (or decibels) for babies. You can download a decibel measuring app on your phone if you're wondering if the noise is too loud for your tiny ones. Your pediatrician can certainly help answer any questions about the safety of your white noise machine, too.
We all know how important it is for our children to get a good night's sleep. We also know how challenging it can be to find the magic formula to make that happen! As parents – whether we have singletons or multiples – we're always looking for ideas and products to make our lives a little easier. We hope this white noise machine roundup will help you to find the perfect sounds for your little ones' slumber. Hey, you just might be able to catch some much-needed "Z"s, too.