Last updated on September 8th, 2023 at 08:19 pm
Hey gang, listen up! We've got a great article for you today on why it's so important to get your twins in swim lessons, plus a great giveaway for our families in the Chicago area. One lucky Chicago-area family will win 1 month's worth of swim lessons at Big Blue Swim School for their twins!
THIS CONTEST IS CLOSED
Why Big Blue?
Big Blue

is the only swim-lesson provider in the Chicago area to exclusively hire full-time teachers.

Big Blue offers more lesson times, which makes it easy for parents to schedule all their kids into the same time slot (even if they are in different levels). Their custom software not only gives you the ability to track your child's progress from your phone, tablet, or desktop, but it simplifies scheduling so that swim lessons can fit into your life rather than the other way around.

Big Blue's state-of-the-art facilities are designed with families in mind. Families love their individual changing rooms and comfortable viewing lobby, which includes a kiddie play area.

Their ultra-violet sanitation system creates crystal clear and clean water that is easy on your child's skin. Their water is always 91-degrees and shallow throughout the pool, making lesson transitions safe and comfortable.

Their parent viewing area is comfortable and functional. They provide free WIFI for parents, plus toys and activities for siblings waiting with their parents.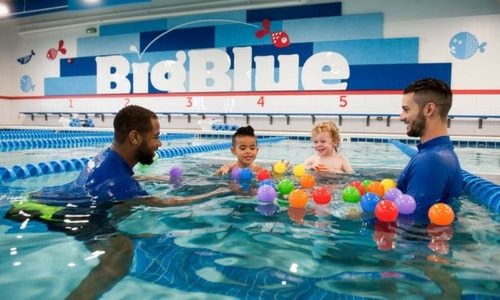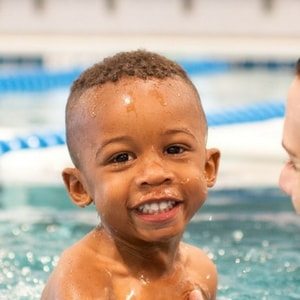 To sign up for your free trial lesson for your twins, visit the Big Blue Swim School website! Right now they are offering a "6 for $60" deal where you get 6 weekly lessons for just $60 per child. Click here to take advantage of the 6 for $60 offer!
---
It was the Fourth of July and my four-year-old twin boys were so excited to swim in their grandparents' pool. They had been really enjoying pool time that summer, using their Puddle Jumpers and becoming very bold and brave in the water. I went inside the house to get them in their swimsuits, and then they ran off while I put my swimsuit on. My husband and father were in the backyard by the pool so I assumed all would be well.
I came out about five minutes later and my dad pulled me aside. He told me that my son, Desmond, had walked down the pool stairs and into the pool without his Puddle Jumper on. My dad saw him and immediately pulled him out. He was fine, he didn't even cough on any water, but just thought of that moment deeply scared me. Ever since my twins started walking I've been nervous about having them at my parents' house because of the pool. My fears were quickly becoming reality. I decided then and there that we were way overdue for swim lessons and I had to get them started. Until my kids had learned the basics of swim survival, I knew I wouldn't be confident with them near the water.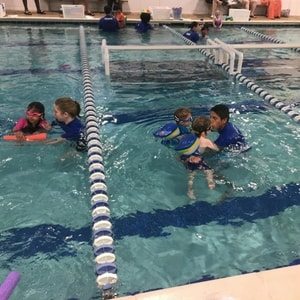 My kids haven't taken many classes in general just because of the cost of enrolling two kids. If you have twins and you're on a tight budget, special lessons are not typically on the docket. But I knew that day that I had to think of swim lessons as being a critical part of my kids' lives. I could no longer get by with their water wings. I needed to do something to actively assure my children would be safe in my parents' backyard. I had to look at the cost of swim lessons as being as crucial as something like health insurance, a co-pay for a doctor visit, or food on the table.
Once I got over the worry of cost, I started shopping online for classes. I knew I needed a place that was a close drive, that could manage my twins possibly being at different levels, have availability on weekends (since I work full-time) and allow me to take them by myself, since my husband works on weekends.
I did a lot of research and came up with a few tips to share if you're in the market for swim lessons for your twins:
Find a swim school that offers a free first lesson
This is the best way to find out if the swim school is right for your kids. Do a test run and see how you like the place, how your kids like the place, and if it's going to work with your lifestyle. Places that offer free lessons are typically high quality, because they know after that free lesson you're going to be sold.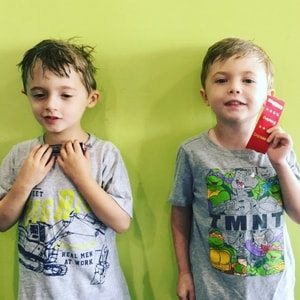 Ask for a twin discount
It never hurts to ask for a twin discount anywhere, but make sure to do this for lessons that are a bit pricier than most. Even if there isn't a twin discount, a good manager will be able to typically offer you some kind of incentive, such as an extra week of free lessons, to offset your costs. Just be nice about it and be extra gracious for whatever they can do.
Find a swim school that offers different levels at the same time
This is not really a concern for "parent & tot" classes (though you will need 2 adults for your 2 tots) but this is pretty critical when you have two or more kids who are old enough to take independent group classes. After the first free lesson (which included an evaluation), my twins were put into 2 different levels of difficulty — one in the beginner class, and the other in a class two levels up! Who knew?? It was a good thing the swim school offered many different levels across all time slots. My twins have always been able to have their lessons scheduled at the same time while always in different levels.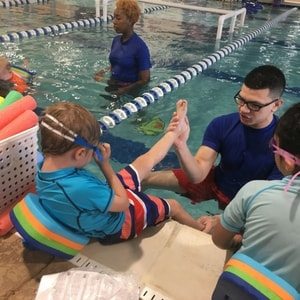 Flexible scheduling for makeups
My kids seem to get sick at least every few weeks in the winter months. We typically miss one lesson a month just for that, and sometimes there are birthday parties and other events that pop up during their regular lesson time. I love that our swim school allows us to schedule makeups whenever we want with no penalty fee.
Supportive teachers & staff
This is so important! Kids really excel when they have teachers who are caring, patient, and know how to hold their attention. Look for a school where the kids seem to really be having fun! Avoid any places where the teachers don't look like they're having fun themselves because odds are that your kids will not have fun and won't want to keep coming back. The best schools know how to strike a healthy balance between instruction and games to keep the kids interested and learning. In addition, you'll want support staff who will be helpful if you're taking your twins there on your own. You should never feel like asking for a little extra help from the staff is unwanted.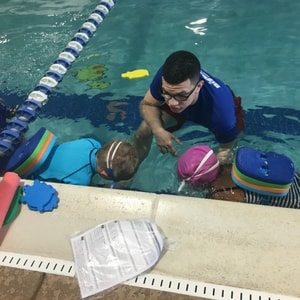 My twins have been in swim lessons for the past 9 months with no end in sight. They love the water, and I love knowing they will be safe around the water. An extra bonus: the skills they are learning apply to areas of their life beyond the pool. I have seen their confidence grow, as well as their ability to take direction, and their gross motor skills have taken off. And an added bonus: 30 minutes of me time for mommy, LOL! See you at the pool!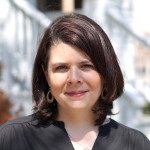 Julie Burt Nichols is Twiniversity's Dean of Parents, serving as Editor-in-Chief of Twiniversity.com, Account Manager, and Instructor for Twiniversity classes. Julie is mom to twin 6-year-old boys, Desmond & Alec, who were born on Halloween. Julie loves her job as the "Wizard Behind the Curtain" at Twiniversity — the #1 global resource and support network for parents of twins. She loves serving as a resource and support for parents of twins in the Chicago area. Julie is proud to be a certified child passenger safety technician.
---
Related Articles
---
THIS CONTEST IS CLOSED
Sweepstakes Terms & Conditions