Last updated on September 28th, 2021 at 01:21 pm
Traveling with young children is always a challenge. We want you to have the best trip possible with your sweet kids so we are divulging all of our best hotel tips for kids to make sure you have the smoothest hotel stay that you can.
1. Book directly with the hotel
If possible, call the hotel property you plan to visit and book directly with an agent. You'll be able to ask all the questions you have about the amenities at that specific hotel. Calling the corporate hotline to book with a hotel chain is the next best option, but corporate doesn't always know what's going on at each property. For example, if you're planning to use the pool a lot, corporate might not know that it will be under renovation while you're there, but the booking agents at the hotel will.
Questions you might want to ask:
Can I reserve two travel cribs for my twins?
Can I get an adjoining room with our family who is also staying at the hotel?
Will our room have a bathtub or just a shower?
Will your pool, hot tub, game room, restaurant, etc. be open while we are there? What are the hours?
Is there a coffee maker in the room? Mini fridge? Microwave?
Is there a self-service washer/dryer? Do I need to bring my own quarters?
We highly recommend only booking refundable rooms. When you have kids, you never know what's going to happen. It may seem like you're in the all clear, and then the night before your child starts vomiting and you have to cancel the whole trip. Even though discount rates are so tempting, it's really not worth it for your peace of mind. Especially avoid booking a non-refundable room through a discount travel site; the site may only be able to refund you with a credit for a future stay.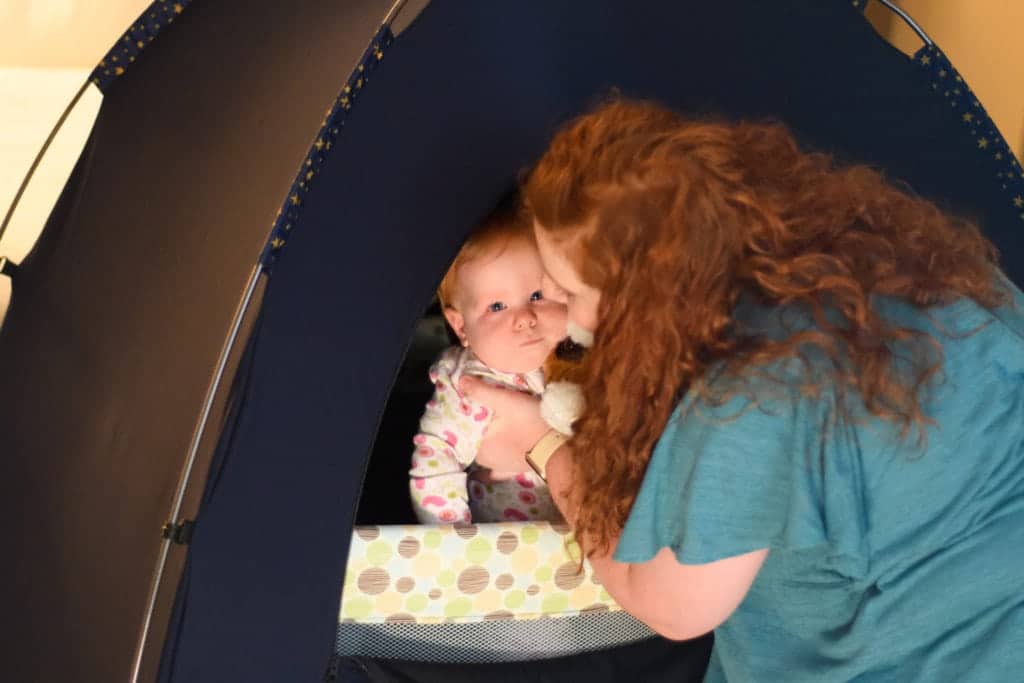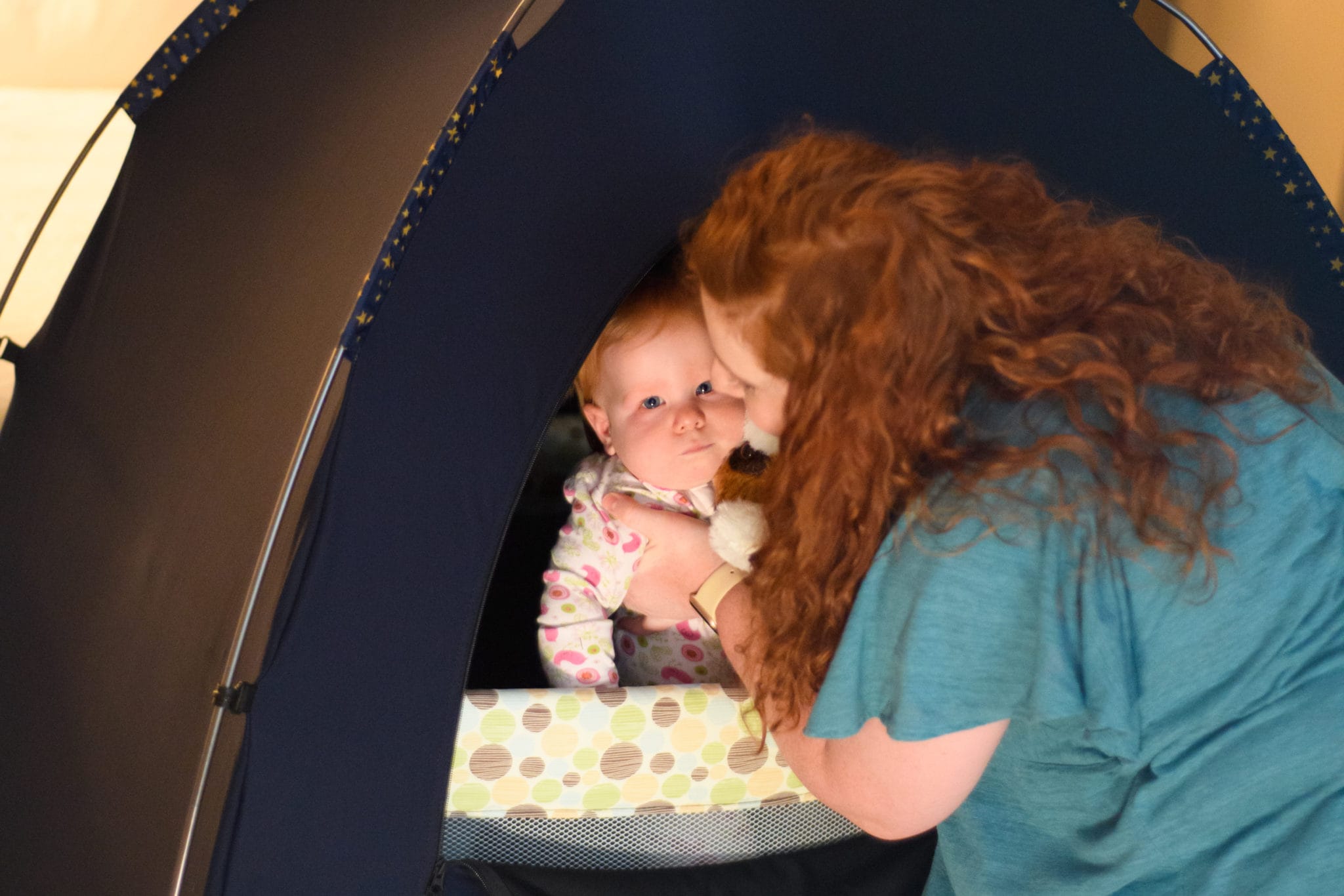 2. Pay attention to square footage
Check the square footage of all the rooms before you decide what room to book. Just because a room can hold two double beds doesn't mean it's bigger than the room with 1 king bed. Whenever you see the word "suite" that's going to mean extra room for travel cribs, rollaway beds, toddler cots, luggage, and all the other stuff you need with young children.
3. Location, location, location
Make your room location wishes known and make sure it's included in your account notes. If your kids are runners, choose a room away from the elevators to avoid any escapes. If your kids will be napping during the day, avoid a room near a noisy area, such as the lobby, pool, and game room (and elevators! Just avoid them altogether.)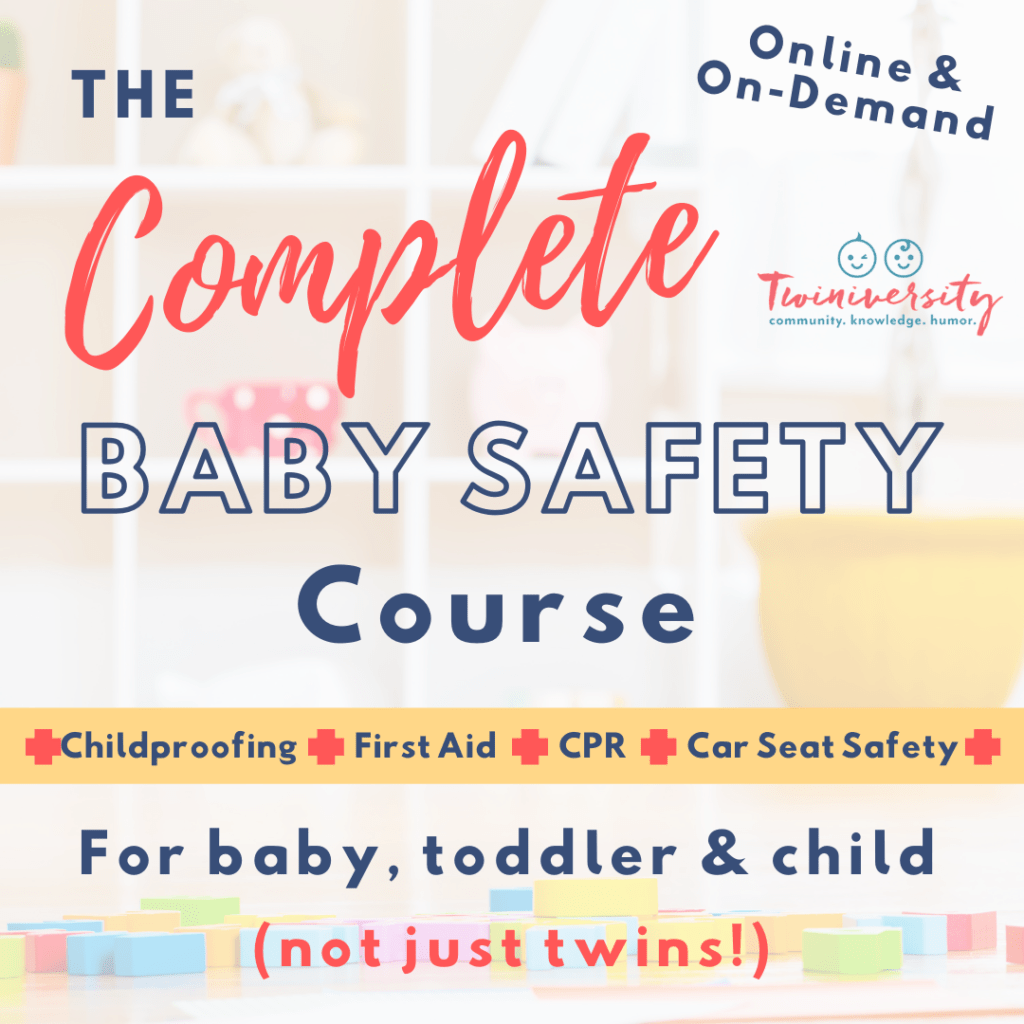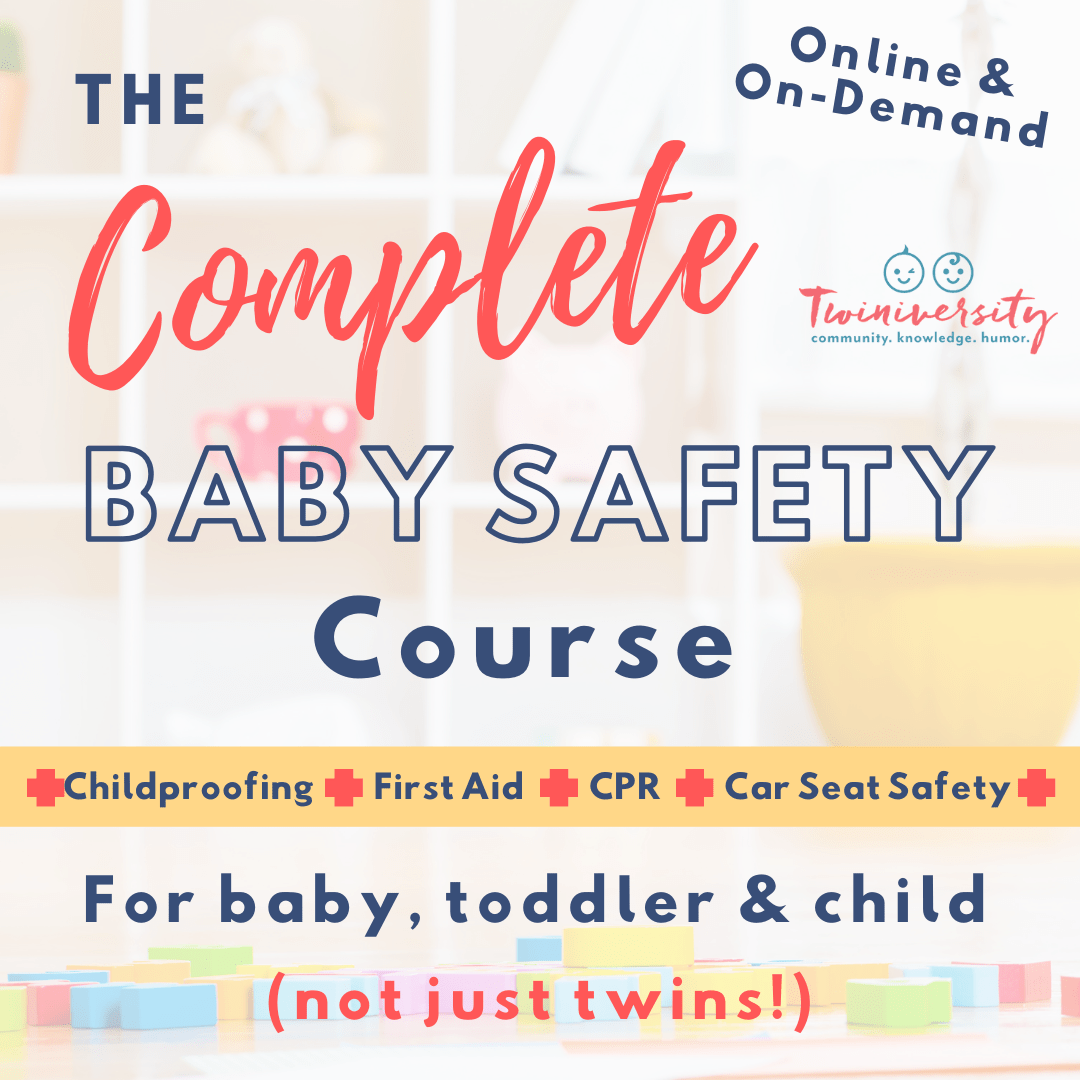 Need some baby safety training? Take the Twiniversity Complete Baby Safety course, offered on-demand. Includes video modules on infant, toddler, and child CPR, first aid, and common medical ailments, plus car seat installation and safety and childproofing your home. Click here to learn more!
4. Call the property to confirm a few days out
Remember all those notes you mentioned to the agent when you booked the room? Yeah. Call the hotel directly to make sure those notes were actually recorded and the front desk is aware of your needs. Double-check that you'll be able to get those two travel cribs you need! Ask about any updates to the property that you should be aware of, especially if you booked a long time ago.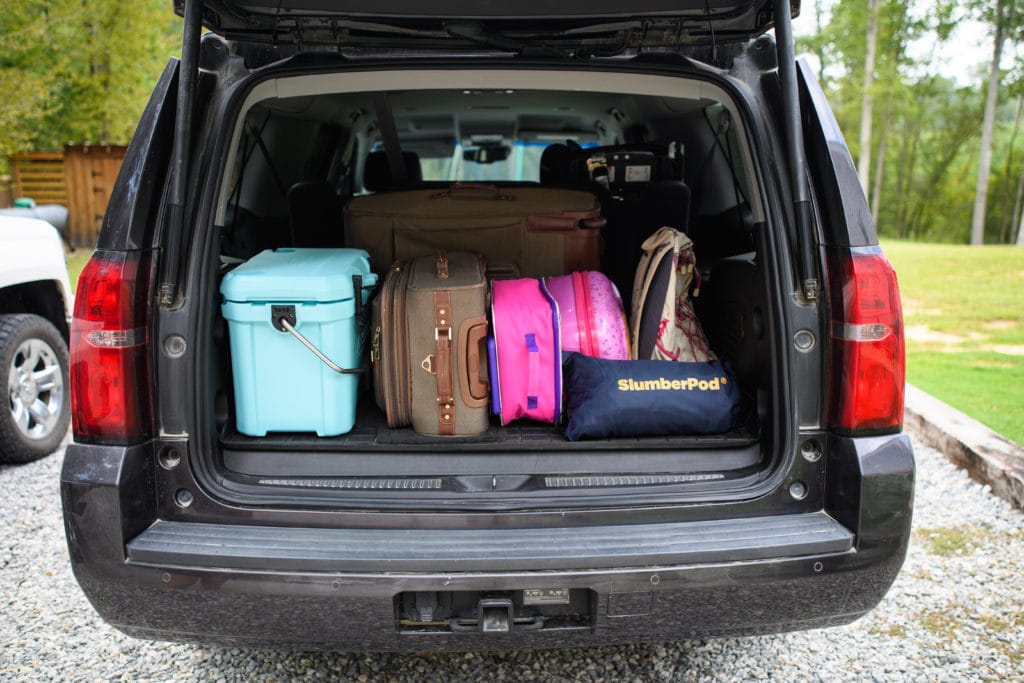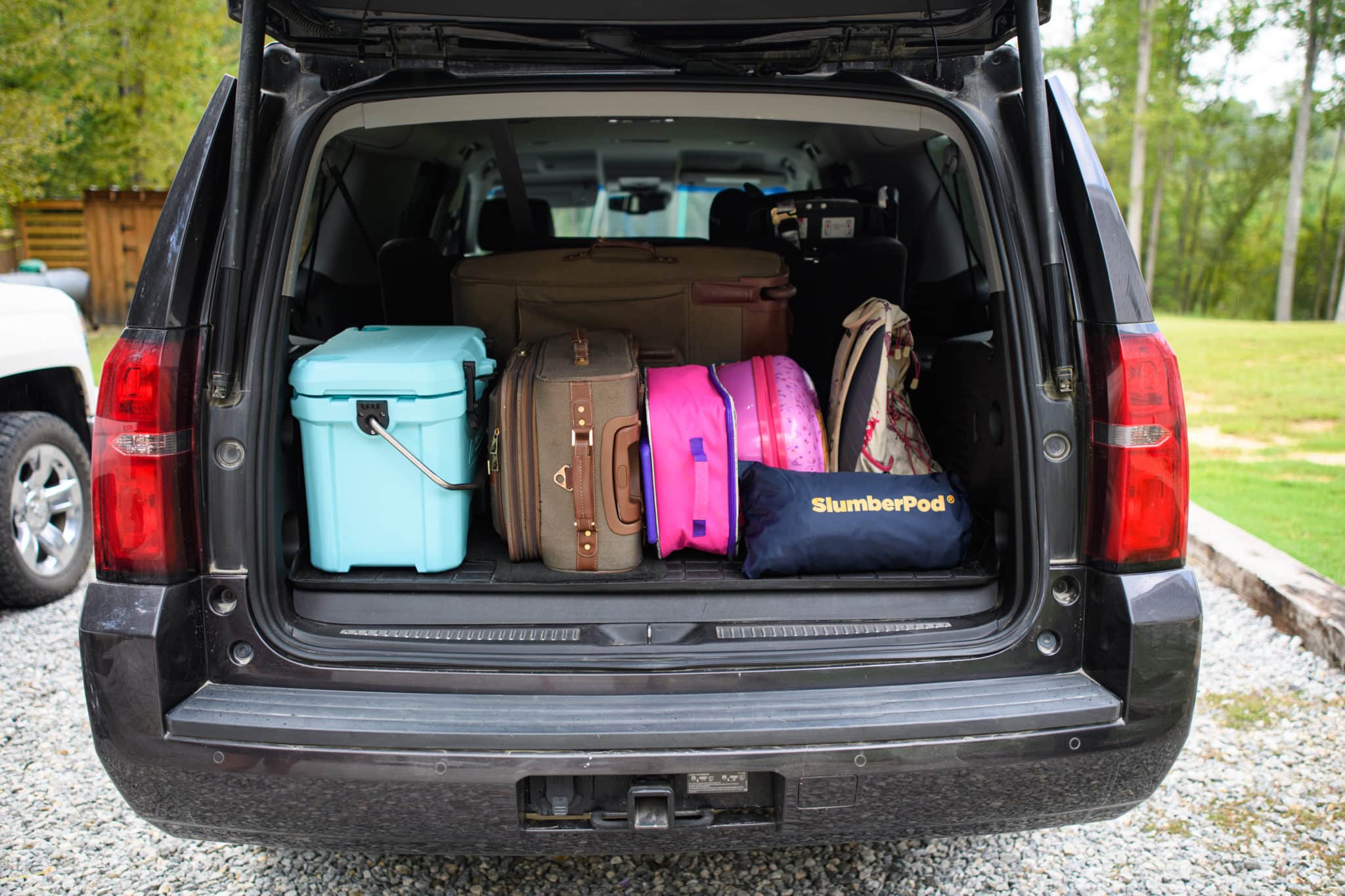 5. Ask if you can ship supplies to the hotel
While you're on the phone with the front desk, ask if you can receive packages, and if there is a fee to do so. Find out the hotel's shipping address and order supplies in advance, such as diapers, formula, wipes, snacks, bottled water, cereal, etc. Why bring all this stuff with you if you can have Amazon Prime ship it for free?
6. Try out new travel gear before leaving
Try out any new items that you bought for the trip ahead of time. If you're using a new item, such as a SlumberPod or a sound machine, try it out a few days ahead to make sure the kids are used to it. Sleeping in a new place will be a big transition for them and you want to make bedtime as familiar as possible. We highly recommend bringing a sound machine (buy on Amazon) to drown out noise from the hallway. The Baby Shusher (buy on Amazon) is another great travel tool.
7. Don't forget bathtime gear
An often-forgotten travel must-have is bathtime gear, such as non-slip bath mats, bath toys, baby shampoo, and baby wash (buy on Amazon). Your kids are going to want to take baths while you're away from home and you need to make sure you're ready.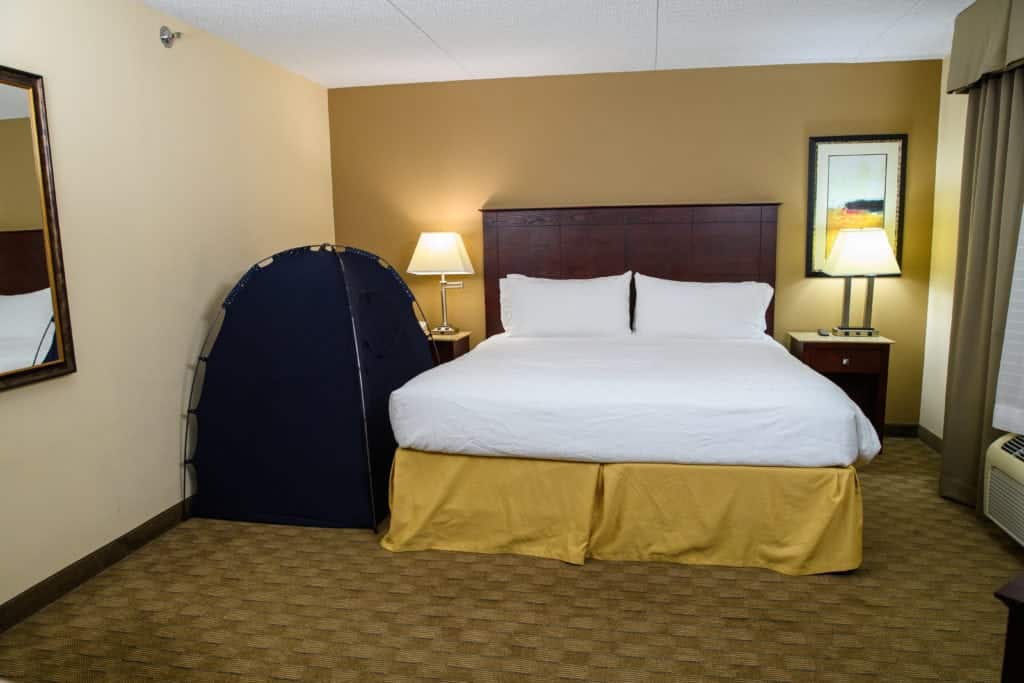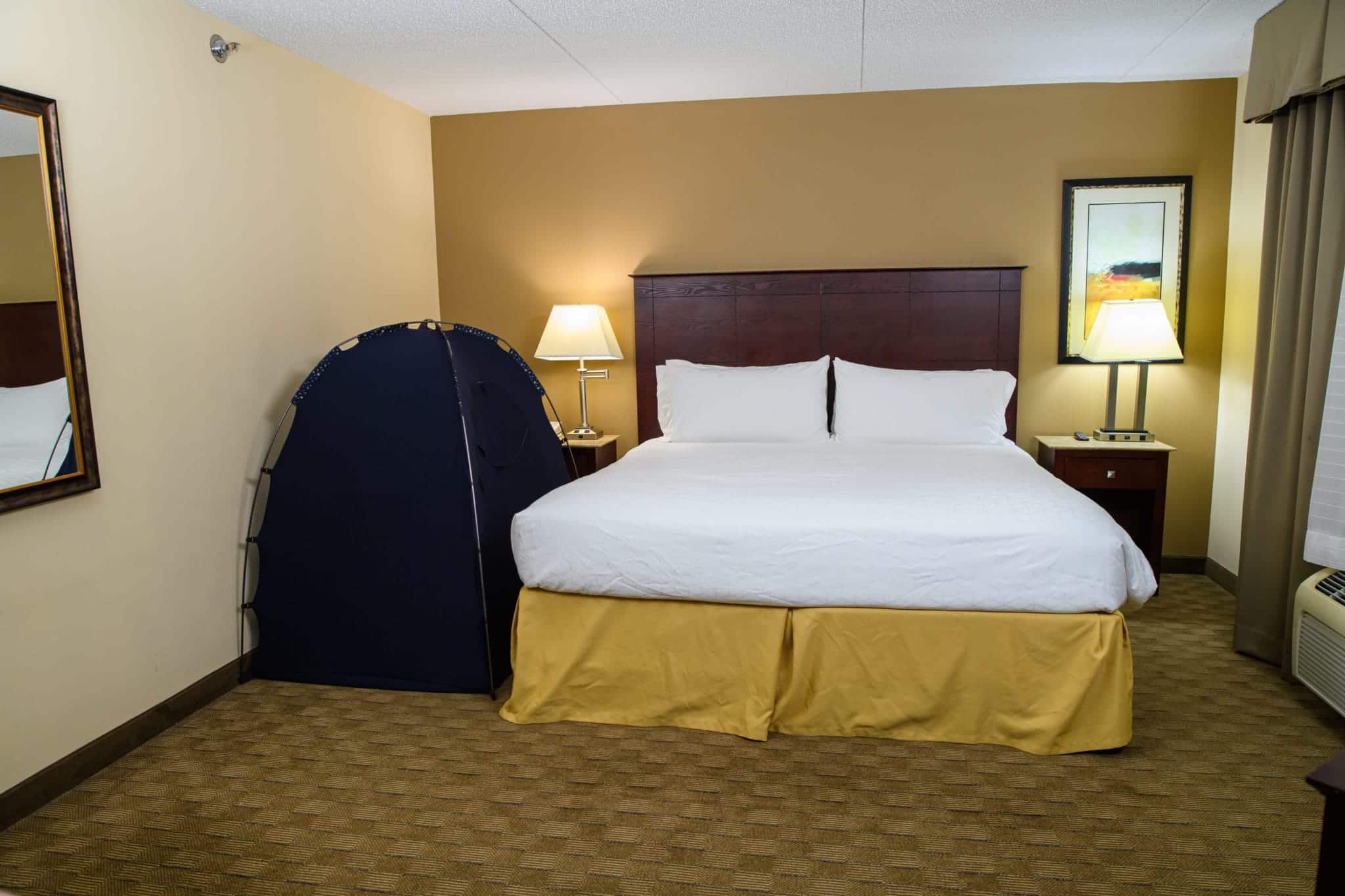 8. Ask about upgrades
Upon arrival at the front desk, double-check that your room is in the location you requested. Then, kindly ask if there are upgrades available for a family with twins. If the hotel isn't busy, you may score a free upgrade to a larger room. Always use the agent's first name and tell them they've "always been your favorite". A little humor and personal connection can go a long way with the front desk staff.
9. One adult does check-in
Speaking of the check-in process, we highly recommend you have one adult stay in the car with the kids while you take care of check-in. This will avoid the chaos of managing everything while you're trying to pay attention to the desk agent. Now you can focus on what you're doing! Even better, have the other adult drive the kids to get lunch or find a local playground to keep the kids occupied while you get into the room and set everything up. You should set up the travel cribs, cots, and SlumberPods now while you have the chance. Don't wait until bedtime to set everything up because if something's missing it may be too late to run out and grab it from the car or a local store.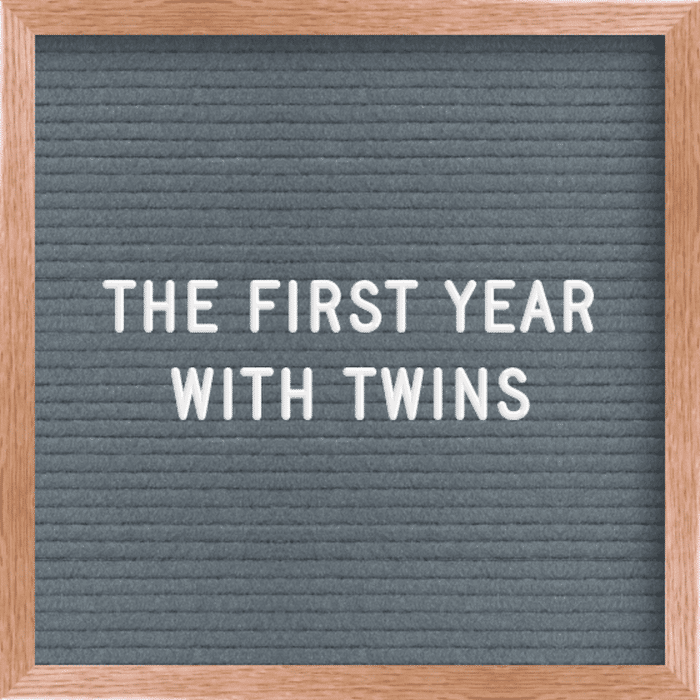 Stressing out with your infant twins? Let us help! Learn what to expect in the first year with twins, including tips, tricks, and advice from real twin parents who have been there. Click here to learn more… and while you're at it, check out our twin parent coaching services and Twiniversity shop!
10. Try to stay on the kids' schedule
This is a tough one: try to stay on the kids' schedule. If they normally have two naps a day, but you're planning to be on the beach by nap #1, bring along what you need to set up naptime at the beach! Or in a stroller, or in the car. You probably won't be able to keep to your exact schedule to the minute, but with some flexibility and a little creativity you'll be able to get your kids the rest they need so you can all enjoy your vacation to the fullest.
Travel with young children is not for the faint of heart. But it is totally worth it for the memories, the stories, and the awesome family photos you'll treasure for a lifetime. Hopefully, our hotel tips will help you avoid the more stressful moments, and you might even have some fun. What a thought! 🙂 Happy trails!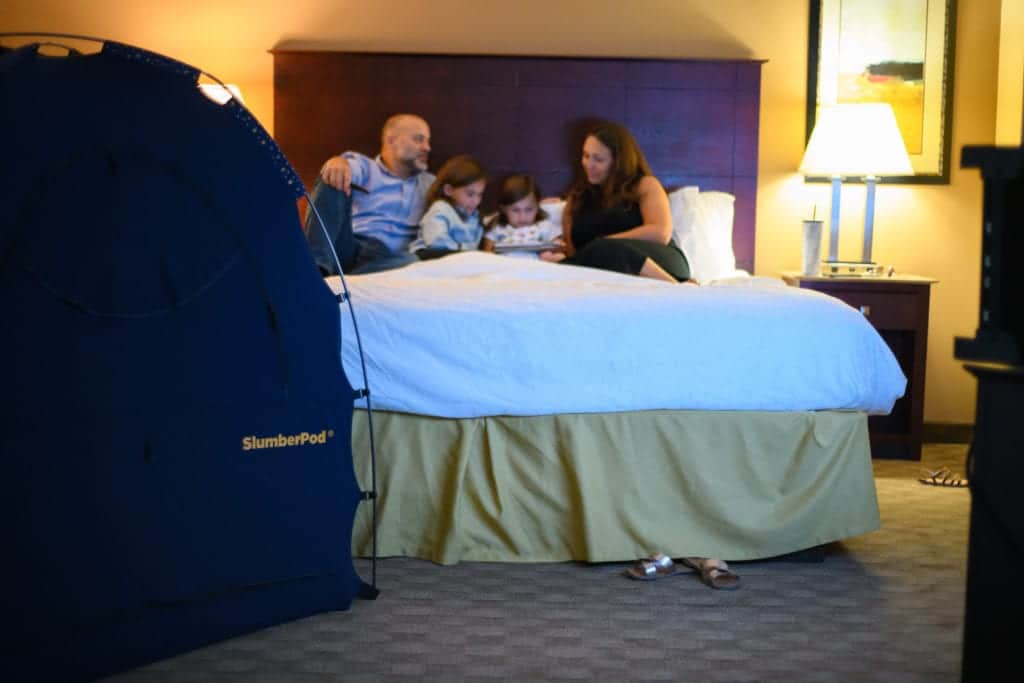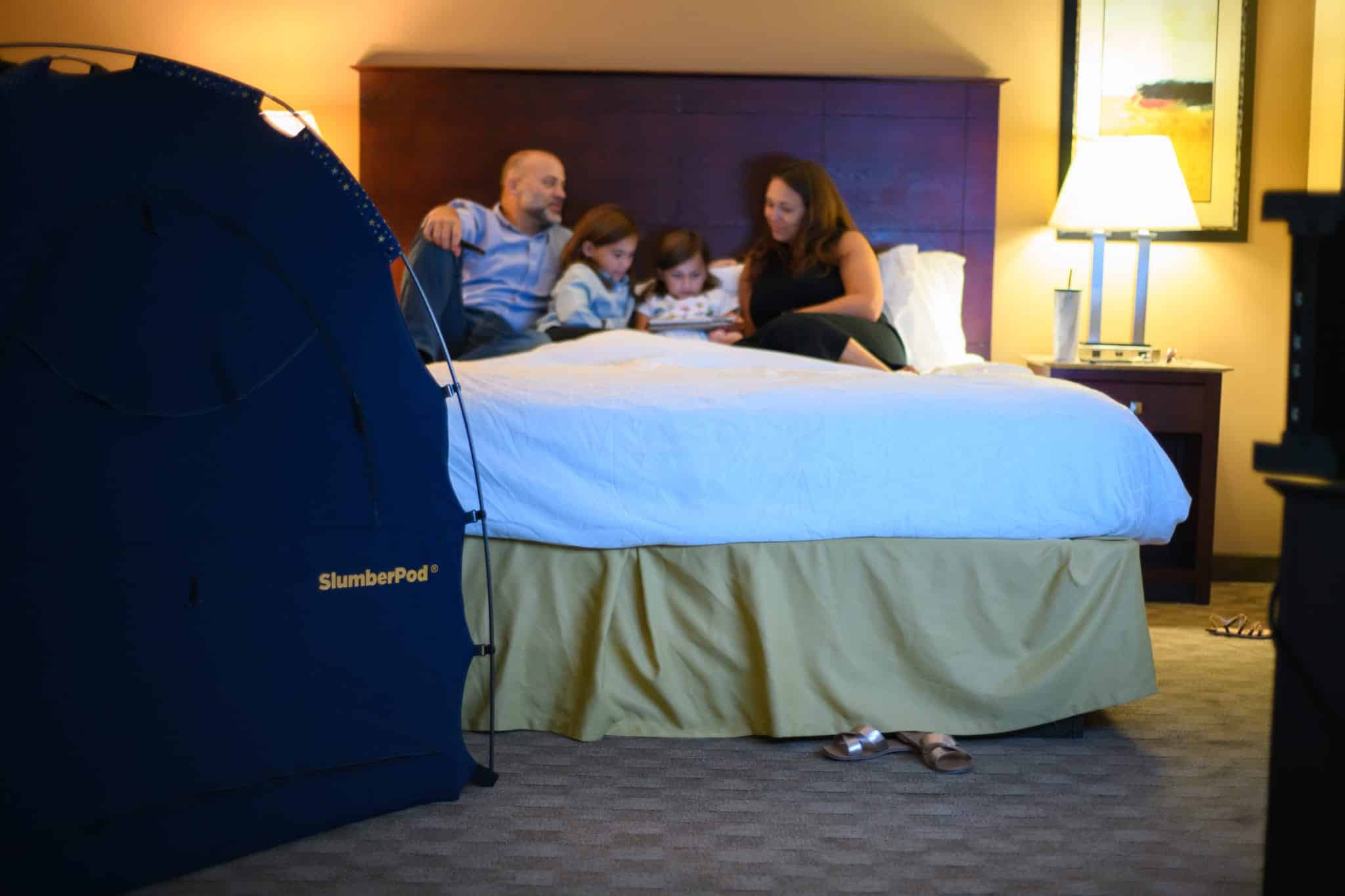 Sponsored by SlumberPod
This article is sponsored by SlumberPod. ? COUPON CODE ALERT! ? Take $60 off the purchase of two (2) SlumberPod or two SlumberPod combos (with the fans) with the code TWINS2020. This code can be used on both their US website (slumberpod.com) and Canada website (slumberpod.ca).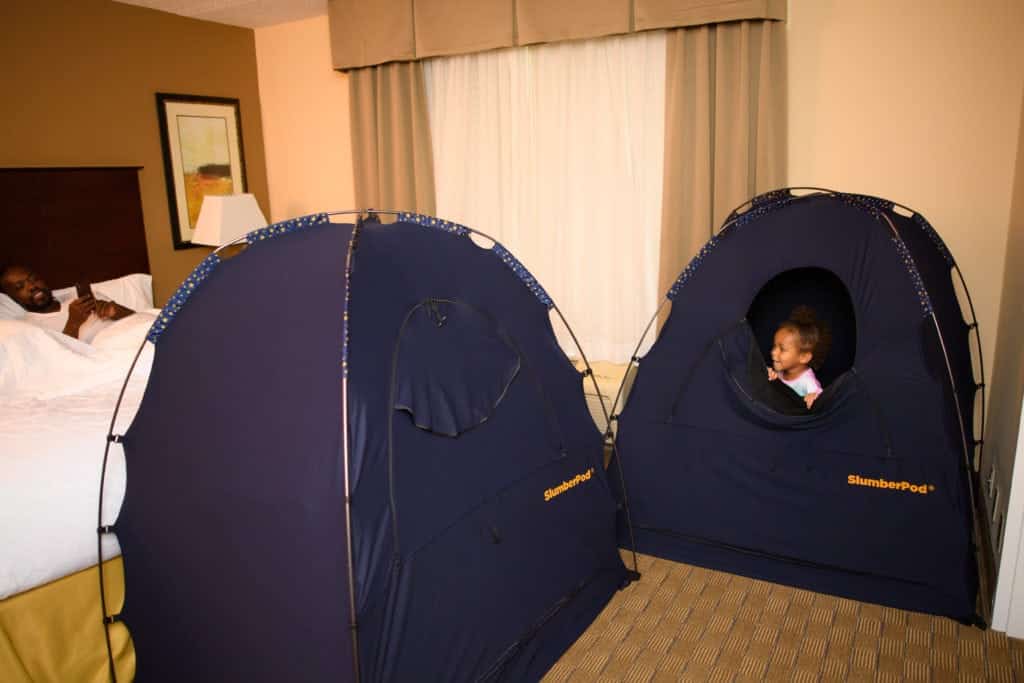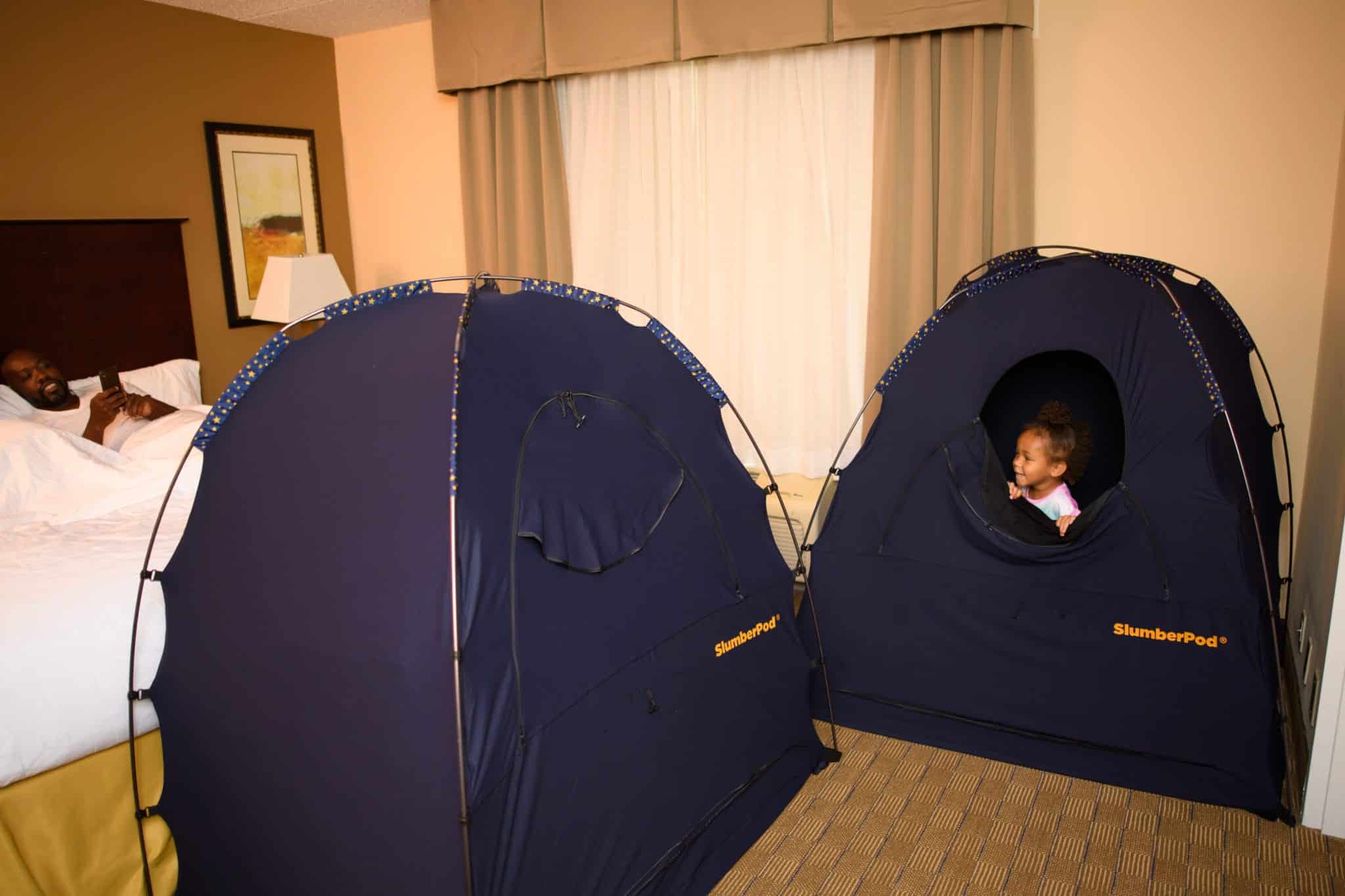 Most parents have been there. You're sharing a room with a baby or toddler and the sleep situation is anything but restful. For anyone. The baby wakes up and sees you across the room and won't go back to sleep, or the room isn't dark enough for the baby to stay asleep at nighttime or during naps. And with twins?? Forget it. It's rough, to say the least.
SlumberPod is the FIRST portable, privacy sleep nook that allows babies to sleep in their safe and familiar playard or travel crib with room to sit up or stand up inside. Created by a mother-daughter team, patent-pending SlumberPod solves the age-old problem of getting a good night's sleep while sharing a room with your little one. Babies and toddlers can easily nap in bright or distracting conditions (approved for indoor use only).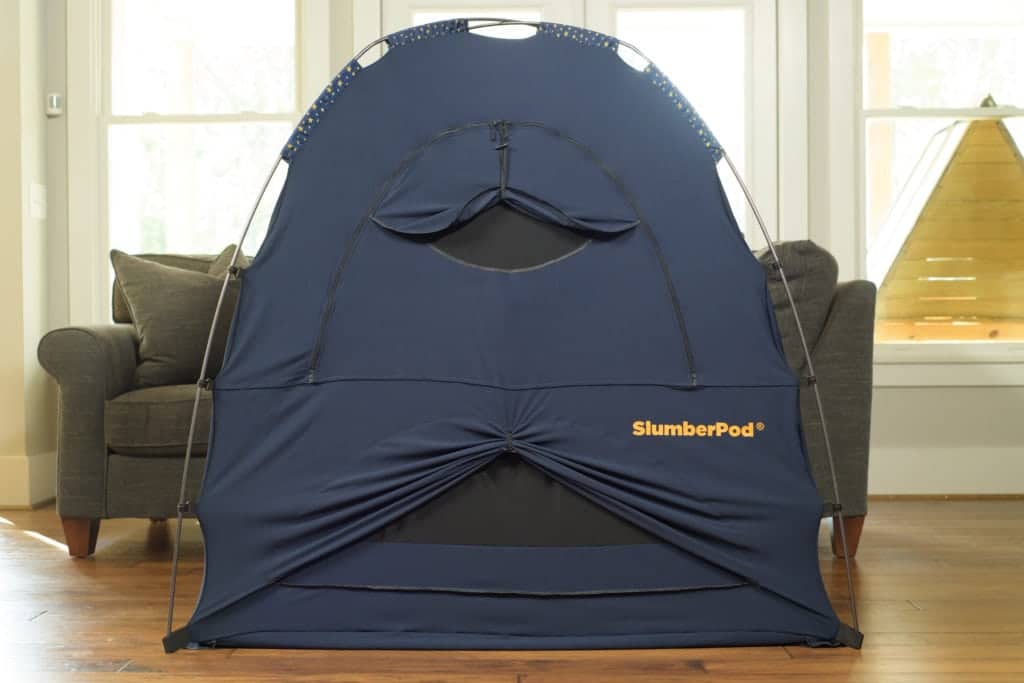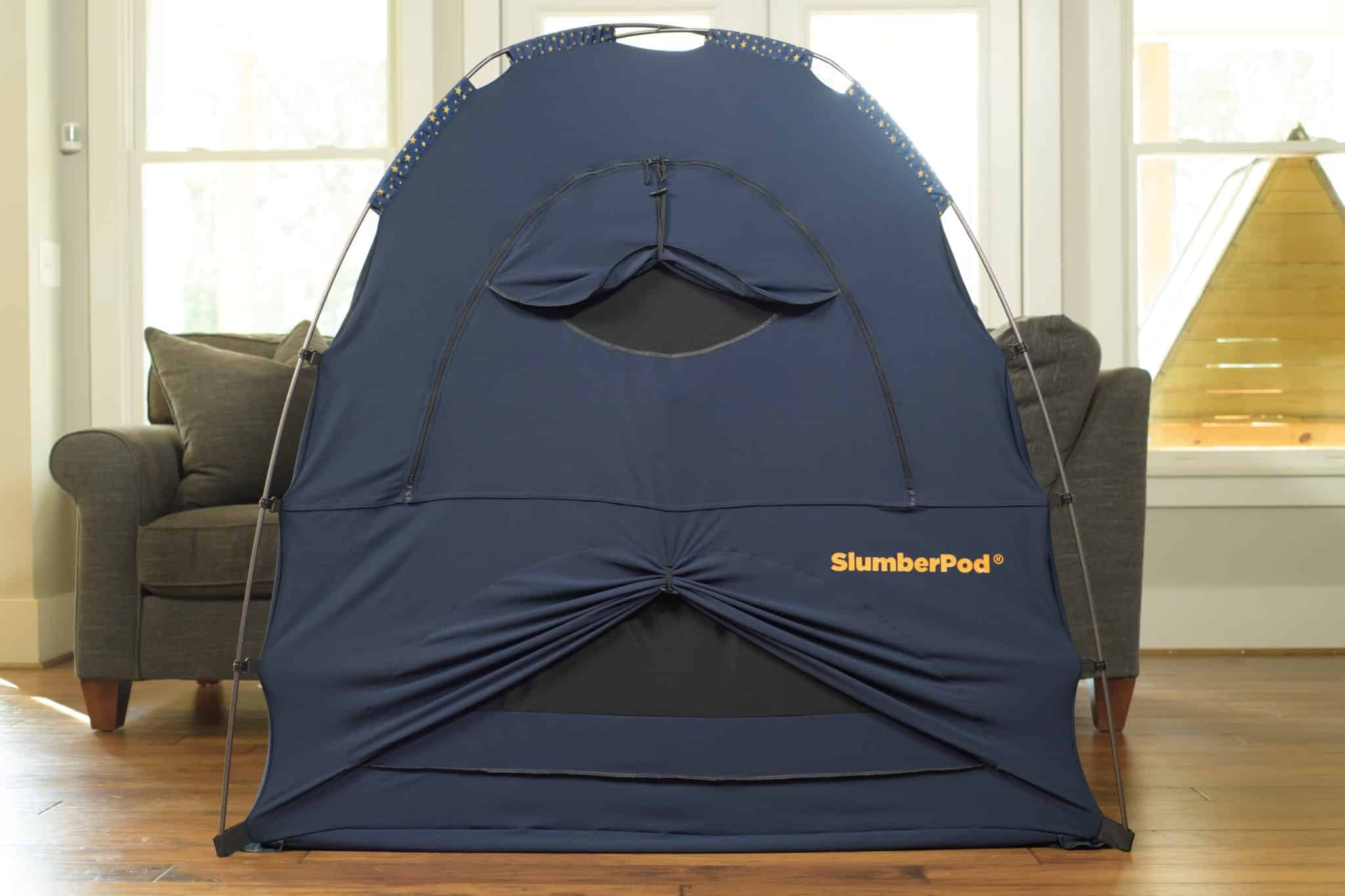 Latest Posts
With SlumberPod®, long gone are the days of setting up travel cribs in the bathroom or closet to get a good night's sleep. SlumberPod is a portable, affordable, patent-pending solution for family room-sharing and getting a good night's sleep.
SlumberPod includes:
an exterior "suitcase" designed box
premium fabric canopy
a set of two poles
a fabric carry bag with shoulder strap (with instructions sewn in for convenience)
Dimensions: 50 inches long, 36 inches wide, 56 inches tall when set-up;
Folds down into 17 inches by 5 inches by 6 inches bag for storing or travel
Recommended for healthy, full-term little ones 4 months and older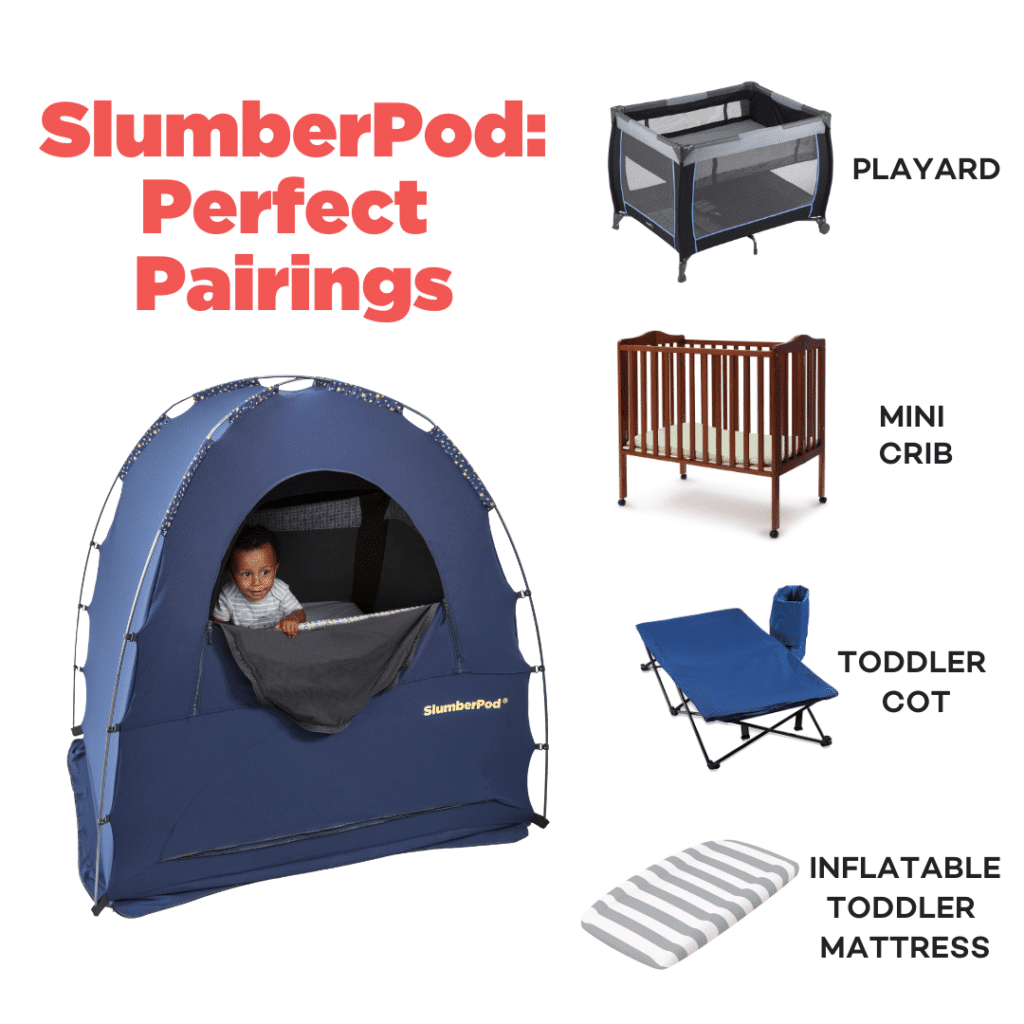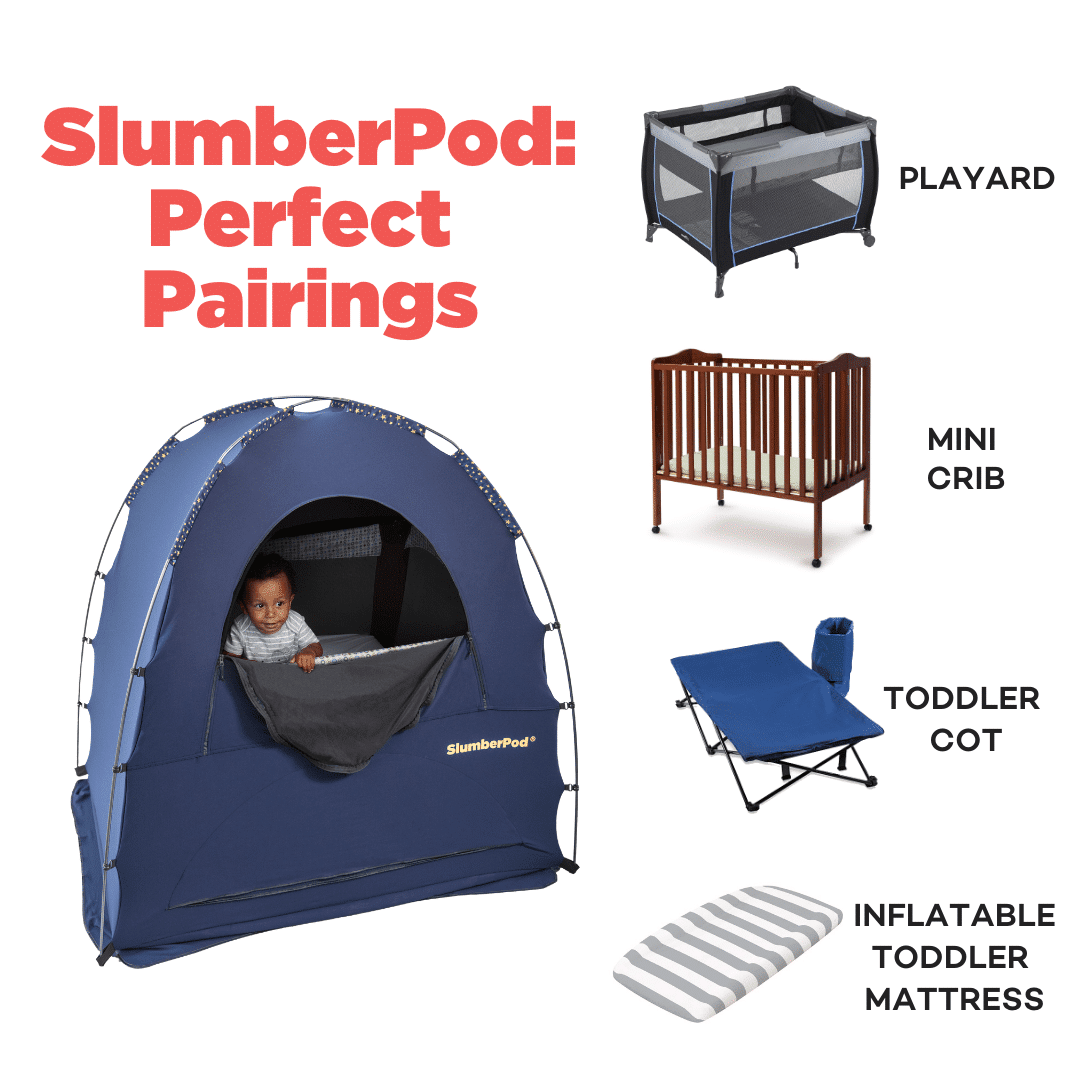 SlumberPod Features:
Designed with safety as the #1 priority and complies with CPSC regulations
Built for years of use — fits standard portable cribs, mini-cribs, and select toddler cots
Unique in the market, as it is completely free-standing (doesn't attach) and allows little ones to stand inside
Lightweight and compact (fits in carry-on luggage and weighs less than 6 pounds)
Dark inside even when room conditions are bright
Made of breathable fabric (85% polyester/15% spandex) and offers additional ventilation (2 standard ventilation flaps and NEW 2 fly-design ventilation flaps)
Equipped with a pouch for a baby monitor and NEW fan pouch for improved airflow
Use at home, at grandma's, in a hotel — wherever you need your kids to sleep soundly
We highly recommend you practice using the SlumberPod at home before staying away from home to allow your kids get used to it
Take $60 off the purchase of two (2) SlumberPod or two SlumberPod combos (with the fans) with the code TWINS2020. This code can be used on both their US website (slumberpod.com) and Canada website (slumberpod.ca).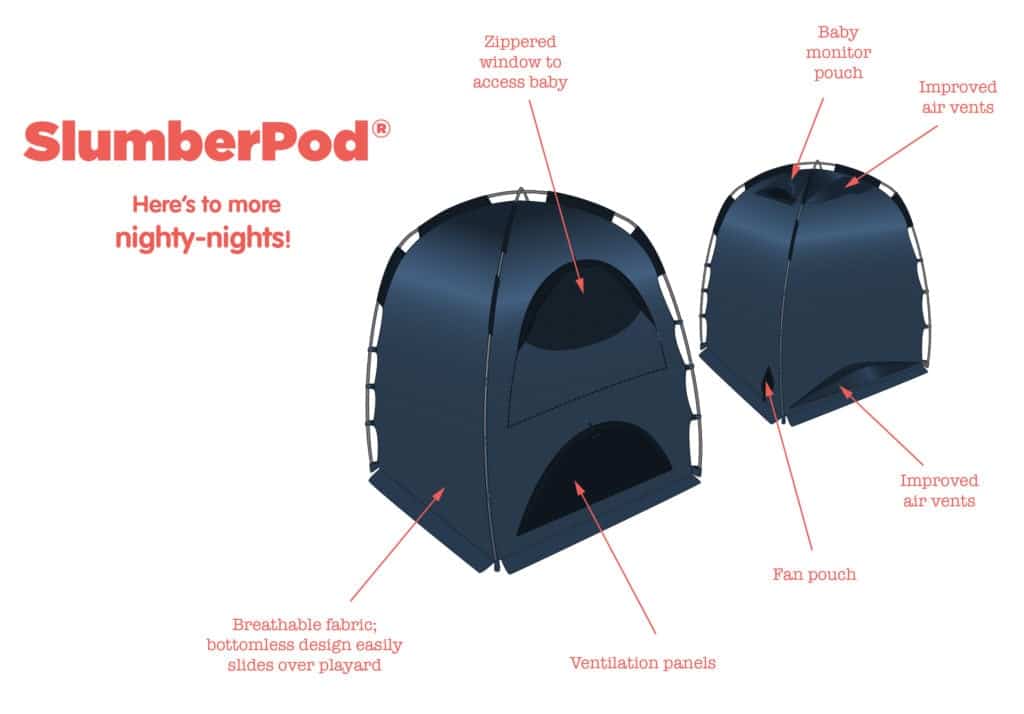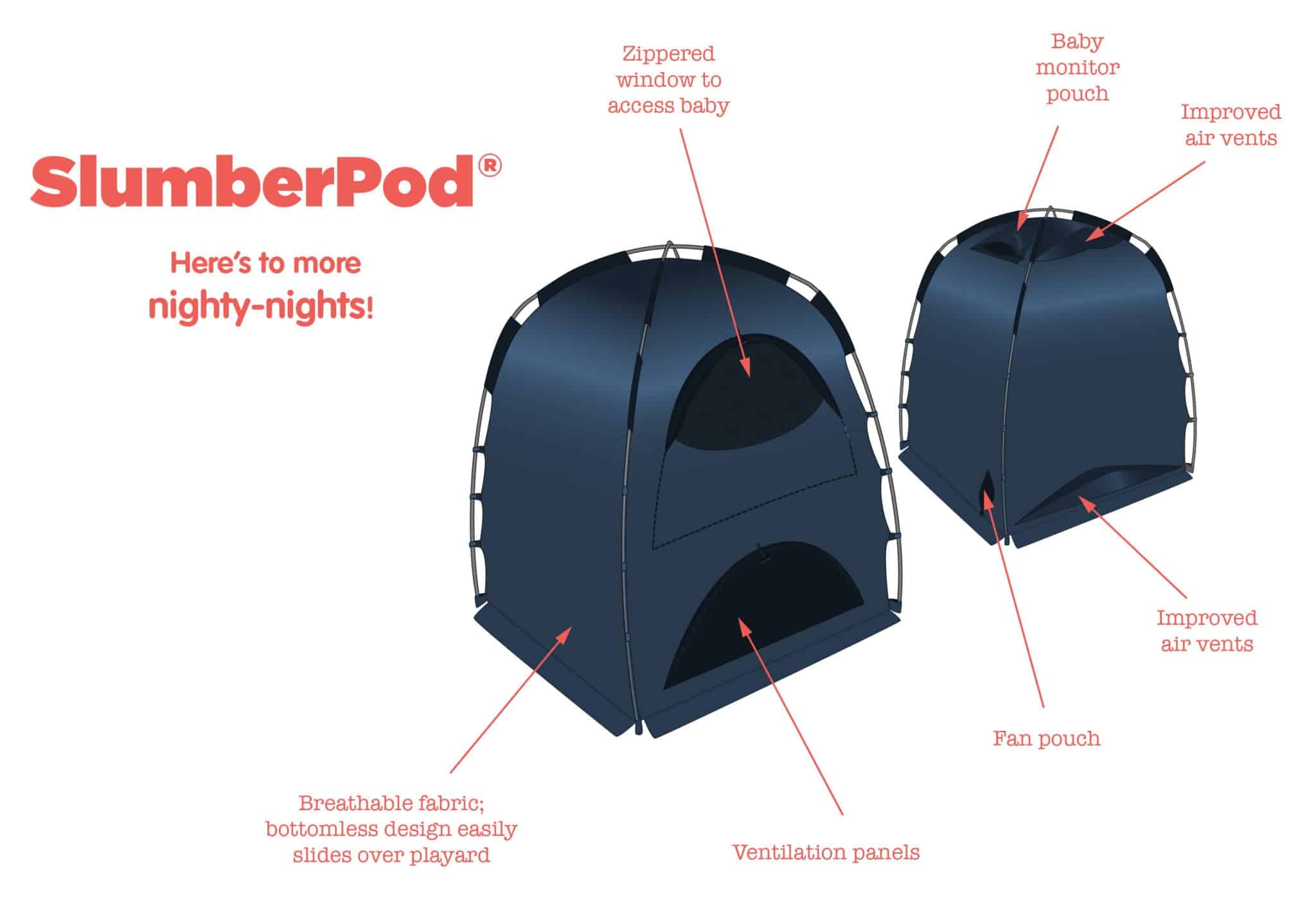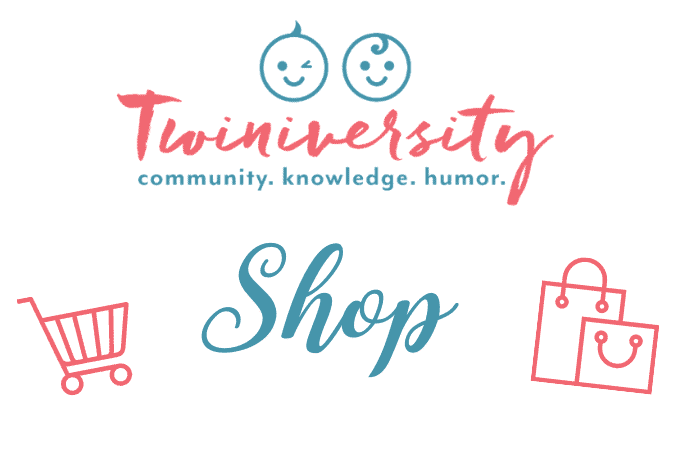 Check out all our Twiniversity merch in our SHOP! We've got twin mom and dad t-shirts, twin planning printables, lactation support, twin baby shower planners & games, a digital twin pregnancy journal, and so much more! Start shopping now