Last updated on February 25th, 2022 at 05:00 pm
Are you looking for the silver lining in being home with twins? Read the 10 things one twin mom says she loves about being home with twins.
Day one thousand seven hundred and eight of quarantine. Or week six to those without twins. As a single mom of twins, practicing social distancing has been hard. There are days I'm exhausted and not sure how I will meet my deadlines while ensuring my kids are learning something. And then there are days where we do something crazy like plant a garden and only wear pajamas. It's called survival.
But this isn't going to one of those "do it all and be it all" articles. Rather, I want to focus on what I appreciate about being at home with twins in the midst of a global pandemic. For one, we are safe and healthy and if my biggest inconvenience is having to stay home, then I have nothing to complain about.
Here are ten things I appreciate about being home with twins:
Binge-watched all your Netflix shows? We have TWO podcasts you should binge-listen to now! Click here to download them for FREE.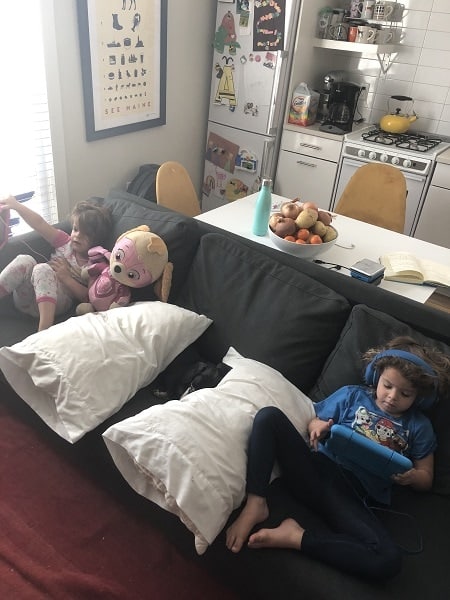 1. Built-in playdates being home with twins
For once it may be easier than having a singleton. My twinadoes are four now and for at least a few moments in the day, they can play quietly with each other. The best moments are the little giggles you hear from their bunk beds. Okay, often those giggles mean trouble, but it's nice to have a built-in playdate for life, especially being home with twins for the foreseeable future.
2. I'm never bored being home with twins
Let's face it, life is never boring. Whether I'm on a Zoom call with work pretending I didn't just see a bowl full of cereal fall to the ground, or explaining to my neighbors that my kids are just trying to feed the squirrels, I always have something to do…and clean. No fear of boredom being home with twins.
3. One will eat the other's leftover food
As food deliveries are hard to come by, I've turned into my grandmother who weathered the Great Depression, insisting that nothing go to waste. Thankfully, with twins, one will always finish what the other doesn't want. In some sort of miracle, one may eat the chicken and the other the hummus, so that nothing goes to waste while I'm home with twins.
Need a little twin parent perspective? See what one mom says about the benefits of having twins in a pandemic here.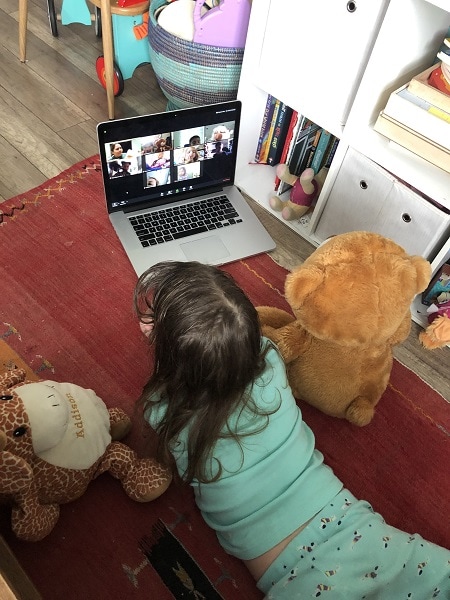 4. Someone will do something educational
Rarely can I get both twins to engage on their Zooms calls or preschool worksheets – but nearly always, one of the two will want to say hi to their friends, listen to storytime, or complete a letter sheet. So while I'm not Mary Poppins, I can say we will complete homeschooling with learning something new each day while being home with twins during the pandemic.
Nervous about travel during this global pandemic? See what Twiniversity founder Natalie Diaz has to say about staying safe when you have to travel now.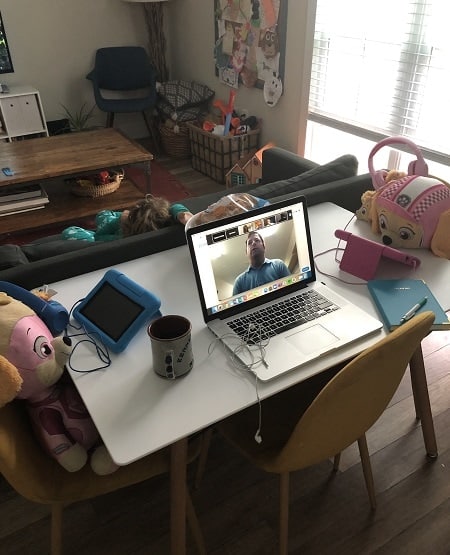 5. My coworkers always get a taste of parenthood
Whether my coworkers want kids or not, one of my dynamic duo will pop up periodically on Zoom meetings with work. Usually, it provides a bit of humor in our days as I am informed that the toilet is overflowing or that they created a new mural on the wall. If nothing else, they now understand why I'm constantly on mute since I'm home with twins.
6. I've made time for creativity being home with twins
I can't say I've ever used Pinterest before this or bought pipe cleaners, but now I'm constantly on the search for a fun art project to do with the kiddos in order to keep them entertained while being home with twins. I will warn that expectations should be kept in check, as I planned for a chalk mural to take an hour, but it only lasted five minutes.
Are you struggling to form twin parent connections during the pandemic? Check out our Twiniversity memberships and see what amazing benefits are waiting for you!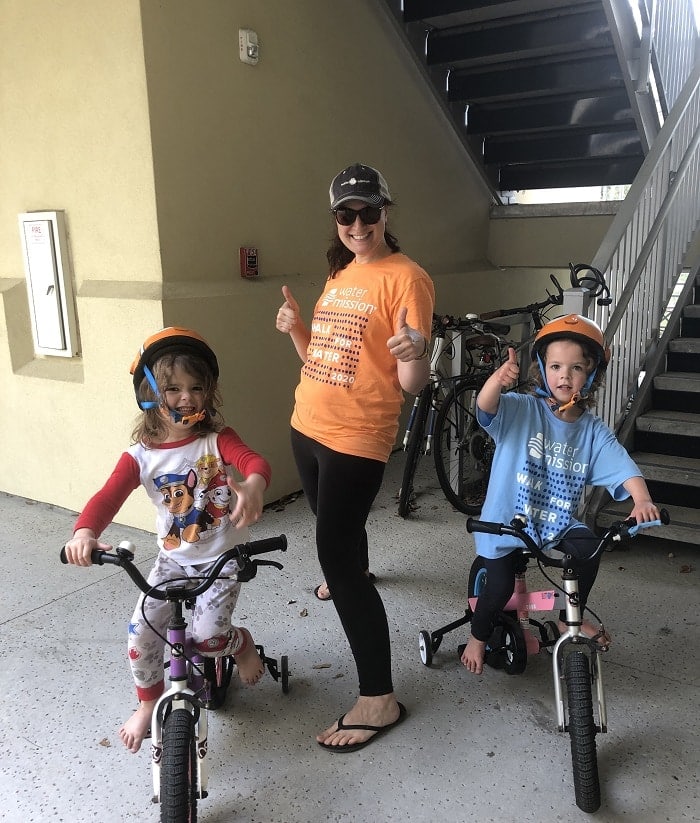 7. Bring on the sunshine
Any excuse to get outside and we are there. Whether the kids are on their scooters during my morning work meeting, or we are taking an epic three-mile bike ride to the duck pond, I am constantly soaking up every minute to get outside and be free while being home with twins.
Be the first to hear about new posts and giveaways by subscribing to our email list now!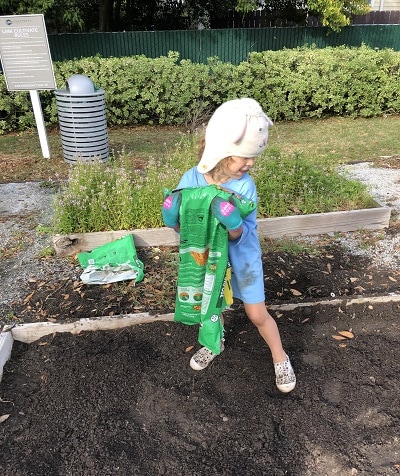 8. Watch this garden grow
My Great Grandparents owned a farm and I like to think I inherited my "green thumb" from them. Truth be told, I never planted a garden before but it's been a fun adventure and given us all something to do, while I can claim I taught my kids a new science project while I was home with twins during this quarantine.
Have you been worried about distance learning with your twins? Click here to read distance learning tips from a twin mom and high school teacher and get your kids' school year started off on the right foot.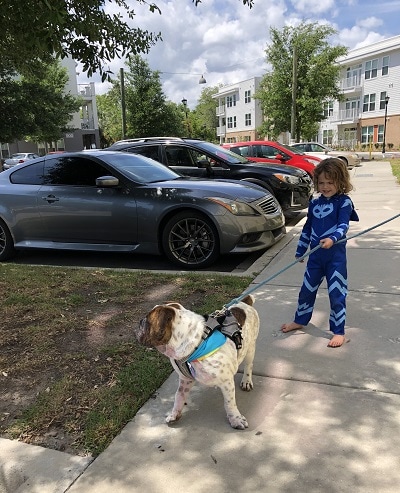 9. Mr. Rogers Neighborhood
I love our neighborhood but now that I'm home with twins, I feel close to my neighbors. The girls have no problem knocking on our new neighbors' door and asking if they can walk their dog. It's been a great exercise in humanity and getting to know each other…at a safe social distance of course.
10. Tattle Tale
As I'm writing this, one of my twins came and closed my door. Normally, I would hesitate and investigate the motive behind this. But at four, they are tattle tales and will always spill the beans each other. This has allowed me to relax and know that we all need a moment to ourselves while at home with twins.
While I wouldn't have chosen to try and juggle working from home while homeschooling my twins, I am glad that we have this time to bond and think of new adventures every day. Some days we nail it and meetings magically fall into place, while most days it's a struggle and the better option is watching Frozen Two, knowing that we will all get through this together.
If anything, the bonus is that my kids are more engaged in cooking and helping around the house, while I'm learning that teachers deserve six-figure salaries and more. In the end, I'm hopeful that we all become closer and prioritize these special moments over the hustle of everyday life since being home with twins.