Any mom on the planet will tell you that the juggling of home and work can be extremely stressful. For those of us with twins, well…let's just say that that factor certainly doesn't help the equation any. For those of us that work it's a constant battle that we never seem to win. Laundry? I can't remember the last time I actually had ALL of the laundry done (I'll point out that I have toddlers and GRRRRR…those little socks!) The sink seems to be a breeding ground for dishes to multiply, and don't get me started about being in the MIDDLE of washing dishes and someone comes in to put a dirty dish in the CLEAN sink! Nope….just…nope.
We all like to think we're fabulous mix of Superwoman and Wonder Woman and sometimes we are. But there are those days, you know…you're running around picking up kids from here and there, and oh yeah…we gotta stop by the grocery store for milk (insert eye roll here here at the thought of taking ALL the kids out of the care for ONE little, but much needed, gallon of milk), and then you remember at the last minute that you told your better half that YOU'D grab his suit from the cleaners (uggghhhh WHY did I do that!!) It's days like this that make you feel pushed to your limit. And then….you get home. Where it appears that a tornado has come through while you were away…no…wait….yeah….never mind, it looked like that when you left this morning.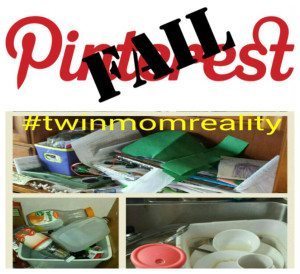 You look around you and you are torn in two. Part of you wants to say, "Screw this!" and plop down on the couch to watch your favorite re-run as kids run around you in circles screaming. The other part of you (the mom side) is horrified that your house looks this way and really WANTS to clean the house. It's a continuous struggle on which side wins.
And then there's Pinterest. The internet land of all the perfect things! Looking at all of the beautifully staged photos of the perfect house, the perfect body, the perfect family meal, and the perfect craft project can often bring about feelings of inadequacy. My Pinterest "house" is AMAZING, as is my Pinterest "closet". I tell my husband on a daily basis that if we ever win the lottery, I'm buying everything that I've Pinned for my closet and designing the house just like all of those awesome rooms (like the one with the secret library…yes I am a book nerd. Don't judge.) Truly, I am a huge lover of the IDEAS that Pinterest inspires in me.  But mamas…Pinterest is just a place to swap ideas. It doesn't mean we HAVE to do those things to be great moms. You are NOT less of a mom because you don't have that crafty mind, or that perfectly organized desk. Pinterest is all in how you interpret it. Those ideas worked for someone. They may not work for you.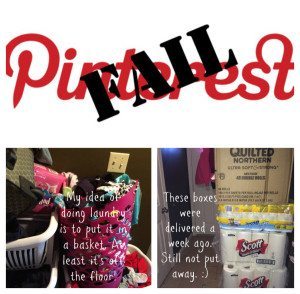 My reality? Who has time to make the awesome "moon dirt" you've pinned at least three times? Sure…sure, it will ONLY take 5 minutes. Pshhhh….three hours later and you're left wondering where your kitchen counter is. Those organizing ideas seem like they would make life so much easier but the time it takes to "whip that up" could be spent more wisely (like blowing bubbles with your kiddos outside!)
No no….I'm too busy chasing those two naked toddlers that are SUPPOSED to be potty training but would rather run free, butt-booty naked! I have to remind my teenage daughter to clean HER room (even though mine looks like…well….it's not clean. We'll leave it at that). I have to decide tonight's dinner menu (the one that I had planned from Pinterest but ended up being tater tots and fish sticks instead). I have to give the naked twins a bath, and then defend myself from flying kicks and swats as I try to wash their heads. I have to read a story, again….and…again before bed time.
And maybe later, once the house is quiet, I might wander into Pinterestville and oooohhh and ahhhh over those "looks-so-easy" ideas. But tomorrow, I'll be back to the real world that's full of dirty dishes, un-vacuumed floors and naked behinds. But there will also be belly giggles, sloppy kisses and impromptu lap snuggles. And isn't that what life is really all about?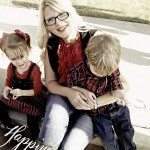 Deanna Burkett (Twiniversity Social Media Content and Forums Manager) is multi-tasking mama of three year old boy/girl twins and teens and a wife of 20 years to a very patient husband. On any given day you can find her pinning her heart away at Twiniversity's Pinterest page, saying howdy to a new member of Twiniversity's Message Board, or chatting up a twin mama in distress on Twiniversity's Facebook page! She holds two Bachelor Degrees in History and English from Ashford University and aspires to teach high school. When she's not online she is catering to her teenagers every beck and call or chasing one or two naked babies around the house! Look for her on Facebook, Twitter or on Pinterest! Or feel free to email her at deanna@twiniversity.com!
 *          *          *
The rate of twin births has risen 79 percent over the last three decades, and continues to increase. A mom of fraternal twins and a national guru on having two, Natalie Diaz launched Twiniversity, a supportive website with advice from the twin-trenches.
What to Do When You're Having Two is the definitive how-to guide to parenting twins, covering how to make a Birth Plan checklist, sticking to one sleep schedule, managing double-duty breastfeeding, stocking up on all the necessary gear, building one-on-one relationships with each child, and more.
Accessible and informative, What to Do When You're Having Two is the must-have manual for all parents of twins.