If you spend any time reading parenting forums or blogs you've no doubt heard of the latest trend in parenting – Baby Led Weaning, or BLW. Coined by Gil Rapley, Baby Led Weaning means you feed your baby real, whole foods rather than pureed "baby" food. Sounds crazy, right? I swear it's not.
First things first: BLW is not about stopping breastmilk or formula. These should still be the primary source of nutrition for babies under the age of 1. BLW is all about exploring food and the process of eating and setting up a lifetime of healthy eating habits! With BLW you offer foods, either in whole form or a baby fist-sized chunk (no need to cut things up into tiny bits), and let the babies decide what and how much they want to eat. And then, they feed it to themselves. That's it!
So why does this make sense for twin families?
It's no secret that buying baby food can get seriously expensive with jars running as high as $1.50 a pop in my local stores. With twins it can be almost impossible for some families to keep up. One twin mom friend of mine was spending over $300 a month feeding JUST her twins. Once she switched to BLW the only added cost was $20 a month for yogurt and milk. She was saving money and her twins were eating better, feeling fuller longer, and gaining more weight, without breaking her bank.
Then there's the time factor. Spoon feeding just one infant can be a ridiculously long process. And with two infants? Nope. The one week we tried homemade purees I learned it would take up half our day just to sit and feed them and then clean up the mess. I don't know about you, but I'd rather be playing during that time or doing something productive! With BLW you get hands-free time where you're able to clean up or get other things done (while staying within sight of course), but my favorite thing is to actually sit down and enjoy a meal with my family! We all eat together and it's awesome.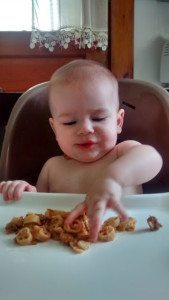 Finally, one of the biggest benefits I've seen is the process itself. Some argue that the cost is the same if you just make your own baby food. This is true, but not only does BLW cut food prep time in half, the babies are learning how to eat properly rather than just swallowing from a spoon (how often do the rest of us eat like that?) They are exposed to all sorts of tastes, smells, and textures and are able to establish their own preferences and palate from day one. They exercise their pincer grasp, hand-eye coordination, and personal choice with every meal.
Also, when baby is in control they learn how to moderate their food intake so they don't overstuff their mouths or bellies. It teaches them to pay attention to their own hunger cues and regulate their energy intake based on their own needs without limits (like the end of a jar, or us wanting them to have one more bite). When you offer whole foods baby also learns how to make healthy food choices from day one. You might even find that you are eating healthier as a result!
So now you're interested but don't know how to start? It's easy!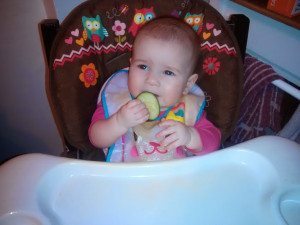 First and most importantly the babies must meet certain criteria:
at least six months old
able to sit unassisted
have good head control
showing interest in food
able to pick up an object and bring it to their mouths
And, no, teeth are not required! It's amazing how well those tiny jaws can mash and gum food!
You start by offering a new food every 3 days and letting them choose what and how much they eat. Don't force feed them or put the food in their mouths. You can start with almost any food you like except honey before age 1 and anything that your family has a history of allergies to (talk to your pediatrician). Some common first foods are avocado, steamed sweet potatoes, broccoli, cucumber, beans and banana. Offer the foods in whole form or a baby fist-sized chunk.
At 6 months adjusted (7 months actual, they were preemies born at 35 weeks) we offered avocado, sweet potato, banana and broccoli. By 8 months my twins were eating 2 meals a day consisting of a protein, dairy, carb, a vegetable and a fruit.
Here's a 3-day snapshot of what we've been eating since about 10 months old:
DAY 1
Breakfast: toast fingers with avocado or cream cheese spread, blueberries
Lunch: steamed peas and carrots, peaches, cheese, crockpot shredded chicken (find recipe here)
Dinner: bow-tie pasta with veggie bolognese sauce (find recipe here) and parmesan cheese, steamed asparagus
DAY 2
Breakfast: banana avocado muffins (find recipe here), yogurt with fresh raspberries mixed in
Lunch: sweet potato fries (find recipe here), green beans fresh turkey, cheese, crackers
Dinner: broccoli cheddar patties (find recipe here), brown rice, pears
DAY 3
Breakfast: blueberry pancakes, banana, cottage cheese
Lunch: squash grilled cheese (find recipe here), peaches, peas
Dinner: deconstructed tacos (hamburger meat with select seasonings, whole wheat tortillas, avocado shredded cheese, lettuce and sour cream), oranges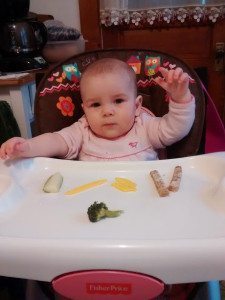 Some days they eat every last bite, others they just pick and graze. The point is that they are in control.
Lots of families serve the babies what Mom and Dad eat, but if your meals are often too spicy, salty, or messy for them you can deconstruct them or make portions without all the extra stuff. We give them tons of fresh and frozen fruits and veggies, a variety of beans, good fats (from fish, coconut oil, almond butter and avocado) and dairy (whole milk yogurt, real cheese, cottage cheese). We use whole wheat pastas and brown rice. I shred or mash up up their meats to help them get absorbed without molars.
One thing I love to do is make large batches of foods that freeze well for easy to grab meals like homemade applesauce, veggie patties and fritters, meatballs, muffins, pancakes, oatmeal cups and flash frozen fresh veggies. We do rely on convenience foods for when we're on the go or when we are out of town (camping and vacation) like no sugar added fruit cups, low sodium veggie cups, teething crackers and puffs. Although these are not the most ideal foods they do no harm to feed in moderation.
The one drawback of BLW is that it is very messy. With two babies your kitchen can sometimes end up looking like a high school cafeteria after a food fight. Not to mention the food ALL over them – I'm talking avocado face masks and teeny tiny broccoli bits in their toes. My advice? Just roll with it. Invest in a plastic tablecloth for under the high chairs, throw a towel under their bums for easy high chair clean up, maybe try a silicone sticky mat for the tray. Get some long sleeved bibs or get used to naked meal time. If you have a hard time with mess this can be discouraging but remember that all kids feed themselves (read: make huge messes) eventually so you might as well start early and master the art of kitchen clean up!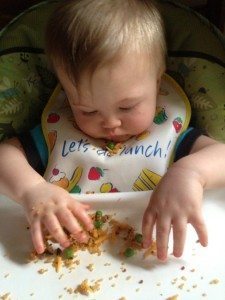 Of course like all parenting choices BLW is not without its' controversy. Many believe that babies are not able to digest real food properly or that it is not safe due to the choking risk. In reality babies older than six months are fine to digest real food. According to a comprehensive review of studies the only real risks of BLW occur when food (including cereals and purees) is offered too early or when babies are given foods that are difficult to gum and breakdown before swallowing (raw apple, coin sized chunks of meat). While choking is the number one concern of opponents to BLW we must remember that this is a risk whenever a child puts anything into their mouths, including purees. Thankfully, babies are born with an incredibly efficient gag reflex that actually helps prevent choking. While scary, gagging is not the same thing as choking. Instead it is a harmless and necessary tool to help learn how to properly chew and swallow. Arming yourself with knowledge on how to tell the two apart is an essential step to successful (and relatively anxiety free) BLW.
We're almost six months in and I am thrilled with our BLW experience. My girls are expert eaters with their own unique tastes and they're growing like champs. Who knows what the future holds but I can't help but think we're setting them for a future of making great healthy food choices. All while we are saving time and money!
Ready to take the plunge? Remember, the only rules for successful BLW are that you and the twins are ready and that you all enjoy yourselves! Happy BLWing!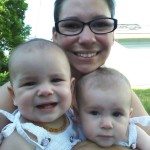 Maigen is a former child care provider turned Blog-At-Home Mom of 10 month old identical twins, Juliette and Vivienne. She lives in upstate NY with her husband, the twinsters and their two cats, Boots and Willow. She enjoys reading, wine, being outside and spending time with her family and friends. She can be reached at via her blog Life and Love. Multiplied, on Facebook, Twitter and Instagram.
Related Articles
* * *
The rate of twin births has risen 79 percent over the last three decades, and continues to increase. A mom of fraternal twins and a national guru on having two, Natalie Diaz launched Twiniversity, a supportive website with advice from the twin-trenches.
What to Do When You're Having Two is the definitive how-to guide to parenting twins, covering how to make a Birth Plan checklist, sticking to one sleep schedule, managing double-duty breastfeeding, stocking up on all the necessary gear, building one-on-one relationships with each child, and more.
Accessible and informative, What to Do When You're Having Two is the must-have manual for all parents of twins.