When I was pregnant I swore that my social media pages would contain exactly no more than zero photos of my children. I swore this even from my hospital bed as I recovered from the c-section. I told all my friends, co-workers, and family that they were not to post any photos of our kids on any platform, lest they become a meme or end up on some Buzzfeed list of 10 of the World's Most Beautiful Children (because they're obviously extremely good-looking – this is a completely unbiased opinion, I promise. They're almost too beautiful). On top of that, who really cares that H + J are wearing the Winnie-the-Pooh and Tigger costumes (that I bought while pregnant) at 2:00 pm on a Tuesday afternoon because they've been screaming for an hour and I figured I'd rather look at screaming babies dressed as Pooh characters, or that SOMEONE TRIED PEAS TODAY AND LIKED IT AND OMG HE HAS GREEN ADORABLENESS ALL OVER HIS CHUBBY ADORABLE FACE!!!!!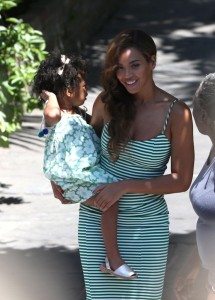 I swear, it's not that I want to basically embody Beyonce, but how awesome is it that we rarely see Blue Ivy? Just a little hint here and there, a cute outfit, a hairstyle, leave a little to the imagination you know? I also happened to read an article very close to delivery written by a mom whose child had become a meme and there was nothing she could do about it. It made me so uneasy and she had a very valid point! People can say whatever they want about your kid, positive or not, and there's really not much you can do to stop it. So here, I had at least three very valid reasons why I did not want to share my kids likenesses over social media:
Who cares?

I want to be

Beyonce

Baby Meme-

ophobia
I think that a lot of people have a vision of themselves as parents before they even become parents. Before they've even conceived, or found their lovers, or graduated high school. Non-parent Me had lofty dreams of living in a huge house with a basement playroom, at least two giant fluffy dogs, his-and-hers SUVs, and a job that paid me a gazillion dollars and allowed me to spend all day with my family that smiled all the time (and when they didn't smile, it was in a comically-frustrated sort of way). I basically lived in a 1990s family dramedy. Non-parent Me threw caution to the wind and said crazy things like, "We'll take the kids out of school for a month so we can drive cross-country!", and "OMG look at those parents. They brought that baby to the bar. A BABY!"
So the other day, my husband and I were talking over brunch cocktails with our babies strapped to us, because they refused to sit in anything resembling a chair. It had taken about an hour to be seated because we're those people with the giant double stroller, giant diaper bag, and giant babies that need two high chairs. I honestly think they finally just shoved us in a corner because they saw how haggard we looked and knew we needed a drink. We reminisced about The Good Old Days when we could saunter into a beer garden after a rambunctious, spur of the moment morning, then spend the day walking around the city complaining of boredom.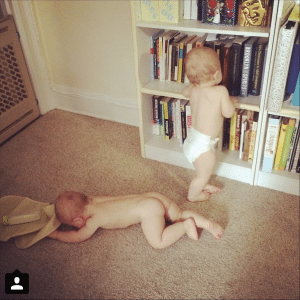 Now our lives are very much scheduled and structured around nap times, feeding times, and a constant countdown to meltdowns. We kiss and sniff our babies' heads and quickly forget the conversation. And that pretty much sums up parenthood for us at this moment in life. In the relatively quiet and sane moments, we reminisce about simpler (and some might say, less enriched) times when conversations weren't about money and stress and time and bills and the future. We slump into the couch after an exhaustive hour-long bedtime routine and quietly reminisce. We'll silently go into our own headspaces and get lost on our phones and then someone chuckles and shows the other one the adorable photo from earlier of two naked babies, one of which is having a tantrum, and the other is pulling books off the shelf like it's his job, and which at the time was anything but funny or cute. And then we sneak into their room to watch them sleep because parenthood is just crazy like that. You're nostalgic for the time before, but can't imagine being on this Earth without them.
So back to the hospital bed, with me recovering from surgery, one baby sleeping on my chest and the other in Daddy's arms — who by the way is barely awake in the rocking chair in the corner of the room — and this little tiny human that less that 24 hours ago had never seen the light of day and was cozily shacking up in my uterus with his brother, starts to snore. 5,000+ Facebook and Instagram baby photos later, and I have no regrets.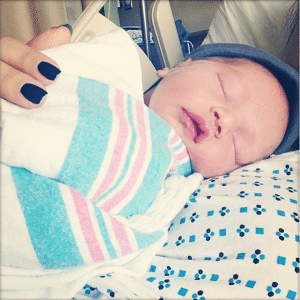 It's almost an addiction, sharing them with the world. When you become a parent, you're scared, you're beyond exhausted, and you question every move you make. You're sure that putting that first onesie on will break them in half. You are certain that yellow poop is abnormal, and that your less-than-stellar swaddling job will be the end of them. But amidst all that fear and uncertainty, you are immeasurably proud. Your heart starts to beat for them, and you do everything for them, with every fiber of your being. Your pride radiates so much that you need to show them off, and talk to strangers about them hitting milestones (his cord stump finally fell off and look at how cute his bellybutton is! Good job, baby!!), and flood your family, friends, and people in random elevators with photos and videos. You're proud of them, and you're proud of yourself and you absolutely should be.
So maybe my kids end up being a meme. We'll cross that bridge if and when we get there. I'll even start you off: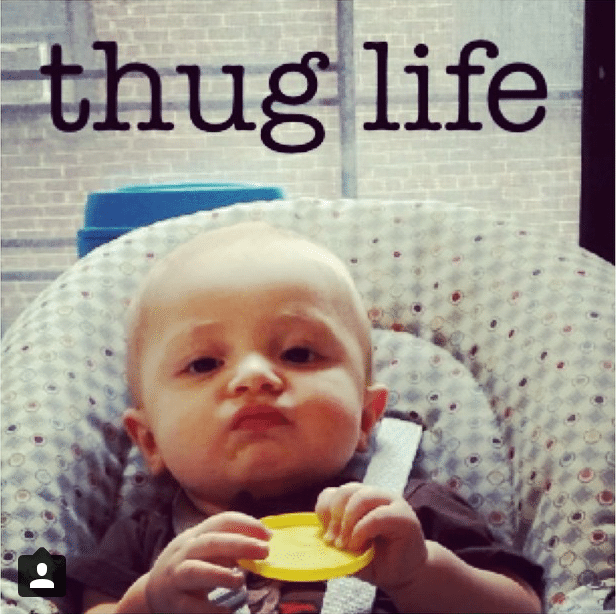 In the mean time, we're happily, albeit sometimes stressfully, living in our two-bedroom apartment with washing machines in the basement, no fluffy dog hair to clean up, culling through bills, and packing everyone and everything that comes with twins into our 2008 Mercury Mariner and I love every sweaty, giggly, stressful, cute, crazy minute of it. In fact, you'll probably see a picture of all of us on your feed as soon as my seatbelt is buckled.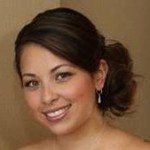 Sara Colcamiro is mom to one-year-old twin boys and lives and works in New York with her husband. When they're not working, they spend time taking their boys to the park, the zoo, the library, basically anywhere out of the house, or posting photos of their trips to the park, the zoo, the library, or wherever their zany adventures take them. She is also the creator of www.bubbababies.com, a site with products specially curated for families with multiple children.
Related Articles
*          *          *
The rate of twin births has risen 79 percent over the last three decades, and continues to increase. A mom of fraternal twins and a national guru on having two, Natalie Diaz launched Twiniversity, a supportive website with advice from the twin-trenches.
What to Do When You're Having Two is the definitive how-to guide to parenting twins, covering how to make a Birth Plan checklist, sticking to one sleep schedule, managing double-duty breastfeeding, stocking up on all the necessary gear, building one-on-one relationships with each child, and more.
Accessible and informative, What to Do When You're Having Two is the must-have manual for all parents of twins.