Each year the non-profit organization Women In Toys holds their annual gala during Toy Fair in New York City. Nat's been attending Toy Fair for the past five years, hunting down the best toys for twins and children of all ages (if you've watched her Instagram feed during the fair, you'll see that clearly SHE is the one having all the fun!)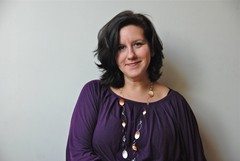 This year, Natalie has been nominated for a Wonder Woman Award in the new category of "Social Influencer". Social Influencers are those who have the most influence over potential buyers. This includes audience reach, expertise and credibility, and the strength of relationship with their followers. To say that Nat is honored is an understatement. We've had to do everything in our power to keep her from donning a cape on a daily basis (NO CAPES!) and leaping off tall buildings in a single bound. Yup, it may have gone to her head!
The 12th Annual Wonder Women Awards Gala will be hosted in New York City on February 14th, 2016 at the Grand Hyatt New York. Over 500 toy industry influencers will come together for one magical evening to pay tribute to the women who are making a difference in toys, licensing and entertainment.
Cross your fingers for Nat and we'll be sure to share plenty of pics and videos from Toy Fair and the Gala!
Learn more about the 12th Annual Wonder Women Awards
* * *
The rate of twin births has risen 79 percent over the last three decades, and continues to increase. A mom of fraternal twins and a national guru on having two, Natalie Diaz launched Twiniversity, a supportive website with advice from the twin-trenches.
What to Do When You're Having Two is the definitive how-to guide to parenting twins, covering how to make a Birth Plan checklist, sticking to one sleep schedule, managing double-duty breastfeeding, stocking up on all the necessary gear, building one-on-one relationships with each child, and more.
Accessible and informative, What to Do When You're Having Two is the must-have manual for all parents of twins.
* * *
Whether you're a twin parent in the big city surrounded by scores of resources, or a triplet parent out in the country with no one around for miles — our multiples parenting forums are for YOU! Sign up for FREE and connect with people who are just like you — parents of multiples looking for advice, parenting tips, or even just people to chat with who will understand what you're going through. Our forums are open to people all over the world and we offer scads of specialty rooms to find others who are going through the exact same thing as you. Check it out today!
* * *
Twiniversity is the #1 source for parents of multiples and we are growing faster every day!
Find us all over the web: