Let's just be honest, traveling anywhere with kids is not easy. I rarely ever leave the house feeling that I have packed anything less than the entire home. Living in Denver and being so close to the mountains, we find it easier to pack up the car and drive 2-3 hours (depending on the destination) for our vacations. We enjoy the change of scenery, fresh air, and outdoor activities and so do our twin girls.
First rule of traveling to the mountains with kids is to pack layers. Regardless of the season, you can have warm or cold weather. When vacationing in the summer at a high altitude, you may start out in shorts and a T-shirt and end up needing a winter coat and hat. It's also important to remember that the sun is quite intense when at a high elevation so bring along your sunscreen year round, and be sure to wear it even on cloudy days. It is also important to stay hydrated, be sure to have plenty of water and snacks with you just in case you lose track of time or your feet take you further away than you had originally planned. When you arrive to the Rockies, give yourself time to acclimate to the altitude and spend the first day or two relaxing or taking shorter walks.
We love to hike; it's an activity we can all do together. My husband and I use the Osprey Poco Plus carrier when hiking. The carrier itself is lightweight, but there is a compartment to hold any additional clothing, water, and snacks or perhaps a favorite stuffed bunny and giraffe that might be needed along the journey. There is also a shade that can be pulled out and placed overhead to protect children from the sun.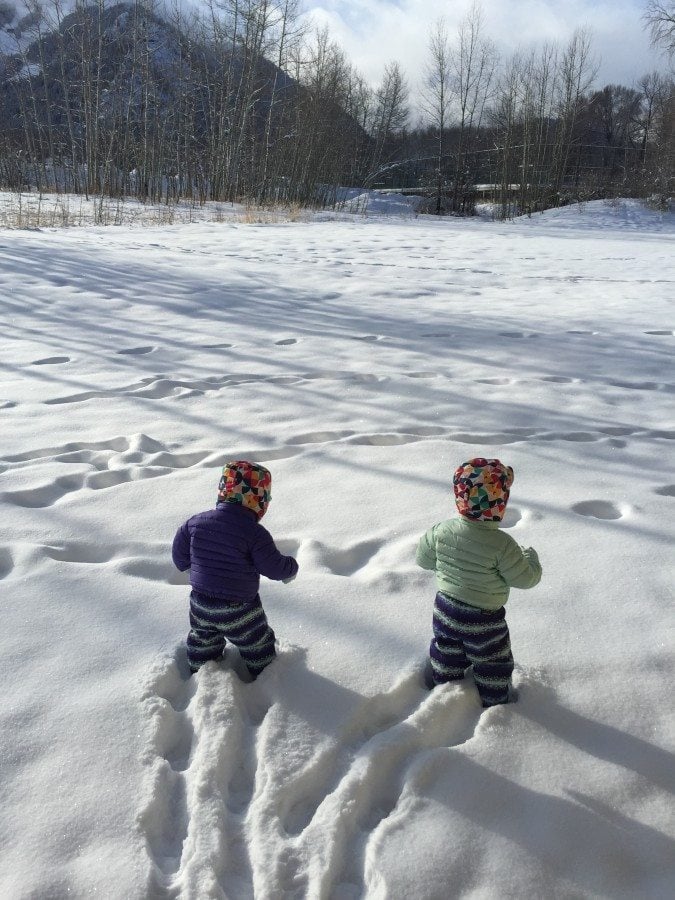 In the winter, you can still find places to hike, but it is best to be prepared for snow or icy conditions. Add a snowshoe or crampon like the Kahtoola Microspikes to your hiking boots for extra traction in the snow and use a walking stick or trekking pole to give you more stability on rougher terrain.
Despite spending time in the great outdoors, you don't have to be exactly "roughing it". Resorts like Aspen, Breckenridge, and Vail offer amazing accommodations and dining options for every budget. One thing to note is that because these are small ski towns, the restaurants are often quaint. That being said, many can be considered family friendly but may not have many high chairs to choose from. We always travel with the Chicco Caddy Hook on chairs. They are great to use in the hotel room or bring out to a restaurant. If you are interested in skiing, keep in mind that ski school begins at age 3 and most resorts require children to be potty trained. This is a great activity for kids and will keep them busy for a half or full day with a certified ski instructor so that you can hit the slopes on your own or spend the day at the spa.
Some of my favorite places to visit in Colorado…
Vista Verde Ranch
Just north of Steamboat Springs, located in the National Forest, Vista Verde is a luxury dude ranch and all-inclusive resort for the whole family. They offer a kids program for children 6 and older. Summer activities include horseback riding, fly fishing, hiking, mountain biking, and rock climbing. Winter activities include skiing, snowshoeing, horseback riding, fat biking, and snow tubing. Don't shy away from this place if you have never done these activities, their guides and instructors are there to teach at any level. Meals are served family style; some evenings even offer a grab-n-go for the kids while the parents can enjoy a more relaxing meal. By the way, the food is amazing!
Aspen Meadows Resort
Located just a short shuttle bus ride from downtown, Aspen Meadows offers spacious rooms as well as outdoor space for the kids to play. Most importantly, you get more bang for your buck here. Saying that Aspen is a pricey town is an understatement but its beauty is worth its weight in gold. There is an onsite restaurant/bar and room service to make mealtime quick and easy. Every room is designed with separate living, working, and sleeping areas that make it easy to keep children contained and entertained. Many suites have outdoor patios with mountain views and space to let the kids run around. Buses downtown run year round to take visitors to nearby Snowmass, Buttermilk and Aspen Highlands mountains as well as to hiking trails near the famed and popularly photographed Maroon Bells.
For a more relaxing time spent outdoors, book a horse-drawn carriage ride thru town or a sleigh ride thru the trees with Aspen Carriage and Sleigh. If an adrenaline rush is more your thing, try dog-sledding at Krabloonik.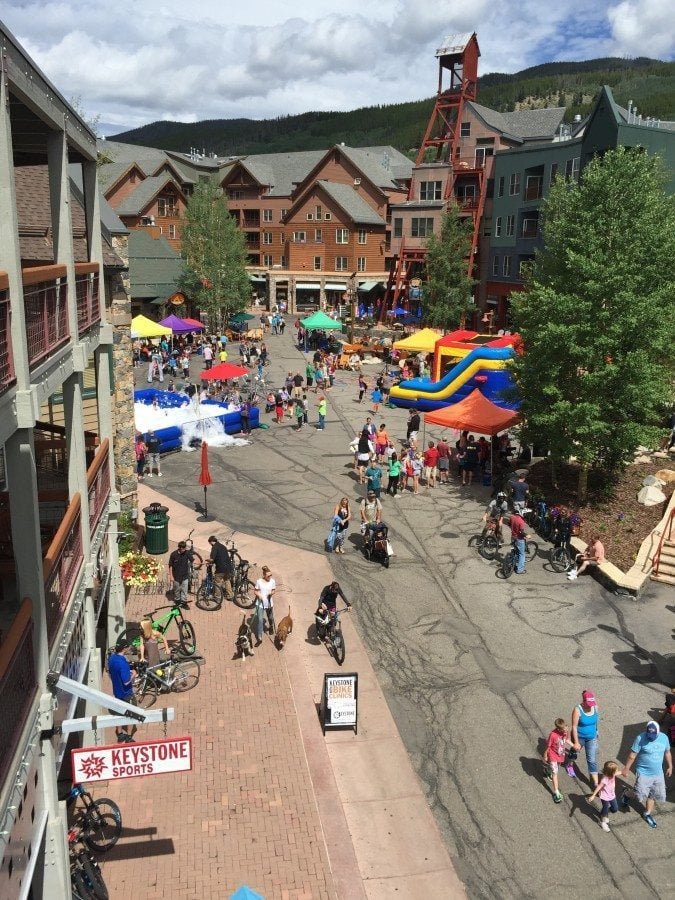 Keystone's River Run Village
Only an hour and a half from Denver, and a short drive away from the popular ski towns of Breckenridge and Vail, Keystone is the perfect family ski vacation spot in the Rockies. If you stay 2 nights or more, kids 12 and under ski free! They have a parade after the ski lifts close and fireworks every Saturday during ski season and many festivals throughout the summer. The River Run Village at the base of the mountain has plenty of family friendly restaurants and shopping too. There is a playground on site and an ice-skating rink in the winter. Various activities occur daily with Kidtopia, including a meet and greet with the Avy dogs and a giant snow castle on the mountains peak. For a fun evening adventure, book a dinner sleigh ride or take the gondola at night to enjoy fondue and views on the mountain.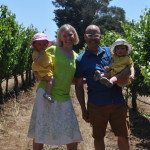 Mandy Sullivan attended Northern Illinois University for Kinesiology with emphasis in Athletic Training. After working for years in a physical therapy office and traveling every chance she got, Mandy decided to leave the medical field and pursue her interest in food and travel. While the pace of travel and eating out may have changed now that she and her husband have 21 month old twin girls, they still have fun seeing new places and trying new things. Check out her website and blog at www.vacationfoodtours.com or on Facebook, Twitter, and Instagram.
* * *
Related articles
* * *