A MoM recently asked:
I'm 20 weeks along with twin girls. I also have a 2.5 year old boy. I'm looking for a the best diaper bag for all 3. Even though my oldest is potty trained, he will need extra clothes and snacks. Any suggestions?
Here's what our Twiniversity fans had to say:
– I have twin fraternal infant boys and a 4 yr old. My best friend gave me a bag from Thirty-one to use as a diaper bag. I love it because it has pockets on the outside & a wide opening on top so u can see everything at a glance. I will post a picture of it shortly
– The Be Prepared bag by Ju-Ju-Be. I am amazed how much stuff I can get in there as this.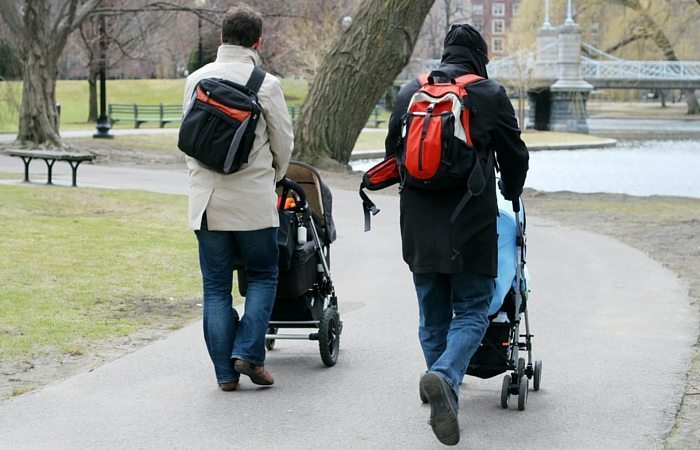 – I used a backpack!! Hands free! I can carry both carseats and be comfortable with the diaper bag. Tons of compartments plus exterior pockets for sippy cups or bottles!
– Kate Spade makes diaper bags that are very spacious and attach to any stroller. I have two and love them both.
– I love my All Day organizing tote by Thirty-one. It holds a TON and has several exterior pockets for bottles, cups, snacks, the socks that no one leaves on etc. There's an add-on interior (or exterior) pocket option too. Works great for my 1 year old twins and 5 year old daughter.
– I used the Hostess special backpack from Thirty-one. I had the same age group as you but all boys. It was a single sling across the back to be hands free. And being hands free is a must! It had little compartments that I could put diapers, wipes, extra clothes and whatnot in. Worked great. You really only need it until they go to sippy's. Then it's just some diapers, wipes and a few snacks. I keep extra clothes in a bag in the vehicle at all times for just in case.
– I looked and looked and ended up buying the Skip Hop Duo because it was the most spacious.
– I have a 9 year old and 11 month old twin boys. I learned from my mistakes 9 years ago that the less bulky a bag is the better. I use the Thirty-one bags. Not only does it have 5 pockets but it has 2 mesh side pockets. Works great for me to have a few items I need such as keys, water bottle and gives me perfect amount of room for the boys bottle. Also love that it now has the zipper option.
– I have a 2.5 year old and 2 month old twins. I LOVE the Jeep brand backpack diaper bag. I put my old diaper bag in the car with her extra clothes and then just put a few snacks and pull ups in the backpack with all the twins stuff!
– Anything that can be carried as a backpack. Multiple carrying options are great, and there will definitely be times you need BOTH hands.
– I love my Petunia Pickle Bottom diaper bag! It's big, with pockets open very wide, and they have beautiful prints. It's has to be my new purse, so It need to look good.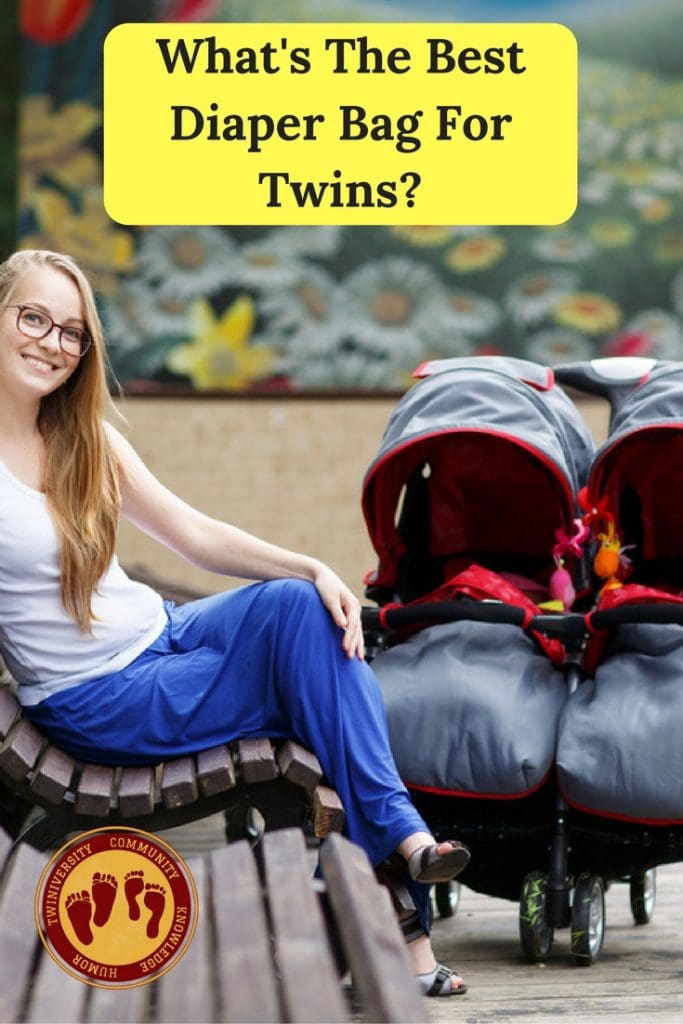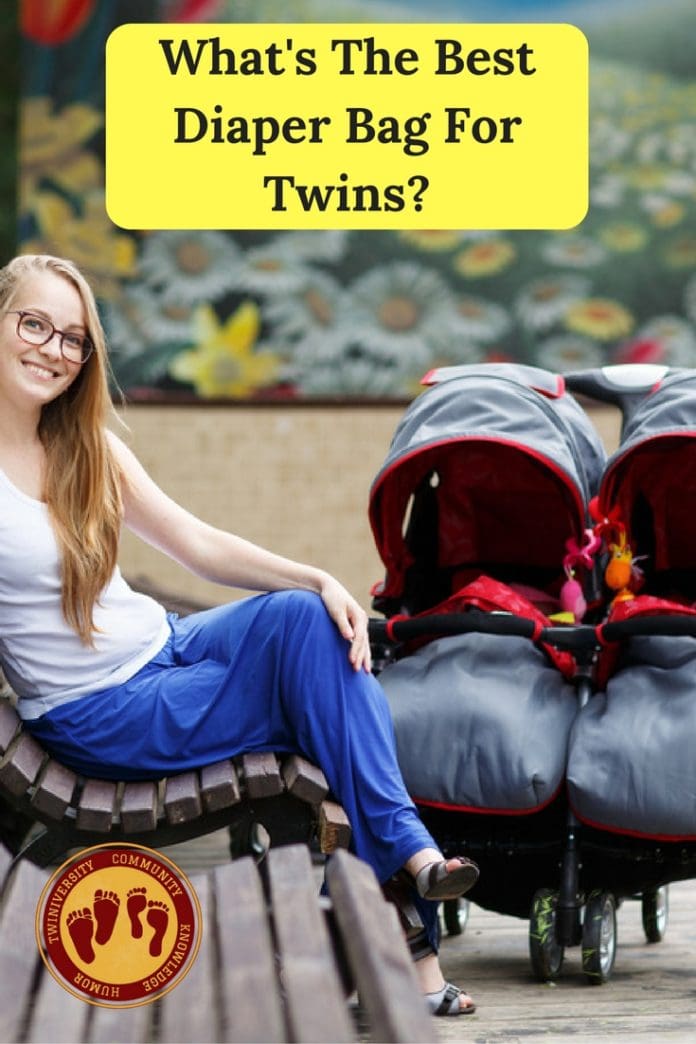 – My singleton was not yet two when the twins were born. I used a back pack. That way nothing could fall off your shoulder while carrying two carriers and plenty of room for three in diapers and spare clothes. Messenger bags don't fall either but I found they got in the way with two carriers. Especially if I had to carry big brother too.
– I have 19 month old twins in cloth and a third on the way. I use the petunia pickle bottom abundance boxy. It can also be a back pack for easy carry and all their print are super cute! They are a little pricier then some (not by much) but are durable and fantastic! There's plenty of room!
– When my twins were infants, I had the backpack diaper bag by Lands End. A back pack is the way to go. Mine was roomy, plus I did not have to use one of my already full arms to carry the thing.
– We have the Diaper Dude, the diaper bag for men. It was so great. It has three outer pockets, straps for attaching to just about every type of stroller, a cell phone pocket on the strap, an outside rear pocket and a changing pad on the inside as well as an inside pocket and a bottle pouch on the outside for easy access. Anytime anyone asks for suggestions on a diaper bag I always highly recommend it.
---
Related Articles
---
The rate of twin births has risen 79 percent over the last three decades, and continues to increase. A mom of fraternal twins and a national guru on having two, Natalie Diaz launched Twiniversity, a supportive website with advice from the twin-trenches.
What to Do When You're Having Two is the definitive how-to guide to parenting twins, covering how to make a Birth Plan checklist, sticking to one sleep schedule, managing double-duty breastfeeding, stocking up on all the necessary gear, building one-on-one relationships with each child, and more.
Accessible and informative, What to Do When You're Having Two is the must-have manual for all parents of twins.
---
Join our FREE forums and connect with parents of multiples all over the WORLD! Visit http://twiniversity.com/join-twiniversity
Whether you're a twin parent in the big city surrounded by scores of resources, or a triplet parent out in the country with no one around for miles — our multiples parenting forums are for YOU! Sign up for FREE and connect with people who are just like you — parents of multiples looking for advice, parenting tips, or even just people to chat with who will understand what you're going through. Our forums are open to people all over the world and we offer scads of specialty rooms to find others who are going through the exact same thing as you. Check it out today!
---
Twiniversity is the #1 source for parents of multiples and we are growing faster every day!
Find us all over the web:
Or contact us by email at community@twiniversity.com