A twin birth is a blur of activity, and as much as I wish I could remember every detail of the most miraculous event of my life, I only recall bits, as my brain was addled by exhaustion. I remember listening to Naomi, baby "A," cry as she was examined, and that she quieted when placed on my chest. I remember her being taken away again when it was time to push out Anya, baby "B," minutes later. I remember being wowed by their collective 15 pounds, and my husband bustling back and forth between me and both babies.
I also remember a neonatologist bringing Anya to me. He pointed out a skin tag on her ear and how when she cried, her bottom lip was crooked. He explained that she probably had a missing depressor anguli oris muscle. These minor things replaced the relief of a healthy twin birth with a nagging twinge of worry.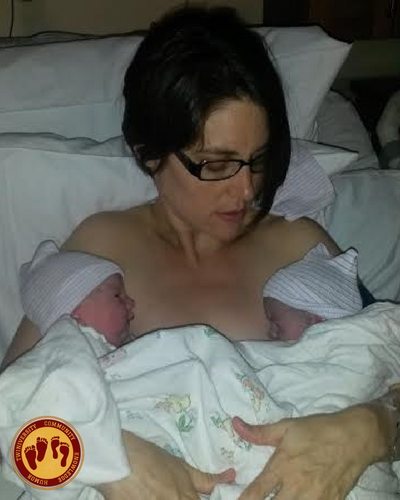 Skin to skin contact as soon after birth as possible was important to me, so once we were all rolled back into my recovery room, both babies were placed on my chest together. It was amazing, beautiful and awesome in the truest sense of the word. I was also so very tired that I had no idea which baby was which and wondered when I might ever sleep again. I nursed the babies one a time and soon, after treatment for a hemorrhage, was ready to be transported to the mom/baby unit. I was helped into a wheelchair and both babies were placed in my still shaking arms. I made it to our new room before bursting into tears, overwhelmed. I felt much better after something to eat, and soon our three older kids and my parents arrived, beginning a steady stream of visitors.
We hoped to be released after 48 hours, but the girls were both losing too much weight. We started supplementing with a bit of formula. After 72 hours, Anya lost all interest in eating. We stayed another night and specialists worked with us to coax her to eat. We hoped to leave the next morning, a Saturday, thinking she was just sleepy and would come around. However in the morning Anya began to vomit bile. I was given a few more minutes with her before she had to be taken to the NICU, during which I broke down.
My husband returned to the hospital after getting our older kids off for the day just as the NICU was ready for us to see Anya. She was in a closed incubator with a nasogastric tube suctioning out the contents of her stomach and an IV providing her hydration. For the next 24 hours we alternated between babies. On Sunday morning, the neonatologist told us Anya needed to be transferred to Children's Hospital. He believed she had a condition that would require a surgical intervention that was done only at Children's. So we left the hospital with our twins, but not together. I traveled in an ambulance with one baby, and my husband drove with the other.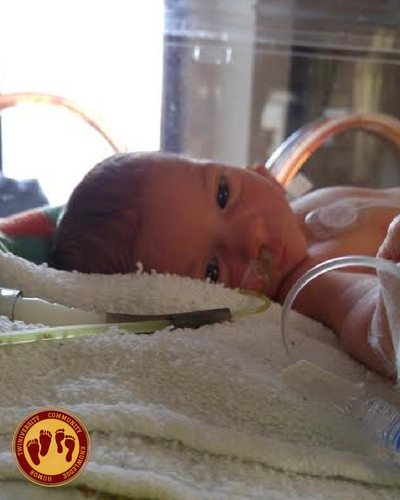 Anya spent nine days in the NICU at Children's Hospital. During that time we learned that she does indeed have the condition suspected. She has a rare condition called Hirschsprung's disease. It is characterized by ganglion cells missing from part of the colon. This prevents the colon from relaxing and allowing stool to pass. Babies might be suspected to have Hirschsprung's disease if they do not pass their first meconium within 48 hours of birth. Strangely enough, Anya had passed her first meconium immediately after birth, but perhaps this was from the pressure squeezing through the birth canal.
Having one baby at home and one in the NICU was a challenge. We wanted to spend every moment with our sick baby, but this was not possible. My husband caught a cold and had to stay away. I suffered a postpartum hemorrhage and spent a night in the hospital. Eventually, we learned how to irrigate Anya's colon, which is a process involving a rubber tube and a large syringe filled with saline. Anya came home at 13 days old, nearly a pound below her birth weight.
Anya had spent 5 days with only IV nourishment. She had to relearn how to nurse. Knowing that she had a fragile gut, I refused to feed her formula, yet she refused the breast. For 4 months I pumped for Anya while nursing Naomi. I had to supplement Naomi with quite a bit of formula in the beginning as I recovered. Making enough milk for Anya owned me. I counted every ounce of milk, falling into tears each time my production dipped, but I managed to keep up with her needs.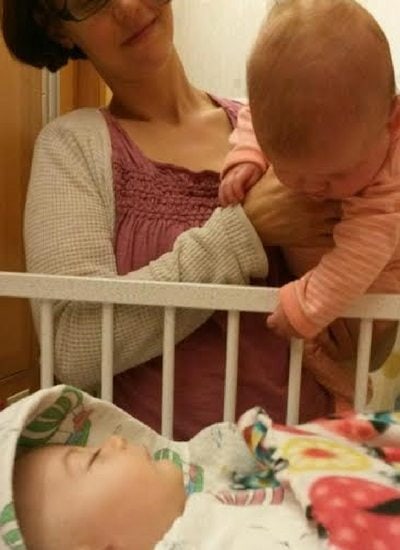 At 3 ½ months, Anya had the portion of her colon lacking ganglion cells removed. She was in surgery much of the day, having part of her rectum, all of her sigmoid colon and most of her descending colon removed. The healthy end of her descending colon was attached to the remaining part of her rectum. One day later Anya was pooping independently!
Two weeks after surgery, Anya was hospitalized for enterocolitis, a dangerous complication of Hirschsprung's disease. Broad spectrum IV antibiotics for several days were required. Once Anya's suture line inside had sufficiently healed, we could resume irrigating her colon to prevent enterocolitis, and continue to do so most days if her belly looks distended. As her abdominal muscles grow stronger, she will be better able to push stool out with only the assistance of a high fiber diet.
Anya also has moderate microcephaly. Her head was on the small end of normal at birth, but has grown very slow. A brain MRI showed no abnormalities, but her head has been hovering around the first percentile since two months. This, combined with her Hirschsprung's disease suggests a genetic syndrome. Genetic tests have not yet found anything, but somewhere in her genes there is likely a mutation that has caused this collection of anomalies. Anya is a delightful child, smiling her crooked smile and developing just a bit behind her twin. She has speech, physical, and occupational therapy and is progressing well. She learned to latch and nurse directly at the breast finally at 4 ½ months. With each noted delay comes a surprise new skill.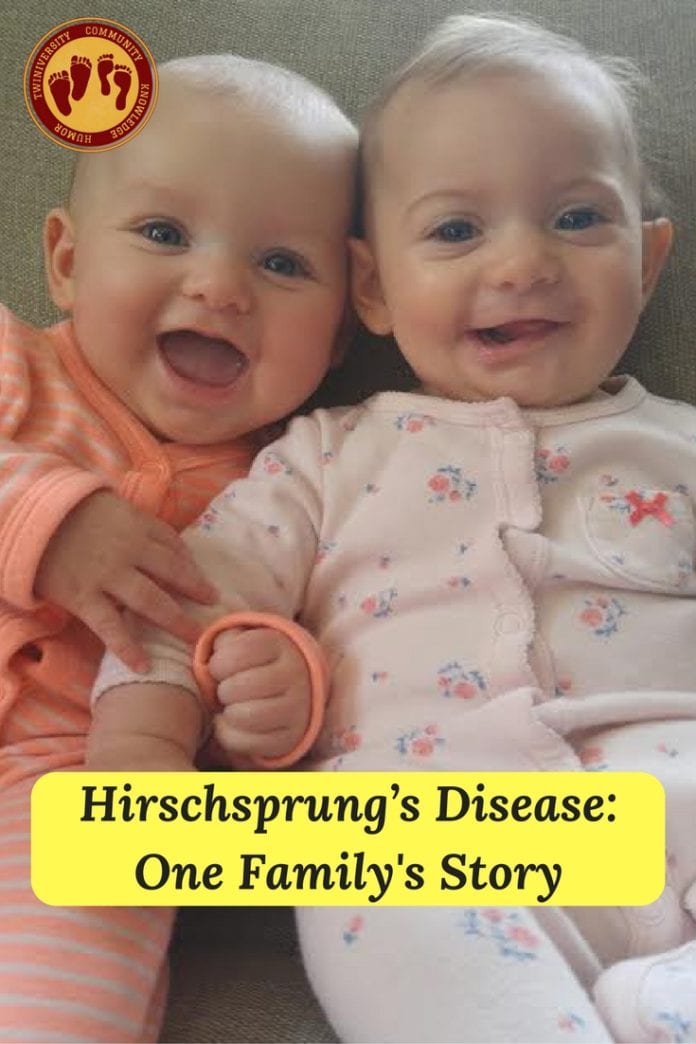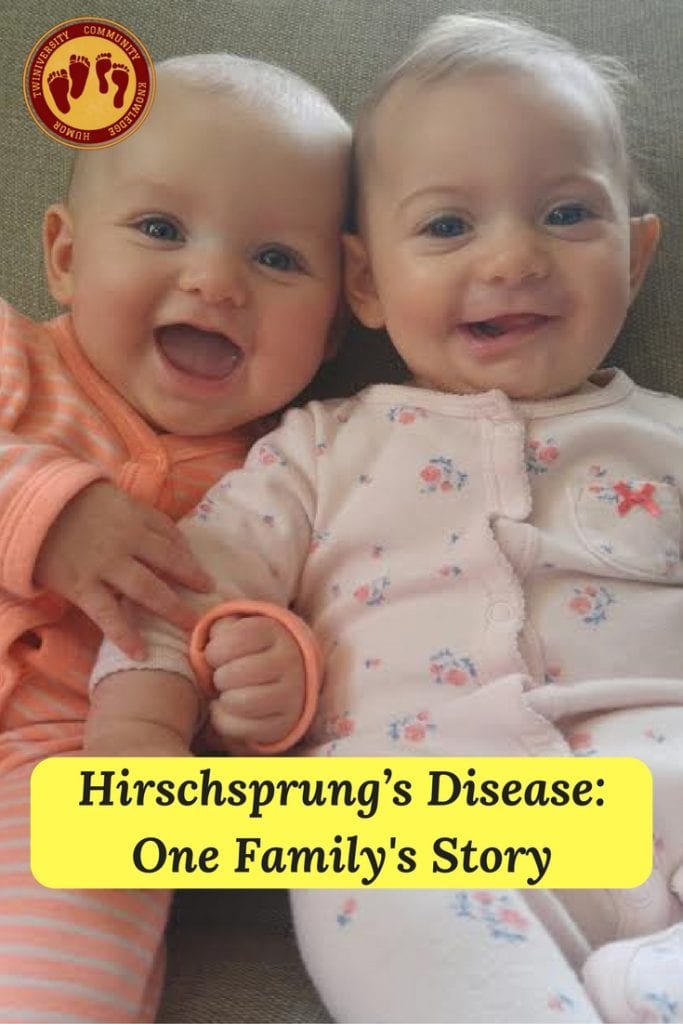 Having twins and an extra-needs child has challenged us in ways we never expected, but we have had tremendous support along the way. We continue to learn from our sweet baby "B" with the crooked grin and determined spirit.
Anne Schmidt is a stay at home mother of five, including three school age kids and fraternal twin girls born in May of 2016. A self-proclaimed book nerd and former school librarian, Anne currently spends her time mixing up her kids' names, tripping over the dog, and trying to convince the laundry to wash itself.
---
Related Articles
---
The rate of twin births has risen 79 percent over the last three decades, and continues to increase. A mom of fraternal twins and a national guru on having two, Natalie Diaz launched Twiniversity, a supportive website with advice from the twin-trenches.
What to Do When You're Having Two is the definitive how-to guide to parenting twins, covering how to make a Birth Plan checklist, sticking to one sleep schedule, managing double-duty breastfeeding, stocking up on all the necessary gear, building one-on-one relationships with each child, and more.
Accessible and informative, What to Do When You're Having Two is the must-have manual for all parents of twins.
---
Whether you're a twin parent in the big city surrounded by scores of resources, or a triplet parent out in the country with no one around for miles — our multiples parenting forums are for YOU! Sign up for FREE and connect with people who are just like you — parents of multiples looking for advice, parenting tips, or even just people to chat with who will understand what you're going through. Our forums are open to people all over the world and we offer scads of specialty rooms to find others who are going through the exact same thing as you. Check it out today!
---
Twiniversity is the #1 source for parents of multiples and we are growing faster every day!
Find us all over the web:
Or contact us by email at community@twiniversity.com