Thrown in with the Christmas season, that seems to last from Halloween to Valentine's day, is the Jewish holiday of Hanukkah. Also known as the Festival of Lights, Hanukkah is an eight night celebration celebrating the miracle that a night's worth of oil lasted 8 nights. This gives families that celebrate Hanukkah eight nights to include kids into the celebrations.
Here are my 5 tips and tricks of including kids into Hanukkah celebrations.
1. First off a safety warning. Hanukkah celebrations include fire and, if your family wants to sample traditional Hanukkah foods, cooking with hot oil. Please use caution and monitor kids and pets during this time.
2. Setting up for Hanukkah, although fairly simple, can be a great thing for kids to help with. All that is needed is a Menorah, a nine spaced candle holder, and specially made Hanukkah candles. If you don't have time to wait for delivery from purchasing online, we've had the best luck finding our basic Hanukkah supplies at Target or some Hallmark stores. Traditionally, the Menorah is placed in a window, although some may find this an unsafe for open flames. For the first night, the children place two candles in the holder: one in the middle, tallest spot known as the shamash, and one in the first spot farthest right. The shamash is used to light the rest of the candles in a right to left order, adding a candle to the next spot every night. You might find it necessary to replace the candles each night. We have our kids take turns setting up the Menorah and lighting it with our help.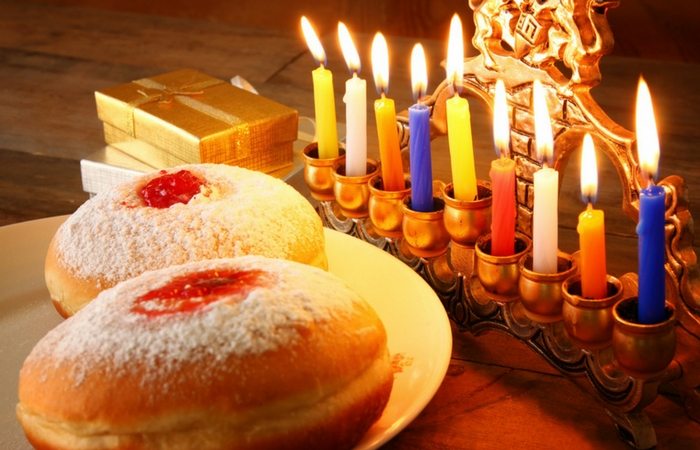 3. Invite your kids into the kitchen to get messy! In our house, we have one night where we eat our favorite Jewish foods: Matzo ball soup and potato latkes. While making the latkes might not be kid friendly as you don't want them grating their fingers or around the hot cooking oil, the can help mix the ingredients or make yummy toppings for the latkes. They can also help mixing the dough for Matzo balls, a dumpling that is cooked in chicken broth based soup. The kids know they have to eat well to get another traditional fried Hanukkah goodie: doughnuts.
4. For us, after dinner means playing a few games of dreidel. A dreidel is a top with four Hebrew markings on the side, which essentially are the instructions for the game. We use M&M's or other small candies as 'chips' and whatever symbol the dreidel lands on dictates the chips you put in the pot or take away: Nun means nothing, Gimel means take all the pot, Hey means take half, and Shin means to put a chip into the pot. The game continues until one player has all the candies. I found little plastic ones in different colors are perfect for little fingers and my husband found some on-line that light up and make noise when someone has hit the 'jackpot'. Aside from the time spent as family and the chocolate, it's a great way for little kids to practice counting and following instructions. For whatever crazy reason we have yet to figure out our youngest, Abraham, is the dreidel master. He wins a majority of the eight nights. Of course, we make him share his winnings.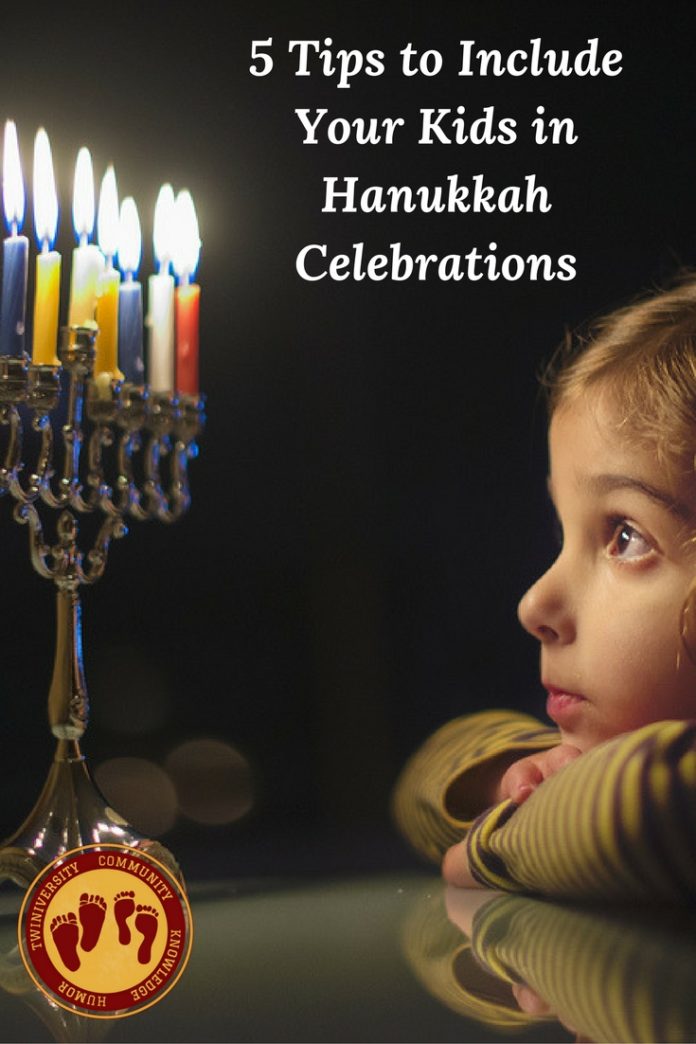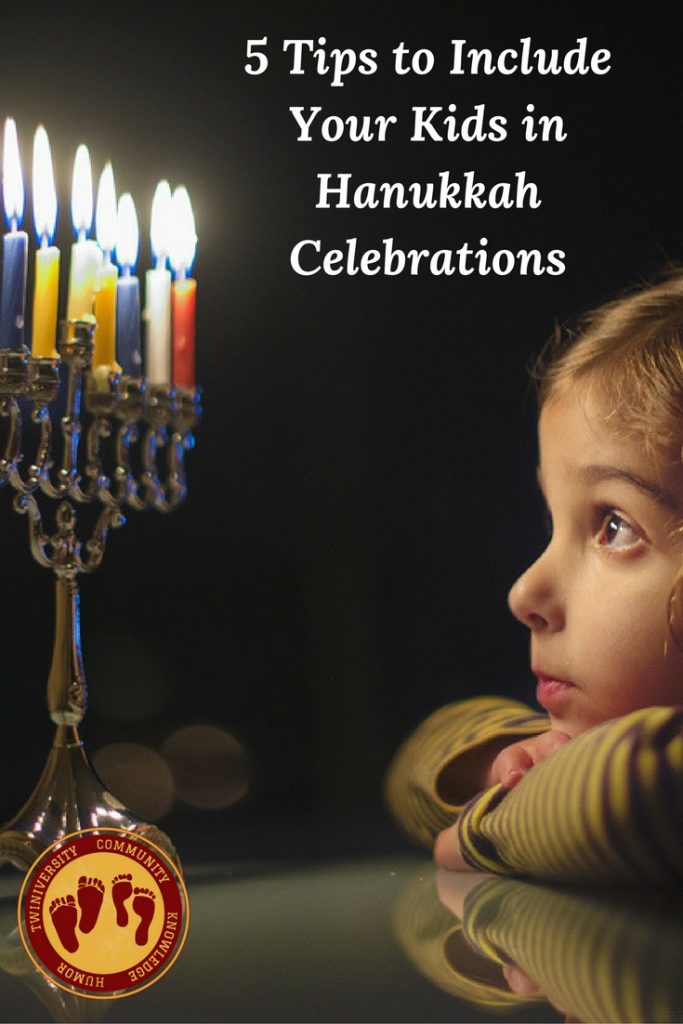 5. During our nightly bedtime reading, we read our favorite Hanukkah book, "Hershel and the Hanukkah Goblins" by Eric A. Kimmel. The kids love when my husband does different voices for all the goblins and the detailed illustrations. We also use our local library to check out other books about Hanukkah but Hershel is always our favorite. It is the same copy my parents read to us when we were kids and the excitement that happens when I pull the book from our stash of winter holiday decorations is undeniable. For me, it's just another way we're making family memories.
For us, including kids in holiday celebrations is a top priority. Because we let them get hands on with Hanukkah traditions, we're not only creating lifelong memories but hopefully instilling in our kids the importance of family and appreciation so they'll teach their kids. With the hustle and bustle that comes with the winter holiday season, I really appreciate the relaxing time of lighting candles and praying as family.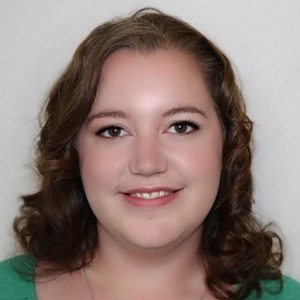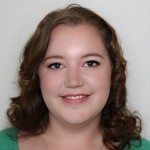 Leah Bryant is a stay at home mom of three, identical twin girls and a son. She is a proud Kansas native (insert favorite Toto quote here) and currently resides in the Kansas City metro area. Besides being constantly surprised by the wonders of raising twins and caring for her family, Leah's hobbies include cooking/baking, gardening, reading actual grown up books along with Dr. Suess, and cheering on her favorite home-grown sports teams. Leah also meets the challenge of keeping up with Sonny, the newest member of the family. He is an American Eskimo dog the family adopted after he was rescued from a puppy mill. While Leah is active on most social media sites, you can find her family blog at http://twinsplusabe.tumblr.com/.
---
Related Articles
---
The rate of twin births has risen 79 percent over the last three decades, and continues to increase. A mom of fraternal twins and a national guru on having two, Natalie Diaz launched Twiniversity, a supportive website with advice from the twin-trenches.
What to Do When You're Having Two is the definitive how-to guide to parenting twins, covering how to make a Birth Plan checklist, sticking to one sleep schedule, managing double-duty breastfeeding, stocking up on all the necessary gear, building one-on-one relationships with each child, and more.
Accessible and informative, What to Do When You're Having Two is the must-have manual for all parents of twins.
---
Whether you're a twin parent in the big city surrounded by scores of resources, or a triplet parent out in the country with no one around for miles — our multiples parenting forums are for YOU! Sign up for FREE and connect with people who are just like you — parents of multiples looking for advice, parenting tips, or even just people to chat with who will understand what you're going through. Our forums are open to people all over the world and we offer scads of specialty rooms to find others who are going through the exact same thing as you. Check it out today!
---
Twiniversity is the #1 source for parents of multiples and we are growing faster every day!
Find us all over the web:
Or contact us by email at community@twiniversity.com