An expecting Mom recently asked:
When do most twin moms pack their hospital bag, install the car seats and have everything ready for their twins arrival? I am scheduled to have a c-section in 8 weeks, if they don't come beforehand. I'm just curious about timing!
Here's what our Twiniversity fans had to say:
– I had my hospital bag packed at 20 weeks just because I was anxious and probably repacked it 8 times! I had my bases in my car after my baby shower, but not the carseats because God forbid there was an accident they would have to be replaced.
– Have a hospital bag packed now. As far as things for the babies, just make sure things are ready by the time you are 35 weeks or so. After that point, they will probably be able to come home with you, so you want to be prepared. Earlier than that, and they will probably need NICU time and you will have a little extra time to prep once you get home.
– Good you're thinking ahead! I had my bag started around this time. Even when it was getting close I left a list of what I still needed on top of bag (like wallet, phone charger, pillow that I was using and not packed) so my hubby or I would remember.
– I didn't have anything done (including the nursery, and the birthing class!) when my girls came at 31 weeks. As far as a bag, I didn't end up needing anything other than my phone charger. Then later some clothes to change into after a much needed shower! As for the rest, my girls were in the NICU for six weeks, so I actually had time to get a lot done then. It all works out in the end.
– Pack early. My water broke unexpectedly at 26 weeks and it was no fun packing a hospital bag in a hurry with the ambulance coming. Then I was in the hospital for 6 weeks (3 weeks until the birth and 3 weeks afterwards with postpartum pre-eclampsia) and hadn't got any of the right things with me. My twins were in the NICU for 8 weeks and I was totally unprepared and unwell. Would have been one less stress if I'd have packed sooner.
– Definitely pack early! I thought I was for sure going to make it to my scheduled induction date at 38 weeks, with a very uneventful pregnancy. But my water broke at 35 weeks, with no hospital bag packed. I had to take an ambulance ride to a hospital an hour and a half away from home, where there was a NICU. My husband ended up having to pack my bag, and I ended up not having anything to go home from the hospital in with what he packed. My mom ended up having to make a Target run to get some clothes that fit/matched.
– I just had my boys at 32 weeks and didn't have my bag ready. Do it now because you never know and your partner might bring you all the wrong under garments and miss matched pajamas. Also don't forget a pumping bra the one thing I really needed but didn't have!
– On my way to our appointment at 31 weeks I told my husband I wanted to stop at CVS for toiletries for my hospital bag on the way home. While at the appointment we showed signs of TTTS and I was admitted to the hospital where I stayed until they were delivered at 32 weeks 5 days. Pack now. Trying to walk my husband through finding my slippers, clean shirts, and a few basic other items was in itself a feat.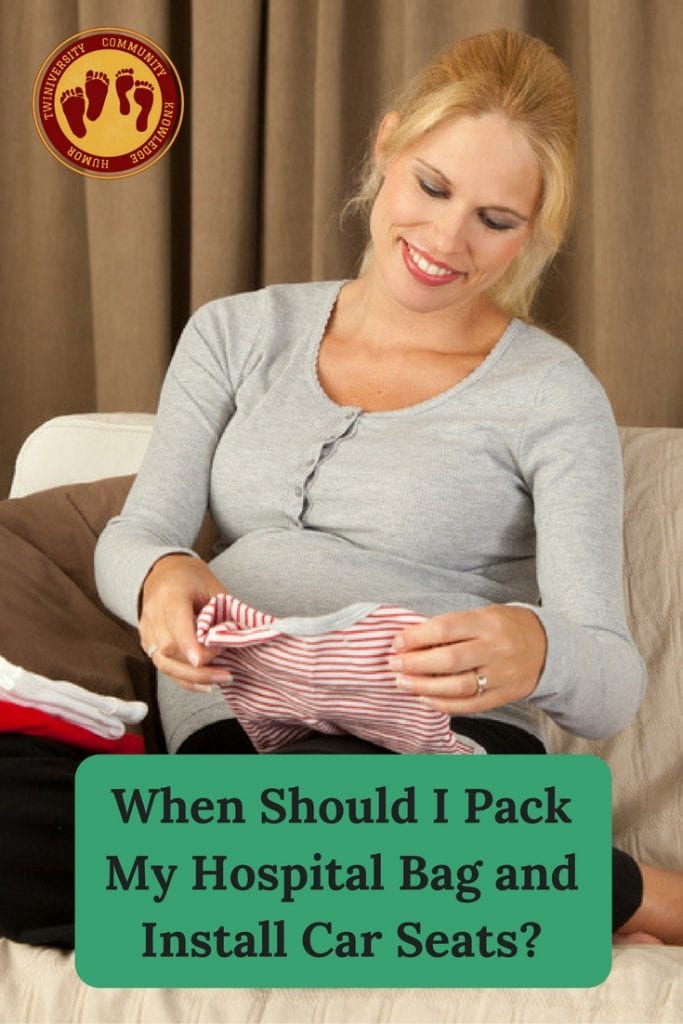 – My doctor wanted everything done by 30 weeks, and that's what we did. I think my husband was a little slow on the car seats and had them by 32 or 33 weeks. Made it all the way to scheduled c-section date (amazingly) at 37 weeks and 1 day.
– I had my bags basically packed at 30 weeks, thankfully. At my 32 week appointment my doctor admitted me for pre-term labor! I would have preferred I had it packed, than not having it at all! My husband had to do the car seats while we were being discharged!
– Good call on packing early. As a class one procrastinator I didn't have my hospital bag packed and my water broke at 36 weeks. My C-section was scheduled for 38 weeks. It was quite the experience waddling around the house trying to gather what I thought I needed in such as rush.
---
Related Articles
---
The rate of twin births has risen 79 percent over the last three decades, and continues to increase. A mom of fraternal twins and a national guru on having two, Natalie Diaz launched Twiniversity, a supportive website with advice from the twin-trenches.
What to Do When You're Having Two is the definitive how-to guide to parenting twins, covering how to make a Birth Plan checklist, sticking to one sleep schedule, managing double-duty breastfeeding, stocking up on all the necessary gear, building one-on-one relationships with each child, and more.
Accessible and informative, What to Do When You're Having Two is the must-have manual for all parents of twins.
---
Whether you're a twin parent in the big city surrounded by scores of resources, or a triplet parent out in the country with no one around for miles — our multiples parenting forums are for YOU! Sign up for FREE and connect with people who are just like you — parents of multiples looking for advice, parenting tips, or even just people to chat with who will understand what you're going through. Our forums are open to people all over the world and we offer scads of specialty rooms to find others who are going through the exact same thing as you. Check it out today!
---
Twiniversity is the #1 source for parents of multiples and we are growing faster every day!
Find us all over the web:
Or contact us by email at community@twiniversity.com