I'm sure there are moms out there that find preparing a meal on the spot simple and easy. They have their toddlers patiently waiting while the food is being prepared, maybe they are even doing something educational. I'm not one of those moms. Mealtimes have been somewhat of a challenge for me as we learned that one twin had a dairy allergy (along with a few other easier to manage allergies) right around the time we wanted to introduce solids. Between differentiating meals and typical toddler impatience I've always been a fan of having at least part of the meal ready to go. That's where my use of a chest freezer comes into play.
Last month, I took a little too long with the second twin's hand wash and found her sister had climbed into her high chair and started trying to clip herself in. As a rock climber myself, there was initially a sense of pride that my girls can climb. Then the reality of the new level of mischief available to the girls stopped me and made me even more intentional about keeping meal prep quick and simple.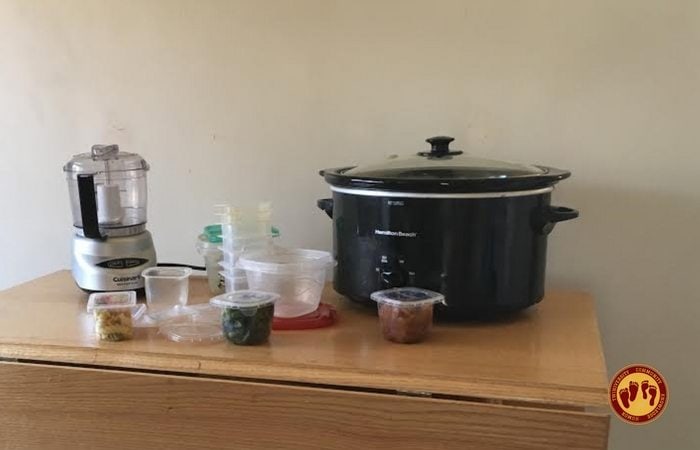 Supplies
A crockpot, food processor (or blender), some reusable storage containers (even the containers from baby food will last a few rounds of storage before you see wear and tear), and a chest freezer is all you need to cook ahead delicious and healthy meals for your little ones. A membership to Costco can certainly be helpful as well when you are cooking in bulk. I never thought that I would eventually see a Costco sized tub of blueberries as too small for my family of four, but growing kids can eat! When you avoid introducing junk food to kids, they can go to town on fresh fruit.
My Method
One of my best friends will often make a day or weekend out of meal planning and do a Costco trip followed by cooking, storing, labeling, and freezing weeks-worth of food. Part of this may be that her older singletons are more self-sufficient than my toddler twins or maybe it's just my personality, but I do much better focusing on one or two items a night for a few nights in a row to stock up the freezer. I wait until the twins are sleeping and then cook and do dishes for the rest of the evening. At the end of a cooking session I move the food into a storage container, label it with the date and any ingredients that are not obvious, and store it in the refrigerator overnight (to minimize condensation so there is less freezer burn). The next morning I'll move the chilled food into the chest freezer.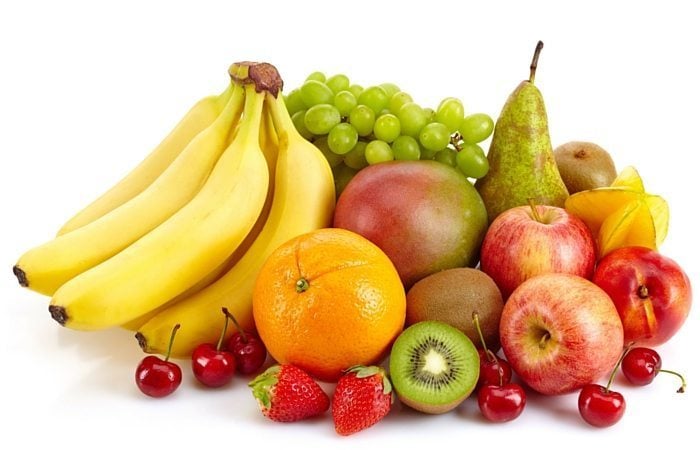 The one thing we keep in common is a starting with a big shopping trip to stock up on fresh items first. If you have the ability to make a list first that's best. If you live somewhere rural with questionable produce buy what looks fresh and improvise. I typically freeze most of the meat in meal size Ziploc bags before cooking so that it's available on demand. Then I pick an item or two each night to prepare and store. Night one may be a chili, followed by carrots and baked chicken the next night. Then zucchini and applesauce, and end with muffins and pasta the next night before I pause on my cooking ahead.
Then comes the best part of using a chest freezer for meal prep, simply going to the freezer and picking out a variety of food for the next day. Based on how much fresh food is in your refrigerator you'll want to get out a few veggies, some fruit, some protein, and maybe some carbs to make keep things balanced. Overnight the items from the freezer get to a good temperature in the refrigerator so that you will easily warm the items in preparation for the meal.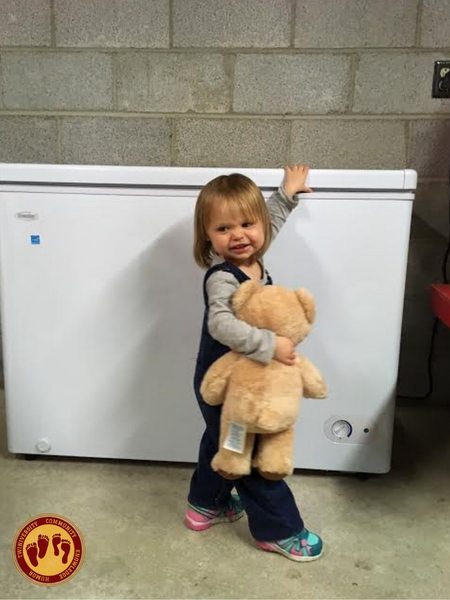 Using a chest freezer will allow you to cook at your convenience, but still feed your family food that you are excited about and know is high-quality. In addition to the food you cook ahead a chest freezer will store frozen veggies from the store, fish sticks, and pizzas because honestly there are some things that are hard to recreate. Don't forget that you can add in new fresh meals as it fits into your schedule. Bon Appétit!
My 2 favorite recipes
While I regularly buy the Costco pouches of applesauce for travel, nothing beats homemade applesauce. My girls (and even my husband who avoids most fruit) regularly request applesauce and love the consistency of homemade applesauce so it's worth the time. Personally, I love to start this recipe during nap time and move it to the refrigerator at bedtime.
Twiniversity Tip: Check out these great reusable squeezie pouches from Sage Spoonfuls!
Applesauce
Ingredients:
– 24 apples (I use a variety of different apples and make sure to include Gala and Honeycrisp)
– ground cinnamon
– water or pressed apple juice
Instructions:
1. Peel the apples and slice them in small chunks.
2. Put the apples into the crockpot sprinkle on enough cinnamon to cover the apples.
3. Add enough liquid to cover the bottom of the crockpot. (Water works well, but Simply Apple pressed apple juice gives the aroma and taste of a cider mill.)
4. Let the crockpot run on high for 4-6 hours to get a nice consistency, and stir to slightly mash the biggest chunks of apple.
5. Let the applesauce sit to briefly cool before transferring it to a Tupperware dish.
6. Refrigerate first and then move to the chest freezer once it's cooled.
---
Chicken Chili
Ingredients:
– 2 cans of white beans (drained)
– 1 can of chicken broth
– 1 jar of pico style salsa
– half cup of spinach
– 4-6 boneless chicken breasts
– 4 oz. pepper jack cheese (optional)
– 4 oz. monterrey jack cheese (optional)
– hot sauce (optional)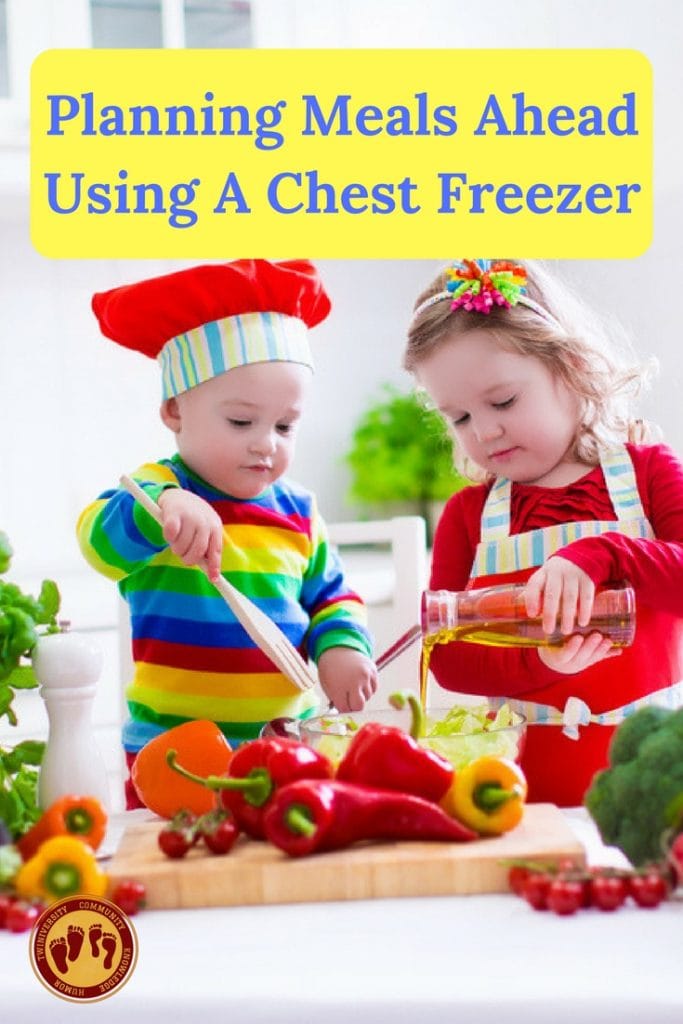 Instructions:
I generally start with the basics first thing in the morning and add the cheese and hot sauce that my husband and I love after I've set aside the toddler friendly portions.
1. Put the white beans, chicken broth, salsa, spinach, and chicken breasts in the crockpot.
2. Cook all day on medium.
3. Shortly before serving shred the chicken, then return it to the rest of the chili for 15-30 minutes. For young toddlers you may want to use the food processor to puree to a consistency they can handle.
For those who are able to enjoy dairy add the cheese when you shred the chicken.
If you enjoy spicy food you can add hot sauce before serving as well, I recommend this myself.
4. Refrigerate and let cool before transferring to the chest freezer.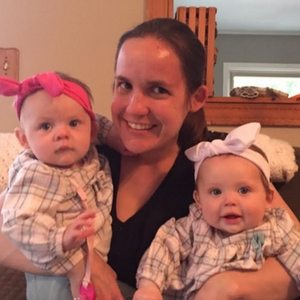 Becca Heldreth is mother to 18 month old fraternal twin girls. She has a master's degree in education and is currently able to teach from home. Her class of two toddler girls and one dog is quite an adventure. Lessons are certainly more focused on sharing and petting the dog gently than on factoring polynomials. Becca and her husband pass along their passion for the outdoors to their twins through trips to the bouldering room, hiking trails, and bike rides.
---
Related Articles
---
Expecting twins? START HERE! Check out our ultimate list of the most important articles for expecting twins and managing your newborns!
---
The rate of twin births has risen 79 percent over the last three decades, and continues to increase. A mom of fraternal twins and a national guru on having two, Natalie Diaz launched Twiniversity, a supportive website with advice from the twin-trenches.
What to Do When You're Having Two is the definitive how-to guide to parenting twins, covering how to make a Birth Plan checklist, sticking to one sleep schedule, managing double-duty breastfeeding, stocking up on all the necessary gear, building one-on-one relationships with each child, and more.
Accessible and informative, What to Do When You're Having Two is the must-have manual for all parents of twins.
---
Whether you're a twin parent in the big city surrounded by scores of resources, or a triplet parent out in the country with no one around for miles — our multiples parenting forums are for YOU! Sign up for FREE and connect with people who are just like you — parents of multiples looking for advice, parenting tips, or even just people to chat with who will understand what you're going through. Our forums are open to people all over the world and we offer scads of specialty rooms to find others who are going through the exact same thing as you. Check it out today!
---

Twiniversity is the #1 source for parents of multiples and we are growing faster every day!
Find us all over the web: