By Laura Birks, Staff Writer
I have a confession to make. It makes me sad that my twins share a birthday. I feel bad that they don't have one day that is extra special just for each of them like I did growing up. I did until I met my husband anyhow. See, I understand a little bit about that bittersweet feeling some multiples feel sharing a birthday. My birthday was always a little extra special growing up. I was born on Halloween. It felt like the entire country was celebrating me each year! And honestly, is there a better day of the school year than Halloween? Candy – check, Costumes – check, No Homework – Check! It was great! As I got older the parties got bigger and by the time I was in my twenties, I was celebrating my birthday for the entire month of October. There were so many costume parties, places to visit and excuses to celebrate, ME!!
When I met my husband we were trading fun facts about each other he excitedly mentioned he had a special birthday. I thought, not as special as Halloween and when he said October 31st, I made him show me his driver's license. Turns out, he was in fact, born on my birthday. So now it is our birthday. We get joint cards, joint gifts, and joint phone calls throughout the day. It stinks. Not all the time. Especially not now that I am older and no longer celebrate like I used to. My Halloween birthday is now purely about sugar highs times two and praying that I get to bed by nine.
If you are keeping count that makes, four humans and two birth dates in my house. When my twins were born I made kind of a secret decision to make a BIG deal out of each of their birthdays. First and most importantly because as preemies, each year they grow bigger, stronger, smarter seems like it should be celebrated like a royal wedding and second because I never want them to resent sharing their special day with each other. I spend hours decorating the house the night before so when they wake up in the morning, the house is transformed into Alex and Ben's birthday spectacular. I worry for weeks leading up to the actual day about plans, details, presents, and activities. In this house it's not just another birthday, it's a celebration of our family, their uniqueness, and it's two birthdays. Some years we have had separate themes, and some years we have had separate cakes. It really depends on what they want and what they tell me they want.
We are in their sixth year of birthdays and as they get older they are wishing for more experiences, not traditional birthday parties. I am more than happy to oblige because the last thing I really want to spend my money on is two hours at a trampoline park or have twenty kids in my house for the afternoon. I will spend my money on an adventure though. Luckily, my boys love adventure. (They may look like their father but they have my wanderlust)
This year we were very fortunate to be invited to Camelback Resorts in the Poconos for two nights and three days. We jumped at the opportunity to explore all they have to offer families. (And it's a lot) We left a day after the boys actual birthday so they were still on a birthday present and cake high when we walked into the lobby. We have stayed in many hotels but never a true resort with them. They stopped fighting and I picked their jaws up off the ground. The inside of the resort is beautiful and has a gorgeous travel theme. We checked out the gift shop, the rock climbing wall, arcade, candy shop, mini bowling alley and then they saw it – Aquatopia. They demanded we go back to our hotel room get our bathing suits on and run back to this mecca. When we finally got back to our room, we ordered some amazing room service, because why not? And literally, all fell asleep before we finished eating. I may have been a bit tired from the two giant margaritas I had while my husband and twins were in the wave pool. Thank you swim up bar!
Aquatopia quite literally has something for every age group. There is a swim up bar, (YAY!) an infant/small child area, a wave pool and lazy river, an intermediate area, and the large slides and tubes. They have a café inside with kid friendly foods, not necessarily nutritious but all the kid favorites nonetheless. The lifeguards are smart, aware and on top of their game. Each child under so many inches needs to wear a safety vest. Not everyone will like this rule, I personally loved it. Since the admission to Aquatopia is included with the cost of the room we lived there for a day and a half. Honestly, the boys would have stayed there the entire time but I reminded them that we had an entire mountain to explore and only three days to do it.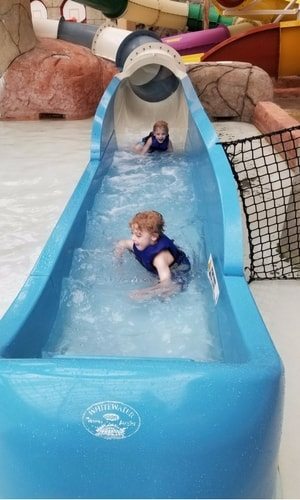 If you plan on visiting Camelback Resorts, I recommend bringing snacks, easy breastfast foods, and drinks. Each room has a small fridge that you can store perishables. The food and drinks are expensive on the property and when we go back this winter for skiing, we will definitely be bringing some of those things with us. (I love that it is a year round family resort that offers different adventures based on the season.) With that said though, the breakfast buffet at Hemispheres is huge and delicious. After a giant breakfast, we hit the arcade to play some games and win some tickets. The arcade is on the smaller side but the games are geared for kids between the ages of 4-12. So there is something for most families. They had my favorite, skee ball, so I was happy. We cashed in our tickets for a few cars and candy. The best part of the day was laughing at my husband trying to win a fidget spinner from the claw machine. (He did not) We headed over to the pottery shop, Polka Dot Pots. Alex painted a skate board. Ben painted a car and I painted a tree on a tile. I used their fingerprints as leaves (it doesn't look like leaves because I am not crafty) and we (meaning they) got paint all over our clothes. Suggestion, if you decide you want to paint your own pottery make sure to do it at least a day before you check out. The pottery needs to spend overnight in the kiln. We did also have a slight meltdown because some of the pieces are pricey to paint. Silly me, wouldn't let my two paint $48.00 giant Hummer trucks. There are plenty of reasonably priced pieces to paint and they had a blast once they realized we weren't buying them $96.00 worth of pottery. It was still early enough in the evening that we hit Aquatopia again for one more round of water park fun before having to check out the next day. That's the awesome part of having a water park inside your hotel, you can go whenever you want! Aquatopia is open until 10:00 PM so you can even go back after dinner if you wanted. We did not.
We headed back to our room and ordered pizza from a local pizzeria and they delivered right to the main lobby. Our room was perfect for a family of four. It had a pullout couch that you could fit two more kids on if you wanted to. We all were pretty waterlogged and exhausted from swimming, painting, playing and exploring all day that everyone fell asleep within minutes of hitting our beds. Our final day was the day I was most excited for. We were going to Camelbeach, ride the mountain coaster, and ride the alpine slide. I grew up going to Camelback and riding the alpine slide. I have the scars to prove it! Some of my favorite memories are hiking up Big Pocono and riding down the alpine slide. I couldn't wait to share it with my family.
We checked out of the resort, packed up the car and took the shuttle up the mountain to Camelback Mountain Adventures where the roller coaster, slide, and zip lines are. The boys wanted to do Camelbeach first so we hopped back on the shuttle (which is free) and headed a little bit farther up the mountain. All in all the shuttle ride is only about 5 minutes but it's nice not to worry about driving or parking.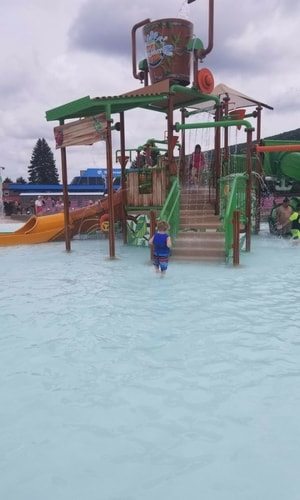 Camelbeach is an impressive outdoor water park. They basically convert the winter ski resort into a summer beach resort with first class slides with thrill seekers in mind. They have water slides that go down the mountain and zig and zag around. Some that go fast and some that go faster! There was a nice selection of things for the younger set to do to, but ultimately, my two were more impressed with Aquatopia I think because it was inside. We rode the lazy river roughly 1,000 times, played in the kid's pool until hunger got the best of us. They have a huge picnic area where you can bring in coolers and sit comfortably and eat. A one day ticket is included in your overnight stay – so there is no extra cost for this!
Just as I talking everyone into getting ready to head back down the mountain to the coaster and slide, it started to rain. I mean really rain. Puppies and kittens, frogs and fish, rain. We hung out until the rain slowed and took off for the shuttle. It turns out, my favorite childhood ride doesn't run in the rain for safety reasons and my husband talked me out of trying to wait out the weather any longer. (He can be a Debbie Downer) As we headed back to our car, I smiled because we made amazing new memories and I still have my old memories.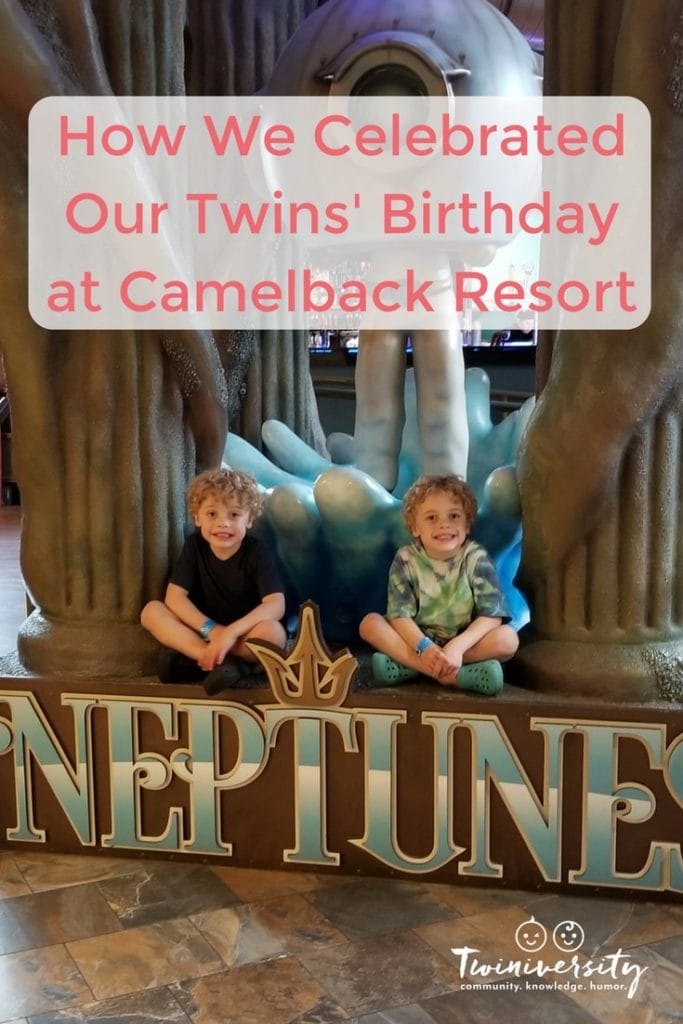 As we were getting everyone buckled into the car, the rain stopped. The sun came out. There was a slight breeze and I knew what we had to do. My husband looked at me and I said to the top of this mountain we go! We drove to the top of Big Pocono State Park and hiked the trails. We ate wild raspberries and discovered all different kinds of mosses. We ran up and down old wooden steps, we stared out at the beauty below us, and my children said, "Mommy, this was the best birthday we ever had." My job was done for another year. Thank you, Camelback Resorts for helping us give our twins the best birthday ever! (Now how do I top it next year?)
*Camelback Resorts gave me a generous media rate and complimentary tickets for some activities. Of course, due to the rain, we were not able to use them. Boo! All my opinions are my own. All my recommendations are mine because I am a strong-willed twin Mama and nothing could change that.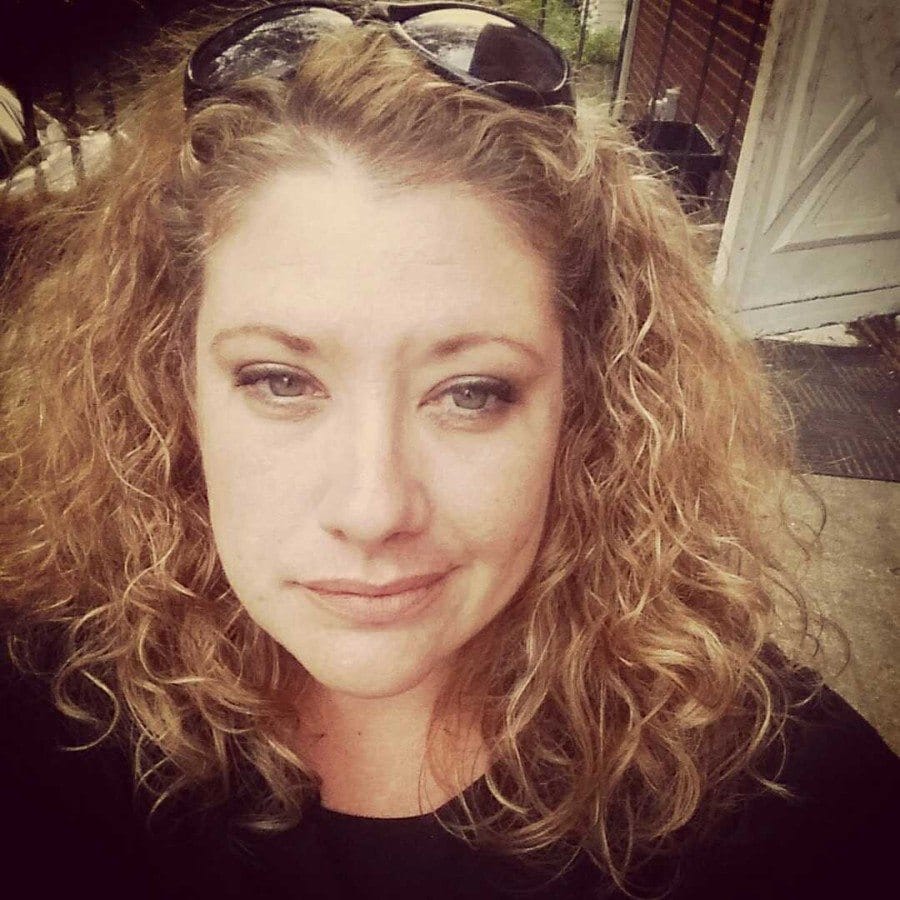 Laura Birks is a freelance writer and essayist. She lives in New Jersey with her twin boys, a dog, a couple of cats and a husband. When she's not doling out medicine or cleaning up vomit, she is writing. Her house is in a constant state of disarray and the laundry is never put away. She likes to pretend she is superwoman but the truth is, she is a mere mortal with a messy house. Find her on Twitter, Instagram, and Pinterest.
---
Related Articles
Why Beaches Resort in Turks and Caicos Is Best For Families With Multiples
Saving for A Vacation on A Budget