Finances can be such a huge concern when you have twins. Check out all the ways this twin mama says you can make money while staying home.
Three years ago I found myself unexpectedly pregnant with twins. I immediately panicked about work. At the time, I was in a new city hoping to transition into a full-time job, while freelancing on the side. I realized that it was unlikely that would happen given the cost of daycare for two infants and the fact that I have zero family within driving distance of my home.
Once I heard those two little heartbeats during our first ultrasound, I knew that I wanted to continue freelancing and eventually grow it into a business. Thankfully, our economy is changing. Remote work is on the rise, freelancing exists for all sorts of careers, and flexible schedules are all the rage. The traditional corporate structure no longer fits with the lifestyle we as parents want to have with our children. The good news for those of us who want to stay home with our kids, yet continue to work, is that we no longer have to rely on corporate jobs.
If you want to stay home with the kids and continue to work, here are five career options you can explore.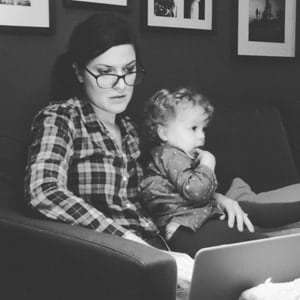 1. Consulting
Reflect on your past jobs. What skills do you have? What type of projects do you love to work on? In today's freelance economy, you can easily consult with your old company, small businesses, and the corporate world.
Are you an accountant? Great, start your own LLC and build up your client base. A public relations professional? There are a lot of small businesses that could use your talent. Google Ads expert? Cha-ching.
I know it can be intimidating at first, but going out on your own IS possible and can give you the best of both worlds. You get to stay active in your expertise, all while setting a schedule that works for you and your family.
2. Creative Work
Perhaps you love photography or art. Maybe you can sew? There are a million ways to make an income pursuing your talents. The rise of technology has empowered all of us to get comfortable in our own skin, create a product we are proud of and find the right audience who wants what we're selling.
My suggestion for creatives? Share your work on social media, create a website, and be authentic to your own brand.
3. Problem Solving
When you become parents, stores like Target and Lowe's start to make a lot more sense. You also start to put systems in place for your home to keep things running smoothly. Maybe you're great at organizing or helping people resell their unwanted items online. Perhaps you have figured out how to make mornings run smoother by creating a new routine in your home. Whatever magic you have created to run a household, know that others want it too.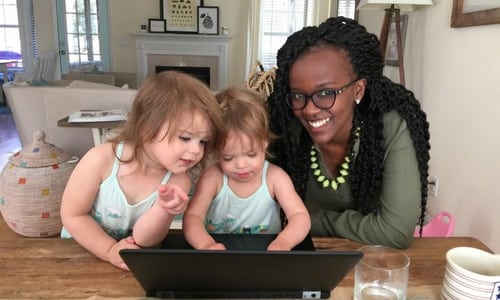 So test it out. Share your systems and solutions with friends. Find out what they may need and see if you have what they want. Once you figure that out, you have a business, my friend. Sell your closet organizing services or your school lunch solutions. Blog about it. Tell other moms at school. You'd be surprised at how many people may need your brilliance in their daily routines.
4. Remote Work
Thanks to the internet, we don't have to go to the office anymore (can I get a woo hoo?!) There are so many companies offering positions to remote workers, as it cuts down on costs for them, all while seeing a rise in the productivity of their employees.
That's right. Studies have shown that remote workers are often more efficient than those who sit in a cubicle all day. Imagine that.
If you're looking for work and want to stay home, explore start-ups, tech companies, and places like Amazon, who offer remote work positions.
5. Passion Project
Let me just say that as a mom, I want to be there for my fellow momtrepreneurs. So if you have a passion to write a book, start a speaking gig, or invent the next new baby product, do it! There are so many women cheering you on. Whatever passion you have, don't think that having multiples limits you from achieving your goals. In reality, it makes you a badass and while your schedule may be crazy, you should always make time to pursue the things you love.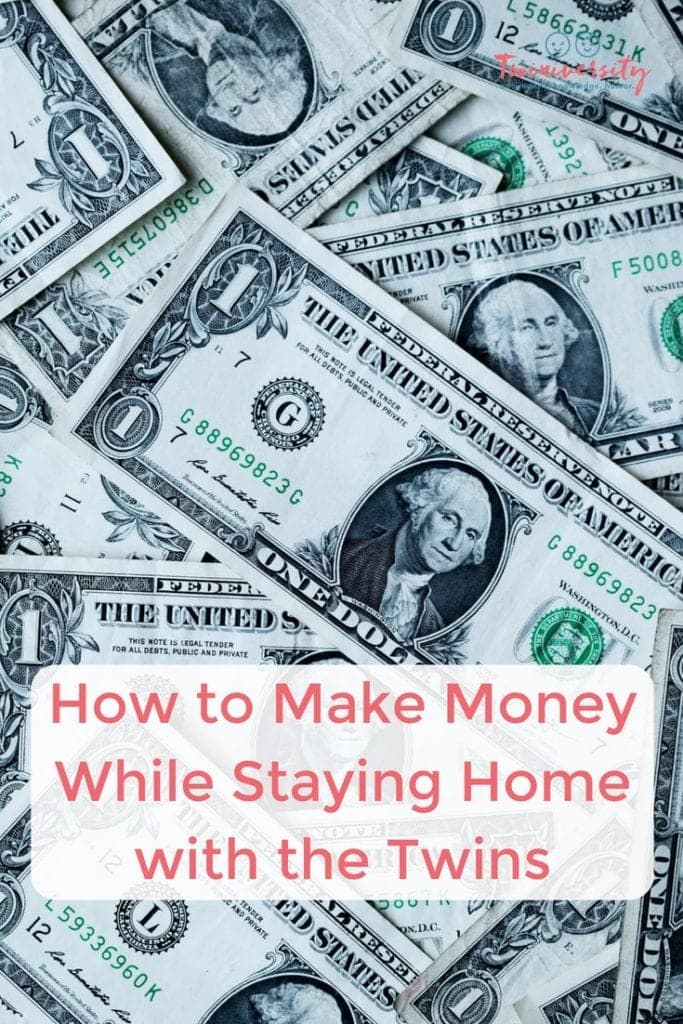 Bonus: Resources
First, let me just encourage you if you are looking to pursue the new world of a working from home mom. I did it and I love it, and although it's crazy at times, I wouldn't change anything. From my experience, here are some great resources you can explore to empower you during this transition:
Venture Mom

: A solid book for someone who needs a step-by-step process for creating a work from home business.

Badass Your Brand

: This book is great for someone who wants to pursue consulting and learn how to price services and create a personal brand.

Rising Tide Society

: This resource is for creatives who are looking to connect with other entrepreneurs and grow their business.

Hatch Tribe

: An online group exclusively for women entrepreneurs who are looking for advice and encouragement.

Local Networking Events: When you make the leap to momtrepreneur you are going to feel crazy at times, so I would highly encourage you to connect with other entrepreneurs in your town so that you can be honest, share your expertise and grow your business into something that works for you and your family.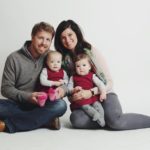 Stefani Zimmerman Drake is a wife, twin mom, and lover of rescue dogs. As a strategic communications consultant who runs her own business in Charleston, South Carolina, Stefani and her husband spend their time capturing all the sweet moments of their girls, while always dreaming about their next big adventure. You can follow their adventures online or via Instagram stories.
---
Related Articles
5 Tips for Returning to Work After Twins
How Hiring A Nanny SavedOur Sanity and Our Budget
How Our Family Is Working to Become Debt-Free
---

Got twins? Us too! The Twiniversity Podcast with Natalie Diaz is created by parents of twins FOR parents of twins, from expecting times through the teenage years and everything in between. This podcast is all about parenting twins, offering plenty of tips, parenting hacks, and of course, humor. Just know that we are laughing WITH you every step of the way.
---

Are you looking to connect with an experienced parent of multiples who has been in your shoes? Do you want to feel supported, guided, and heard as a new parent of multiples*?
Or, do you love offering advice and tips to new parents of multiples*? Would you love to support, guide and listen to a soon-to-be or new parent the way you wish someone was there for you?
If you said, "YES!" to any of those questions, then the Twiniversity Parent-to-Parent Mentorship Program is perfect for YOU!
We are looking for parents of multiples from around the globe who want to be matched up with a parent mentor, or who want to BE a parent mentor. We'll be matching up moms with moms and dads with dads from all over the world to get personal support in this crazy life of multiples parenting!! All you have to do is complete a simple application form and we'll do the matchmaking! And the best part? The program is totally FREE! There are no fees to take part in this program.
---

The rate of twin births has risen 79 percent over the last three decades, and continues to increase. A mom of fraternal twins and a national guru on having two, Natalie Diaz launched Twiniversity, a supportive website with advice from the twin-trenches.
What to Do When You're Having Two is the definitive how-to guide to parenting twins, covering how to make a Birth Plan checklist, sticking to one sleep schedule, managing double-duty breastfeeding, stocking up on all the necessary gear, building one-on-one relationships with each child, and more.
Accessible and informative, What to Do When You're Having Two is the must-have manual for all parents of twins.