Read 8 tips for better sleep when traveling with kids, including sleeping arrangements, products to not leave home without, and what to ask when booking.
When you're traveling with little kids (or even just staying at home), the Romp & Roost Luxe Oversized Playard is a fantastic option for sleep and play.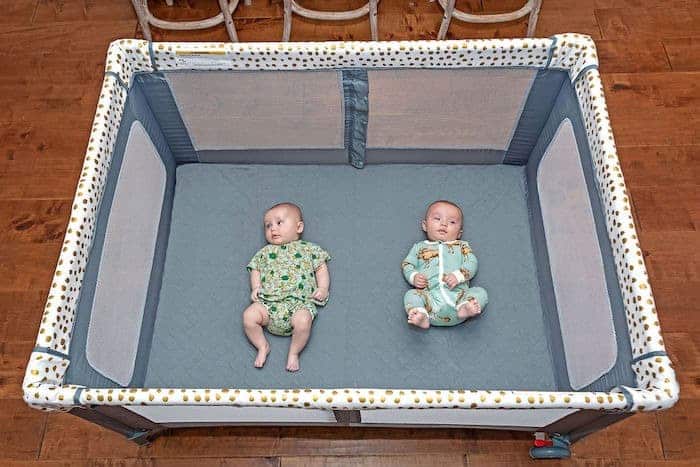 The Romp & Roost Luxe Oversized Playard is perfect for twins to play in together. It's TWO TIMES the size of a standard play yard.
With the divider in, it can sleep two infants or toddlers. With the divider out, it's one large playpen for your twins to play + learn crawling + walking skills in a safe environment.
It comes with an amazing travel bag with wheels to make traveling to your next destination a breeze. This is a great choice for twin families!
DIMENSIONS – 54" x 40" x 30", weighing 33 lbs.
MAXIMUM WEIGHT – Recommended for children totaling 70 lbs or less.
INCLUDED – A travel bag with wheels, make traveling to the next destination a breeze!
ADD-ON ACCESSORIES – A soft, waterproof sheet with or without a removable divider to separate the space for two children, can be purchased separately.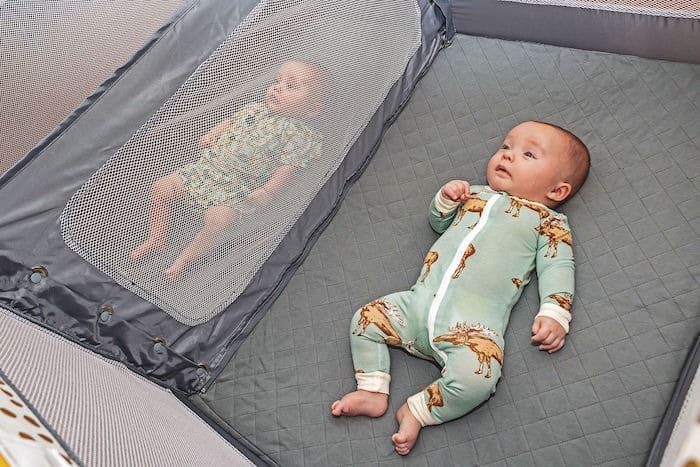 8 Tips for Better Sleep When Traveling with Kids
I have yet to hear a parent say, "My kids slept so great while were traveling!" When changes are made to your children's everyday routines, their sleep is typically also disrupted. However, there are some things you can try to make sleep a little better when you're on the road and away from home.
1. Book a room with a separate bedroom
It's so nice to be able to put the kids down in a bedroom, shut the door, and get a little grown-up time after a long day of travel. If you can get a 2-bedroom suite, even better, but a 1-bedroom is plenty if it's just the four of you as long as there's a hide-a-bed in the living room.
The best arrangement is to give the bedroom to the kids and plan for you and your partner to sleep on the hide-a-bed. It's not going to be as comfortable sleep-wise for you, but this way you'll have free reign of the hotel room after the kids fall asleep to watch a movie, unpack, maybe even have a nice meal together.
If you're staying for several days, look into booking a rental property or condo instead of going the traditional hotel route. This will give you a lot more flexibility with sleeping arrangements, as well as a full kitchen.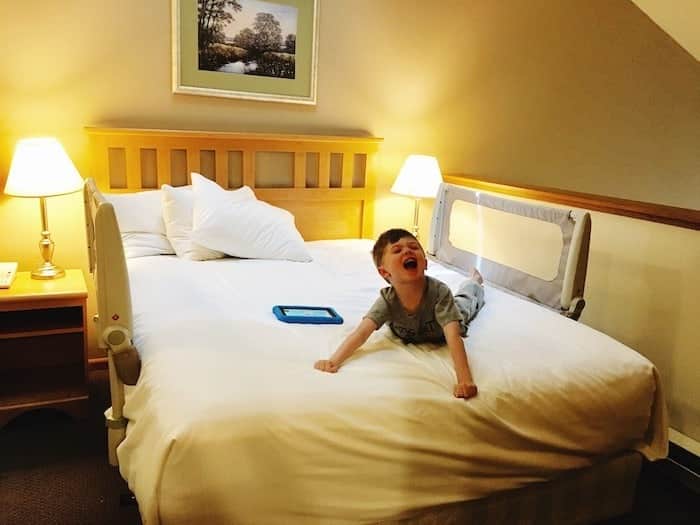 2. It's OK to rearrange the room
Don't be shy. You take that end table and show him who's boss! But really, you can move around the furniture if it's going to help your stay to be more comfortable. Will shifting the couch to the other end of the room give you way more space for your travel crib? Then do it! As long as it's not causing a safety hazard, feel free to make changes to the room setup, especially if it means better sleep for your kids.
3. Try to stay on the same nap and sleep schedule
I know, I know. This is a serious challenge when you're on vacation! If your twins are infants and still napping three or more times a day, it may be impossible. But try your best to stick as closely as possible to their nap schedule because it will mean better sleep overnight for all of you. It's never going to be perfect (let's face it, was it ever perfect at home?) but the closer you can stick to your schedule the happier everyone will be (and that includes Aunt Tilly — be sure to remind her of that!)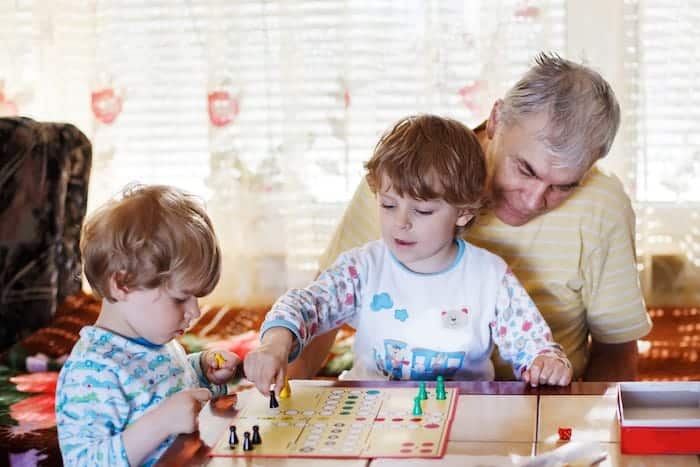 4. Replicate the evening ritual
Do you have a routine for bedtime at home? (If not, read this.) Keep this going while you're traveling. Be sure to pack a variety of books, bathtub toys, special lovies, soft music, a night light — anything that's a part of your bedtime routine that will make being on the road feel more like home.
5. Bring a white noise machine
A white noise machine is key to help kids fall asleep easier, but it will also deafen any noise you're making in the hotel room so you don't have to tiptoe around so much. If your kids are used falling asleep to a white noise machine, be sure the one you travel with can use a plug or batteries — just in case the power goes out you're still good to go!
6. DIY blackout curtains
I highly recommend that you always have a backup for curtains just in case the hotel's curtains aren't dark enough. I like to travel with dark bedsheets and a set of heavy-duty clips so I can DIY blackout curtains if necessary.
7. Silence the hotel room phone
We all silence our cell phones before bed to avoid waking up the kids, but what about the hotel room phone? Check to see if there's a volume control button that you can turn all the way down. Those ringers are loud and you never know when the front desk might call with a random question (UGH, the WORST!) and suddenly your peaceful sleepers are up and at 'em.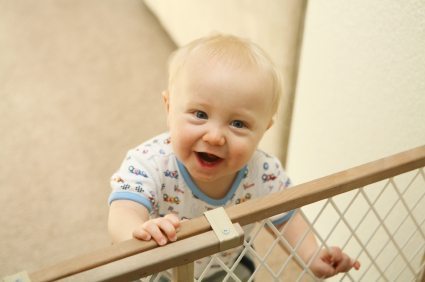 8. Be mindful of safety if your twins are on the move
If your twins are no longer in cribs, it gets a lot trickier to keep them safely in bed when you're traveling. Sometimes when you're looking at a hotel room online it's hard to tell if it's going to work for your situation.
My advice? Call ahead to the property before you book your room and speak with a manager. They'll be able to give you more specific advice on the room set up and what will work for your twins.
I learned this one the hard way. I once booked a 2-bedroom suite at a family waterpark resort that I thought would be perfect for me, my husband, and my rambunctious 4-year-old twin boys. The website offered photos of the rooms but no floor plans, but I assumed all would be well.
We get there only to find that the bedroom I planned to use for the twins is actually a 2nd-floor loft space with a 3-foot-tall ledge (!) overlooking a 15-foot drop!!! Um, I don't think so!
Needless to say, my twins spent the night in the 1st-floor bedroom with the cozy king-sized bed and my husband and I slept in the loft space on the tiny full-size bed. I asked the front desk if we could switch rooms and I learned that all of their 2-bedrooms were the same setup. I checked their website and it said nothing about a loft.
In addition, consider bringing babyproofing items like outlet covers, coffee table corner pads, and tension baby gates. Yes, it's a total pain to bring childproofing products on the road, but it's a lot less hassle than an ER visit with a toddler in a strange town, right? Call ahead to check if furniture and TVs will be anchored where your twins will be sleeping.
Related Articles – 8 Tips for Better Sleep When Traveling with Kids