We asked our community of twin parents to complete this sentence: "The one thing I can't wait to teach my twins is…" Their answers were heartwarming and hilarious! We hope these answers help you to look forward to all the incredible milestones you'll go through with your twins in their journey.
The one thing I can't wait to teach my twins is…
I can't wait to teach my twins to bake and to play hockey ? I had a hard time convincing my husband not to name our twin boys Henrik and Daniel (after the Sedin twins on the Vancouver Canucks). – Lauren S.
Treat people the way you want to be treated. I've always tried to instill kindness toward their siblings. They're starting kindergarten this year and it's so important not only as kids but as adults. – Jennifer M.
I don't know if I can pick just one thing that I want to teach my twins. There are SO many that are important to me. Prayer, empathy, kindness, how to fail with grace and grow from it, society and body image, but I guess ultimately love, for themselves and others. If I was to pick something fun, I can't wait to teach them to ride dirt bikes and go-karts. – Megan L.
How important they both are. Even though they're fraternal they still naturally get grouped together as "the twins". They share everything except a bed. I'm sure they'll be compared with one another most of their lives. So it's my goal to let them know I see them as individuals and they are both special and important ? just like their older siblings! – Kathy J.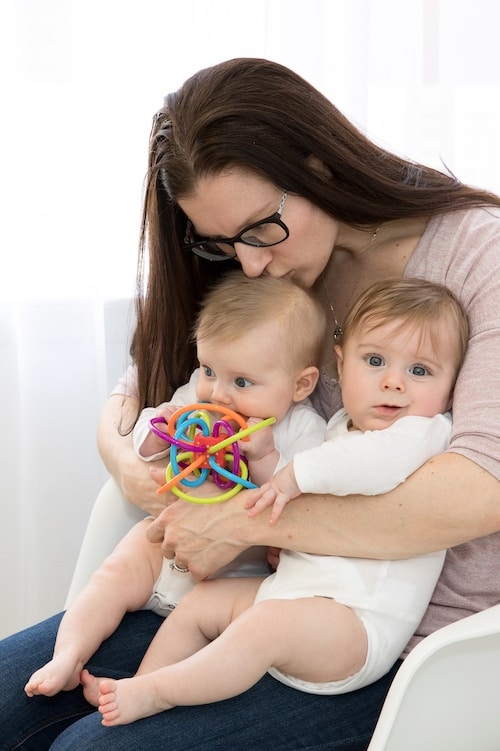 How to ski, scuba dive and travel the world ? They already help me cook ? – Demi A.
I want to teach my twins to be well rounded. We are already working on it intentionally. I appreciate the many opportunities I had as a child for sports, dance, visual and performing arts, outdoor play, camping/fishing, academics, quiet time, friendships, family gatherings, and even some hardships. While I don't look forward to hardships for my kids, they shaped me and gave me perspective at an early age. I don't think I can necessarily teach that, but I hope to demonstrate it and lead by example. – Sara F.
Outside of the normal stuff (sharing, potty training, being nice to each other) I want to teach them to respect their elders. I want them to understand that they need to respect themselves and others before expecting respect from others. It's a toss-up between that teaching them to stand up for what they believe while keeping an open mind and understanding that not everyone has the same beliefs and ideas/opinions. – Jessica A.
How to serve and be a blessing to our homeless. Once a month a group of us get together and cook breakfast for our homeless community. I want my girls to understand and know that they are human beings who are worth loving, they just happened to fall on hard times. – Candi W.
I'd like to teach my twins how to date lovingly. I have 2 boys and no matter who they date I want them to know how to treat someone special. My boys are 3 now and my husband and I have started going on individual dates with them to try to set a good example. – Rachel H.
To love each other forever! As family we are all each other has. Having a twin will be a blessing to them forever and they will always have someone to face the world with. – Adrianna R.
I'm a twin grandmother and retired teacher. I want to help instill a love of reading in them. – Debbie D.
I would like them to have emotional development and self-expression leading to self-discipline and valuing oneself and others without judging one another… Embrace All with Love and Dignity! Respect for All! ?? – Shweta T.
I have boy/girl twins and the one thing I want to teach them is that their gender does not define them. Why? Because it's OK to break stereotypes. – Tracy C.
How to love themselves fully and to accept and embrace their individuality. Yes, they're twins, but they're also 2 different people ? – Jasmine B.
I plan to teach my twins to be kind and accepting. And to laugh as much as possible. – Máiréad M.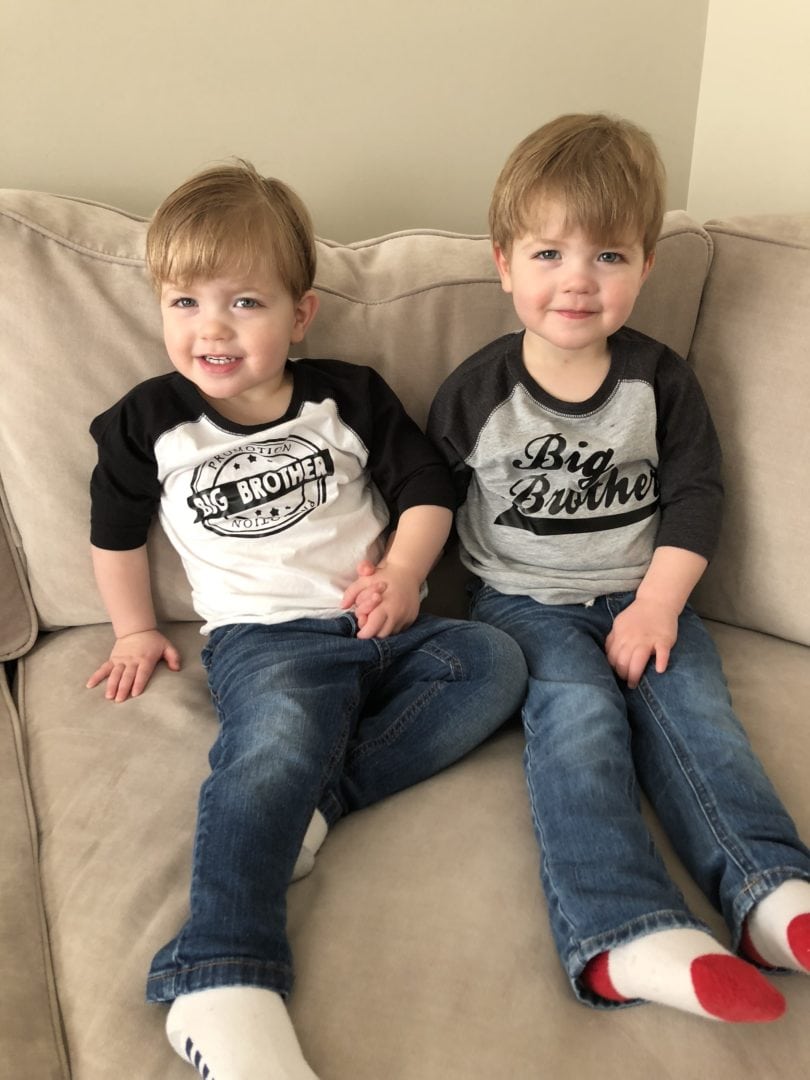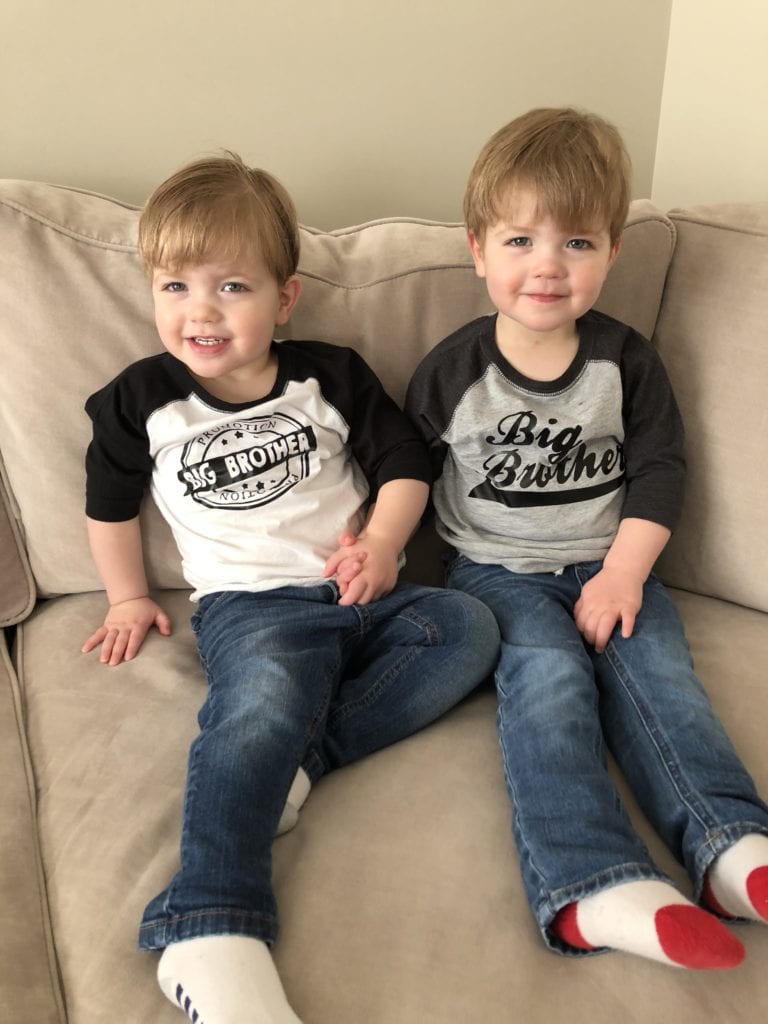 To embrace their differences and always have each other's back because no one will ever love you like your siblings. – Tiffany B.
I can't wait to teach them how to read, because that's what I do for a living and reading brings me great joy! – Christine M.
To respect people. I don't want them thinking they only have to respect women cause they're boys. I want hem to know that treating all people with respect and kindness is just how we do things. – Emma L.
I want to teach my twins (identical boys) how to treat the women in their lives (big sister and mommy) by watching their daddy ❤️ – Abby D.
The potty!! I have been wiping butts for over 5 years continuously now and I'm done!!! I'm done!!! (In fact, I am not and upon waking tomorrow I will wipe two butts that aren't mine.) – Rebecca H.
How to do dishes and laundry….. ????? – Ashley G.
We can't wait to teach them to ride a bike. It's something we have always loved to do together, and are excited to share being active out in nature with our girls. – Amy G.
To bake Christmas cookies it was a tradition with my family I'd like to continue. – Jennifer R.
I'm planning to teach my twins how to be themselves fully and be happy with who they are. Individual perfect little souls. – Janice H.
To love their individuality as much as they love each other. ? – Brandi L.
Privacy! I can't wait to teach them to respect and provide privacy! – Natalie B.
How to blow their damn noses LMAO! Though me chasing them with the NoseFrida accounted for much of my post-pregnancy weight loss ? – Sarah H.
Martial arts. ? Morals and whatnot are a given. – Becky C.
How lucky they are to have each other! – Janice M.
That they are responsible for their response, to always speak their mind respectfully, and kindness counts. – Mary L.
To be kind to everyone because we don't know what other people are going through. – Bailey E.
How to play soccer, the first thing my mother got us after we told her we were expecting was a tiny soccer ball for my husband to use to teach the kids to play. – Alison H.
To teach them to choose kindness. – Kayla N.
Put their own laundry away! ? – Lindsay C.
How to make their own damn snacks ??‍♀️ – Lisa S.
How to use a toilet 🙂 So I don't have to change diapers anymore LOL! – Yana I.
Related Articles
You Know You're a Parent of Twins When…
Singleton Parents Never Have to Worry About…
You Know You're a Parent of Preemies When…