Last updated on September 14th, 2023 at 11:17 pm
Check this out, friends! We have an incredible post sponsored by our friends at Romp & Roost and a great list of top twin products for 2022 that were made just for twins that you don't want to miss!
If you haven't heard of the NEST play yard from Romp & Roost, oh boy, do we have something special to share with you! This is one of our favorite twin products and we know you're going to love it to.
Gear and products made just for twins
There are so many products that claim to be great for twins. How do you know which ones are really worth the investment? Glad you asked. Let's go over some of the very best gear and products made just for twins.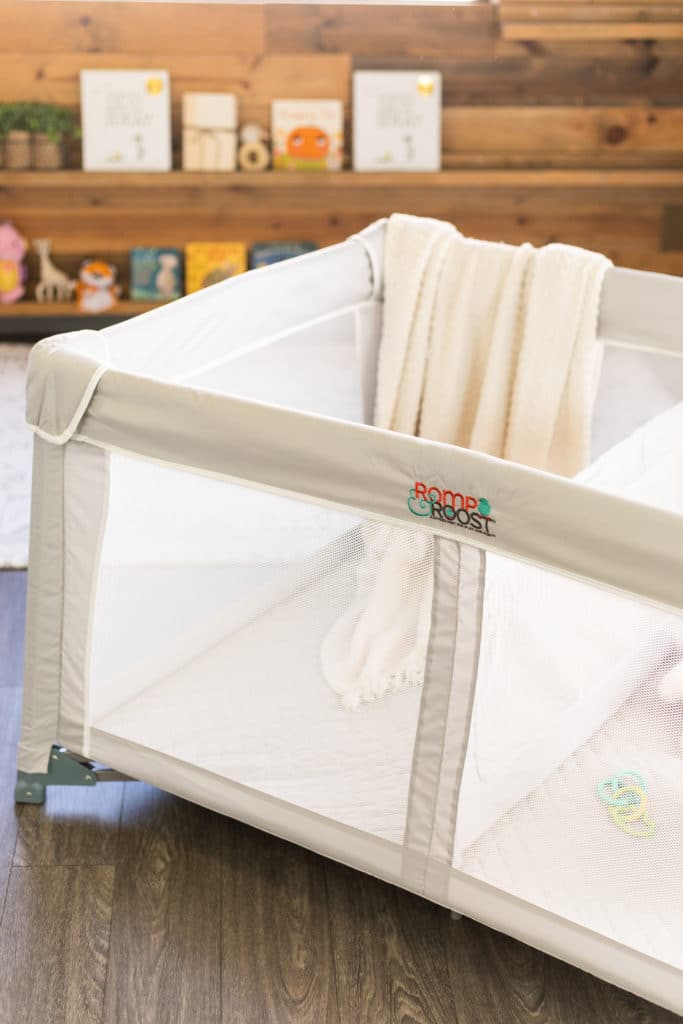 Romp & Roost Nest Play Yard with crib divider
The Nest Play Yard is great on its' own. Really, it is. At Twiniversity we love it and shout it from the rooftops any chance we get. So let's go over some of the basics of this play yard so you can see why you should put this at the top of your twins' gear list.
Oversized design is great for twins – hold up to 70 lbs
Easy one turn open and close air spring technology means anyone can use it
Included travel bag with wheels
Lightweight
BPA free
Anti-bacterial fabrics to protect your twinnies
Holds two Hatch bassinets (NEW!)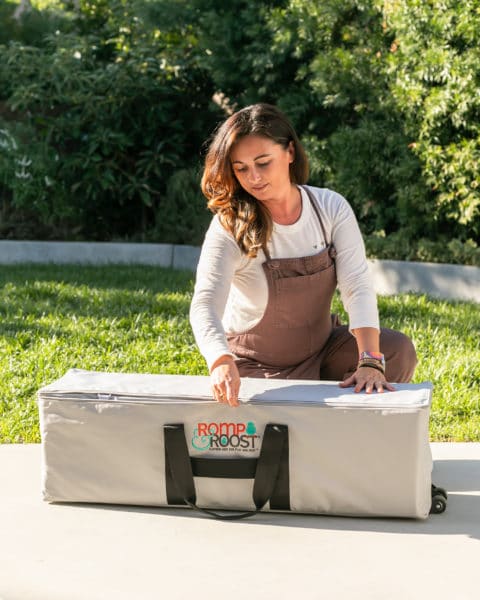 Oustanding features
How about that awesome travel bag with the wheels? Talk about convenience! Twin parents are already running short on hands and we are outnumbered more often than not. This included bag with wheels is definitely a huge help.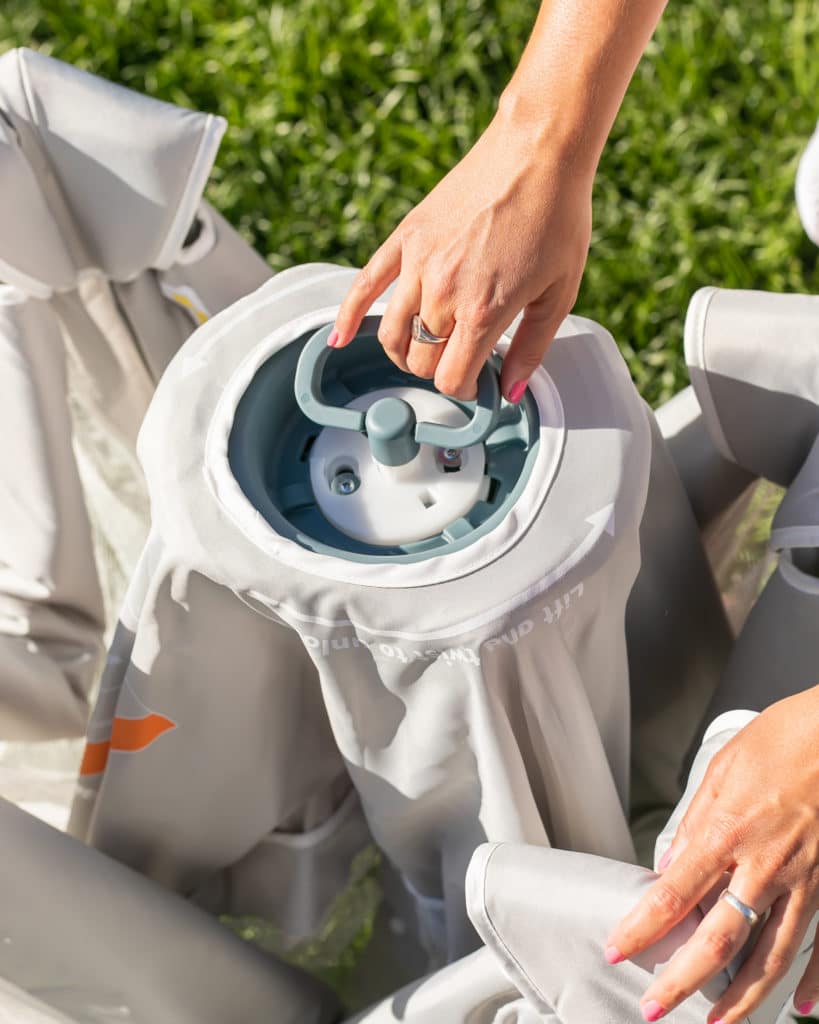 Now, we can't talk about how easy this product is for twin families to use without talking about the easy open and close technology. One-handed, one turn open and close. Yup. It really is that easy!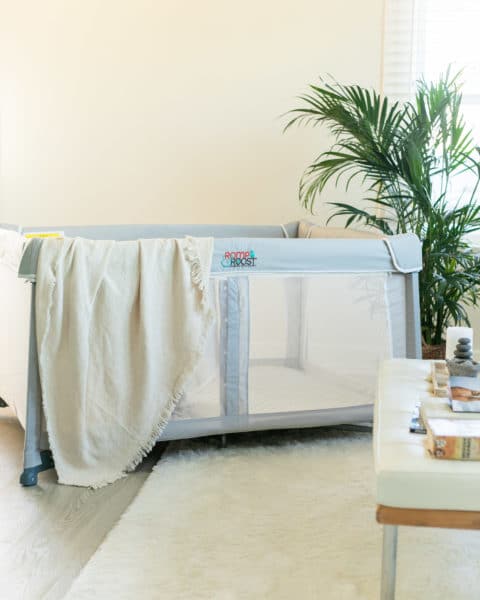 When talking about products for twins, we are often concerned with size. Is there enough room for two in there? Will it support the weight of two babies? Yes and yes. Its extra-large design is perfect for twins and it holds up to 70 lbs. That will give you a few years with this as your go-to play yard option.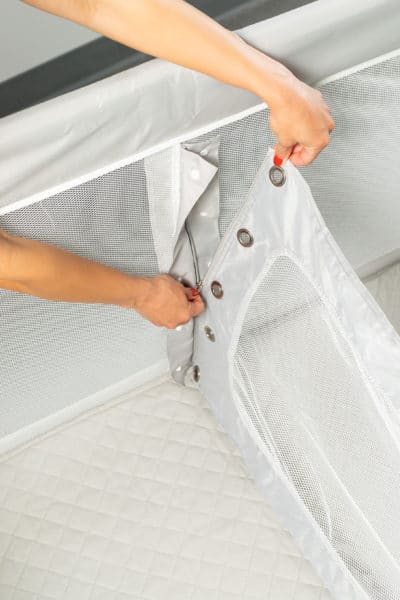 The Nest play yard works perfectly with the crib divider (sold separately, but included in this giveaway!), giving each baby their own space. This sheet divider zips into the side of the play yard and then the zipper is completely covered and secured with snaps.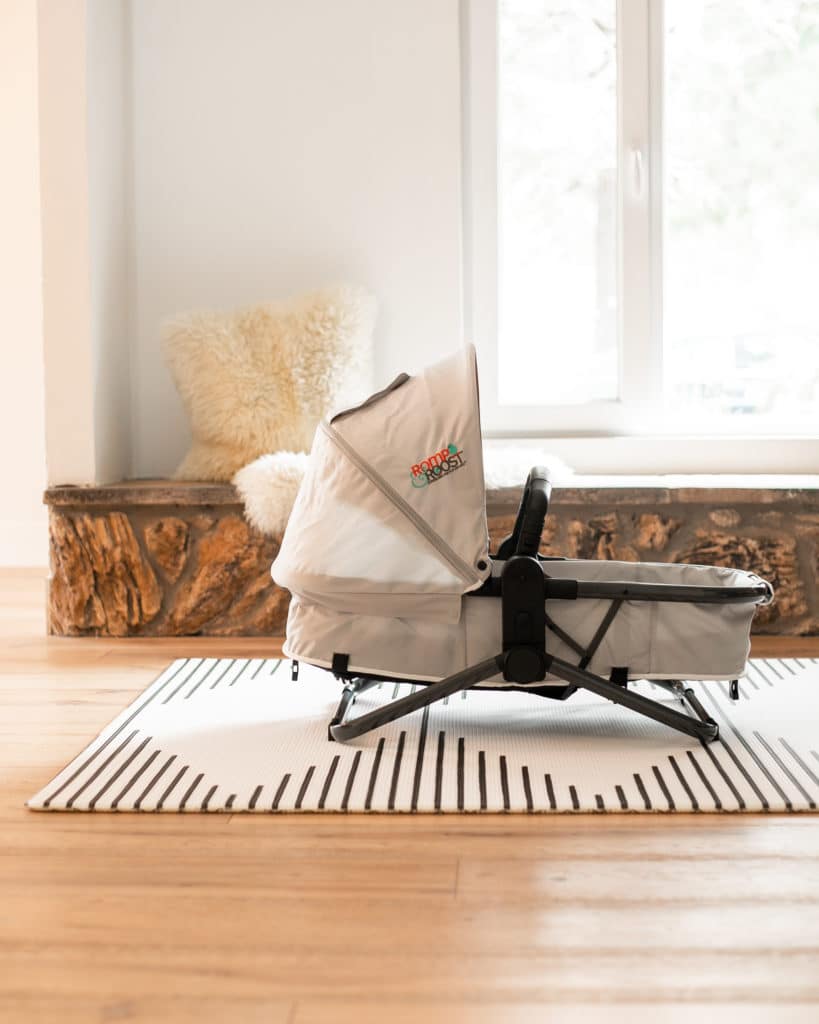 Hatch Bassinets
These Hatch bassinets make this even more versatile for twins! This bassinet comes with clips to attach to the bassinet, making it great for newborns. It's even been rated as safe for overnight sleep. Wouldn't this be great for an overnight trip to Grandma's house?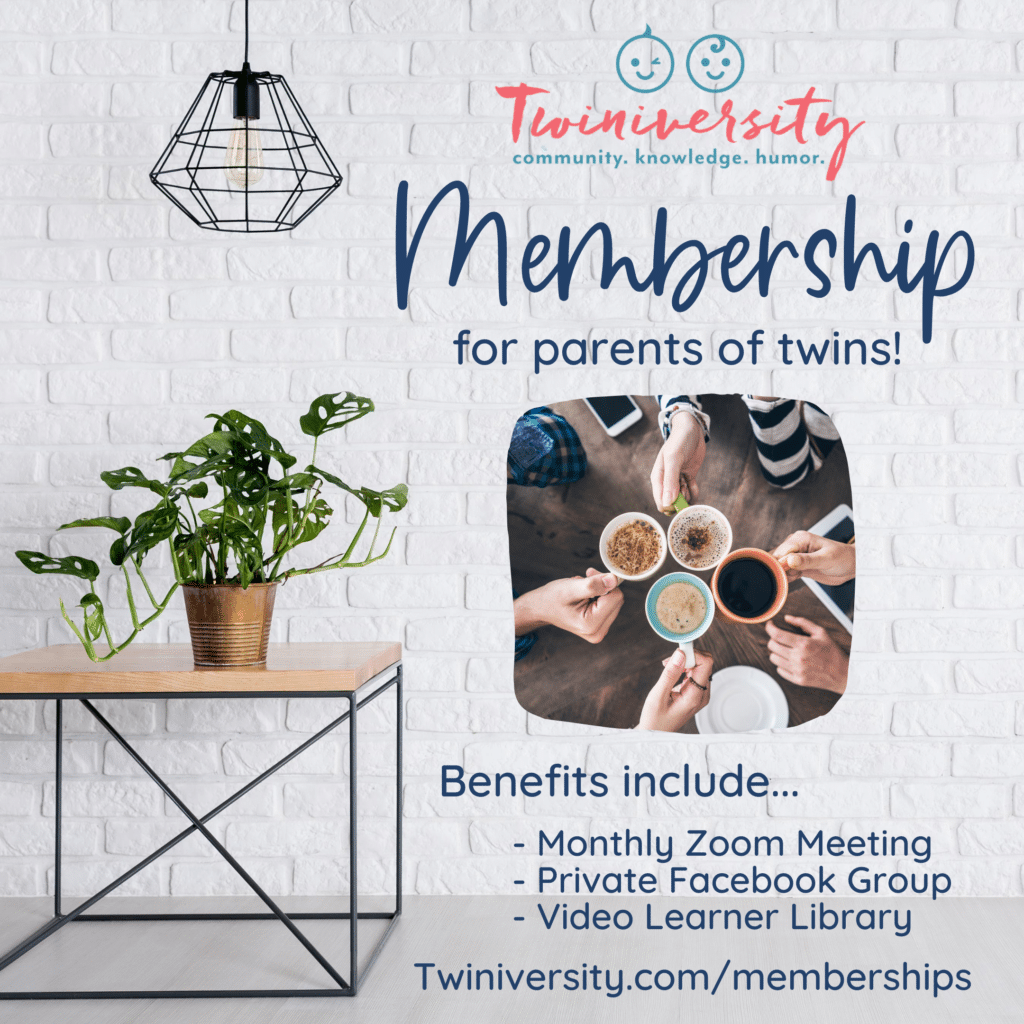 Need some twin parent friends? Get the support you need with a Twiniversity Membership. Benefits include a monthly twin parent club meeting on Zoom, access to a private Facebook group just for twin parents, and a video library of twin parenting lessons. Visit Twiniversity.com/membership to join today!
This bassinet features a removable canopy and mattress topper. It comes with the required stand t make it a newborn lounger, too. The leatherette trim definitely gives the luxury feel we have come to expect from Romp & Roost products. They hit it out of the park with this one for twin families.
Twin Z nursing pillow
The Twin Z is another great product made just for twins that we just have to talk about. This pillow is great for back support while nursing twins. It includes a carrying bag to keep it clean during travel. Curious to know about other twin breastfeeding pillows, you can check out our recent roundup. Get your Twin Z nursing pillow before your twins arrive!
Are You a New Twin Parent?
Check out Natalie Diaz's book:
"What To Do When You're Having Two
The Twin Survival Guide From Pregnancy Through the First Year"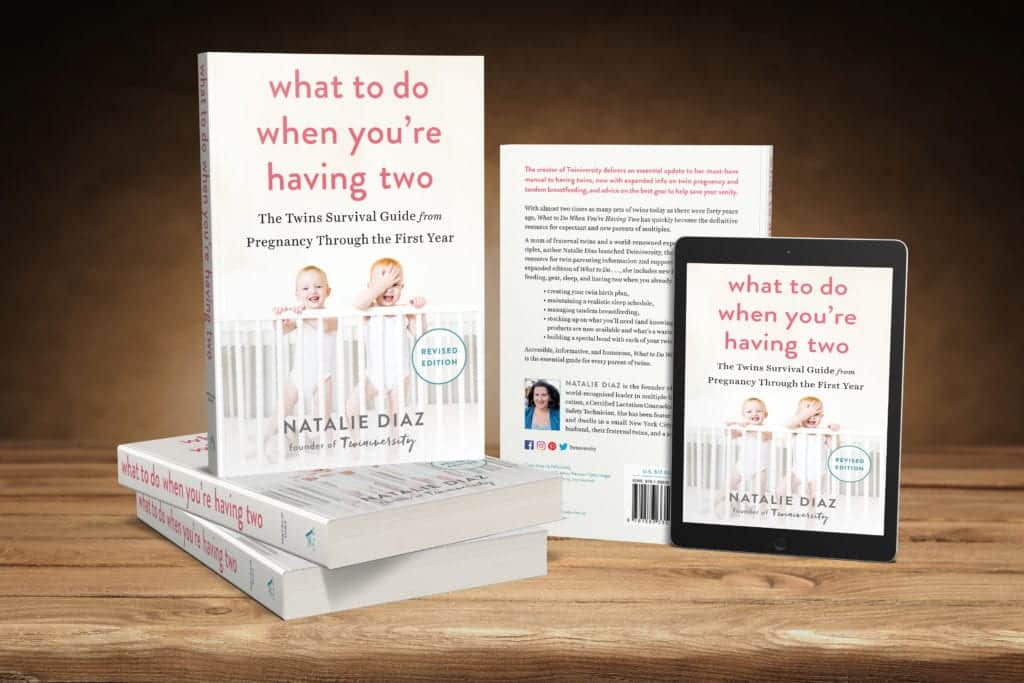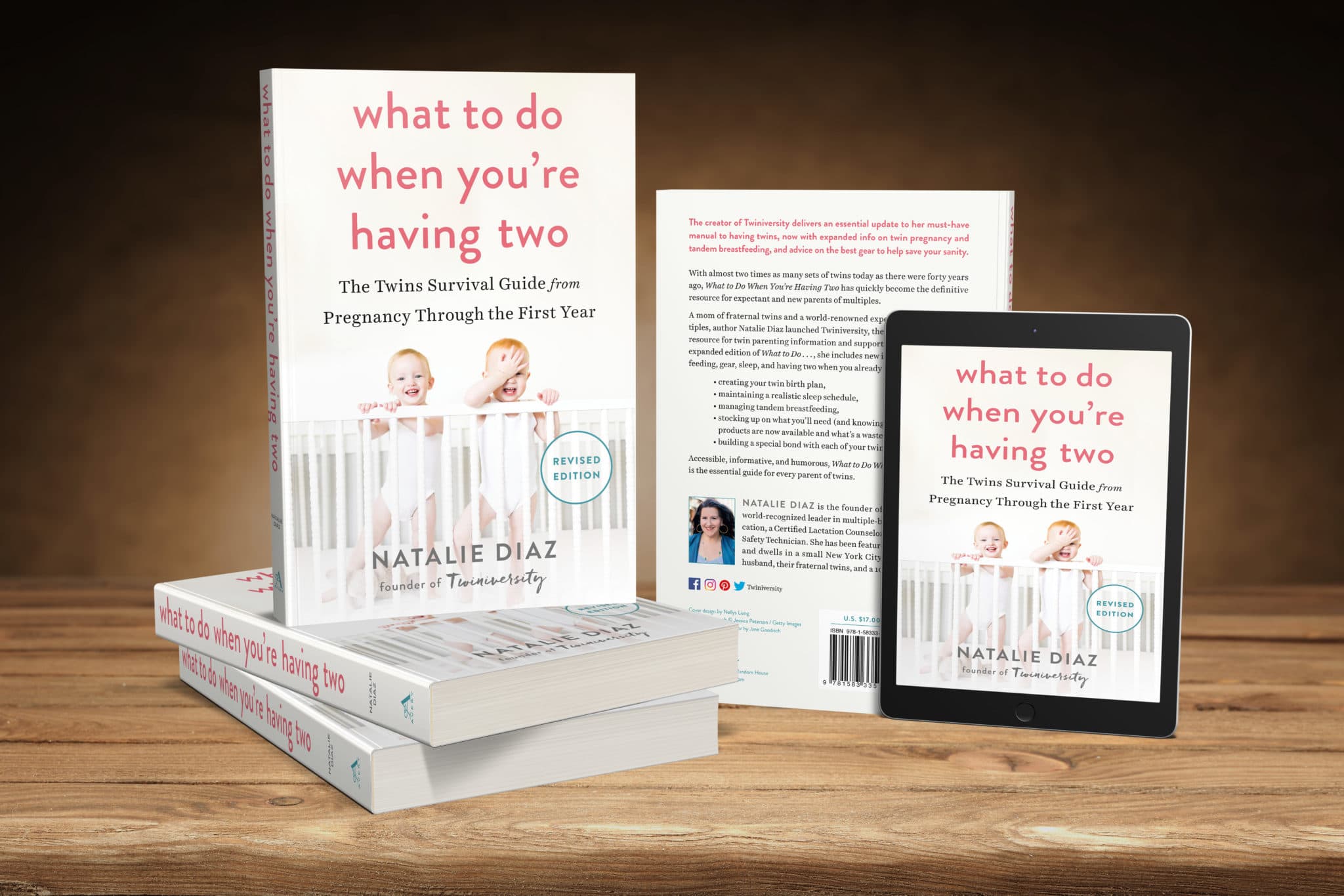 In What to Do When You're Having Two: The Twins Survival Guide from Pregnancy Through the First Year, national twins guru and founder of Twiniversity (and twin mom herself!) Natalie Diaz provides a no-holds-barred resource about life with twins, from pregnancy and birth all the way through your duo's first year of life.
What to do When You're Having Two
Hey, have you heard that our very own Natalie Diaz has a bestseller just for us? Yup this will cover twin pregnancy, birth, and the first free months with your twinnies. Get your copy today.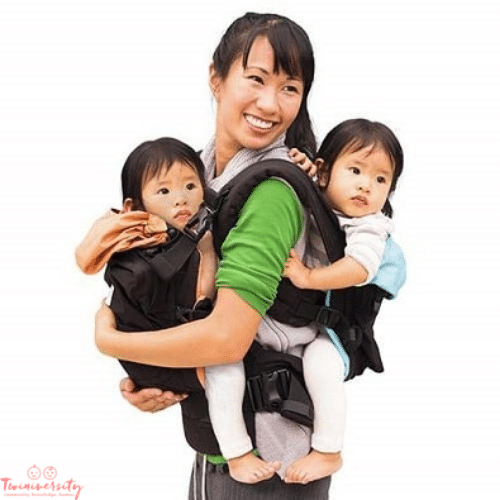 Twingo carrier
The Twingo is a fan-favorite, for sure. It will hold your twins from 10-45lbs. That makes this one of the best products made just for twins. get months of use out of this carrier. It also comes in two colors and has sleep hoods which are great for privacy and supporting the heads of little babies. Did you know that Twingo comes in different fashions and types? Yup, we have an entire article dedicated to the TwinGo carrier! Read more about the Twingo here. Get your Twingo here.
Weego Carrier
The other big name in twin carriers is the Weego carrier. This one is made for babies a bit smaller than the Twingo so it is definitely one you should consider if your twinnies are brand new or on the small side. Get the Weego here.
Baby Trend Double Snap N' Go
The Baby Trend Double Snap N' Go is always a huge hit with twin families. This lightweight frame accepts two (2) car seats and folds up so compactly you can fit it just about anywhere! It has a large storage space underneath and a parent tray that holds 2 cups. We can't say enough good things about this stroller frame when talking about products made just for twins. Check out one of our favorite reviews on Twiniversity dedicated to the Baby Trend Double Snap N' Go. Get yours today!
Skip Hop Duo Diaper Bag
The Duo's extra-large design means that while it might not be in the exclusive category of products made just for twins, it was certainly made with twins in mind. The number of pockets and zippers is remarkable, making it easy to keep items for Baby A separate from Baby B. Get this bag here.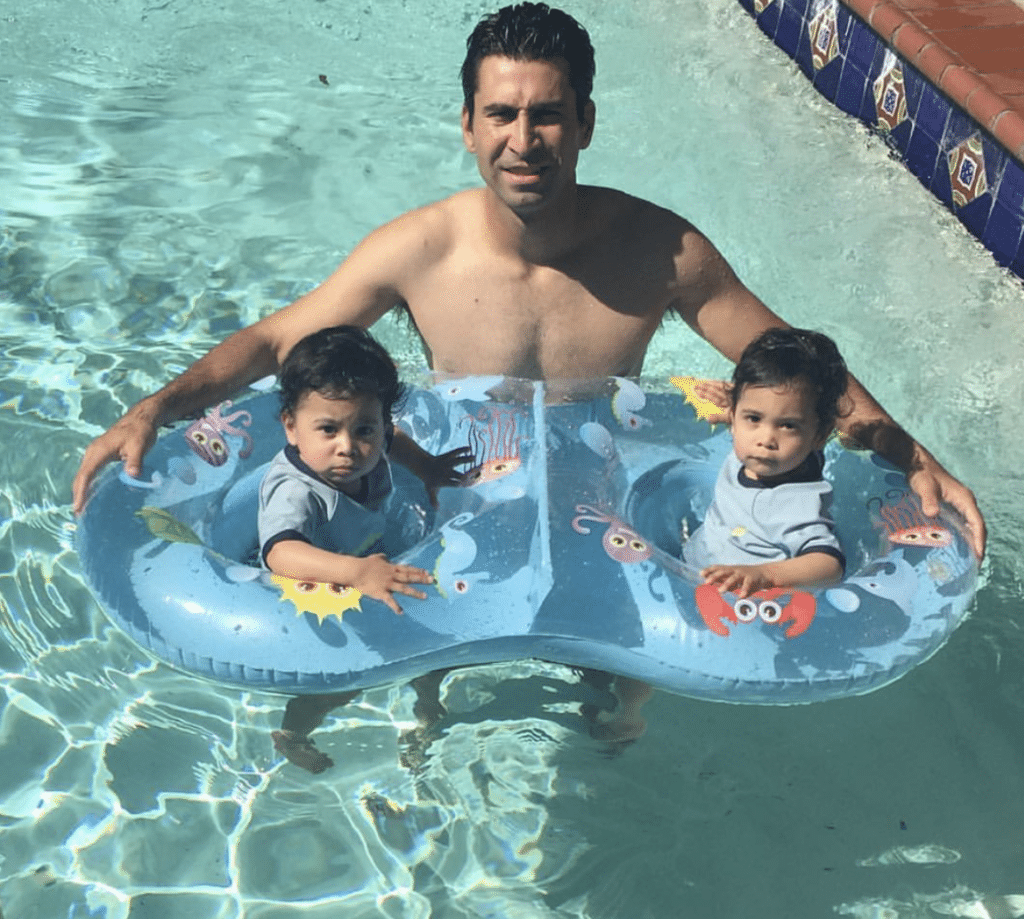 Inflatable Twin Baby Pool Float
This twin pool float is just amazing. It has plenty of space in the middle for toys that your twinnies can reach for without much effort at all. This is definitely a great twin summertime product. Get the twin pool float before the weather heats up here.
Table for 2
This is great for twin families when one will be feeding both at the same time. You can grab one of these here to make feeding your infant twins a bit easier on you.
Activity Table
Raise your hand if you saw the bigger version of this on that TLC show with all those babies several years ago! Me, too. I remember thinking it was pretty cool and clever. Well, they make one for twins, too. Feeding time at the zoo just got a whole lot easier! Get this table here to contain your kiddos' mess.
Fun Tees
These fun tee shirts are great for twins! They will definitely get a laugh with your twinnies at school on Monday. Snatch them up here!
With so many amazing products on the market for twins, you can always count on us to let you know which ones are really worth the investment. Hopefully, this top twin products for 2022 post helps you narrow down some choices.
Check out all the amazing products Romp & Roost offers!
Sweepstakes Terms & Conditions