Last updated on August 3rd, 2023 at 06:31 pm
Sometimes it takes the simplest tweaks of items we take for granted to make life a little easier. Let's take nursing pillows for instance. As the trend caught on to use them, nursing pillows served multiple purposes. So, welcome to the world of Twin Go, My Brest Friend, and Twin Z? Yeah? Let's make it a double! I'm here to tell you about the ABC's to the Twin Z's you'll need if you're planning on breastfeeding twins!
Whether you breastfeed or bottle-feed, these pillows are a great way to help position your babies during those feeding sessions. And yes, you can totally use a twins breastfeeding pillow to bottle feed. After all, it's more about having a good position and being comfortable no matter how you feed your duo. Remember you'll be feeding those two up to 8x a day or more!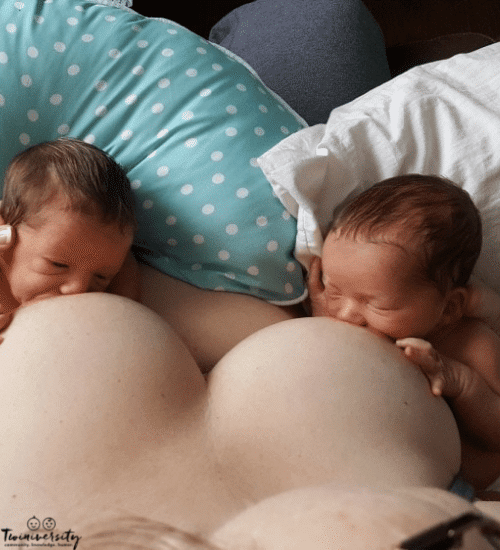 So let's talk twins nursing pillows
There are several different styles with more or fewer heights, firmness, and covers to choose from, depending on your preferences and needs. While there are, what feels like, a million breastfeeding pillows out there, there are actually very few specifically designed for two at a time.
These pillows are pretty awesome since they can help prevent shoulder, wrist, and back pain that's often associated with breastfeeding.
Do you really need to use a twins breastfeeding pillow?
"Need" is a strong word to use. Do you 'need' one? No, but it would be great to have one, that's a yes for me dawg! You'll spend hours upon hours a day breastfeeding your twins and you really need to make yourself as comfortable as possible. Sure, you can rig up some pillows that might do the same job, but honestly, the odds of you finding the perfect pillow position and then be able to replicate it 8 or more times a day is slim to none. So do you need one, no. Should have one, totally!
What nursing pillow is best for twins?
The top five Twiniversity Picks (in no particular order):
My Brest Friend Twin Nursing Pillow
My Brest Friend twin nursing pillow (yes, go ahead and chuckle at the name) has several choices of pillows, but make sure that you're looking at the one specifically made for twins. This twin breastfeeding pillow fastens directly around you and gives you plenty of much-needed support on both sides no matter what position you are breastfeeding your twins in. It also includes some handy dandy pouches to hold any gadgets and gizmos you'll need easy access to during feeding time. One of the most admirable features of this particular pillow is that it easily stays fastened while your babies are latched. It won't shimmy around. Grab your My Brest Friend Twin Nursing pillow here on Amazon.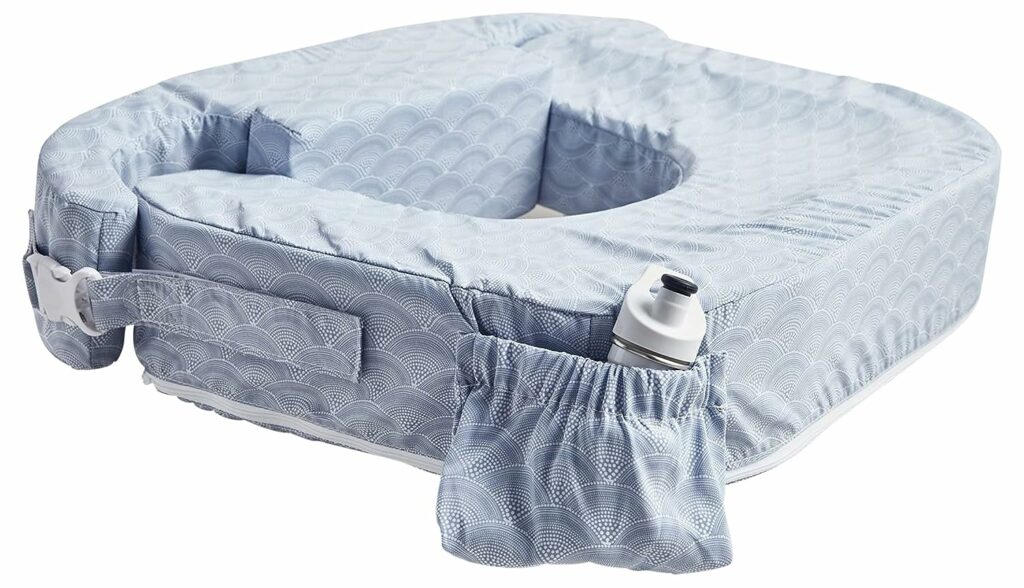 The Twin Z Pillow
The Twin Z Pillow is a Twinnie Award Winner a few years in a row, meaning that it's the #1 choice amongst Twiniversity families. This pillow is a uniquely designed 'W' shaped pillow, made to attach in FRONT of you (vs. the others which attach on the side or back). This gives you plenty of wiggle room if you have a c-section with twins since the front is open leaving no pressure on any incision.
Many families also use the Twin Z as a place to prop up their kiddos for bottle feeding, but please be sure that your babies DO NOT SLEEP in the Twin Z or any other piece of baby gear that is not specifically designed for sleeping. The Twin Z is made with super duper high-quality materials and even comes with a selection of amazing covers that are totally machine washable. This is a MUST-HAVE when you have a tiny duo you're feeding. #messybabies Grab a Twin Z here on Amazon.
Twingo Nurse and Lounge Pillow
Newest to the twin breastfeeding world is the Twingo Nurse and Lounge Pillow. This pillow shines because of its multi-level support. It allows you to keep the level of the babies higher or lower depending on your own comfort and optimal positioning level. It should be high on the list of pillows to be considered. Grab one here on Amazon.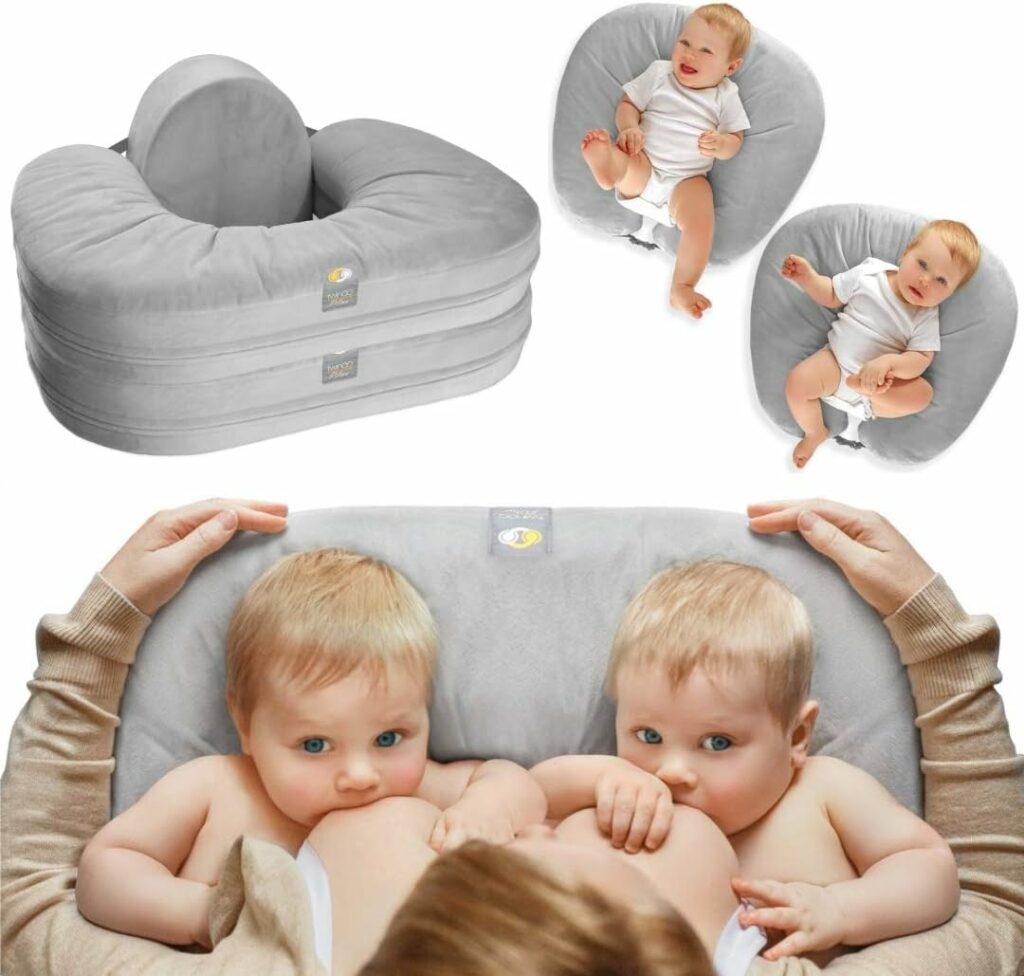 The Boppy
Last but not least, we can't talk about breastfeeding pillows without talking about the OG Boppy. Boppy, I believe, were the first folks to bring nursing pillows into the mainstream many many moons ago. They created a "C" shaped pillow that easily nestled under your baby so you can have optimal support while feeding them. Now, are they great for twins….nah. They really aren't. If you can get your hands on one from a friend or family member, go for it, but all in all, they really are a product made for feeding one baby at a time which typically means singletons. Grab one here on Amazon.
That's it! We have three choices basically when it comes to actual twins breastfeeding pillows. I wish I could list a few more, but honestly, those are some amazing choices and you'll find the one that fits your kiddos, your lifestyle and your pocketbook best from those three.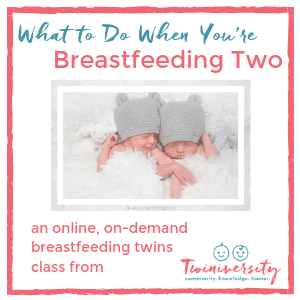 Worried about breastfeeding twins? What To Do When You're Breastfeeding Two is an on-demand online breastfeeding twins class made just for YOU! This course was created by Twiniversity in partnership with Judy Teibloom-Mishkin, IBCLC. Click here to learn more…
How much should I expect to pay for a twin breastfeeding pillow?
A twins breastfeeding pillow is something that you could get from a friend or family member as a hand me down, but if you don't have any twin moms in your circle, you can expect to pay around $100 or more for a twins specific breastfeeding pillow. Shop around though. You may be able to get a deal though. You should start looking around the 30th week of your pregnancy so you have some time. But try not to stress over the price because I'd bet you that you can sell it on your local mom marketplace and get at least 1/2 of your original investment back.
How do you use a nursing pillow for twins?
First of all, you really should take a twins breastfeeding class. If one isn't offered locally, you can check out our Twiniverstity Breastfeeding Twins Class and did you know, you might even get your insurance to cover it! If you want a more hands-on approach, start looking locally for your neighborly lactation expert in your area. They will be more than happy to walk you though the specifics on your pillow and make sure that you're using it in the optimal way. If you can't find someone locally, we're able to help you virtually and be your twins lactation consultant. We have MANY years under our belts and we only work with twin families.
If you're cool with just watching demos though and you need to start using your pillow today, jump on the manufactures website and see if they have any tutorials. I'd stay away from YouTube videos that are not sponsored. Many folks use plenty of twin gear incorrectly and you want to make sure that you are using it exactaly as the maker of your specific twins breastfeeding pillow wants you to.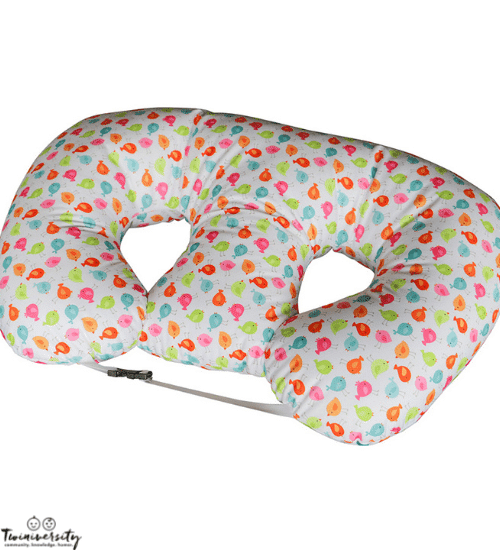 What's a Twin Z pillow?
The Twin Z is a nursing pillow designed specifically for nursing multiples. The founders of Twin Z keep innovating and making a better and better breastfeeding twins pillow year after year. Magnificent designs and fabrics, it really should be your first click when checking them out. You can buy one here on Amazon or visit their website.
The Twin Z pillow can be found in select stores and online. This particular pillow is large enough to hold both your babies in the perfect breastfeeding position. No matter what position! It's also amazing to use as a positionar for bottle feeding. You'll get plenty of use out of this pillow.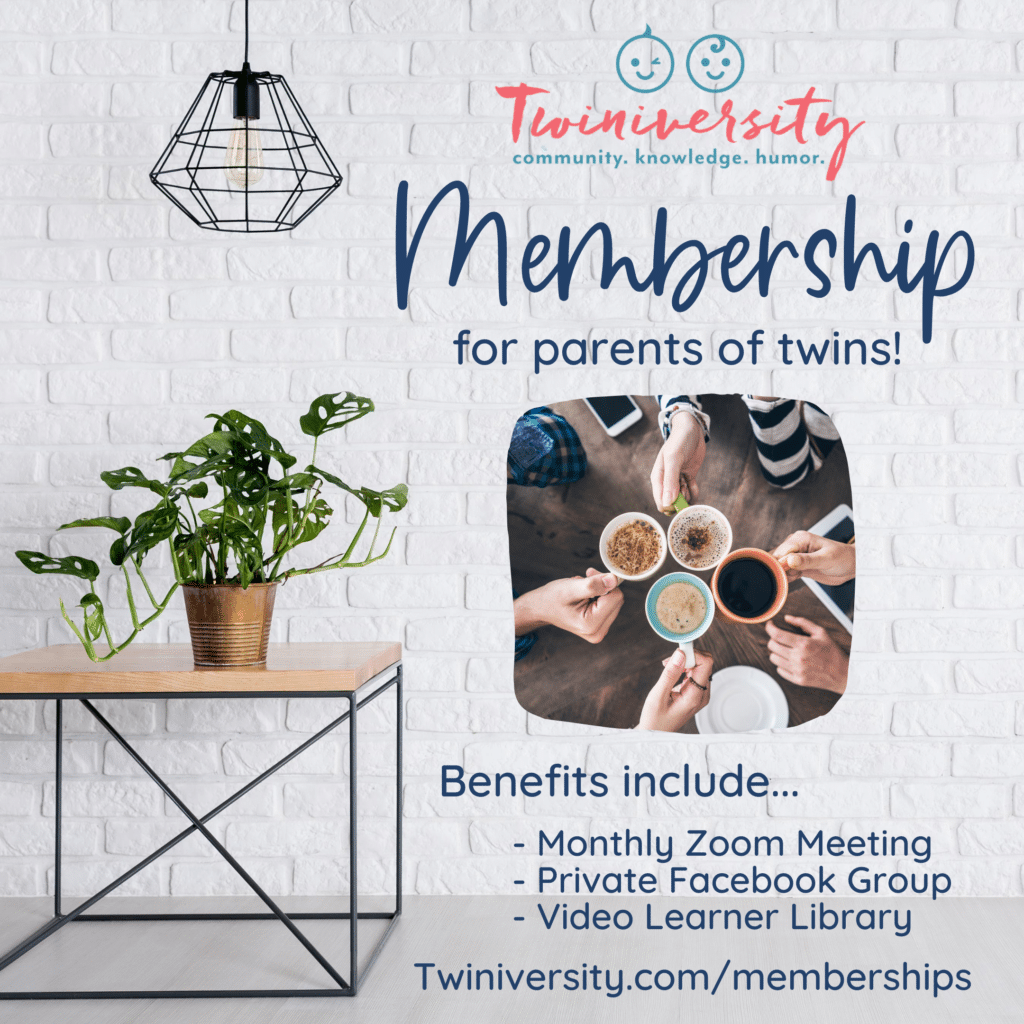 Need some twin parent friends? Get the support you need with a Twiniversity Membership. Benefits include a monthly twin parent club meeting on Zoom, access to a private Facebook group just for twin parents, and a video library of twin parenting lessons. Visit Twiniversity.com/membership to join today!
What should I look for when choosing a twin breastfeeding pillow?
You need to think about what is most important to you. If you don't have a lot of storage space in your home, the size of the pillow might be a deciding factor. The price might be more important for you due to finances.
Regardless of that, you want to see if you can remove the cover and throw it in the washing machine. Believe it or not, not all twin breastfeeding pillows are created equal and some are not very newborn feeding-friendly. A machine-washable removable cover is critical for new parents, especially twin parents.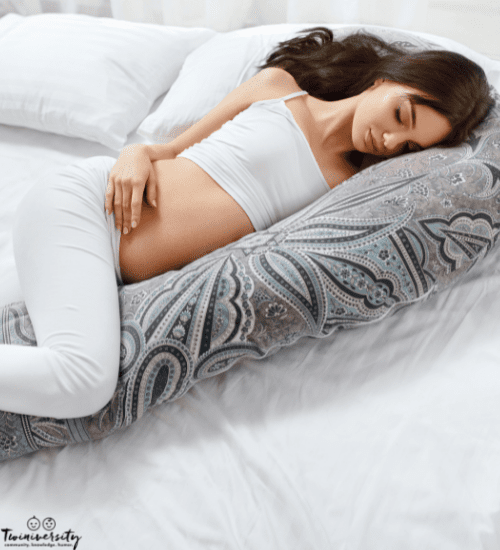 Other uses for a twin breastfeeding pillow
Nursing twins is the main purpose for your twin nursing pillow, but that's not to say you can get one that has multiple uses. These kinds of pillows make an excellent choice for parents who may lack space or might need a cheaper pillow option. If your pillow will double for another use, it's saving you some cash down the line. All twin parents could save a bit of money!
Pregnancy Pillow
A good twin breastfeeding pillow might double as a pregnancy pillow. Sometimes, they will run almost the length of your entire body and allow just enough support for comfortable (ish) pregnancy sleep. If not, trust me, you need a pregnancy pillow. Or a bunch of regular pillows.
Tummy Time Mat
It might also be used for tummy time as your babies grow. Most importantly, make sure the cover is machine-washable before you set baby on it to spit up or drool all over.
Note of caution: NEVER leave babies unattended or use nursing pillows in cribs, bassinets, playpens, or beds. There should always be an adult present when using these products.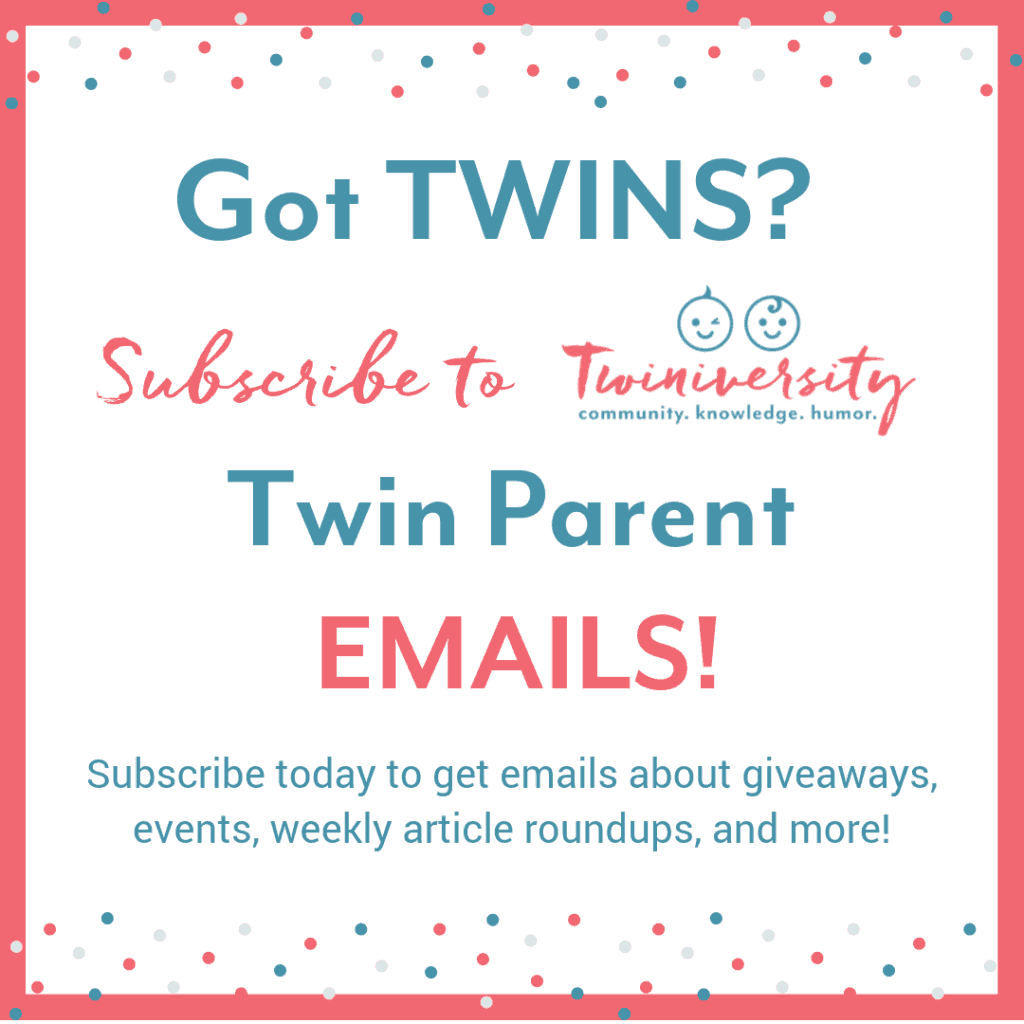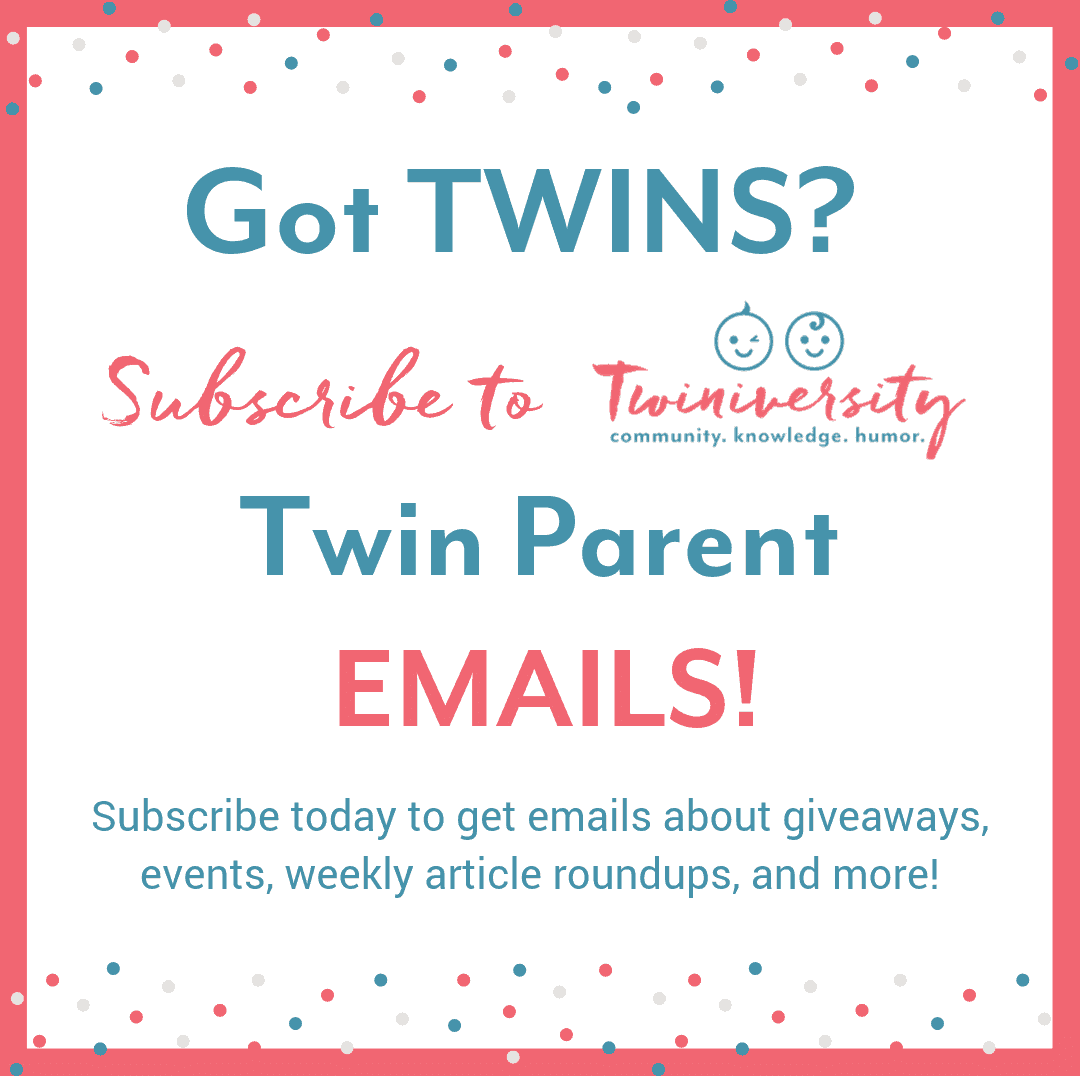 Want to be the first to know about giveaways, deals, and more just for twin parents? Sign up for the Twiniversity email list! Subscribe today to get emails about giveaways, events, weekly article roundups, and more! Pregnant with twins? We'll be sending you a weekly twin pregnancy email to keep you on track with your pregnancy to-do list! Click here to learn more… and while you're at it, check out our Complete Baby Safety Course and Twin Parent Memberships.
According to the Consumer Product Safety Commission, infants can suffocate if they roll, move, or are placed on the lounger in a position that obstructs breathing or if they happen to roll off the lounger onto an external surface, such as an adult pillow or soft bedding that obstructs breathing, or even a floor. Safety first!
The main thing is for baby and Momma to be comfortable. No matter how you decide to create that sanctuary, remember to keep the goal in mind, which is helping create that magic bond that only can be shared between mother and child. Hopefully, you'll have fond memories and maybe a funny song or two running through your mind…bebop baloo we-bop!
Good luck and happy feeding.
Originally created by Twin Mom Lorainne and most recently edited by Natalie Diaz.
Related Posts
Latest Posts