Last updated on December 2nd, 2023 at 08:53 am
Twin parents, we've all been there. Whether it's daycare drop-off, a doctor's appointment, or an older sibling's soccer practice, we've found ourselves wishing that we had another set of hands. We walk across parking lots straining to keep a toddler on each hip, lunchboxes in our hands, and diaper bags slung across our shoulders. We drag our double strollers out and wrestle with buckles and straps and aforementioned bags just to travel a few yards. Is there a solution, outside of growing a few extra limbs? One option could be tandem babywearing. Let's explore the TwinGo Carrier, a product created by a fellow twin mom that makes this possible.
What is the TwinGo Carrier?
After giving birth to twins in 2010, Krystal Workman wanted the close bond that often comes with babywearing. Unfortunately, there was just no easy way for her to wear two babies at once. This predicament led her to invent the TwinGo carrier. It's an adjustable baby/toddler carrier that allows parents to strap one child in front of the body and one behind. It's kind of like a bear hug and a piggy back ride at the same time – with support, of course. The TwinGo has three different models and a solid ergonomic design that adequately supports the adult and both children.
Here are the descriptions of each model:
Original: this model has an extra large storage pocket on each carrier for keys, phone, wallet, diapers – you name it! No need to juggle those diaper bags. Buy Here.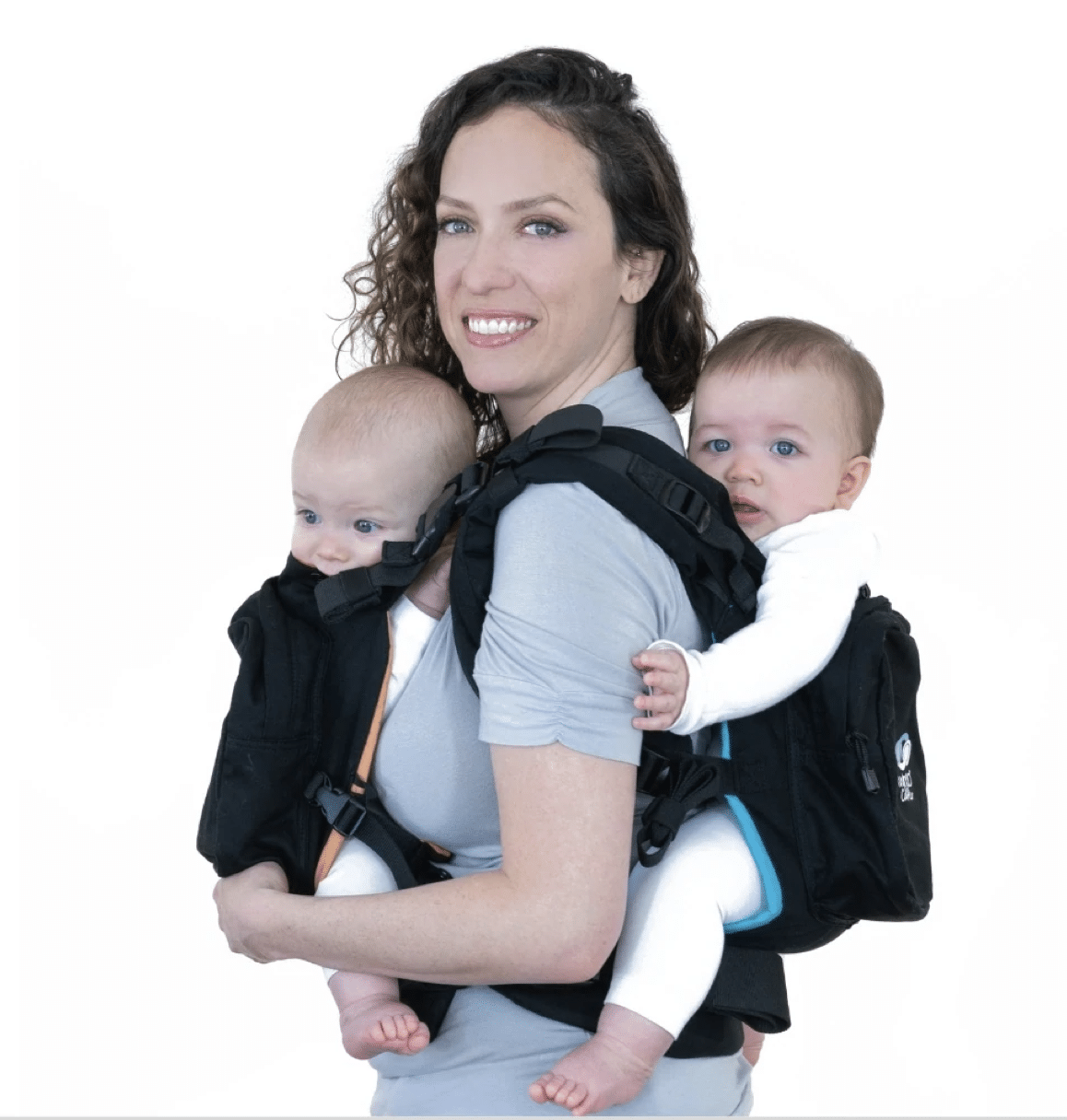 Air: this model is a lighter carrier, with a breathable mesh lining – perfect for warmer climates. It includes a panel to zip over the mesh on cooler days. Buy here.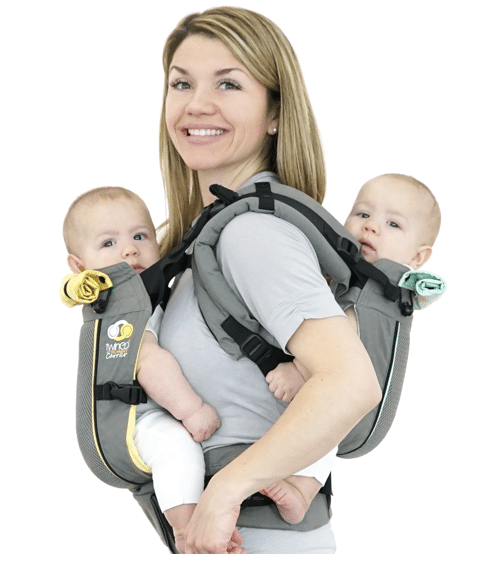 Lite: a smaller, pocketless version of the Original. This is the most affordable version. Buy Here.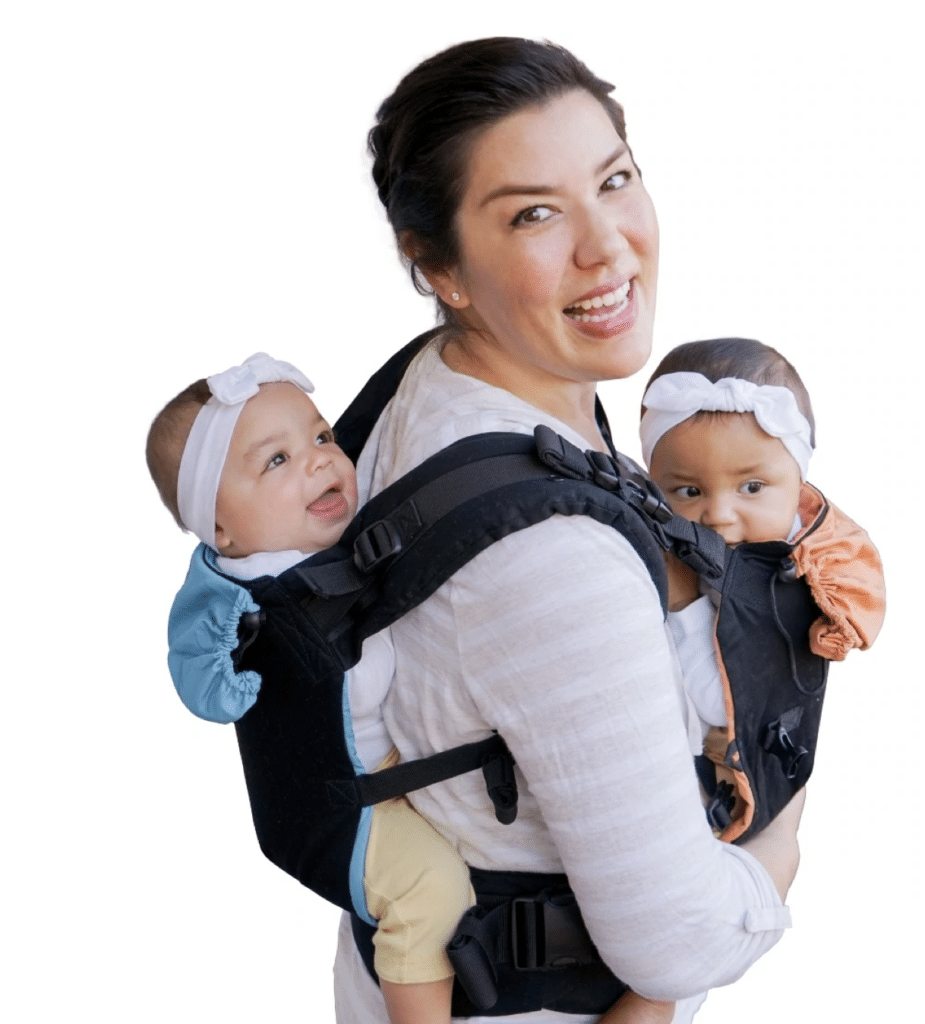 Each TwinGo carrier comes with two sleep hoods to provide additional support for babies' heads and necks if they fall asleep.
Of course, the TwinGo can be helpful for more than just transportation. Maybe your twins are still infants, and you're trying to figure out a way to soothe and snuggle two hungry babies while warming up their bottles. Maybe you just need to fix your big kid a PB&J, but your babies are fussy and in desperate need of snuggles. As twin parents, we're already pretty good at multitasking, but TwinGo's intention is to provide even more help when our hands are fuller than ever.
How Does the TwinGo Carrier Work?
There are a few requirements for tandem babywearing to be possible using the TwinGo carrier. TwinGo recommends:
Babies in the base carrier be at least four months old (corrected).
They should also be in good health and be able to control the head proficiently when awake or asleep.
There is no specific height restriction listed, but the baby needs to be tall enough to have his or her head completely outside of the carrier and legs able to straddle the panel comfortably.
If there is more than a three pound size difference between your kiddos, the heavier one should go in the back panel.
Neither child should exceed 35 pounds while tandem wearing.
When using the Dual Carry method, the Base Carrier attaches behind the back, while the Attachment Carrier goes in front. Smaller babies can snuggle up in the Attachment Carrier, as long as they weigh at least 10 pounds. The back carrier must be occupied first, and both babies must be facing inward.
One of the coolest things about the TwinGo is that the Original and Air models can be separated into two carriers, and you can wear either carrier on your front or back. You could also wear the Attachment Carrier on the hip. That way, both parents are involved – that man to man (or woman) coverage is always helpful with two babies! The Lite model can be converted into a single carrier, and you can purchase extra shoulder straps to convert the second individual carrier.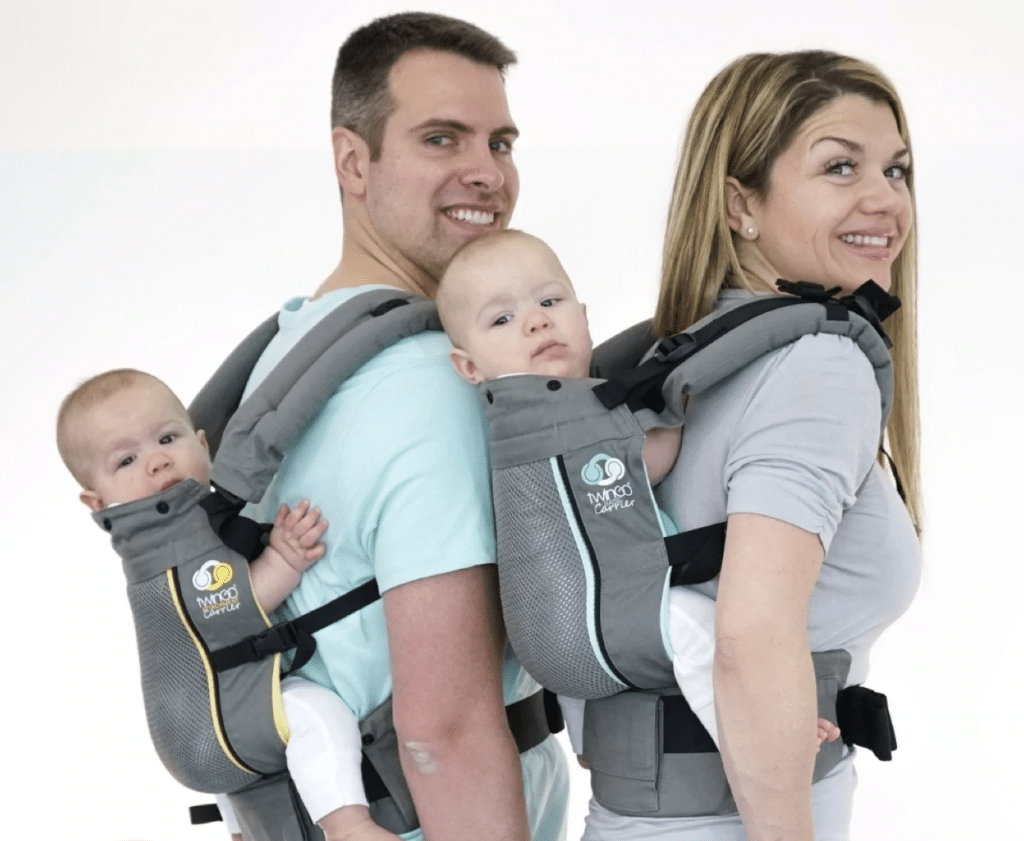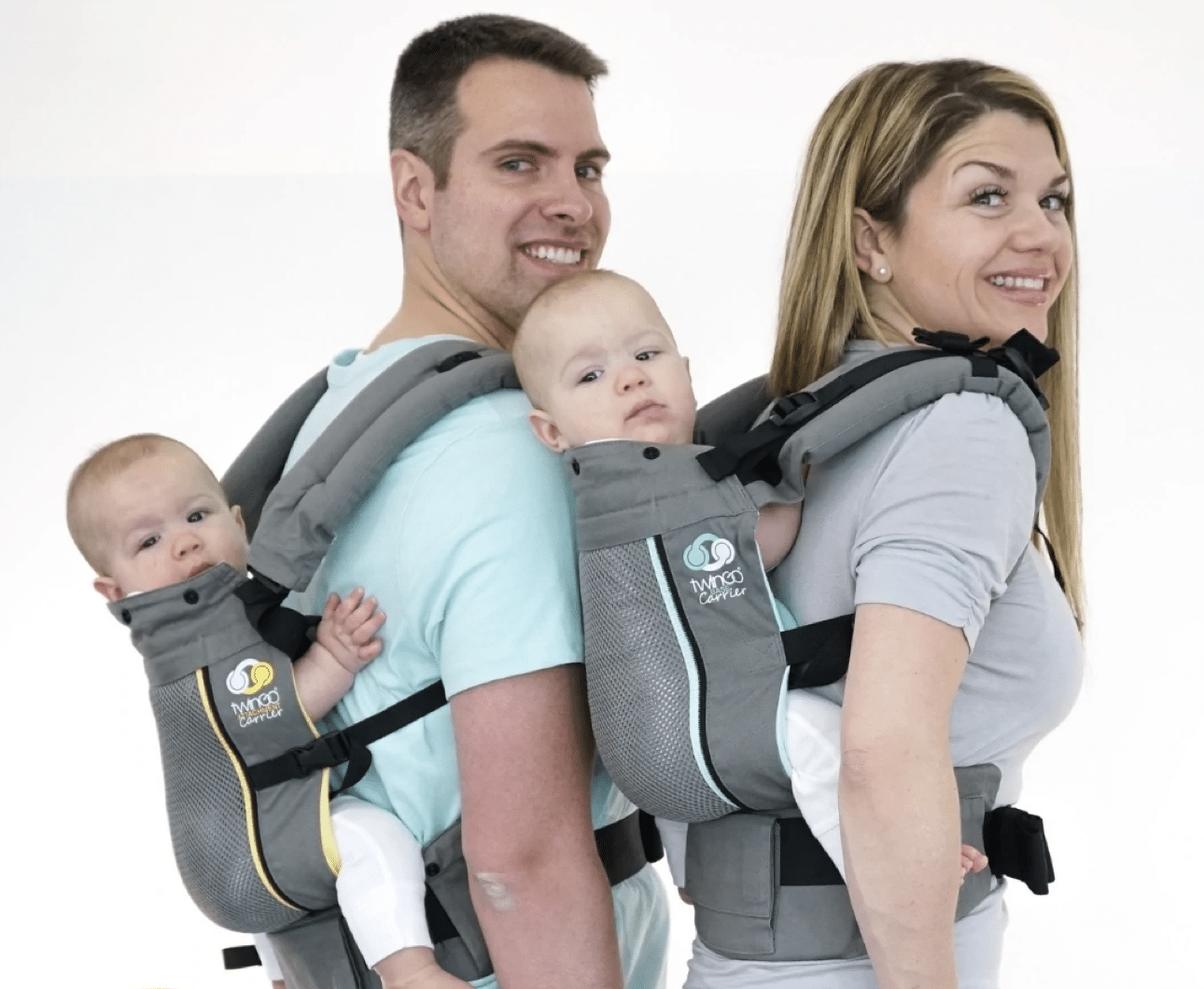 Detailed videos and instructions for all carrying methods are located on the TwinGo website. They'll explain it much more thoroughly.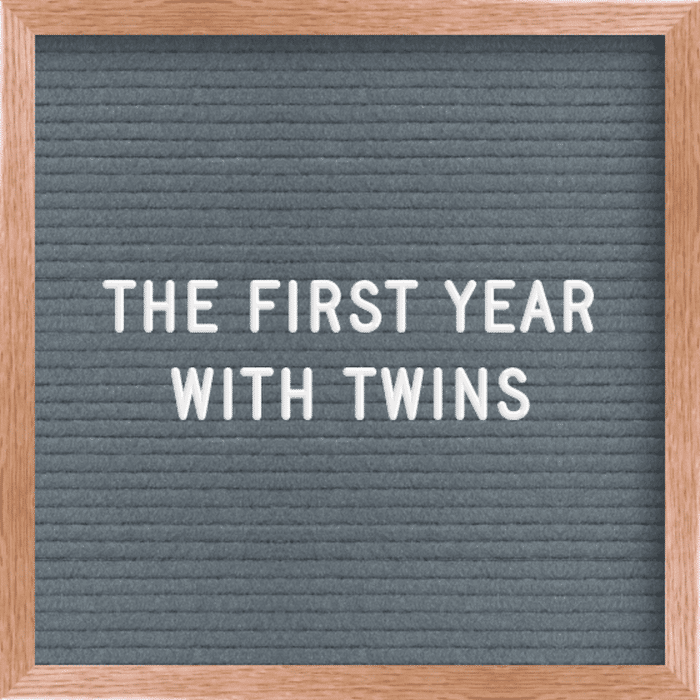 Stressing out with your infant twins? Let us help! Learn what to expect in the first year with twins, including tips, tricks, and advice from real twin parents who have been there. Click here to learn more… and while you're at it, check out our twin parent coaching services and Twiniversity shop!
Will the TwinGo Carrier Fit Everyone?
All TwinGo models have adjustable waistbands that can fit waists from 26" to 100", which can come in handy with the body changes that may occur post-baby. The waistbands can adjust to four different sizes, according to the sizing guide on the TwinGo website.
XS: 20" to 26"
S: 26" to 36"
M: 36" to 46"
L: 44" to 99"
The sizing guide also includes instructions on how to adjust the waist straps for each size. Keep in mind that TwinGo carriers are often worn below the natural waist, so your normal waist measurement might not be the one you use with the TwinGo.
As far as height goes, the TwinGo's shoulder straps can be adjusted to fit parents measuring anywhere from 4'11" to 6'5". That's a pretty big range, but exceptionally tall or petite parents may not be able to make it work. There is a 30-day return window, so it might not hurt to give it a try if you're cutting it close in the height department.
Is the TwinGo Carrier Safe?
The TwinGo has been tested to a variety of safety standards according to their website for all four wearing abilities (single front with both attachment and base carriers, single back, and tandem). They have passed testing in both the United States and Europe. They are also a member of the Baby Carrier Industry Alliance.
TwinGo offers a one-year non transferable warranty that covers manufacturing defects and issues with products ordered from the website and through authorized sellers.
What Extras Can You Order With the TwinGo Carrier?
TwinGo offers a few extra accessories to help provide maximum comfort and support. Infant inserts are available for teeny tiny babies (weighing at least seven pounds) to be worn in the front carry position only. You can also purchase panel extenders for extra head support for babies or back support for toddlers. For babies who love to drool on everything, teething pads are available to fit over the straps. Chest strap covers can also be purchased for some extra cushioning.
How Much Does a TwinGo Carrier Cost?
According to the TwinGo website, the Original carrier costs $214.99. The Air's price is $229.99, while the Lite currently sells for $199.99. There are sales that occur at different times throughout the year so check their website or amazon for the most recent prices.
TwinGo offers a couple of accessory/carrier bundles. One is for newborns and includes infant inserts and teething pads. Another is for baby and toddler wearing and includes a panel extender, infant insert, and teething pads.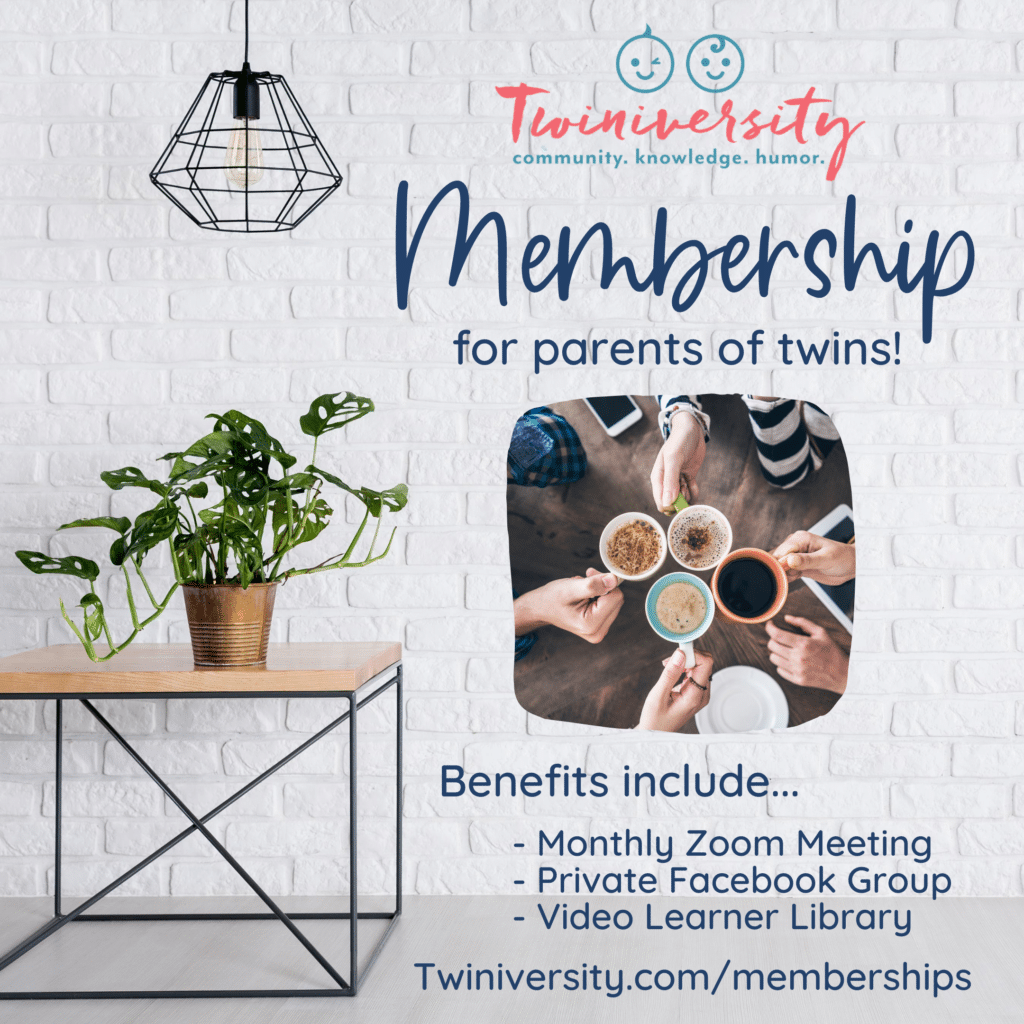 Need some twin parent friends? Get the support you need with a Twiniversity Membership. Benefits include a monthly twin parent club meeting on Zoom, access to a private Facebook group just for twin parents, and a video library of twin parenting lessons. Visit Twiniversity.com/membership to join today!
What are the Pros and Cons of the TwinGo Carrier?
It's hard to imagine that tandem babywearing would be anything but a lifesaver – I would imagine that if our hips could talk, they would be thanking us profusely – but there are a few drawbacks to consider with the TwinGo carrier.
It is not suitable for babies to face outward in the TwinGo. That could present a bit of a limitation for the front carrying child. Other individual front carriers allow for little ones to face the world once they reach a certain developmental stage.
The TwinGo should not be used in the dual carry position until both children are at least four months old. The carriers can be separated and used with an infant insert in the front carry position prior to that age. Until then, tandem babywearing will have to wait.
The directions for adjusting the waistband on the TwinGo are quite complicated and may be a bit frustrating to comprehend.
Finally, we all know that having twins can be expensive (hello…diapers and formula…), so it might be hard for some parents to justify the cost of the TwinGo carrier. It could certainly be a worthwhile investment if it's something that is used frequently, but it IS an investment.
Let's face it, it doesn't matter how much help parents of multiples have in those early days. We are always looking for products to make things easier and provide us with a little more sanity! If the idea of tandem babywearing sounds like it could be a lifesaver for your family, the TwinGo may be the ticket to get you and the kids from point A to point B, or just plain get things done.
For more info, make sure you check out their website and you can even check the reviews on Amazon too!
Happy Babywearing!
Latest Posts