Last updated on September 28th, 2021 at 01:21 pm
How to Make a Backyard Olympic Games at Home
The Olympic Games are almost here! Get your whole family pumped up to celebrate by putting together your own Olympic Games in your backyard. Setting up a backyard Olympic Games can be as simple or complex as you want to make it.
What do I need for an Olympic Games in my backyard?
I personally love going to the dollar store at the beginning of summer to stock up on backyard toys and games, and they always have a 4th of July display where you can stock up on red, white, and blue decorations to really deck out your backyard in the USA theme. Grab a white poster board while you're there to make a fun sign to announce all the sports you'll be playing. The kids will love helping you make this sign so be sure to involve them.
A lot of the supplies you need for the backyard Olympic games you probably already have, such as a soccer ball, frisbees, a basketball, and a kiddie pool. Everything else you can easily find at the dollar store or other local shop like Target or Walmart. If you see some little orange cones pick up 8 or 10 of these — they will be useful for several events. Keep an eye out for something that can work as Olympic gold, silver, and bronze medals. I found some light-up 4th of July necklaces that worked great for this purpose. If you can't find anything at the store, buy some Yoplait yogurts and use the lids as the medals with some string or ribbon for the necklace.
I'm going to share all the ideas for various Olympic events and it will up to you to decide which ones work best for your family. If you have toddlers, you'll need to adapt some of these games to be on the easier side, or if you have teenagers you may want to make them more challenging.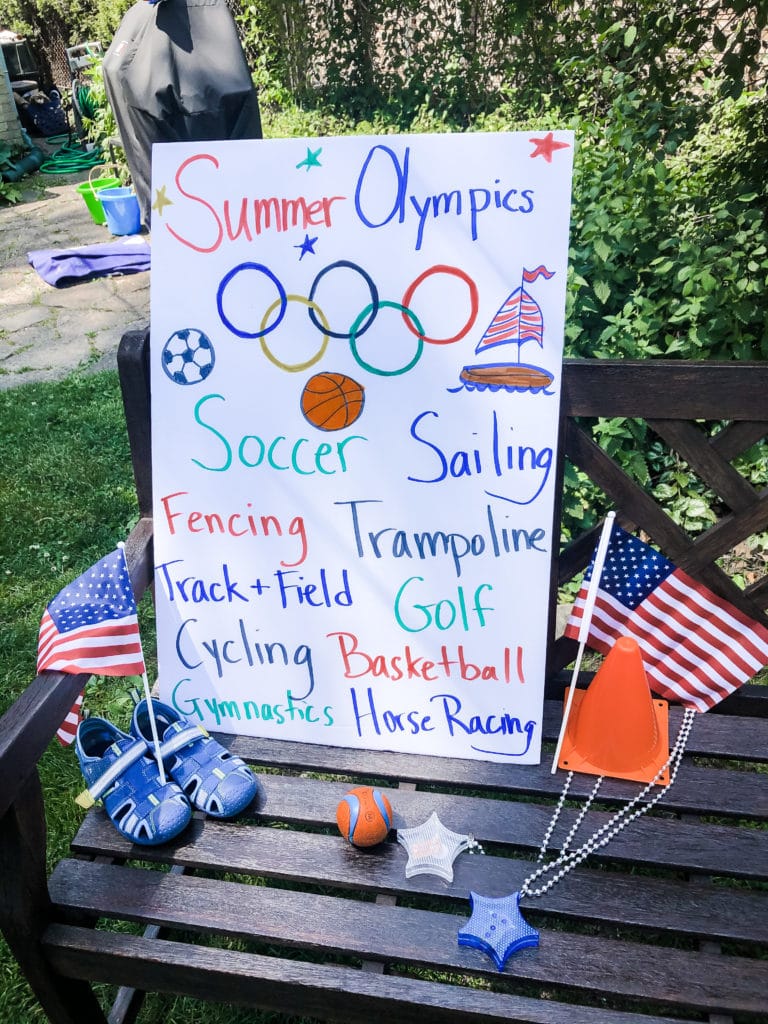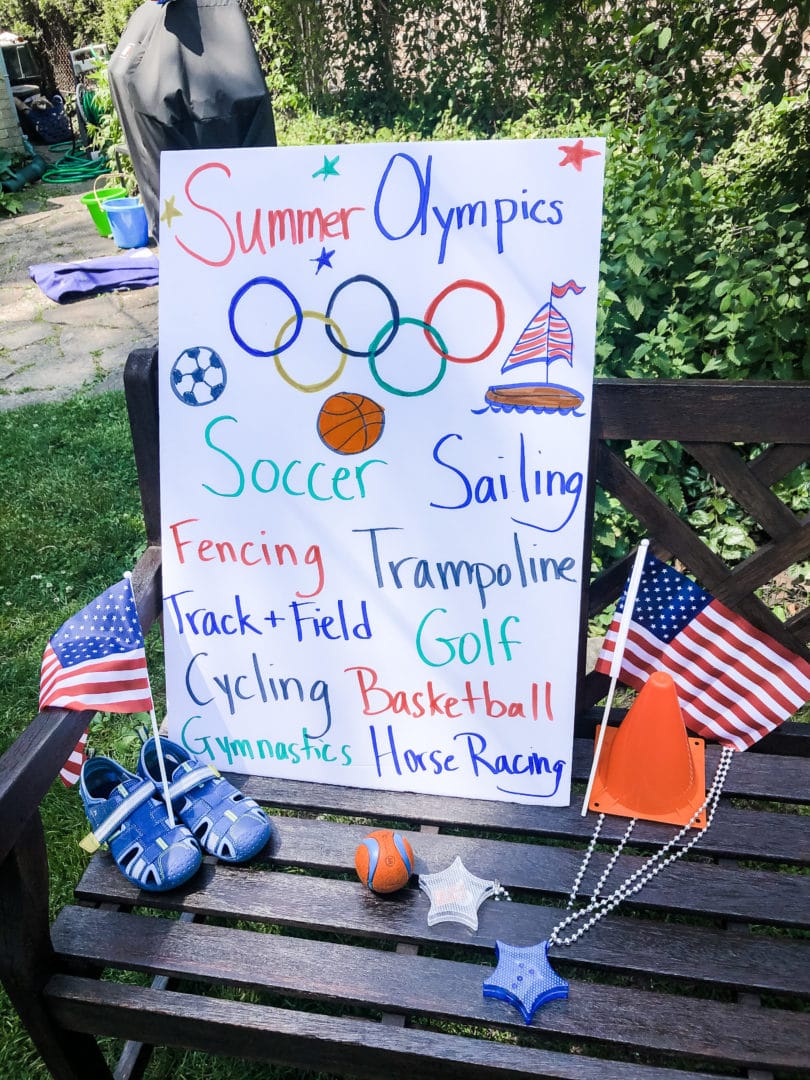 Olympic Games Family Competition
If you really want to go all out, invite some friends over with their kids and compete as families. Set up a big dry erase board to keep track of each family's running score as you finish each event. Get some cheap prizes while you're at the dollar store to award to each family at the end of the day. This will make for a super fun and memorable party with plenty of set-ups for great photos.
There are so many cute food and drink ideas you can find on Pinterest to go with the Olympics theme. Make sure to stock up on red, white, and blue popsicles to enjoy throughout the day and set up a big cooler of drinks to keep everyone hydrated.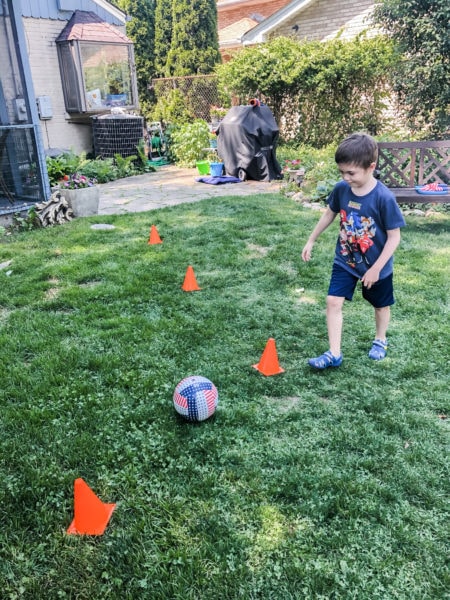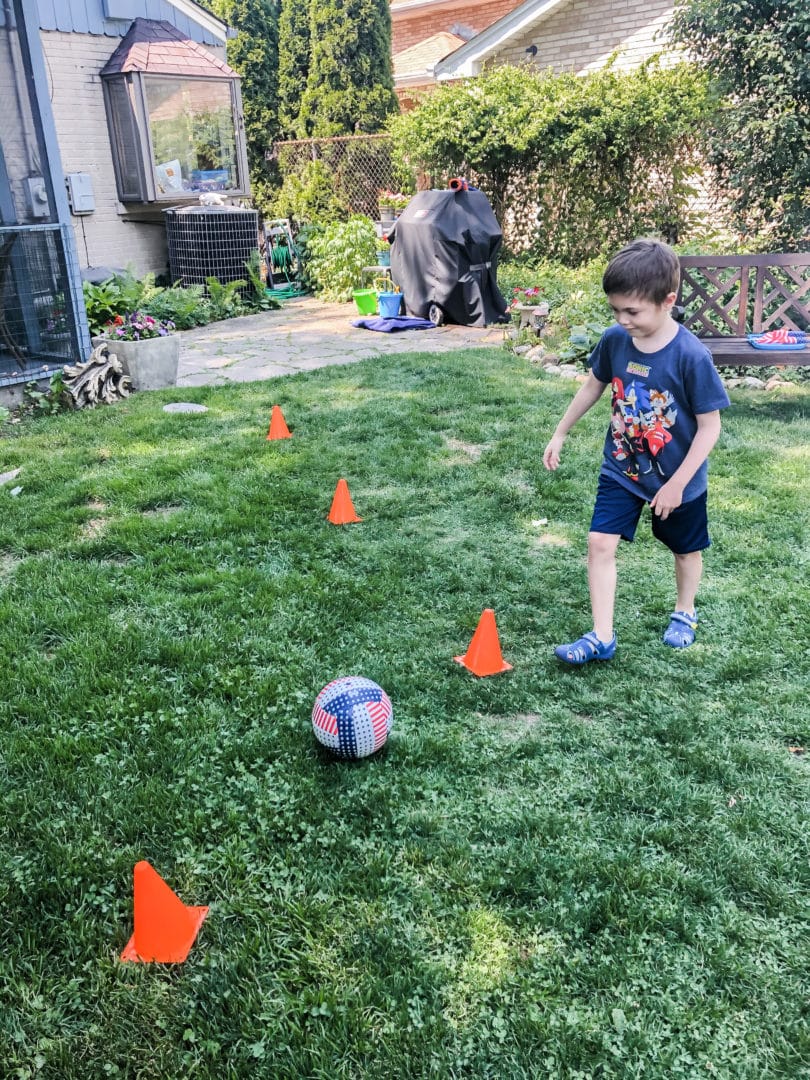 Backyard Olympic Games Events
There are SO MANY events at the summer Olympic Games. Have you ever looked through all of them? It's amazing how many new events have been added throughout the years that adapt really well to the backyard. I'm now going to outline each event and how you can adapt it for your backyard Olympic Games!
Discus Throw
You really only need one frisbee for the discus throw, but if you have two or three that's even better. Instead of trying to see how FAR you can throw it (I mean, your backyard is only so big) set up an object, such as a cone, in the yard and see who can get the closest without knocking it over. Kind of like bocce ball.
Javelin Throw
For the javelin throw you'll need a hula hoop and a pool noodle. Have someone hold the hula hoop up or hang it from a tree. Set a starting line. Use the pool noodle as your javelin and try to throw it through the hoop. For older kids, set up several hoops of different sizes, with more difficult hoops as a higher point value. You can also move the starting line further back to make it more difficult.
100 Meter Dash
This one is the simplest of all. If your yard is pretty long just set a starting line and a finish line and on your mark, get set, go! If your yard is smaller, set a course in a circle with a clear starting line. Those orange cones will really be handy to set up a clear track. To spice things up for older kids, create an obstacle course using the hula hoop, jump rope, kick a soccer ball around cones; anything that is appropriate for the kids' ages.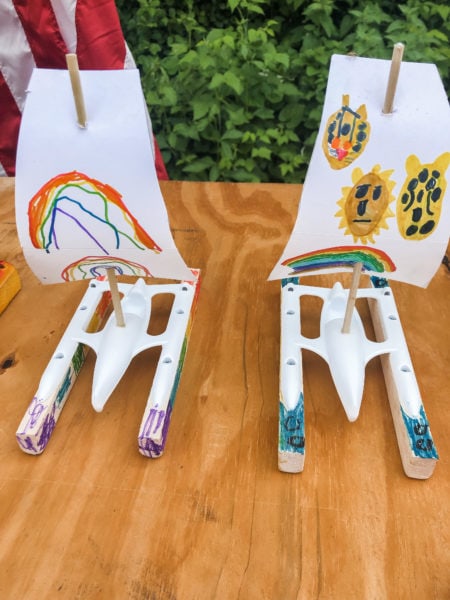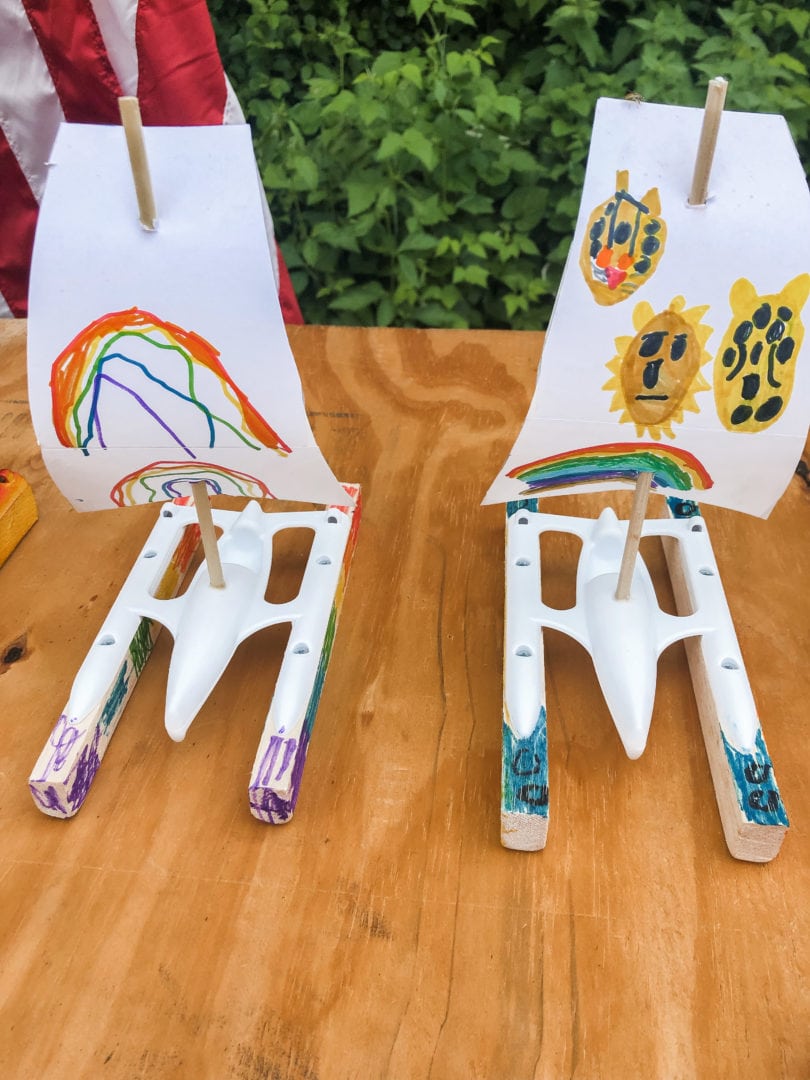 Sailing
Sailing?? Yes, sailing! But not with REAL boats. TOY boats made of wood and paper. You can find these boat kits on Amazon or at a local craft store. Set up your toy pool and fill it high with water. Place the boats on one end in the water and have the kids blow on the sail to get the boats to race. We used these boats for our Cub scout Raingutter Regatta event and they are perfect for this. If your kids are older, set up a long piece of rain gutter across two horses, fill with water, and time each kid's boat.
Fencing
You're really going to get some good use out of those pool noodles if you add a fencing event! This one is better suited for older kids. Come up with your own rules, such as "no face contact" and "no whipping" and assign points for each part of the body that comes in contact with a pool noodle "foil". The person with the highest point total wins the match.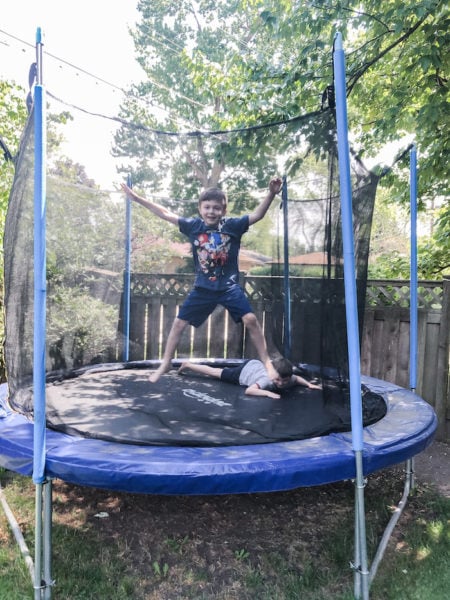 Trampoline
Did you know that trampolining is a summer Olympic game? Trampolining is a competitive Olympic sport in which athletes perform acrobatics while bouncing on a trampoline. This one is great for all ages. Your kids can come up with a routine to music, or just freestyle it in the moment, and you can hold up small dry erase boards with their scores. Clearly, this event only works if you already have a trampoline, and my boys loved getting creative with their jumps.
Gymnastics and Rhythmic Gymnastics
Show off your cartwheels and somersaults with a gymnastics event! Your kids will love making up their own routines to their favorite songs. This can also make for a fun family group gymnastics routine that you prepare in advance and perform for each other. Add in rhythmic gymnastics by incorporating a ball, a long stick with a ribbon on the end, or a hula hoop.
Golf
Who doesn't love a little put-put? Grab some kid-sized plastic golf putters and plastic balls and set up a course with Dixie cups for the holes.
Cycling (or tricycling…)
Your toddlers will LOVE racing each other with their ride-on toys and tricycles. With bigger kids you can pull out the bikes or scooters. Even better, have the bigger kids (or adults!) try to ride tricycles, LOL!!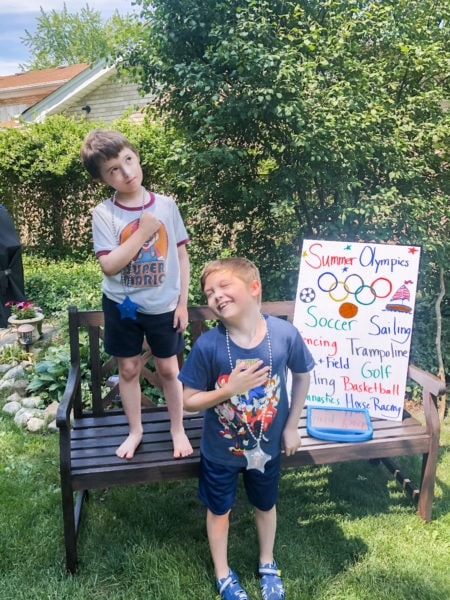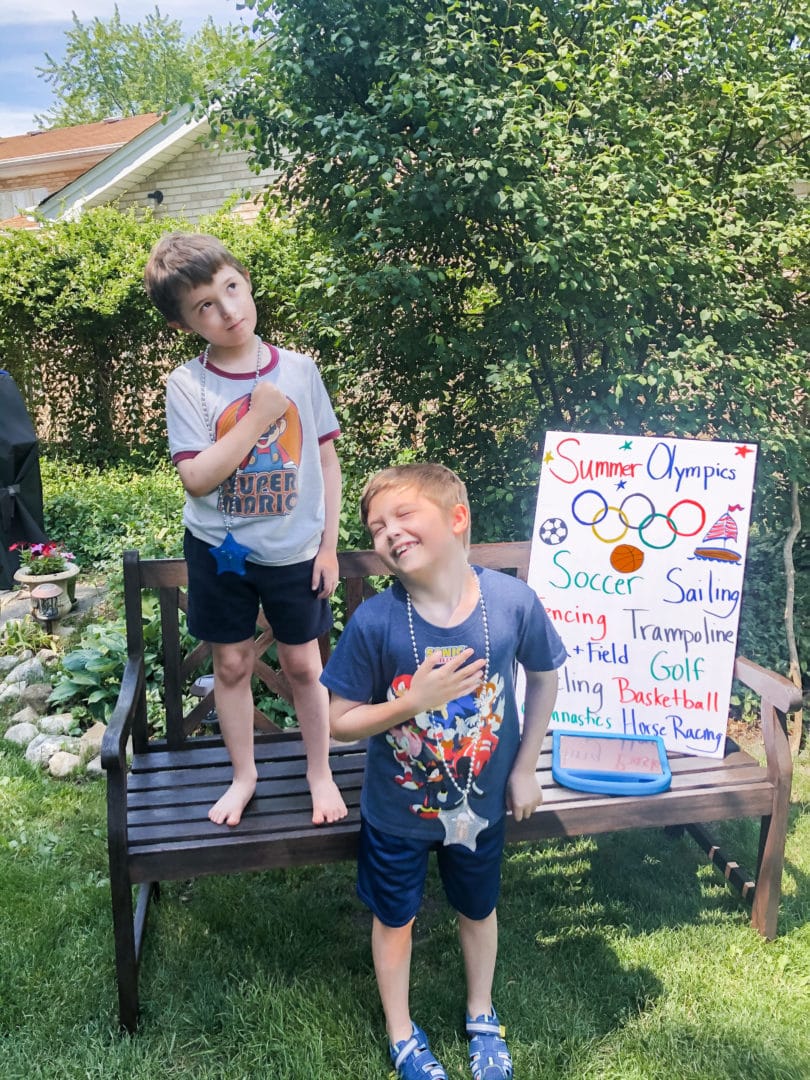 Closing Ceremony
Finish the day with a fabulous closing ceremony, including the National Anthem, confetti, a cake, and anything else that will make the moment special. There are so many more Olympic sports that can be adapted for the backyard, such as baseball, basketball, and volleyball. Think about what sports your family really loves and lean into those. If your family isn't very "sporty", opt for events that require more creativity and watch what happens.
At the end of the day, someone will be awarded gold, silver, and bronze medals. There will always be kids who didn't take the top prize and are sad about it. This is a great opportunity to teach good sportsmanship. Show your kids the importance of congratulating others who place better than them in the games. Remind them that it's not about winning, it's about having fun playing the games.
And with that said, let the games begin!!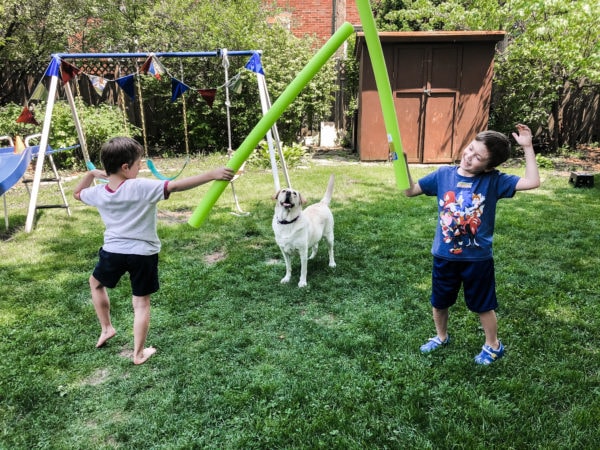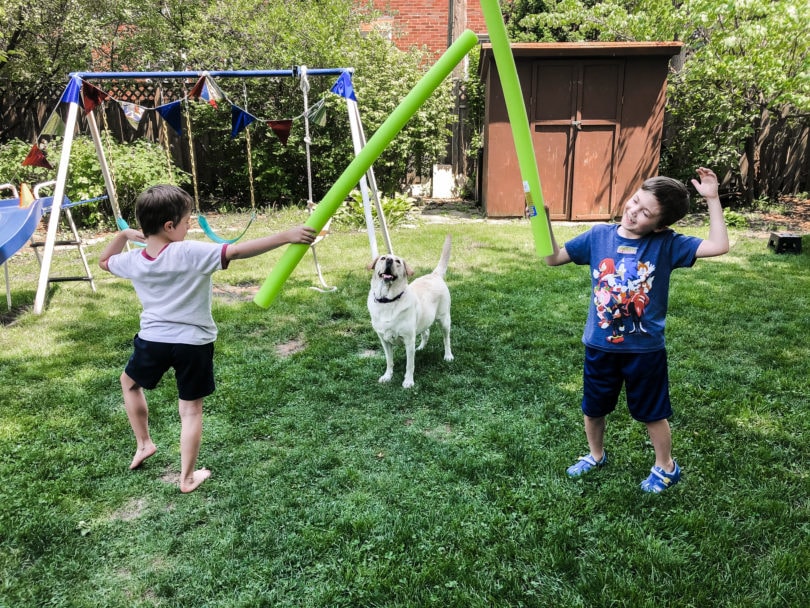 Sweepstakes Terms & Conditions

This article was brought to you by Step2, creators of the Step2 Full Court B-Ball Inflatable Bouncer™ (value $299).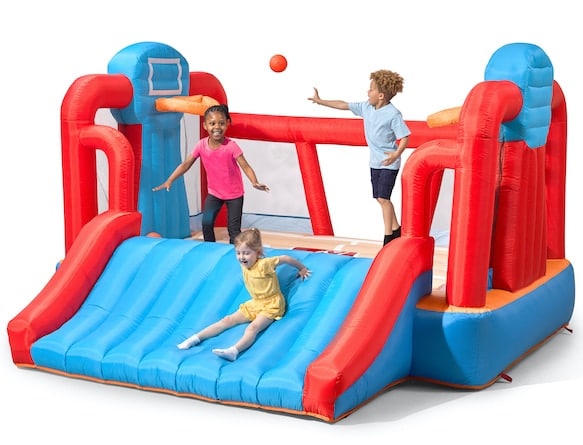 Experience basketball like never before! The Step2 Full Court B-Ball Inflatable Bouncer™ lets your little ones get some serious air as they go in for a layup or a cross-court 3-pointer. The secure mesh sides keep your mini athletes safe as they run, hop, jump, and soar.
This continuous-air inflatable basketball court is a great way to engage your kids in some outdoor physical activity. It's perfect for birthday parties, block parties, and family reunions. In under 60 seconds, their dream basketball court will be ready for action! When playtime's over, deflate the bouncer and store it away until the kids are ready to play again.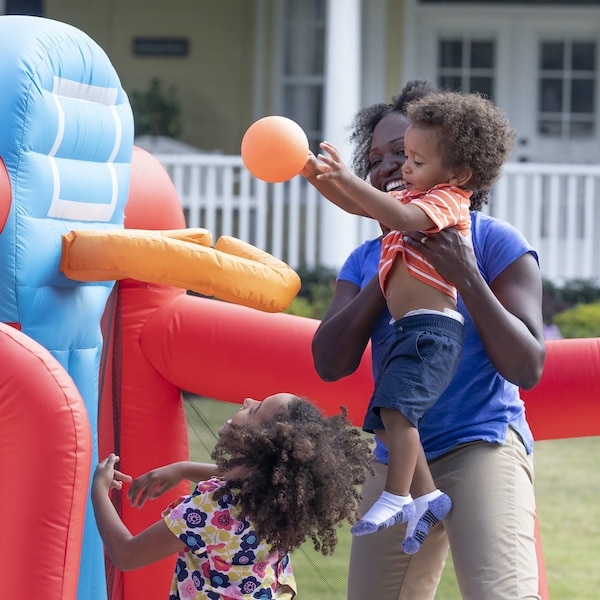 Full inflatable basketball court complete with two basketball hoops and detailed floor.
Great way to encourage physical activity and burn off excess energy.
Double-sided entry and exit with slide.
Mesh sides for added safety, allowing parents to see the action!
Extra Heavy-Duty Blower With GFCI Plug – Helps the bouncer support up to 50 pounds more than other leading bouncers!
Continuous airflow from blower keeps the court inflated.
Fold up and store away until next playtime.
For the best playtime experience, socks are recommended.
Bouncers holds up to 300 lbs.
In the box: Heavy-duty vinyl inflatable bouncer basketball court with blower, basketball, storage bag, ground stakes, and repair patches.
Recommended ages 3-8
Click here to order now!
Visit Step2.com to check out all their fantastic toys that your twinnies will LOVE!