Last updated on September 8th, 2023 at 03:42 pm
Baking together has enormous potential for learning at any age. It has become a (mostly) fun weekly activity in our house, having so far made both bread and – yes – cookies. I won't pretend that it is easy to do. Baking cookies was especially challenging, but I think it is worthwhile.
My twins are toddlers, so the main lesson we get from baking is learning to take turns – very important for toddler twins I think! I let them dump ingredients into the bowl one at a time, and we take turns mixing, whisking, or kneading. We also learn self control (mixing without spilling) and delayed gratification (waiting for the dough to rise / cookies to bake and cool before we can eat them). Other possible lessons in baking could be following directions, simple math, and learning to focus and follow through on a task. One great thing is that these lessons are so embedded in the process that you don't really need to have special conversations about it; your child is learning while doing.
However, baking with young children is a messy and logistically difficult activity. After having done this for a while, I have learned a few tricks.
1. Use clear bowls whenever possible.
I have one clear mixing bowl and a few opaque bowls, and when I use the clear bowl I find baking with the kids to be much easier. I think it's because the one who isn't directly involved can still see what's going on very easily and at many heights.
2. Use the biggest bowls you have.
Toddler motor skills are just not very precise; bigger bowls mean less spilling while they are mixing (as long as you're holding on!)
3. Work on a low surface when possible.
With two kids trying to reach for the same thing on the counter while standing on chairs or stools, pushing becomes a real hazard. I try to do as much as I can sitting on the floor or on a chair if I feel like they aren't in a being-patient kind of mood. So, for example, this means a lot of whisking happens in my lap.
4. Sacrifice utensils in advance.
I will read a recipe and figure out which tools I don't need, and then give them to the kids to use while I am busy doing things that only I can do. Things like measuring cups, measuring spoons, a whisk, etc, that they can bang around while I am measuring flour are extremely helpful. My kids only have access to these things while we're baking, so they are special and exciting toys.
5. Read the recipe SEVERAL times beforehand.
It is impossible for me to focus when I am dealing with measuring ingredients and trying to keep two toddlers engaged and calm(ish). The constant interruptions means that I am always losing my place and forgetting which ingredients I've already used. Reading the recipe at least three times before I start helps me make fewer mistakes.
I really recommend using this challah bread recipe for your first try instead of using something like a cookie recipe. Baking cookies with toddlers is WAY harder than baking challah because they want to sample, and we had a lot of tantrums when we did the cookies. It is not a great first-time-baking-with-toddlers thing, whereas bread isn't as exciting to them (no chocolate) and you can use it for a few days for sandwiches, toast, etc (way more useful than a few dozen cookies!) ALSO challah is good because you can shape it with the kids, they like to see their baked shapes, and unlike play dough you can eat it!
Click here for a printable version of the Challah and Cookie Recipes
Challah Recipe
Prep: 20 mins
Cook: 36 mins
Makes: 6
Difficulty: Medium
Source: Maggie Glezer (adapted)
Ingredients
3 1/2 cups unbleached all-purpose flour
1/4 cup warm water
2 tsp. active dry yeast
1 1/2 tsp. salt
1 tbsp. sugar
1/4 cup honey
1/4 cup vegetable oil
3 eggs
Directions
In a large bowl, combine yeast, water, and 1/4 cup (37g) of flour and mix well. Let proof for 15 minutes. The yeast should look a little runny, not pasty. In a separate bowl, mix together 3 eggs, honey, sugar, oil, and salt. Add to the yeast slurry. Add 3 cups (446g) of flour to the wet ingredients, and stir to form dough. Knead or use the dough hook in a stand mixer on medium for **6 minutes** after all 3 cups of flour have been incorporated into the dough, adding flour if needed. (I do 2 cups at once, mix until smooth, then add the last cup slowly)
The finished dough should be smooth, not too soft, and only slightly sticky to the touch, but not sticky enough that any dough gets left behind when you press it onto a clean surface. Put dough into a greased bowl, making sure all sides of the dough are oiled to prevent drying. Cover tightly with plastic wrap and then cover bowl with a towel, and place in a warm location to rise for 2 hours or until doubled.
Punch down dough, and cut into 3, 4, or 6 pieces depending on your desired braid. Take one piece and with a rolling pin, roll out onto a clean surface to a thickness of around 1/4″. Starting from one side, roll the sheet up with your hands until you have a long strand. Continue to roll the strand on the surface until it is the desired length and thickness. Repeat with the other strands, then braid. Cover challah with greased plastic wrap and allow to rise for another 1-2 hours.
Preheat oven to 325 F. Whisk an egg with a bit of water and kosher salt, and brush onto challah, then bake for 36 minutes, turning the baking sheet after 18 minutes to ensure even browning. Transfer to wire rack to cool.
Robin's Chewy Chocolate Chip Cookies
This recipe uses no white sugar, so even when they are cooked all the way through they stay chewy. Refrigerate the dough for puffy, cakey cookies; bake right away for more flat, spread-out cookies.
Ingredients
2 eggs
2 1/4 cups flour
1 tsp salt
1 cup softened butter
1 1/4 cup brown sugar
1 tsp vanilla extract
lots of chocolate chips
Directions
Preheat oven to 325 degrees
Mix all the dry ingredients (flour, baking soda, salt) in a bowl.
Combine butter and brown sugar in a large bowl. Add vanilla and eggs. Then gradually add the flour mix.
Stir in as much chocolate as you like (I like a lot)
Refrigerate for a few hours or over night – you can also freeze the dough and defrost later.
Bake for 12-15 minutes at 325 until the bottoms are golden brown.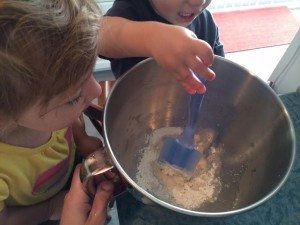 Do you bake with your kids? What are your tips for successful baking with children?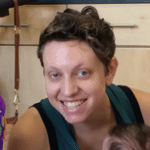 Robin Sheldon is an artist and therapist, currently staying at home full time with her big kid twins, new baby, and two cats while her husband hunts and gathers. According to her children, her job is making breakfast and packing lunches, what makes her happy is hugs, and her favorite food is cookies. Pretty accurate! Read more articles by Robin on Twiniversity.