A baby monitor is one of the most useful tools in parenting and one of the most researched items by parents to be. There are so many brands and options when choosing a baby monitor, it can be overwhelming! Add twins to the mix, and it's even harder to know what the best baby monitor is for your growing family.
Here at Twiniversity, we've done some of the research for you. Here is our list of the best baby monitors for twins:
VTech Safe & Sound with Night Vision and Two Cameras
VTech is a trusted name in children's tech toys, so it is not surprising they have an outstanding baby monitor. The Vtech video monitor has a pan and tilt feature, allowing you to see every angle in the nursery. Talk to baby from anywhere in the house with the built-in talkback intercom or soothe baby with lullabies and soft sounds straight from the baby unit. Plus, you can make sure your baby is cozy by monitoring the room temperature displayed right on the parent unit screen. Best of all, thanks to automatic infrared night vision, you can keep an eye on your baby no matter the time of day (or night).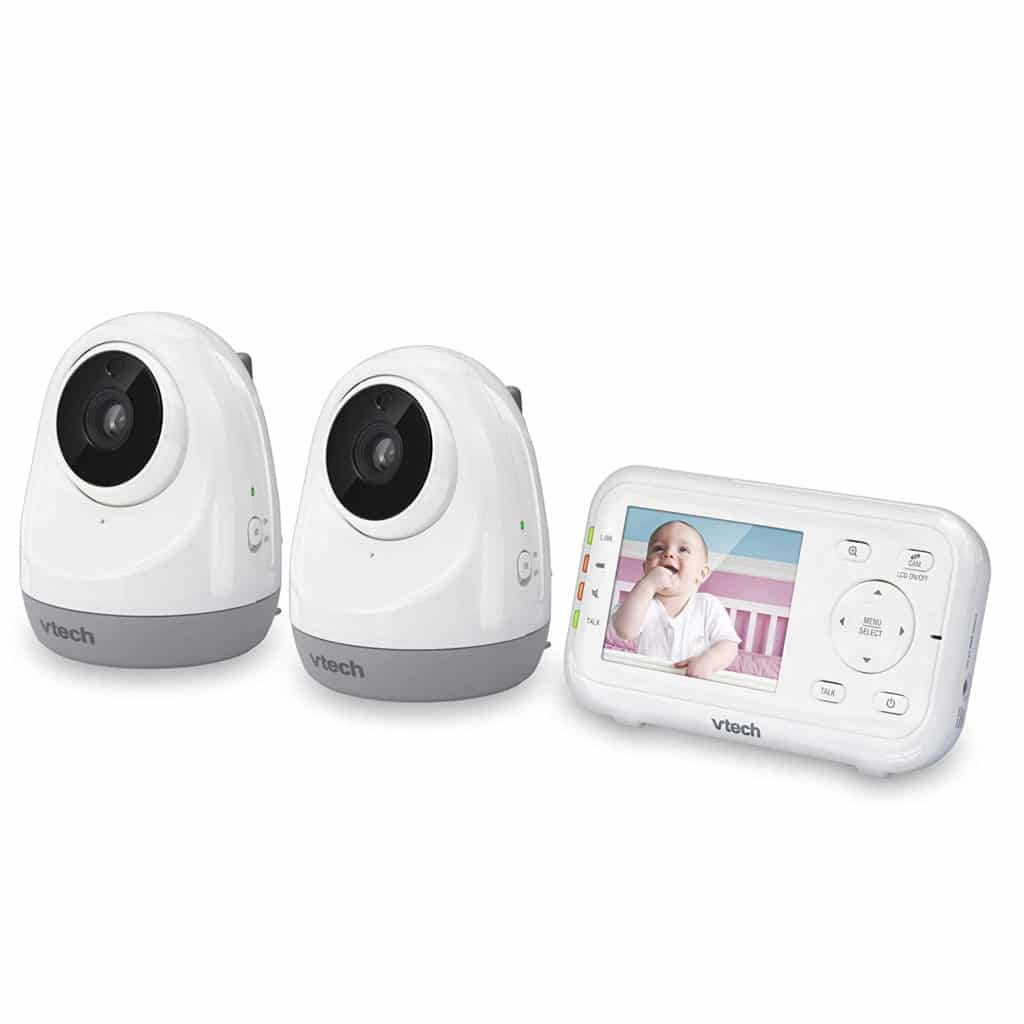 Babysense With Two Cameras
The Babysense baby video monitor provides high-quality streaming, a secure hacking-free connection, and crystal clear digital vision and sound. The Babysense portable baby monitor features a long range of up to 900 feet (OPEN SPACE) with an out-of-range warning. Help your baby fall asleep faster with use of the pre-installed lullabies, played directly from the baby camera. Comfort your baby with the sound of your voice through the two-way talkback feature and see your baby day and night with 2x digital zoom, manual pan and tilt, and infrared night vision.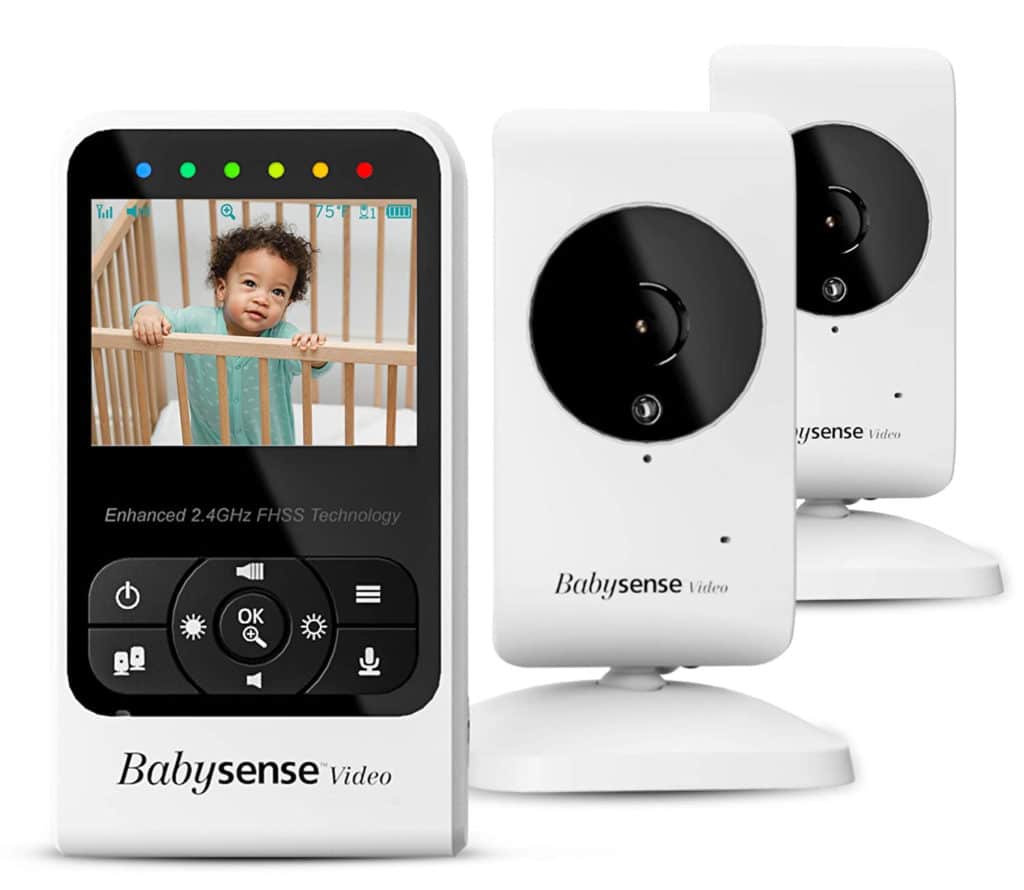 Infant Optics DXR-8
The Infant Optics DXR-8 video baby monitor has a long track record as a monitor you can trust. It is an Award Winner from Babylist Best Baby Monitors of 2020. It is compact and lightweight without compromising video and audio quality. The DXR-8 offers camera lens options: normal, zoom, and wide-angle (sold separately). So no matter your camera placement needs, you will have a lens option to fit! The Infant Optics baby video and audio feed is transmitted via a secure internal 2.4GHz channel with FHSS technology. No information is shared or communicated through the internet, meaning your baby's privacy is not compromised. At Infant Optics, their goal is to create the best baby monitor possible.
Eufy Security SpaceView with Two Cameras
The Eufy SpaceView monitor features two cameras and auto-cycles between each camera (this is especially helpful with twins!). The battery will last for 8 hours with the display on and 15 hours in default sleep mode. See everything in the baby's room with the 330° corner-to-corner pan and 110° floor-to-ceiling tilt. Soothe baby with your voice with the two-way talkback feature. No Wi-Fi and no App needed, keeping all footage private and secure. With the Eufy SpaceView baby monitor, you no longer have to sacrifice quality if you're lacking a high-speed internet connection.
Miku Pro Smart Baby Monitor
The Miku Pro is the Cadillac of baby monitors. It is the only monitor that tracks breathing and sleep patterns with no wires, batteries, or wearables. The Miku Pro captures and analyzes breathing and sleep using proprietary SensorFusion technology. The live breathing waveform shows your baby's respiration on your smartphone and delivers real-time awake/asleep, movement, and sound alerts. This makes tracking the baby's breathing, sounds, and sleeping without having to tip-toe into the room quietly. Temperature and humidity are also monitored. The Miku Pro Smart baby monitor also features digital zoom and dual Ole Wolff speakers, providing enhanced audio whether playing lullabies or using the two-way talk feature.
What baby monitor should I get for twins?
With twins, you will want to know which baby is crying and why he/she is crying. In this case, you'll want a video monitor. When shopping for a video monitor for twins, there are a few features to look for. Pan and tilt capabilities (ability to scan the room remotely), multiple cameras, and scan or split-screen display are must-haves with twins. For a small space, a monitor with one camera with pan and tilt capabilities should work just fine. If you prefer a camera for each baby, look for a monitor with multiple cameras (one monitor, two cameras). With more than one camera, you will want either a scan view or a split-screen.
How to Pick the Best Baby Monitor for Twins
Screen Size
Many parents prefer to have a larger screen on their monitor. Larger screens pick up more details and offer a larger image in split-screen mode. However, bigger is not always better, as larger screens are less portable.
Camera Controls
Having the ability to control the camera remotely with your parent unit is essential, especially with twins. You want to be able to pan and tilt the camera to see each baby while they sleep.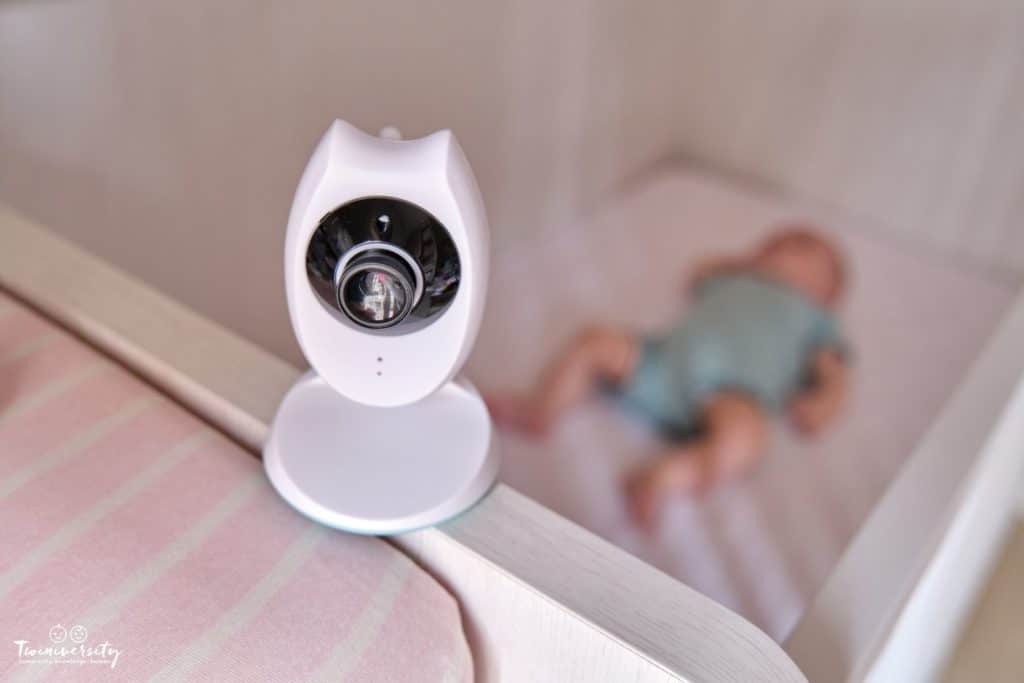 Range
Always consider the range that the baby monitor offers and how far away you'll move from your baby. If you plan on getting outside during naps, you will want a monitor range that covers the space you plan to occupy.
Battery Life
You don't want the battery life to restrict your movements, so pick one that has ample battery life.
Do you need Wi-Fi for a baby monitor?
Some monitors require Wi-Fi while others do not. If you want to check in on your baby while you're out of the house, you will need Wi-Fi connectivity so you can monitor your baby from your smartphone.
If you just want a video monitor to keep watch over your sleeping baby while you are elsewhere in your home, then a basic monitor will do. However, if you want to check in on your baby while you're out of the house, you;ll need Wi-Fi connectivity so you can view your video from your smartphone.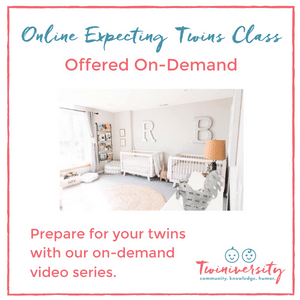 Have you taken your expecting twins class yet? We offer a great class on demand so you can take it on your own schedule! There are so many video modules covering everything from your twins' baby registry to your first week at home with twins! Sign up today to get started before your twins arrive.
Do baby monitors have a delay?
Non-WiFi baby monitors do not have a noticeable time delay in transmission because they only communicate with each other. Wi-Fi monitors can experience a lag in transmission (up to 10 seconds) due to transmitting to the cloud before transmitting your wifi-connected devices (smartphone app).
Where is the Best Place to Put a Baby Monitor?
Make sure the camera is at least three feet away from your baby but no more than 10 feet from the crib. You will want to place the camera where you have a good view of your baby (sometimes that will be from above). Always keep cords out of the reach of your baby!
If you sleep in the same room as your baby or live in a small space where you can always hear or see what your baby is up to, you might not need a monitor. However, baby monitors are an item parents and caregivers buy for peace of mind. Otherwise, most parents enjoy the convenience a baby monitor provides.