Last updated on December 2nd, 2023 at 11:34 pm
What's the best bottles for breastfed babies? This has been something that's been covered in our Twiniversity Online Breastfeeding Twins course but here you can read about the best bottles for breastfed babies that will help to make a great transition from nursing to bottle feeding and avoid nipple confusion.
So often at Twiniversity we get asked, "What are the best bottles for breastfed babies?"
What type of bottle is best for breastfeeding?
So today we are going to answer that question and many others. As breastfeeding mama's ourselves, we know how stressful it can feel making sure that you choose the best bottle for breastfeeding, so let's get to it.
Many moms try their best to breastfeed around the clock, BUT we heard there is this thing called sleep, (have you heard about it?) and someone told us it was important, so sometimes you might want to try it. If you consider yourself an open-minded person and want to give this "sleep" thing a try, we've come up with a list of the best breastfeeding bottles on the market today.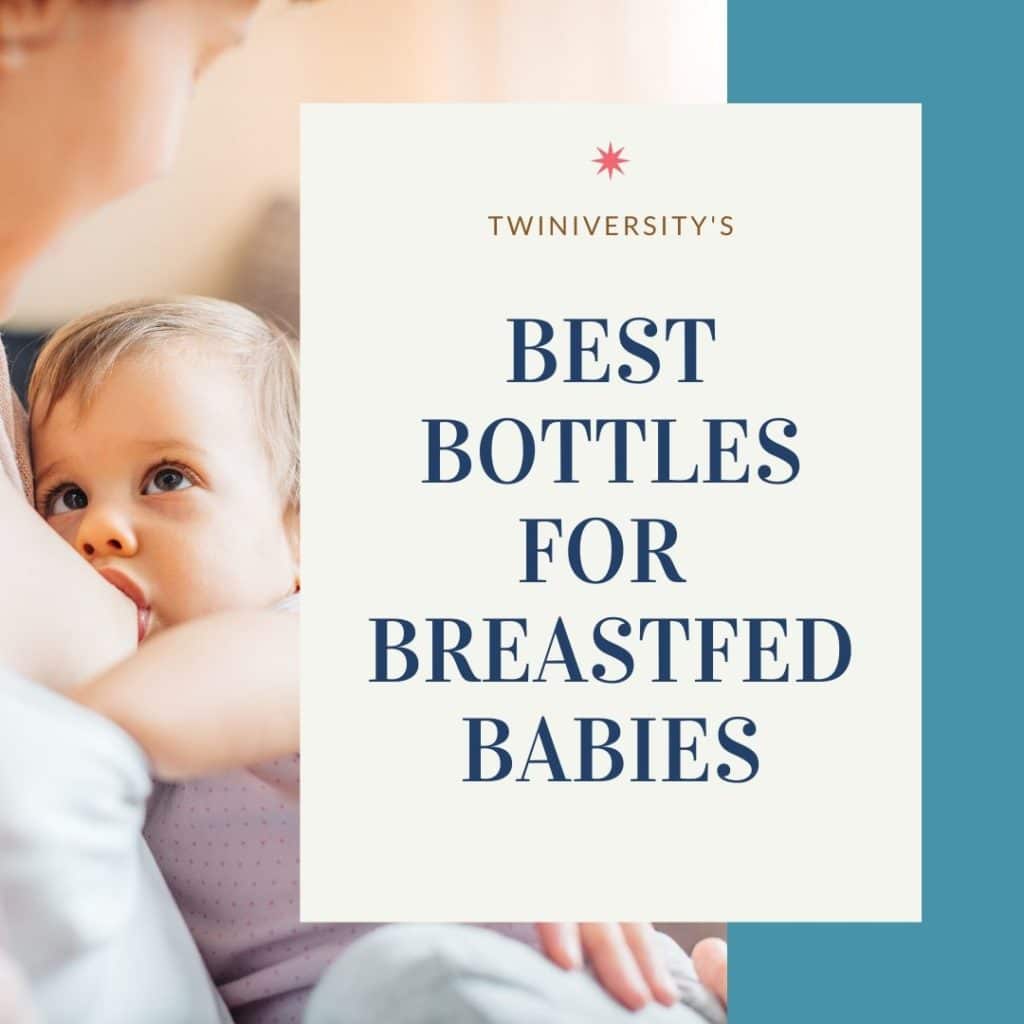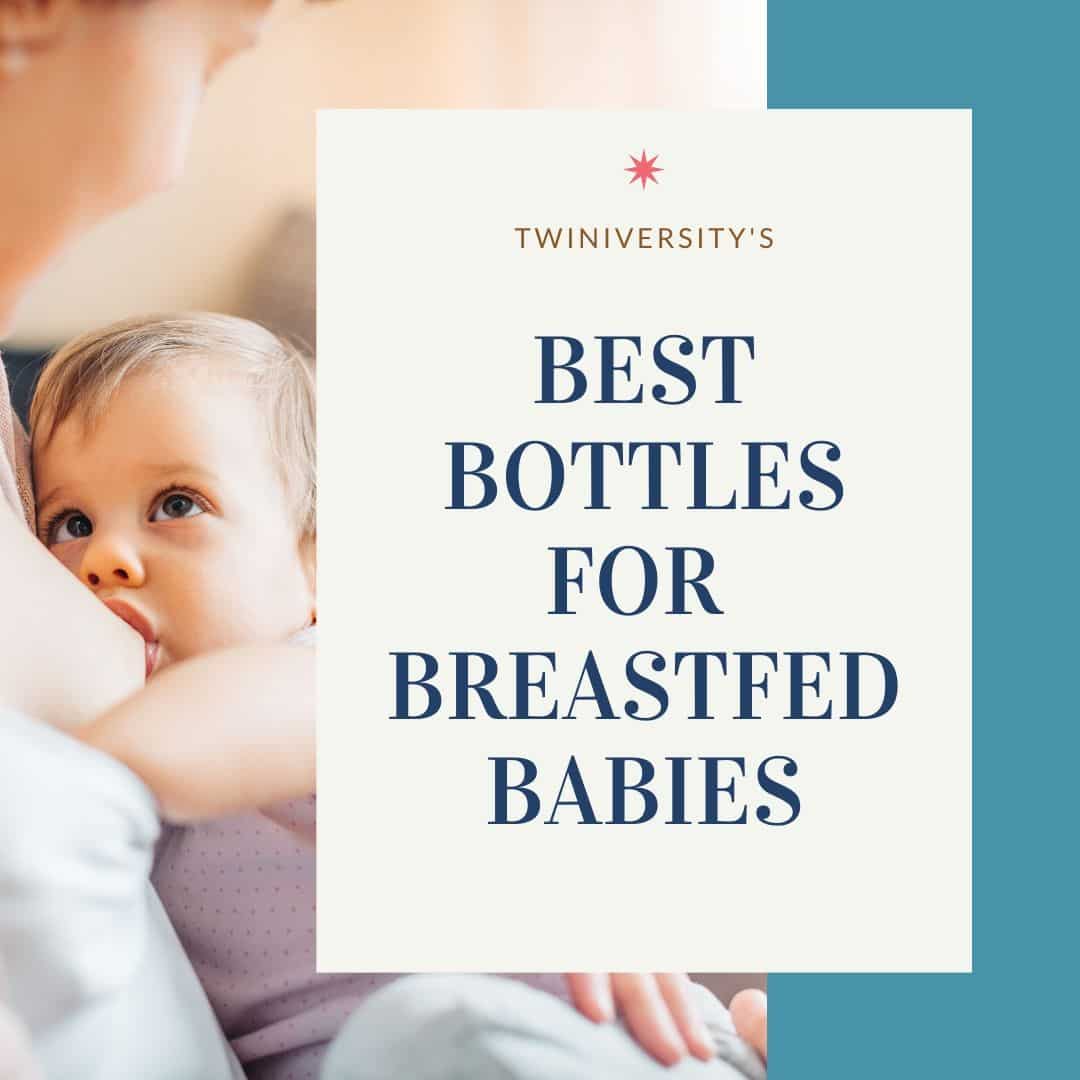 Before we dive in, let's have a little chat about the mysterious "nipple confusion"! (insert dramatic music here). Yes, I agree, it sounds like something out of a Black Mirror episode, but nipple confusion is defined as the period of time where your baby might have trouble latching because they've gotten used to feeding out of a bottle.
Does that always happen? No. You can put it on the list of things you shouldn't care about right under repainting the garage walls. Babies really do need a different variety of ways to feed since not every single way is available 100% of the time, so get that whole nipple confusion thing out of your head, please.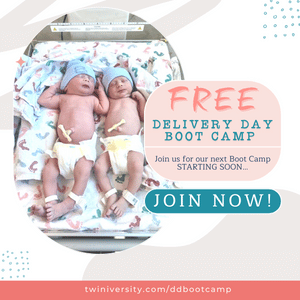 When can breastfed babies have a bottle?
If you are just searching to find out what are the best bottles for breastfed babies you probably already know that lactation experts have varying opinions but typically all agree that a breastfed baby can have a bottle in the first four weeks after you've established a good supply. If you are up to the task, feel free to start sooner because, you know, that whole two babies at once thing you got going on.
Now let's get into the meat and potatoes of this list, or shall I say the nipples and bottles of this post. #isthatweird
Best Bottles For Breastfeeding
Are Dr Brown's the best bottle for breastfed babies?
Starting at the top and working our way down, many people consider Dr. Brown's Options+ baby bottle the best bottle for breastfed babies. Dr. Brown's bottles have a very natural nipple shape and a super-contoured design. Dr. Brown's nipples are engineered to offer the same consistent, natural flow as your breast so you and your baby know what to expect each time.
It's the Twiniversity Community's top pick as the best bottle for breastfed babies. The downside is that there are a lot of parts to wash, but they are top-rack dishwasher safe with a good dishwasher basket.
REAL TALK TIME: Be careful when shopping! Dr. Brown's actually has a few different versions of their amazing bottles. The Options+ is the latest one and, truthfully, the best. Many consider Dr. Brown's bottles the best bottles for breastfed babies with reflux and the best bottles for breastfed babies with gas.
Twiniversity Moms Say: "Dr. Browns! They have smaller, narrower nipple bottles and larger wide nipple bottles. I prefer the wider one because I also breastfeed and it's more like a natural nipple. My daughter had latching issues and didn't do well with the smaller nipple." -Amy V
Another favorite is the Philips Avent Natural Baby Bottle. This is another that is considered the best bottle for breastmilk because of its naturally shaped nipple.
Avent features something called Airflex vent technology, which is integrated into each nipple to reduce feeding issues by venting air away from your tot's tummy.
Twiniversity Moms Say: "We used Avent naturals. We started with Dr. Brown's but there all of the parts were exhausting to clean. My boys didn't have colic issues. We tried Avent with no issues, and never looked back!" Alisha S.
Are Playtex bottles good bottles for breastfed babies?
Some Twiniversity moms also liked the Playtex Baby Nurser with Drop-In Liners. A few moms consider this to be a true breastfeeding bottle since they consider it to be the most sanitary because you have to change the liner each and every time.
The downside is, if you are someone who's trying to be a little bit more green, despite the fact that they are recyclable, the liners are still made of plastic that can't be reused. So, as far as what the best bottles for breastfed babies are, and if you are trying to reduce your carbon footprint, this may not be the one for you.
The Playtex Baby Ventaire is designed specifically for babies who go back and forth between the bottle and the breast. There is no vent in the nipple itself, which means no air should find its way into your baby's stomach. That makes it one of the best bottles for breastfed babies.
Twiniversity Moms say: "Playtex drop-ins helped us with a colicky baby A… plus the drop-ins made it easier to stay on top of all the bottles and cleaning." Daniella P.
Which baby bottle is closest to the breast?
The next name that kept coming up on our list of Best Baby Bottles For Breastfed Babies was the Comotomo Natural Feel Baby Bottle. One of the newer bottles in the baby-verse is from Comotomo. The company says that its design was purposely made to closely mimic natural breastfeeding.
Their nipple is where it's at! Its shape mimics mom's breast, and its soft silicone nipples are ideal for babies who have trouble transitioning from nursing to bottle-feeding. Comotomo created their bottles to prevent colic, while completely eliminating annoying leaks.
So many Twiniversity families feel that the best bottles for breastfed babies would be the Comotomo, but this is honestly a very personal choice.
Twiniversity Moms Say: "Comotomo were the only bottles my girls would take. They were full-term, but 5lbs at birth so they were on the small side." Nichole
MAM has made a bottle geared towards breastfeeding moms. Their SkinSoft nipple mimics breastfeeding, making the MAM Anti-Colic Bottle the best bottle for a breastfed baby. Switching between breastfeeding and bottle feeding is simple and easy with MAM Anti-Colic Baby Bottles.
One of the joys of a MAM bottle is that it's self-steaming! It opens from the top and bottom, so it's super duper easy to clean and dry. You've got to see it to believe it. It's definitely one of the best bottles for breastfed babies.
Twiniversity Moms Say: "MAM bottles couldn't be easier to clean! We use them exclusively now since it saves me a ton of time." Vivian T.
Parents love the Tommee Tippee as the best bottle for breastfed babies, mostly because of the breast-like shaped nipple of their Advanced Anti-Colic Bottles. It helps moms help babies latch on easily and supports the transition between breast and bottle. The Tommee Tippee nipple is also made of soft silicone, so it feels more like mom's skin.
Twiniversity Moms Say: "I'm exclusively pumping for my twin daughters, and we use the Tommee Tippee anti-colic bottles. We love them!" Kristen C.
What's the best way to introduce my baby to a bottle?
When picking the best bottles for breastfed babies, start slowly. To set the stage for the perfect feed, make sure that the feed is at the same time that it would normally take place, and have your partner do the first one. If you (the breastfeeding Mama) try, it could make the baby uncomfortable and confused and not want to drink. Be thoughtful about keeping the nipple level (bottles have nipple flow levels) as low as possible when doing a combo of breast and bottle.
Can I bottle feed at night and breastfeed during the day?
Heck yes! There is no such thing as an imperfect feeding day. You set the pace, and you set the parameters. If you want to breastfeed only at night, go for it, if you want to breastfeed just on Sundays while on a plane, go for it. Don't let anyone tell you otherwise.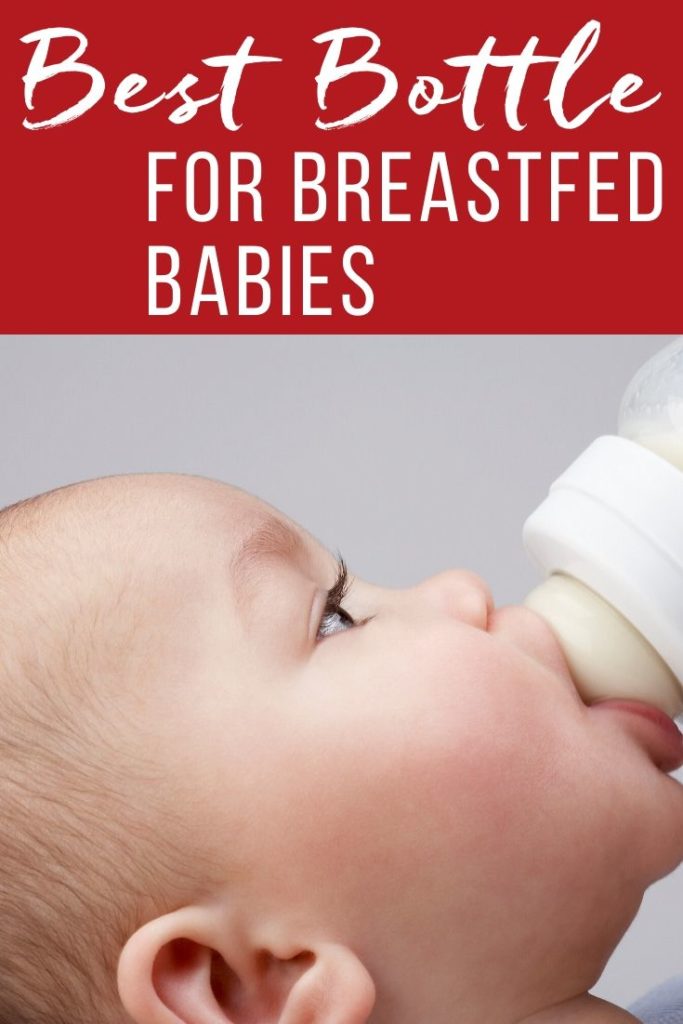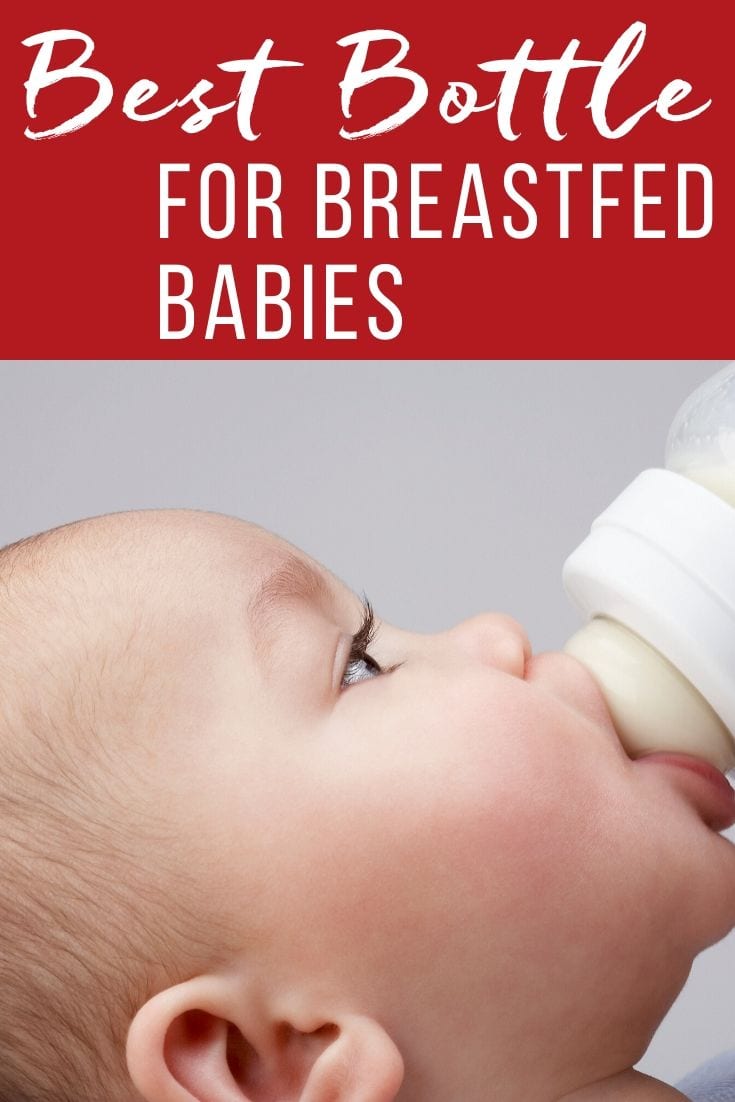 Can I mix breastmilk and formula?
When using the best bottles for breastfed babies, you can mix them up during the day, but never in the same bottle. Breastmilk should always be kept separate so that the babies can drink every drop while formula, you can let slide a bit if they don't finish. If you mix them up, how can I tell how much liquid gold is left?
Why do breastfed babies refuse bottles?
Most babies in the newborn stage (0-3 months old) latch on to a bottle pretty easily. Their sucking reflex is triggered by the bottle, and sucking occurs spontaneously. With repetition, babies learn the suck/swallow/breathe skills needed to voluntarily suck from a bottle. Once the sucking reflex has disappeared around 3 months old many breastfed babies will refuse a bottle because they have no experience with it and it's foreign to them. Often babies prefer the warmth and closeness of their mother's skin and when that is removed from the equation it's upsetting to them. We recommend offering a bottle between 2-4 weeks of age to get your babies used to it, and to allow someone else to feed them too. Use a paced bottle feeding technique to avoid your baby preferring the bottle over the breast.
How do I get my breastfed baby to take a bottle?
Experts agree that you will have more trouble having a breastfed baby take a bottle if not introduced in the first month. When you are first giving it a try, go with a paced feed instead (small sips with breaks in-between) instead of tipping the bottle at a 90-degree angle from the babies mouth.
Factors such as nipple design, anti-colic features, and material quality play significant roles in determining the best bottle for breastfed babies. The right bottle can make the transition between breastfeeding and bottle-feeding seamless, ensuring that babies receive nourishment comfortably and safely.
Related Articles – Best Bottles for Breastfed Babies
Latest Twiniversity Articles