Gifts for siblings of newborns is a great way to make them feel included while also showing them they won't be left behind. Here's some ideas on the best gifts for siblings when you have a new baby (or babies!).
How do you make an older sibling feel special and included when you bring home a new baby (or babies)? Buy them a gift of course! Sibling gifts are not a necessity but are somewhat customary. They help make your older children feel loved and included when welcoming a new member(s) of your family. When my twins were born (on their big sister's 4th birthday) naturally we wanted to get her a gift, and somehow I was convinced that she needed a 53" teddy bear. Don't be like me. Do not buy your soon-to-be older sibling child a 53" bear. Trust me on this.
So, if a big ass stuffed bear isn't a good choice for a sibling gift, what is?
5 Qualities of a Good Gift for Siblings
Personalized Sibling Gifts
Every child is different and unique, just as this gift should be. But, don't forget, it is okay to personalize from you rather than for them.
Thoughtful Sibling Presents
This should be a special gift, so don't just stop by the CVS on the way home from the hospital. We know you are a busy parent, but make this a thoughtful gift.
Useful Gift Ideas for Siblings
This might be the most important quality, because you might just get a gift that will make your child feel special and occupy their time, giving you some time to get some much-needed rest!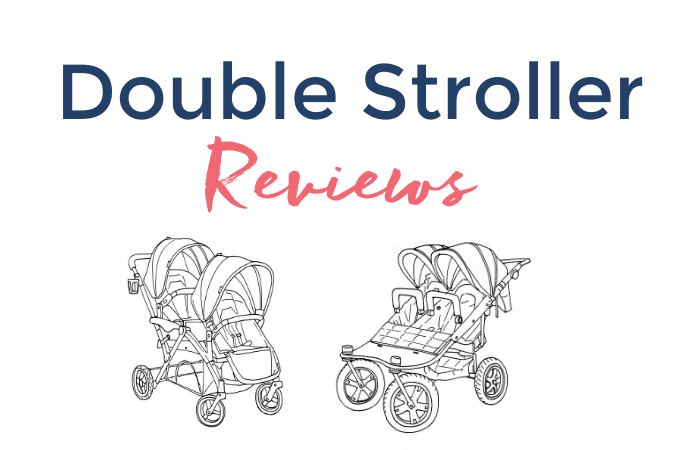 Are you looking for the best double stroller for twins? Not sure if you should go for a tandem stroller or a side-by-side stroller? And what about a Snap N' Go? We've got all the details for you in our double stroller resource. Click here to learn more… and while you're at it, check out our expecting twins classes and the Twiniversity shop!
Something They Can Do Together
This will not happen for a while, but while the big sister/brother is waiting for the baby to grow, they could be getting a lot of good use out of it. Plus they will have so much fun teaching their siblings how to use it.
Keepsake Gifts
When you're considering different gifts for siblings, sometimes an extravagant gift is a right gift. Especially if it is a sentimental gift, is something worth saving for years and years, and is handed down from generation to generation.
You do not need to find a gift that incorporates all five qualities (I fear this would be an impossible task). Choose one or two qualities and concentrate on those. Remember to consider the age of your child, this might help you decide what quality is best.
So now that you know what to consider when buying an older sibling gift, maybe you still don't know where to start. Here are some sibling gift ideas that will make any older sibling feel extra special and occupy some of their time.
Best Gifts for an Older Sister
Custom Music Box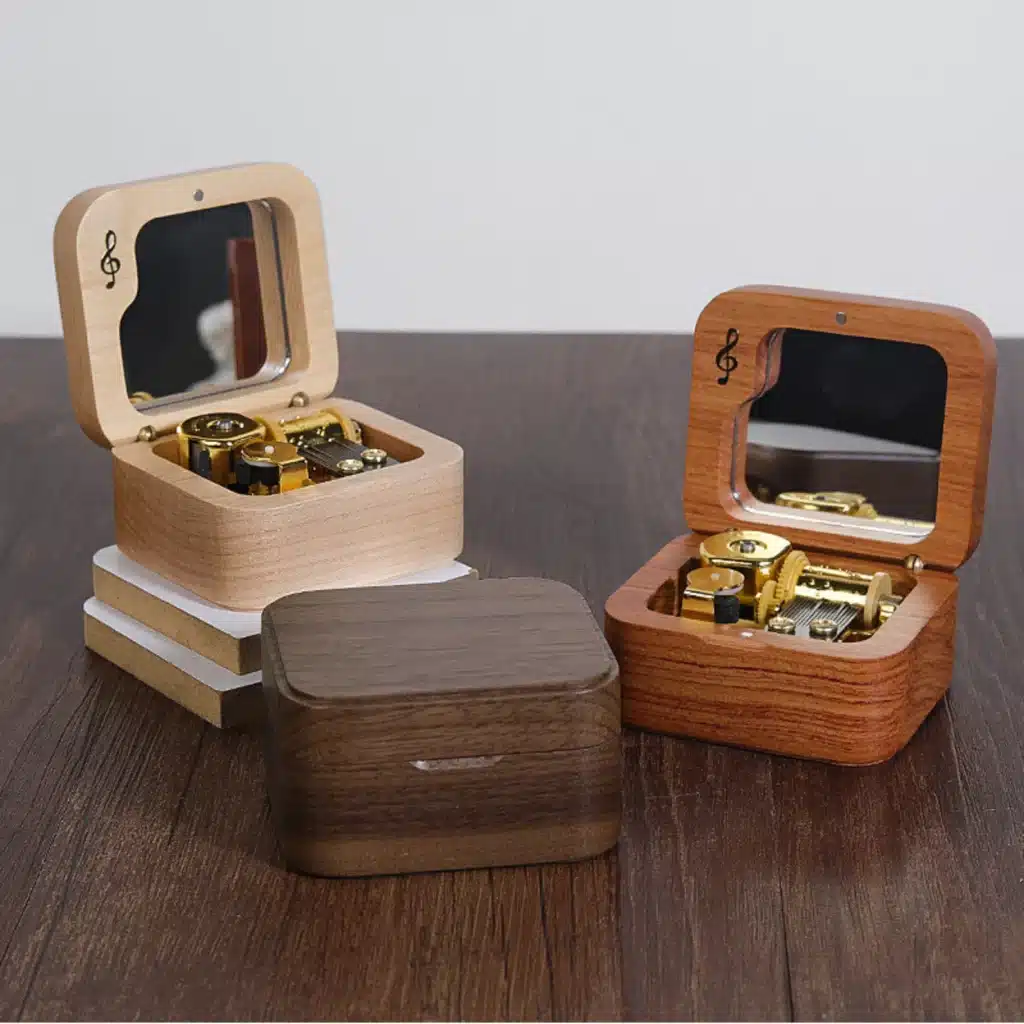 My girls are mesmerized by music boxes, regardless of what tune it plays. A custom music box for their own would make me their favorite person (I'm talking, Grandma becomes 2nd place!!). Go a step further and personalize the box with an engraving, and choose their favorite song. I promise, no matter how old they get, this will be a treasured gift!
To Purchase, click here
Charm Bracelet Gift
Think Pandora, but for kids. In my experience, girls adore jewelry. A Pandora-style charm bracelet is the one to get. The unique bracelet design allows the charms to be completely fastened to the bracelet, making it much harder to lose a charm. This gift is also the gift that keeps on giving. You can gift your older child new charms for their birthday or Christmas, and if they gain an additional baby sibling, you've already got the base for their new baby gift!
To purchase, click here
Little Medical School How to Be A Great Sibling Kit w/ Baby Doll Carrier for Kids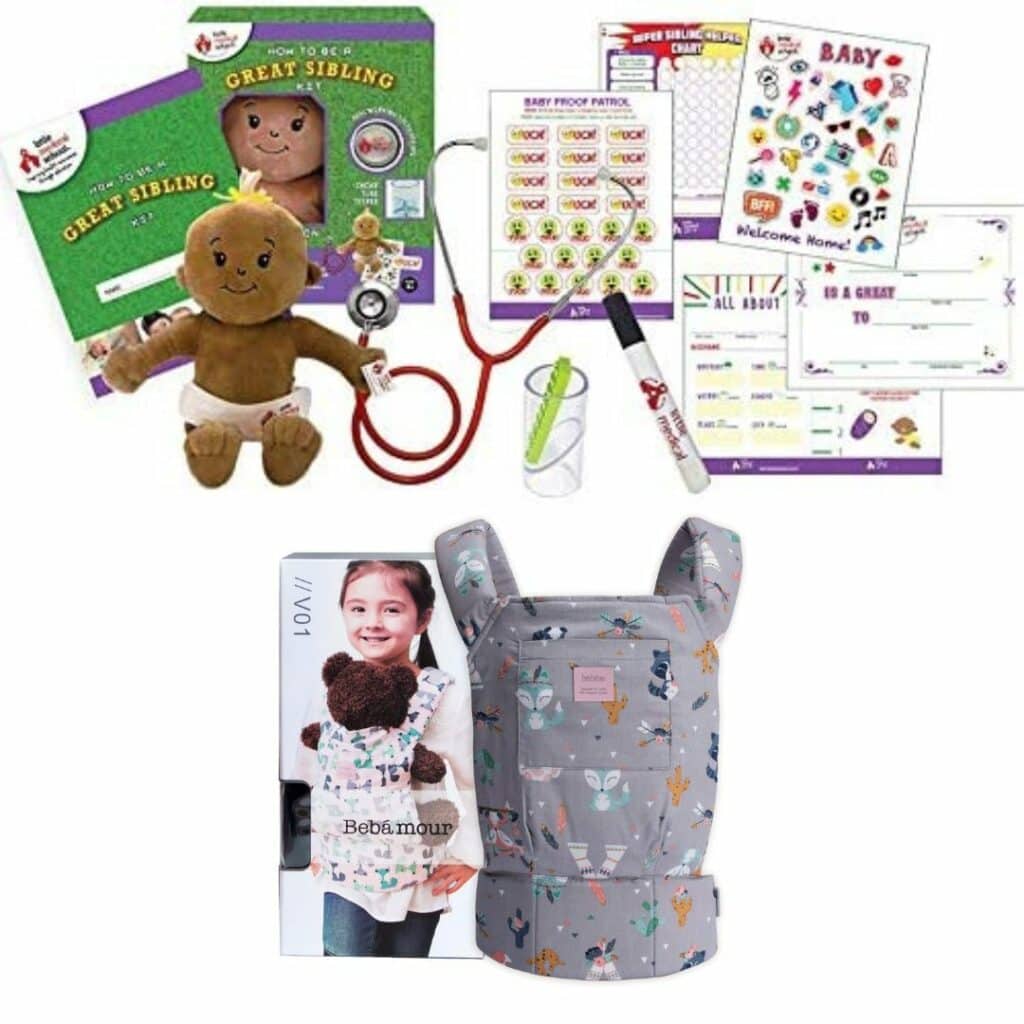 Make big brothers and sisters feel important and get them excited about their new baby sibling with an adorable, plush baby; real, working stethoscope; child-safe choke tube tester; and guided, hands-on activities designed to nurture your child's loving nature. Older siblings, often want to be like mom and dad, so give them the opportunity with this doll and then sweeten the deal with a baby doll carrier too. Next time you wear your new baby, your big sister can wear hers too.
To Purchase How to Be a Great Sibling Kit, click here
To Purchase Baby Doll Carrier, click here
Hidden Wish Bracelet
Let your little dreamer hold on to their hopes, goals, or even your words of encouragement with this wish-keeper beaded bracelet. After writing a message on one of the sheets, you roll it up and tuck it into the wish compartment concealed within the clasp. The special messages can be retrieved or replaced as often as you like.
To purchase, click here
Designer Mini-Purse
Purses are pretty and completely functional. They are often used as a way to express yourself and one's own personal style. Plus. If you haven't noticed, our children often want what we have, so buying them a tiny version of something you already have is not unreasonable. So a mini Kate Spade purse might just be the gift that shows your older child how special they are, and how mature you think they are. Don't let anyone tell you a designer purse is a frivolous indulgence for your child, it could be the perfect grown-up gift for the perfect new older sister.
To purchase, click here
Best Sibling Gifts for an Older Brother
VTech Smart Watch
This kid-friendly smartwatch features dual cameras for pictures, selfies, and videos along with the one-and-two-player game. Set Daily Reminders to help you stay on track, and switch to School mode when it's time to limit the DX3 to a watch only. The light on the watch doubles as a camera flash and flashlight. Create custom clock faces from your own photos or swipe through 50+ animated faces to make time-telling exciting. Intended for ages 4+ years. Includes built-in, rechargeable lithium-ion battery and Micro-USB cable.
To purchase, click here
Custom Picture Projector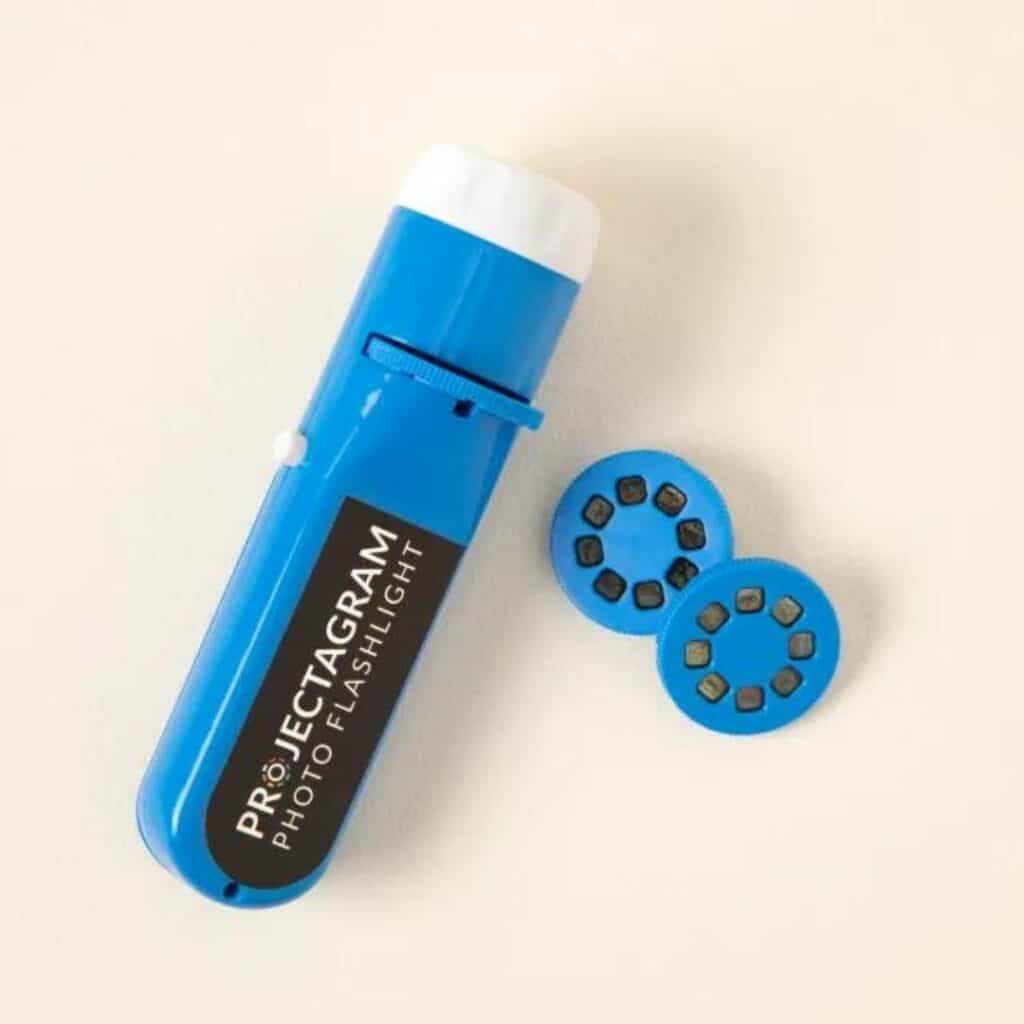 Why scroll and swipe through photographs when you can project? This flashlight-looking device projects images (from included reels featuring dinosaurs, space, and safari pics) onto any surface. Customize this one-of-a-kind gift by turning some personal photos into custom reels (redemption code included with purchase). It is not unusual for an older sibling to wish for the life they had before they had a new baby in the family. Remind them of the good times with this one-of-a-kind (made in the USA!) gift.
To purchase, click here
Solar Photography Kit as a Sibling Gift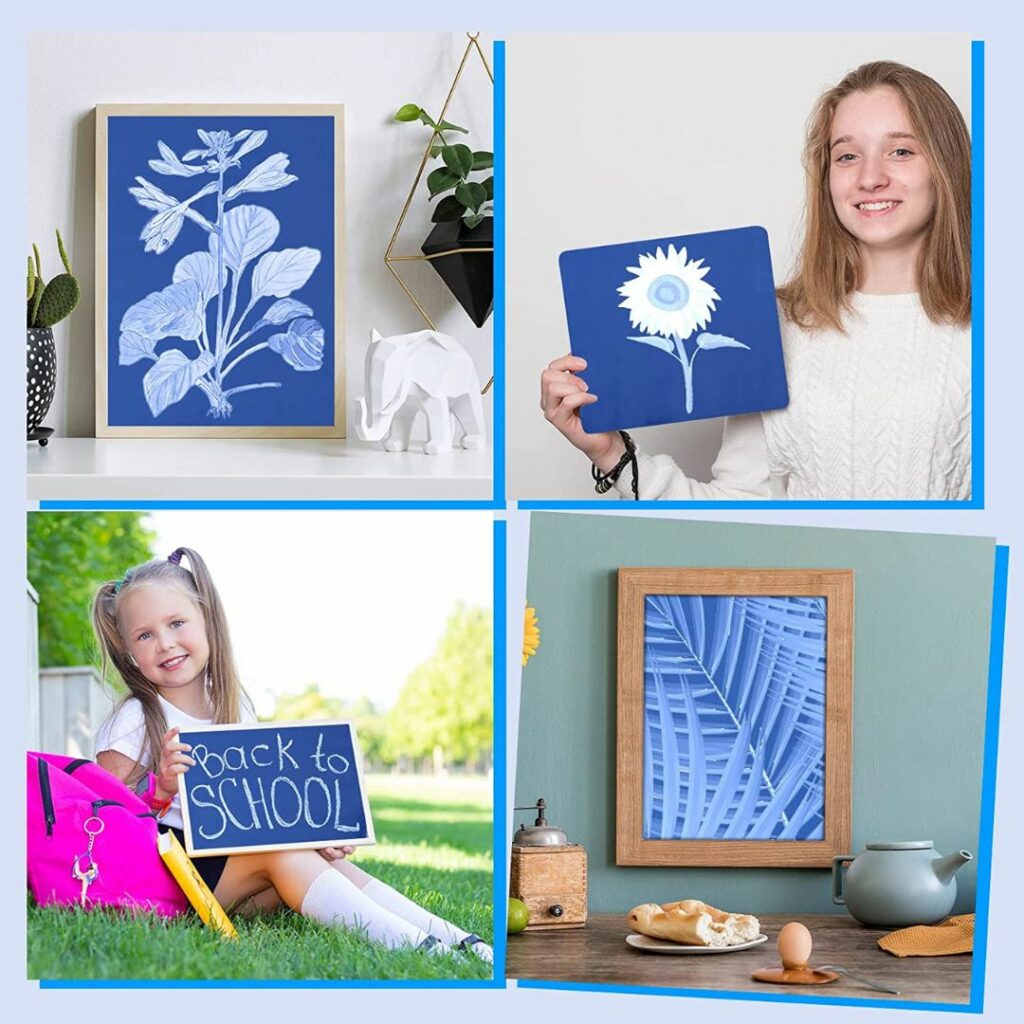 For the creative older sibling, try a Solar Activated Nature Sun Printing Kit. The sun-sensitive paper is coated with light-sensitive chemicals, which react when exposed to sunlight. When you place objects on the paper, they block the light (the paper remains white), while the areas on the paper around them turn blue. Water stops the process and fixes your images on paper. This is a gift that allows your child to use their imagination and curiosity. Plus it is simple enough to do independently, but can also be a great family bonding experience.
Twiniverisity tip: Once finished, allow your older sibling to frame a picture and place it in the nursery for the baby to look at.
To purchase, click here
Boogie Board Sibling Present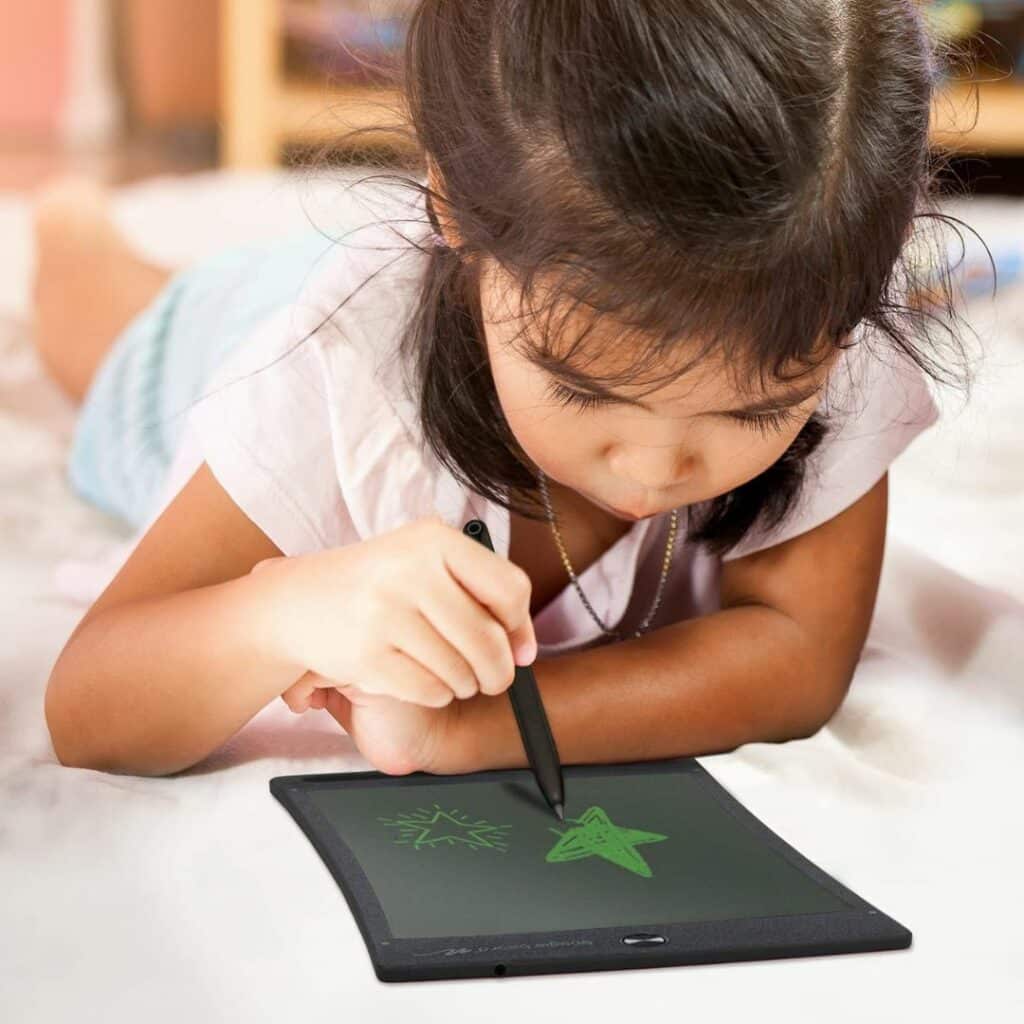 This LCD tablet is great for sketching, writing notes, or playing tic-tac-toe. When you're ready to erase, just push the button and the board clears itself. This is a great gift for your Tech-loving boy. This gift gives him the tech he craves while unplugged from the digital world.
To purchase, click here
Subscriptions
From KiwiCo engineering boxes to Highlights magazine, subscriptions are the gift that keeps on giving! You are giving your older child the opportunity to learn, grow and get mail every (or every other or quarterly) month. This alone will make your child feel older and more mature and give them something to look forward to.
5 Gender-Neutral gift ideas
Digital Camera
When everyone else is taking pictures of the new baby, let big brother/sister in on the action. A kid's digital camera is one of the more useful gifts for siblings. The VTECH KidiZoom PrintCam will give your child the chance to capture images of this special time in their life, plus the ability to print the images instantly. They can take selfies with the pop-up selfie camera, plus explore templates and photo effects, take videos and play games between photo shoots. Pictures are printed on paper (cost is pennies-per-print) and comes with parental controls for printing limits and turning off games.
To purchase, click here
BONUS GIFT: Get a soft fuzzy photo album for all the pictures big brother/sister take of their new baby, and then gift it to the baby once it is full!
Swing Set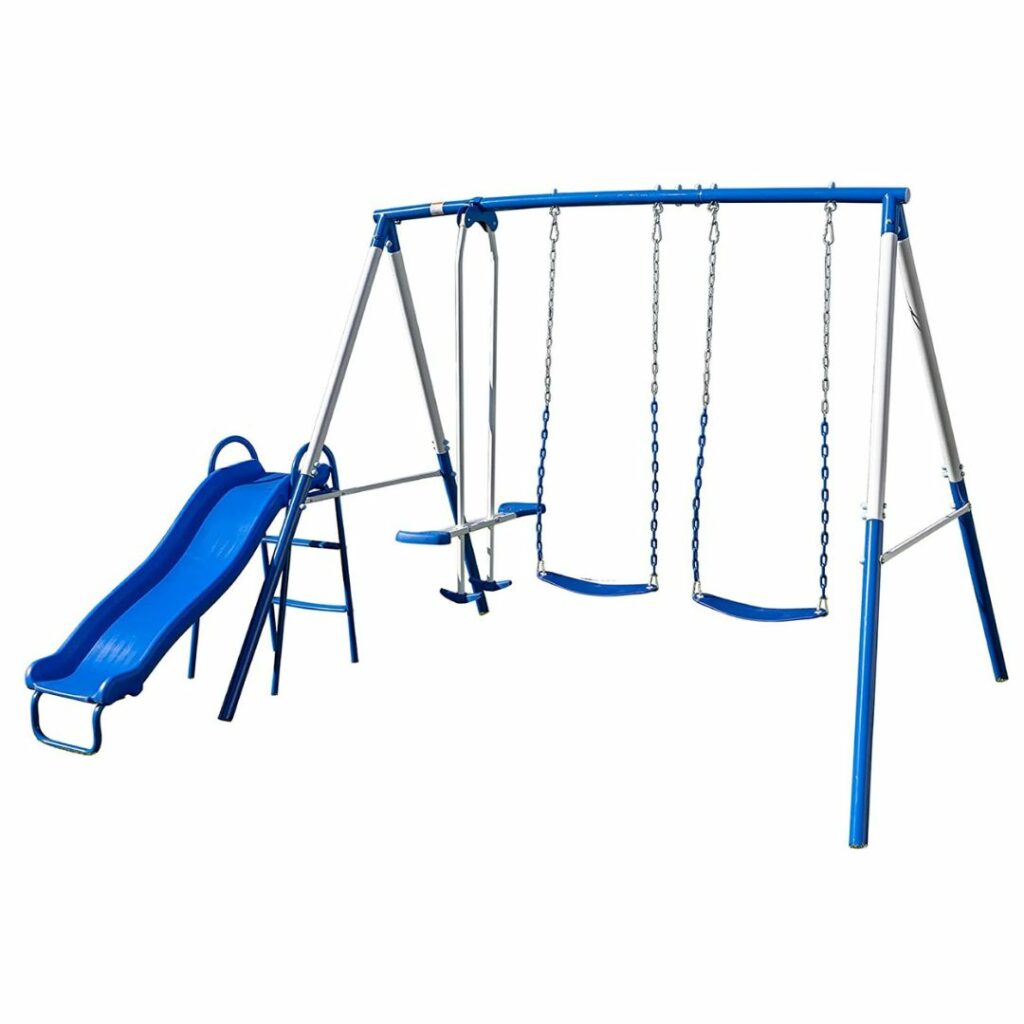 Just picture both kids outside swinging and laughing together….pure parenthood bliss! Yes, it will be a while until the newborn can enjoy this, but it is something for both you and your older brother/sister to look forward to.
To purchase, click here
Walkie Talkies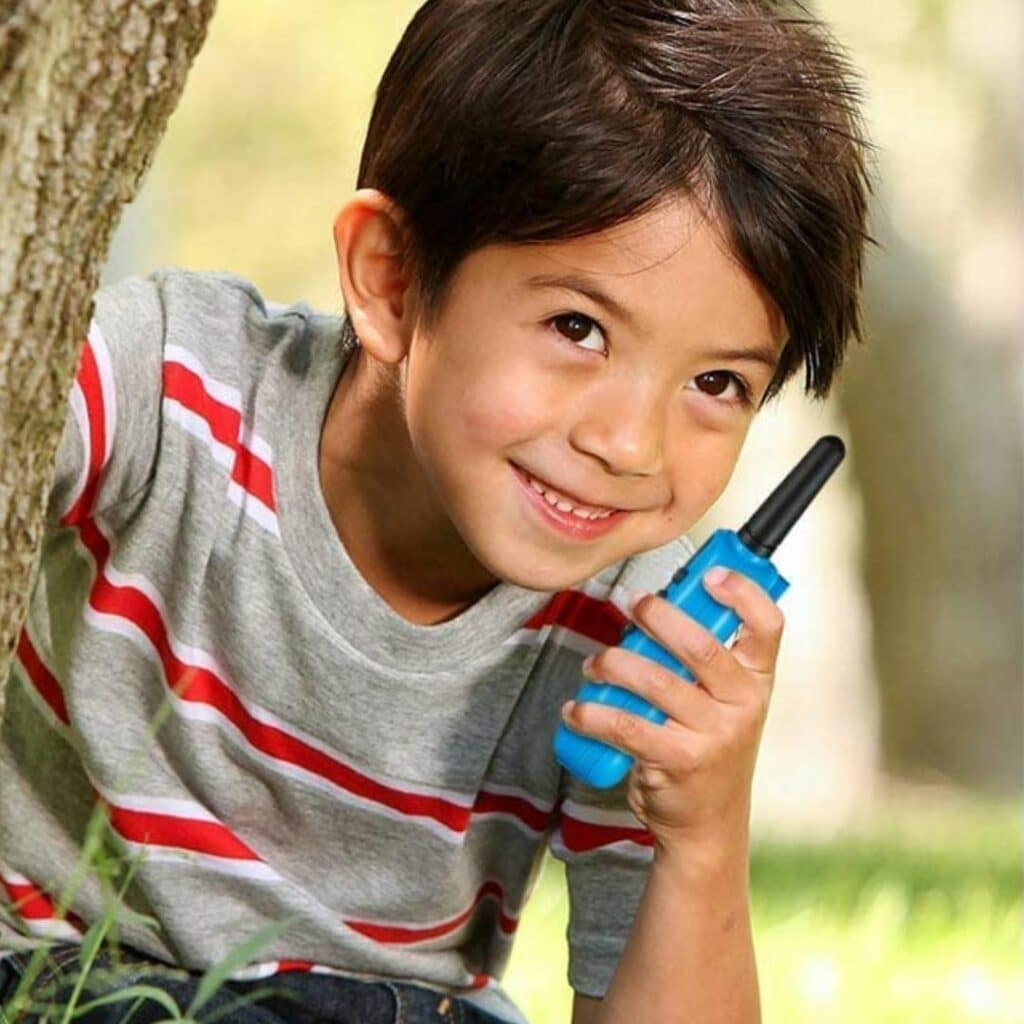 Every child wants a walkie-talkie. Honestly, at this point, it's one of the cheaper, yet more entertaining electronic devices you can buy for your child. Plus, it gives you two a constant connection. At any time, your older child can talk to you, tell you jokes, and sing the new baby to sleep in a completely different room! Walkie-talkies teach your children independence while still allowing you to have them near.
To purchase, click here
Now You're The Biggest Personalized Children's Book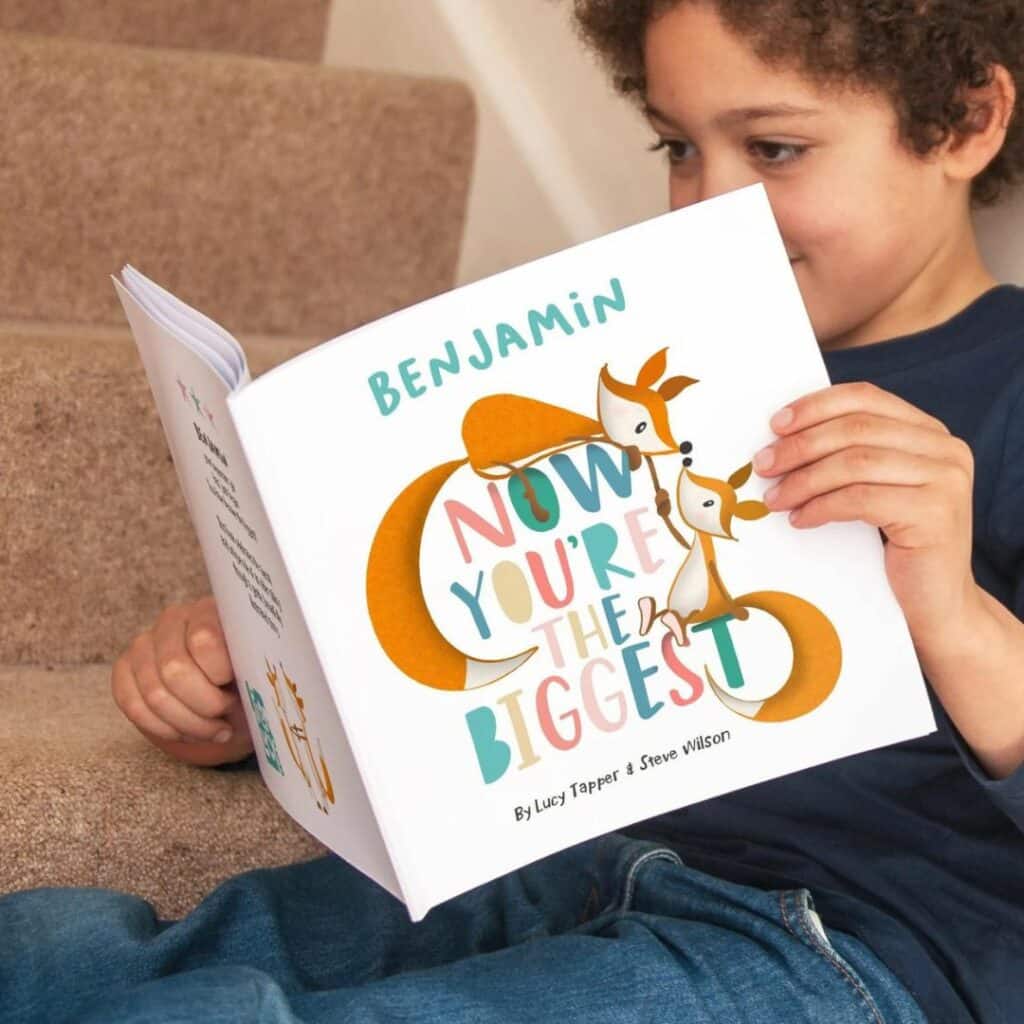 Reading provides children with emotional understanding. Which helps in their emotional and social development. So, a personalized book might be one of the best gifts for siblings, especially an older child who is still learning what it means to be a BIG Sister/Brother. "Now You're The Biggest" Personalized children's book celebrates the unique role of an older sibling. Includes personalized names, dates, and where your child lives, making it extra special and relatable. This book is a perfect gift to introduce your child to their new baby and introduce them to some of the adventures ahead!
To Purchase, click here
The Adventure Challenge Scrapbook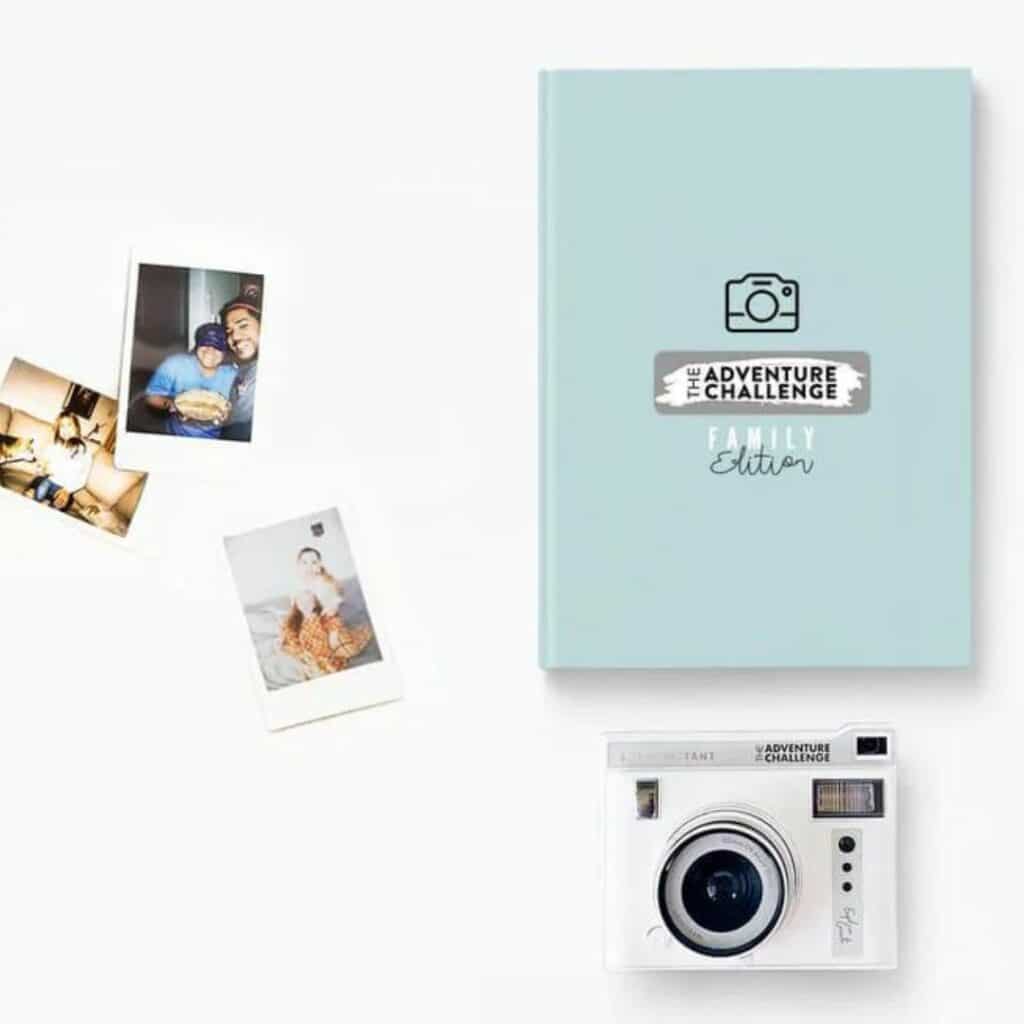 This family challenge book is guaranteed to create moments that your family will remember and reminisce about for years. It's one of the more useful gifts for siblings. Especially since our kids grow up too fast! With this gift, you and your family can create fun, lasting memories that bond you together.
The goal of The Family Edition is connection through new experiences. Simply choose a category together, then scratch off your adventure! Don't forget to take a picture and journal your experience! You have a book full of fun memories when all is said and done. Warning: Once you've scratched off a challenge, you HAVE to do it. This book is for families of all ages and sizes but is ideally created with kids ages 4-15 in mind and for families of around 4-8 members.
WARNING: This is a heavy parent participation gift, so if you don't think you will have the time to give, maybe skip this gift idea.
To purchase, click here
With a new baby to share everything with at home (including parents), plus new routines and schedules, your oldest may feel a bit left out. Giving gifts for siblings from the baby can help them feel important, and loved, but also prepare them for the changes ahead. It can be a toy that allows them to interact with their new sibling, a personalized keepsake made especially for them, or an opportunity for some quality time alone with mom and dad.