Last updated on September 28th, 2021 at 01:26 pm
Are you getting ready to implement chores for 6-year-olds? Needing some guidance? Check out our list of chores and methods to encourage this independence.
I feel like the word chore tends to get a bad rap. Behind all the grumbling and complaining you're bound to hear when you begin to list chores for 6-year-olds, there is a self-sufficient kid that's waiting to come through. Through patience, consistency, and teaching, I assure you any age is capable of helping around the house. Kids thrive on responsibility and independence. Chores are a great way to feed that hunger.
Have littler ones, too? Check out this list of chores for 4-year-olds to get everyone in on the housework.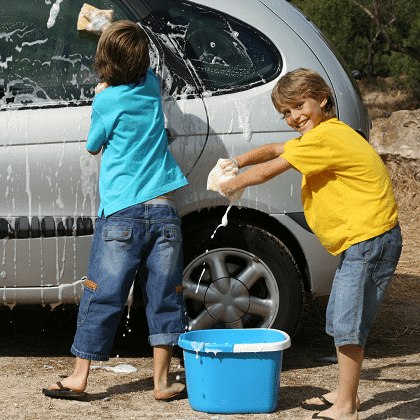 Let me take you through how and why I started chores for 6-year-olds. I'll also give you some age-appropriate chores for 6-year-olds that have worked for my family.
Why is it important to create lists of chores for 6-year-olds?
With 5 kids, my home can get messy quickly. I was that mom that thought I had to do everything. A few years ago I put my guard down, realized I wasn't superwoman, and used that simple 4 letter word that is often forgotten…HELP.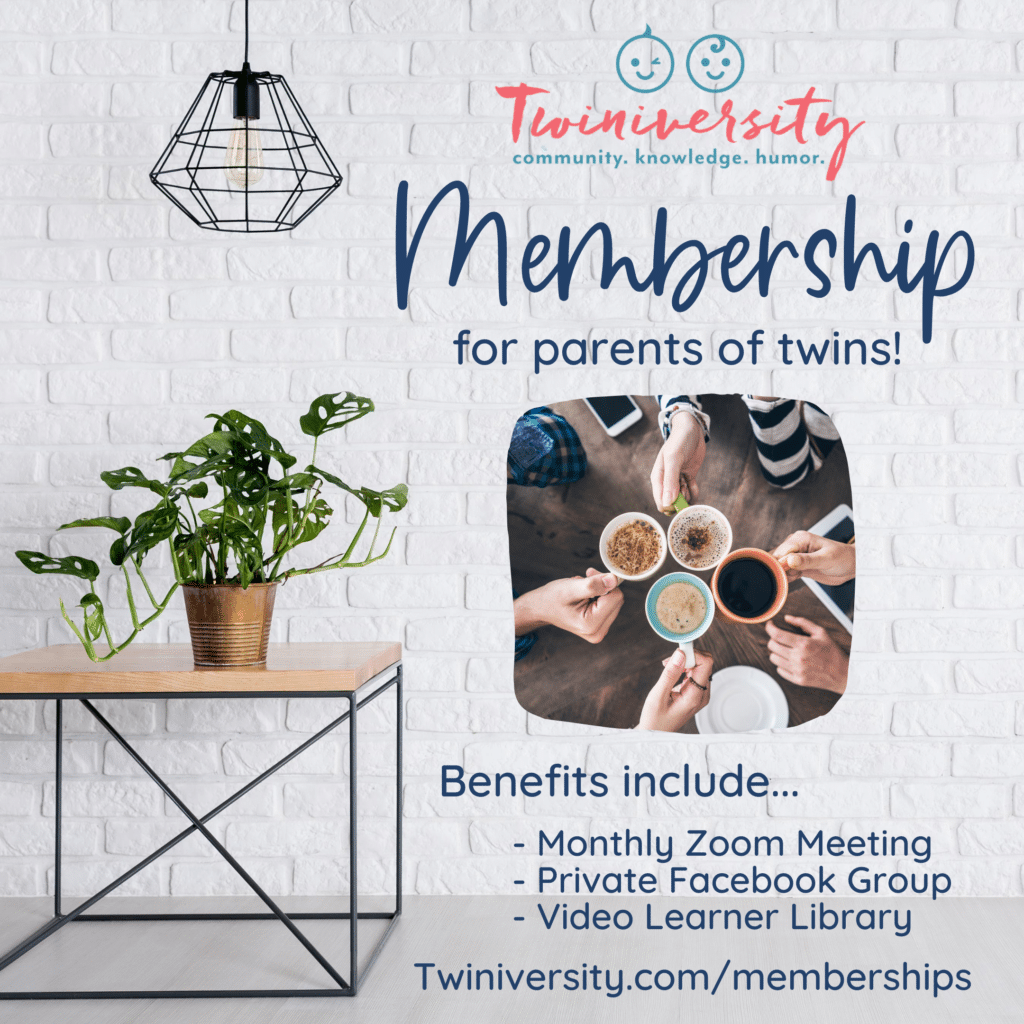 Need some twin parent friends? Get the support you need with a Twiniversity Membership. Benefits include a monthly twin parent club meeting on Zoom, access to a private Facebook group just for twin parents, and a video library of twin parenting lessons. Visit Twiniversity.com/membership to join today!
My husband and I both work outside of the home in the medical field. I came home from my shifts thinking I had to do it all. On my days off I would spend hours cleaning and doing laundry just to catch up only to then fall behind in the next few days I worked. It was frustrating. I thought I had to handle it all until we started introducing chores and it was life-changing. I realized its not my job to do it all, it is OUR job to teach them. That started with chores for 6-year-olds, and the others, too. We have slowly been rewarded with the awesome teamwork my family has done together.
How do we begin with chores for 6-year-olds?
When starting chores for 6-year-olds, or any age really, the most important thing you can do is sit down and explain exactly why you're doing what you're doing. I often use the comparison of my family to a sports team. Daddy and I are the coaches and the kids are the players. If one player doesn't do their part, the others have to pick up the slack, and sometimes the team will fall apart. If we all do our assigned position, the team (home) will run properly. The team shouldn't fall on one person's shoulders.
We have a moderate size home and limited time. Many parents are surprised but the AACAP says that kids are actually capable of beginning with small chores at around 3. I've used paper chore lists in the past but a whiteboard seems to be the best route for us right now. Each child has 1-3 chores each day depending on age during the summer. When school starts up, we typically do one big chore on Saturdays such as cleaning a bathroom or vacuuming.
Need more twin parents to relate too? Check out our FREE mentorship program to be matched with a mentor or mentee today.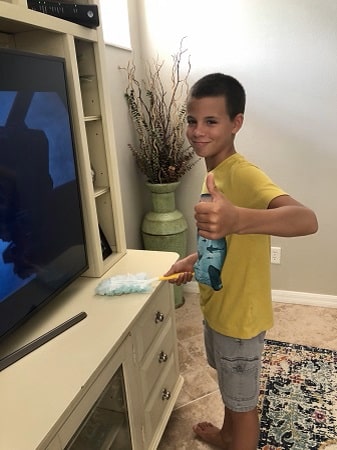 Chores for 6-year-olds
– Loading/Emptying the dishwasher
-Wiping down table and counters after you eat
-Taking out the trash (daily and for big trash day)
-Cleaning sliding doors and door knobs
– Dusting
-Vacuuming/moping
-Bringing down dirty laundry
-Putting clean clothes away
-Pick up bedroom/Make bed
-Pick up play room
Be the first to hear about GIVEAWAYS and new posts by subscribing to our email list now!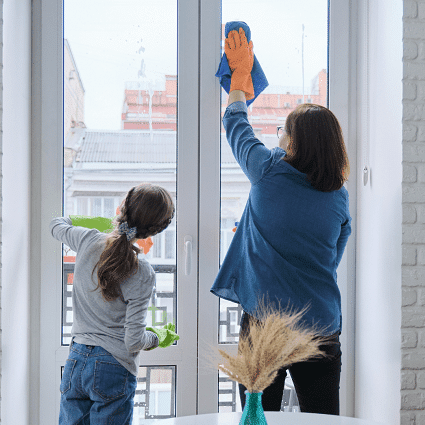 Kids will pick up their new routine before you know it
I like the idea of a three-step teaching method when implementing chores for 6-year-olds. The first step is that they watch me do it. For the second step, we do it together. Finally, in the third step, they do it independently with me observing/coaching.
I can honestly say my 9/10 year old can complete this above list with no coaching. It's a daily expectation that my son takes out the trash when it is full and my daughter empties the dishwasher along with their daily chores. Once they advance in age they can also start helping with bathrooms and laundry. I hope to have my 10-year-old able to do his laundry by the end of this year. We all want to raise kids that will foster self-discipline and the ability to take care of themselves so why not start now?
I love getting advice from older moms who have traveled down this same road. I remember talking to a single mom with teens years ago and she told me that if something happened to her, she had no doubt that her kids could run her household without her. This mom assigned cooking, cleaning, and laundry when they were young and stuck to it. She can come home from work knowing she has a clean home and laundry done because she trained her kids the importance of teamwork and HELP. She had this sense of peace about her that I knew I wanted too.
Does the thought of a deep clean in your home overwhelm you? Read about how to deep clean your home with a plan here.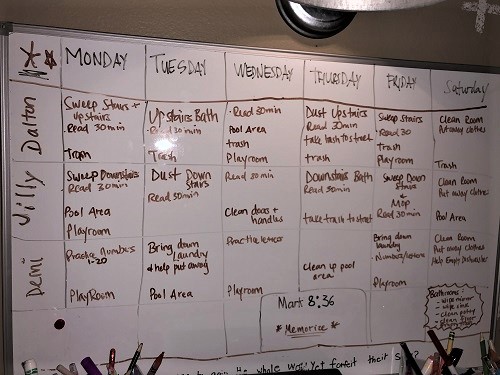 Set clear expectations with chores for 6-year-olds
We have a weekly chore chart and take a day of rest. My kids get paid Saturday as long as the weekly chores were completed. The 9 and 10-year-old get $2.00 each and the 5-year-old gets $1.00. We use money so they can feel a sense of accomplishment and save/give money the way they see fit. Figure out if you will pay for chores for 6-year-olds, and what amount ahead of time and let them know what the rules will be for getting paid.
Looking for ways to jumpstart your deep cleaning? Check out this post now!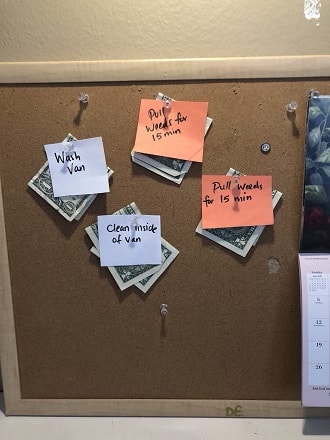 We also have an "above and beyond" board. I post extra jobs that are needed around the house. They can choose to do these jobs and get paid extra for them. Some of these extra jobs would consist of cleaning the inside of our car, washing the car, pulling weeds, cleaning baseboards, or stairs. My kids often pick one a week just to earn an extra buck or two.
The idea of chores for 6-year-olds can feel daunting but, I assure you that with your consistency, you will reap the benefits as your kids get older. It ALWAYS pays off! Plus, when its time for your kids to fly away you'll be comforted knowing they have the tools they need to be self-sufficient.
Latest Posts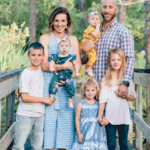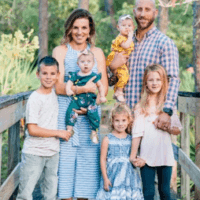 Gwenn Black is married to her hubby of 13 years and is a full-time mama to her 5 children (including identical girls) and is an ER nurse. She enjoys anything outside, spending time with her family, and a hot cup of coffee.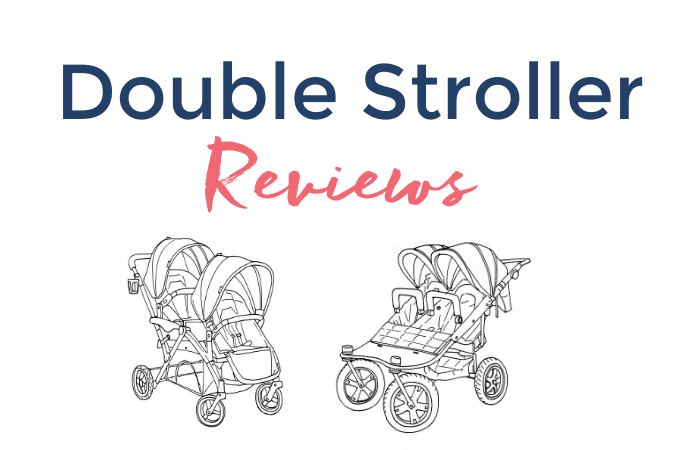 Are you looking for the best double stroller for twins? Not sure if you should go for a tandem stroller or a side-by-side stroller? And what about a Snap N' Go? We've got all the details for you in our double stroller resource. Click here to learn more… and while you're at it, check out our expecting twins classes and the Twiniversity shop!